5 Things Parents Can Do to Prepare for Back to School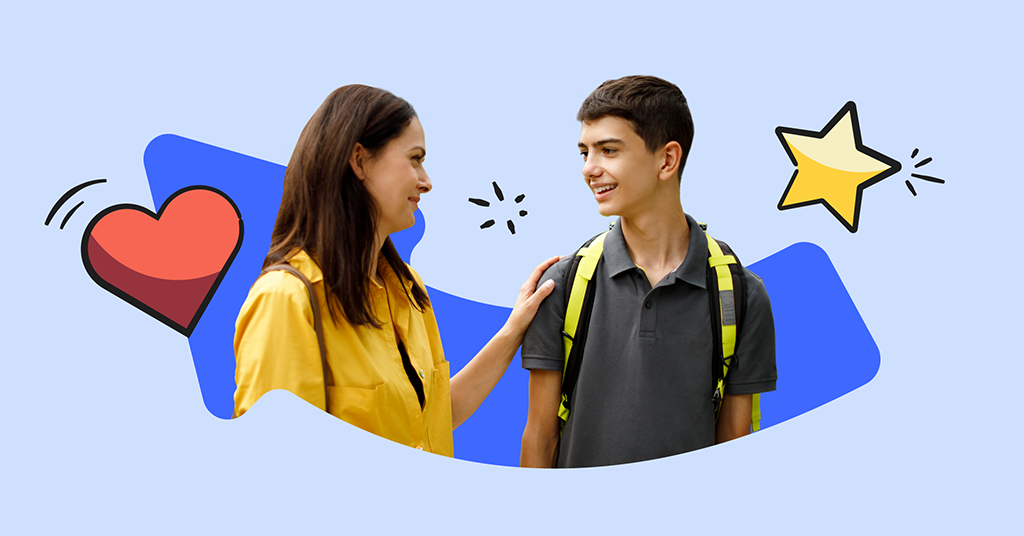 It goes without saying, but the back-to-school season can be more than a little stressful. And the stress can build up so much that the new school year feels more like entering into battle as you switch gears into survival mode. Bu t— it doesn't have to be a losing battle!
There are plenty of things parents can do to prepare the whole family for back to school. Here are our tried-and-true recipes for success: our top 5 tips for starting off strong.
5 Things Parents Can Do to Prepare for the New School Year
1. Create a routine for success
Routines, routines, routines! This is a common tip you've probably heard a lot around this time of year. As we come out of summer, where any sense of routine often fades into oblivion, the question becomes how do you switch to a rigid school structure out of the blue? That's why it's a good idea to take time before summer officially ends to sit down with your family and discuss expectations for new routines.
To start, we suggest creating and committing to a solid morning routine. There's tons of research that shows there's much to gain from a quality morning routine. Secondly, we highly suggest a screen time routine as well. No matter what your kid's daily schedule looks like, it's important to find a happy balance that doesn't impact your child's health or learning. (Bonus: Create a tech contract that includes your family's expectations for screen time!)
2. Set goals for a new and improved year  
The new school year is a great time to reflect on the year before and set goals for what your family wants to accomplish this time around. And this doesn't just have to be your child's academic life, although it's always good to encourage your child's study goals. But think about things like health, extracurriculars, friends, and more.
If you feel like your kid spent too much time on video games last year, talk to them about trying a sport or club at school. Or if your child had trouble making friends, encourage them to try sitting with someone new at lunch this year or joining a new club. Consider writing down whatever goals your family comes up with and refer to them throughout the school year.
3. Acknowledge the heavy emotions and fears 
Back-to-school time can be an emotional and maybe even fearful time for kids. Perhaps they're starting at a new school and have anxiety about making friends. Or maybe they experienced some form of bullying the year before. No matter what, it's always important to check in with your child's feelings and let them know you care about what's going on in their world. Not all kids are great about sharing their emotions without being prompted, so be sure to check in before the first day. And if they are feeling scared or anxious, let them know you're there to help through it.
4. Combat the stress with something fun 
Just because the back-to-school season can be stressful, it doesn't mean there aren't ways to make it fun! Take a second to think of some ways you can spice things up a little bit. Maybe plan on putting a note in your kid's lunchbox for the first day of school with a funny joke. Or promise an outing for ice cream after school once they've finished their first week. Or, if you really want to make a splash, plan a big back-to-school sleepover with their friends on the first weekend — that'll give them something to look forward to!
5. And finally, breathe! 
Lastly, but most importantly, breathe! Seriously, the best thing parents can do is realize that at the end of the day, some things are out of our control. Even with the perfect routines and plans and goals, something is bound to go awry. But that just means it's a great opportunity to model for our kids that life is about rolling with the punches — and that makes life interesting! So to all the moms, dads, and guardians, this is your sign to not put so much pressure on yourself. You're already doing great, just keep it up!
How Bark Can Help
When parents gear up for back-to-school, Bark is a great tool to add to the toolbelt! Parents can use Bark to create those new screen time schedules and manage when kids can use certain apps throughout the day. To help with those moments when everything seems out of control, parents can pause the internet with just one click when the kids need a breather. Bark also offers content monitoring, app & website blocking, and location tracking for greater peace of mind. Start your free, one-week trial today! 
About Bark
Bark is a comprehensive online safety solution that empowers families to monitor content, manage screen time, and filter websites to help protect their kids online. Our mission is to give parents and guardians the tools they need to raise kids in the digital age.