7 Screen-Free Fun Family Activities To Try This Summer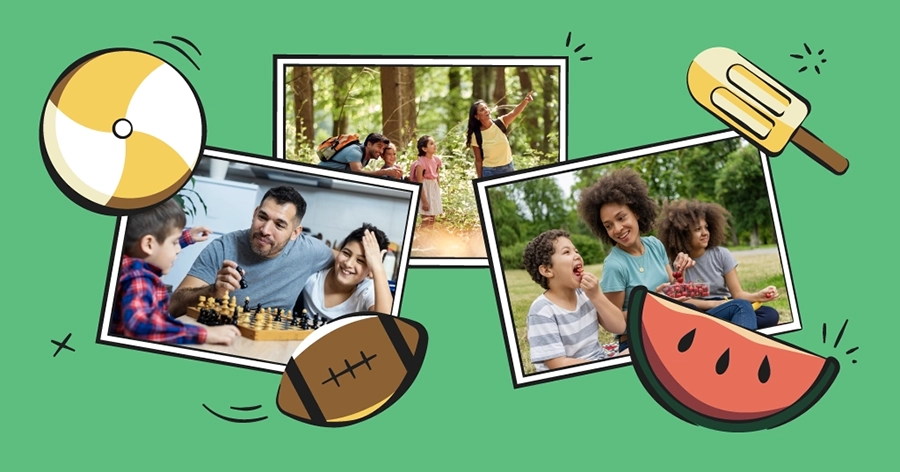 Summer is the perfect time for families to bond and create lasting memories together. But with everything you need at the touch of a button and screen time on the rise over the summer, it's important to find fun activities that encourage quality time without the distractions of cell phones, TVs, and computers.
Below we explore seven screen-free fun family activities that will help you make the most of the summer season. From picnics in the park to exploring museums, there's something for everyone to enjoy. So, gather your loved ones, unplug, and embark on these exciting adventures!
1. Go on a picnic in the park
What better way to enjoy the sunshine than by having a picnic in the park? Pack a delicious spread of your family's favorite snacks and head to a nearby green space. Choose a shady spot under a tree, spread out a cozy blanket, and indulge in some outdoor dining. Bring along frisbees, kites, or balls to engage in fun games after your meal. Don't forget sunscreen and bug spray to stay protected during your outdoor adventure!
Estimated cost: $20–$50
Estimated time: 2–4 hours
Insider tip: Some parks offer free outdoor movie screenings during summer evenings. Check local event calendars for a movie night under the stars!
2. Visit a museum or art gallery
Expand your family's horizons by visiting a local museum or art gallery. Many museums have exciting kids' programs, including hands-on activity nights and interactive exhibits. Engage your children in the wonders of history, art, science, or the natural world as you explore the museum together.
Estimated price: $20–$50 (varies by museum)
Estimated Time: 2–4 hours
Insider tip: Some local libraries offer free admission to local museums, zoos, aquariums, and more. Be sure to check your local library's website for more information. Also, many museums have one free weekend a month.
3. Take a nature hike
Escape the hustle and bustle of daily life by venturing into nature. Find a nearby hiking trail, national park, or nature reserve to embark on a family adventure. Enjoy the fresh air, admire breathtaking landscapes, and observe fascinating wildlife. Encourage your children to collect leaves, pinecones, or rocks to create a nature-inspired craft project later. Remember to bring water, snacks, and comfortable footwear for an enjoyable hike.
Estimated price: Free
Estimated time: 1–3 hours
Insider Tip: Research trails beforehand to choose a suitable hike for your family's fitness level. AllTrails provides detailed info, including difficulty levels, reviews, and photos.
4. Organize a family game night
Gather around the table for a fun-filled evening of board games, card games, or puzzles. Game nights promote healthy competition, critical thinking, and bonding between family members. Create a friendly atmosphere with snacks, laughter, and a prize for the winner. Unplug from technology and let the games begin!
Estimated price: Free–$30
Estimated time: 2–4 hours
Insider tip: Stumped on board game ideas? BoardGameGeek will be your new go-to resource for board games — featuring ratings, reviews, and recommendations for age groups.
5. Volunteer together
Teach your children the importance of giving back to the community by doing some volunteer work together. Look for local charities, shelters, or community centers that welcome family volunteers. You can participate in activities like serving meals at a soup kitchen, cleaning up a park, or organizing a book drive. Volunteering as a family not only makes a positive impact on the community but also strengthens family bonds and nurtures empathy in children.
Estimated price: Free
Estimated time: Varies (typically a few hours)
Insider tip: Call ahead to find out if there are any age restrictions or specific requirements for volunteering with children. VolunteerMatch helps connect volunteers with local nonprofit organizations.
6. Camp out in the backyard
Experience the magic of camping without leaving home! Pitch a tent, set up sleeping bags, and enjoy a night under the stars. Roast marshmallows for s'mores over a bonfire or grill, tell stories, and play flashlight tag. Embrace the simplicity of outdoor living away from screens and distractions. The backyard campout is an excellent opportunity to foster a sense of adventure and develop camping skills in a familiar and safe environment.
Estimated price: $20–$50
Estimated time: Overnight
Insider tip: The American Camp Association provides resources and tips for organizing backyard campouts, including campfire recipes and camping games. Use stargazing apps or books to identify constellations and planets.
7. Plan a family art day
Unleash your family's creativity by dedicating a day to art. Set up a space in your home or take your art supplies outdoors to enjoy the fresh air. Encourage your children to paint, draw, or sculpt while engaging in artistic activities yourself. You can also collaborate on a family art project, such as a mural or a family tree. Display the artwork proudly in your home when you're done!
Estimated Price: $10–$30
Estimated Time: 2–4 hours
Insider Tip: Research local art centers or workshops that offer family art classes or open studios, providing additional guidance and inspiration. Pinterest offers a wealth of art and craft ideas for all ages, including step-by-step tutorials and inspiration.
This summer, make a conscious effort to disconnect from screens and reconnect with your family through these seven screen-free fun activities. Whether you're enjoying a picnic in the park, exploring a museum, or engaging in outdoor adventures, the memories you create together will be cherished for a lifetime. Embrace the opportunity to bond, learn, and have fun as you make the most of the beautiful summer season with your loved ones.
About Bark
Bark is a comprehensive online safety solution that empowers families to monitor content, manage screen time, and filter websites to help protect their kids online. Our mission is to give parents and guardians the tools they need to raise kids in the digital age.