Ask Titania: Is Roblox Safe for My Child?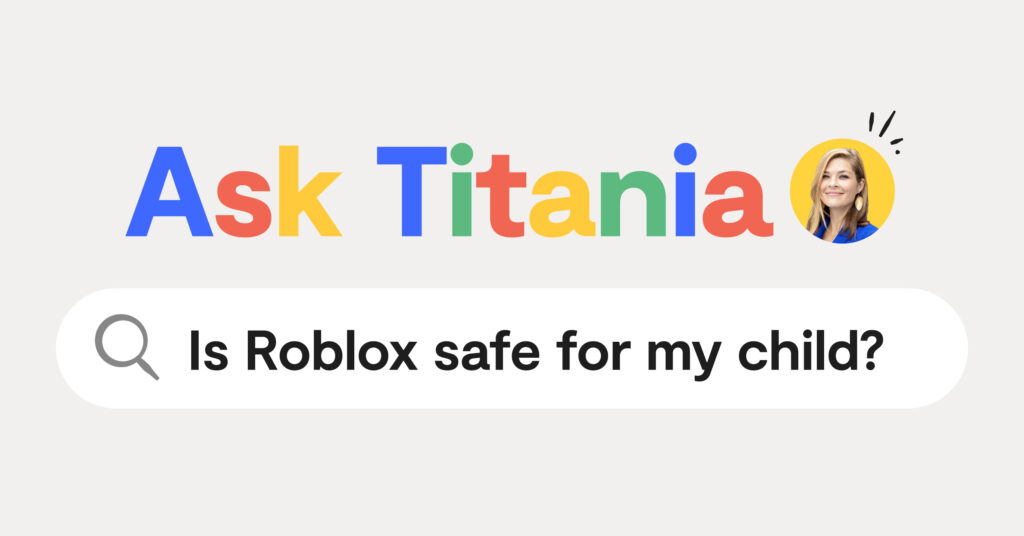 Dear Titania,
My 9-year-old has learned about Roblox from his friends at school and can't wait to download it on his tablet. I don't know much about the game (I'm from the old-school Mario Kart generation) but it seems fairly harmless. A few of my parent friends have mentioned that it has some dangers — like chat, which definitely scares me — but I'd like to know what you think about it. Bonus points if you can give me the rundown on why kids love it so much. Thanks!
Signed,
Worried About Roblox
Dear Worried About Roblox,
I'm glad you asked! Roblox is the most popular video game in the U.S. for children 5 –12, and it seems like it's everywhere these days. But despite its wild popularity, it can still be a little hard to understand what exactly kids are doing while they're playing it — don't feel bad! And even though lots of kids play it, Roblox definitely has its fair share of dangers. Many adults play the game as well, which can sometimes introduce inappropriate activity, unfortunately. Let's start with exactly what playing Roblox means.
How Roblox Works
Roblox isn't just one game like Mario or Tetris — it's a platform that hosts literally millions of games. Roblox users create and publish these games, and they all take place in the Roblox world and are designed in the Roblox animation style, which resembles the chunky characters you'll recognize from Lego or Minecraft.
Games in Roblox are 3-D, open-world experiences, which means that you can go anywhere, in any direction, at any time you like. (Contrast this to the old-school video games like Super Mario Bros, which only allowed you to move in one direction — always scrolling right.)
When it comes to deciding what kind of game you want to play, the sky's the limit! Many of the games on Roblox are free or cheaper versions of other popular video games, like Fortnite and Animal Crossing. You can often find games with characters and settings from pop culture — worlds kids like to spend time in.
Why Do Kids Love Roblox?
Not only can you play and explore in a fun open world, you can build your own game with Roblox Studio. Kids can get super creative and dream up any location they can imagine — from Ancient Greece to the Marvel Cinematic Universe — and make it come to life. Bonus: When they're building out these worlds, they're learning the basics of coding!
Plus, on Roblox, there's never a shortage of brand-new and exciting games to play, and they often come out faster than traditional game studios can publish. There are also so many different ways to play games on Roblox, including on iOS, Android, Mac, PC, tablets, and gaming consoles like Xbox and Oculus Rift.
Roblox Dangers: It's Not All Fun and Games
Condo games
Roblox isn't just fun action and adventure games. There's a whole subculture of users who make "games" that revolve around sex referred to as condo games. You'll see naked avatars (the images of players) interacting in sexually suggestive ways. In other words, it's basically interactive pornography, and it's definitely not for children.
Roblox Discord servers
In addition to actually playing Roblox, many fans will also want to talk about it with others — and they often head to chat app Discord for that. If you search Google for "Roblox Discord servers" you'll find links to countless groups to join. This presents a huge risk for kids, as any time there's a huge public chat room, there's a near certainty that online predators will be lurking in it. On top of that, many folks use these groups to share links to inappropriate content — both on Roblox and elsewhere.
Inappropriate Roblox YouTube videos
If you think Roblox isn't right for your kid and end up blocking it — beware. Even if you can't play the game, you can watch tons of videos of Roblox on YouTube and other video streaming apps like Twitch. And yep, you guessed it: You can also watch videos of the condo games we mentioned earlier.
Bypassed audio clips that definitely aren't appropriate
Roblox allows users to upload audio files, but there are rules governing them. You can't use copyrighted content, and you can't upload sounds that would violate community guidelines. When audio somehow gets past moderation, it's referred to as "bypassed audio" since it bypassed the rules. These clips could include profanity, violence, sex sounds, and even screeching chaotic noise.
Scams
Robux, the in-game currency players use to buy upgrades and avatar accessories, can be obtained in a few different ways. You can buy Robux with real money, earn them through Roblox Premium, or receive them through designing games. Make sure your child knows to ignore players who are offering free Robux — they're phishing scams.
How to Help Protect Your Child When They Play Roblox
When it comes to parental controls and dedication to helping protect younger players, Roblox really walks the walk. Here are just a few of the ways the company safeguards kids. (Check out our step-by-step Roblox tech guide to learn all the ways you can use their parental controls.)
Chat filters
Roblox automatically filters all chats to help prevent inappropriate content and personally identifiable information from being displayed. They even employ human moderators to help review content that gets flagged by the filter's AI. Things may slip through the cracks occasionally — no filter is perfect — but it's definitely a good effort.
Parent PINs
This really sets Roblox apart from other games and social media platforms. When you set parental controls, you can lock them in place with a PIN code. Most apps, like TikTok for example, will allow you to toggle on safety settings, but they can be turned off by the child at any time. You know what that means — it's essentially useless.
Privacy
From the settings menu, you can select who can chat and message with your child, along with who can invite them to join them in private servers.
Restricted mode
The account restrictions feature makes it so that absolutely no one can send your child messages or chat with them. These restrictions also limit the games kids can play to a pre-approved, age-appropriate list.
Need More Help?
As you can tell, there's *a lot* to learn about Roblox, but if you think your kid is ready to take the plunge, I recommend sitting down with them and playing together the first few times. This way, you can see for yourself what your kid will experience, and it's also a good way to bond over an activity they're excited about.
Bark actually monitors Roblox! On Android devices and the Bark Phone, Bark can scan content searches and sent chats. By monitoring sent chats, you can stay informed about who your child is communicating with and the nature of their conversations. Detecting potentially harmful content searches can help you identify any inappropriate searches, empowering you to address issues proactively.
In addition to monitoring, Bark also lets you block Roblox entirely or choose when your child can use it throughout the day with our screen time scheduling. Visit bark.us/signup to start your free trial today!
About Bark
Bark is a comprehensive online safety solution that empowers families to monitor content, manage screen time, and filter websites to help protect their kids online. Our mission is to give parents and guardians the tools they need to raise kids in the digital age.