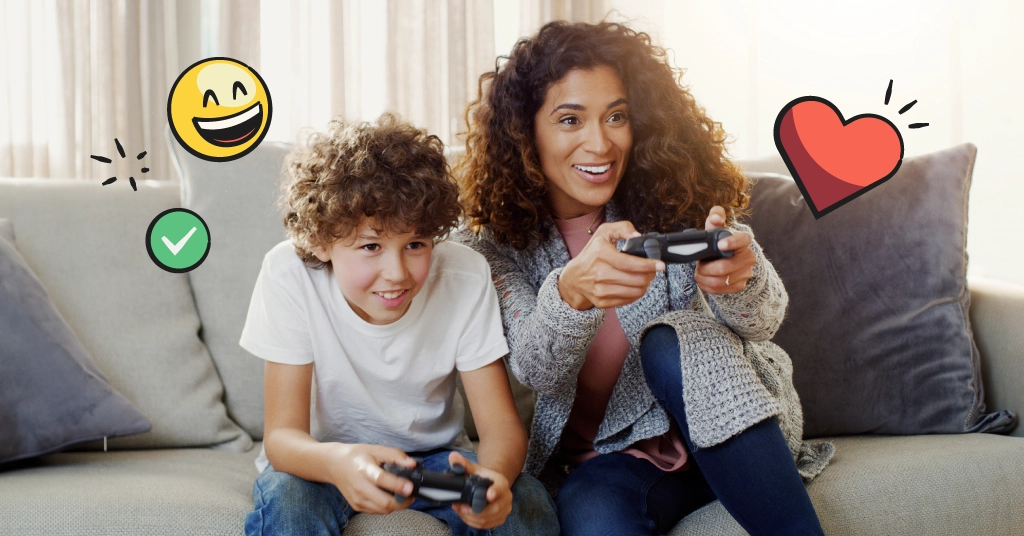 As a parent trying to navigate the dangers and pitfalls of the tech world, you might find yourself with a bad taste in your mouth when you think of anything tech or social media-related. And that's completely valid — by now, we've heard countless stories about online predators, cyberbullying, screen addictions, dangerous TikTok trends, and more. So a logical question might be, what exactly is the benefit of technology for our kids?

At Bark, we believe there can be a healthy balance when it comes to parenting with technology. Whether we like it or not, tech and the internet are here to stay. So it's imperative that we take advantage of all the good has to offer (as well as protect from all the bad, of course), and teach our kids how to do so as well. So we picked what we believe are the three most foundational ways you can use the power of tech to positively impact your kids. 
Our Top Three Ways Parents Can Positively Use the Power of Tech
Family bonding: Using tech to spend time together
Technology and social media can be a slippery slope into isolation. Scrolling through Instagram or playing certain video games are often solo activities. But it doesn't have to be that way! There are lots of games and activities that are online but can still be a social activity.
If you have regularly scheduled family time, it's okay if sometimes that time is used playing a video game as a group or even watching a movie together. Especially starting this at a young age, you can help your child associate tech with group experiences, as opposed to a solo experience.
Your family can also use the power of tech outside of just games and movies. You can use technology to explore new topics together and learn new things. Maybe you and your child can find an educational podcast that you listen to on the car ride to school. Or maybe when your child asks an interesting question about the world around them, you can make it an activity to go on a Google deep dive to find the answer or some fun facts. In this way, the focus isn't on technology, it's on the conversation — technology just adds to it! 
Exploring interests: Using tech to inspire your child's hobbies
If your kid already loves sports, art, cooking, etc., the internet is a great place for them to get inspired for those things! That's one of the best things about the internet — it exposes you to new ideas, people, and topics that you never would've known about otherwise.
But that's also the greatest danger — it exposes you to inappropriate, disturbing, and even scary content that you would've lived in blissful ignorance about otherwise. So to be clear, while we encourage using the internet to explore kids' hobbies, we also strongly encourage parental monitoring and web filtering!
But to get the ideas churning, here's a list of some interests your child might have and where they can find some inspiration online:
Teaching independence: Using tech to encourage responsibility
One of our most important jobs as parents is teaching our kids how to be independent, responsible human beings in the world. This applies to all areas — school, extracurricular activities, friends, first jobs, and family. As kids get older, we have to give them a little more freedom and responsibility to practice being self-sufficient. Perhaps at 12 years old, they're responsible for doing their homework without being told, and at 15 years old, they're responsible for planning transportation when their afterschool club is over.
The same principle applies to technology. Parents can use tech as an opportunity to give their children a certain amount of responsibility and independence with tech, as it makes sense for their age. Perhaps at 12 years old, they can play select video games with friends on the weekend, and at 15 years old they can have their own phone with supervised social media accounts.
Once your child has some independence on the internet, they'll likely come across something concerning or problematic (not if, but when). So it's important to give them the tools they need beforehand to react wisely in the situation. And even if they don't make the smart decision, that's still an opportunity to teach a lesson. Sometimes, those are the ones that sink the most and will motivate them to make better decisions going forward.
How Bark Can Help
Bark was actually created for this purpose — to allow parents to help keep their kids safe online while still allowing them to explore the power of tech. We do this with our award-winning monitoring technology that will scan your child's texts, emails, and 30+ social media apps for concerning content.
If your child encounters something such as cyberbullying, sexual content, predation, suicide/self-harm content, etc., you'll receive an alert straight to your phone so you can investigate and take action as needed.
Bark also allows you to set screen time schedules, block inappropriate sites and apps, pause the internet on your child's device, and track their GPS location for peace of mind. Start your free, 7-day trial of Bark today!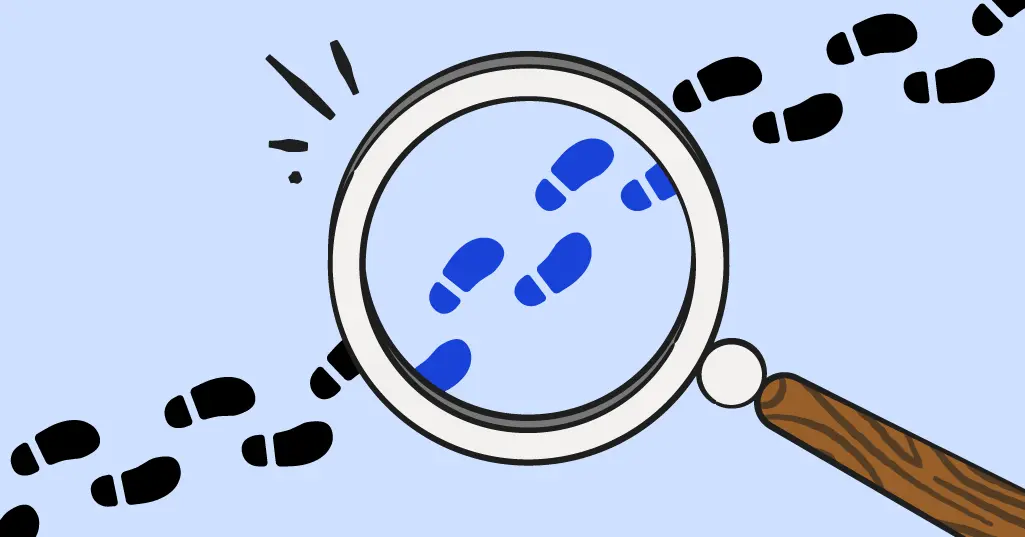 Location tracking is one of the many technological advances that's become a common part of life for most of us. We can track the exact location of almost anything — our packages, food deliveries, and even loved ones at any moment we want.
When it comes to parenting, location-tracking begs some important questions. Like, "What's the best way to track my kid's location?" "Does it matter if it's GPS or Bluetooth?" "Should I even be tracking my kid in the first place?"
These are all great questions — and a tricky subject to navigate for some families. So we created this handy guide that includes what options are out there as well as our researched recommendations on what's best.
What's the Difference Between GPS and Bluetooth?
When it comes to tracking devices, there are generally two main options: GPS tracking and Bluetooth. There are quite a few differences between these, such as battery life, size, and price. For the sake of this conversation, we're going to focus on the most important: connection range.
GPS location tracking
GPS tracking uses the signals that come from all the satellites above the earth to pinpoint something's exact location. So the GPS in your car is constantly communicating with the satellites in order to tell you what exit to take on your road trip.
Bluetooth location tracking
The technology for Bluetooth devices is more local: instead of using satellites in the sky, it communicates directly with your phone using radio waves. Popular examples of Bluetooth location tracking are Apple Airtags or Tile trackers, which people use to keep track of things like keys, wallets, and other personal effects.
What's the Best Option To Track My Kid's Location?
If you think about your Bluetooth headphones, you're most likely using them within just a couple of feet of your phone. Now imagine trying to listen to music with your headphones if your phone suddenly floated down the street to your kid's school. You probably wouldn't expect the connection to last very long, right?
That's why it is highly recommended to not use Bluetooth tracking devices on kids. Their connection range is usually a maximum of 200-300 feet, and your kid could very easily find themselves outside of that range.
So instead, we turn to GPS! GPS tracking technology, due to all the satellites available to communicate with, is highly reliable and efficient in tracking the location of anything that moves around a lot (like Ubers, rogue dogs, and teenagers.) This is why Bark utilizes real-time GPS location tracking on both our app and Bark Phone, to give our parents peace of mind when keeping tabs on their kid's whereabouts.
Why Should I Be Tracking My Kid's Location in the First Place?
The short answer is, it's up to you! There's really no right or wrong here. For some parents, they prefer knowing where their kids are, even if it's just down the street at a friend's house. There could also be outside factors, such as the child has a disability or it's specifically used when the child is away at a sports competition, camp, etc.
Other parents, however, feel it's not as necessary for their family. Maybe they have a different system worked out for when the parent wants to know where their child is. (Remember growing up when our parents would say "Come home when the street lights come on"?) It may feel old school, but for some families, it works!
How Bark Can Help
If you decide it's best to use location-tracking for your kids, consider using Bark! Bark doesn't just offer real-time GPS tracking, we also offer location alerts and check-ins. Location alerts will automatically tell parents when kids arrive at frequently visited places, such as school, home, or a best friend's house. And with check-ins, your child can proactively push their current location to you, without having to call or text.
Bark can also help you monitor your child's online content across texts, emails, and 30+ social media, and send you alerts if they encounter harmful content. We have robust screen time features that allow parents to set screen time schedules, block inappropriate apps and sites, and pause the internet on their child's device. Start your free, one-week trial today!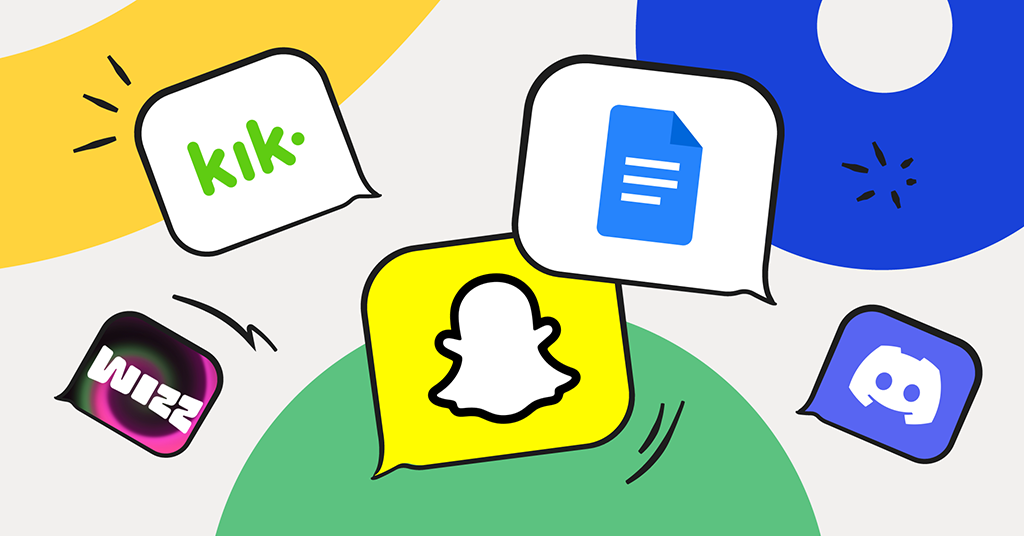 The way kids communicate nowadays is worlds different than when we were kids. For many young folks, social media and texting are how they feel connected to their friends and classmates. This isn't always a bad thing, but when kids can communicate on secret messaging apps without any parental supervision, that can mean lots of trouble.
To help parents out, we've put together a list of the top 5 power players in the social media space for secret messaging apps. We'll break down what the app is and the danger it poses for teens and tweens.
It's important to talk to your kids about safe internet use, whether or not they use these specific apps that we've listed. Kids can always find themselves in tricky situations on lots of different apps, these are just some of the most popular.
Top 5 Most Popular Secret Messaging Apps
1. Snapchat
This app is always at the top of the list for the most popular — and most dangerous — messaging apps. The biggest grief Snapchat gives parents is the disappearing messages feature. Kids can send texts, images, and videos to each other that "disappear" after 24 hours. Kids may think this gives them license to send inappropriate or harmful content to each other, believing there will be no repercussions. But in reality, all of this content can easily be saved and distributed. And a lesser-known danger of Snapchat is the drug dealers who use the app to target kids. It's incredibly easy to get connected with strangers on Snapchat, making it very dangerous
2. Discord
Discord is probably a close second to Snapchat, but definitely the most popular in the gaming world. This app has different "servers" to join that are either private or open to the public. If your child only uses it to communicate with friends and family, the risk is minimal. But kids can easily end up talking to complete strangers where grooming and sharing inappropriate content is very likely.
3. Wizz
Imagine if there was a dating app for kids. Sound safe? Absolutely not! That's essentially what the Wizz app is. It doesn't claim to be a dating app for kids, though — it claims to be an app to "make friends" with people online. You can swipe through profiles of people from all over the world and start a conversation. Kids quickly started using it as a dating app, making them vulnerable to encounter inappropriate content or chat with an online predator. This is one app we definitely do not recommend for kids.
4. Google Docs
You might not expect to see this one, but trust us, kids have been using Google Docs to send and receive secret messages for a while now. If you don't already know, Google Docs allows you to share a document with other people in order to collaborate on a project together. Kids used this to write messages out in the doc, and then quickly delete them without ever leaving a trace. Sadly, this has happened in cases of cyberbullying at school. It's very easy to simply share the doc with a whole class or even a whole school so that everyone sees the revealing or harassing content.
5. Kik
Kik is another app that's similar to Discord where kids can either chat with friends or join public group chats full of strangers. This app highly values anonymity so it's easy for someone to pretend to be someone or something they're not. Kids can encounter predation, inappropriate content, and cyberbullying from Kik. And their lack of parental controls makes all of this even more likely that your child may experience these things.
Stay in the loop with Bark
The good news is that Bark can monitor many of the platforms listed above! We'll send you alerts for things like cyberbullying, sexual content, predation, suicide/self-harm content, and more. Additionally, we'll provide help with creating screen time schedules, blocking apps and websites entirely, and requiring app approval before your child can download an app on their device. Start your free, one-week trial today!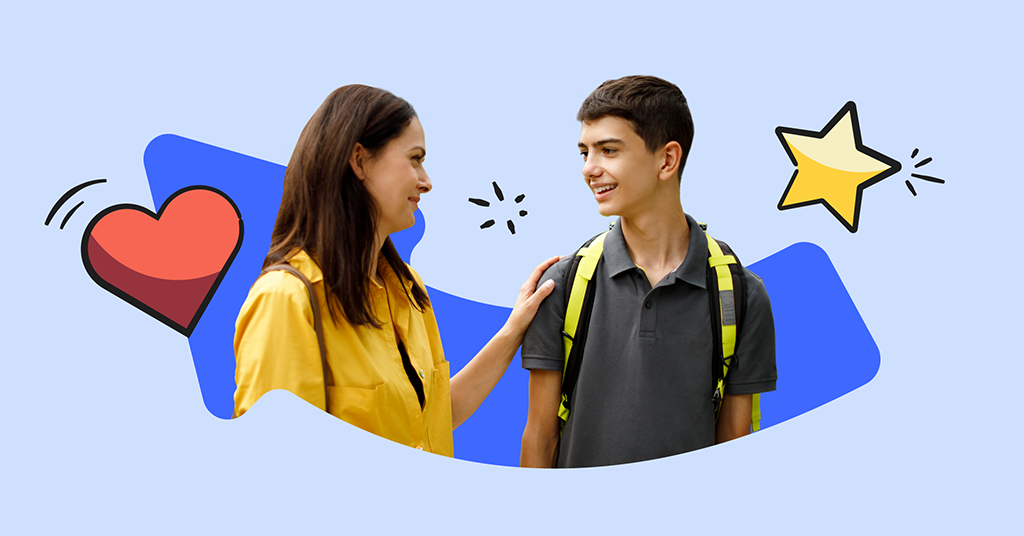 It goes without saying, but the back-to-school season can be more than a little stressful. And the stress can build up so much that the new school year feels more like entering into battle as you switch gears into survival mode. Bu t— it doesn't have to be a losing battle!
There are plenty of things parents can do to prepare the whole family for back to school. Here are our tried-and-true recipes for success: our top 5 tips for starting off strong.
5 Things Parents Can Do to Prepare for the New School Year
1. Create a routine for success
Routines, routines, routines! This is a common tip you've probably heard a lot around this time of year. As we come out of summer, where any sense of routine often fades into oblivion, the question becomes how do you switch to a rigid school structure out of the blue? That's why it's a good idea to take time before summer officially ends to sit down with your family and discuss expectations for new routines.
To start, we suggest creating and committing to a solid morning routine. There's tons of research that shows there's much to gain from a quality morning routine. Secondly, we highly suggest a screen time routine as well. No matter what your kid's daily schedule looks like, it's important to find a happy balance that doesn't impact your child's health or learning. (Bonus: Create a tech contract that includes your family's expectations for screen time!)
2. Set goals for a new and improved year  
The new school year is a great time to reflect on the year before and set goals for what your family wants to accomplish this time around. And this doesn't just have to be your child's academic life, although it's always good to encourage your child's study goals. But think about things like health, extracurriculars, friends, and more.
If you feel like your kid spent too much time on video games last year, talk to them about trying a sport or club at school. Or if your child had trouble making friends, encourage them to try sitting with someone new at lunch this year or joining a new club. Consider writing down whatever goals your family comes up with and refer to them throughout the school year.
3. Acknowledge the heavy emotions and fears 
Back-to-school time can be an emotional and maybe even fearful time for kids. Perhaps they're starting at a new school and have anxiety about making friends. Or maybe they experienced some form of bullying the year before. No matter what, it's always important to check in with your child's feelings and let them know you care about what's going on in their world. Not all kids are great about sharing their emotions without being prompted, so be sure to check in before the first day. And if they are feeling scared or anxious, let them know you're there to help through it.
4. Combat the stress with something fun 
Just because the back-to-school season can be stressful, it doesn't mean there aren't ways to make it fun! Take a second to think of some ways you can spice things up a little bit. Maybe plan on putting a note in your kid's lunchbox for the first day of school with a funny joke. Or promise an outing for ice cream after school once they've finished their first week. Or, if you really want to make a splash, plan a big back-to-school sleepover with their friends on the first weekend — that'll give them something to look forward to!
5. And finally, breathe! 
Lastly, but most importantly, breathe! Seriously, the best thing parents can do is realize that at the end of the day, some things are out of our control. Even with the perfect routines and plans and goals, something is bound to go awry. But that just means it's a great opportunity to model for our kids that life is about rolling with the punches — and that makes life interesting! So to all the moms, dads, and guardians, this is your sign to not put so much pressure on yourself. You're already doing great, just keep it up!
How Bark Can Help
When parents gear up for back-to-school, Bark is a great tool to add to the toolbelt! Parents can use Bark to create those new screen time schedules and manage when kids can use certain apps throughout the day. To help with those moments when everything seems out of control, parents can pause the internet with just one click when the kids need a breather. Bark also offers content monitoring, app & website blocking, and location tracking for greater peace of mind. Start your free, one-week trial today!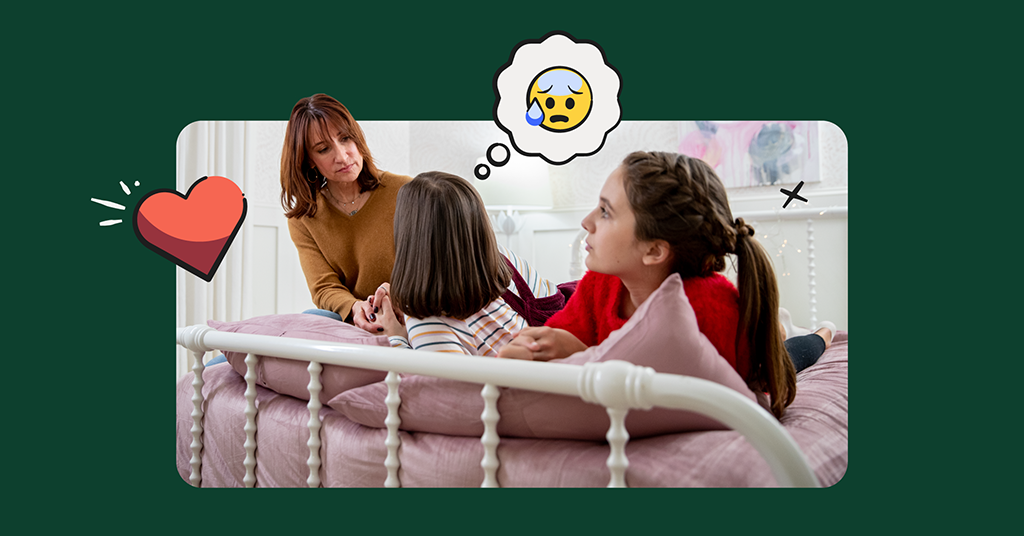 Those last four years of school are often loaded with all sorts of experiences that can be tricky to navigate — for the teen and the parent. It's easy for parents to feel caught between two priorities: keeping their kids safe while they're still home and also preparing them to be independent adults that are ready to move out into the world.
To help you out, we've put together a survival guide that gives some guidance as you figure out how to balance these two important priorities. We'll go over some helpful things to keep in mind about what teens are going through and what they might need most. Let's jump in!
Tips On How To Survive High School (As A Parent)
1. Independence is the goal 
If you have a high schooler in the house, you might notice they've started hanging out with their friends constantly. Or maybe they've started asking to have their own car. They may have even broken a few rules, like staying out past curfew or talking back. From a parent's perspective, it might look like their sole objective is just to get away from you — which can be very hurtful. But from your teen's perspective, they're simply seeking out new ways to feel like their own person. Just because they're looking to leave the nest doesn't mean they hate the nest. It just means they want to test their wings. Consider a compromise that will give them a chance to feel independent, while still respecting your house rules.
2. The amygdala is running the show
It's no secret that teens are hormonal. So when your teen is particularly moody or chooses to have a dramatic reaction to something seemingly small, it may be helpful to understand exactly what's happening in their brain.
When hormones rage, the culprit is the activation of the amygdala. This is the part of the brain where reactive emotion occurs. Teens are generally operating with a far more active amygdala than most adults, which means they are dealing with an intense amount of emotion. Unfortunately, the part of the brain that is supposed to bring logic and problem-solving (the prefrontal cortex) is not quite developed yet. Hence, the moodiness and dramatic reactions.
3. Self-esteem may take a dip 
Along with understanding the inner workings of their brains, it might be helpful for parents to know how high schoolers actually feel about themselves. There's tons of research about self-esteem in adolescents, most of which points to trends of low self-image. Additionally, rates of depression and anxiety are known to increase during this time, specifically ages 12–17. Naturally, researchers try to pinpoint the reasons for these trends, including school pressures, peer comparisons, hormonal changes, and — of course — technology (more on that later).
It's likely that all of these reasons play a role in some way, depending on each kid. But more than figuring out the specific reason, you may find it difficult to get your kid to even talk about their feelings in the first place. And that's not necessarily a bad thing, not all kids are super talkative when it comes to their feelings. But the important thing is to be aware of the possibility that they may struggle with confidence. So take every opportunity you can to hype them up! Be sure to high-five every good grade and bear hug every goal scored — because those are the confidence builders that they'll likely remember more than anything else.
4. Communication is your best strategy
If you take nothing else away from this post, take this: open communication is your absolute best strategy! And specifically, don't shy away from tough or "awkward" conversations. It's a common misconception among parents that bringing up topics such as sex, drugs, suicide/self-harm starts a snowball effect that will result in the exact opposite of what you want. But the reality is, if they don't hear about it from you, they'll hear about it somewhere else. So at least if they hear it from you first, they'll hear it with accurate information and sound advice. And, most importantly, they'll know that you are a safe place to go to if they ever find themselves in a sticky situation.
5. The digital world is their normal
Most kids today are living in two different worlds: the real world and their own digital world. Especially by the time they're in high school, almost everyone will have a phone and at least one social media account — if not more. So much of their social life and learning takes place on these apps without many adults realizing it. This can make it difficult for parents to put themselves in their kids' shoes when their own high school experience was so different.
Our best advice, hands down, is to educate yourself on all the ups and downs of the online world. If this is their normal, make an effort to familiarize yourself with what they may encounter on a daily basis. Learn about the popular apps, the potential dangers kids can fall into, and the parental controls that are available. We know it can be a daunting task when there's so much to keep track of, but it can make all the difference in the world if it helps your family side-step some messy situations in the future.
How Bark Can Help
The good news is that when it comes to high schoolers and technology, Bark won't leave you hanging! Bark was created for the exact purpose of helping parents keep their kids safe online. We offer a suite of parental controls, which allows parents to set healthy screen time schedules, block inappropriate websites and apps, as well as monitor texts, emails, and 30+ social media sites for potentially harmful content.
Along with this, we also have numerous resources that teach parents everything they need to know about the ever-changing online world. And you may consider joining our Facebook group, Parenting in a Tech World, with over 360,000 parents who are all learning the ropes right along with you.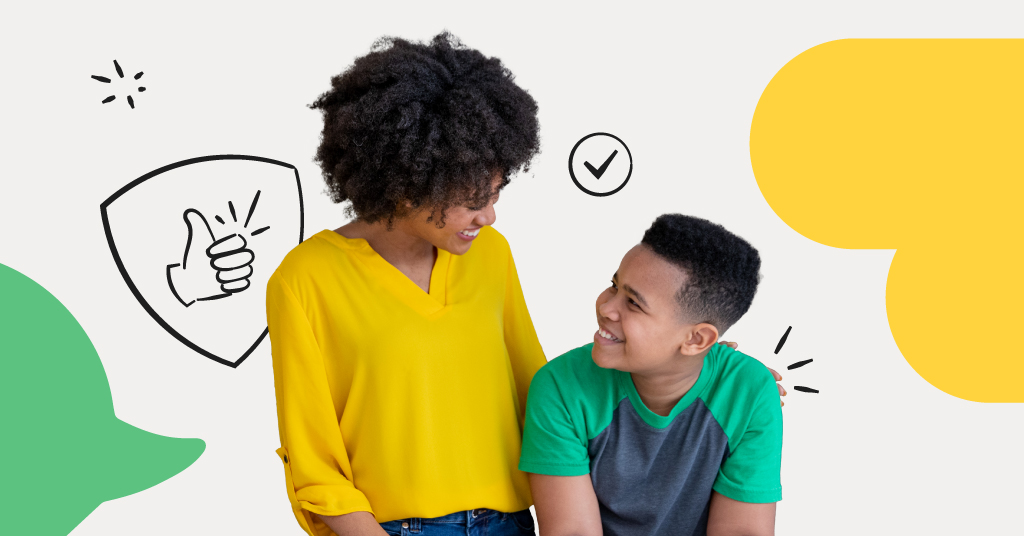 If you've ever gone to Google to ask "How can I block websites on my child's phone?", you probably saw about a hundred ways to go about it. If you've ever Googled "Is Snapchat safe for kids?" you were probably overwhelmed by the endless warnings against kids using the app. In fact, anything related to kids and technology probably feels overwhelming — what are we even supposed to be looking for when we're deciding on parental controls for our kids?
It's understandable that this can be confusing (we didn't grow up with any of this, after all), so that's why we want to help parents in this learning process. We put together some common misconceptions that we've heard from parents in the hopes that you can know what to look for and what to avoid, ultimately so your child can have a safe and healthy online experience.
1. "Flip Phones Are Safer Than Smartphones" 
We all remember when we all had flip phones and life was so much simpler, right? And if it was good enough for us, surely our kids can survive with just that? Well, life may have been simpler but that doesn't mean flip phones are a safe option for today. What people don't realize is that flip phones almost always come with an internet browser. In fact, flip phones may be even more dangerous than smartphones because apps can't be installed on them. So there's no way to monitor or restrict internet activity.
In short, flip phones do not equal safer technology. Flip phones equal unfettered internet access.
2. "My Kid's Instagram Account Is Private, So They're Safe"
Now don't get us wrong — a private profile is a safer profile, for sure. If your kid is going to a social media account, we highly recommend making it private. However, this is not a foolproof solution to protecting your kids from what can happen on a social media platform (not just Instagram).
For one, many of these apps have no way to "lock" the privacy settings, so it's possible your kid could make their profile public without your permission. For another, strangers can still find their way to your child's private profile in all sorts of ways (maybe your child thought they knew this person, so they accepted the request). In general, it's a good rule of thumb to expect loopholes with these social media apps — especially the popular ones like Instagram, Snapchat, TikTok, and Discord — because they weren't created with child safety in mind.
3. "Parental Controls Are An Invasion of Privacy"
At Bark, we hear this a lot. Many people feel that parental controls are a surefire way to cause problems in the relationship between parents and their kids. And we completely agree that kids' privacy is an important thing to protect. But taking a hands-off approach to your child's online world is an extreme and dangerous solution to protecting their privacy. Parental controls don't have to be invasive to be effective in keeping your child safe online.
The best way to avoid strife in your and your child's relationship is to consistently have open communication with them. As early an age as you can, explain to them the dangers and your concern for their safety. Give them the opportunity to share their thoughts and concerns they have about their privacy. Most of the time, kids just want to know they're being listened to. Make their online safety a team effort, that way it doesn't have to feel like an invasion on either side.
4. "My Kid Can't Get Around My Parental Controls"
Maybe you have all of your parental controls set up just right, but do you know all of the potential weak spots of your controls? Unfortunately, no parental control app, system, or device is 100% perfect and many kids are highly … motivated when it comes to their internet access.
Here are some common ways kids may try to work around your controls.
Download a workable VPN that will circumvent your controls.
Connect to a hotspot on another device for free-range internet access.
Use incognito or private browsers to avoid web filtering.
Access a hidden browser that's available within an app (could be any app but apps like GroupMe, Kik, Telegram, and even Instagram all have these backdoors), which means it won't be blocked and won't show search history on the main browser.
"Hide" apps that they're not supposed to have on their phone so that you can't see them on their home screen.
Use an old, unused smartphone (some kids find this in their home or have friends at school that will give them one) that can connect to WiFi to access the internet and social media sites.
5. "My Kid Would Never … "
This is probably the most dangerous misconception. Some people affectionately refer to this as the "Not My Kid Syndrome." As in, all of the bad things that can happen online might happen to other kids — but not my kid. 
Have you ever said or thought of one of these statements before?
"My kid has great friends, they'd never get cyberbullied."
"My kid would never share a nude if they were sent one. And they would definitely never send a nude themselves."
"My kid doesn't deal with anxiety or depression."
"My kid would never try to get around my parental controls using a VPN."
"My kid knows not to talk to strangers online and would never end up in a situation with an online predator."
If you've ever thought of any of these things, we strongly urge you to take some time to reconsider because these things happen way more often than you might think. Just last year, Bark found that 82.2% of teens encountered nudity or sexual content online. And 64.3% were involved in a self-harm/suicidal situation. And according to ICMEC, it only takes 8 minutes for a predator to form a bond with a child.
There's nothing wrong with believing you have a good kid and trusting you've taught them well. But the reality is, the internet is filled with a thousand more temptations and pitfalls than we ever had to navigate at their age So it's in their best interest to make sure they have a safety net to fall back on, even if you don't expect anything to happen.
So What Can I Do?
Well, the first and best thing you can do is educate yourself — and by reading this post, you're already off to a great start! You may also consider joining our Facebook group, Parenting in a Tech World, where over 350,000 parents share tips, ask questions, and encourage one another about this very topic.
Bark is also here to help you and your family navigate this ever-changing tech world. With Bark, parents can set screen time schedules, allow or block sites and apps, use location tracking, and monitor their kids' texts, emails, and 30+ social media platforms. Bark's powerful AI will scan your child's device and send you an alert if it detects any concerning content such as cyberbullying, sexting, suicidal ideation, threats of violence, and more. Sign up today for a free, one-week trial.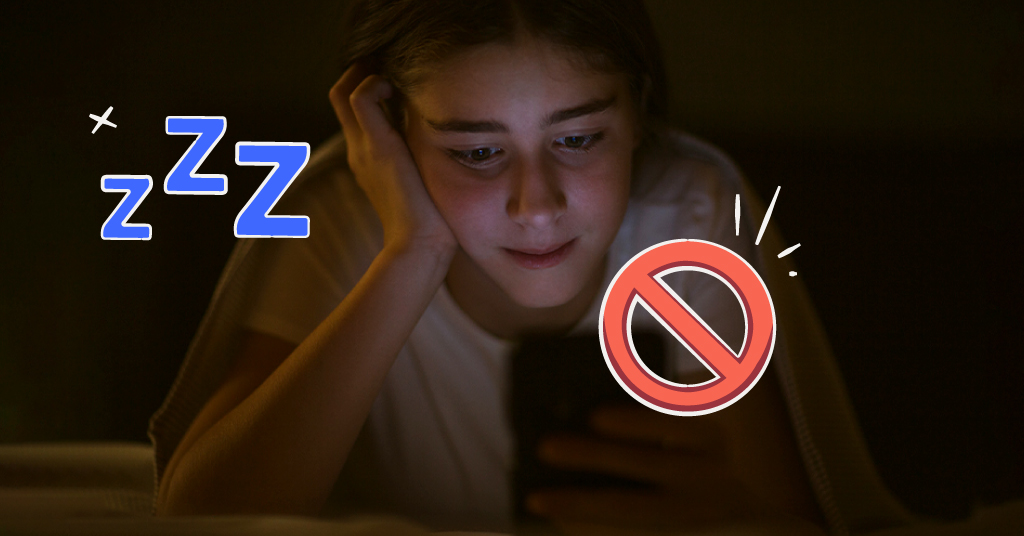 When it comes to having phones in the bedroom, it seems every parent has a different opinion. Some parents are hands-off about it, while others have their bedtime routine written in stone. We know it can be hard to determine what's best for your child when there are so many voices saying different things. That's why we put together the research about what happens when kids have their phones in the bedroom — and why it's probably better to avoid it.
Blue Light Is the Enemy of Good Sleep
Do you ever feel like your kid is constantly saying, "I'm so tired"? Well, it might be time to take a look at their bedtime routine. A study found that kids who were on their phones before bed were more likely to report poor sleep quality than kids who were not on their phones at all. Experts have found there's something that happens at a chemical level in our brains that causes this correlation. Time for a quick science lesson!
Sleep is a necessity for our health, especially for kids. With their brains developing at an exponential rate, they absolutely need a good night's sleep to keep up with the growth! Our brain naturally produces something called melatonin which is a sleep hormone that encourages the body to sleep. But here's the thing — our phones, tablets, and TVs give off something called blue light that prohibits melatonin from being produced. Without melatonin, it takes our body twice as long to fall asleep. Many sleep experts say the best practice is to put away all screens at least two hours before bed to allow for sufficient melatonin production.
The Internet Is an Open Door to the World — with No Supervision
Imagine dropping your kid off on some busy street corner in the middle of the night and saying, "Okay, be safe and don't talk to anyone! I'll be back in the morning!" You'd probably never do that, right? Well, unfortunately, this isn't far from reality when kids have access to the internet alone in their rooms.
By now, we've all heard about the common dangers of the internet: cyberbullying, porn, predators, violent and disturbing content, and so much more. The chances of your kid coming across these become higher when they have full access with no one else around. Kids don't even have to be seeking these things to end up in scary situations — sometimes, it's less about trusting your kid and more about not trusting the world on the other side of the screen.
The Never-Ending Screen Time Cycle
A study from the University of Oregon noted an interesting effect of using phones in the bedroom. First, they found it led to poor sleep (which we already know). However, they also found what's known as a "bidirectional" effect, where poor sleep leads specifically to more phone use at night. That may sound obvious, but essentially it creates a never-ending cycle of replacing sleep with screen time. Since you're not sleeping well anyways, might as well scroll on Instagram for a while, right? And thus, the cycle continues.
How To Start A Healthier Bedtime Routine
So now it's problem-solving time. If your kids have already started the habit of keeping their phones in their rooms, it's no sweat! You can still implement changes now that help guide your family to a new normal.
We suggest starting with an honest conversation. Share with your kids what you've learned and why you think this is necessary. Consider a tech contract that includes the bedtime routine you think is best. And then, slowly but surely, make changes and encourage this healthier nighttime routine.
And the best news is that you don't have to do it alone! Bark wants to partner with you to help your family create healthy screen time boundaries. Our screen time feature allows parents to set free time, school time, and bedtime routines, so your kid only has access to what you think is appropriate for that time of day.
Additionally, Bark allows you to pause the internet at any point for all of your kid's devices. Whenever it's time for bed, you simply tap a button on your phone and their devices can be put away, distraction-free. Learn more about Bark's powerful screentime features, as well as our web filtering and content monitoring, and start your free 7-day trial today!