Announcing the Bark Phone Starter Plan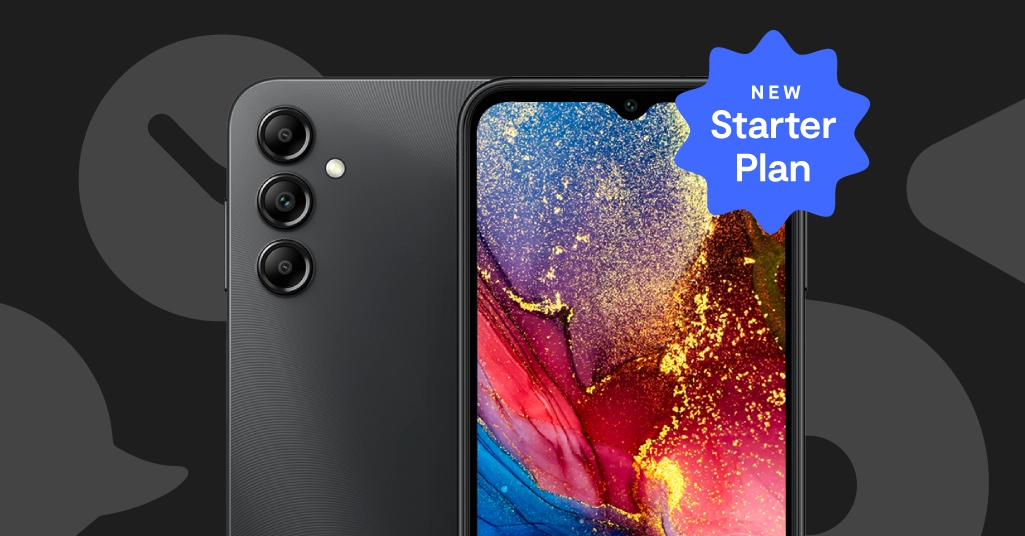 At Bark, we're hypervigilant about hearing what real parents need for their children's digital safety. We're constantly updating our app and the Bark Phone with new features that come directly from parent suggestions. So that's why we're thrilled to announce our brand new starter plan for the Bark Phone!
The starter plan was designed for families looking for a simplified, limited-capability smartphone. For just $29/month, parents will get a phone with zero access to the internet or the ability to download apps. Perhaps this will be your child's first phone, or you have a teen that needs some extra guardrails. In either case, this is the perfect phone for kids who need a well-structured digital environment without any potential workarounds.
This is not to be confused with the other plans for the Bark Phone. With those, parents still have the ability to turn off (or turn on) access to the internet and app store from their parent app. The difference with the starter plan is that it comes already locked down without this access, right out of the box. Let's dig into some specifics!
The Perfect First Step for Kids
For many kids, their first step into the digital world doesn't require much. Simply talk, text, and maybe a camera will suffice. So that's exactly what the starter plan offers — no internet and no access to the app store. But it's also packed with Bark's tried and true parental controls that make it a parent favorite. Here's a rundown of features you can expect from the starter plan:
Unlimited talk and text: Stay connected with your child through unlimited calls and text messages, ensuring seamless communication whenever they need it.
No apps or games: The starter plan provides a streamlined digital landscape with no distractions or potentially inappropriate content.
No social media: Say goodbye to social media concerns with a plan that keeps those platforms at bay, offering peace of mind for parents.
No web browsers: Web browsing is completely off the table, ensuring a worry-free online experience for your child.
Automatic text monitoring: Bark's advanced technology will scan conversations and alert you to potential issues.
Mandatory contact approvals: You'll give the okay to every single person your child wants to message — no exceptions.
Disabled voicemail: Voicemail is disabled to maintain a controlled and focused phone experience.
Monitored camera: You can choose whether to allow the device's camera and rest easy knowing that any problematic photos and videos will trigger alerts.
24/7 location tracking: Keep an eye on your child's whereabouts no matter where they roam.
Upgrade Whenever Your Family Is Ready
What if later down the line you need to add access to the internet or the app store to your child's phone? Not to worry! You have the flexibility to upgrade and keep the same phone as your child grows and becomes ready for more responsibility. Our advanced plans, starting at just $49 per month, allow you to introduce games, internet access, and additional features when the time is right. In just a matter of minutes, you can have the exact type of phone your child needs, without having to order an entirely new phone.
Our advanced plans give parents the option to require (or not require) things like app approvals and contact approvals. With the ability to download apps, parents will also have Bark's monitoring for 30+ platforms, including Snapchat, TikTok, and Roblox. Additionally, parents can create screen time rules and schedules to help kids follow healthy boundaries when it comes to device usage.
The Bark Ecosystem
By choosing the Bark Phone, you gain access to more of the Bark ecosystem. This starter plan, along with all other phone plans, includes a Bark Premium subscription. This means you can add Bark's robust parental controls to all other devices and accounts in your home at no extra cost. Do you have a tablet in the home or perhaps an email account for a younger child? Bark's got those covered!
No matter what your family's online safety needs, Bark's got you. The premium subscription covers content monitoring and screen time controls for all mobile devices in your family. Need screen time controls for things like computers, smart TVs, and gaming consoles? In that case, the Bark Home is your solution. Learn more about how Bark can partner with you to keep your kids safer in the digital age.
About Bark
Bark is a comprehensive online safety solution that empowers families to monitor content, manage screen time, and filter websites to help protect their kids online. Our mission is to give parents and guardians the tools they need to raise kids in the digital age.