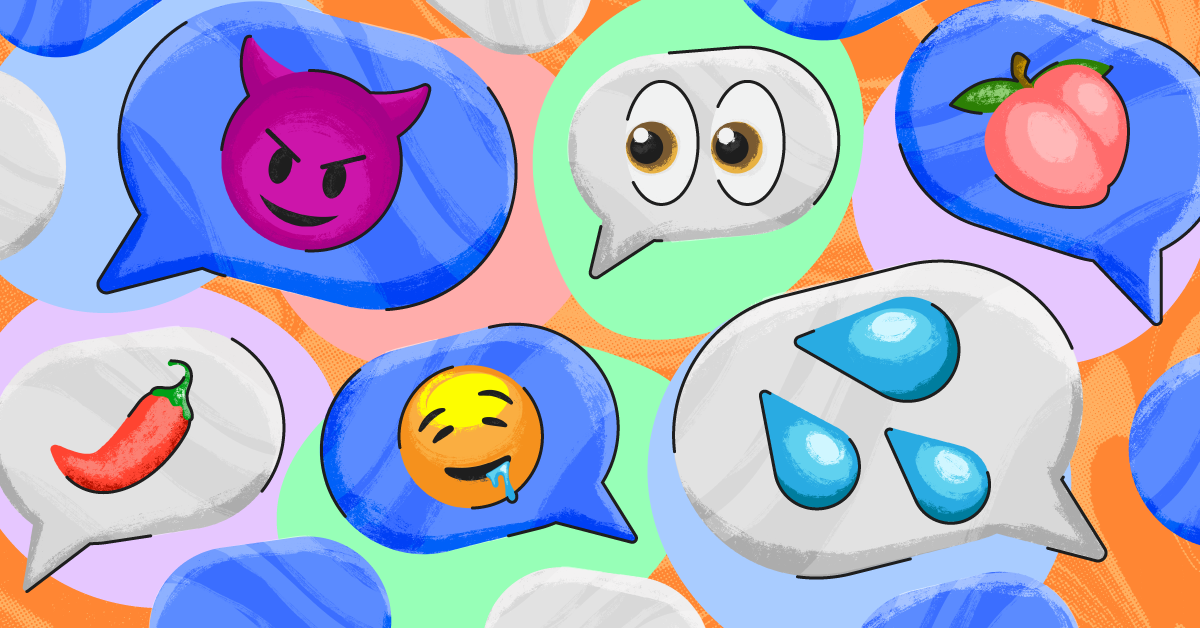 Emoji Slang: A Guide for Parents
You probably know some of the slang terms your child uses while texting, but you may be completely baffled by all of the emoji slang they use to chat with friends. But don't worry — we've explained some of the most common emojis teens and tweens use so you can know what they're actually saying. Warning: some of these can be a little 🌶️  (explained below).
You can also download our shareable PDF in case you know someone who has just got to get up to speed on these inscrutable teen hieroglyphics.

Popular Emoji Slang
🍆

— Penis

🍑

— Butt

🌮

— Vagina

👻

— Indicates being "ghosted" (dumped with no explanation)

👉👈

— Shy, nervous (usually in the context of flirting)

👌

— Can indicate support for white supremacy in certain contexts

💦

— Ejaculation

👅

— May indicate sexual activity, especially oral sex

😈 — Feeling frisky or naughty

👁️ 👄 👁️ — A response that means, "It is what it is"

 🧚‍♀️✨— Can be used in comments to denote a sarcastic, mean-spirited tone

🍃

— Marijuana/weed

🤤

— Desiring someone sexually (often used in response to nudes)

🍒

—

Breasts/testicles/virginity

👀 —

Used when sending or receiving nudes

💯

—

A stamp of approval; "I agree"

🔨 — Used to refer to sexual activity

🌶️

— Indicates "spiciness," i.e., inappropriate or risque content
About Bark
Bark is a comprehensive online safety solution that empowers families to monitor content, manage screen time, and filter websites to help protect their kids online. Our mission is to give parents and guardians the tools they need to raise kids in the digital age.