12 Family Activities to Actually Get Your Kids Excited About Bonding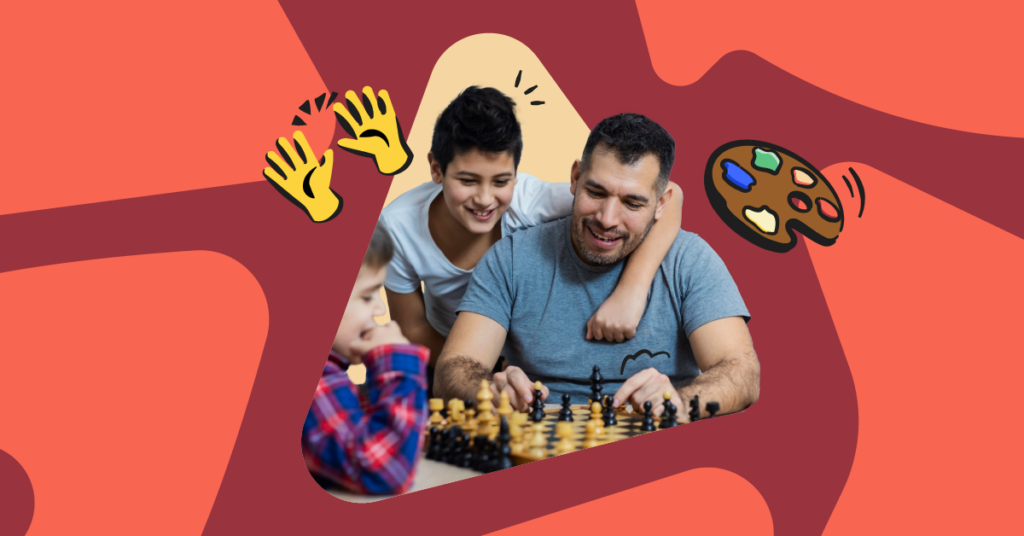 If you're looking for some new family activities that go beyond trips to the usual store, the same old dinnertime conversations, or yet another regular movie night, we've got some ideas to bust you out of your rut.
These fun ideas will help you view family time with a new lens, while allowing every member of your family — from the oldest to the youngest! — to join in and participate. And if you need help keeping screen time managed, Bark Home can definitely help you keep your kids present for all these activities.
Food-Themed Family Activities
Have a Grocery Store Surprise Potluck Night
If you're willing to get a little creative and loosey goosey with dinner, consider a grocery store potluck night. Divide up your family and send them off to get one part of the meal. For example, kids can get sides, parents can get main courses, etc. Don't discuss plans beforehand to ensure that it's definitely potluck. Macaroni and cheese with a side of instant mashed potatoes? There's no rules when it comes to surprise potluck night!
Throw a Costume Dinner
Need a quick way to spice up a Tuesday night dinner? Come up with a theme (like Frozen, famous Joes, or family member switcharoo) and let everyone see what they can put together with items from their closet. No formal costumes required — the fun is seeing how creative your family can get on short notice. Bonus points for staying in character during the meal!
Hold a Favorite Dip Party
From a buffalo chicken dip to a tasty homemade hummus, dips are easy to make and can provide a lot of different flavors and textures. Have your family members pick their favorites, have everyone assemble the ingredients, and get to dipping! Even younger kids can help with simple dips like three-ingredient nacho cheese. Don't forget the chips, bread, and fruit to sample all of the delicious spreads.
Do a Movie Night Culinary Extravaganza
This spin on a traditional movie night is sure to get your family excited about your next double feature. Pick a movie where food is featured — or a country or region your family has always wanted to visit – and make or order something inspired by it! This could look like homemade ratatouille when watching everyone's favorite rat chef (Ratatouille) or trying your hand at agua frescas and molé from Mexico (Coco). The only limits are your imagination — and taste buds! You could even keep it simple and have tea time with Mary Poppins.
Outside Family Activities
Find a New Park to Picnic In
Whether you're looking for a new jungle gym in a neighborhood playground or ready for a trip to a nearby national park, getting out and exploring can be tons of fun. Depending on the park, there could be sports fields, waterfalls, historic houses, or even just a beautiful meadow. Pack up some tasty sandwiches, fresh fruit, and ice-cold drinks and head off to play in the great outdoors!
Pretend to Be Tourists in a Nearby Town
Ever wonder how the ice cream shops in the next town over are? How about their main street? Even nearby neighborhoods can feel completely different from the part of town you live in, and can sometimes hide hidden gems you wouldn't discover otherwise. Head on over to a place you've only ever heard of — or driven by — and see what it's like.
Go on a Seek App Adventure
The Seek app by iNaturalist is truly a game-changer when it comes to helping your family learn about the plants in your neighborhood. Say goodbye to wondering the name of flowers that bloom so beautifully in your neighbor's yard or trying to figure out what species of tree is in your school playground. To kickstart your kids' interest in nature, see who can identify the most plants in five minutes — they'll use critical thinking skills and creativity as they rack up rhododendrons and collect calla lilies.
Visit the Nearest Body of Water
No matter where you live, there's bound to be a water feature somewhere nearby. Whether it's the beach (if you're lucky!) or a river, pond, or lake, consider making a family jaunt to enjoy it. Go swimming, practice skipping stones, try your hand at fishing, or just bask in the beauty of moving water — it can be surprisingly refreshing.
Indoor Family Activities
Give an Old-School Card Game Lesson
Dust off the old pack of playing cards from the shelf and give your kids a lesson on how we used to kill time before cell phones and airpods. Whether it's a classic game of War or Go Fish with younger kids or the fast-paced thrill of Speed or Egyptian Rat's Crew with tweens and teens, these standards are sure to get your family invested in cards.
Have a Paint-Off
Gather some painting supplies (or crayons, or colored pencils) and pick something to draw. It can be flowers, the family pet, even something silly like Superman. Then, have everyone try to capture the same scene artistically. Half the fun is seeing how wildly different everyone's masterpiece will turn out. The other half? Discovering who the family artist is!
Build an Epic Fort and Camp Out in the Living Room
You've probably built a quick fort before by throwing a blanket over a couple of chairs — it's one of the most popular family activites! We challenge you, though, to go all in. Collect some big boxes. Make tunnels. Bring in every pillow in the house. This activity may not be for the faint of heart, and it may make a bit of a mess, but we guarantee your kids will definitely remember a fort palace on this huge scale.
Gather Round and Head Out on the Oregon Trail
An entire generation of kids was raised on this vintage video game — we used to even play it in school! While it may not be on the curriculum anymore (and gaming has definitely gotten more advanced in the past 30 years), it's still one of the best family activities you can have gathered around a computer. You can also play it online! Be careful though — fording rivers is still as dangerous as you remember.
About Bark
Bark is a comprehensive online safety solution that empowers families to monitor content, manage screen time, and filter websites to help protect their kids online. Our mission is to give parents and guardians the tools they need to raise kids in the digital age.