10 Video Games for Kids That Are Sure to Make a Splash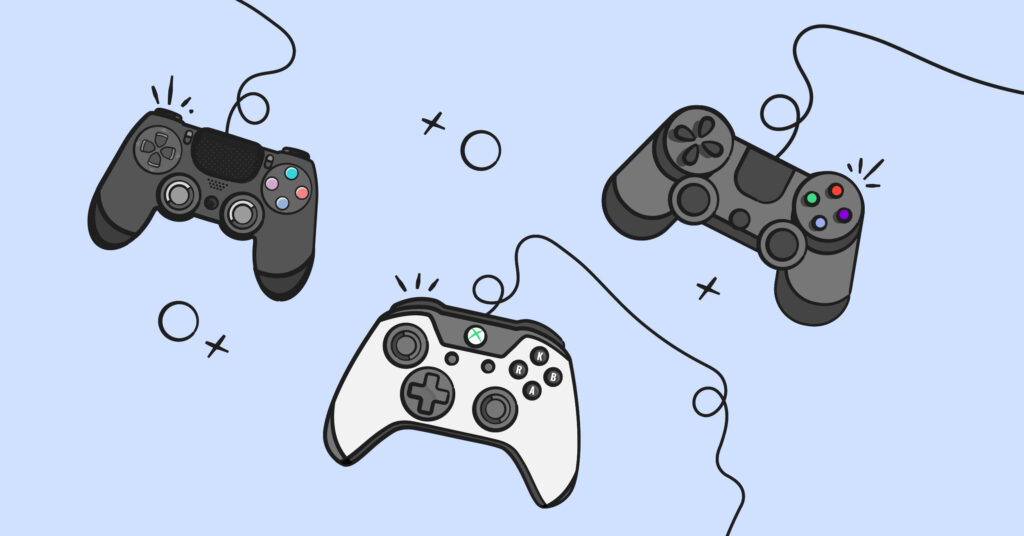 Has your child graduated past the Minecraft and Roblox stage of gaming? If so, you're probably looking for some video games for kids that aren't too violent or inappropriate. Whether they're into edge-of-their-seat space adventures, action-packed racing, or the gentle explorations of open-world games, there's something for every taste on this list. Some are even two-player games, so we recommend popping a huge bowl of popcorn, grabbing a blanket, and doing a little virtual bonding with your kid as you face off on the couch. We've compiled a list of the most popular and best video games for kids.
The Best Video Games for Kids
1. Mario Kart 8 Deluxe
Nintendo Switch
Mario Kart 8 Deluxe is a popular choice for kids video games on the Nintendo Switch. Generations of kids have been trying to out-zoom each other in the fast-paced tracks of Mario Kart on every Nintendo platform since 1992. Mario Kart 8 Deluxe, released in 2017, is the latest edition and has become the Switch's best-selling game ever. It's got the usual cast of characters along with updated, high-octane features like antigravity tracks, brand-new battle modes, and more.
2. Untitled Goose Game
PS4 / Xbox One / PC / Nintendo Switch
This game is about as wacky as it sounds. Your character: a horrible goose. Your job: to cause mischief for the quaint villagers in your lovely little town by being annoying, hiding things, and doing other ridiculous tasks. Experienced gamers and newbies alike will find this game a ton of fun as you honk, bother, and bite your way around town.
3. Rocket League
PS4 / Xbox One / PC / Nintendo Switch
Imagine a soccer stadium. Now, imagine the players are all super-fast, rocket-powered cars and the ball is bigger than a tank. Your mission? To use your car to knock the ball into the opponent's goal. It's a wild ride, and definitely harder than it sounds. Kids video games have come a long way, and Rocket League is a perfect example, as there are even professional esports leagues built around it.
4. Overcooked 2
PS4 / Xbox One / PC / Nintendo Switch
Overcooked 2 is a chaotic co-op video game for one to four players. In it, you work together to cook sushi, burgers, and more while navigating complicated kitchens and responding to hungry customers. When the pressure's on, you'll be shouting "On your left!" and "Chop those onions faster!" like a seasoned chef in a fancy Parisian kitchen.
5. Animal Crossing: New Horizons
Nintendo Switch
If you remember the first few months of the pandemic in 2020, you probably recall hearing about Animal Crossing. This low-stress game provides kids with an escapist dreamland that's at once comforting, relaxing, and heartwarming. Whether it's picking fruit, listening to the waves lapping on the shore, or wishing on a shooting star, the game provides moments of peace and little bursts of connection.
6. Zelda: Breath of the Wild
Nintendo Switch
It may be hard to believe, but this is the 19th installment in the Zelda franchise — and quite possibly the most ambitious yet. The gorgeous game is completely open-world, which means that players can spend hundreds of hours exploring, fighting, talking, and just generally enjoying the majestic kingdom of Hyrule. Our favorite part? Cooking is actually a huge part of the gameplay as you concoct recipes to restore health, gain strength, and more. Zelda is, without saying, one of the best video games for kids.
7. Ratchet & Clank: Rift Apart
PS5
The latest entry in the Ratchet & Clank franchise sees our loveable space heroes adventuring across the galaxy by rifting through dimensions, which opens up all kinds of new abilities and locations. This sci-fi adventure is loads of fun with a heartwarming, emotional core that will keep you playing.
8. Just Dance 2022
PS4 / PS5 / Xbox One / PC / Nintendo Switch
If your kids love to boogie, Just Dance 2022 will help them shake their groove things while burning off a little excess energy. Players choose a song from some of today's biggest hits (think Dua Lipa, Billie Eilish, and Olivia Rodrigo) and then try to keep up with the hip, on-screen choreography. The more precise you are, the more points you get! You can use motion controllers or a free smartphone app that will rank your performance.
9. Splatoon 2
Nintendo Switch
Looking for one of the less violent first-person shooter video games for kids? Splatoon 2 is a great option that provides the fun of action games with a kid-friendly twist: it's all about ink instead of bullets! You run around trying to cover your enemies — and the environment — with brightly colored paint while avoiding being splattered yourself.
10. Kena: Bridge of Spirits
PS4 / PS5 / PC
A breathtaking adventure game with mind-blowing graphics, this game follows Kena, a young spirit guide who's responsible for helping recently passed-away people cross the bridge to the afterlife. While that sounds pretty heavy, the game is actually pretty fun and exciting, and it consists of a lot of monster-fighting and exploring beautiful environments.
About Bark
Bark is a comprehensive online safety solution that empowers families to monitor content, manage screen time, and filter websites to help protect their kids online. Our mission is to give parents and guardians the tools they need to raise kids in the digital age.