Do These 5 Things & Stop Worrying About Online Safety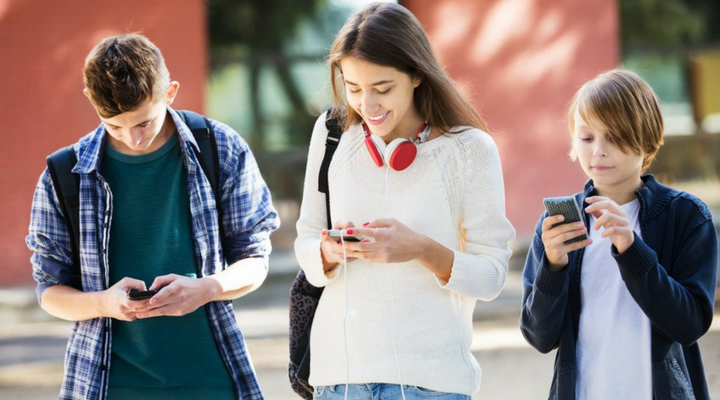 One of the greatest – and relatively newest – challenges facing parents today is how to ensure our children's online safety. With so many internet-connected devices available to them, it's increasingly difficult to know what they're seeing, who they're meeting, and what they're sharing.
With a teenager, gone are the days of keeping the family computer in a communal family room and peeking over their shoulders. Now, they have their own devices and are (somewhat) free to roam the wild, wild internet … alone.
Children left to their own devices – literally and figuratively – without parental supervision have historically not proven themselves to be of sound judgment. (Lord of the Flies, anyone?)
So teaching online safety can feel overwhelming but take heart – it doesn't have to be! Armed with these five tips – and the added protection of an online safety watchdog like – the internet can be a safe and fun place for children of all ages.
1. Talk About Online Safety
Once your children are old enough to establish some internet autonomy, you'll want to teach them how to protect their own privacy. A great way to find out how your children are practicing – or not practicing – online safety is to talk to them about it. Ask them about their social media accounts, which YouTube channels they watch, what games they play, which apps they like – and why. Open, proactive dialogue can present you with otherwise missed opportunities to discuss internet safety, and will help encourage them to come to you about anything they see online that doesn't feel right or concerns them.
Also, be sure your children know to never:
Use their real name as their screen name
Give their name, phone number, email address, password, postal address, school, or picture without your permission
Open email from people they don't know
Respond to hurtful or disturbing messages.
Get together with anyone they 'meet' online
2. Offer Space, but With Boundaries
Once you decide how much time you're comfortable allowing your children to spend on their devices and have established the do's and don'ts together, you can take a step back and see how they handle the responsibility of personal reputation management, personal safety and time management.
Posting your rules for internet usage – and the consequences for breaking those rules – can serve as a top-of-mind reminder of your expectations as your children establish their internet independence without you nagging them about it.
3. Observe Physical Behavior
Copilot your children as they explore the internet. It's the best way to make sure they know how to navigate it – and its pitfalls – safely. Pay attention to their physical and emotional responses more than usual as you offer space and independence. Do they seem sad? Are they secluding themselves? Do they still hang out with others as they would normally? How attached to their devices are they?
Their physical behavior can help cue you to dig a little deeper into their online and social spaces.
4. Monitor Digital Behavior
Monitor your kids' texts, browser history, emails and social media. Many data and internet service providers offer parental-control options to block certain material, add time constraints or data limits. Your browser – Internet Explorer, Safari, Chrome, etc. – also offers parental control filtering.
Additionally, you can enlist the help of a service like to monitor your children's activity on all connected social media accounts, texts, and emails for potential issues – and to then notify you only when issues are detected.
5. Talk Some More
And when you think you've talked enough, keep talking. This can be as simple as asking your child to show you how to use an app they love to gently – and subtly – initiate a conversation about what's going on in their online world. By establishing early on that you are open, receptive and engaged, you encourage your children to come to you should they encounter a problem – rather than hide it out of fear.
Don't allow the internet to be a scary and uncertain place – it really doesn't have to be. The internet opens an infinite world of knowledge and information that, when coupled with open communication, boundaries, observation, and engagement – can be fun, entertaining and educational.
As with anything, an ounce of prevention is worth a pound of cure. helps to empower and encourage parents to be involved in promoting their child's safety without compromising their privacy or independence.
Try now and get your first month free. Simply sign up and work with your child to connect their email, text, and social media accounts. And just like that, you're well on your way to helping your children enjoy the internet safely.
About Bark
Bark is a comprehensive online safety solution that empowers families to monitor content, manage screen time, and filter websites to help protect their kids online. Our mission is to give parents and guardians the tools they need to raise kids in the digital age.