12 Fun Games to Play for Christmas with Your Family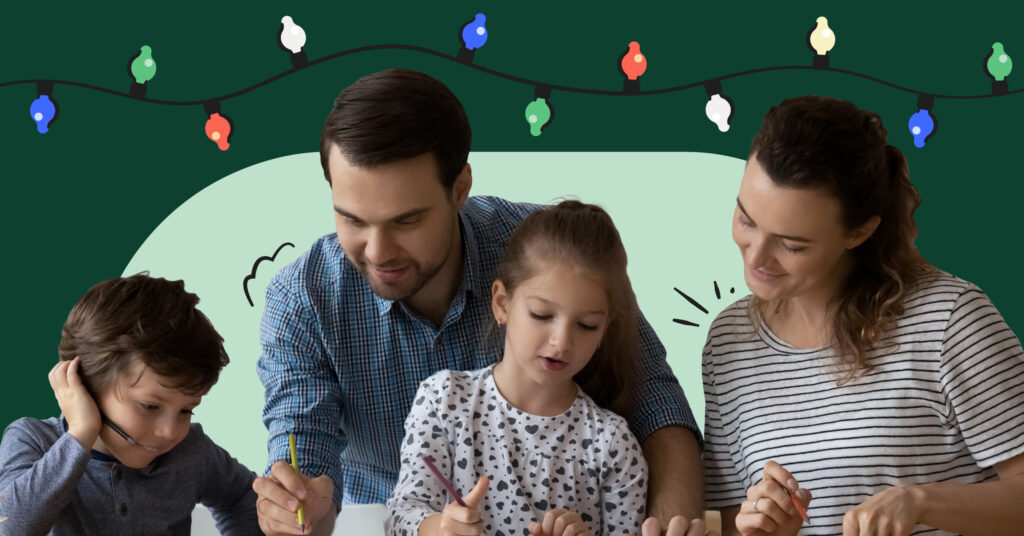 The Christmas season is here! The family is in town, school is out and the workload is light. As you gather around the tree and catch up, you might find a little extra time to be filled. If you're looking for a way to entertain the kids, bond with family, or break the ice, consider these 12 fun games to play for Christmas.
12 Games to Play for Christmas
Do You Want to Build a Snowman?
If you're eager to tire out the kiddos and want to have some fun "breaking the rules," Do You Want to Build a Snowman might be the perfect game for you. Break out the toilet paper for this game and divide the group into teams. Have each team designate a snowman and one person to wrap them in toilet paper. Add in some extras like pom-poms, a hat, or a scarf and then have everyone vote on who's crafted the most festive Frosty.
Candy Cane Hook 'Em
Candy Cane Hook Em' reimagines the classic pickup sticks game with candy canes and a new twist. Drop two dozen or so candy canes on the table, then set a timer for a minute. Using only the candy cane in their mouth, each participant must try to hook each candy cane on the table and move it to a bowl. The person with the most candy canes in their bowl at the end of a minute wins!
Family-Friendly Christmas Murder Mystery
Give everyone in the family a chance to take on a new name and step into the spotlight this year with a family-friendly Christmas murder mystery. Suitable for kids 12 and up, this light-hearted game casts everyone in roles from Icy the Snowman to Mrs. Santa Claus to solve a holiday mystery. You can download a full package of materials from character descriptions to the evening's script and clues at MyMysteryParty.com.
White Elephant Christmas
The White Elephant Christmas takes the stress out of gifting, if only for one night. The famous gift-swapping game asks family members to each purchase a small gift under $15. All participants put their gift in the bag and then draw a number to see who picks from the stash first. During each round, players can choose to either open a new gift from the pile—or steal a coveted item from another player.
Christmas Pictionary
Whether you have a budding Picasso in your family or are artistically challenged, this fun contest gets the whole group laughing as they try to guess the Christmas-themed person, place or thing based on a teammate's sketch. You can print and cut out different Christmas hints for free here.
Reindeer Ring Toss
This inflatable, minute-to-win-it game is less than $20 on Amazon and comes with two inflatable reindeer antler hats, 11 inflatable rings, two reindeer noses, and a mini air pump. Simply pump up the items and do your best to toss your rings around your partner's antlers. The person with the most rings on the antlers at the end of one minute wins.
Christmas Movie Bingo
Make your favorite Christmas films interactive with Christmas Movie Bingo. From more adult-friendly Hallmark Holiday Movie Bingo to Kid's Christmas Movie Bingo simply download playable cards for each kind of movie and use beans or pennies to cover the spaces as you follow along. The first person with five in a row wins a special holiday prize.
Lump of Coal Saran Wrap Gift Game
Get in some grade-A unwrapping practice before the big day with this exciting and fast-paced game. Pick up small gifts — from candy to gift cards — and one big roll of saran wrap. Wrap each gift one by one in different layers until you are left with just a big ball. To play, participants frantically take turns trying to unwrap the ball to get to the prizes hidden in between the layers. Each player is allowed to unwrap and keep whatever falls out of the ball until the person to their right rolls doubles on a set of dice. For a special Christmas edition of this party game, add "coal cards'' into the package, which stipulate special rules. These can look like "before unwrapping you have to name five of Santa's reindeer" or "unwrap with a Santa hat over your eyes!"
Face the Gingerbread man
Bake or buy some of the season's beloved cookies and prepare for some laughs. This humorous challenge asks players to place a gingerbread man onto their face, working to shimmy it down until you can snag a bite before it drops. No hands are allowed and the first person to snag a bite wins.
Heads Up Christmas Edition
Think you know how to take hints? Heads Up is a fun twist on charades that asks one person to put a card to their forehead without looking and then try to guess who or what they are based on hints from the rest of the group. Super in sync with your siblings or spouse? Break off into groups and see what team can get through more guesses first. You can download the Heads Up app with a special holiday-themed pack for $1.99 or you can print off these cards for free.
Gingerbread House Competition
You can't go wrong with a good old-fashioned baking and decorating competition. Snag some gingerbread decorating kits at your local grocery store or on Amazon and then go to work! After your ginger village is decorated, snap some photos and let the internet decide who will be named this year's champion.
Santa Suit Relay
Suit up and get ready for an exciting relay race! To play, split up your group into two teams and place a "Santa suit"—think gloves, hat, boots, pants, and a jacket—a few yards away. As soon as the whistle sounds, the first players must race to their designated suits. Then, they have to scramble to put everything on and exclaim "Ho, ho, ho." Finally, they have take everything back off again and run back to tag the next player. The first team to dress all of their Santas and run back to the finish line wins.
About Bark
Bark is a comprehensive online safety solution that empowers families to monitor content, manage screen time, and filter websites to help protect their kids online. Our mission is to give parents and guardians the tools they need to raise kids in the digital age.