iOS 16: What Parents & Families Need to Know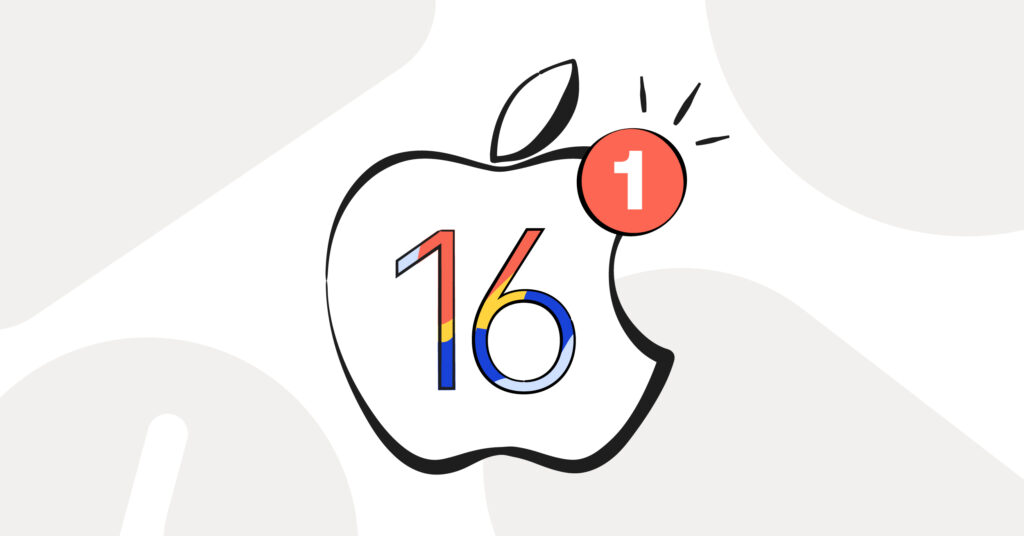 It's that time again! Apple has dropped its new iOS 16 updates. Users everywhere now have access to brand new features and functions on iPads and iPhones. As always, Apple didn't hold back in making their update chock-full of improvements in almost every area.
Figuring out what's important can be overwhelming for busy parents who want to stay in the loop. That's why we've put together everything you need to know — the concerning, the helpful, and the just plain fun.
iOS 16 Update: The Concerning Stuff
Text messages can be unsent
This is one of the big-ticket changes in iOS 16, and people are already talking about it. Apple users can now unsend any message within two minutes of pressing "send." You guessed it, this opens the door for all sorts of inappropriate content — including texts, photos, and videos — to be sent to your child's phone and quickly recalled. Fortunately, when you unsend a message, a note appears informing you and the recipient that it happened.
Note: You can only unsend texts using iMessage. Texts with Androids won't have this option. Also, if the other person hasn't updated to iOS 16 yet, the message won't actually be unsent even though your phone will say that it is.
Texts can also be edited
Text messages can now be edited within 15 minutes of sending. This isn't as concerning as the unsend feature, though, because both you and the other person will be able to see a full record of the editing history, including the original text.
SharePlay now allows users to watch TV and movies together in Messages
SharePlay, which was introduced last year, lets you stream video or music in sync with others. Up until this new update, you could only use SharePlay while FaceTiming with the other person. Now, you use SharePlay within the Messages app. When someone gets your invite, they'll be able to watch the same video or listen to the same audio that you're streaming with the ability to chat simultaneously in Messages. This means that even if you block Netflix or have stringent parental controls, your kids may be able to watch TV shows and movies with no restrictions as long as their friends don't. 
Currently on your iPhone, there are two photo albums called Hidden and Recently Deleted. Photos placed in the Hidden album don't appear in your library and are only accessible by going to the Hidden album. The Recently Deleted album stores photos and videos for 30 days before being completely deleted from your device.
With the iOS 16 update, these albums will now be locked by default, requiring authentication to gain access. In other words, you will now have to use Face ID, Touch ID, or your passcode in order to see these albums. Parents, this means that your kids will now have the ability to store inappropriate content on their devices without your knowledge if you don't have their log-in information.
Public Note links
This update lets you invite anyone to collaborate on a note in the Notes app. All they need is the link, and anyone can share content to your child's device (before this update, collaborators had to be manually added). This makes it like a Google Doc, and that means it's a de facto chat app. So while you may block texting or social media after bedtime, there's a chance your kid could use this workaround to chat with friends late into the evening. 
iOS 16 Update: The Helpful Stuff
Family Sharing updates
For Family Sharing devotees, Apple has improved account and device setup. Setting up your child's account will now be streamlined with suggestions for age-appropriate media restrictions. Similarly, setting up your child's device will have a quick start feature where certain parental controls will be put in place by default. There's also a new Family Checklist where parents can receive suggestions for parental controls.
Approve Screen Time requests in messages
Another new Family Sharing feature is the improved Screen Time request feature in Messages. The request will appear as a text message, making it easier for parents to approve or decline when a child asks for a few extra minutes of Youtube.
Health app updates
If your child has medications they need to take daily, the updates to the Health app will be super useful. It now allows you to track medications, vitamins, and supplements as well as receive reminders for when to take them. Kids can also log each time they take a medication and receive interactive charts to help them understand how consistently they are remembering to take it.
The Health app also has educational features that could be lifesaving. The app will give you some basic information about the medication you log, including how to pronounce it, what it's used for, and any potential side effects. Also, if you log two medications that might result in a dangerous reaction, you'll receive an alert to warn you of the hazards of mixing.
New Focus features
The Focus features previously introduced by Apple have encouraged users to make their phone as undistracting as possible during certain times of the day. The new update makes the Focus feature even more customizable and specific to your needs. Kids and parents can choose specific Focus settings during school or homework hours, as well as create lock screen options to avoid the temptation of checking notifications.
Some Fun Stuff!
Super customizable lock screens
iOS 16 comes with a variety of ways to customize your lock screen and truly make it your own. Some of these include the ability to edit the lock screen elements and stylize the date and time with different fonts and colors. You can also choose the Photo Shuffle feature, which cycles through several pictures throughout your day, instead of just showing one.
FaceTime improvements
FaceTime has a few new features that will improve the experience if you're needing to multitask. First, you'll be able to seamlessly move the call between devices. Thanks to iOS 16, you can now easily switch between your iPhone, iPad, and Mac. Additionally, there will be a collaboration feature where the people you're FaceTiming can collaborate on Files, Notes, Reminders, and Safari with you. All you have to do is hit the Share button and everyone will have access to the project.
About Bark
Bark is a comprehensive online safety solution that empowers families to monitor content, manage screen time, and filter websites to help protect their kids online. Our mission is to give parents and guardians the tools they need to raise kids in the digital age.