Bark Guide to Parental Controls On Your Kid's iPhone or iOS Device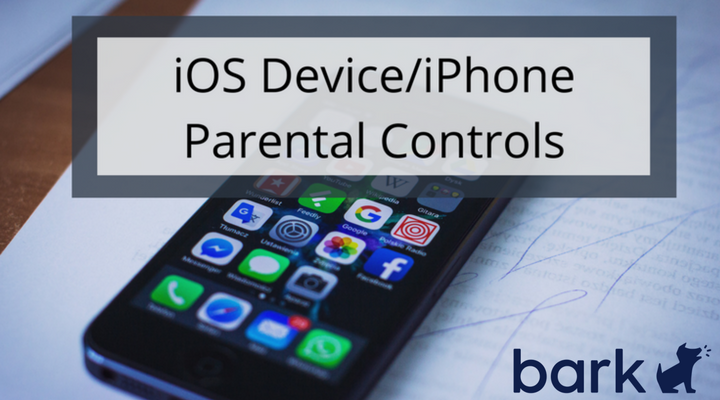 At Bark we're serious about helping parents protect kids online. One way to do this is to set up parental control for iPhones or iOS devices your kids use. Then you know what they can and cannot access on their devices. Below is a non-exhaustive, but fairly comprehensive, overview of what you can do to your child's iOS device to set them up for a positive and responsible experience. We provide tips on the varying levels of restrictions so you can make the best decision based on your individual kids.
But that's just the beginning, after getting phone restrictions in place check out Bark. Bark monitors your child's email, social media, and text messages for cyberbullying, sexting, grooming, and even signs of depression or suicidal ideation. Then we alert you if there is a potential issue. No more combing through every message ever! Saving you time and providing a safety net for your kids too. #WinWin
Setting up parental controls on your kid's iPhone or iPad is like setting up a security detail for the President. Different areas are put under different types of restrictions - some are on lockdown and some are set up for restricted access to trusted advisors only. You decide which ones are best for your kid.
The Eagle Has Landed: A Passcode For Each Device
You've given your kid a new iPhone or iPad, but you haven't given it to the stranger who finds it when they've lost it. Put a passcode on their iPhone that you and your child know, but others won't. Go to Settings > Passcode (or Touch ID & Passcode) > Tap Turn Passcode On > Enter a 4 digit code > Re-enter code to confirm.
Set up a unique identifier for each phone, do not use birthdays or simple number sequences, and avoid common passcodes and common swiping patterns. Do not use the same passcode as the one to their iCloud account.
The Eagle Has Flown The Nest And Is Now Lost: Set Up Find My iPhone
Ugh. Now the phone is lost. What are you going to do? Well, you're going to be super proud of yourself for planning ahead and setting up key safety features, like Find My iPhone.
Go to Settings > iCloud > Apple ID, iCloud, iTunes & App Store (under your name) >iCloud and enable Find My iPhone. Download the Find My iPhone app by Apple on each device after enabling the Find My iPhone in iCloud Settings. The app will let you use any iOS device to find the lost phone, remotely lock it, or even erase all the data on it.
Tracking Device Activated: Find My Friends
Want to know if your kids are really at the mall like they said they were? There's an app for that. Make sure Find My Friends app is downloaded on every iPhone. Open Find My Friends on your iOS device> Add > enter your kid's email addresses, and tap Done. On your kid's devices you will need to accept the request to share their location. Go to Settings > iCloud > Apple ID, iCloud, iTunes & App Store (under your name) > iCloud and enable Find My iPhone. Scroll down to Share My Location at the bottom of the screen and toggle on (green). Now you can see where they are on a map in the app or on iCloud.com.
Another great tool to know about (and use!) is the check-ins feature from Bark. With check-ins, parents can rely on a single-click location confirmation from their children to show that they've safely arrived at their destination.
Walkies Are A Go: Set Up Apple Family Sharing (It's FREE!)
Give your child their own Apple ID and set them up under the Apple Family Sharing Plan. This is like giving each of your kids a code name and only sharing information across secure channels. The Apple Family Sharing plan allows you to control what apps and content your children can purchase and download. You can also share purchased content with each other and not buy duplicates. #WinWin! Check out Apple Family Sharing Plan for more information.
Decide who the main account holder (aka Organizer) is going to be, then on their device go to Settings > iCloud > Set Up Family Sharing and follow the instructions. You can add another permissions approver later.
When you create accounts for your children, turn on the "Ask for Permission" for purchases. So, they have to, you know, ask for permission. Be sure to check out each app yourself, look at reviews, and double check ratings and potential risks on Common Sense Media.
Enter your children's birthdays and Apple will tailor the services automatically for those under 13 for appropriate content. Since it will give them standard access for 13 and up, see below for more parental controls.
Do not give your child the password for their iCloud or Apple Store accounts, you will need to authenticate their iCloud account and approve their app purchases for them. Pro Tip: Do not use common household passwords either (e.g. the one for your Netflix account).
On each iOS device, sign into their iCloud account: Go to Settings > iCloud Settings > and tap Invitations to join their account to the Family Sharing Plan. All systems are a go.
Ground Control To Major Tom: Cellular Data Usage Controls
To Data or not to Data that is the question. The answer? You make the decisions. You can control and limit cellular data usage on your kid's iPhone. Decide how much data your kid is allowed to have, which apps you want them to only use on the WiFi, and put your plan in place.
Go to Settings > Cellular and toggle off any app you do not want your kid using cellular data for. Toggle until it turns gray, not green. Now those apps will only work when on the WiFi (unless you barricade access to them completely).
Go to Settings > Notifications and then tap the systems you don't want push notifications. Most of these notifications are not necessary and turning them off will also save you data.
Go to Settings > iTunes & App Store > Use Cellular Data and toggle off (until it is gray). This will stop automatic downloads while on cellular data and only allow downloads on the Wi-Fi. (Downloads that you approve of course!)
For younger kids, you may want to turn off cellular data completely so that they cannot access anything on their iPhones unless they are on the Wi-Fi. Go to Settings > Cellular (Data) and toggle off so that it is gray. Now your kid can't use a personal hotspot or send text messages, but they can get onto the internet and check their email over the Wi-Fi unless you have other restrictions in place for those.
Setting Up Barricades: Get Your Settings In Order
Put some general order in place with a couple of barricades along the streets. While Restrictions will override general service configurations, it is good to go through those configurations before setting up your Restrictions. Besides the recommendations above there are a few more you may want to reconfigure as well. Go to Settings and then check out each of these major areas below.
Bluetooth
Think about disabling this as most kids don't need it. The only thing it might prevent them from using are wireless headphones (and who wants to pay for those?), but it is also a big barrier to sharing inappropriate material from device to device.
Privacy
Choose which features you want to disallow access. Tap each line under the Privacy section to set up privacy modes for which apps can have access to that content. For example what apps do you want to have access to your child's Contacts? Click on Contacts and make those choices. You can also click on Advertising to Limit Ad Tracking to set limits on how much data advertisers can get about your kid from Apple.
Email
Set up the email accounts that you want your child to have access to and get rid of the rest. You may want to set up a kid-safe email account for younger kids or only allow use of one of the email accounts that Bark is able to monitor.
Hearing Protection
Under the Music section in Settings, you can set a limit on how loud the device can get and then in Restrictions (below) disallow changes. This helps you limit potential hearing loss!
Game Center
There are a couple of settings in this section you will want to look at, disallowing Allow Invites, Nearby Players, and Friend Recommendations helps protect your kids from risky gaming interactions.
Top Level Security Clearance And Restricting Access
Now we're into the minutiae, but thankfully it's all in one place, so it shouldn't take long, and it is worth it! This is like setting up the security detail, telling the agents who is going to do what, and restricting who is going to be in the inner circle.
First you have to enable Restrictions on each phone. To enable restrictions go to your Settings > General > Restrictions. Tap Enable Restrictions and enter a passcode. Keep this passcode secure from your kids! Do not use the same one that your kids will be using to get into the phone and, like we discussed above, do not use birthdays or simple number sequences, and avoid common passcodes and common swiping patterns.
Now you can go down the list and click on any apps you don't want your kids to access. For younger kids you may want to disallow access to Safari, Siri, and FaceTime so they cannot use those without you around. If you have already set up "Ask for Permission" (see above) you can allow iTunes, iBooks, Podcasts, Installing Apps, and In-App Purchase because they won't be able to use these without your permission. Or if you want to disallow some or all of them click the toggle until they are grayed.
Be sure to toggle the Deleting Apps to gray so that you can control what apps stay on the phone. For example now that you've taken the time and effort to download and setup Find My iPhone, Find My Friends and Bark, you don't want them accidentally (or deliberately) deleting those apps!
Privacy Restrictions
Go to Settings > General > Restrictions. Go through the list and click Don't Allow Changes for Location Services, Contacts, Share My Location, Bluetooth Sharing, AirDrop, Twitter, Facebook, and Advertising. Now the general barricades you've put in place won't be able to be changed without your passcode.
Account Changes Restriction
Go to Settings > General > Restrictions. Scroll to the bottom of the screen and tap Accounts > Don't Allow Changes. Do this for Volume Limit, Cellular Data Restrictions, and Background App Refresh as well.
Age-Based Restrictions
For older children you may choose to make age-based restrictions instead of blanket restrictions. However, be aware that age-based restrictions are based on how something is rated if it is rated - and not everything gets rated.
Go to Settings > General > Restrictions > Allowed Content and tap on Ratings For. Choose your Country or Region. Go back to the previous screen Allowed Content to make the rest of your choices. Tap each of the content types and choose which age you prefer for that particular iOS device. This is the highest rating that you are allowing, anything over that age will turn red.
Toggle Off AirDrop (on iPhone 6 and later)
Toggle off AirDrop so that your kid cannot receive inappropriate content from others via AirDrop. Go to Settings > General > Restrictions > AirDrop and toggle off until grayed.
Explicit Language On Siri Restrictions
If you have decided to let your child use Siri and haven't blocked her altogether you can still block her from using or displaying explicit language. Go to Settings > General > Restrictions > Siri > Explicit Language and toggle until it turns gray.
Explicit Sexual Content In iBooks Restrictions
You can choose to manually approve all iBook downloads or, if that feels like too much work or you want to give your teenager more responsibility and allow them to download iBooks, you can still restrict sexually explicit content downloads. Go to Settings > General > Restrictions > iBooks > Sexually Explicit Content and toggle off until it is grayed.
Blacklist Websites In Restrictions
It is natural for kids to explore the internet and adult content, but their frontal cortex is not developed and often they take risks without understanding the real consequences of accessing certain sites. However, good news! You can block them. Go to Settings > General > Restrictions > Websites > Allowed Content and tap Limit Adult Content. Add each risky website URL under Never Allow and tap Done. Mobile websites may need to be blocked separately as they often have different URLs.
Sites to Think About Blacklisting
Dating Sites: Tinder, MeetMe, Match.com, etc. Yes, teens are using these sites too.
Porn Sites: Pornhub, Kink, Youjizz.com, etc. Porn sites are often riddled with malware, bad information, and anyone under the age of 18 in the US is not supposed to be on those sites.
Gambling Sites: Bovada, SportsBetting, BetOnline, etc. The average starting age of people who have a gambling problem is 10. Read more about kids and the dangers of gambling here.
Anonymous Chatrooms: Omegle, Chatroulette, Kik, Whisper, Yik Yak, Sarahah, tbhtime, etc. Apps with the ability to have anonymous chats or content are a huge potential for risky contact and content (including exposure to genitals). Block.
Block Everything And Whitelist Clean Content
For younger kids you may want to block all websites and only allow access to certain sites you know are appropriate. Go to Settings > General > Restrictions > Websites > Allowed Content > and tap All Websites until it toggles to gray. Now add the website URLs you are allowing and tap Done.
It's Play Time With War Games: Game Center Restrictions
Let's face it mobile games can be a lot of fun! However, games can also provide a few risks. You can set up some restrictions to minimize these risks, however, some games offer internal features that cannot be disabled on the iPhone. It is important when giving permission to games that you go into those games and disable any unsafe features.
Go to Settings > General > Restrictions and scroll until you see Game Center at the bottom of the screen. Toggle Multiplayer Games, Adding Friends, and Screen Recording so that they are grayed and disallowed. You can always enable them and allow friends that you know in real life to connect with your children on their games and then disable afterward.
Finally...
We know, that is a lot of information to take in. But if you go through each section with your kid's phone in front of you, the amount of time you spend setting them up to have a safer experience with their device, the less time you'll spend in the future worrying... about device safety anyway. Plus, since you're already in safety mode, set up an account with Bark and we'll monitor their emails, social media messages, and text messages alerting you to potential issues there as well.
About Bark
Bark is a comprehensive online safety solution that empowers families to monitor content, manage screen time, and filter websites to help protect their kids online. Our mission is to give parents and guardians the tools they need to raise kids in the digital age.