Mental Health Apps That Help Kids and Families Find Their Focus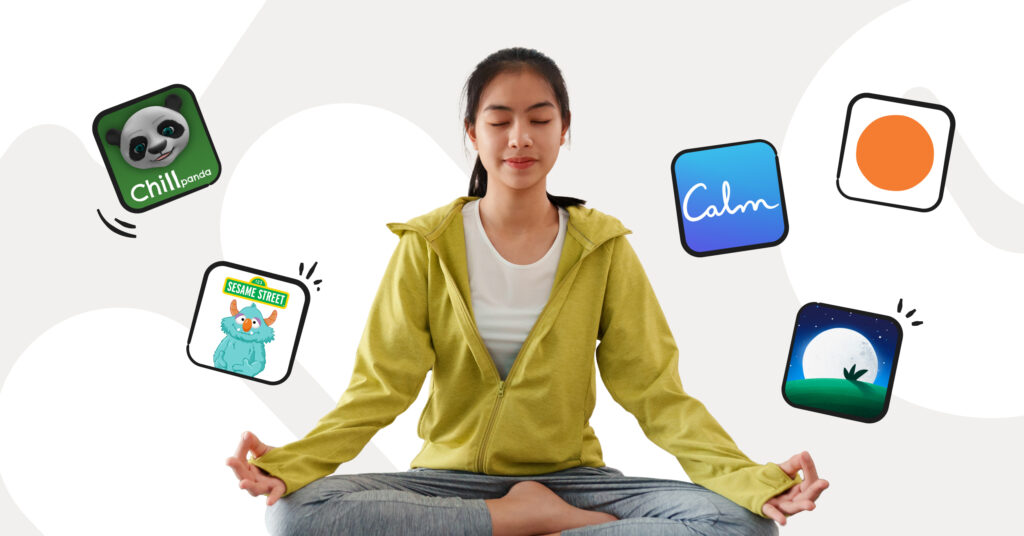 Back in the '90s, the closest we got to meditation apps was the commercial for the ethereal and panflute-heavy music of the Pure Moods CD. Today, an entire industry has been built up around helping kids, teens, and adults relax with easy-to-use smartphone mental health apps. There are a ton of options to choose from, though! That's why we've downloaded, meditated, and breathed in and out to find the best options for families.
Why Encouraging Mindfulness and Breathing Is So Important
Growing up has never been exactly easy, but it's even more of a challenge in the digital age. The mounting pressures of social media, ever-changing technology, and even big world events on the news all add up to a lot for kids to handle. That's why it's important to check in with your family often about how they're feeling. Younger children may not even have the words to describe emotions like being anxious, overwhelmed, or stressed out. Mindfulness and breathing activities can help ground your child in the moment so they don't get carried away by negative feelings. 
The Top Mental Health Apps for Kids
Calm
You've probably heard of Calm, and with good reason. It's one of the most popular meditation apps out there, and recently hit the 100-million download mark back in the fall of 2021. There's tons of relaxing content available, from calming sleep stories for kids to body scan meditations perfect for stressed-out teens. There's also relaxing music, stretches, and more. Free options are limited with the app, but Calm premium is around $40 for an entire year.
Headspace
Headspace is known for its colorful graphics and eye-catching illustrations in its videos and throughout the app. These definitely help users to visualize more clearly during breathing exercises and mindfulness meditations. Sessions range from just one single minute of deep breathing all the way to hour-long rain baths that help you drift off in the evenings. Headspace is $69.99 annually or $12.99 monthly, and includes a free 7-day trial.
Breathe, Think, Do With Sesame
Perfect for younger kids (4–8), Breathe, Think, Do with Sesame helps teach kids about uncomfortable feelings and ways to self-soothe. Presented in a game format, kids work to help calm down a frustrated Sesame Street monster. Slow taps on his belly encourage him to breathe deeply, while quick taps on thought bubbles help him to come up with a plan. Kids absorb these lessons about the importance of working thoughtfully and slowly through stressful situations. The best part? It's absolutely free!
Chill Panda
If your kid loves animals, they'll enjoy learning about mindfulness from wise and chill panda bears in this relaxing game. This cozy gaming experience is full of nature sounds, gorgeous garden scenery, and a minimalist design that's reminiscent of Nintendo's Animal Crossing. There's also a Quick Chill option where Chill Panda helps you practice simple box breathing in timed movements. Chill Panda is another option that's available at no cost for families.
Better Sleep
Better Sleep has meditation activities, sleep stories, and music options to choose from, but one of the coolest features is its composer tool. You can choose from tons of sounds, from ambient night music and rainfall to morning birdsong and the sound of a dishwasher running. You can even put them together to create the perfect background noise for falling asleep, doing homework, meditating, or going for a walk. There's a free option with a fair amount of content, but the annual price for full use is $39.99/year after a one-week trial.
Go Noodle
Sometimes, the best way for younger kids to feel a little better mentally is to get their bodies moving with physical activity. Go Noodle has tons of entertaining and energetic videos that will get kids dancing, jumping, and moving around the living room. Once they've boogied out some of that energy, they'll have an easier time concentrating when they get to school, church, or even a long car ride. It's 100% free, too!
How Bark Can Help Families Stay on Top of Mental Health
If you're concerned about your child's mental health, Bark can help give you peace of mind. Our award-winning content monitoring service scans your kid's online activities — texts, emails, chats, and social media posts — for anxiety, depression, suicidal ideation, and more. Even though mental health apps like Calm or Headspace are good for addressing the symptoms of anxiety, they don't provide insight into your child's world or mood. Bark sends you alerts so you can check in and make sure everything is okay with your kid and if needed, provide them with support from a mental health professional.
About Bark
Bark is a comprehensive online safety solution that empowers families to monitor content, manage screen time, and filter websites to help protect their kids online. Our mission is to give parents and guardians the tools they need to raise kids in the digital age.