How Parents Can Positively Use the Power of Tech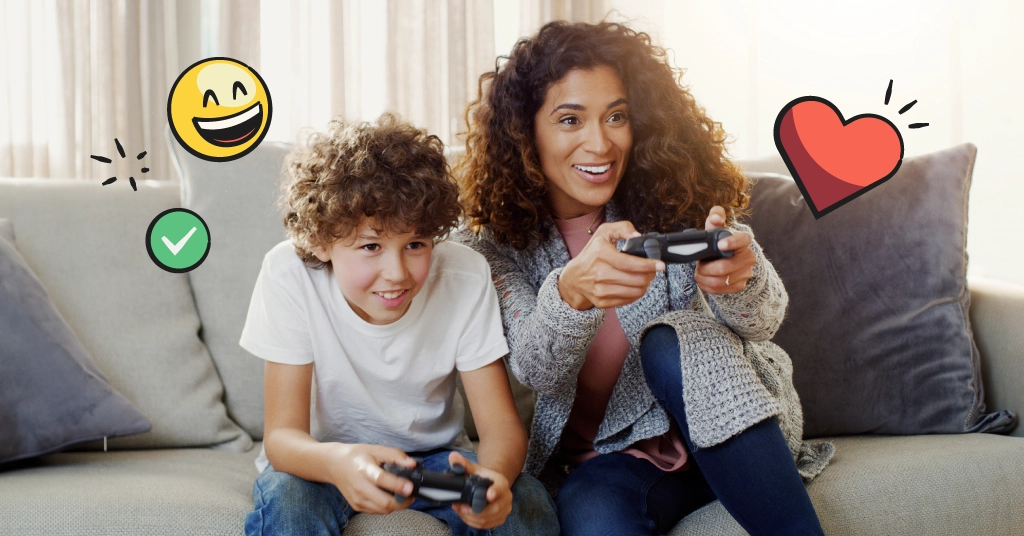 As a parent trying to navigate the dangers and pitfalls of the tech world, you might find yourself with a bad taste in your mouth when you think of anything tech or social media-related. And that's completely valid — by now, we've heard countless stories about online predators, cyberbullying, screen addictions, dangerous TikTok trends, and more. So a logical question might be, what exactly is the benefit of technology for our kids?

At Bark, we believe there can be a healthy balance when it comes to parenting with technology. Whether we like it or not, tech and the internet are here to stay. So it's imperative that we take advantage of all the good has to offer (as well as protect from all the bad, of course), and teach our kids how to do so as well. So we picked what we believe are the three most foundational ways you can use the power of tech to positively impact your kids. 
Our Top Three Ways Parents Can Positively Use the Power of Tech
Family bonding: Using tech to spend time together
Technology and social media can be a slippery slope into isolation. Scrolling through Instagram or playing certain video games are often solo activities. But it doesn't have to be that way! There are lots of games and activities that are online but can still be a social activity.
If you have regularly scheduled family time, it's okay if sometimes that time is used playing a video game as a group or even watching a movie together. Especially starting this at a young age, you can help your child associate tech with group experiences, as opposed to a solo experience.
Your family can also use the power of tech outside of just games and movies. You can use technology to explore new topics together and learn new things. Maybe you and your child can find an educational podcast that you listen to on the car ride to school. Or maybe when your child asks an interesting question about the world around them, you can make it an activity to go on a Google deep dive to find the answer or some fun facts. In this way, the focus isn't on technology, it's on the conversation — technology just adds to it! 
Exploring interests: Using tech to inspire your child's hobbies
If your kid already loves sports, art, cooking, etc., the internet is a great place for them to get inspired for those things! That's one of the best things about the internet — it exposes you to new ideas, people, and topics that you never would've known about otherwise.
But that's also the greatest danger — it exposes you to inappropriate, disturbing, and even scary content that you would've lived in blissful ignorance about otherwise. So to be clear, while we encourage using the internet to explore kids' hobbies, we also strongly encourage parental monitoring and web filtering!
But to get the ideas churning, here's a list of some interests your child might have and where they can find some inspiration online:
Teaching independence: Using tech to encourage responsibility
One of our most important jobs as parents is teaching our kids how to be independent, responsible human beings in the world. This applies to all areas — school, extracurricular activities, friends, first jobs, and family. As kids get older, we have to give them a little more freedom and responsibility to practice being self-sufficient. Perhaps at 12 years old, they're responsible for doing their homework without being told, and at 15 years old, they're responsible for planning transportation when their afterschool club is over.
The same principle applies to technology. Parents can use tech as an opportunity to give their children a certain amount of responsibility and independence with tech, as it makes sense for their age. Perhaps at 12 years old, they can play select video games with friends on the weekend, and at 15 years old they can have their own phone with supervised social media accounts.
Once your child has some independence on the internet, they'll likely come across something concerning or problematic (not if, but when). So it's important to give them the tools they need beforehand to react wisely in the situation. And even if they don't make the smart decision, that's still an opportunity to teach a lesson. Sometimes, those are the ones that sink the most and will motivate them to make better decisions going forward.
How Bark Can Help
Bark was actually created for this purpose — to allow parents to help keep their kids safe online while still allowing them to explore the power of tech. We do this with our award-winning monitoring technology that will scan your child's texts, emails, and 30+ social media apps for concerning content.
If your child encounters something such as cyberbullying, sexual content, predation, suicide/self-harm content, etc., you'll receive an alert straight to your phone so you can investigate and take action as needed.
Bark also allows you to set screen time schedules, block inappropriate sites and apps, pause the internet on your child's device, and track their GPS location for peace of mind. Start your free, 7-day trial of Bark today!
About Bark
Bark is a comprehensive online safety solution that empowers families to monitor content, manage screen time, and filter websites to help protect their kids online. Our mission is to give parents and guardians the tools they need to raise kids in the digital age.