How to Help Protect Your Child From Violent & Disturbing Online Content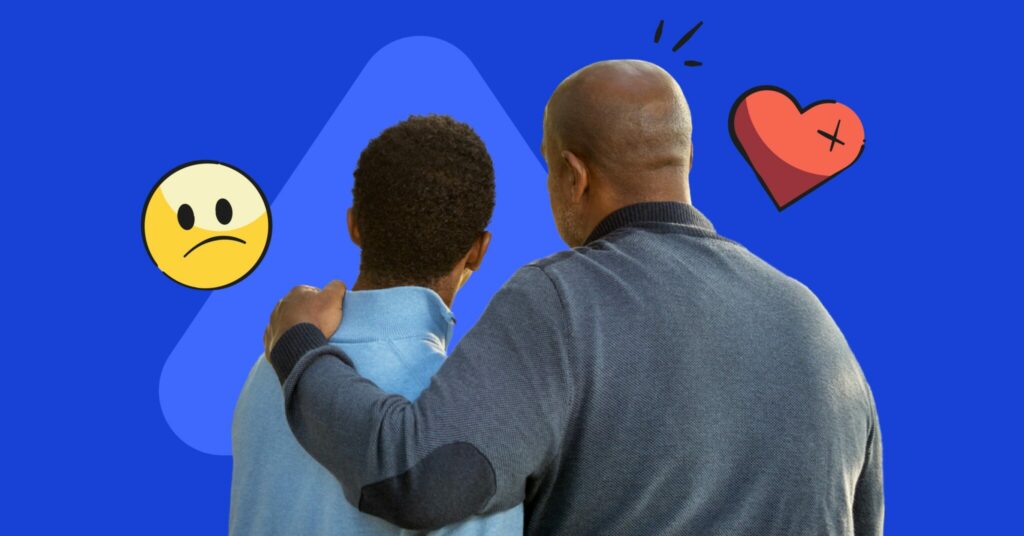 Like many families across the world, our team has been shocked, saddened, and scared by the life-shattering violence currently happening in the Middle East.
One concern we all have is how to help protect our kids — and yours — from the incredibly graphic photos and videos that are circulating online. No child (or adult) needs to see such violence.
To help families out, we've gathered some ways to set limits on your child's accounts and devices, as well as tips on how to support your child during this time.
How to Protect Your Child From Potentially Disturbing Photos and Videos Online
Some families will be able to completely put away devices to help prevent potential exposure to gruesome violence. This is definitely the safest option. But we realize that not every family has the ability — devices are necessary for many parts of life and school. We encourage you to talk through these steps with your child so you can walk this online safety journey together.
TikTok
Set up family pairing and restricted mode so you can monitor their account
Filter video keywords: Profile > Settings and privacy > Content preferences
DON'T watch any live streams
Avoid the For You Page, which may be full of shocking content
Stick to your trusted Following feed, which usually won't have surprises
Instagram
Set up sensitive content control: Tap Settings and privacy > Suggested content > Sensitive content > Continue > Less
DON'T watch any live streams
Avoid the "Explore" section and tapping on locations or hashtags
Stick to your "Following" feed: Tap the cursive Instagram logo at the top left of the home screen, then tap "Following"
Snapchat
Avoid the "Discover" section
DON'T tap and view Snap Map locations
Only interact with and view the stories of trusted friends
Set content controls with Family Center: Tap your profile > Settings > Family Center > Invite your teen
Customize content: Tap your profile > Settings > Additional Services > Lifestyle & Interests > Customize
YouTube
DON'T watch any live videos
Avoid Shorts which are short-form videos like Reels or TikToks
Stick to your trusted subscription channel content
Web browsers
Enable safe search via browser/search engine
If you come across any content or videos that look like a war zone or feature humans in distress, close the window immediately
DON'T click random links, hashtags, or videos
Every platform has a reporting function — use it to flag violent content
Bark Phone and Bark app
Reduce screen time limits to protect mental health & limit endless scrolling
Block apps you're worried about like TikTok, X, and Snapchat
Increase alert sensitivity for the violence category — Bark sends alerts if your child encounters violent content
Remind Them Sometimes It's Braver Not to Watch
No matter how much you try to protect your child — you could even take away their phone completely — you can't control the screens of other kids. This means they may be shown a video on a friend's phone on the bus or at lunch.
Talk to your kid and stress the importance of trying to avoid watching these things. Of course, they may be surprised or not sure if they're not told ahead of time, but for situations where someone asks "Hey, want to see something horrible?", encourage them to say no.
Kids may think they can handle "adult" things, but the reports coming from media sources tell of near-unthinkable violence and cruelty. No kid is equipped to handle that level of emotional pain — no adult is, for that matter. It's braver to turn away from such horrors.
How to Explain Why You're Worried About Your Child Encountering Violent Content Online
No discussion of politics is necessary to explain to your child that you're worried about the things they may see or hear online about the current situation. You simply need to say that you're concerned they'll encounter content that will upset them, make them cry, or cause nightmares. Your job as their parent is to help protect their mental health, and limiting their access to violent and disturbing things will ultimately serve them for years to come.
Supporting Your Child Right Now
The National Association of School Psychologists has a guide for talking to kids about violence, and it's helpful for families right now. Here are a few ways to check in on your child and support their mental health.
Assure them that they're safe
One of the first things many kids may think is "This could happen to me." While it's true that violence does happen everywhere, reassure them that they're safe right now.
Give their feelings free rein
Young brains make sense of the world differently than adult brains. This is all a lot to process, so let your child talk and emote as much as they need. Answer the questions that you can while supporting exactly how they're feeling. Tell them it's okay to be angry, shocked, scared, numb, or any other emotion.
Keep an eye on their emotional state
You know your child best, so monitor how they're reacting to events this week. If they're consistently feeling anxious or scared, talk to them some more. You may also want to reach out to their pediatrician, school counselor, or a mental health professional if you're not sure how to best help.
Limit access to news/online media
We talked above about how to limit screen time on phones and tablets, but make sure the 24/7 news cycle isn't on blast at your house all the time. Adults may need to keep abreast of the current situation, but kids don't need round-the-clock exposure to upsetting images and videos.
Extra Support
Digital parenting is never easy, but right now seems especially hard. If you need help navigating raising kids in today's modern world, we can help. The Bark team is also a team of parents, grandparents, aunts, and uncles, and we're dedicated to assisting families with the hard questions. Drop us a note any time, or consider joining Parenting in a Tech World, our Facebook group where 400,000+ fellow caregivers share tips, get advice, and provide support.
About Bark
Bark is a comprehensive online safety solution that empowers families to monitor content, manage screen time, and filter websites to help protect their kids online. Our mission is to give parents and guardians the tools they need to raise kids in the digital age.