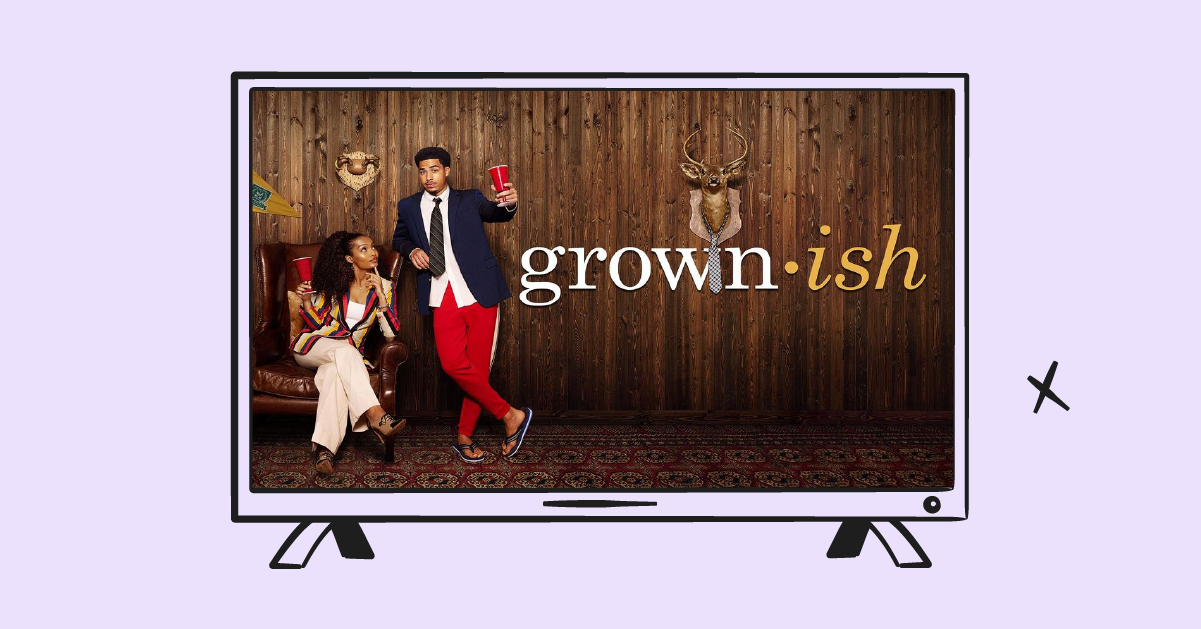 Grown-ish: A TV Show Review for Parents
Updated March 24, 2023
---
Overview
Grown-ish is a teen sitcom that follows Zoey Johnson, a new college freshman coming from a black, upper-class family. The story sees her navigate a specifically millennial college experience with its fair share of mishaps and interesting characters. The show is actually a spin-off of Black-ish, which follows the Johnson family before Zoey leaves for college. So if your family loved Black-ish — or you just love a good sitcom to watch together — this review will tell you exactly what to expect once you hit play!
The first season opens with Zoey going to a fictional college in California and each season follows a new school year. In season five, her little brother joins the show as a main character to start his first year at school. In her first semester, Zoey takes a digital marketing course where she meets her core group of friends. All of their differing backgrounds and struggles make up their band of misfits, which fuels the chaotic yet entertaining plot of the show. 
And now for the review! Let's find out if it's safe for your kids to watch!
Harmful Content ❗️
As the show follows a typical college experience, parents can expect to see some mature subjects in most episodes. There's tons of partying, relationship drama, and poor decision-making from the main character, as well as others. Characters are frequently seen using drugs and alcohol extensively, to the point of vomiting and passing out. The characters also navigate situations of racism and classism, though it's handled respectfully and thoughtfully.
Language 4/5

Foul language flies freely on this show, though F-bombs are bleeped.
Sex 4/5

Sex is a common theme of the show, as the characters are always in the middle of some relationship drama. There's lots of situations of casual sex and references to seuxal acts. In fact, one of the plot points involves a character getting pregnant from a one-night-stand in season three. Additionally, the humor of the show is often sexual in nature.
Violence
1/5

No violence to report from Grown-ish! 
Positive Value 💫
The writing aims to portray the character's flaws and mistakes in an honest and authentic way. They all deal with relatable issues, like feeling pressure to be "perfect" students, athletes, sons and daughters, etc. Older teens and young adults can likely connect with the experience of trying to figure things out but not always arriving at the intended result — which is a repeated storyline in the show. Overall the episodes have a theme of being true to yourself and embracing your mistakes. Additionally, with such a diverse cast, there's great representation for lots of cultures and ethnicities.
So, should my kid watch it?
This could potentially be a good show for older kids with a high maturity level. Due to the adult themes and depictions, kids under 16 should likely not be exposed to Grown-ish. However, if you still need a show for the younger kiddos, its parent show — Black-ish — is far more age-appropriate for kids about 11 and up. There's not as much sexual and language content to worry about, so you may consider checking it out!