Mischa Barton, the star of The O.C., was recently the victim of revenge porn, an emerging form of cyberbullying. According to her, someone she dated used a hidden camera to video tape her during sex and in the shower. He then attempted to sell those videos. She found out about it and hired an attorney to help. Mischa wants everyone to know that "if you are a victim of revenge porn, you can go into court and get orders to protect you."
New Forms of Cyberbullying: What Exactly is Revenge Porn?
Revenge porn is a type of cyberbullying where someone posts online pornographic materials (video or photographs) of another person without their consent. These could be pictures taken without the person's knowledge or with the person's knowledge during a previous relationship. Later those pictures are used as emotional blackmail or "revenge" for breaking off the relationship.
This isn't our parents world. For the first time in history, most of society has a camera with them at all times. Technology has made it possible, and easy, for the average Joe to place hidden cameras in bathrooms, hotel rooms, and gyms. Anyone can buy this equipment and have it delivered, with the click of a button.
Have Laws Kept Up With Technology?
In most states unauthorized use of surveillance cameras are a felony, and punishable by up to 2 years in prison. However, these laws vary from state to state. Most states have laws against cyberbullying which can apply to revenge porn, but it has to be proven and that's the hard part.
What Can You Do To Make Sure This Doesn't Happen To Your Kids?
The most obvious answer is to remind your kids, over and over again if necessary, to never photograph themselves nude, or in any state of undress, ever. Many teens and tweens consider sexting the new first base. They don't think about (or probably even care about) the fact that it is a criminal activity, to them it is just part of growing up and getting a first crush. But when these teen and tween dating relationships end, as they inevitably do in spite of promises to love each other forever and ever, the real danger of nudes is that they are often then used as revenge porn in the ensuing drama of broken hearts. Teens and tweens need to be made aware of the real risk of sending nudes, that pictures can be forwarded to other people and even Snapchats can be screenshot and shared.
How Do Parents Discuss Revenge Porn With Our Children?
The answer is, before your child is old enough to use a phone and/or a computer you must get the conversation started. Use age appropriate terms discuss pornography. Talk to them at a young age about what sex is.
Explain how the media uses sex to sell. Point out commercials and billboards that illustrate your point.
Have strict rules in your home about what websites are appropriate and inappropriate to visit. Set firm boundaries.
Remind your kids to update privacy settings on social media and keep them updated. Urge them to only share passwords with you and never with friends. Let them know to never share personal information, such as their address or school name, online.
Don't leave your children alone with their computers at a young age. Keep it in the family living area. Ask them to let you know if they stumble across something that is inappropriate and then discuss it with them.
When they are old enough to understand, when they have their first crush or first dating relationship, explain that some dating partners may ask for nudes. Let them know that you are firmly against sending nudes or partial nudes. Additionally, explain your reasons why. In fact, make it a habit to turn off webcams when not using them.
Provide them with resources like Send This Instead. It's a website full of humorous ready-to-use comebacks they can send when asked for nudes.
Join Bark monitors, detects, and alerts parents to online activity that could pose a danger to your child.
Did you know predators trick teens into making teen porn? They do, and it is scary. Read some tips on how to keep your children safer from online predators.
What Can You Do If Someone Posts Unauthorized Photos Of Your Kids Online?
If it was a selfie, that means your child is the owner of the picture. In other words you have the copyright. If you can prove that, and you have the original photo, google can do what is called a DMCA take down.
If a content owner (your child) sees content they own on a website, they can legally have it take down, by performing a DMCA take down. DMCA stands for, Digital Millennium Copyright Act, and it is to protect the owners of copyrighted material. If they do not have the original photo or it was taken without their permission, things aren't as easy. However, websites, google, and twitter are trying to crack down on revenge porn. So, explain the situation and ask the website owner to take it down. Websites have been known to cooperate in many of these situations.
Also, consider reporting it to the police. Especially since the picture is of a minor. Take a screen shot of the photo, jot down important information, and file a police report.
There are support groups for victims of revenge porn. Consider contacting one near you or an online revenge porn victim support group.
If you're concerned about prospective employers googling your child's name and seeing compromising pictures, you can try to flood their online footprint with good content and there are ways to do this, as a last-ditch remedy. It works. At least those photos wont be the first thing that pop up when their name is googled.
If you notice signs that your teenager is spending too much time on the internet in an unhealthy way, you need to talk. Visit Bark website today and sign up to receive alerts on potential issues such as different forms of cyberbullying, sexting, and online predators.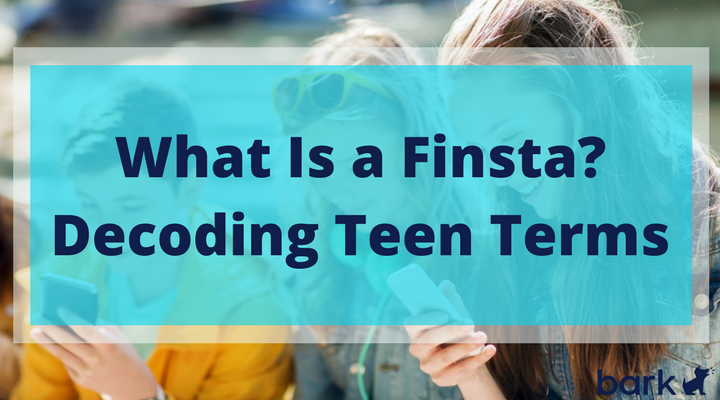 What is a Finsta? A Finsta is slang term for a fake Instagram account. Teens and tweens rampantly started making these accounts after older generations (and parents) joined their favorite social media platforms. Finstas have became a perfect venue for cyberbullying. They allow a person to hide their identity, as tracing an account back to its creator is very difficult without some serious sleuthing. Using Finstas therefore gives the perception of no accountability for one's actions.
Cyberbullies can simply create a fake account (Finsta), troll their victims, not get caught, and keep trolling. It is no wonder why one in three teens will experience cyberbullying in their lives. With its growing prevalence, parents and educators would do well to be aware of the workings of this darker side of the social media world.
Want to learn more? Read our Must Know Cyberbullying Facts posts.
What Is A Finsta? Who Uses Finstas?
Consensus says teenage girls are the most frequent creators Finstas, although boys do too. The reality is that probably most teenagers use Finstas, even if they deny it.
Kids who create Finstas often want their peers to know who they are – just not adults. To hide Finstas from adults, young people will often make an account name with sexually explicit words weaved in with their real name. Some aren't so subtle, using their name and the the word Finsta. Peers can guess who the handle belongs to based on their name, who account users "follow," the pictures they post, and what accounts they comment on.
Why Finstas?
The Finsta's biggest draw is the lack of traceability and accountability. While kids have made fake accounts on Facebook, Snapchat, and other venues, people can trace posts on these other venues back to the account creator. Currently, out of the social media options, the Finstas is the surest way to not be traced.
The Finsta is also mutable. If adults end up catching their kids with a Finsta account, they can easily change their handle names with the appearance of having deleted the account.
There are a lot of reasons why teens and tweens seek that freedom from Finsta. The more innocent just want to post embarrassing pictures of themselves and share that privately with select friends. They feel too much societal pressure to do that publicly on their real Instagram accounts (called Rinstas), where they always put their best face forward.
Teens and tweens thereby even treat their fake accounts as a quasi-private journal. But sometimes, with a little peer pressure, this is where cyberbullying starts. Young people may start to post embarrassing or hurtful things about another person, thinking nothing of it because the posts are seen only by their "real friends." However, anyone can take a screenshot and share it, which is what often happens. Posting something hurtful is no different than whispering directly behind someone's back – and targets will usually find out if they were the subject of Finsta posts.
There are also bullies who consciously post malicious things on their victims' accounts. These Finsta bullies create accounts for the specific purpose of targeting others.
Read more about what is called sub-tweeting, a passive-aggressive form of cyberbullying, here.
How Does Finsta Use Devolve Into Cyberbullying?
The short answer to this is peer pressure.
The best way to find out about and address Finsta accounts with your kids is to simply ask. You can even use this article as a starting point! Saying, "Today I read an article about Finstas, a fake profile that is used to post pictures deemed not as good as the ones posted to real Instagram accounts. I also ready how Finsta accounts can be used to cyberbully. Do you know anyone who has a Finsta account? Do you have one?" Explain how using a Finsta account to sub-tweet or secretly dis another person is still cyberbullying. Let them know that you do not want them to have a Finsta because you are concerned about their safety online and don't want them to become a target for cyberbullying.
You can use your new knowledge of Finstas to create or update your family technology contract. This is an agreement between you and your kids on appropriate device usage. We even have one you can download, discuss, print, and sign with your child. Sign up for Bark and add our monitoring as part of your family technology contract. Explain you are using Bark as a tool to help ensure their safety online.
Parents can also take a more serious approach if they find Finstas have become an avenue for cyberbullying and/or unwanted sexting against your kids. In most states, cyberbullying is illegal conduct. In all states, sexting is illegal. Additionally, every state but Montana also mandates schools to institute policies for taking disciplinary action against bullying.
Finding a Finsta can be indicative of something serious going on; however, that is not always the case. In the event that it is, there are many resources you can turn to: the authorities, the school board, forums, and our services.
Read up on 8 Tips to Protect Your Children From Cyberbullying.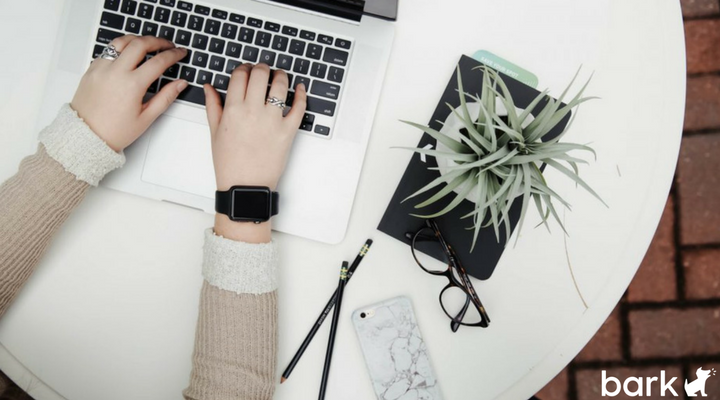 October is Bullying Awareness Month. An effective way of empowering our communities to overcome cyberbullying is by utilizing the resources. There are many resources dedicated to cyberbullying prevention and response. We're proud here at Bark to be a part of this concerted effort to keep children safer online.
In this article, we offer a list of 15 anti-cyberbullying tips and resources. Additionally, these resources can help you gain insight into preventing and addressing cyberbullying. While everyone can gain insight from any of these resources, we categorized them by target audience.
You can also check out some of our other articles on cyberbullying such as 8 Tips to Protect Your Children From Cyberbullying and The History of Cyberbullying.
Cyberbullying Tips For Parents
CommonSenseMedia is a nonprofit dedicated to ensuring the media acts as a positive force in kids' lives. Their website contains reviews of movies, websites, games, and apps. Further, they also answer common questions on cyberbullying through their online forum.
ConnectSafely is a nonprofit founded by a technology journalist who seeks to educate people about safety, privacy, and security. Additionally, its webpage has parents' guides, research-based advice, and news on various aspects of cyberbullying and safe technology usage.
StopBullying.gov is a website managed by the U.S. Department of Health and Human Services on preventing and responding to bullying. The website's information is broadly-based and ranges from current anti-bullying laws and policies for every state to who to call to get help and when. In fact, they also provide a Bullying Prevention Training Course, sponsored by the Centers for Disease Control and Prevention.
For Law Enforcement
Crimes Against Children Research Center publishes exceptionally thorough research reports and fact-sheets on crimes against children. For example, these reports include ones on bullying and youth internet safety.
The Internet Crimes Against Children (ICAC) Task Force is a national network of law enforcement agencies that prosecute against child abuse and internet exploitation crimes. For instance, the ICAC Task Force publishes research reports and holds conferences on combating child exploitation on the internet. Also, they have a contact list for their 61 offices for reporting on internet crimes against children.
For Educators
Edutopia is a nonprofit founded by George Lucas that strives to foster student learning through replicable, innovative, evidence-based approaches. Additionally, Edutopia provides educators with checklists, toolkits, and other resources to address cyberbullying.
The National School Boards Association provides legal information on how school policies must treat bullying and cyberbullying. For instance, the National School Boards Association puts together an annual list of federal law and regulations that school boards must adopt. One such regulation is an internet safety policy required by the Children's Internet Protection Act.
Legal Resources
The Cyberbullying Research Center is a leading legal research center offering case law and policy updates, statistics, and presentations concerning adolescents' abuse of technology. In fact, this Center is spearheaded by two Criminal Justice professors.
Embrace Civility in the Digital Age was founded by an attorney who seeks to empower young people with values and skills needed to resolve cyberbullying situations. She provides video training, books, and other resources.
Psychological Resources
The American Psychological Association has numerous articles written by mental health experts on handling the emotional effects of cyberbullying. The articles also discuss how to prevent it.
The U.S. Department of Health and Human Services can help connect youth with mental health insurance coverage related to addressing the emotional effects of cyberbullying.
For Kids And Teens
Tracy Ludwig's children's books teach life skills for handling bullying and cyberbullying situations. Her titles include "My Secret Bully," "Trouble Talk," and "Confessions of a Former Bully."
Raychelle Cassada Lohman is a Licensed Professional Counselor who has written many well-received books for empowering teens. These include, "The Bullying Workbook for Teens: Activities to help you deal with Social Aggression and Cyberbullying."
NOBullying.com is an online forum that started as a social responsibility project to stop bullying, particularly cyberbullying. Specifically, the website provides resources to kids and teenagers and invites them to share their stories. Additionally, they include a list of activities to teach kids about the negative effects of bullying. For example, activities such as the "Wrinkled Willow Exercise" and "Unity Petitions."
It Gets Better Project offers advice and inspiration particularly geared towards lesbian, gay, bisexual, transgender, queer and questioning (LGBTQ) youth. In fact, this Project is world renown, with over 50,000 user-created videos viewed more than 50 million times.
Bonus Resource
Bark board member and internet safety expert, Ben Halpert, is the founder of Savvy Cyber Kids. Savvy Cyber Kids is an organization which partners with kids, parents, and educators to teach positive digital citizenship and anti-cyberbullying tips. For instance, they offer a variety of resources and school and community programs to educate communities around keeping kids safer online.
If you haven't already, sign up for Bark. Our advanced algorithms monitor your children's phones, emails, and social media accounts. The algorithms analyze content for signs of cyberbullying, sexting, and even depression and suicidal ideation. Additionally, we only send alerts when there is a potential problem, so you don't have to read through every single text message. Plus, we provide recommended next steps to help you address the issues as a family.