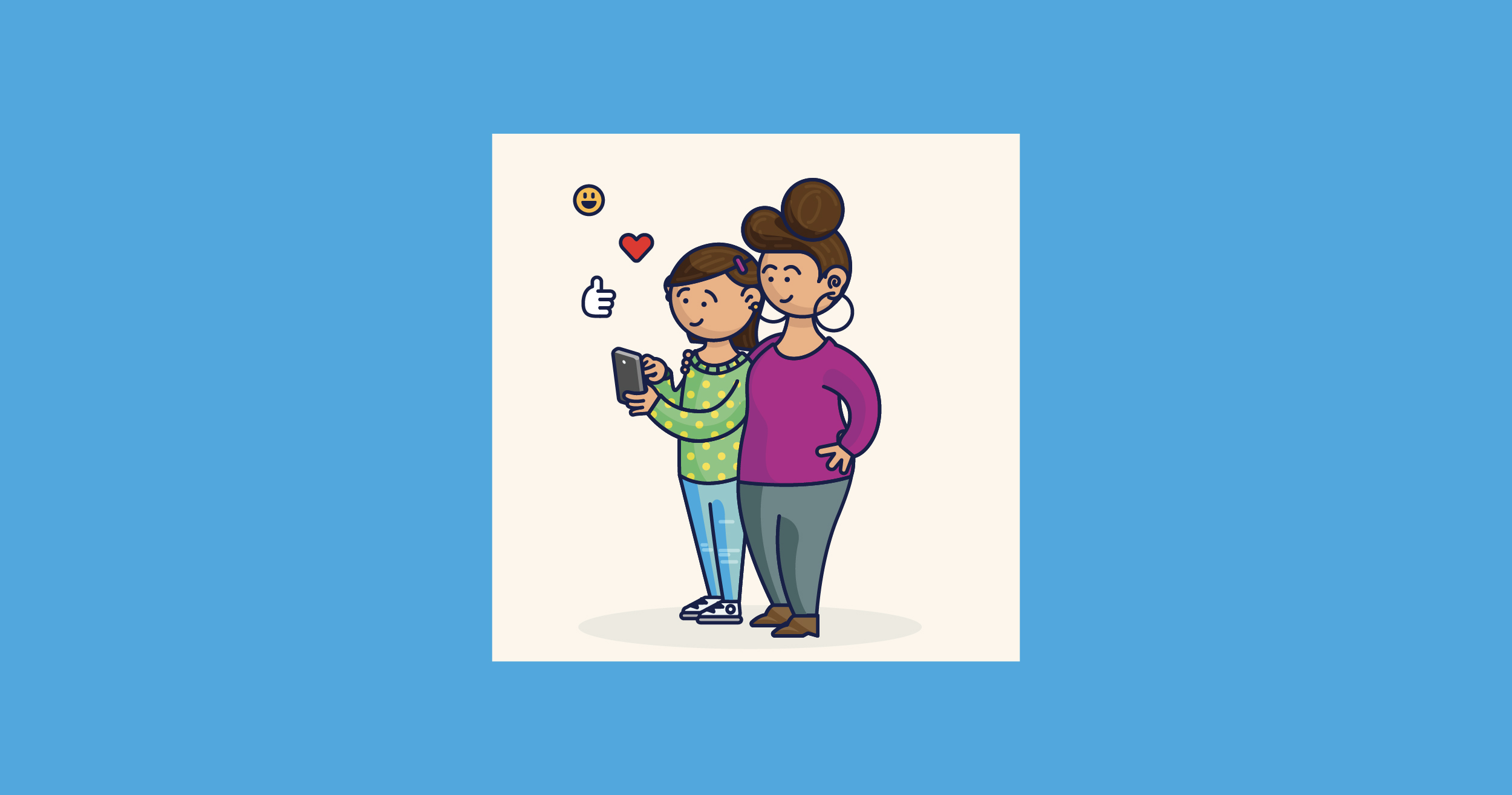 Bark's affordable, award-winning service proactively monitors text messages, YouTube, emails, and 24+ different social networks for potential safety concerns, so busy parents can rest easier knowing their kids are better protected from digital dangers.
Wondering how it works? This new video shows why monitoring is so important, and how Bark helps families talk about the important issues kids face growing up in a digital world.
Video transcript
When kids get their first phone, they're getting the keys to a larger world. But technology comes with risks. And the internet can be a minefield of potential issues, like cyberbullying or online predators. So how do you keep your children safe? Grab their phone randomly and read their texts? Spend hours every week trying to keep up with their online activities? Do nothing and hope for the best?
Bark can help. Bark is an award-winning service that analyzes your child's text messages, emails, and social media, and sends alerts when potentially problematic issues arise. We'll also include recommended actions to help you handle the situation effectively.
Here's how it works: Bark uses advanced technology that keeps up with the evolution of language and recognizes possible dangers. What kind of dangers? Well, anything from bullying, violence, and adult content to depression, self-harm, and suicidal ideation. Often the only signs of trouble are hidden deep within a tween or teen's phone. The majority of the time, parents aren't even aware there's an issue until Bark sends them a notification.
Think of it this way — when you give your kid a bike, you also give them a helmet. When you give your kid a phone, make sure they have Bark. Nothing can substitute thoughtful parenting or replace ongoing conversations about digital safety. But Bark helps parents and kids work together, build trust, and even strengthen relationships.
Get started with Bark, an essential tool for parenting in a digital age.
Sign up for a free, one-week trial of Bark and start monitoring today.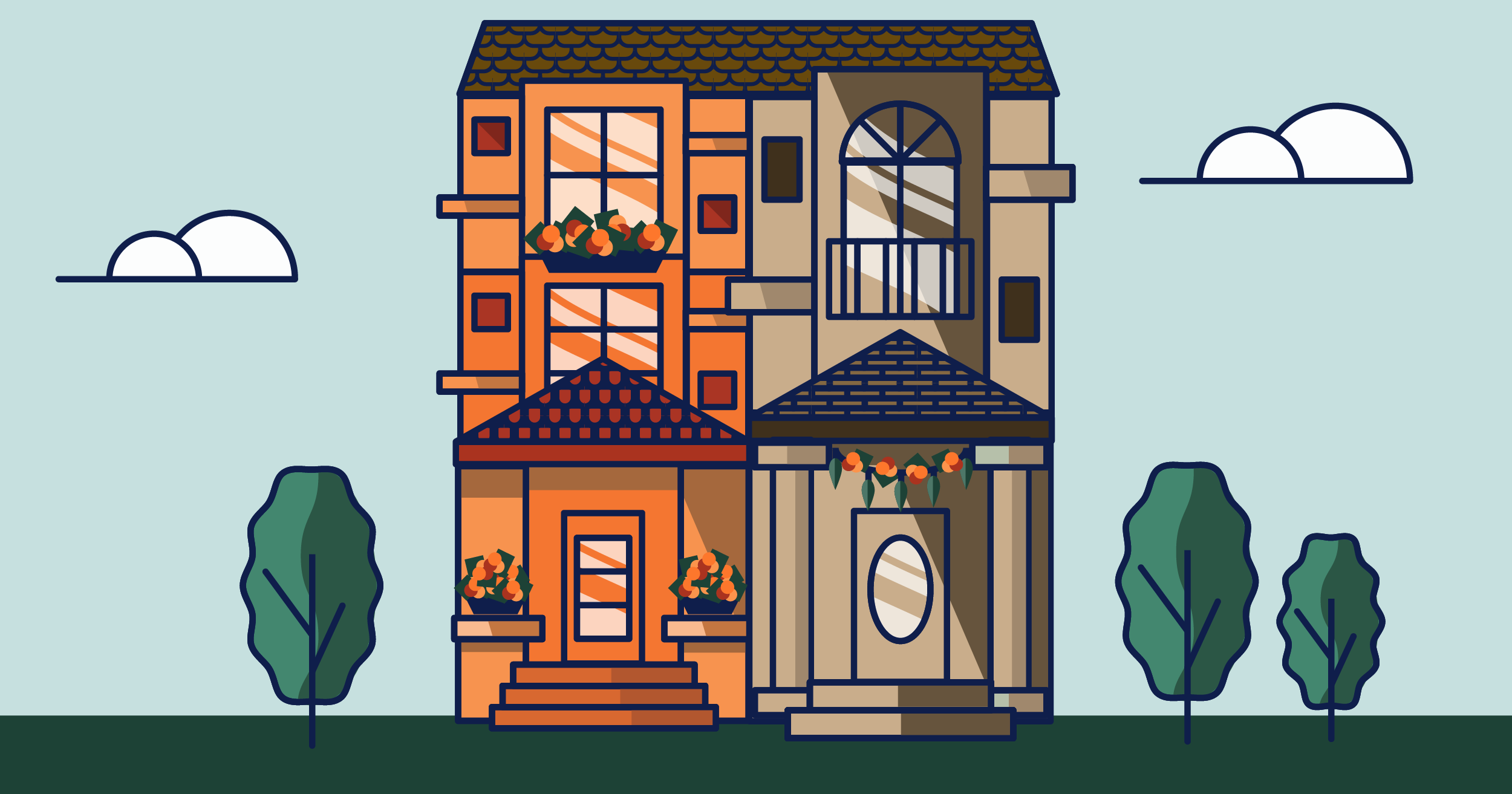 Raising kids can be hard. Raising them in two different households after a divorce or separation can be even harder. In our Parenting in a Tech World Facebook group, we see this theme pretty often. Different houses can have different rules, different standards, and different levels of supervision. That's why monitoring with Bark can give parents peace of mind knowing that their kids are safer no matter where they are. Whether your family uses iPhones or Android devices, Bark can help you make sure your kids are better protected from digital dangers.
Monitoring With iOS Devices
Bark monitors texts, chat, email, YouTube, and more than 24 social media platforms. Most of our monitoring is done at the account level, which means that no matter where your child goes, our technology can detect potential issues in real time. But when it comes to monitoring what's stored on the device itself — including text messages (deleted or otherwise) and saved photos/videos — Apple presents third-party apps with a unique challenge. iPhones have to be connected to your home Wi-Fi network to be backed up. And they have to be backed up before Bark can begin scanning for potential dangers.
Apple's backup issue means that iPhones can be monitored regularly on the Wi-Fi network at one house — but because the other house won't have the same network, the device won't be able to back up there and alerts will be delayed. Fortunately, we have a solution. Parents of dual-household families can install the Bark Desktop app for Mac or PC onto each of their computers and create a joint email account ("smithfamily123@gmail.com") for monitoring. Bark can back up to any computer that has the app installed, so sharing login credentials for a single account allows both parents to receive alerts as if they were on the same network.
Of course, many iPhone families encounter the backup issue when kids are at a sleepover or away at camp. Because of this, Androids are a great alternative.
3 Perks of Monitoring With Android
We discussed in a previous blog post why Androids are the safest bet for your child's first phone — they play well with third-party apps and provide more monitoring coverage for Snapchat and Instagram. Androids are also a better choice for dual-family households. Here are three more reasons why Android makes the most sense for Bark users:
More frequent scans mean more consistent monitoring
Backups are never required on an Android phone, so alerts from all accounts can be sent regularly throughout the day. This means that important, time-sensitive issues (like talk of self-harm or communications with predators) can be detected around the clock, rather than having to wait for the next backup.
Easier setup for both parents
When a child has an Android, there are only two quick steps to get started: the Bark app has to be downloaded on the child's phone and the parents' phones. That's all it takes for setup! Once your child enters in the logins for their social accounts, Bark can be up and monitoring in minutes. Also, both parents can download the app separately and receive and access all alerts.
No computer needed
The dusty old desktop in the corner is quickly becoming obsolete. Many families rely on tablets, Chromebooks, or even just their phones to surf the web at home. However, iPhones actually require a computer to get Bark synced through the Bark Desktop App. Only afterwards can you begin syncing through Wi-Fi. If your child has an Android, though, you'll never need to connect to a computer.
Whether your family chooses to use Android or iPhone, Bark can help keep your child safe online and in real life. Sign up today for a free, one-week trial.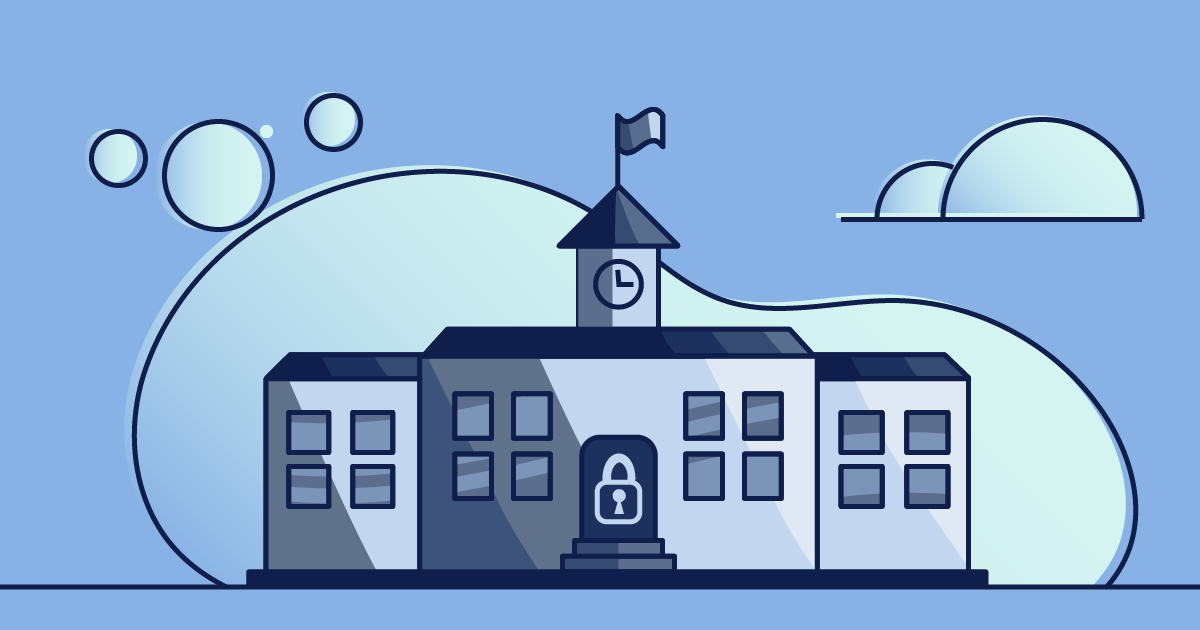 Last year's tragic shooting in Parkland, FL was a major junction in a problem spanning decades. In its wake, the government created the Federal Commission on School Safety. Over the next several months the Commission conducted meetings, field visits, and listening sessions. It spoke with safe school experts, educators, counselors, parents, students, and state and local officials. And in December, the Commission released its final report.
Here are the key takeaways for helping keep students as safe as possible.
Safe Schools: Preventing School Violence
A strong school community can help to prevent school violence. Teachers, parents, and even students themselves all have roles to play in school safety. With the help of government resources and local law enforcement, we can get ahead of potential issues by getting students the help that they need.
Positive school climate:

Students need to feel connected, not isolated. Schools should be proactive about cyberbullying, and they should have clear reporting systems in place that students feel comfortable using.

Mental health:

In addition to community support, students need access to school-based counseling. The Commission noted a lack of mental health professionals in schools, but phone consultations with them could help to expand and enhance care.

Violent entertainment:

Parents should be proactive about regulating their children's exposure to violent media. The entertainment industry also plays a role in rating their content appropriately and providing information that helps parents make informed decisions.

School discipline:

It's important to maintain order in the classroom, and teachers should be able to identify and address disorderly conduct. Administrations should ensure that faculty and staff are doing so with the most up-to-date information and best practices in mind.

Law enforcement:

Most school shooters obtain their weapons from family and friends, so states should promote legislation and training on safe storage of firearms. The FBI has also improved its Public Access Line, which it uses to receive and evaluate tips.
Mitigating the Effects
The most important steps schools can take to mitigate the effects of a violent incident are in training and school security. Working together, communities can make sure everyone knows what to do in an emergency and how to use the campus' defenses to their advantage.
Threat assessment:

Threat assessment teams help school communities identify concerning behaviors and implement systems for managing them before they escalate. Check out

this recent post

for more information on threat assessment teams.

Training:

All school personnel should participate in some form of school safety training. Federal, state, and local resources are available to help schools develop training that reflects a school's unique needs.

Troops to Teachers:

The Troops to Teachers program attests that military veterans and retired law enforcement officers who choose to become teachers — perhaps with the help of reduced barriers to entry or other incentives — can bring leadership, experience, and support to developing school safety initiatives.

Building and campus security:

Every school is different. But each can identify its vulnerabilities with a thorough risk assessment. There are multiple layers to consider: entry points, classrooms, and other infrastructure should be appropriately secured. This is especially true of rural schools, where police response times may be longer.
Response and Recovery
Federal, state, and local governments can provide invaluable resources for preparing schools for an active shooter situation. A practiced and engaged community is better equipped to respond and recover.
Study old reports, create new ones:

Schools can learn from the reports created in the aftermath of previous tragedies — the Columbine Commision, the Virginia Tech Commission, and the Sandy Hook Advisory Commission are all great places to start. Schools should also create reports of their own to improve their systems and methods.

Prepare for press:

Everyone from school administrators to government officials should have a media plan in place. The Commission recommends for coverage to focus on facts and victims, not the perpetrator.

Customize your plan:

Schools should adapt these general recommendations to meet their specific circumstances. This includes the age range and special needs of the student body, the campus design, and any relevant laws that should be taken into account. Our partners at

Safe and Sound Schools

contributed a guide to the Final Report on School Safety to help schools determine the most appropriate approach.
America's schools may never be free from the threat of mass violence. But community-based initiatives can help to keep students as safe as possible. In addition to the recommendations of the Federal Commission on School Safety, Safe and Sound Schools provides an incredible wealth of resources for ensuring safe schools. Monitoring online activities can alert parents and schools to potential issues as well.
parents can sign up for monitoring their children's personal accounts today.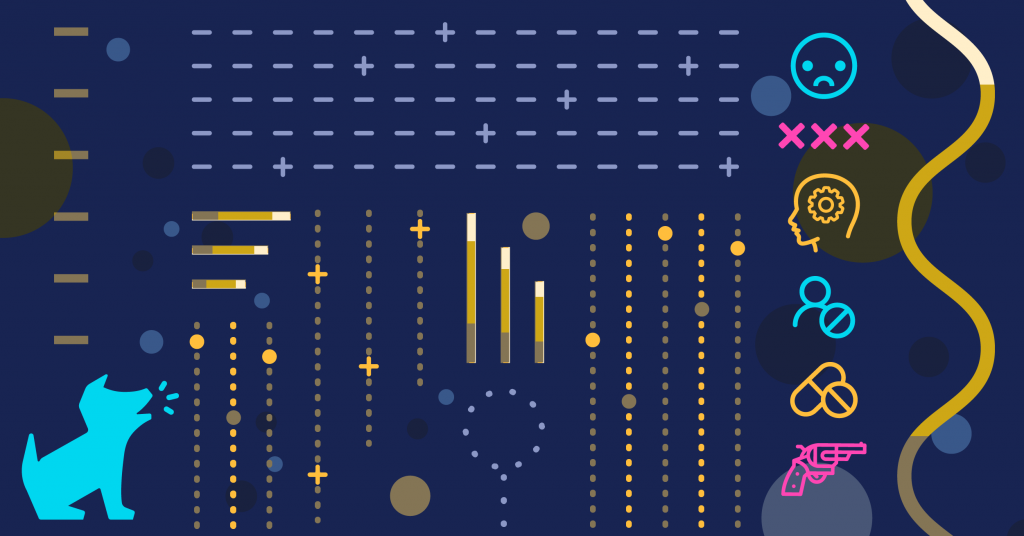 Bark is dedicated to keeping kids safer online and in real life, and in 2018 we helped protect more than 2.6 million kids with our two ground-breaking products. Bark for Families enables parents to receive alerts for texts, emails, and more than 24 different social media platforms.
We also launched Bark for Schools, our free monitoring service for all K-12 public and private schools, in more than 1,000 school districts. With it, schools receive no-cost monitoring of school-issued accounts like G Suite and Office 365. Bark for Schools also enables campuses to share after-hours alerts with parents through the Family Alerts Dashboard, a revolutionary new way for schools and parents to work together to help keep students safe.
Parents, families, and communities see a tangible benefit with Bark as kids learn to navigate life with digital devices. Our service also spurs heart-to-heart conversations, strengthens relationships, and most importantly, helps protect kids from online threats. Take a look at what we've learned the past year about the prevalence of serious issues in kids' lives. Now more than ever, we need to pay attention to what's happening.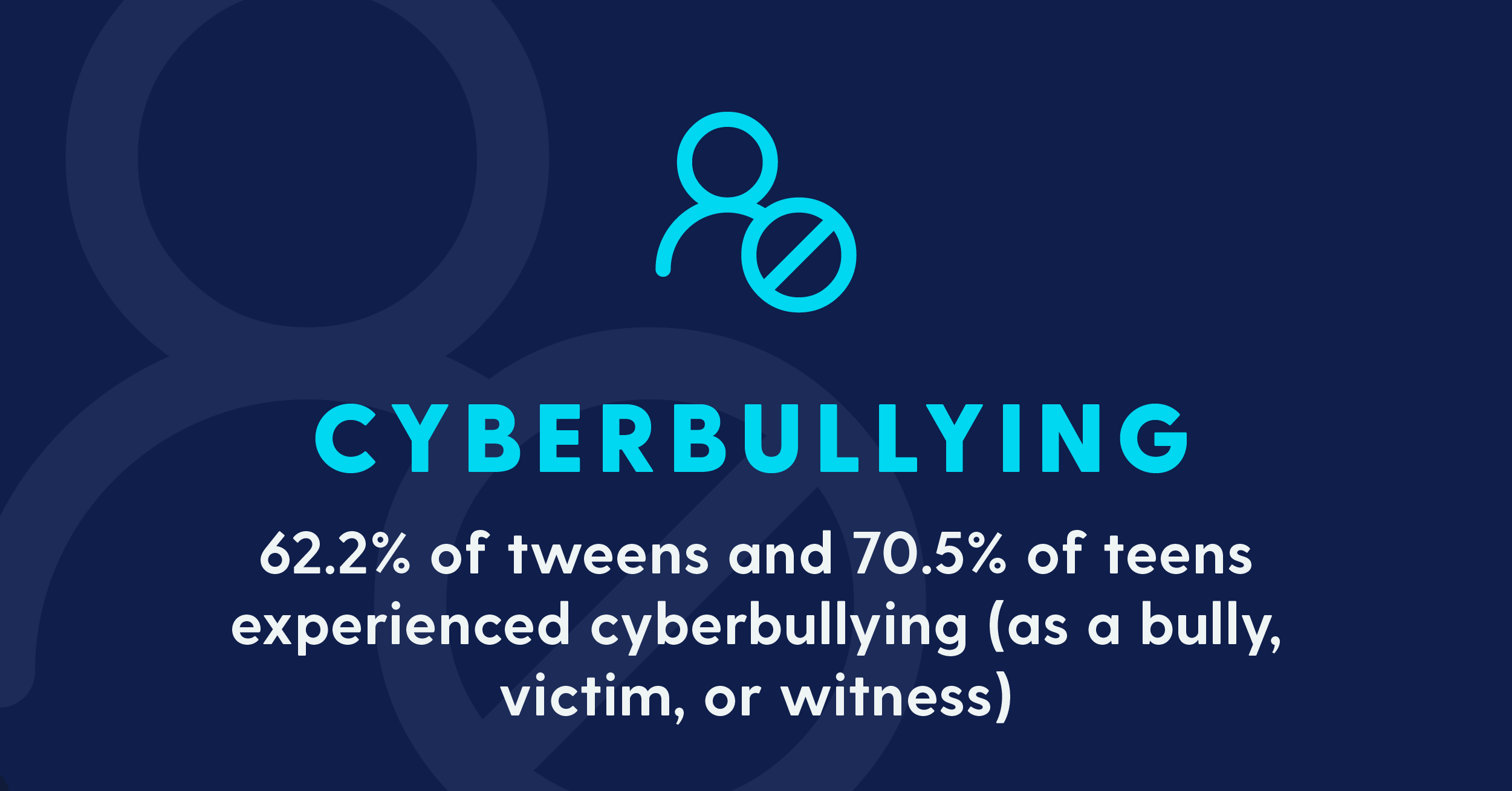 Online harassment is unfortunately a reality for children today, and it doesn't just happen on campus. Cyberbullying can follow kids wherever they bring their devices, which can cause round-the-clock anxiety. Bark monitors for online teasing that crosses the line.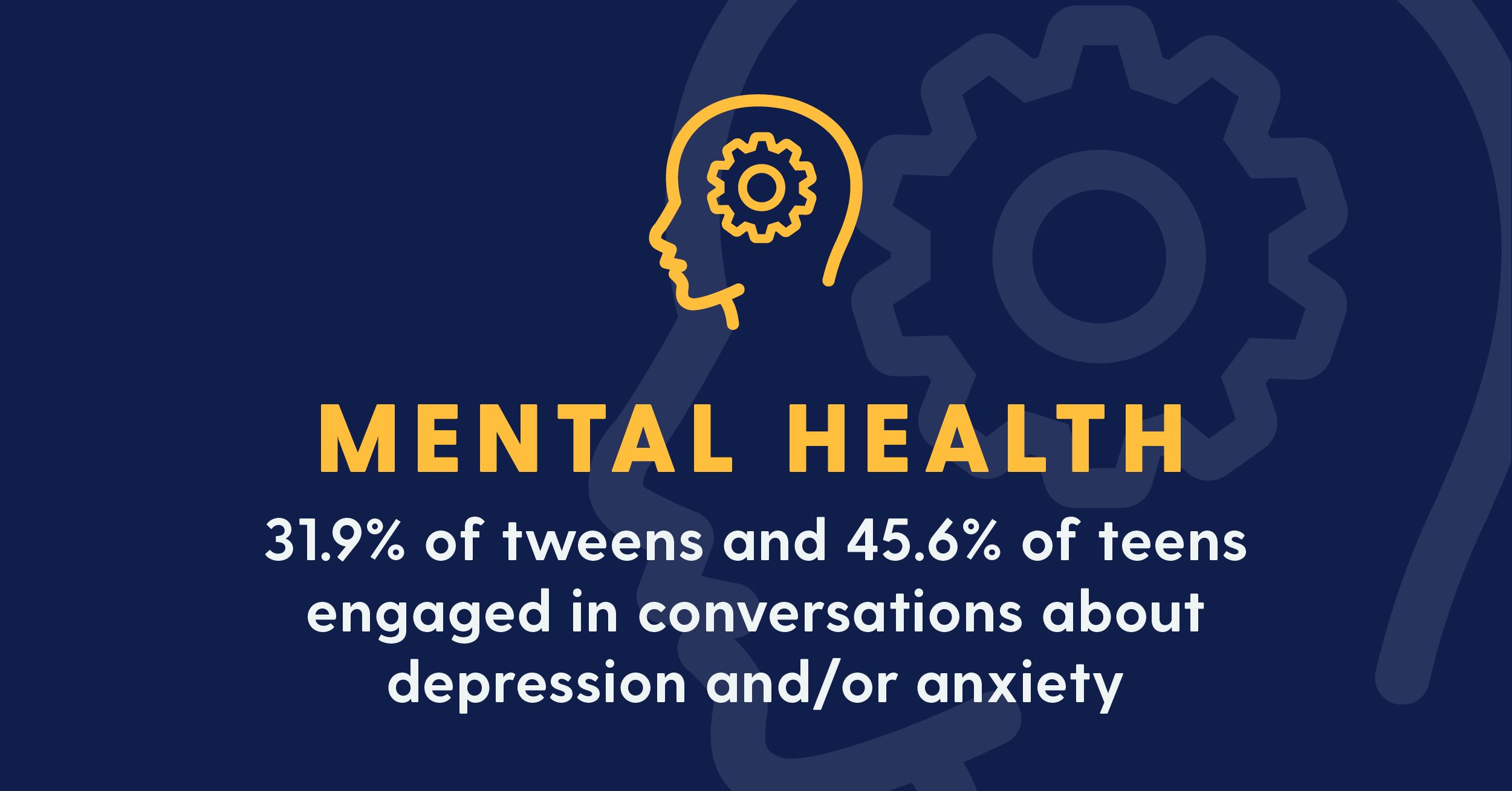 Whether access to technological devices is a symptom or cause of anxiety/depression is still up for debate. But one thing is certain: it's a huge concern for teens and tweens. From FOMO (fear of missing out) to cyberbullying, kids are communicating about mental health concerns in record numbers.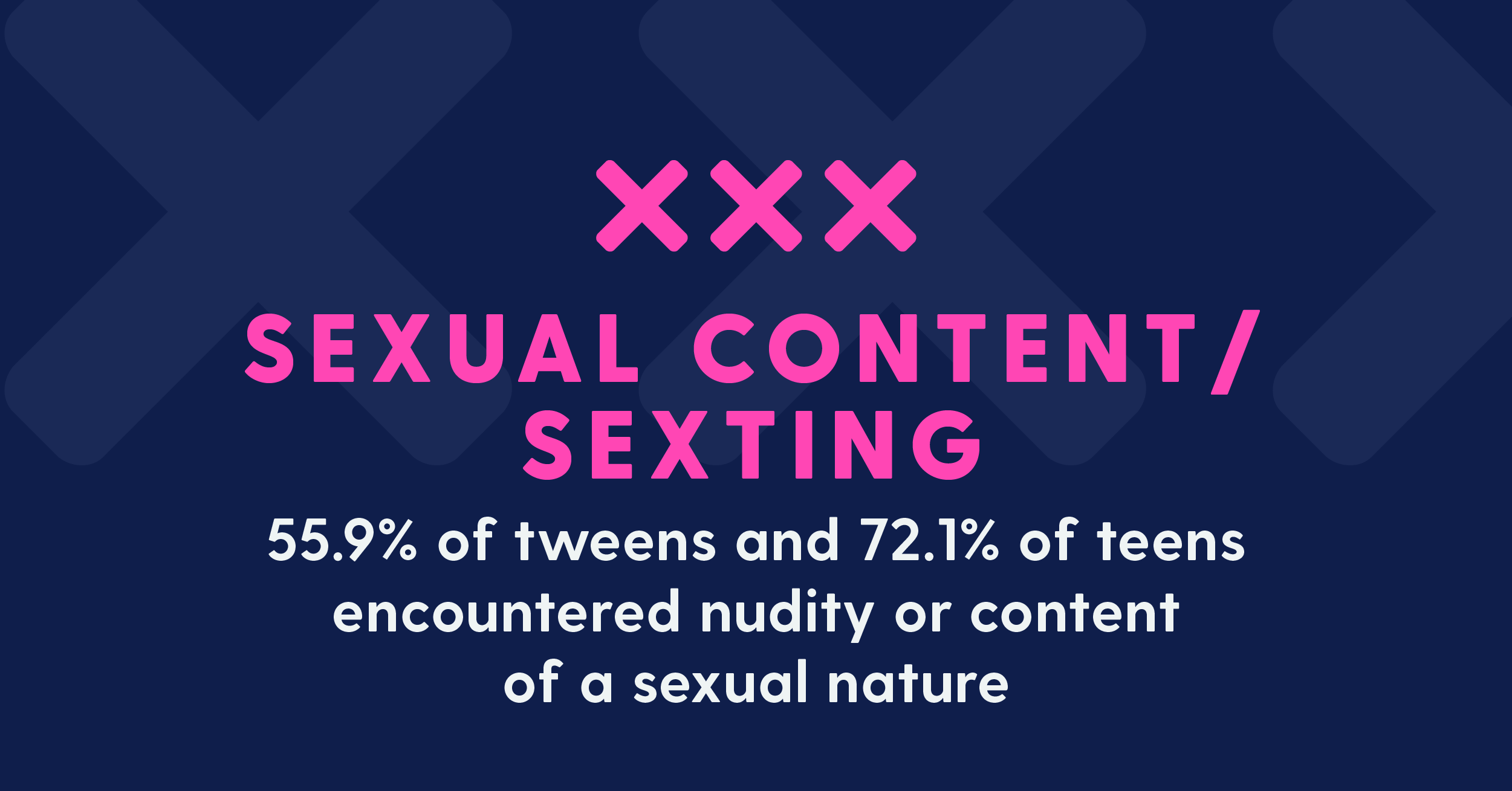 Gone are the days of handwritten love letters. Today, kids are sharing explicit sexual messages and images through texts and direct messages. Some may be consensual, but many are unsolicited. The dark side of sexting can lead to sextortion/exploitation and revenge porn.
Warning signs of suicidal ideation often hide deep within children's devices as they text friends or post to social media. Many times, parents aren't even aware there's an issue until Bark sends an alert.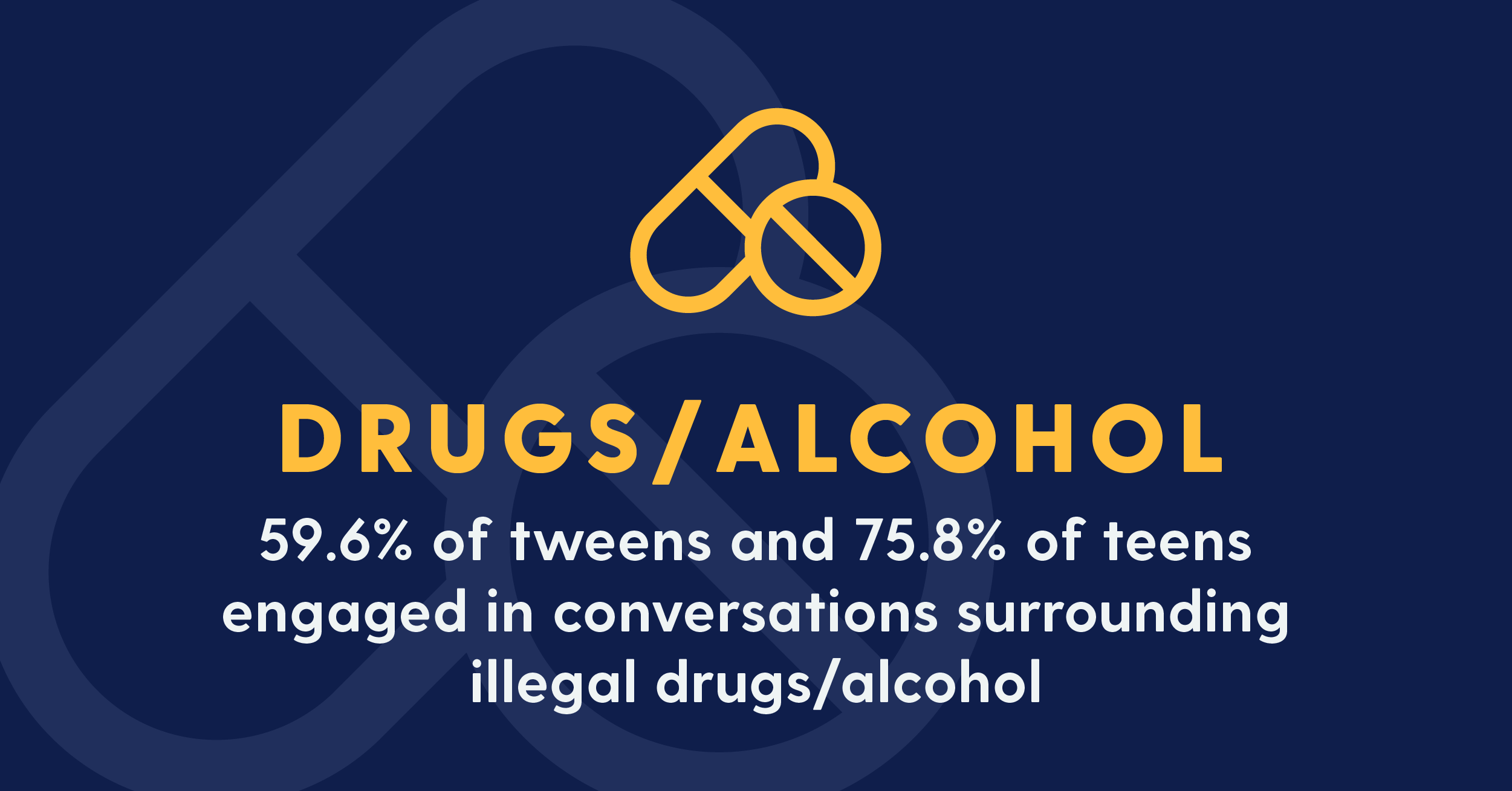 Experimentation is still a rite of passage for youth, and technology has changed the way kids access and consume drugs and alcohol. By identifying messages to drug dealers or photos of beer bottles, Bark helps parents guide their children through those potentially dangerous years.
School violence is often discussed on social media before the actual event. Bark identifies online activity that shows an inappropriate interest in weapons or reveals threatening statements. This puts parents, schools, and communities in a better position to stop a tragedy before it happens.
These compelling statistics paint an eye-opening picture of the online world that many teens and tweens face today. Download our fact sheet to share with others, your parent teacher organization, or even your own child.
Bark provides monitoring for texts, emails, YouTube, and 24 social media platforms. We offer a free, one-week trial for interested parents — no strings attached!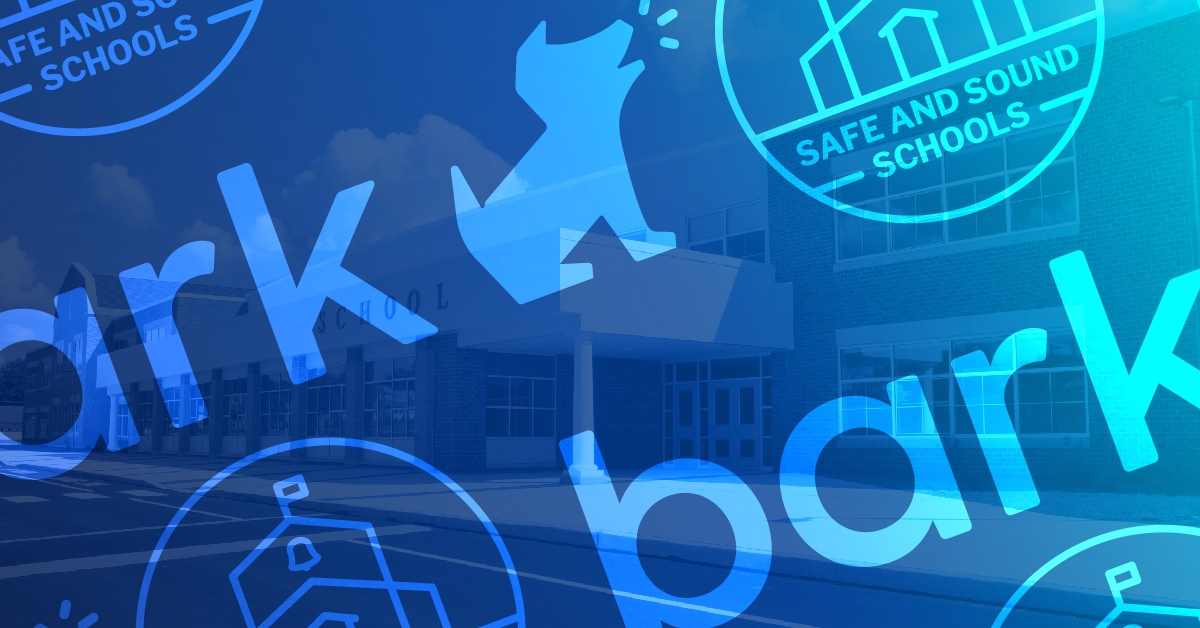 Every parent wants their child to come home safe at the end of the school day. Here at Bark, we're proud to announce our partnership with Safe and Sound Schools. Safe and Sound Schools is an incredible organization, and we're thrilled to work together to help keep students safer both online and in real life. By combining our knowledge and experience, our partnership can provide schools with more comprehensive school safety resources.
Safe and Sound Schools was founded by Michele Gay and Alissa Parker in the wake of the Sandy Hook tragedy. Michele and Alissa both lost children that day, and their experience has made them uniquely empowered to inspire change. Safe and Sound Schools provides research-based tools and resources for crisis prevention, response, and recovery to help protect every school and every student, every day. Their dedication to improving school safety has spread to all 50 states and more than 100 countries around the world.
Schools are pillars of their communities, and at Bark, our goal is always to make them safer places for kids to learn and grow. In response to the devastating Parkland shooting, Bark for Schools launched in February of 2018. Bark monitors school-issued Office 365 and G Suite accounts for signs of cyberbullying, sexting, suicidal ideation, school shootings, and more — at no cost at all to the school. With dozens of school districts signing up every week, Bark for Schools helps to protect students in more than 1,000 school districts from digital dangers.
Teaming Up for Safe and Sound Schools
We know that today's students face greater dangers than those that came before them. External threats like cyberbullying and school shootings have them on edge, and threats like self-harm and suicidal ideation confront them from within. Bark and Safe and Sound Schools are now working together to combat this problem, knowing we can make a huge impact.
"Teaming up with Safe and Sound Schools is an incredible opportunity to give schools the tools they need to better protect their students, both at home and at school," said Brian Bason, Bark CEO. "Given the growing number of school shootings and other threats of violence, there's no better partner to help keep kids as safe as possible."
Safe and Sound Schools provides tools, programs, and training to promote and improve school safety. And because many risks today originate online, tools like Bark's monitoring service are essential for ensuring a safe school climate and detecting potential issues in today's schools. "The more information we have, the better prepared we can be for safety," said Michele. "When schools and parents can tap into the power of a tool like Bark, they can step in earlier, helping to break the chain of causality in potentially violent situations."
Schools need strong partners in protecting their students. Bark and Safe and Sound Schools are committed to supporting that effort, and by combining our strengths we'll be able to provide greater resources than ever. This new partnership will ultimately help schools maximize their ability to prevent what's preventable, and to be better prepared when tragedies do occur.
The Work Ahead
In a perfect world, we wouldn't need school safety initiatives at this level. But we know parents and schools need all the help they can get so their kids can live happy and healthy lives. School safety solutions that involve the whole community are the best ways to make a difference. Our partnership with Safe and Sound Schools is a step towards comprehensive school safety that helps protect kids both online and in real life.
Now is the best time to join our shared mission. Bark is offering a lifetime discount of 20% to members of the Safe and Sound Schools network for monitoring personal accounts with our product for families, using the promo code "SAFEANDSOUND." Sign up today!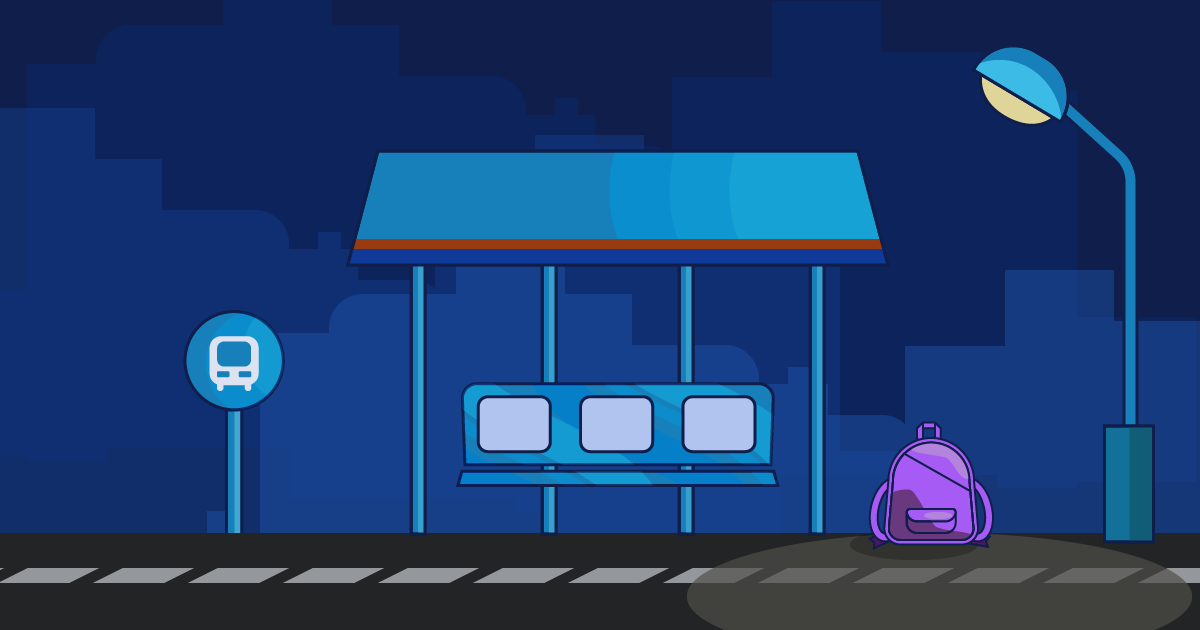 Human trafficking: for many, this phrase brings to mind the unimaginable suffering of unknown people overseas — in developing countries or regions torn apart by war.
But it also happens right here in America. In 2016, there were more than 400,000 human trafficking victims in the U.S.
January 11 is National Human Trafficking Awareness Day, and in observance of it, we're focusing on how child sex trafficking isn't just something that occurs "over there." It happens all across the country — even in our own backyards. This monstrous industry depends on the buying and selling of victims online, so we'll also discuss how parents can use Bark to help protect kids from falling prey to traffickers.
National Human Trafficking Awareness Day: What Sex Trafficking Looks Like in 2019
Sex trafficking occurs when individuals are forced to participate in sex acts for money that goes to another person. Minors under the age of 18 engaged in commercial sex acts are automatically considered victims, as there's no way they could legally give consent to such activity.
Trafficking is often confused with human smuggling, which only refers to illegal border crossings. The deplorable crime of human trafficking needs no transportation. Survivors can be recruited and trafficked right in their hometowns — sometimes even by their own family members.
The situations trafficking victims face can vary. Many are taken to brothels, escort services, or massage parlors. They may have a relationship with someone who forces them into prostitution, such as a romantic partner or a family member. Others can be lured by false promises of a life-changing job such as dancing or modeling. Once trafficking begins, victims may spend a few days or weeks in these situations. Some spend years.
One theme that unites these cases is the prevalence of internet solicitation, with more than 84% of traffickers using sites like backpage.com and Facebook to obtain buyers.
Who's at Risk
Victims of child sex trafficking come from all walks of life and socioeconomic levels — tight-knit suburbs and inner-city communities, middle-class backgrounds and working class families. While their origins may vary wildly, at-risk kids have one primary thing in common: they're all vulnerable.
Young people who have been abused, run away from home, fled broken child protection systems, or lack strong social support systems are all at greater risk for recruitment by traffickers. In 2017, an estimated 1 out of 7 endangered runaways reported to the National Center for Missing and Exploited Children were likely child sex trafficking victims.
Just how prevalent are runaway teens in this country? More common than you'd think. On any given night there are approximately 1.3 million homeless youths living unsupervised on the streets. These kids are especially vulnerable and may be exploited in exchange for basic necessities like food or shelter.
How Bark Helps Protect Kids From Trafficking
Bark's monitoring service helps protect kids from falling victim in two key ways. First, we monitor and send alerts for conversations that may indicate grooming, which is when a predator befriends a child and begins preparing them for abuse. Child grooming can be used to initiate one-on-one molestation or abuse, but it's also regularly used to lure minors into child trafficking.
In a recent survey of survivors, anti-trafficking nonprofit Polaris learned that 26% of participants said their trafficker exploited them through their own personal social media accounts. When Bark detects situations where grooming or exploitation is suspected, we contact the FBI and the National Center for Missing and Exploited Children so an investigation can begin.
To further help prevent trafficking, Bark also monitors for risky apps. We know predators use the internet to prey on kids with certain apps, so any time a kid downloads one known to be potentially dangerous — like Kik, for instance — we alert parents.
Getting Help
How can we use National Human Trafficking Awareness Day to help others? If someone you know is involved with trafficking, call 1 (888) 373-7888 to reach the National Human Trafficking Hotline, available 24 hours a day in more than 200 languages. You can also learn more about the reality of sex trafficking and learn how to recognize the signs that a child may be a victim.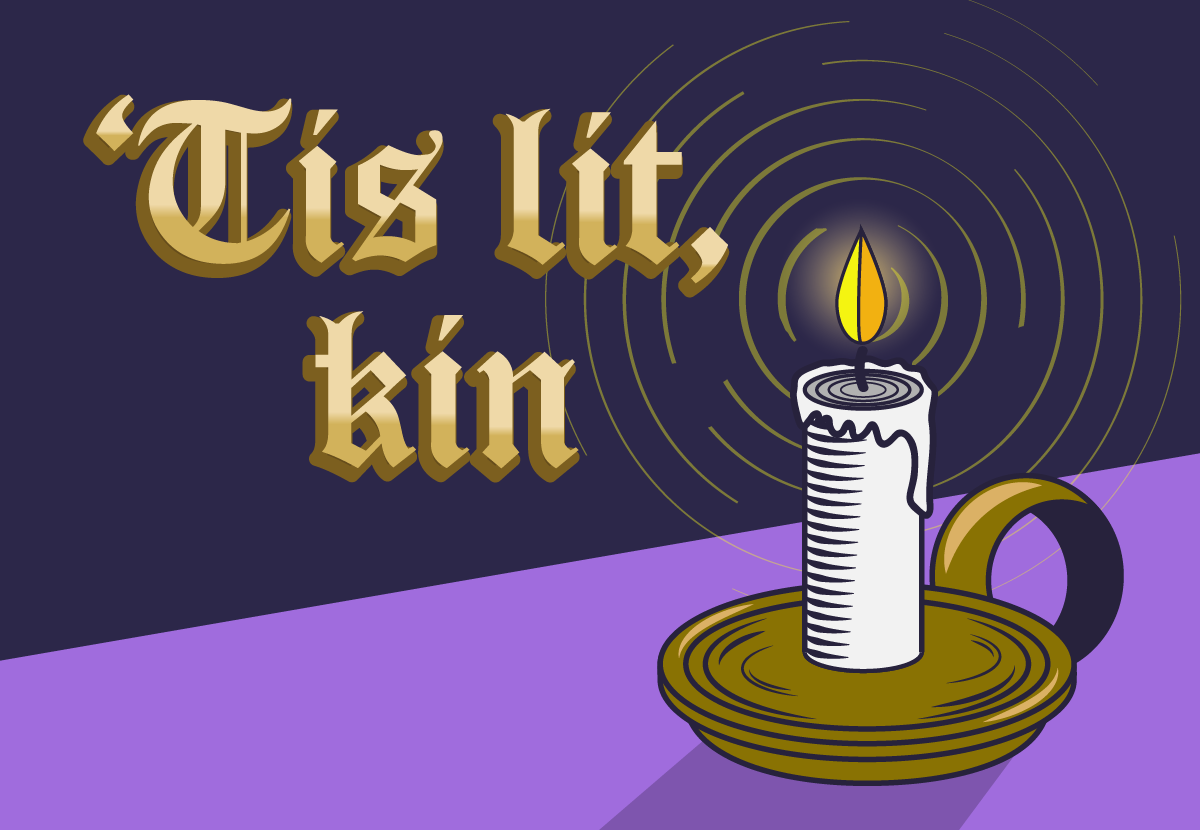 Hark! As long as there have been teenagers, there's been slang. Here at Bark, it's our job to learn and understand the popular lingo with kids.
To illustrate that words and phrases constantly change throughout the generations—and not the sentiments, which can be universal — we've translated a few of the most common slang expressions today into fun, Ye Olde English-style phrases.
And because the parents at Bark are all Gen Xers and Vintage Millennials, we've got that translation for you, as well.
WTF? Nay, dear reader, it does not stand for wheretofore. It means … well … it means what the f**k. I know, we're clutching our pearls, too. Read on for more!
Teen Slang: It's lit, fam!
Ye Olde Teenspeake: 'Tis lit, kin!
Gen X Translation: Kids use "lit" to describe something as awesome or exciting. "Fam"? That's a close friend, fam.
Teen Slang: THOT (That Ho Over There)
Ye Olde Teenspeake: THOT (That Handmaid Over There)
Gen X Translation: THOT can be used either disparagingly to refer to women or as a joke among friends.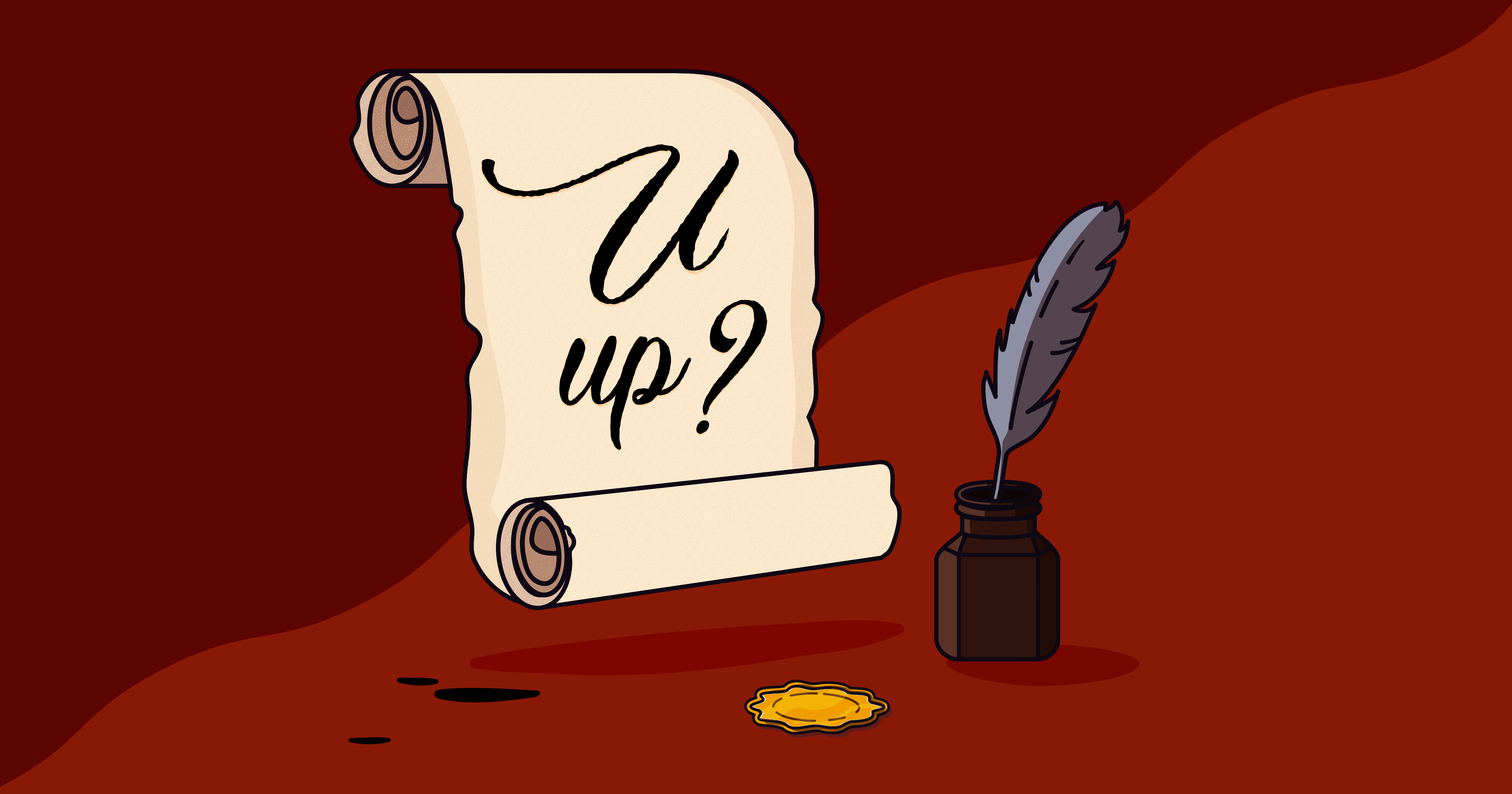 Teen Slang: U up?
Ye Olde Teenspeake: "Art thou awake and ready for tomfoolery? Prithee come over, if so."
Gen X Translation: Teens send this after-hours message to people they're attracted to, usually with the hope of sexting, or, in some cases, meeting up.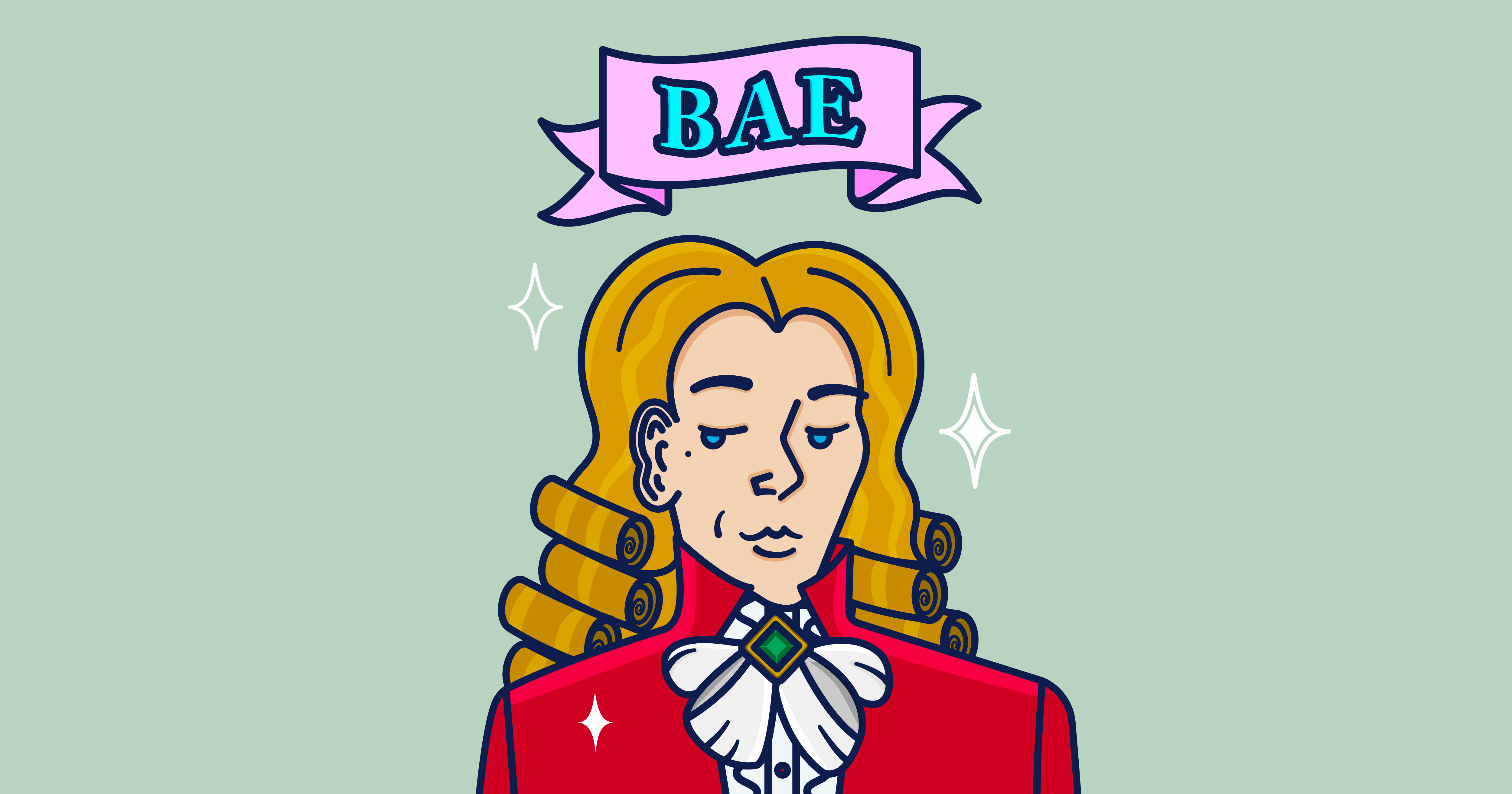 Teen Slang: Bae
Ye Olde Teenspeake: "Yon oft-smooched true love for whom one cares immensely"
Gen X Translation: It's a girlfriend or boyfriend or romantic partner. Or something you really really like. Example: "Tacos are bae."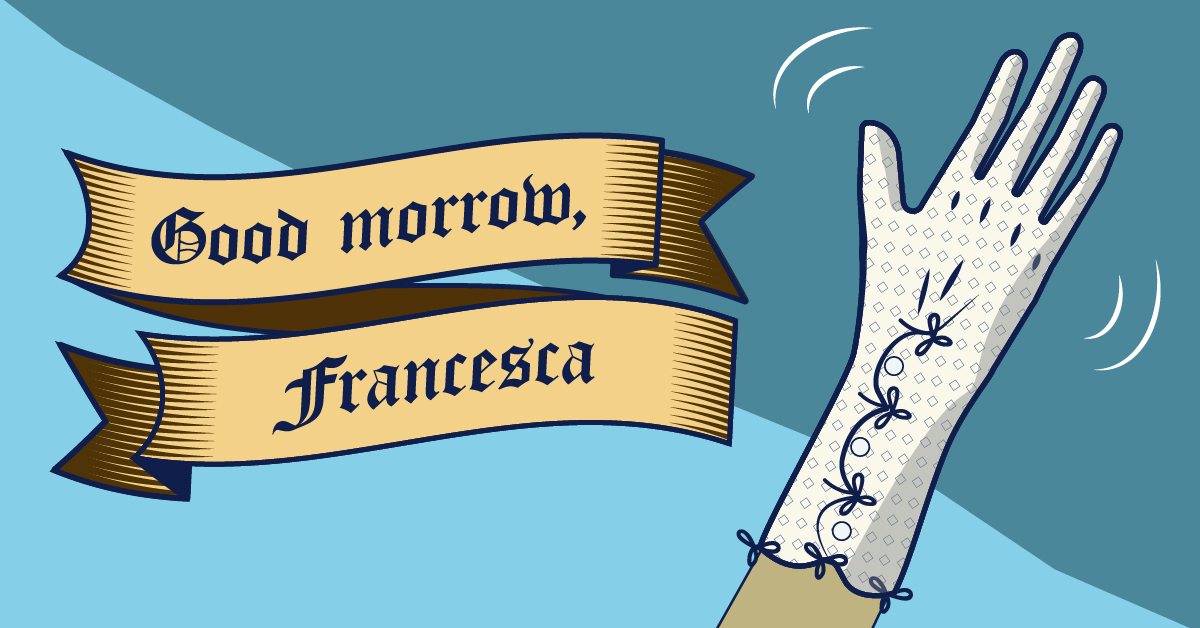 Teen Slang: Bye, Felicia!
Ye Olde Teenspeake: Good morrow, Francesca!
Gen X Translation: You say "Bye, Felicia" when you want someone to get out of your face. It's generally intended as a dismissive kiss-off. More often, it's said jokingly as a goodbye with no real bad feelings.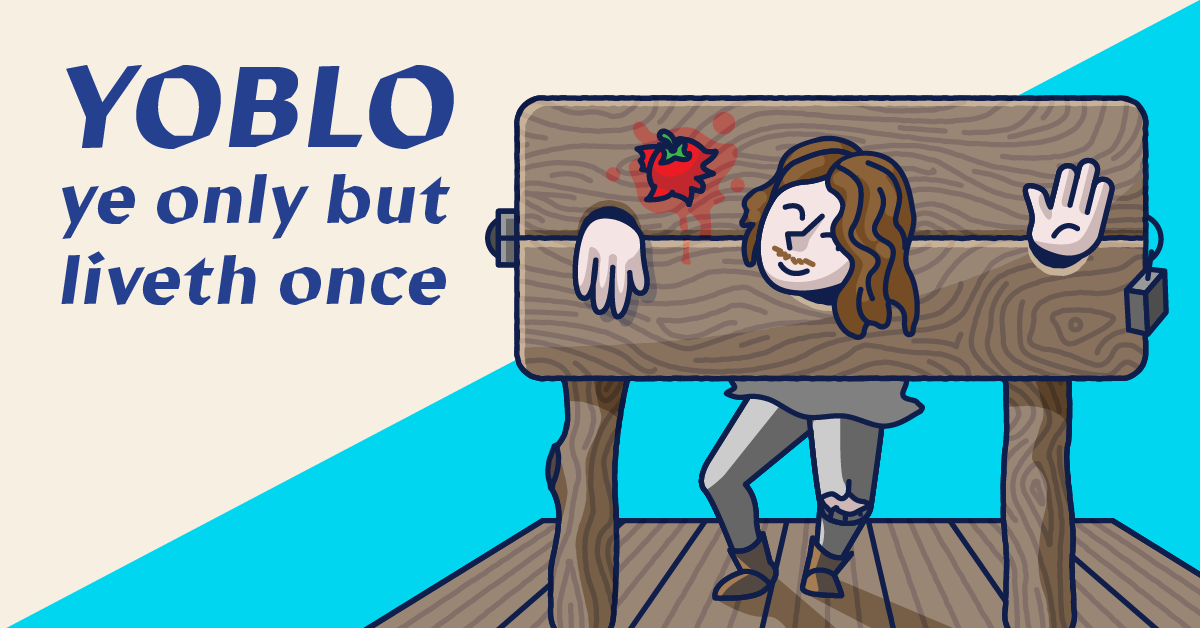 Teen Slang: YOLO (You Only Live Once)
Ye Olde Teenspeake: YOBLO (ye only but liveth once)
Gen X Translation: A sentiment similar to the Latin "carpe diem" ("seize the day"), "YOLO" is often used as a justification for irrational or risky behavior.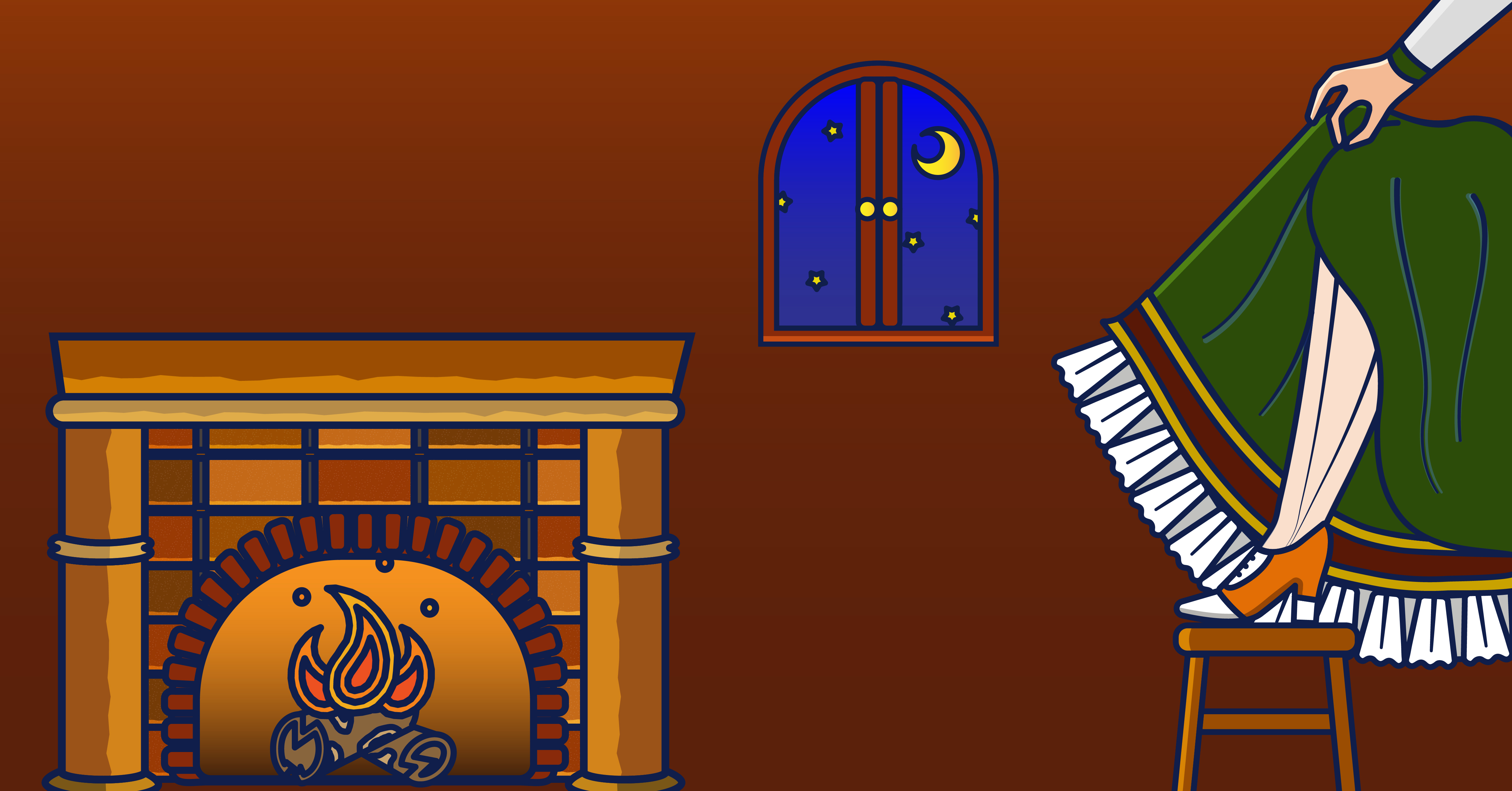 Teen Slang: Netflix and Chill
Ye Olde Teenspeake: Fireplace and Bare Thine Ankles
Gen X Translation: While this expression literally means to go over to someone's house to watch TV, it's most commonly used as a metaphor to head to someone's house to hook up.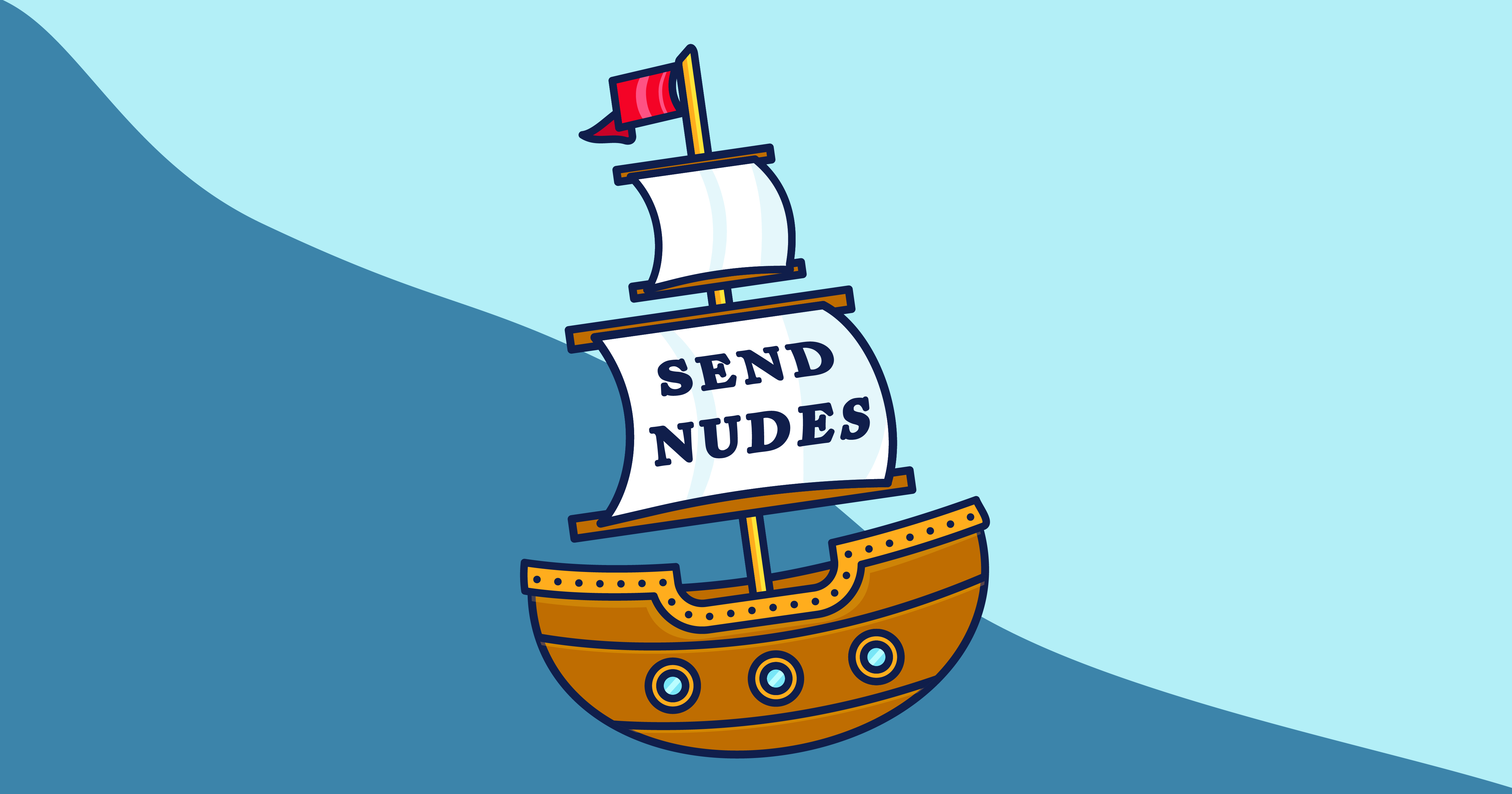 Teen Slang: Send Nudes
Ye Olde Teenspeake: "Sketch thine whole self and dispatch them posthaste."
Gen X Translation: A request to send a text message of naked pictures to a recipient.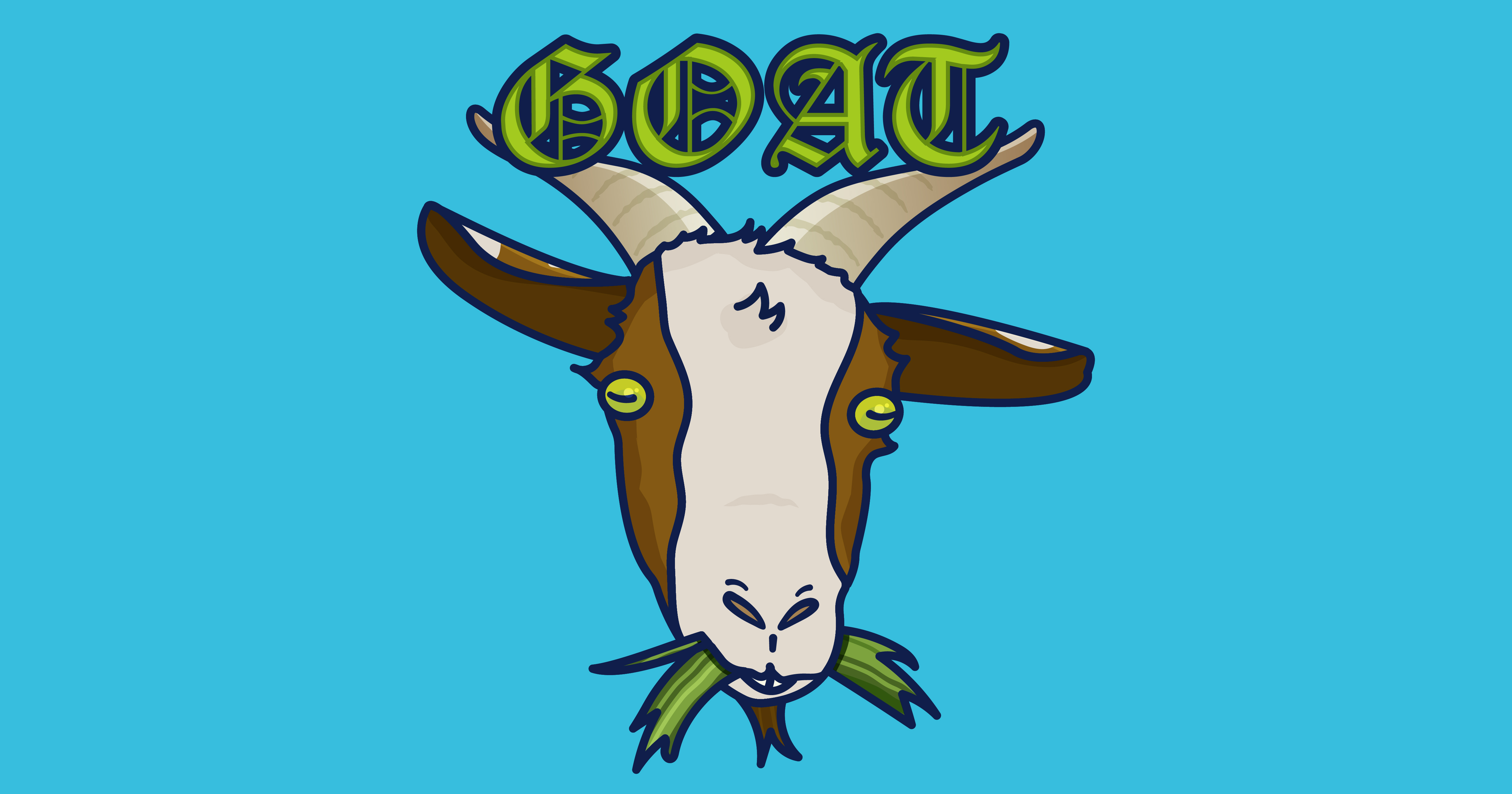 Teen Slang: GOAT (Greatest Of All Time)
Ye Olde Teenspeake: This one doesn't translate well, unfortunately. It's actually just the family goat, Phillip. Kids are weird in every time period.
Gen X Translation: Folks use GOAT usually when referring to a well-regarded sports icon. Ex. Lebron James is the GOAT.
The way kids talk will forever change and evolve with the times. To keep up with the latest trends, follow us on Facebook, Twitter, and Instagram. You can also sign up for a free, one-week trial of Bark!