5 Secret Messaging Apps Your Child Might Be Using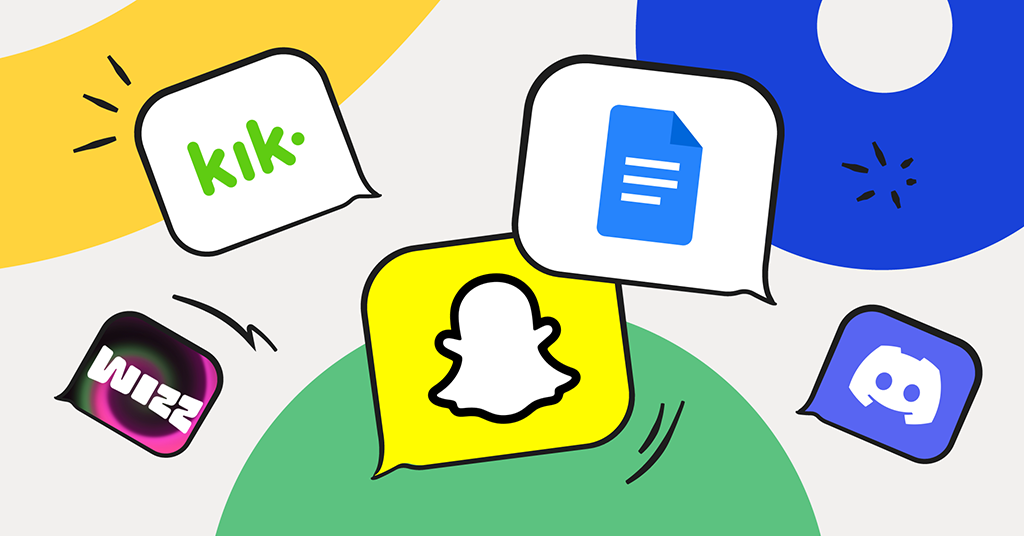 The way kids communicate nowadays is worlds different than when we were kids. For many young folks, social media and texting are how they feel connected to their friends and classmates. This isn't always a bad thing, but when kids can communicate on secret messaging apps without any parental supervision, that can mean lots of trouble.
To help parents out, we've put together a list of the top 5 power players in the social media space for secret messaging apps. We'll break down what the app is and the danger it poses for teens and tweens.
It's important to talk to your kids about safe internet use, whether or not they use these specific apps that we've listed. Kids can always find themselves in tricky situations on lots of different apps, these are just some of the most popular.
Top 5 Most Popular Secret Messaging Apps
1. Snapchat
This app is always at the top of the list for the most popular — and most dangerous — messaging apps. The biggest grief Snapchat gives parents is the disappearing messages feature. Kids can send texts, images, and videos to each other that "disappear" after 24 hours. Kids may think this gives them license to send inappropriate or harmful content to each other, believing there will be no repercussions. But in reality, all of this content can easily be saved and distributed. And a lesser-known danger of Snapchat is the drug dealers who use the app to target kids. It's incredibly easy to get connected with strangers on Snapchat, making it very dangerous
2. Discord
Discord is probably a close second to Snapchat, but definitely the most popular in the gaming world. This app has different "servers" to join that are either private or open to the public. If your child only uses it to communicate with friends and family, the risk is minimal. But kids can easily end up talking to complete strangers where grooming and sharing inappropriate content is very likely.
3. Wizz
Imagine if there was a dating app for kids. Sound safe? Absolutely not! That's essentially what the Wizz app is. It doesn't claim to be a dating app for kids, though — it claims to be an app to "make friends" with people online. You can swipe through profiles of people from all over the world and start a conversation. Kids quickly started using it as a dating app, making them vulnerable to encounter inappropriate content or chat with an online predator. This is one app we definitely do not recommend for kids.
4. Google Docs
You might not expect to see this one, but trust us, kids have been using Google Docs to send and receive secret messages for a while now. If you don't already know, Google Docs allows you to share a document with other people in order to collaborate on a project together. Kids used this to write messages out in the doc, and then quickly delete them without ever leaving a trace. Sadly, this has happened in cases of cyberbullying at school. It's very easy to simply share the doc with a whole class or even a whole school so that everyone sees the revealing or harassing content.
5. Kik
Kik is another app that's similar to Discord where kids can either chat with friends or join public group chats full of strangers. This app highly values anonymity so it's easy for someone to pretend to be someone or something they're not. Kids can encounter predation, inappropriate content, and cyberbullying from Kik. And their lack of parental controls makes all of this even more likely that your child may experience these things.
Stay in the loop with Bark
The good news is that Bark can monitor many of the platforms listed above! We'll send you alerts for things like cyberbullying, sexual content, predation, suicide/self-harm content, and more. Additionally, we'll provide help with creating screen time schedules, blocking apps and websites entirely, and requiring app approval before your child can download an app on their device. Start your free, one-week trial today!
About Bark
Bark is a comprehensive online safety solution that empowers families to monitor content, manage screen time, and filter websites to help protect their kids online. Our mission is to give parents and guardians the tools they need to raise kids in the digital age.