Instagram Messages: What You Need to Know About the New Features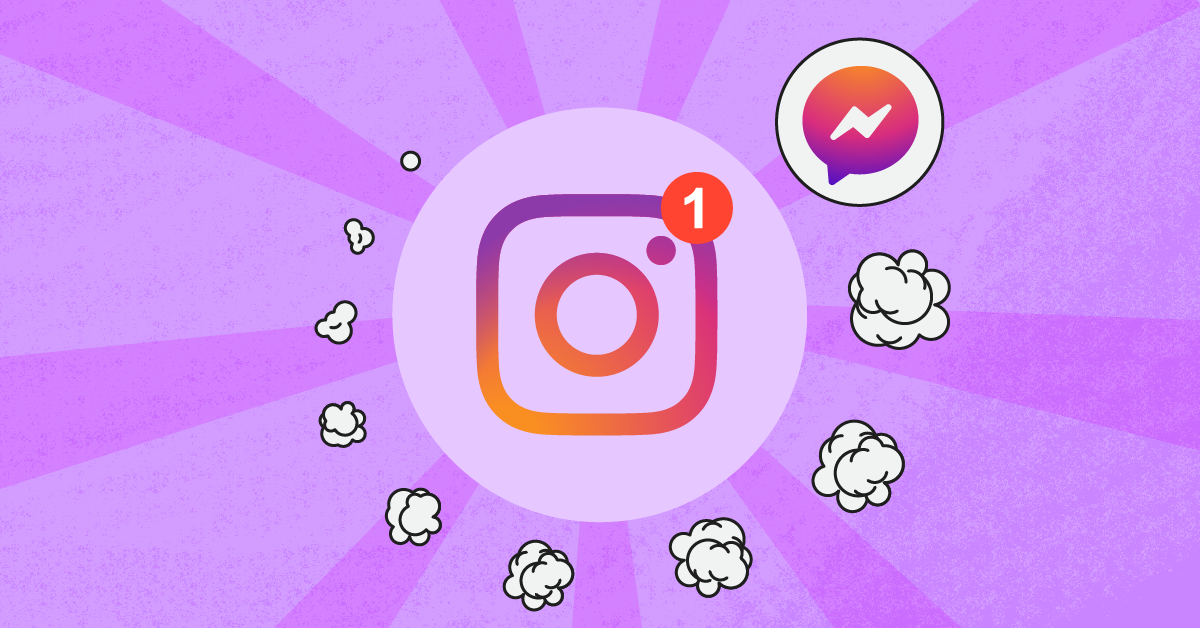 There you are — avoiding getting out of bed, scrolling through your feeds while you grab a quick lunch break, or hiding in the bathroom for some time to yourself (hey, we don't judge). Then, seemingly out of nowhere, it happens. Another social media platform announces they're changing yet again. It's one thing to adjust to Facebook's new design, but getting accustomed to changes that affect the way a platform functions can be even trickier to become comfortable with, especially when you're trying to keep your kid safe online at the same time. Luckily, we've done the sleuthing for you today. Settle in and grab a cup of relaxing chamomile tea, because Instagram messages are going to be changing.
Just this week, Instagram announced a suite of new features that have the potential to affect users' experiences a good deal. This is the latest step in the platform's integration with Facebook, and the exact timeline of when these shifts will be live for everyone has yet to be announced. In the meantime, we've put together a guide to what you need to prepare for. In addition to fun new tools, they're releasing some developments that could really change the way your kid uses the app.
Vanish Mode
If you've decided not to let your child download Snapchat, that decision is probably largely based on the platform's disappearing messages and images. The latest update about messaging on Instagram now includes this option. While the app already allows users to send photos and videos that disappear, people can now choose to have their text-based messages self-erase as soon as the recipient has viewed them. This can encourage kids to send messages that they would otherwise never share, so have a conversation with your child about how a screenshot or screen recording can prevent what they're sharing from ever truly disappearing.
Watch Together
During this period of social distancing, your child probably isn't able to have their BFF swing by to watch Stranger Things for the millionth time or host a watch party for Disney's new live-action Mulan. But streaming videos is a major part of many kids' lives, so your own child could look to group viewing options (like Netflix Party or Facebook Messenger Watch Together) to help them keep in touch with their best buds while avoiding in-person interactions. Now, Instagram is joining the list of social platforms offering this feature. This latest update will give users the option to stream videos from Facebook Watch, IGTV, Reels, TV shows, movies, and more through a group video call. While this can be a good way for your kid to fulfill their social needs during the pandemic, make sure what they're viewing meets your family's standards and your child's maturity level so they don't walk away upset by something they weren't ready for.
Messenger Rooms
Messenger Rooms is an Instagram/Facebook alternative to Zoom. To start a Room, both an Instagram and a Facebook account is required. Users can invite up to 50 people to join the call by sharing a link with them, and they'll be able to participate whether they have an Instagram, Facebook, or WhatsApp account — or no account at all! There's also a Live Rooms function for users interested in broadcasting content to others.
Like other video chat apps, the potential for unwanted guests and inappropriate content are two primary dangers. Fortunately, Messenger Rooms puts the room-creator in control of their guests, with the ability to make a room private, block users, remove guests, and more. If you're worried that your child's room might become overrun with uninvited guests, have them lock it as soon as their friends have joined the call. This will ensure that a stranger who somehow found the video chat link won't be able to participate.
Instagram Messages Controls
There have been two main adjustments to the Instagram messages that are allowed to be sent and received. One of these carries Facebook's integration with Instagram to the next level. "The main change is that people using the Messenger app can now reach you on Instagram without you needing to download a new app, and vice versa," the platform's announcement explains. In other words, if your kid doesn't have Instagram but has Facebook Messenger, they'll still be able to chat with someone messaging on Instagram unless they adjust their settings to turn off cross-platform messaging.
On the flip side, another messaging on Instagram update allows for more security. "You can also control where you receive messages and calls, such as in your chats, in your message requests, or not at all," Instagram states in their update message. Historically, strangers could send message requests to your child even if they had a private account. With this new update, each person has the option to elect not to receive any message requests from strangers. This is a significant step toward online safety, and it could mean your kid is only able to exchange Instagram messages with someone they're friends with — not with a potentially predatory adult. Of course, it's worth noting that your child has the ability to change their privacy settings, so make sure to talk with them regularly about the importance of only communicating with people they know in real life.
To turn off Instagram messages requests, follow these steps:
Open the Instagram mobile app.

Navigate to Settings.

If you see the option to select "Update Messaging," go ahead and do that.

Go to Privacy > Messages.

Choose who has the ability to message your child.
Reporting and Blocking
In the past, messaging on Instagram has allowed users to report a message containing inappropriate content, spam, or abusive materials. Now, each person has the option to report an entire conversation instead of just one single message. This has the potential to help address cyberbullying, predation, and more. The platform also reports that — under this new system — people will receive "proactive blocking suggestions across Instagram and Messenger," which can help you and your child move forward from a situation after it has been properly reported.
The Fun Stuff
This new update is also going to give you more room for creativity and customization! We're talking boomerang selfie stickers you can send to your BFF, editable top emoji reactions to sprinkle in a conversation at a moment's notice, customizable chat background colors, and animated message effects to really liven up a group chat. These Instagram messages features could help your child connect with their friends, and maybe even spark some creative interests!
About Bark
Bark is a comprehensive online safety solution that empowers families to monitor content, manage screen time, and filter websites to help protect their kids online. Our mission is to give parents and guardians the tools they need to raise kids in the digital age.