iOS 15: What Parents Need to Know About The New iOS Update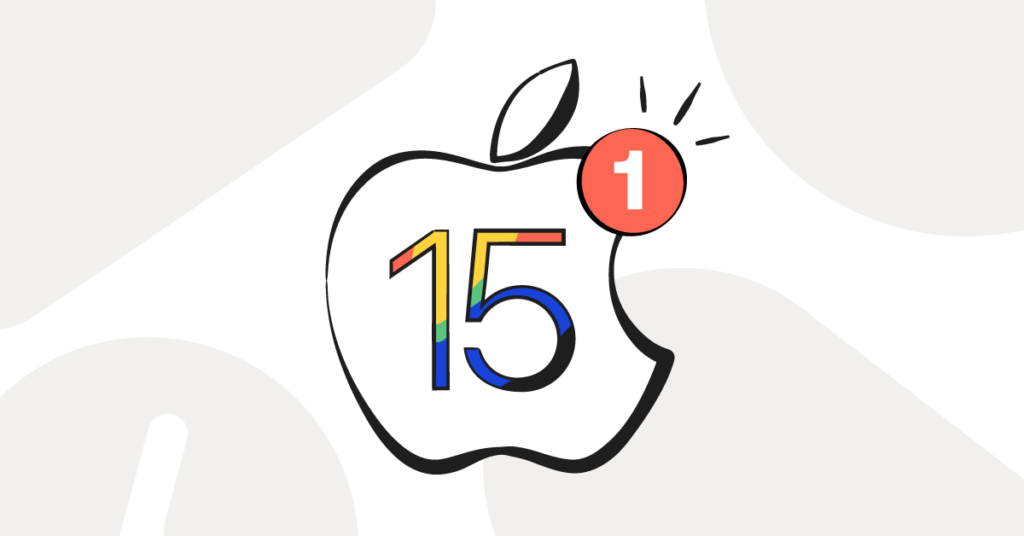 iOS 15 has officially been announced! Apple released their preview of all the new changes a few days ago, and today is confirming exactly what will be rolling out in the new update, which will become available tomorrow. We will keep this blog post updated with any new developments.
The changes in this new IOS update are numerous and we know you're busy figuring out homework and how to convince your kid that screen-free time is actually fun and about a million other things, so we rounded up the most notable changes. Feel free to read all the way through or just navigate directly to the worrisome stuff.
New iOS Update: The Bad
Public FaceTime links
If your kid wants to hop onto a quick call with a few of their buddies (who also have Apple devices), they can simply select their contacts and be chatting in no time. With the new update, your child will have the option to share their FaceTime call link anywhere. Then, all someone has to do to join the call is tap on that link — regardless of whether they have Apple devices or whether they know your child.
Automatically saved photos
Now, if your kid receives a photo over iMessage, they have to go through a few steps if they want to save it to their photo library. With iOS 15, any images your child receives will be automatically saved to their library. That means nude images, offensive memes, and more. It does not appear that this is a feature that can be turned off, but we will be sure to update this blog post if that is an option.
Lock Screen access
iOS 15 will now come with the option to search for links, images, and more directly from the lock screen! That means if your kid is not supposed to have access to their phone, they will still be able to see certain results — even without the ability to unlock their device. It is currently unclear whether lock screen searches will fall under screen time rules.
Health trends
With the new iOS update comes even more data about your health. The Health app will now show you whether different metrics are increasing or decreasing. While this may initially sound like a harmless change, it can have a negative effect on your child. Kids today face huge amounts of pressure to maintain a certain body shape, track their calories, and more.
Analysis of whether they're doing "better" or "worse" in these areas can exacerbate unhealthy habits and mindsets. If you're concerned about this, make sure your child turns off the new option to receive alerts when emerging trends are detected.
New iOS Update: The Good
Focus
The new Focus tool allows users to set personalized Do Not Disturb settings. You will be able to turn all notifications off or choose from Apple's pre-designed suggestions for "work, personal time, sleep, fitness, gaming, reading, or driving." This could be pretty useful if your child is someone who gets easily distracted when their phone lights up.
Customizable notification settings
Of course, you still want to be able to reach your kid when you need to — even if they have Do Not Disturb toggled on. iOS 15 will allow you to pre-approve notifications from specific contacts, so make sure your child elects to receive your messages.
Daily summaries
"Receive a helpful summary of your notifications delivered daily, in the morning and evening, or scheduled at a time you choose," Apple's preview article says. "Your summary is personalized and helps you quickly catch up on what you missed while away focusing."
For kids (or, let's be honest, parents) who have a tough time making sure important information doesn't slip through the cracks, this new feature could be really helpful.
More private email settings
Email scams are becoming increasingly common, and scammers' schemes are more sophisticated than ever. iOS 15's new Mail Privacy Protection restricts email senders from having access to information about how you use your Mail app. You can also choose to hide your IP address. "Senders can't link it to your other online activity or determine your location," Apple explains. "And it prevents senders from seeing if you've opened their email."
New iOS Update: The Neutral
Interactive text in images
With iOS 15, you will now be able to take a photo of something and then copy, look up, or translate any text that appears in the image. That means your kid can quickly transform handwritten notes into a Google Doc or insert a quote from a PDF into their history paper.
Photos search
The Photos app analyzes the contents of your photos more than ever. You can now search for not only people or locations, but also for things that may appear in an image. For example, you could search for a photo in your library containing a bird. By typing in a contact name, you can also search based on who sent you an image.
More information on iOS parental controls and updates
To learn about every single change that's coming along with saying on top of iOS parental controls, you can read Apple's announcement article. Just make sure you're fully caffeinated before diving in — it's a long one.
About Bark
Bark is a comprehensive online safety solution that empowers families to monitor content, manage screen time, and filter websites to help protect their kids online. Our mission is to give parents and guardians the tools they need to raise kids in the digital age.