A Child's Brain on Porn: The Dangers and Damages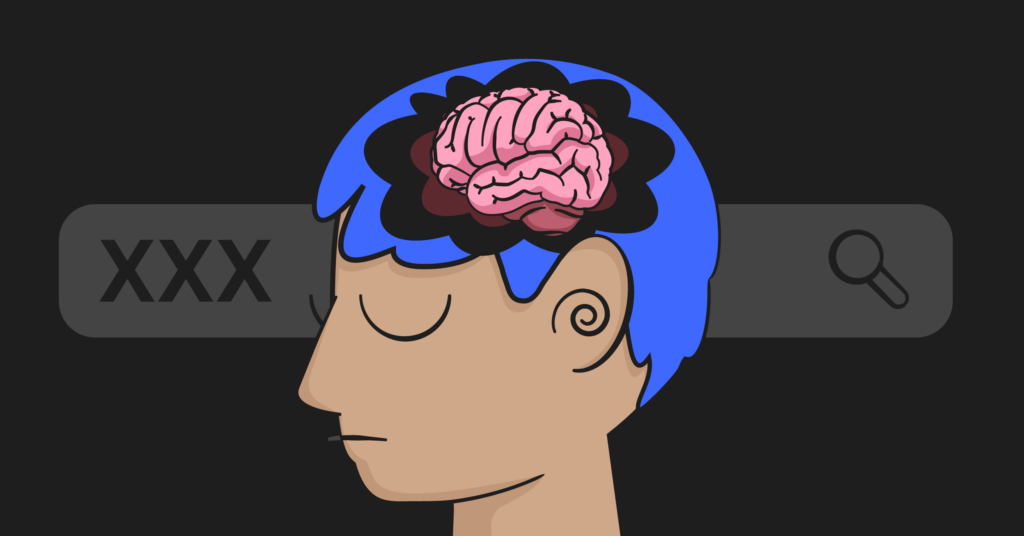 Gone are the days of Playboy, X-rated movie stores and even the supervision of the "home office computer." Today with every smartphone, tablet or laptop, porn beyond parental monitoring is just a click away. According to our 2022 Annual Report, 62.4% of tweens and 82.2% of teens have encountered nudity or content of a sexual nature online.
In short—it's unfortunately very likely your kid will run across porn, willingly or unwillingly, at some point. The best way to deal with this inevitable fact is to educate yourself and your children. In this post, we'll take a deep dive into what a child's brain on porn looks like, and the dangers and damages porn poses. We will also give you tips and tricks for addressing porn with your family and protecting your child from content they're not ready for yet.
The Effects of Porn on The Brain
For better or worse, the minds of children under 18 are largely impressionable and moldable. A child's brain on porn doesn't just experience things differently; it can also change physically. This combination of conditioning and physiological changes means that exposure to porn can significantly impact a child's development and long-term social and emotional skills.
Here are just a few of the effects porn has on young brains:
Porn alters the structure and development of immature brains. Studies show that porn can damage a developing prefrontal cortex. The area of your brain is critical for decision-making and impulse control—when damaged, children are more likely to act impulsive and make rash decisions. Porn can also damage the dopamine reward system, making it more difficult to find excitement or fulfillment in healthy relationships.
Viewing porn skews reality thanks to mirror neurons. Dr. Sharon Cooper, a forensic pediatrician and faculty member at the University of North Carolina School of Medicine, argues that children are more vulnerable to pornographic images than adults because of mirror neurons in the brain. Mirror neurons play an important role in how children learn and convince people that they are actually experiencing what they see. Because these observed encounters seem so real to children, they are likely to believe this is how sex and relationships work in the real world—when that's often far from the truth.
Mainstream porn normalizes and reinforces sexist ideas and harmful gender roles. Experts say that by age 10, gender stereotypes are established in the minds of children. Considering the average age kids are exposed to porn is between 9-11 years old, much of what they see can be cemented into their long-lasting ideas on gender roles. Unfortunately, these images aren't usually positive. A study of adolescent porn use concluded that the major messages presented by porn are male domination, hypermasculinity and making male sexual pleasure the top priority. These stereotypes, when pushed to the extreme, as they often are in porn, include men being dominating, unemotional and controlling and women being submissive, emotional and weak. When acted upon, these gender stereotypes can lead to an increase in violent and risky behavior for boys and depression and exposure to violence for girls.
The Dangers of Porn
The effects of porn on the brain can lead to real dangers and damages in the present and long term. Surveys show that the earlier children are exposed to porn, the more likely they will regularly view it and experience more of its effects and dangers.
Here are a few of the potential dangers that come from early exposure to porn:
Porn can keep people from forming and maintaining healthy relationships. Because porn skews children's view of what a normal relationship, sexually and otherwise, looks like, they are often bound to expect things that aren't reasonable or healthy from their partner. When these expectations aren't met or enforced without consent, one or both sides of the relationship will fail.
Sexual violence is perpetuated by porn. A review of mainstream porn has shown that ​physical aggression occurred in 88.2% of scenes and verbal aggression in 48.7%. Men committed 70.3% of all aggressive acts and 94.4% of aggression was directed toward women. This repetitive reinforcement of gender stereotypes, violence and a male-centered narrative in pornography can lead to an increase in sexual violence toward women in the future.
Brains that have been rewired by viewing porn can lead to poor decision-making. In relationships and beyond, desensitization to high dopamine levels can make even the highest-best moments a little less exciting. Plus, increased impulsivity means that when important decisions are to be made, people are more likely to jump to conclusions than make an informed decision.
How to Talk to Your Child About Porn
Experts emphasize that when talking to your child about their first encounter with porn, you should use a nonjudgemental tone and talk through some of the reasons why porn can be damaging and dangerous.
Your plan of action may vary depending on your family's values. Options range from making a tech contract with established rules to setting up parental controls that will make it more difficult for your child to access pornography on their device. No matter what you choose to do, make sure your child understands why you've chosen this course of action, and don't be afraid to revisit the conversation.
How to Protect Your Child
The 2003 study found that blocking and filtering software reduced the likelihood of exposure to porn by 40%. Bark's software can help block harmful content and let you know if and when your child has been exposed. With this knowledge, you can have an open and honest conversation with your child about their brain on porn and its dangers and damages.
About Bark
Bark is a comprehensive online safety solution that empowers families to monitor content, manage screen time, and filter websites to help protect their kids online. Our mission is to give parents and guardians the tools they need to raise kids in the digital age.