Snapchat Chat 2.0: Discover Why Kids Rely on It More Than Ever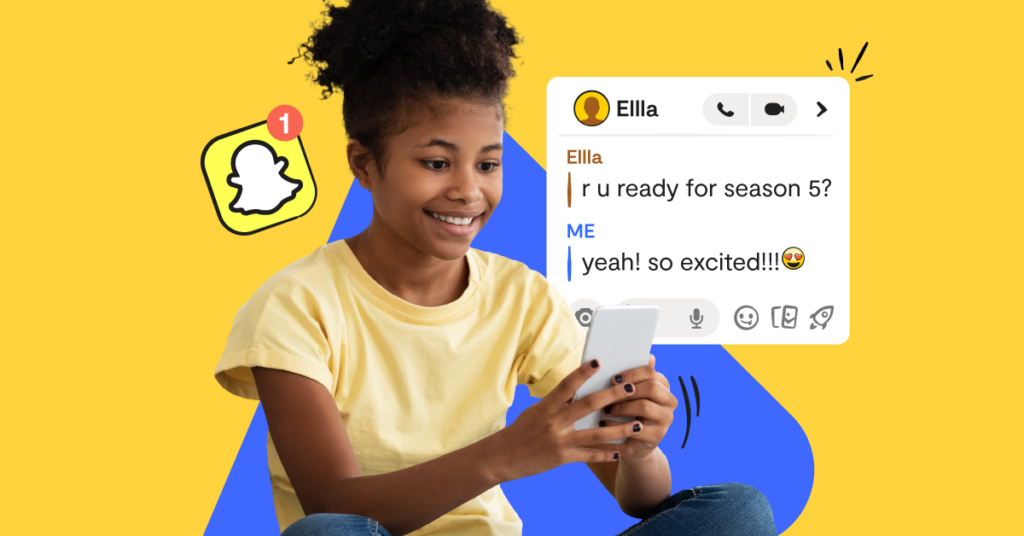 Does it ever feel like you can't catch up with all the changes in technology? Just when you figure out what your kids are talking about, a new trend or app goes viral, leaving you in the dust. Popular dance moves, virtual reality, bitcoin, Discord servers — it's a lot to understand. For young kids, though, constant change is just part of growing up. As new platforms and features arrive all the time, teens and tweens quickly adopt the most viral changes. For the past few years, Chat 2.0 has driven Snapchat chat popularity among many younger users. In fact, kids now prefer Chat 2.0 over similar apps, including Facebook Messenger and iMessage.
What changed with Snapchat when Chat 2.0 was released? How is Snapchat Chat 2.0 different from similar apps? Why is it so popular? We'll dive into these questions and many more, giving in-depth answers and helpful tips on how to keep track of your child's activity.
Chat 2.0 Growth and Popularity
Snapchat took the world by storm when it originally launched the famous "disappearing message" app in 2014. Chat 2.0 was released 2 years later, and the world was never the same again (not for Snapchat users, anyway). For most people, Snapchat Chat 2.0 created the right mix of messaging and content discovery functions to make the entire app more engaging.
A lot of the big social media apps were purchased by Google or Facebook early on, but Snapchat is still privately owned. Although you probably heard more about Snapchat a few years ago, it's still growing quickly — surpassing 500 million active monthly users in late 2021.
Who is using Snapchat Chat 2.0 the most? Girls between the ages of 13–17 are the largest group of users. Overall, those under the age of 20 make up approximately 40 percent of all Snapchat Chat 2.0 users.
Snapchat Chat 2.0 Features
Snapchat chat was first built as a messaging app. One user would record a video message and send it out to their followers or a single connection. Snapchat Chat 2.0 introduced much easier versions of live video chat, which is a game-changer. Now, instead of one-off messages or stories, friends can seamlessly switch to video in real-time.
Users can fluidly change between different Snapchat conversation features to access notes, photos, and stickers. It's easy to mark up images with different options for adding text, drawings, stickers, filters, and more. Kids can also hand-pick exactly which friends to include in a video chat. In response, their friends can join in on the Snapchat video chat or simply watch.
All of these changes help explain why Snapchat chat is still so popular: It's really easy to use. Plus, there are so many ways to talk with friends. The variety and ease of use truly make other peer-to-peer chatting apps seem like the "dial-up" of messaging tech.
Let's explore more of the core features of Snapchat chat to provide a better picture of exactly how kids use the app. We'll focus on the features most relevant to younger users and not companies (like advertising, promoted posts, etc.).
Types of Messages with Snapchat Chat

Kids have a lot of options for messaging their connections on Snapchat, and they can be used together in a continuous message thread (like texting):

Audio only, like a voicemail
Video and audio
Video only
Stickers
Notes, a 10-second, GIF-like message
Spotlight
To make the app feel more like its popular rivals TikTok and YouTube Shorts, Snapchat recently introduced the Spotlight feature. Anyone can create Spotlights, and they are featured in the app based on their popularity, much like the TikTok "Discover" feature. Now, when kids open Snapchat, they can browse trending Spotlights or record and submit their own. One interesting trend promoted by Snapchat is Spotlight Challenges. Snapchat gives cash prizes directly to users who make the best video for a specific challenge.
Snap Map
Snapchat's map tool is intended to help people find content from a specific location. The interactive map highlights stories from around the world that can be filtered by region. Kids can simply scroll or swipe across the map to discover something new. However, this feature also allows users to reveal their current location (much like Facebook's check-in feature) when posting. As you might expect, this can be dangerous.
Auto-Advance
While auto-advance isn't necessarily a Snapchat Chat 2.0 feature, it does keep users passively using the app for long periods of time. When one story ends the next one plays automatically... no work required! The problem is that it's easy to spend 30-40 minutes at a time watching stories play continuously. It's no wonder that the average Snapchat user spends almost 50 minutes a day on the app.
Filters and Lenses
Remember when everyone was adding dog ears to their pictures? Snapchat video chat lenses and filters can be used over pictures and videos. Kids can also create their own filters and lenses to show off school pride or capture an inside joke.
Privacy Changes & Concerns
It's an age-old question with Snapchat: Do messages actually disappear? We scoured the Snapchat privacy site to verify which types of messages are not saved. According to Snapchat, live video content is not recorded and users can choose whether or not other message types are saveable.
Popular Snapchat Terms Parents Should Know
Snap: Any kind of message or content sent and received through Snapchat.

Story: A series of snaps that have been sent to all of someone's friends are compiled into a "story" - containing images or videos. Stories are available for up to 24 hours.

Snap Streak: Consecutive daily messaging between two friends creates a streak, which is symbolized with a small fire icon.

Snap Map: Part of the Snapchat app that shows "snaps" by location.

Spotlight: Featured snaps based on popularity (also where spotlight challenges are posted).

Friend emojis: Symbols that rank the status of kids' friends based on how much they chat with them.

Filters: Graphics that can be placed over an image or video. Geofilters can only be added when a user is in a specific location.

Lenses: Uses machine learning to change how users' faces appear to recipients.

Snapcash: Snapchat's online payment tool that lets kids exchange money via the app.

Snapcode: A unique QR code each user can allow others to scan and add them on Snapchat.

Trophy case: Awards that Snapchat gives users for different kinds of activity on the app (for example, using a lens for the first time).
Should Parents Be Concerned About Snapchat Chat 2.0?
Though it can be fun and light-hearted, it's hard to sugarcoat the potential downsides of heavy Snapchat usage. While normal Snapchat chat use isn't necessarily a cause for concern, problems might not always be obvious. By staying actively involved with their kid's social media habits, parents can get better at spotting potential issues like:
An inability to disconnect from the app. The fleeting, momentary style of Snapchat communication can become stressful and anxiety-inducing. Social pressure to stay up-to-date on messages (e.g., keeping a "Streak" alive) can get overwhelming. The ability to connect with someone they really like and immediately start video chatting can be highly addictive.

Abusive behavior from other users can present a risk, including cyberbullying, sexploitation, harassment, and more. Kids are more likely to share inappropriate content if they aren't concerned about messages being saved or shared. This might give them a false sense of privacy.

Physical threats. Using several of the Snapchat map settings, your child could accidentally reveal their location.

Harmful social media challenges. Unfortunately, Tide pods and the cinnamon spoon dare didn't curb folks' appetites for outrageous challenges. Even safe trends or challenges can create an unhealthy obsession with social clout or virality.

Credential sharing. For the sake of an unbroken messaging streak, kids sometimes share their passwords, which can allow accounts to be used for embarrassing posts. Or, if those same credentials are used for other accounts, someone with bad intentions could log into personal, private accounts (e.g., email).

Poor time-management habits and constant social scrutiny can result in unhealthy self-criticism and mental health issues. Over time, this might cause bouts of teen depression.
Keeping Track of Snapchat Chat 2.0 Activity
Dismissing Snapchat as a passing fad won't work, and it won't make the app seem less cool to your kids. Snapchat chat offers a kind of fast-paced messaging that feeds into the desire for instant responses and connection. It's not going to change anytime soon.
Also, Snapchat is primarily used as a mobile app, which makes it more tempting to use throughout the day. For many kids, Snapchat takes the place of regular texting and phone calls. It's more like an all-in-one phone plan and social platform.
By using the built-in Snapchat settings and the right monitoring tools, parents can get more insight and intervene, if needed.
Adjust Snapchat Settings
On the app, you can change settings to control visible information. For example, public profiles might make your child's activity more visible to strangers. This activity could include information like their location, who their friends are, other social profiles, etc. For this reason, Snapchat claims that public profiles are restricted to users who are 18 and older. (Of course, kids can easily lie about their ages.)
Other recommendations for enhancing your child's privacy include:
Change the "contact me" settings to be friends only.

Consider adding two-factor authentication to keep infiltrators out.

Tighten up the visibility of stories with custom settings (not "everyone" or "eublic").

Delete stories or snaps from public parts of the app.
It's worth noting that your child can change these features back. See our article on Snapchat parental controls for a complete breakdown of the most important options, and how to access them.
Use an Online Activity Monitoring Tool
Bark is a powerful and easy-to-use parental control tool that brings activity monitoring and access control into one program for parents. No more poring through your kid's accounts and trying to stay updated on every app. Bark monitors 30+ social and messaging apps, Chrome browsing history, and communication through email and texting.
Parents are notified of alarming behavior that might need further attention, including potential acts of self-harm or cyberbullying. Sentiment monitoring helps parents understand how their kids are feeling based on the content of their messages. Plus, our website blocking and screen time features allow parents to set specific schedules for app usage or internet access.
Learn more about how Bark works or sign up for free today to see how you can experience more peace of mind and build a better family relationship with technology.
About Bark
Bark is a comprehensive online safety solution that empowers families to monitor content, manage screen time, and filter websites to help protect their kids online. Our mission is to give parents and guardians the tools they need to raise kids in the digital age.