What Is Augmented Reality? A Guide for Parents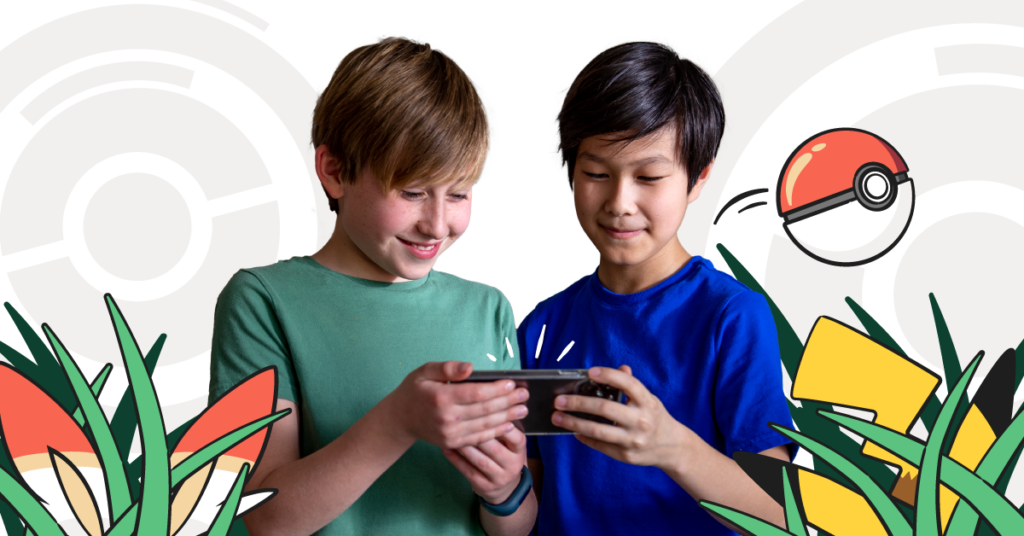 What is augmented reality, and how does it impact our daily lives? If you've ever seen a Pokémon in your living room, you don't have to ask "what is augmented reality?"  — you've experienced it! That's right, Pokémon GO is probably the most popular example of augmented reality technology that blends real-world environments with computer-generated effects. Think of it as a less intense version of virtual reality, as you're not totally immersed in an artificial world. Unsurprisingly, kids absolutely go wild for augmented reality games. However, augmented reality technology isn't without its dangers. Here's what parents need to know about it.
What Is Augmented Reality?
Augmented reality (AR), in simple terms, is using technology (like a smartphone) to introduce digital elements like images, figures, and sound into your actual surroundings or even onto your own body. You're probably familiar with the fun face filters and interactive games on Snapchat, TikTok, and Instagram. But did you know those are also augmented reality?
Because of this, you can probably guess that the line between reality and augmented reality has grown a little blurry, especially when filtered photos have become the norm. This can also lead to body image issues in kids if they rely on technology to change the way they look.
Positive Benefits of AR for Kids
Augmented reality has limitless potential to bring to all kinds of fields — including medicine, communication, transportation, and more. But when it comes to kids, there are two main ways that young people reap the benefits of augmented reality.
Education
Keeping kids inspired and paying attention in the classroom has always been a struggle. With AR, teachers can use technology to bring history, science, and even math to life! Here's an example of what this could look like.
Your child could download an app and use their phone's camera to see what a bird would look like if it landed on their desk. This makes it easier to judge its size and shape, as they could walk around it with their phone to see it from multiple angles. They could even hear the bird's call through the phone's speaker. Looking closer, they could actually see its beak move and feathers ruffle as it sings.
Entertainment
Incorporating imaginative worlds into everyday real life is one of the coolest parts of AR, and for kids, it's a great way to get lost in their favorite worlds. Unlike regular video games on Nintendo Switch or PlayStation, augmented reality games are truly interactive. These games can provide a more immersive and customizable experience for players, too.
Games like Pokémon GO helped launched the AR trend a few years back, and Wizards Unite is another popular AR game in which players become official members of the Harry Potter wizarding world. The game uses a player's GPS to allow them to walk around streets and find magical artifacts, in addition to creating magical-inspired selfies with cool filters. It's safe to say that we can look forward to even more AR games as technology continues to advance.
Dangers to Watch Out For
Despite being a great way to learn and blow off steam, augmented reality isn't all fun and games. There are a few things that parents need to watch out for while their kids use it.
Excessive screen time
Managing screen time can be hard enough when kids want to watch videos on YouTube or chat with friends and family. It can be even harder when they're playing an augmented reality game that puts them at the center of the action in their favorite world. Be sure to encourage healthy boundaries. Try setting daily time limits and requiring breaks in between longer sessions.
Distraction in the real world
Games like Pokémon GO require you to travel out into the world to find new creatures and battle spots. Make sure your kid remembers to pay attention to traffic when crossing the road. Remind them to stay aware of other people and objects near them while they're playing. Playing with a friend who doesn't have AR or being supervised by a parent can help with this sort of distraction, too.
Privacy concerns
Augmented reality platforms and apps have the potential to collect biometric data about a user — that's what it's doing when it scans your face to overlay a digital filter. But like any other piece of technology that's connected to the internet, it's vulnerable to hacking. Simple kid games may not be as much of a target as something like a health app, but it's important to keep in mind some of these new dangers that evolving tech poses.
How Bark Can Help
Hopefully, we were able to answer your question, "What is augmented reality," but what actual dangers it poses to our kids? Honestly, it's the potential for screen addiction as children try to spend more and more time attached to their devices playing their favorite games. Fortunately, Bark can help you manage your child's screen time with our custom scheduling tool. 
To keep them on track, you can make sure during the school day they're only opening up educational apps. At night, you can limit access to all apps to ensurer they're getting rest. That way, when they step foot in their favorite augmented reality world, they can focus on what's important for that hour — having a blast.
About Bark
Bark is a comprehensive online safety solution that empowers families to monitor content, manage screen time, and filter websites to help protect their kids online. Our mission is to give parents and guardians the tools they need to raise kids in the digital age.