The Benefits of Setting Xbox Screen Time Limits & Age Guide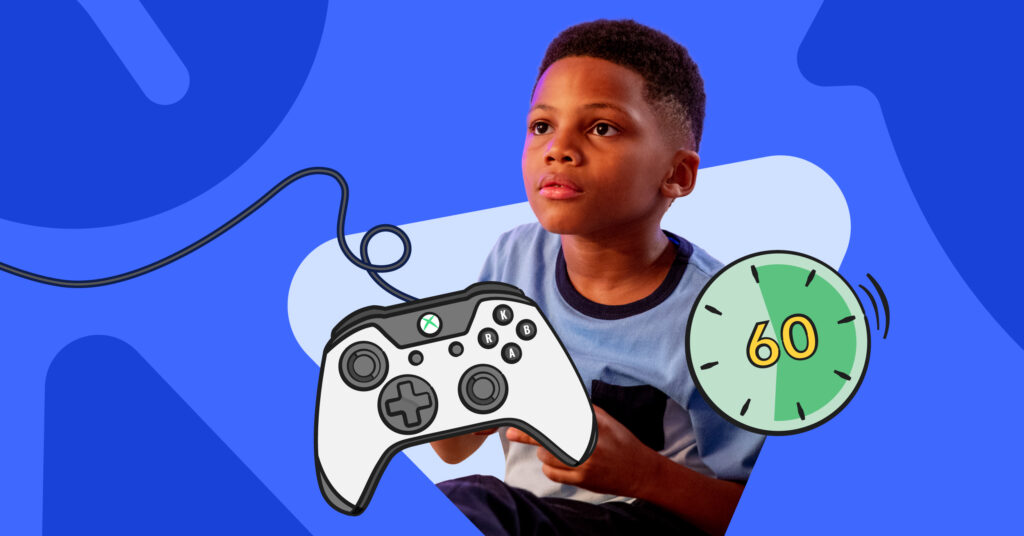 Is your kid just a casual Call of Duty player? Or do they dream of becoming the next famous Twitch streamer? No matter where they fall on the video game playing spectrum, Xbox screen time limits are important. In this blog post, we've researched some of the current best practices when it comes to Xbox screen limits. We've also got the quickest way to set them using a free Microsoft family account. Let's dive in!
What Are Age-Appropropriate Xbox Time Limits?
It's no surprise that younger kids definitely should spend less time playing Xbox than teengers. But just how much is the right amount? The American Academy of Pediatrics gives very general guidelines, but every family — and child — is different. Here are some things to take into consideration when deciding Xbox screen time limits for your kid.
6 through 12
Families should aim to limit screen time to no more than 2 hours a day, and preferably less. For younger kids, the goal should be to try and encourage screen time that makes them think and not just mindlessly click buttons. Parents should also preview content and games to make sure they're age appropriate.
13 to 17
For older kids, time limits can be a little more flexible but should follow family-based schedules. Create defined, no-gaming times during the week, like during meal times or on one specific evening. Try and keep gaming out of a child's room to help encourage better sleep hygiene. Older kids may try and push back against screen time limits because of the social aspect of some multiplayer games, but hold fast. Encourage real-life interactions, as well.
How to Set Xbox Screen Time Limits
You can control how long your kids spend on their Xbox by setting screen time limits on their Xbox console. To do this, you manage things from your Microsoft family account (Microsoft owns Xbox). Don't have a Microsoft family account? It's free and you can create one here.
Log in to your Microsoft family account
From your family group page, select Screen time for the child you'd like to set limits for.
Toggle Use the same schedule for all devices to On.
Next, you'll see the days of the week listed. You can either:

Choose how much time your child can spend on their devices each day, and when they can use them.
Give a set amount of time by selecting Max scheduled. (For instance, if you've allowed screen time from noon to midnight, they can use their devices that entire time.)

You're all set!
Note: Once screen time limits are in place, the time counts down whenever a child account is signed in. If they're not actively playing, have them sign out so they don't get less time than actually alloted.
How to Set Specific Game Time Limits on Xbox
If your child is spending too much time on certain games, you can set precise limits to help them achieve a healthy balance. App and game limits are available on Windows 10 and Xbox One devices, along with Android devices with Microsoft Launcher installed. Once you set a limit, that limit will work across all of their devices. (For example, if you give them three hours on YouTube, they can spend a total of three hours on Windows 10, Xbox One, and Android.)
To set app and game limits, go to family.microsoft.com and sign in with your Microsoft account
Find your child's name and select App and game limits. (App and game limits aren't available on adult accounts at this time.
Select the app or game you want to set limits on. If you've never set limits, it'll show how often they use the app or game on average.
Set how much time your child is allowed to spend on the app or game each day, and when they're allowed to use it.
Why It's Important to Monitor Screen Time on All Devices
While they can be hard to implement sometimes, routine and structure are critical to a child's well-being. Digital limits — whether for phones, Xbox screen time, and more — are no different than other rules, like having a daily homework hour or feeding the dog. Consider sitting down and making a tech contract with your kid. By making the process collaborative, you can talk it out and give your child a say in some of the rules.
Bark can also help you manage screen time easily and efficiently, helping you set different rules for different times of day. This can look like "no YouTube during the school" or "only Fortnite on the weekends." Every family is different, but Bark can help you set healthy boundaries with all of the devices your child uses.
About Bark
Bark is a comprehensive online safety solution that empowers families to monitor content, manage screen time, and filter websites to help protect their kids online. Our mission is to give parents and guardians the tools they need to raise kids in the digital age.