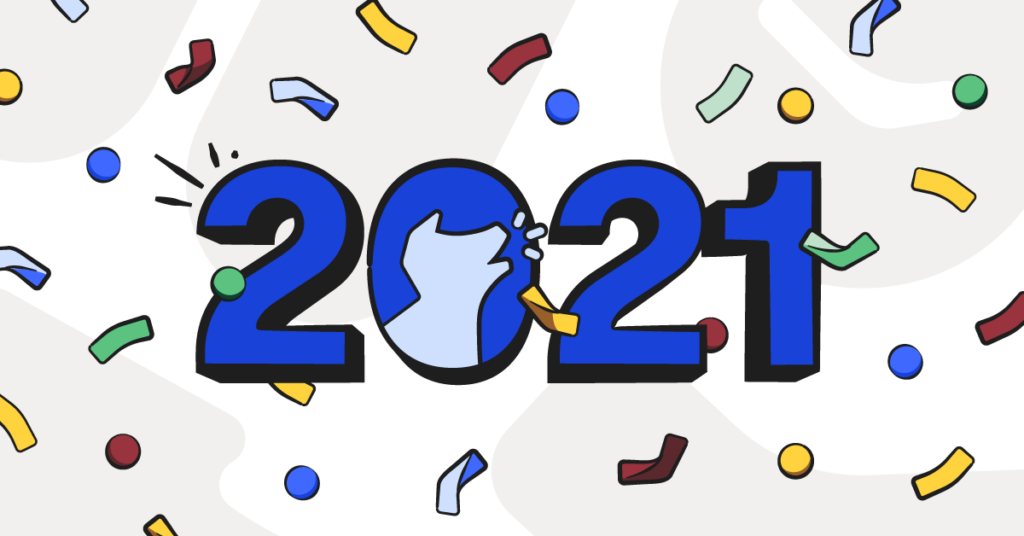 We don't know about you, but this year felt like it was both a million years long and *also* shorter than the time it takes your kids to brush their teeth. While the world can be an uncertain and scary place, there's still lots of good in it. Here at Bark, we had some great wins. Every year is a good year, though, when it's spent working together as a team to help protect kids and keep parents up to date with online safety tips. Here are just a few of our Bark 2021 highlights from another unprecedented twelve months in the digital age. Honorable mention not included: the new Adele album.
1: Number of new countries Bark expanded to — South Africa!
Bark's officially international! We were excited to announce that Bark's award-winning service is now available to families in South Africa. With a population of nearly 60 million, this expansion will help bring online safety to a whole new level for families in another part of the world! Pssst — we're just getting started, too.
100: Employees at Bark
The Bark team experienced another incredible year of growth as we crossed a super cool milestone — hitting triple digits with team members! We're so proud that we keep adding skilled, passionate folks who are drawn to our mission of helping to keep kids safe online and in real life.
212,642: Emails to support our customers
If there's one thing every parent shares, it's 100% being busy. The Bark team is full of parents, so we definitely understand the struggle. That's why our customer support team is available 7 days a week to answer any questions families may have about setting up Bark, connecting accounts, and more. They're reachable at help@bark.us any time!
15+: Fun quizzes made for parents
From trying your hand at vintage video game history to deciphering the latest TikTok slang and trends, our fun quizzes were a hit with Bark users. They also definitely prompted a little intra-family competition on Saturday morning. Looking at you, spooky slang quiz.
12: Number of app reviews on our brand-new app review page
To help parents figure out what's helpful and what's not-so-helpful when it comes to advice on all the latest apps, we launched our new app review site. We'll be continually updating it with the popular apps that kids are into so parents can stay one step ahead.
365: Number of days of remote work
Like much of the world, the Bark team entered into year two of the COVID-19 pandemic. We have adjusted — and continue to adjust — to all of the different challenges it's thrown our way. No matter what, we try to stay positive, work hard, and enjoy the little things where we can. Matches of Skriblio at lunch over Zoom? Yes, please.
4,500: Number of Cricket Wireless locations where you can get information about Bark
Bark collaborated with Cricket Wireless this year to help bring parental controls to millions of Cricket users. In addition to deep discounts on Bark, parents can also take advantage of specially made resources that help parents protect their children online and raise responsible digital citizens.
11: Rounds played of the movie game
The marketing team's favorite fun Zoom activity is a made-up game we call What Year Is It Anyway? One person quizzes the group on a very small part of movie trivia: the exact year a film was released. Wrong answers are way more fun and always have the whole team laughing. Case in point: Casablanca didn't come out in 1996.
2: Appearances on The Drew Barrymore Show
Bark's CMO Titania Jordan had the opportunity to talk about parenting in a tech world not once but twice with mom, movie star, former Josie Grossie, Charlie's Angel, and now talk show host Drew Barrymore. Also racking up 2? The number of younger Bark team members who didn't know who Josie Grossie is.
3,000+: Schools and districts using Bark for Schools
Bark for Schools, our free community giveback program, continues to help schools protect students from online threats. The growth of this program has been wildly successful in just the three short years since its launch. We're humbled to be able to assist schools with online safety in uncertain times.
12: Tech Bytes videos released on regional news shows
Our 12-part video series aimed at helping parents understand technology aired in 3 huge markets -Charlotte, Dallas, and Atlanta! These byte-sized videos (see what we did there?) explain common dangers, new trends, and tech hacks to parents in a fun, engaging way.
1: Collaboration with the CDC
Bark collaborated with the CDC on the first-ever study study linking past online behavior to future events of suicide and self-harm. Using anonymous Bark data, the CDC examined how prior online behaviors like bullying, violence, drug-related content, hate speech, profanity, sexual content, depression, and low-severity self-harm among youth can be used to predict the risk of a future suicide or self-harm event. The results were published in JAMA Network Open.
160,000+: Users in Parenting in a Tech World, our Facebook group.
Just a few years ago, our Facebook group was a place where a few thousand parents gathered to talk shop about raising kids in the digital age. Fast forward to today and we have 160,000+ users! We're so proud to have created such a positive community — something rare in this day and age — where families can ask questions, support one another, and even share the latest and greatest memes.
Bark 2021… and beyond
That's it for the Bark 2021 recap! We hope you have a great start to the new year. We can't wait to keep working on new updates, releases, and research to help you keep your kids safe online and in real life.
Keep an eye out for some really, really exciting things to come in 2022!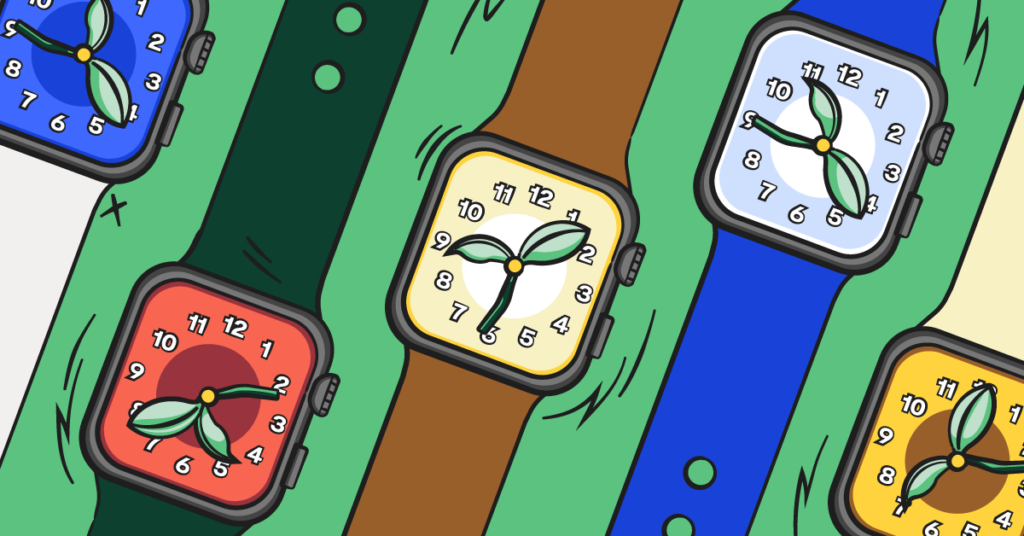 Before we get started, take a moment to pat yourself on the back. No matter what you're going through right now, raising kids in the digital age is hard. There's definitely no guidebook, and we're the first generation of parents to juggle cell phones, Fortnite, and social media with our kids. If you're like most parents, figuring out how to set healthy screen time limits can seem harder than trying to understand Common Core math!
No worries though — we're here to help with pointers, conversation starters, and even just a little perspective get you on track. Let's do this!
Think of Time Limits as an Extension of Structure and Routine
While they can be hard to implement sometimes, structure and routine are crucial to a child's well-being. Screen time limits are no different than other rules like having a homework hour or feeding the dog. Consider sitting down and drafting a tech contract with your kid. By making the process collaborative, you can talk it out and give your child a say in some of the rules. When you make your expectations clear, your child will have a better understanding of what they can do and when.
Encourage Extracurricular Activities
Screen time is just one facet of your child's world. Try encouraging their hobbies and activities so tech is not the number one thing in their life. A great way to do this is to require them to try outside-the-home activities. This can be playing a sport, learning a musical instrument, or joining a club at school.
The busier they are and the more time they spend being social with friends and teammates, the less time they'll have to spend on their phone. This solution is a win-win: not only will screen time go down, but your kid will also grow as a human and learn new skills.
Talk About the Pros and Cons
When talking about setting limits or changing rules, kids may get defensive. This is natural, because often when kids are online, they're really just connecting with friends, blowing off steam, or playing games. It's an important part of their world — especially after all the time spent isolated in lockdown throughout the pandemic, when contact with other people was limited. But make sure your kid also understands some of the downsides of lots of tech use, like fear of missing out (FOMO), getting stressed or lonely, or even something as simple as headaches or dry eyes.
Here are some conversation starters to try:
How do you feel at the end of the day when you've been online for a long time?
What are the best things about being online for you?
Can you tell me about a time when you felt overwhelmed by being online?
How do you think your screen time compares to mine?
Boredom Isn't a Problem to Be Solved
Sometimes, screen time is just a default go-to when kids are bored. But did you know that boredom is an important part of being a kid? This is super important to remember in today's era of instant gratification. It's when kids are bored that they can find truly creative ways to entertain themselves — and even have fun!
Also, screen time distraction can often prevent kids from recognizing their emotions. And while these feelings may not be fun, they're still real. By not instantly opening up Instagram or YouTube when they're upset, lonely, or sad, they can learn to recognize and experience their emotions in healthier ways.
Ease Into Less Screen Time With Different Screens
When you think of screen time, odds are you're probably thinking of the hours your kid spends on their phone or tablet. But sometimes, even a switch to a different screen can be beneficial. We know, this doesn't sound like an ideal situation, but hear us out.
It can look like watching a movie together as a family or having a Mario Kart tournament in the living room. These are both great options for families that aren't quite ready for a rapid removal of all screen time in the evening or who want to ease into analog alternatives.
Healthy Screen Time Alternatives to Try
When you're ready to stash all the screens in the kitchen and turn to some good old-fashioned family bonding, we've got some great ideas in this family activities blog post. Fun alternatives include real-life interactions and things like:
Game night at the kitchen table (dibs on Taco Cat Goat Cheese Pizza)
A walk together around the block (see if you can spot the neighborhood golden retriever)
A picnic in a nearby park (everyone loves a sandwich)
Evening free reading time (either out loud or individually)
A favorite dip dinner party (this one's our favorite)
(Try) and Lead By Example
This one is definitely easier said than done. Screen time for parents just isn't the same as it is for kids. For one, things like jobs, family, and other adulting activities sometimes mean responding as soon as possible. Second, kids' brains are still developing, and we're still not sure how excessive screen time could affect them years down the line.
But all that being said, there are definitely ways to demonstrate the importance of being present. Institute a no-phones-at-the-dinner-table policy — even if only for half an hour. When you're watching a movie together, try to limit Instagram scrolling so you don't get lost (kids can always tell when you're not paying attention).
Manage Screen Time the Easy Way With Bark
There are some free screen time solutions out there, but only Bark gives you the ability to set healthy screen time limits with schedules as dynamic as your family. Here at Bark, we don't believe screen time is all or nothing, which is why we offer completely customizable schedules for each child.
Our approach to screen time centers on the idea that different times of day call for different screen time rules. For example, when your kids are in school, you can block access to everything but educational sites. And at bedtime, you can allow apps to help them wind down for the evening. And because all kids deserve to blow off a little steam, you can designate free time hours just for play.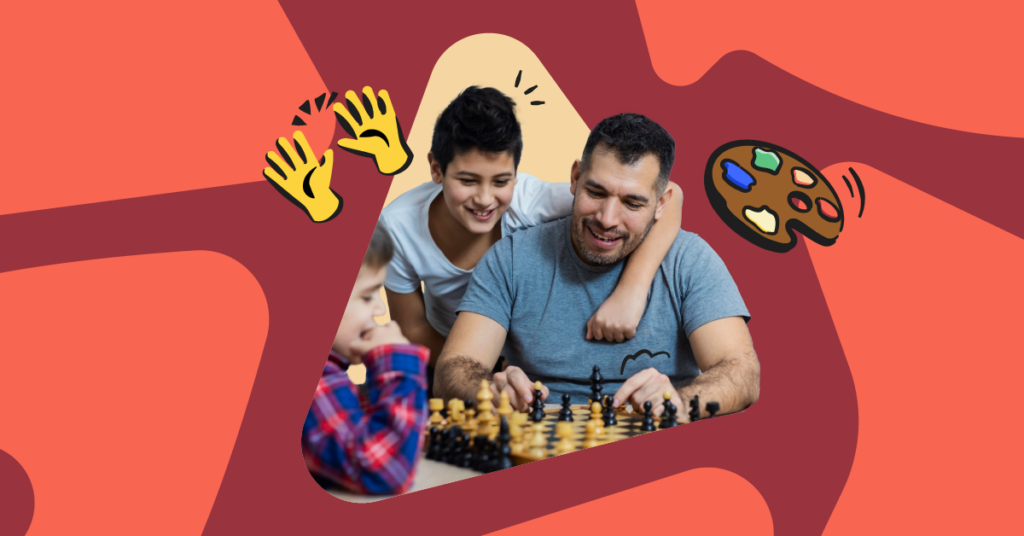 If you're looking for some new family activities that go beyond trips to the usual store, the same old dinnertime conversations, or yet another regular movie night, we've got some ideas to bust you out of your rut.
These fun ideas will help you view family time with a new lens, while allowing every member of your family — from the oldest to the youngest! — to join in and participate. And if you need help keeping screen time managed, Bark Home can definitely help you keep your kids present for all these activities.
Food-Themed Family Activities
Have a Grocery Store Surprise Potluck Night
If you're willing to get a little creative and loosey goosey with dinner, consider a grocery store potluck night. Divide up your family and send them off to get one part of the meal. For example, kids can get sides, parents can get main courses, etc. Don't discuss plans beforehand to ensure that it's definitely potluck. Macaroni and cheese with a side of instant mashed potatoes? There's no rules when it comes to surprise potluck night!
Throw a Costume Dinner
Need a quick way to spice up a Tuesday night dinner? Come up with a theme (like Frozen, famous Joes, or family member switcharoo) and let everyone see what they can put together with items from their closet. No formal costumes required — the fun is seeing how creative your family can get on short notice. Bonus points for staying in character during the meal!
Hold a Favorite Dip Party
From a buffalo chicken dip to a tasty homemade hummus, dips are easy to make and can provide a lot of different flavors and textures. Have your family members pick their favorites, have everyone assemble the ingredients, and get to dipping! Even younger kids can help with simple dips like three-ingredient nacho cheese. Don't forget the chips, bread, and fruit to sample all of the delicious spreads.
Do a Movie Night Culinary Extravaganza
This spin on a traditional movie night is sure to get your family excited about your next double feature. Pick a movie where food is featured — or a country or region your family has always wanted to visit – and make or order something inspired by it! This could look like homemade ratatouille when watching everyone's favorite rat chef (Ratatouille) or trying your hand at agua frescas and molé from Mexico (Coco). The only limits are your imagination — and taste buds! You could even keep it simple and have tea time with Mary Poppins.
Outside Family Activities
Find a New Park to Picnic In
Whether you're looking for a new jungle gym in a neighborhood playground or ready for a trip to a nearby national park, getting out and exploring can be tons of fun. Depending on the park, there could be sports fields, waterfalls, historic houses, or even just a beautiful meadow. Pack up some tasty sandwiches, fresh fruit, and ice-cold drinks and head off to play in the great outdoors!
Pretend to Be Tourists in a Nearby Town
Ever wonder how the ice cream shops in the next town over are? How about their main street? Even nearby neighborhoods can feel completely different from the part of town you live in, and can sometimes hide hidden gems you wouldn't discover otherwise. Head on over to a place you've only ever heard of — or driven by — and see what it's like.
Go on a Seek App Adventure
The Seek app by iNaturalist is truly a game-changer when it comes to helping your family learn about the plants in your neighborhood. Say goodbye to wondering the name of flowers that bloom so beautifully in your neighbor's yard or trying to figure out what species of tree is in your school playground. To kickstart your kids' interest in nature, see who can identify the most plants in five minutes — they'll use critical thinking skills and creativity as they rack up rhododendrons and collect calla lilies.
Visit the Nearest Body of Water
No matter where you live, there's bound to be a water feature somewhere nearby. Whether it's the beach (if you're lucky!) or a river, pond, or lake, consider making a family jaunt to enjoy it. Go swimming, practice skipping stones, try your hand at fishing, or just bask in the beauty of moving water — it can be surprisingly refreshing.
Indoor Family Activities
Give an Old-School Card Game Lesson
Dust off the old pack of playing cards from the shelf and give your kids a lesson on how we used to kill time before cell phones and airpods. Whether it's a classic game of War or Go Fish with younger kids or the fast-paced thrill of Speed or Egyptian Rat's Crew with tweens and teens, these standards are sure to get your family invested in cards.
Have a Paint-Off
Gather some painting supplies (or crayons, or colored pencils) and pick something to draw. It can be flowers, the family pet, even something silly like Superman. Then, have everyone try to capture the same scene artistically. Half the fun is seeing how wildly different everyone's masterpiece will turn out. The other half? Discovering who the family artist is!
Build an Epic Fort and Camp Out in the Living Room
You've probably built a quick fort before by throwing a blanket over a couple of chairs — it's one of the most popular family activites! We challenge you, though, to go all in. Collect some big boxes. Make tunnels. Bring in every pillow in the house. This activity may not be for the faint of heart, and it may make a bit of a mess, but we guarantee your kids will definitely remember a fort palace on this huge scale.
Gather Round and Head Out on the Oregon Trail
An entire generation of kids was raised on this vintage video game — we used to even play it in school! While it may not be on the curriculum anymore (and gaming has definitely gotten more advanced in the past 30 years), it's still one of the best family activities you can have gathered around a computer. You can also play it online! Be careful though — fording rivers is still as dangerous as you remember.
Bark in South Africa? It's no longer just a rumor! Families in South Africa have something to celebrate when it comes to online safety. Bark is now officially available to the more than 59 million people who live in the country. 
We're thrilled to be able to offer our comprehensive safety solution to a different part of the world and provide many more families with helpful digital parenting resources.
What Bark in South Africa Means for Families
Kids in the U.S. aren't the only ones who struggle with digital dangers. A recent study analyzed the online behaviors of more than 2,600 children ages 9 to 17 in South Africa. Here are just a few of the eye-opening stats from that study: 
70% of children surveyed use the internet without parental consent.
25% confirmed that they have added people whom they have never met face-to-face to their friends or contacts list.
18% have sent a photo or video of themselves to a person they have never met face-to-face.
67% of child participants who have seen sexual images were exposed to them on an online device.
The Importance of Monitoring and Parental Controls
There's no handbook for raising kids in the digital age, and today's children have access to technology and devices we never could have dreamed of. Bark enables parents to get alerts if there's something going on in their child's world that they need to know about. This includes issues like bullying, suicidal ideation, depression, predators, and many more. Our service allows you to block websites and apps and create custom screen time schedules to provide your kid with healthy boundaries.
Looking to the Future
Bark plans to build on its presence in South Africa and beyond by building partnerships with ISPs. In addition to offering Bark in South Africa, we also offer content monitoring in Spanish in the United States. It's our hope that one day every family that needs Bark's help will be able to use our service.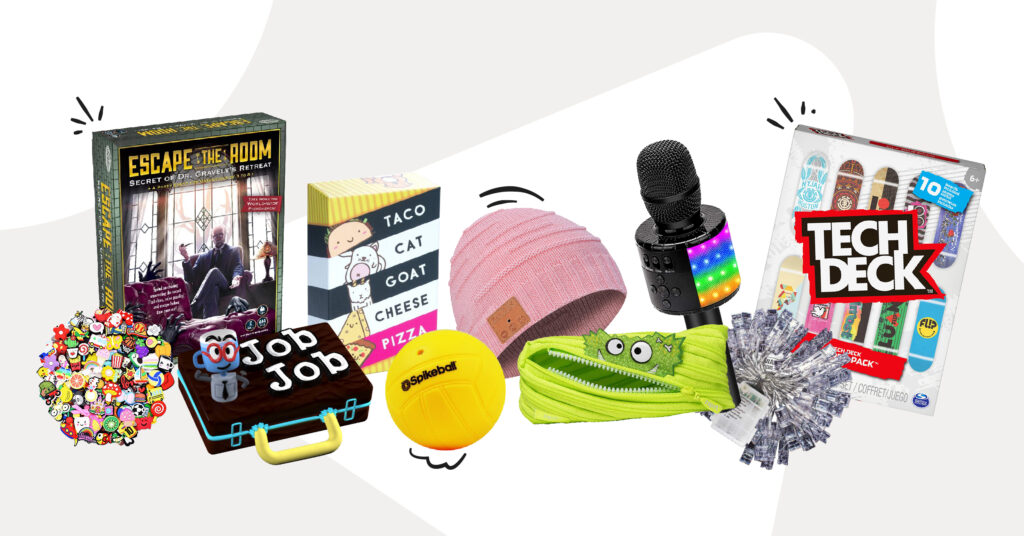 Each year for our holiday gift guide, the Bark team scours the internet and queries friends and families for the absolute coolest presents and hottest gifts for kids. Think of it like Oprah's annual favorite things, except only for the ever-changing tastes of tweens and teens.
It's our hope that many of these picks will inspire your kids to put down their phones or video game controllers for a bit and engage in some good old-fashioned family bonding — during the holiday season and beyond!
Presenting Bark's Class of 2021 Holiday Gift Guide
Taco Cat Goat Cheese Pizza
If your family is into fast-paced card games like UNO or even an old classic like War, Taco Cat Goat Cheese Pizza will definitely be a hit. You take turns dealing out random cards (with cute illustrations of a taco, a cat, a goat, cheese, and pizza) while saying the list of names in order. When a card matches the word, the last one to slap their hand down has to take the whole pile! Kids and adults will have a blast with this one. It gets pretty competitive!
10-Pack of Tech Decks
Remember the fidget spinner craze from a few years back? Tech decks are kind of like the latest version. They're miniature skateboards that you "ride" with your fingers, and you can even pull real tricks like ollies, kickflips, and more. Tech decks are sure to keep your kids busy on long car rides and even lazy Saturday afternoons.
Escape the Room: Secret of Dr. Gravely's Retreat
Whether your family already loves escape rooms or there's not one in your hometown, we've got the solution! Now, you can have a similar experience right from the comfort of your living room. Work together as a team and solve puzzles, look for clues, and more. Plus, if you get hungry, you can take a quick break because your kitchen is just in the other room!
Spikeball
What do you get when you combine the handwork of volleyball with the rules of the old-school game four square? Spikeball!! Teams of four take turns bouncing and spiking a cantaloupe-sized ball off a small net a few inches off the ground. It's super easy to set up and transport, so your kids will be playing Spikeball in the backyard, the local park, after soccer games, or even at the beach!
Photo Clip String Lights
Give your kid a fun and festive way to display their favorite photos, cards, and drawings with these photo clip string lights. It comes with 50 clips and remote-controlled LED bulbs so your child can really customize their setup to fit their personality and make their room super cozy.
Bluetooth Beanie
This thoughtful gift solves an age-old problem: How do you keep your ears warm while also listening to music on earbuds? Enter the Bluetooth beanie! (After all, no holiday gift guide would be complete without headphones.) Tiny speakers are knit into the fabric of the hat near the ears, eliminating the need for external buds! Great for walks to school, but may result in a lot of "what!?!?!?" if your kid wears their Bluetooth beanie around the house.
ZIPIT "Talking Monstar" Pencil Case
Say goodbye to boring pencil boxes and cases! The ZIPIT pencil case is made up entirely of one long zipper, which sounds wild, but it's true! Kids will have fun showing off this zany feature to friends and classmates. You can also download a free mobile app that uses augmented reality to make the pencil case come to life with jokes and games.
Jackbox
Jackbox has completely revolutionized party games — and it even helped bring many folks closer together during the pandemic. It's a pack of video games you play together with a group, either all in the same room or via Zoom or FaceTime. Each player uses their phone to participate in zany games like trivia, hilarious drawing challenges, and more. Kids especially love Jackbox because so many of the activities leave you laughing out loud — literally.
Croc Charms
Crocs may have only been popular with nurses and waiters back in the early 2000s, but they've made a resurgence this year thanks to celebrities like Nicki Minaj and Justin Bieber sporting colorful pairs. Today, Crocs are super popular with middle and high schoolers — especially sports teams! So, if your kid loves Crocs, this 50-pack of random charms will help them express their personality as they clasp them to the 13 ventilation holes on their shoes.
Wireless Karaoke Microphone
Gone are the days of refrigerator-sized home karaoke machines! These surprisingly powerful microphones light up in cool colors and also connect via BlueTooth to your phone or your TV so you can sing along to your favorite songs! Plus, there are tons of free karaoke songs with scrolling lyrics on YouTube, so your family will be able to belt out their favorite hits right from your living room. This may be the most fun and interactive pick on this holiday gift guide!