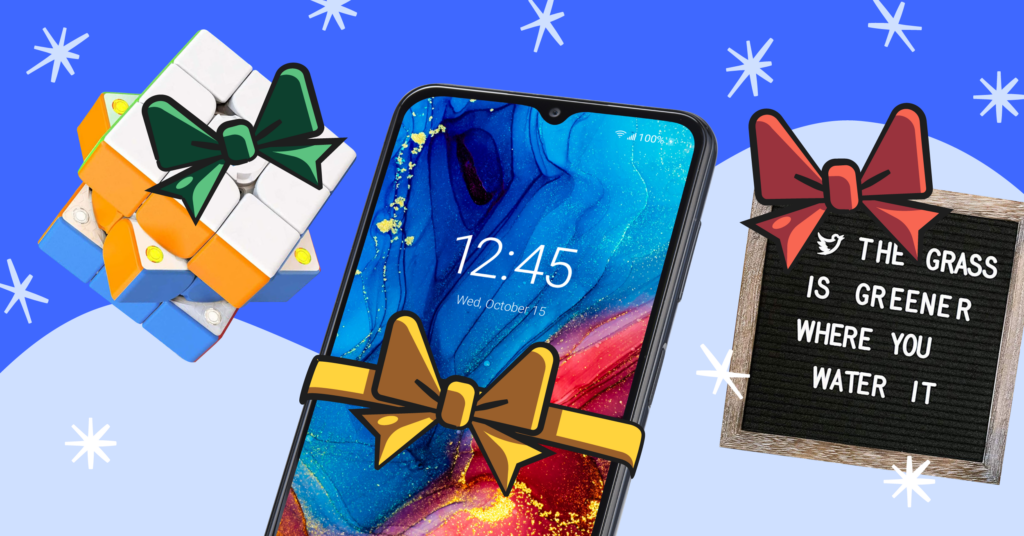 It's that time of year again and Bark is here to deliver what you've been waiting for: our annual review of top holiday gifts for kids! We've hand-picked great presents that your kids are sure to love, and you'll also stress less figuring out what's cool and what's not. This year, we have two categories: tech-savvy gifts and not-so-tech-savvy gifts. Let's dive in!
Must-Have Tech Gifts
The Bark Phone
The Bark Phone is an absolute game-changer when it comes to online safety. It's a Samsung A13 that comes with Bark built in, as well as robust parental controls like GPS-powered location tracking, app management, call blocking, and more. Bark also can't be deleted, and the parental controls are completely customizable so it grows with your child. The best part? It has a sleek and modern design, so teens and tweens will be excited to use it. The Bark Phone starts at $49/month with no contract required.
HP Portable Photo Printer
Nowadays, kids are constantly taking pictures on their phones, whether it's cute selfies or silly snaps of the world around them. And now, they can have those pictures physically printed in a matter of seconds with this portable photo printer from Amazon. Through an app on their phone, the printer connects with Bluetooth and — voilà! Any picture they want right in their hands!
iHome PlayTough Bluetooth Speaker
There are literally tons of options out there for Bluetooth speakers. All of them promise great sound and easy Bluetooth capabilities, but it's hard to know which one is actually the best choice. We found that this speaker from Best Buy is a solid option for on-the-go music with a price that won't break the bank!
Holy Stone Drone
Drones have been super popular for the past couple of years, so if your kid has been asking for one — it's no surprise here! This one is a great option for beginners to learn how to fly a drone and take awesome pictures and videos. It comes with tons of different features, so it'll definitely grab the attention of any kid who gets their hands on one!
Bluetooth Rubiks Cube
This gift will also be fun for parents who love the classics — a Rubik's Cube with built-in Bluetooth! You can connect the cube to your phone to track your progress as you solve the puzzle and it'll even help you along the way with helpful hints.
mBot Coding Robot Kit
If your kid loves computers and is interested in coding, this gift will blow their mind! They'll get to build their own robot and program it with easy-to-use software. There are included learning resources and tutorials so they'll learn everything they need to know. It'll serve as an amazing introduction to programming and electronics for your kid.
LARQ Self-Cleaning Water Bottle
Yes, you read that correctly — almost a hundred dollars for a water bottle! Sounds crazy, right? Well, this water bottle from LARQ isn't just your typical fill-and-empty water bottle. It was built with UV technology that will clean the inner surfaces of the bottle AND the actual water inside! So if your kid uses this as their everyday water bottle for school, practice, and anything else, you can be sure it's clean and odor-free all the time!
Zihnic Headphones
Similar to Bluetooth speakers, there is no shortage of headphones to choose from. And we know parents want to get their kids good quality for a reasonable price, so that's why we suggest these headphones from Zihnic. They come with Bluetooth capabilities and are promised to fit comfortably for long periods of time.
PhoneSoap Pro Smartphone Sanitize and Charger
If there are two things that collect germs in a matter of seconds, it's kids and phones. So a kid's phone is one thing that could definitely use a good cleaning! This phone sanitizer from Amazon is for uses UV-C technology to sanitize all the surfaces of your kid's phone, and you can even charge it while it's sanitizing.
VTech Kiddi Zoom Creator Camera
In the age of YouTube and TikTok, lots of kids want to try their hand at directing and recording their own videos. So start them off with this kid-friendly camera from VTech, which comes with a mini tripod, green screen fabric, and easy on-camera editing.
Mini Portable Projector
Take your family's movie game to another level with this mini portable projector from Amazon! This tiny box will connect to your phone, tablet, laptop, or TV and project your shows and movies onto any wall in your house. It's a great way to make TV time more exciting and keep kids' eyes off phone screens.
Back to Classics: Holiday Gifts for Kids from the Non-Tech World
Wordle the Party Game
You might recall how the New York Times Wordle puzzle recently took the world by storm. Every day, a new puzzle would be posted to their site and people would scramble to solve it. This got so popular that it was turned into a board game! So instead of solving for computer-generated words on the NY Times site, each player in the game gets to pick a word for the rest of the group to solve!
"Not Parent Approved" Card Game
Despite the name, this game is a favorite for kids and parents alike! It's easy to play and will get everyone giggling by the end of it. How it works is each player has seven red cards and one player draws a Blue question card. The rest of the players put down one of their red cards with the silliest answer. And whoever has the best answer wins the round!
TeeTurtle Reversible Octopus Plushie
Sometimes simple is best, and plushie toys never get old. These little octopus stuffed animals are cute, soft, and have a fun feature — they're reversible! Each side of the octopus is a different color and has a different facial expression, either happy or mad. So your kids can show their mood without saying a word!
Charger Protectors
We've all experienced our chargers getting old and warped over time. But these charger protectors will keep your kid's cords good as new, with the added bonus of looking fun and colorful! They come in a pack of 10, with different designs like a watermelon, a frog, and a bumblebee.
Felt Letter Board
If your kid wants a fun way to decorate their room, these felt-letter boards are a great bedroom addition. It comes with all the letters they need for any kind of message they want. Maybe they'll put a great knock-knock joke or a killer quote from their favorite show — either way, they'll love having this in their room, making it one of the best holiday gifts for kids out there.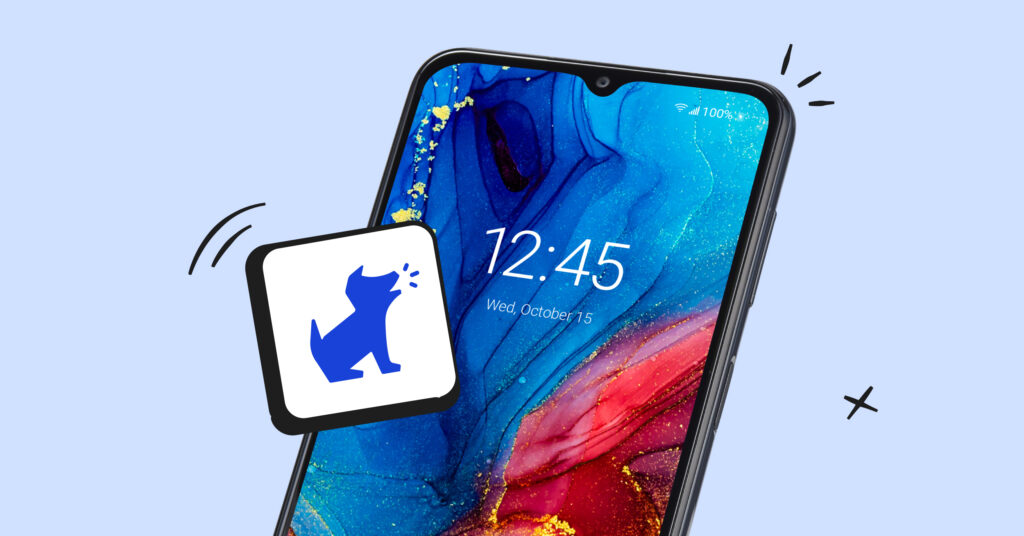 Some phones are built for adults. Some phones are built for kids. But the Bark Phone was built by parents, for parents — and this is why it's a game-changer. The Bark Kid's Phone gives families unprecedented control over their child's online experience. If you're familiar with Bark, you may be wondering how the Bark Phone is different from just having the Bark app on any old phone.
The short answer is: way more functionality. The Bark Phone was built from the ground up with feedback from parents like you in mind. When we were just an app, we had to work around the functions and limits of the phone itself, which was something we couldn't control. Today, with our own phone, we can do so much more to help you protect your kids online. Read on to learn exactly how.
How the Bark Kid's Phone Differs from the Bark app
1. You can manage nearly every setting on the phone with Bark
You know your child best, which is why the Bark Phone gives you control over everything from who your kid can text to screen time settings. From the parent app, you can approve app downloads, check in on their location, and so much more. The best part? You can do it all from your phone, and from just one app. No more switching between multiple parental control apps to help keep your kid safe.
2. Your kid can't delete texts without your permission
This is a new feature for Bark, and it's important for a variety of reasons. With Bark's monitoring, you generally won't have to scroll through hundreds of texts to find potential issues — our timely alerts save you time and give kids a little privacy. But after years of talking with parents and families, we've heard how deleted texts can often conceal concerning content, and how crucial it is to be able to find them. When Bark was just an app, we couldn't control whether kids could delete texts — now we can. Here are just a few illustrations of why undeletable texts can help families protect their kids.
When kids don't understand if they're being bullied
Cyberbullying is common these days, and sometimes kids may not even understand when it's happening. They also may be embarrassed or ashamed of the messages they receive. By not allowing texts to be deleted on the Bark Kid's Phone, you'll be able to figure out what's happening, as well as preserve a record should you need to get the school involved.
Someone sends them unwanted photos
Sexting is a huge concern for kids growing up in the digital age, and it can have long-lasting effects on a child's well-being, reputation, and mental health.
A potential predator asks them to delete a message
Just the thought of a strange adult manipulating and grooming your child online is terrifying, but it happens every day. Often, they'll convince kids to hide their conversations from family, whether that's by using a different app or deleting messages. Even though it's a worst-case scenario, you want to know if a stranger is contacting your child — and undeletable texts allow you to do that.
3. Location tracking is more robust
One of the best things about raising kids in the digital age is that you don't have to wonder where they are 24/7. With the Bark Phone, you can use our robust, GPS-powered location tracking to keep an eye on your kids wherever they roam. You'll also still be able to use Bark's location check-ins and alerts for a more hands-off approach.
4. One monthly price that includes everything for your kid's phone
With some phones, you have to jump through a lot of hoops to get everything ready to hand over to your kid — buying the phone, buying the insurance, figuring out how to get cell service, and adding on parental controls. With the Bark Phone, one simple, convenient monthly fee includes everything from start to finish.
5. Grows with your kid
The Bark Phone's customizability lets you decide how much function it has, which means that it's great for young kids — but it also is great for tweens and then teens. For children, you can set the Bark Phone up so that it's basically a "dumb phone" with only controlled calls and texts to approved contacts. As your kid matures, you can add in apps like email and podcasts. Then, eventually, you could add in even more functionality like social media and games. Plus, at any time, you can dial back freedoms or add in more leeway. It's all up to you!
6. Bark Premium for all your family's devices
A Bark Premium subscription is included in the Bark Phone's price — but we know kids may have more than one device. iPads, Kindles, and old hand-me-down phones that are just for games also need protection! The same goes for every child in your family, along with all their devices, too.
7. No workarounds
With Androids and iPhones, kids could find ways around the Bark app to disable it despite our best efforts. While frustrating, this is just part of having a phone that's not built for child safety. The Bark Phone is different, and kids won't be able to download workarounds or VPNs to get past the parental controls you set.
8. Manage app downloads and contacts
This is another example of how the Bark Kid's Phone gives you control over another important part of your child's digital world. You'll get an alert when your kid wants to download a new app or save a new phone number to their contact list. You can then decide whether or not to allow them, and, of course, maybe have a conversation about what or who it is they're wanting to do with them.
Is Your Child Ready For A Phone?
One of the most frequently asked questions we get here at Bark is, "How do I know my child is ready for a phone?" So we made a quick and handy quiz to help you find out where your family stands!
The Bark Phone for Kids: Pricing and Details
The Bark Kid's Phone starts at $49/month. Zero down, no contract required. We have three monthly data options to fit your family's needs:
$49/month for Wi-Fi only
$59/month for 4GB data
$69/month for 8GB data
Each phone plan comes with a Bark Premium subscription and will cover any other kids, devices, and accounts a user's family has. You won't pay for an extra Bark subscription if you already have Bark Premium — we will adjust your plan and prorate the remaining amount left and apply it to the subscription.
The Bark Phone also comes with:
USB-C charging cord
Protective case
Unlimited talk and text
How to Get a Bark Phone
Ready to get your very own Bark Phone? You're not alone! Order yours today and deliveries will start shipping out in December. Be sure to order your kid's phone today so it can be here in time for the holidays!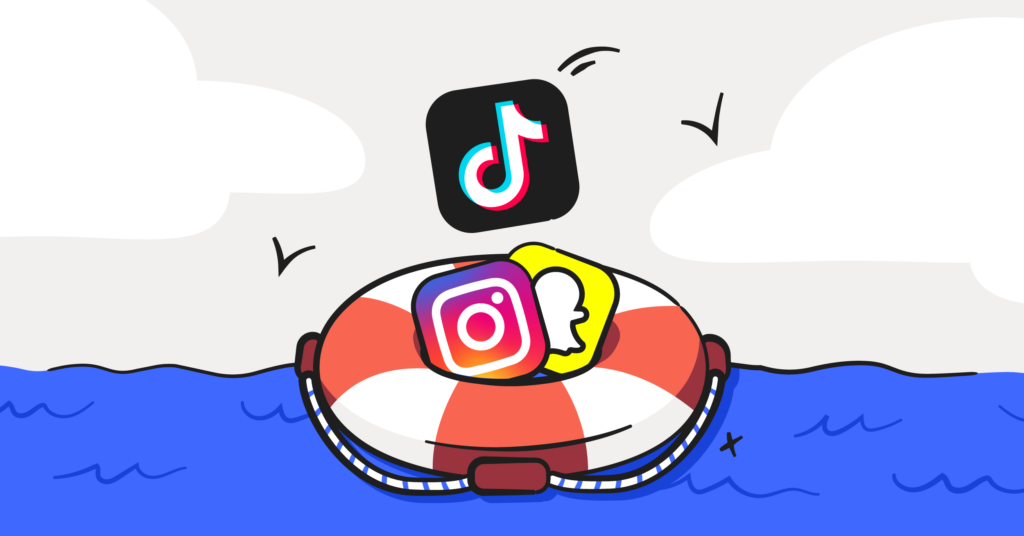 There are some conversations that all parents will eventually have to have with their kids at some point. Like the "birds and bees" talk and the "who is the tooth fairy?" conversation. They're simply unavoidable. And in 2022, one of those unavoidable conversations is the "social media talk."
Undoubtedly, at a certain age, your kid will start asking to have social media. As their friends start to explore the digital world, it's only natural that your kid is going to want to join in on the fun. And make no mistake, social media is fun — or it can be. Instagram can be an awesome way for your kid to explore their interests and TikTok can be an inspiring place for your kid to show off their talents, whatever they may be. Not to mention the fact that kids often feel that social media helps them stay connected to their friends' lives, especially if they don't get to hang out every day. 
But all of those positives are just the tip of iceberg, because social media also comes with HUGE potentials danger if you and your kid are not prepared for them. So that's why we've put together a few key tips to help you introduce your kid to social media. Keep reading to learn more! 
Educate Yourself and Your Children About the Dangers
So, what exactly are the dangers? Well, if you're on any social media platforms yourself, you probably know that bullying, body shaming, foul language, and sexual content are commonplace. And you may know that child predators have used social media to target kids. It's scary how common this is and just how quickly a predator can form a bond with your child. One study found that it can take just 8 minutes for this connection to take place.
One of the most challenging parts of allowing kids on social media is keeping them safe from online strangers — you never know which online stranger could be a potential predator. On the flip side, your child can be targeted by peers that they actually know in real life, with cyberbullying being a huge risk factor among kids online. 
So what can parents do? First, educate yourself! Second, educate your kid! Easier said than done — we'll admit that — but just knowing about the potential dangers is half the battle for a lot of parents. And if you and your kid can build trust to openly communicate about these things, you will be lightyears ahead in this digital parenting thing.
Study Different Social Media Platforms
Now for practicalities: what's the best way for parents to educate themselves, especially if they're not personally using these platforms? 
Well, one way is a trusty Google search. There are lots of resources that can tell you all about every platform — and guess what? Bark is one of those resources! Our blog covers apps, games, and important topics like mental health and dangerous internet trends. So by reading this, you're already in the gold mine of information you need to know about social media.
But one surefire way to really understand the inner workings of social media is to download the app and make an account. That might seem like a lot of work, (let's be honest, what parent has a bunch of free time to peruse random social media sites?) but it just might be worth the effort. Familiarizing yourself with the app can give you more clarity if your kids have questions or if they run into issues later on. And another bonus — once you've decided they can have social media, you can follow their account to check in on what they are posting and commenting on.
So after your research, you should have an idea of which platforms you're comfortable with your kid having and which ones you're more worried about. Now it's time to actually talk about all of it with your kid. 
Create a Tech Contract
A great way to clearly communicate with your kid and set healthy boundaries is a tech contract. We encourage parents to sit down with their kid and write out what expectations come with their access to social media. Here are some helpful suggestions:
Platforms they can use freely
Platforms they can use with restrictions
Platforms they cannot use at all
Hours they can use each platform
Features that are on and off limits
Types of content they may view and/or share
How to handle friends, likes, followers, etc.
Private message guidelines
For more examples and even a printable tech contract to get you started, take a look at this blog post for more guidance. 
Actively Monitor Your Child's Social Media Activity
Unfortunately, the work doesn't stop after the research and tech contract. Once your kid is on social media, it is super important to stay in the loop about anything harmful or suspicious coming up on their feed. And that's exactly where Bark steps in! Bark can monitor your kid's social media accounts and text messages and alert you to things like cyberbullying, predatory comments, and more. It also gives you insight into your kid's digital world so you can understand them better. Start your free trial today!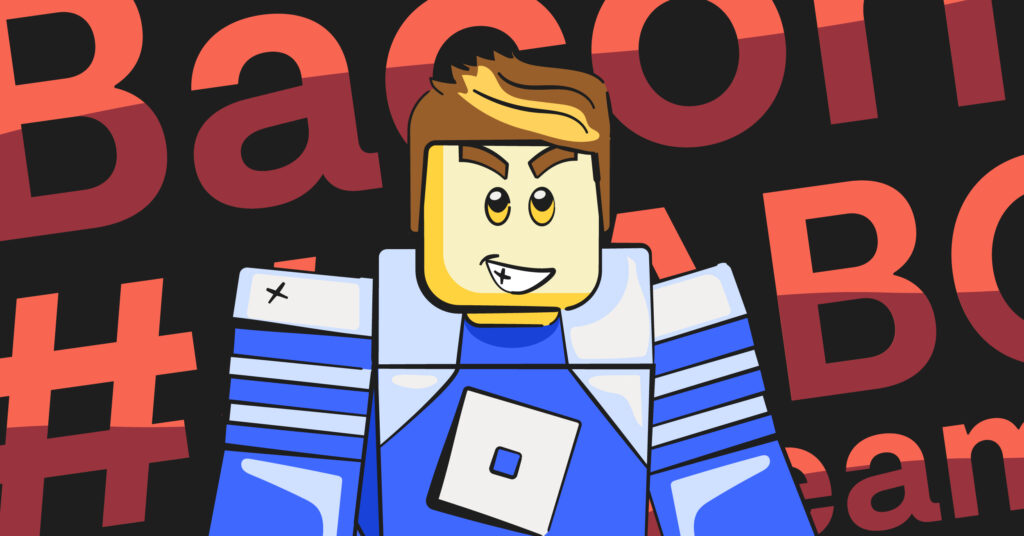 **Note: This list was updated on January 25, 2023.**
The massively popular gaming platform known as Roblox has garnered lots of attention from parents — and we've taken notice! Our Roblox app review is one of our most popular posts to date. Parents in our Facebook group, Parenting in a Tech World, are always looking for more information to help navigate the world of Roblox. We've seen a ton of posts from concerned caregivers asking things "what does btc mean in roblox … my kid won't stop going on and on about it!"
If you need a quick review of what Roblox is: Roblox is a gaming platform that has a wide breadth of experiences for anyone who joins. They can choose from literally millions of games to play and they can even build their own game. Roblox has even become a jumping-off point for many young aspiring coders. As it's grown in popularity, it's grown into an ever-expanding subculture within the world of gaming. Gaming culture in general can get confusing for parents, but Roblox is like another, deeper layer with its own language and rules that can be hard to make heads or tails of.
So that's what this post is here to do — translate all those strange words and phrases that you hear your kid saying or see them typing when they play. That way you can stay in the loop and be sure your kid is gaming safely!
So, What Does BTC Mean? Here's Our List of Popular Roblox Terms and Acronyms:
ABC — This is actually not an acronym, but it's a term used to initiate and confirm some sort of trade or task with another player. It's mostly used in roleplaying games, like "Adopt Me", to suggest what kind of roleplay two players might engage in. Ex. Player 1: "ABC to play as siblings?" Player 2: "ABC"
A/D or A/C — This is used when a player offers a trade to someone, meaning "accept or decline?" Players may also use A/C instead, meaning "accept or counter" so they can negotiate the trade as opposed to flat-out declining it.
Bacon — Insult for a newer, more inexperienced player.
Beamed — A term used to describe when someone gets scammed by another player in Roblox.
Brick — This is a common material that players can build within Roblox.
Brickbattle — Refers to combat games where players face off, either in teams or one-on-one, using a variety of weapons to destroy the other player(s).
BTC — This acronym has two meanings. One stands for Bitcoin, as players can "mine" for Bitcoin in a game called Roblox Bitcoin Miner. The other meaning is simply "because they can."
Bypass — Refers to any technique used to bypass the chat filters in Roblox. Roblox censors for things like bad or inappropriate language and numbers to prevent sharing of personal information like age and home address. However, Roblox users have come up with variations to get around these filters (some of the popular ones are noted in this glossary)
Comped — short for compromised, this is used when a Roblox account has been hacked.
"Cord", "Kord", "Deskord", "Dis" — these are common filter bypasses that players use to talk about Discord. Discord is a popular messaging platform used among gamers. Roblox does not allow the word "Discord" to prevent strangers from asking kids to talk privately on a different platform. To get around this filter, players will use some variation of Discord, like the ones listed here, to convey what they're talking about.
Devs — This stands for developers – the people who create and develop games in Roblox.
KS — Another filter bypass, which means "kiss" since the word is blocked by Roblox.
Lua — This is a popular coding language that many beginners use when they start to build games in Roblox. It's kid-friendly and can also be used outside of Roblox in other gaming programs.
Noob — This is a universal gaming term that essentially means "beginner" or someone who is new to a game. More often than not it's used somewhat insultingly by experienced gamers to point fingers at new players.
Obby — This is an abbreviation for obstacles. Roblox offers a whole genre of games where players have to navigate through challenging and engaging obstacle courses. Players can even build their own "obbys" for other players to try out.
Pwn/Pwned — This is another universal gaming term that means to completely defeat your opponent in a game or match. The word comes from "owned", so you can think of it as "I totally owned you in that round!"
QDers — Another standard filter bypass that means "online daters". Online dating, or finding a romantic or sexual partner in Roblox, is against their community guidelines which is why the phrase is blocked. Previously, players used the term "ODer," but that also became blocked by Roblox. "QD" is the most recent variation used to get around the filters.
Reeeeee — This term is used to express frustration or anger. Players will use this as a way to mimic screaming or screeching.
Robux — A vital part of Roblox, this term refers to the in-game currency that players use to buy all sorts of things in the game. You can buy virtual clothing accessories, bonuses, access to certain games, and ads to promote any games you've built yourself.
Tags (###) — If you see this in a chat, that means the player tried to type a word that is blocked by Roblox chat filters.
Need More Help With Slang?
So there you have it – all the slang you need to know to keep up with the Roblox experts! No more asking "what does btc mean in Roblox" — at least until they come up with the next wave of strange words and phrases.
If you want to learn more about Roblox, be sure to check out our app review to see if it's safe for your kid to play. And as always, Bark can help keep your kids safe, whether they're on Roblox or any other online platform, through screen time management and web/app blocking.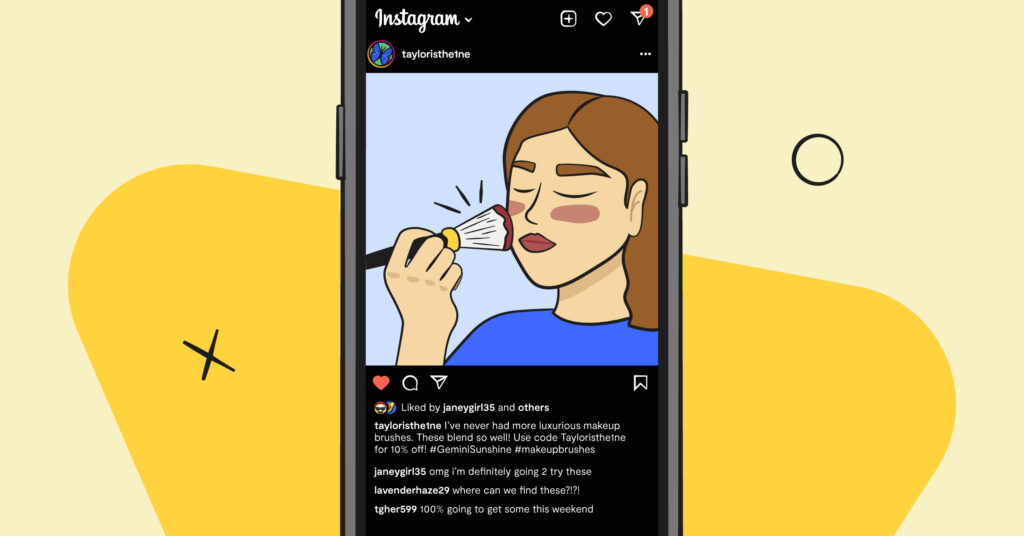 Social media is a big part of everyday life for adults, but it's also becoming a huge part of kids' lives, too. Because of this, there are concerns about minors' social media use with the rise of a new breed of celebrity: the social media influencer. As of 2021, roughly two-thirds of American teenagers followed social media influencers — that's a lot more than the 29% of American adults who do.
While much of the research into influencers' impact on children and teens has focused on problems, the story is not entirely grim. In this blog post, we'll dive into the positive and negative impacts that social media influencers can have on kids.
What is a Social Media Influencer?
A social media influencer is someone who has an online following based on their personality, skills, or interests. In addition, influencers often share snippets of their everyday lives and activities.
Influencers tend to have large audiences and often create sponsored content around products to spur sales — and make money. They can be paid upfront or receive a percentage of profits based on purchases, usually through tracking links. Though paid promotions are generally noted in the hashtags or captions, the content often blends in with the rest of the influencer's content, making it difficult to tell what's real and what's sponsored.
Remember: Not all social media influencers are adults. Some minors are also influencers. They develop a following of young people that will grow with them. Instagram, YouTube, and TikTok are the most popular networks for young social media influencers. If your child spends a lot of time on these platforms, there's a good chance they follow several influencers.
Why Do Kids Follow and Respect Influencers?
Children and teens follow influencers for many reasons. Since they spend hours every day in front of a screen for school, entertainment, and social interaction, social media influencers can offer breaks in the day with their exciting content. Influencers can provide information relevant to their audience. Viewing their content can also provide comfort for kids.
There are several types of social media influencers popular with teens. Below is a quick breakdown of the most popular influencer types:
· Music – 38%
· Gaming – 36%
· Celebrity – 31%
· Humor and Memes – 26%
· General and Lifestyle – 24%
· Fashions – 22%
· Beauty – 22%
How Do Social Media Influencers Impact Youth?
Social media influencers can significantly impact minors, with 70% of teens saying they trust influencers more than regular celebrities. With large platforms and little to no moderation, they can publish content that can be questionable at best and damaging at worst. Despite this, influencers can also positively impact their followers as well. Let's review the potential positive and negative impacts influencers can have on children.
Influencers: the positive
Social media influencers are entertaining
Like all media outlets, we often turn to social media for entertainment, especially when we need a break from daily life. This is true for minors as well. More than a quarter of all teenagers follow humor or meme-based influencers. An even higher percentage follow streamers and influencers that focus on music and gaming. Youth turn to social media for entertainment, replacing magazines and entertainment news shows with a more community-based approach.
Influencers can promote activism
Some influencers can use their social media platforms to spread social awareness. Teenagers often use social media to learn about and explore their interests. Influencers can encourage their audiences to advocate for causes by providing information. They can also give young people the resources and inspiration to engage with their communities.
Influencers can provide company and comfort
During the COVID-19 pandemic, children and teens used social media to fill the void of social interaction when they couldn't see their friends. Teens turned also to influencers to remain positive during difficult times, as many promoted kindness and self-care.
Influencers: The negative
Influencers may expose minors to unhealthy products and themes.
Food and drink companies often turn to social media influencers to promote their products through sponsored posts that show the influencer enjoying the product. Unfortunately, not only can these posts blend into children's news feeds as authentic content, they can promote unhealthy behavior, such as alcohol use or junk food.
Social media influencers create comparisons.
Children and teenagers have enough peer pressure from in-person interactions without adding stress from social media influencers. Since influencers often present a clean, shiny, and fun version of their lives, it can create a sense of comparison for young followers. This increased social comparison has been linked to anxiety, depression, sleep issues, and negative body image among youth.
Social media influencers can promote an unrealistic ideal.
Because of filters and photo-altering techniques, social media posts created by influencers can promote unrealistic body standards. In fact, more young influencers are undergoing cosmetic procedures in return for promotions. These practices further distance influencers from their followers, leaving fans to feel they have to "catch up" to those they follow.
How to Monitor Your Child's Exposure to Influencers
Social media influencers can have varied impacts on your child's life and mental health. Since they have become such a large part of our culture, how can you ensure your child is following healthy people? Here are three simple strategies to stay involved.
Follow who they follow
This may seem simple, but following who your child follows on social media is the best way to stay up to date. Take the time to review who your child follows, either by asking them or by viewing their "following" list on their social media accounts. Then follow the influencers they're following. This way, you will see the same content.
Join your child
If your child wants to engage in social media challenges or start posting their own content, be a part of the process. For example, if they want to create dance videos on TikTok, be supportive! This way, you can avoid isolating your child and keep the lines of communication about their social media presence open and friendly.
Use Bark to monitor content and interactions
Monitoring your child's social media can be time-consuming. After all, adults experience the same challenges as minors when it comes to social media and screen time.
With a tool like Bark, you can monitor your child's text messages, social accounts, email, and other apps for issues like depression, cyberbullying, threats of violence, and suicidal ideation.
To stay on top of your child's online life without being invasive, use a tool like Bark to help keep them safe.
Social Media Influencers Are Here to Stay
Whether we like it or not, social media influencers are now a part of life, both for adults and young people. Since these influencers can positively and negatively impact impressionable children and teens, it's important to understand why minors are drawn toward influencers. Talking to your kid about who they follow — and why — can help you learn about their world.