Our Top Picks for Educational YouTube Channels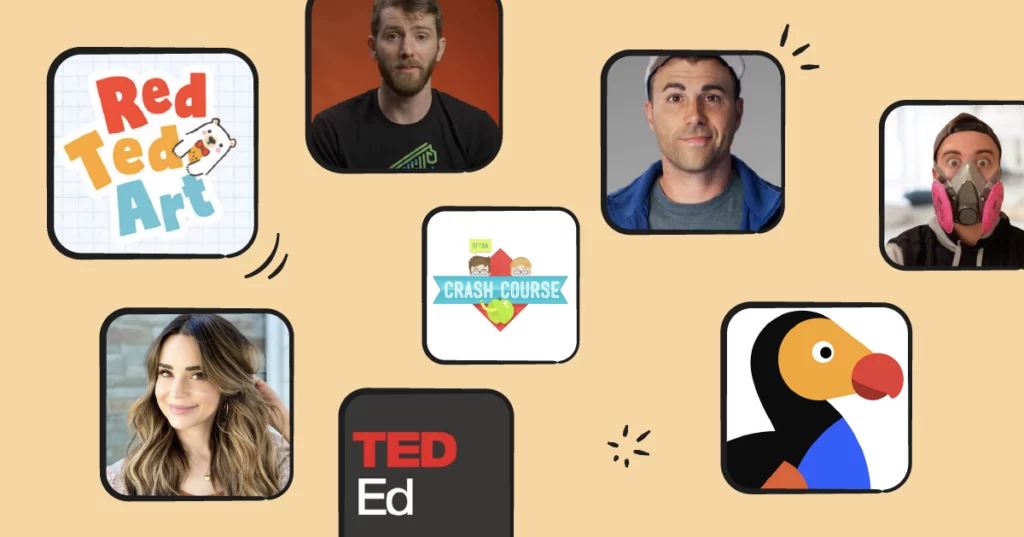 You can probably think back to your childhood and recall your favorite actors/actresses, movie stars, and athletes. Well, kids growing up today will probably remember their favorite YouTube channels more than anything else. YouTube is one of the most popular video-sharing platforms in the world and kids have been flocking to it for years. 
As a parent — especially those of us who didn't grow up with YouTube — it can be intimidating to navigate everything on the platform. There are tons of awesome videos and creators to find, but there's also just as much inappropriate and harmful content.
So to help you cut through the clutter, we've researched and verified educational YouTube channels that are great for kids to watch. They include a range of topics including science, art, history, and even food! We hope this helps you find some fun content to show your child and even enjoy yourself. Let's begin!
Our Top Picks For Educational YouTube Channels
Mark Rober is a fan favorite of both kids and parents these days. A former NASA engineer, he makes videos that bring the fun of physics and chemistry to life. His videos are fast-paced, engaging, and easy to follow along with even as he's explaining complex topics. And the fun part is that his videos are usually based on a random question or curiosity that lots of us have thought about before. Questions like, "Why are carnival games so hard to beat?" or "Is it possible to create a real-life jello-swimming pool?" This is a great channel to spark curiosity in your kids and begin their love of science.
This channel is for all the budding techies out there. Linus Tech Tips brings viewers into the inner workings of tech and the tech industry at large. Has your kid ever wanted to build a PC? Linus and his team are a great place to start. Do they love keeping up with the latest releases in the tech world? Linus probably has a review on it!
Crash Course is the epitome of YouTube education. Started by brothers John and Hank Green, their easily digestible and engaging videos take viewers through just about every topic imaginable — like organic chemistry, literature, world history, philosophy, and much more. The content is generally based on topics covered in school ranging from high school to college, so this is great especially if your kid is struggling with a particular topic in class.
Burls Art is a unique gem to come across. In his videos, Burl builds guitars and explains how he makes them — but with a twist. Each guitar build is made out of something completely different and random. In his very first video of him building a guitar, he made the whole thing out of colored pencils. And it only grew from there, going on to build guitars out of newspaper, LEGOS, jawbreaker candy, even an old shovel. And the crazy thing is, the guitars work! At the end of each video, he plays the audience a short tune on the new build. Each video is a delightful mix of engineering and music.
This one will itch your brain and touch your heart. The Dodo channel is a massive collection of the best animal stories, from dogs, cats, turtles, donkeys, whales, and so much more. Each video features a different person or family sharing their story with a particular furry friend (or gilled, winged, etc.) You're sure to end each video with a newfound love and appreciation for the animals!
Ted Talks have become a well-respected and highly successful platform for sharing ideas from around the world. The Ted-Ed channel takes interesting concepts and puts them in short, animated, easy-to-understand videos that are perfect for any curious kid. It's quite a collection of topics, so your kid is sure to find something that piques their interest.
If your kid loves to experiment in the kitchen, Rosanna Pansino is a great channel to inspire their culinary passions! Your kid can find hundreds of videos of fun recipes, food challenges, and dessert masterpieces with Rosanna. They can learn how to make something extravagant like a Little Mermaid-inspired cake or something more simple like the perfect chocolate chip cookie.
This channel is perfect for young kids who need something to do with their hands! Red Ted Art is an arts and crafts channel that has countless tutorials on fun and easy art projects. You can find a video for just about any craft you can think of and even more of ones you've never thought of. These videos can also be a jumping-off point for your child's own creative crafting ideas.
How Bark Can Help Keep Your Kid Safe on YouTube
Even with all this great content to find on YouTube, it's still important to ensure your child is safe on the platform. Bark can help you by managing when your child can use YouTube throughout the day or even blocking it entirely if needed. We also offer our award-winning content monitoring for YouTube, so you can be alerted to potentially inappropriate videos your child might have come across. Start your free, 7-day trial of Bark today!
About Bark
Bark is a comprehensive online safety solution that empowers families to monitor content, manage screen time, and filter websites to help protect their kids online. Our mission is to give parents and guardians the tools they need to raise kids in the digital age.