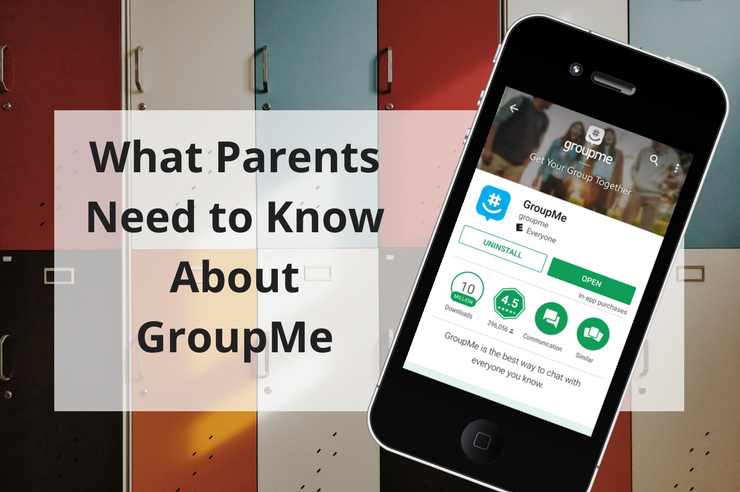 What Is GroupMe and Is It Safe?
It's easy to overlook details in how your kids use group messaging apps like GroupMe. So, think about them as the hallways of your middle school and high school years. Think of them as the place where kids hang out, share homework information, and bully each other.
So what is GroupMe? And is it safe? Group Me is an app kids use for group conversations, especially if some people are iPhone users and some have Android Devices. GroupMe messages can include private messaging and media postings. Below we discuss some of the things parents need to know about GroupMe. We also discuss why using Bark to monitor their messages is important.
GroupMe started in 2010 and became one of the most popular group messaging apps within a year. While other apps like Facebook Messenger and Kik have since become more popular with teens, GroupMe is still in the top five.
What Is GroupMe and How Does It Work?
Once you have downloaded the GroupMe app anyone can start a group chat. Open up a group chat, name the chat, and then friend's phone numbers to the chat. People message back and forth in the group and also now have each other's names and numbers. Yes, even if they have never met in real life.
Group members can splinter off into smaller groups now that they have each other's information. Additionally, everyone can send direct messages to anyone in the group.
One reason people like using GroupMe is that it's easy to use for those who have phones with different operating systems. There are some fun features to use like gifs and special emojis. Kids mainly use it to keep up with friends and find out about homework assignments.
But do you really know what your kids are doing there? It's not always funny gifs and poop emojis. GroupMe is one of the top social media sites parents should be monitoring. Take a look at some potential dangers and how you can monitor them.
Accessibility to Sexual Images Continues to Be a Problem
One major concern with GroupMe is how easy it is for kids to run across sexualized imagery through GIFs and videos. Kids can easily find this media in one place and there are no in-app parental controls to limit searches to kid-friendly ones.
While it's convenient for kids to find and use media without having to leave the app, they could encounter things they shouldn't see. And access to adult imagery is just one of the risks associated with GroupMe.
You Can't Delete Past Posts
GroupMe gives your kids no way to delete past content they've posted. A simple screenshot passed around of a past heated discussion expounds the reach of a minor mistake.
Cyberbullying can certainly happen on GroupMe as with any other messaging app. Kids can gang up on one chat member making them feel ostracized or cyberbullied. Screenshots are taken and posted on other social sites adding to the feelings of isolation and lack of understanding or help.
Controversial Group Chats
If you're letting your teens do group chats in GroupMe lately, do you really know what kind of conversations they're having?
In some reviews of the app, you'll see a few parents complaining about group chats with offensive titles. Your kids might join a chat started by friends of friends you don't even know. They could end up discussing something you don't want your kids exposed to, like drugs or sexual acts.
Changing the title of a group chat can also become a form of cyberbullying itself. What if your teen was in a group chat and someone changed the title of the group to, "[Your child's name] is a thot!" When even the name of a group chat can become part of cyberbullying, it's important to be aware of this. Furthermore, it's also important to have many conversations with your kids about these topics. Empower them with the knowledge on how and why they should leave such group chats.
Additionally, messages can be heart-ed (i.e. given a like). So say a cyberbullying message is put in the chat and then 5 other kids give it a heart, the kid being bullied not only has no one standing up for him but has 5 other kids saying they feel the same way as the first kid.
Even though GroupMe is great for convenient group conversations, kids can sometimes hide certain conversations they don't want their parents seeing. Or, they could become the target of a cyberbullying event.
Plus and Minuses
Adding and removing members of a group chat also becomes a way to cyberbully and isolate another child. Each time a group member is added or removed a message shows up as part of the group chat. These adds and removals can become serious as kids fight over who can be a part of their group, but no real discussion takes place. Instead, there are just heated additions and removals, and hurt feelings.
Revealing Personal Information
Recent updates to GroupMe allow users to record videos at will using their smartphones, making them accessible to any group.
What happens if your kids create videos you overlook? Did they possibly do something in those videos that's offensive, or inadvertently give away personal information?.
And with sextortion becoming a big problem online, a predator (remember the friend of a friend loop?) might steal personal photos and Photoshop them with sexual imagery. These cases are then followed by a threat to leak the photos online or send them to someone else.
Just like other video services and places your kids can meet strangers online, using GroupMe can lead to consequences your child may not even be aware of, especially if you are not monitoring their online interactions.
Parental Control Solution
Is GroupMe safe for your kids? As a parental control solution, Bark lets you monitor your kids' online activities, including GroupMe. You'll receive texts and/or email alerts when your child experiences a potential online issue like cyberbullying, sexting, or online predators.
Most importantly, Bark is able to monitor your child's group messages and private messages on GroupMe, including images and media associated with each.  Sign up today and start monitoring your child's GroupMe account.