8 More Shows About Teens that Aren't for Teens – Summer Edition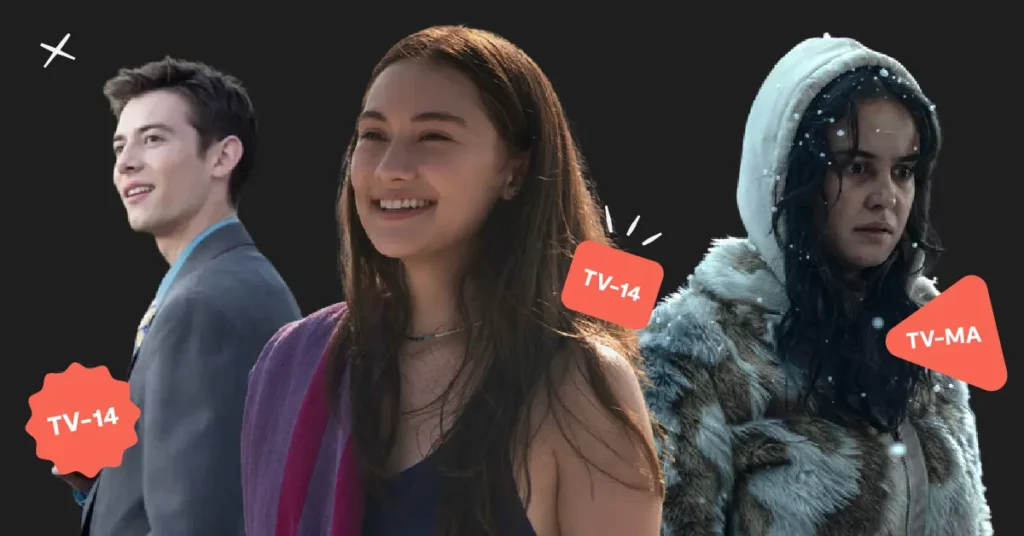 School is out, the sun is shining, and it's time to kick back and enjoy some top-notch summer entertainment. While there are plenty of TV shows out there catering to the teen audience, we've rounded up a selection of shows that, while featuring teens or marketed to a younger age group, are decidedly not meant for the younger crowd.
From gratuitous violence, sex, and nudity to the glorification of underage drinking and drugs, these shows each feature mature content that might not be suitable for younger viewers. Check out some of the most popular series below and consider talking with your teen about other exciting, age-appropriate shows you might watch instead this summer!
Eight Summer Shows that Aren't For Teens
Cruel Summer — Rated TV-14 for violence, sex and frightening scenes. Streaming Hulu, Amazon Prime, and Apple TV+.
This teen thriller follows two young women over a summer using flashbacks across multiple timelines, slowly piecing together the mystery. The show has two popular seasons, the second, released June 2023, focuses on the rise and fall of the friendship between nerdy high school teen Megan and cool exchange student Isabella and their love triangle with Megan's long-time friend Luke.
The show's tone is undoubtedly dark, with a mysterious death that rocks the small town and mature sexual themes. Between the reveal of a sex tape and the increasingly dangerous decisions Megan and Isabella make to prove their loyalty to each other, parents should consider supervising their teen's viewing or starting a conversation with their child about the topics addressed in each episode.
The Idol — Rated TV-MA for sex and nudity, language, violence, drugs, and alcohol. Streaming on Max and Hulu.
Lauded at festivals like Sundance and Cannes, The Idol had high expectations to be a raw and captivating drama that delves into the gritty world of the music industry. Following the journey of an aspiring musician striving for success, played by Lily-Rose Depp, the show has caught flack from critics and casual viewers alike for its gratuitous sexual exploitation and violence. While the show certainly provides intriguing commentary on the music business, the mature content and its overwrought depiction of sex, drugs and violence make it inappropriate for young viewers.
Yellowjackets — Rated TV-MA for violence, gore, sex, and frightening scenes. Streaming on Paramount+, Hulu, and Amazon Prime.
A classic plane crash drama, Yellowjackets follows a girls' soccer team's survival story after they become stranded in the wilderness for months. What begins as a suspenseful story highlighting teamwork and compassion quickly devolves into an intense cult-like society where cannibalism and dark rituals prevail.
Outside of frightening and dark scenes, violence, gore and sex are prevalent as the show bounces back and forth between the months immediately following the accident and the women's life years after being rescued. Now, on its second season, the tone and themes in the show have evolved to become even darker, pushing it decidedly out of the realm of teen viewing.
Saint X — Rated TV-14 for violence, profanity, alcohol and drugs. Streaming on Hulu.
Saint X is a new Hulu drama based on the popular book of the same name. It explores the aftermath of a young woman's mysterious death on a luxurious Caribbean island and how it has affected her sister and those last seen with her before her disappearance. The show touches on important topics from grief and guilt to class, privilege and racism.
While these topics are great conversation starters, the violent death of the young woman whose body we see being pulled from the water early on and the prevalence of alcohol and profanity throughout make this show more appropriate for older teens and not their younger counterparts.
Black Mirror — Rated TV-MA for violence, sex, frightening and intense scenes. Streaming on Netflix and Amazon Prime.
Since its release, Black Mirror has been both applauded and criticized for its dark social commentary. Multiple out-of-the-box episodes center on the dangers of technology in the dystopian future and beyond. The sixth season, released this summer, sticks to the series' anthology set-up focusing on different characters and situations, from a starlet dealing with a hit-and-run and a woman who has discovered her streaming service has adapted her daily life into a hit show.
The satirical subtleties and important messages make this series a consistent award-winner among adults, but the series presents several worrying elements for younger viewers. Gratuitous violence, frightening and often disturbing scenes, along with the frequent presence of sex, drinking and drugs, make this show better saved for later on in life.
The Crowded Room — Rated TV-MA for sex, violence, alcohol and drugs. Streaming on Apple TV+.
The Crowded Room centers on Danny, a young man, played by the ever-popular Tom Holland, who is imprisoned in the aftermath of a violent crime he can't remember. The show focuses on Danny's mental illness, the violence that seems to follow him, and the cast of characters that have seemingly gone missing around him.
Tom Holland's performance is sure to pull in interest. Still, for many parents, the show's multiple instances of gun violence, along with its complicated depiction of mental illness featured at the show's center, may be alarming and difficult to explain to kids or teens. Beyond that, overt sexual content, including the depiction of a threesome, make this show a "must-skip" for kids under 18.
Outer Banks — Rated TV-MA for alcohol, drugs, profanity and intense scenes. Streaming on Netflix.
Outer Banks is a coming-of-age adventure series that focuses on a group of friends who call themselves the Pogues and their hunt for a mysterious treasure around the island they grew up on. Now in its third season, Outer Banks has upped the ante from its edgy origins that focused on teen parties and class differences between the wealthier and working class on the island with an increased focus on dangerous run-ins with violent characters and unsupervised debauchery.
From beach parties filled with underage drinking and drugs to intense scenes featuring domestic violence and the on-screen deaths of several characters, the majority of Outer Banks is a lawless romp with little to no supervision from responsible adult figures. While the wild ride may be appropriate for an older crowd, parents are advised to limit viewing for younger teens and kids.
The Summer I Turned Pretty — Rated TV-14 for sexual content, violence, alcohol and drugs, and foul language. Streaming on Amazon Prime.
A teen-centered rom-com, The Summer I Turned Pretty chronicles the adventures of Isabel "Belly" Conklin and her love triangle with two brothers. She spends a magical summer at a gorgeous beach house and experiences romantic evenings filled with partying, jealousy, and heartbreak. This one's similar to Outer Banks, but slightly more tame — but not by much. Throughout all of the summer partying, there's heavy drinking, smoking, drug use, and more. Characters discuss the serious aspects of dating as well as explicit sexual content. It's probably best for younger teens to wait a little while for this one.
How to Monitor What Your Kid is Watching
With all of the available streaming services, networks and channels, it can be challenging to ensure everything your child is watching is age-appropriate. Bark helps save you time and takes the guesswork out of finding a fun family feature by providing smart parental monitoring that allows you to observe, block and control certain apps. Find out more about your options here.
About Bark
Bark is a comprehensive online safety solution that empowers families to monitor content, manage screen time, and filter websites to help protect their kids online. Our mission is to give parents and guardians the tools they need to raise kids in the digital age.