7 Shows About Teens That Aren't For Teens – Part 2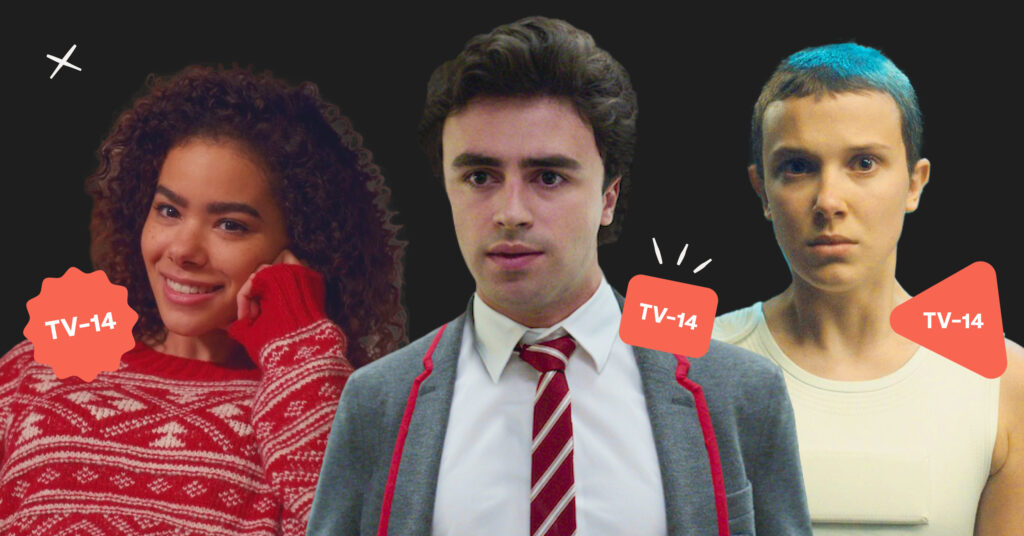 It's a teen takeover. Today many of the world's most popular shows are centered around teens and their coming-of-age stories. From Netflix's No. 1 Ginny & Georgia to Hulu's viral Cruel Summer series, these stories are packed with drama, suspense, and young love.
But for all their entertainment value and little nuggets of wisdom, there are quite a few plot points and scenes that make some of TV's top-billed teen shows decidedly not for teens. From the glamourization of cyberbullying to violence, drug use, sex, and self-harm, we've compiled a list of shows about teens that aren't for teens and should be skipped or watched with an adult.
Seven More Shows That Aren't For Teens
Ginny & Georgia — Rated TV-14 for sex, self-harm, language, and mature content
This dramedy follows the journey of Georgia and Ginny, a mother-daughter duo, as they relocate to a new town and delve into their relationships while also grappling with the hidden and ominous secrets from their past. With a witty and honest back-and-forth dialogue between mother and daughter, many draw comparisons to 2000s favorite Gilmore Girls—but that's where the similarities stop. Ginny & Georgia has a decisively darker, more mature tone than Gilmore Girls. Characters struggle with abusive relationships, turn to self-harm behaviors, and indulge in drugs and alcohol at a young age.
While identifying toxic relationships and learning more about the dangers of self-harm are two important topics that teens can learn from, without dialogue from their parents guiding them through these difficult themes, teens might glamourize abusive relationships and normalize dangerous behaviors as just another part of teenage life.
Elite — Rated TV-14 for sex, violence, and alcohol
This Spanish-language drama takes place in a prestigious private high school and follows the complicated lives of its students as they navigate relationships, power dynamics, love, and murder. The show depicts mature themes, including outright physical violence and emotional manipulation. Characters are also shown using and selling drugs and participating in toxic romantic and platonic relationships.
Parents should be aware that these mature themes, although explored in a fictional setting, may not be suitable for younger viewers. While the show shines a light on class dynamics, privilege, and pressure to succeed, most, if not all, of the main characters model harmful behaviors and often act on impulse taking things to the extreme.
Stranger Things — Rated TV-14 for violence, language, and mature content
A nostalgic fan-favorite, this science-fiction/horror series is set in the 1980s in the fictional town of Hawkins, Indiana. The show primarily centers on the mysterious disappearance of a young boy and the strange events that occur in the aftermath, including the arrival of a girl named Eleven. The show features supernatural elements, including a parallel universe called the Upside Down, with creative and downright frightening monsters that threaten the town's residents.
As the seasons of Stranger Things have progressed, the creatures have gotten more terrifying — think mind-controlling demons — and the themes more mature. While the show certainly offers valuable lessons about the strength of friendship, bravery, and the power of imagination for many, the gruesome violence and haunting monsters have pushed this show toward a more mature audience and away from teen viewers.
The 100 — Rated TV-14 for violence, language, and mature content
This post-apocalyptic sci-fi series is set 97 years after a nuclear apocalypse wiped out almost all life on Earth. The show follows a group of 100 teenage delinquents who are sent from a space station to the ground to test if it is habitable once again. The characters are forced to navigate the dangerous and unpredictable new world and the political and interpersonal conflicts that arise among them.
Parents and teens praise the centering of a strong female lead at the show's core but particularly dislike the violent and gory themes often featured in the plot. From graphic images of characters impaled by spears, strung up in trees, and subjected to torture, this show may not be suitable for all viewers, particularly younger ones.
Skins — Rated TV-MA for sexual content, drug use, and language
This 2000's-era British teen drama explores the complexities of teenage life and the struggles of growing up. It follows a group of high school students navigating the ups and downs of adolescence, including relationships, sexuality, identity, and substance abuse. The show is known for its frank and controversial depiction of the grittier sides of teenage life.
While Skins gets rave reviews from older viewers, parents note that the aggressive drug use, illicit student-teacher relationships, and numerous sex scenes put it off limits to younger kids and iffy for teens. If your child is watching Skins, it's important to address the way toxic relationships, sex, and drugs are glamourized throughout the show and how these risky behaviors can have serious consequences.
Teen Wolf — Rated TV-14 for violence, language, and mature content
This supernatural drama follows teenager Scott McCall as he navigates life as a newly transformed werewolf while also dealing with typical teenage struggles such as relationship issues, school problems, and family drama. Parents and teens applaud the successful six-season show for its entertaining plot and ability to deal with important coming-of-age issues.
That being said, there are certainly violent and gory themes at the show's core. Bodies are cut in half. Characters are sacrificed, hunted, kidnapped and tortured regularly. Viewers also note the absence of hardly any good adult role models and the frequent appearance of alcohol and drugs at parties.
Cruel Summer — Rated TV-14 for violence, sex, and frightening scenes
This mystery-thriller follows two young women, Jeanette and Kate, over the course of three summers in the 1990s after one of the women is abducted. The show has a modern focus on popularity, exclusion, and the social dynamics of teen girls. It is lauded for its unflinching take on cyberbullying and fitting in in the digital age as well as the lengths teens will go to get the approval of their peers.
The tone of the show is undoubtedly dark, with an abduction plot that features a teen girl confined and abused by an adult man. The show also touches on domestic violence, with a teen boy hitting a girl in the nose and making her bleed. After a short apology, she forgives him immediately. Between these scenes and the heavy mental health components of the show, parents should consider talking with their older teens about these mature themes and keeping the show off-limits for younger viewers.
How to Manage What Your Kid is Watching
With all of the available streaming services, networks, and channels, it can be challenging to ensure everything your child is watching is age-appropriate. Bark helps save you time and takes the guesswork out of finding a fun family feature by providing parental controls that allow you to observe, block, and control certain apps. Start your free 7-day trial today.
Be sure to check out part one of our TV shows about teens that aren't for teens!
About Bark
Bark is a comprehensive online safety solution that empowers families to monitor content, manage screen time, and filter websites to help protect their kids online. Our mission is to give parents and guardians the tools they need to raise kids in the digital age.