Wireless Service Provider's Parental Controls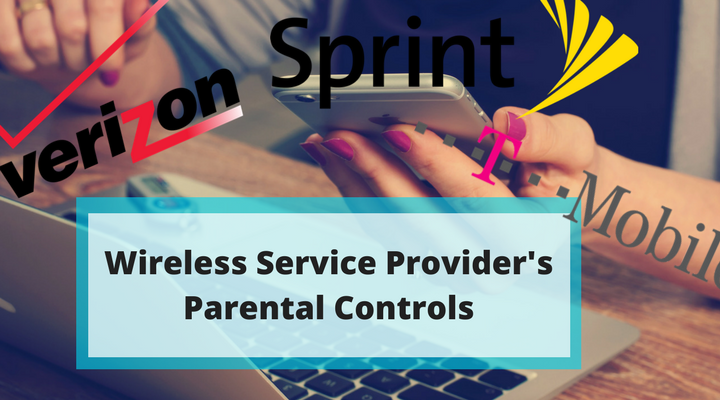 Keeping children protected online these days is a major undertaking. Smartphones and tablets only make it harder with their easy access to inappropriate apps, social media, and all that lurks on the internet. The good news is that there are a variety of parental options available to help you with this task. Below we discuss parental control options provided by the big four wireless service providers. Knowledge is power, and we hope this overview will get you on the right path to enabling the best parental controls for your family dynamic.
T-Mobile
If you are a T-Mobile customer, you can subscribe to their "Family Allowances" plan for a monthly fee. With this program, you can set-up a schedule that restricts usage of phones on your plan. For instance, you can restrict usage during the school day or at dinner time. Limited numbers can be set to "always allowed" even during restricted times (in case of emergency). This plan also enables you to set the number of text message that can be sent or received. You can also block up to 10 specific numbers and limit the amount of money spent on any downloaded apps. Another feature T-Mobile offers is the ability to check on your child's location. The drawback of these helpful options is the ever-present thing known as Wi-Fi. If accessible, it renders many of these controls irrelevant.
For a complete list of T-Mobile parental controls, click here.
Verizon
Verizon's parental controls mirror much of what T-Mobile offers. But their newly released "Just Kids" plan also adds the ability to filter and block websites and apps, set data usage limits, track location, and more. With Verizon's controls, you have the capability to completely pause internet access on a child's device. This can be a particularly useful tool for parents! Verizon's location services allow users to set alerts to report when a child leaves or enters a preset geo-fenced boundary. It also allows them to check-in for an instant location update on their whereabouts. There is an added monthly fee for all of these controls. Additionally, just like T-Mobile, many of the features do not work if the phone switches to Wi-Fi.
For a complete list of Verizon parental controls, click here.
Sprint
Sprint customers have options to block specific numbers from calling or texting, block app downloads, and block and filter websites. Additionally, Sprint users can turn off the camera on a child's device, disabling the ability to take photos and videos. Location services allow monitoring of a child's location at preset times of the day to make sure they arrived at school or back at home. Wi-Fi is still an issue that can put a damper on adequate parental controls, but with the exception of location services, the rest of Sprint's parental controls are free to their subscribers.
For a complete list of Sprint parental controls, click here.
AT&T
AT&T rises to the occasion in terms of the services they provide for families. Previously, their parental controls were provided under their AT&T Smart Limits plan. However, as of November 26th, 2018, the plan has been retired and families are now transferred into the new Secure Family app that brings all the helpful features of Smart Limits and more to a centralized and easy-to-use location for parents.
For a complete list of AT&T parental controls, click here.
PLEASE NOTE:
No cellular provider currently provides parents alerts on problematic content arising as a result of their tween's and teen's smartphone usage, which is why we exist as a company to help provide a much-needed layer of protection for your children.
While there are some limitations, in tandem with the Bark app, we are so thankful the big 4 are working to help parents navigate digital parenting. These parental controls are much-needed and help make the tough job of keeping your kids safer online a little easier. With so many devices and platforms for parents to monitor, we understand it can be incredibly overwhelming to know where to start. On that note, here are some extremely helpful tips on how to lock down the device itself. As always, let us know if you have any questions by reaching out: help@bark.us.
About Bark
Bark is a comprehensive online safety solution that empowers families to monitor content, manage screen time, and filter websites to help protect their kids online. Our mission is to give parents and guardians the tools they need to raise kids in the digital age.