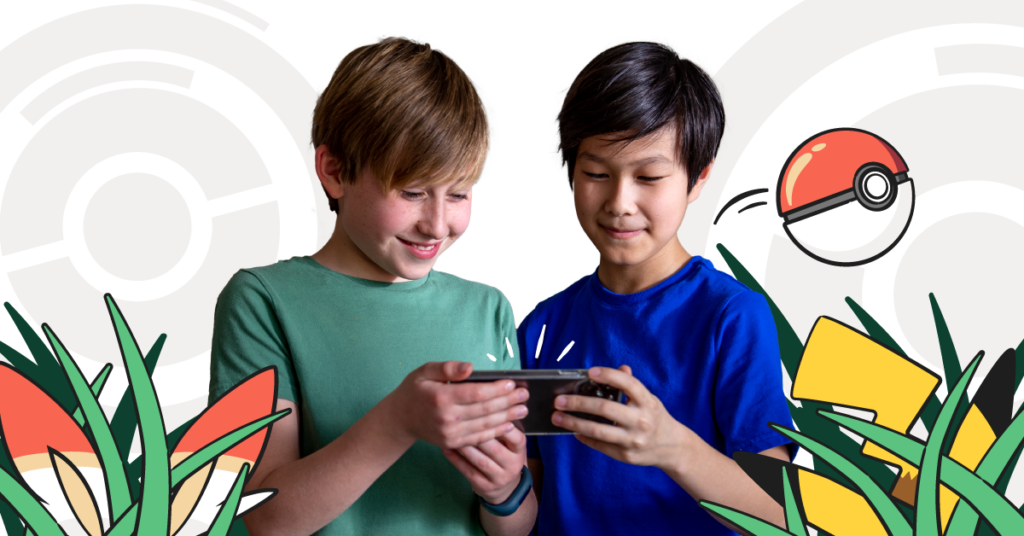 If you've ever seen a Pokémon in your living room, you don't have to ask "what is augmented reality?"  — you've experienced it! That's right, Pokémon GO is probably the most popular example of this technology that blends real-world environments with computer-generated effects. Think of it as a less intense version of virtual reality, as you're not totally immersed in an artificial world. Unsurprisingly, kids absolutely go wild for augmented reality games. However, this interactive technology isn't without its dangers. Here's what parents need to know about it.
What Is Augmented Reality?
Augmented reality (AR), in simple terms, is using technology (like a smartphone) to introduce digital elements like images, figures, and sound into your actual surroundings or even onto your own body. You're probably familiar with the fun face filters and interactive games on Snapchat, TikTok, and Instagram. But did you know those are also augmented reality? 
Because of this, you can probably guess that the line between reality and augmented reality has grown a little blurry, especially when filtered photos have become the norm. This can also lead to body image issues in kids if they rely on technology to change the way they look. 
Positive Benefits of AR for Kids
Augmented reality has limitless potential to bring to all kinds of fields — including medicine, communication, transportation, and more. But when it comes to kids, there are two main ways that young people reap the benefits of augmented reality.
Education
Keeping kids inspired and paying attention in the classroom has always been a struggle. With AR, teachers can use technology to bring history, science, and even math to life! Here's an example of what this could look like.
Your child could download an app and use their phone's camera to see what a bird would look like if it landed on their desk. This makes it easier to judge its size and shape, as they could walk around it with their phone to see it from multiple angles. They could even hear the bird's call through the phone's speaker. Looking closer, they could actually see its beak move and feathers ruffle as it sings.
Entertainment
Incorporating imaginative worlds into everyday real life is one of the coolest parts of AR, and for kids, it's a great way to get lost in their favorite worlds. Unlike regular video games on Nintendo Switch or PlayStation, augmented reality games are truly interactive. These games can provide a more immersive and customizable experience for players, too. 
Games like Pokémon GO helped launched the AR trend a few years back, and Wizards Unite is another popular AR game in which players become official members of the Harry Potter wizarding world. The game uses a player's GPS to allow them to walk around streets and find magical artifacts, in addition to creating magical-inspired selfies with cool filters. It's safe to say that we can look forward to even more AR games as technology continues to advance.
Dangers to Watch Out For
Despite being a great way to learn and blow off steam, augmented reality isn't all fun and games. There are a few things that parents need to watch out for while their kids use it.
Excessive screen time
Managing screen time can be hard enough when kids want to watch videos on YouTube or chat with friends and family. It can be even harder when they're playing an augmented reality game that puts them at the center of the action in their favorite world. Be sure to encourage healthy boundaries. Try setting daily time limits and requiring breaks in between longer sessions. 
Distraction in the real world
Games like Pokémon GO require you to travel out into the world to find new creatures and battle spots. Make sure your kid remembers to pay attention to traffic when crossing the road. Remind them to stay aware of other people and objects near them while they're playing. Playing with a friend who doesn't have AR or being supervised by a parent can help with this sort of distraction, too.
Privacy concerns
Augmented reality platforms and apps have the potential to collect biometric data about a user — that's what it's doing when it scans your face to overlay a digital filter. But like any other piece of technology that's connected to the internet, it's vulnerable to hacking. Simple kid games may not be as much of a target as something like a health app, but it's important to keep in mind some of these new dangers that evolving tech poses.
How Bark Can Help
What is augmented reality's main danger to kids? Honestly, it's the potential for screen addiction as children try to spend more and more time attached to their devices playing their favorite games. Fortunately, Bark can help you manage your child's screen time with our custom scheduling tool. 
To keep them on track, you can make sure during the school day they're only opening up educational apps. At night, you can limit access to all apps to ensurer they're getting rest. That way, when they step foot in their favorite augmented reality world, they can focus on what's important for that hour — having a blast.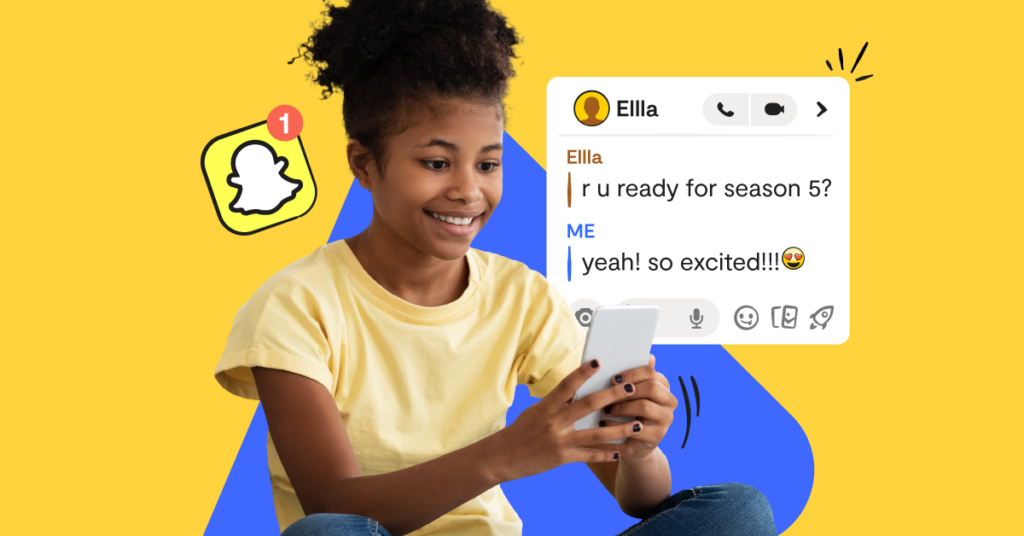 Does it ever feel like you can't catch up with all the changes in technology? Just when you figure out what your kids are talking about, a new trend or app goes viral, leaving you in the dust. Popular dance moves, virtual reality, bitcoin, Discord servers — it's a lot to understand. For young kids, though, constant change is just part of growing up. As new platforms and features arrive all the time, teens and tweens quickly adopt the most viral changes. For the past few years, Chat 2.0 has driven Snapchat chat popularity among many younger users. In fact, kids now prefer Chat 2.0 over similar apps, including Facebook Messenger and iMessage.
What changed with Snapchat when Chat 2.0 was released? How is Snapchat Chat 2.0 different from similar apps? Why is it so popular? We'll dive into these questions and many more, giving in-depth answers and helpful tips on how to keep track of your child's activity.
Chat 2.0 Growth and Popularity
Snapchat took the world by storm when it originally launched the famous "disappearing message" app in 2014. Chat 2.0 was released 2 years later, and the world was never the same again (not for Snapchat users, anyway). For most people, Snapchat Chat 2.0 created the right mix of messaging and content discovery functions to make the entire app more engaging.
A lot of the big social media apps were purchased by Google or Facebook early on, but Snapchat is still privately owned. Although you probably heard more about Snapchat a few years ago, it's still growing quickly — surpassing 500 million active monthly users in late 2021.
Who is using Snapchat Chat 2.0 the most? Girls between the ages of 13–17 are the largest group of users. Overall, those under the age of 20 make up approximately 40 percent of all Snapchat Chat 2.0 users.
Snapchat Chat 2.0 Features
Snapchat chat was first built as a messaging app. One user would record a video message and send it out to their followers or a single connection. Snapchat Chat 2.0 introduced much easier versions of live video chat, which is a game-changer. Now, instead of one-off messages or stories, friends can seamlessly switch to video in real-time.
Users can fluidly change between different Snapchat conversation features to access notes, photos, and stickers. It's easy to mark up images with different options for adding text, drawings, stickers, filters, and more. Kids can also hand-pick exactly which friends to include in a video chat. In response, their friends can join in on the Snapchat video chat or simply watch.
All of these changes help explain why Snapchat chat is still so popular: It's really easy to use. Plus, there are so many ways to talk with friends. The variety and ease of use truly make other peer-to-peer chatting apps seem like the "dial-up" of messaging tech.
Let's explore more of the core features of Snapchat chat to provide a better picture of exactly how kids use the app. We'll focus on the features most relevant to younger users and not companies (like advertising, promoted posts, etc.).
Types of Messages with Snapchat Chat

Kids have a lot of options for messaging their connections on Snapchat, and they can be used together in a continuous message thread (like texting):

Audio only, like a voicemail
Video and audio
Video only
Stickers
Notes, a 10-second, GIF-like message
Spotlight
To make the app feel more like its popular rivals TikTok and YouTube Shorts, Snapchat recently introduced the Spotlight feature. Anyone can create Spotlights, and they are featured in the app based on their popularity, much like the TikTok "Discover" feature. Now, when kids open Snapchat, they can browse trending Spotlights or record and submit their own. One interesting trend promoted by Snapchat is Spotlight Challenges. Snapchat gives cash prizes directly to users who make the best video for a specific challenge.
Snap Map
Snapchat's map tool is intended to help people find content from a specific location. The interactive map highlights stories from around the world that can be filtered by region. Kids can simply scroll or swipe across the map to discover something new. However, this feature also allows users to reveal their current location (much like Facebook's check-in feature) when posting. As you might expect, this can be dangerous.
Auto-Advance
While auto-advance isn't necessarily a Snapchat Chat 2.0 feature, it does keep users passively using the app for long periods of time. When one story ends the next one plays automatically... no work required! The problem is that it's easy to spend 30-40 minutes at a time watching stories play continuously. It's no wonder that the average Snapchat user spends almost 50 minutes a day on the app.
Filters and Lenses
Remember when everyone was adding dog ears to their pictures? Snapchat video chat lenses and filters can be used over pictures and videos. Kids can also create their own filters and lenses to show off school pride or capture an inside joke.
Privacy Changes & Concerns
It's an age-old question with Snapchat: Do messages actually disappear? We scoured the Snapchat privacy site to verify which types of messages are not saved. According to Snapchat, live video content is not recorded and users can choose whether or not other message types are saveable.
Popular Snapchat Terms Parents Should Know
Snap: Any kind of message or content sent and received through Snapchat.

Story: A series of snaps that have been sent to all of someone's friends are compiled into a "story" - containing images or videos. Stories are available for up to 24 hours.

Snap Streak: Consecutive daily messaging between two friends creates a streak, which is symbolized with a small fire icon.

Snap Map: Part of the Snapchat app that shows "snaps" by location.

Spotlight: Featured snaps based on popularity (also where spotlight challenges are posted).

Friend emojis: Symbols that rank the status of kids' friends based on how much they chat with them.

Filters: Graphics that can be placed over an image or video. Geofilters can only be added when a user is in a specific location.

Lenses: Uses machine learning to change how users' faces appear to recipients.

Snapcash: Snapchat's online payment tool that lets kids exchange money via the app.

Snapcode: A unique QR code each user can allow others to scan and add them on Snapchat.

Trophy case: Awards that Snapchat gives users for different kinds of activity on the app (for example, using a lens for the first time).
Should Parents Be Concerned About Snapchat Chat 2.0?
Though it can be fun and light-hearted, it's hard to sugarcoat the potential downsides of heavy Snapchat usage. While normal Snapchat chat use isn't necessarily a cause for concern, problems might not always be obvious. By staying actively involved with their kid's social media habits, parents can get better at spotting potential issues like:
An inability to disconnect from the app. The fleeting, momentary style of Snapchat communication can become stressful and anxiety-inducing. Social pressure to stay up-to-date on messages (e.g., keeping a "Streak" alive) can get overwhelming. The ability to connect with someone they really like and immediately start video chatting can be highly addictive.

Abusive behavior from other users can present a risk, including cyberbullying, sexploitation, harassment, and more. Kids are more likely to share inappropriate content if they aren't concerned about messages being saved or shared. This might give them a false sense of privacy.

Physical threats. Using several of the Snapchat map settings, your child could accidentally reveal their location.

Harmful social media challenges. Unfortunately, Tide pods and the cinnamon spoon dare didn't curb folks' appetites for outrageous challenges. Even safe trends or challenges can create an unhealthy obsession with social clout or virality.

Credential sharing. For the sake of an unbroken messaging streak, kids sometimes share their passwords, which can allow accounts to be used for embarrassing posts. Or, if those same credentials are used for other accounts, someone with bad intentions could log into personal, private accounts (e.g., email).

Poor time-management habits and constant social scrutiny can result in unhealthy self-criticism and mental health issues. Over time, this might cause bouts of teen depression.
Keeping Track of Snapchat Chat 2.0 Activity
Dismissing Snapchat as a passing fad won't work, and it won't make the app seem less cool to your kids. Snapchat chat offers a kind of fast-paced messaging that feeds into the desire for instant responses and connection. It's not going to change anytime soon.
Also, Snapchat is primarily used as a mobile app, which makes it more tempting to use throughout the day. For many kids, Snapchat takes the place of regular texting and phone calls. It's more like an all-in-one phone plan and social platform.
By using the built-in Snapchat settings and the right monitoring tools, parents can get more insight and intervene, if needed.
Adjust Snapchat Settings
On the app, you can change settings to control visible information. For example, public profiles might make your child's activity more visible to strangers. This activity could include information like their location, who their friends are, other social profiles, etc. For this reason, Snapchat claims that public profiles are restricted to users who are 18 and older. (Of course, kids can easily lie about their ages.)
Other recommendations for enhancing your child's privacy include:
Change the "contact me" settings to be friends only.

Consider adding two-factor authentication to keep infiltrators out.

Tighten up the visibility of stories with custom settings (not "everyone" or "eublic").

Delete stories or snaps from public parts of the app.
It's worth noting that your child can change these features back. See our article on Snapchat parental controls for a complete breakdown of the most important options, and how to access them.
Use an Online Activity Monitoring Tool
Bark is a powerful and easy-to-use parental control tool that brings activity monitoring and access control into one program for parents. No more poring through your kid's accounts and trying to stay updated on every app. Bark monitors 30+ social and messaging apps, Chrome browsing history, and communication through email and texting.
Parents are notified of alarming behavior that might need further attention, including potential acts of self-harm or cyberbullying. Sentiment monitoring helps parents understand how their kids are feeling based on the content of their messages. Plus, our website blocking and screen time features allow parents to set specific schedules for app usage or internet access.
Learn more about how Bark works or sign up for free today to see how you can experience more peace of mind and build a better family relationship with technology.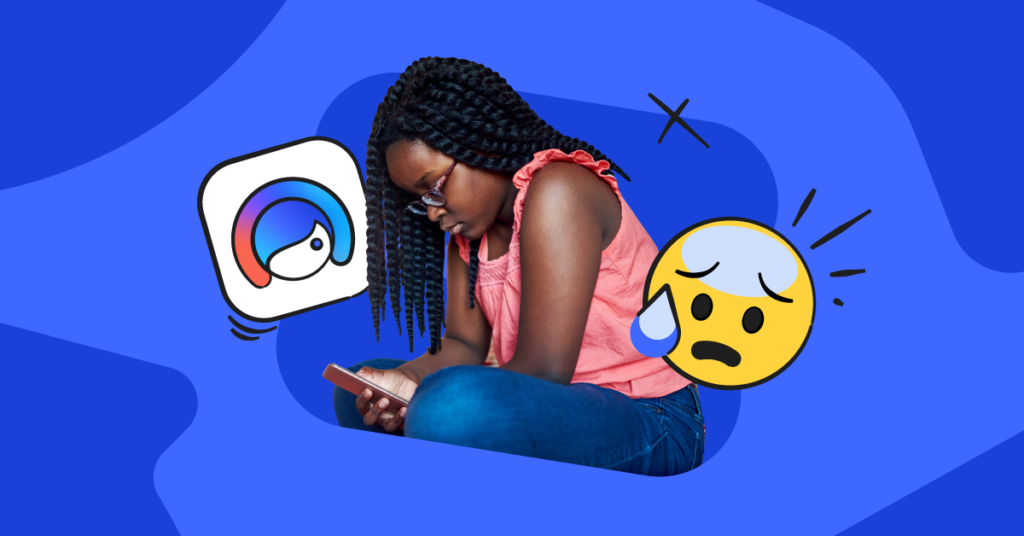 Today, tons of platforms have built-in filters and photo editing tools, but one app helped originally launch the trend back in 2013, and it's still going strong today: Facetune. In 2021, more than 30 million people downloaded the app on iPhone alone, a sign that people continue to be concerned with removing blemishes and whitening teeth in selfies. The unfortunate thing is that kids are, too.
One of the most chilling things about the Facetune app is that in the App Store, the company recommends it for kids "4 and above." You don't have to be a child psychologist to see how apps like Facetune can create unrealistic body standards and create self-image issues for children. In this post, we'll discuss how Facetune works, how it can negatively affect children, and ways to talk with your child about body image.
How The Facetune App Works
Think of the Facetune app like a smaller, easier-to-use version of Photoshop, the popular photo-editing app used by professionals around the world. But instead of requiring professional cameras and a powerful computer, you simply upload a photo from your phone and can then modify it in a ton of different ways. Some of the more popular editing tools include: 
Whiten: You can use this feature to whiten your eyes, teeth, or even skin.
Smooth: This lets you flatten out wrinkles (less a worry for kids, obviously) and rough spots on skin.
Details: With this, you can create a greater focus on a specific feature like eyes, nose, or lips.
Reshape: Perhaps the most problematic feature of Facetune, this tool lets you literally change the shape of your face or body — from sculpting a thinner jawline to digitally removing 20 pounds from your body's frame.
Patch: This spot tool enables you to magically erase pimples, birthmarks, freckles, or even a crumb of food from your face.
In addition to changing aspects of your face and body, you can also do more artistic editing, like defocusing backgrounds, changing the size of a photo, and creating new color palettes to match clothing.
What Kids Learn From The Facetune App
The thing about using Facetune is that it's such a slippery slope. You probably wouldn't mind if your child used the Facetune app to remove a stranger from the background of the photo your family took in front of the castle at Disney World. Or if they managed to get rid of a stain on the front of their shirt in a photo with grandma. 
But things get tricky when a kid starts using the app to dramatically alter the way they look — consistently. If they use the reshape tool to make themselves look thinner in an Instagram post, it can make them feel better in the short term (in the form of validating likes and comments). But in the long term, it can make them feel bad about themselves because they know their real-life self does not match what they put online.
So they post another edited photo, and it becomes a vicious cycle. Eventually, some kids will come to feel that they can't post anything but edited photos online, and this can make them feel like they can't present their real selves to the greater world. There are likely some kids today that have probably never not posted a Facetune selfie — ever.
Digital Filters, Real-Life Effects
Studies have long examined the direct link between social media and eating disorders (we have a whole blog post about it, too), but they often leave out the negative effects of filtering apps like the Facetune app. This is because Facetune (and similar platforms) just facilitate what happens on other apps. You don't post on Facetune or apps like it, so they're easy to gloss over. 
Many parents can be quick to cut out or limit social media without stopping to think about all of the different apps that create these false depictions of reality and their harmful effects. And these negative effects are serious, leading to issues like poor body image, anxiety, depression, and even disordered eating. When kids only see "perfect" — and fake — photos of people, it reinforces the belief that that's what they should strive to be, no matter how unrealistic or unobtainable it may be.
Signs Your Kid May Be Struggling With Body Image
Growing up can be a stressful time, and kids have to deal with all sorts of changes as they become young adults. Paying attention to their body is okay… to an extent. If you're worried that your child is struggling with their body and their feelings about it, pay attention to these warning signs:
Excessively criticizing their body and appearance
Obsessing about losing or gaining weight or muscle
Being overly concerned about one aspect of their body, like their teeth or legs
Searching for imperfections or changes in photos or in the mirror
Avoiding social activities that they once enjoyed
Conversation Starters You Can Use
Whether your child uses the Facetune app or just loves the fun filters in TikTok or Snapchat, it's important to get them to reflect and think critically about what they're doing. Answers of course will vary depending on how old your kid is, as well as how much time they spend on social media. Here are some icebreakers to get the conversation started:
What's your favorite photo filter you've ever used?
How do you feel about yourself when you use a filter?
Have you ever edited a selfie? What did you do to it?
Have you ever felt bad about posting a picture of yourself?
Tell me about how your friends use filters online.
What's your favorite part of your body? What's your favorite non-physical feature?
How Bark Can Help
If you find yourself concerned that your child may be struggling with body image and social media, Bark can help. Bark monitors disordered eating in texts, emails, and 30+ social media platforms and apps. You'll get an alert if they may be struggling so you can check in and support them. You can also use Bark's screen time and blocking tools to limit — or prohibit — access to social media or editing apps like Facetune altogether.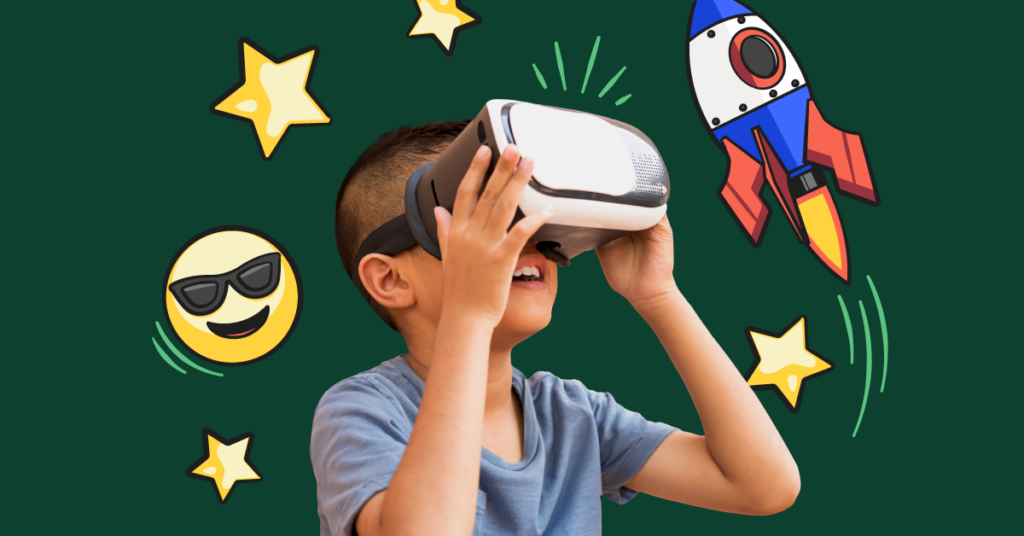 Virtual reality (VR) probably seems pretty new, but would it surprise you to learn that VR was invented before the internet? That's right — today's kids can't wait to get their hands on tech that was around in 1968 and available in a 1994 Sega game release. Talk about retro.
Despite being developed decades ago, companies like Oculus and Meta (which owns Oculus) have made VR much more popular. Now, kids can hang out in virtual chat rooms, play their favorite virtual reality games, and tour different parts of the world without ever leaving their homes.
Parents can't be blamed for wondering what these clunky headsets are and if they really need a spot on the bookshelf. Also, do people know how silly they look fighting invisible bad guys in the living room?
We're here to answer the question "Is VR safe for kids?" Plus, explain more about what VR is, review the pros and cons of virtual reality for kids, and highlight some of the best VR games. Buckle up!
What Is Virtual Reality
Virtual reality is a technology that combines 3-D simulation with wearable items like gloves and goggles (or a headset). This combination makes users feel like they can interact with a lifelike image or "avatar" (like a digital representation of a person). Today, VR is impressively responsive to users' human actions, which makes gaming feel even more intense and personal.
There's a range of different options for using VR headset games. Some systems (like Playstation or Xbox) have created VR headsets that work directly with their game consoles. Other VR systems can use a smartphone as the "software," and they use a special screen to create a 3-D image that does a pretty good job of replicating your normal field of vision.
Most VR systems also include some type of handheld controller that allows users to take actions in the game they're playing.
The Pros and Cons of Virtual Reality for Kids
Pros of Virtual Reality for Kids
Even if you're not rushing out to buy the latest gear, there are some seriously positive benefits to virtual reality for kids that are helpful to understand. Getting familiar with VR tech now could also provide advantages for your child down the road.
VR can be a more private experience than older styles of gaming systems. Popular, classic games like Mario Kart and Call of Duty can have a communal aspect to gameplay as other kids in the room watch, react, and generally follow along with what's happening on the screen. Families can play these VR headset games together as a shared indoor activity. Without screencasting capabilities (only available on some systems), VR is a completely individual activity.

Education may increasingly rely on virtual reality for kids. Companies like National Geographic have produced VR environments that allow kids to virtually explore around the world. Kids who are exposed to and comfortable with VR will be able to adapt to tech-enabled learning environments. VR may also be good for teaching things that might otherwise feel abstract to kids, like space travel and exploration.

VR systems can help encourage physical activity, even when going outside isn't an option. Older video game systems might have kids planted on the couch for hours, but VR can actually get you up and moving. Kids are often motivated to stay physically active when it's part of a fun gaming experience.

The highly engaging and interactive gameplay in VR can inspire creativity and imagination for kids. This is especially the case for teens and tweens who might not have the opportunity to travel or physically engage in new experiences that are easily offered through VR.
Cons of Virtual Reality for Kids
There are a lot of strong opinions about VR and its potential effects on kids, even though research on its impacts is fairly limited. Below, we've tried to highlight some of the most important factors for parents to weigh when considering how to approach VR with their families:

VR can be a more private experience than older styles of gaming systems. Popular, classic games like Mario Kart and Call of Duty can have a communal aspect to gameplay as other kids in the room watch, react, and generally follow along with what's happening on the screen. Families can play these games together as a shared indoor activity. Without screencasting capabilities (only available on some systems), VR is a completely individual activity.
The immersive, sensory experience of VR can make it addicting. Most manufacturers of VR tech and games recommend their products to kids who are at least 12–13 years old.
Because VR is designed to mimic real-life experiences and interactions, it can make violent or intense and dramatic situations seem very vivid. These in-game experiences could be traumatic or disturbing to young children.
There's very little research available on how VR could affect sensory development, or potentially trigger existing conditions. At the very least, VR can cause eye strain and fatigue for kids of any age.
5. Some VR games can contain inappropriate content, and there are little to no parental controls available. Many experts also worry that predators will soon join these interactive experiences.
Finding the Best Virtual Reality Games for Kids
Understanding VR is only half the story. Keeping track of acceptable game content can be an entirely different challenge. There are a few ways to vet virtual reality games for kids to keep out unacceptable or inappropriate content.
Check the game's ratings. The Entertainment Software Rating Board (ESRB) has a wealth of resources for parents looking to learn more about specific games. Their large database is easy to search and provides a game summary plus specific ratings for various kinds of content.

Look at the game's objectives and subject matter. If your child wants to play a game with firearms or physical, action-based gameplay, see if there is a good substitute that provides a similar experience with slight changes. For example, instead of a first-person game that promotes direct actions of violence against other people, kids could play a game like Candy Kingdom VR, which is a point-based game with guns that shoot candy.

Some games can only be played on specific headsets or game consoles, depending on who makes the game. Picking a specific game console with VR capabilities might help you control which games are available to your child.
If you plan to make virtual reality games for kids a regular part of your child's gaming routine, think about setting basic ground rules for a more positive experience. Here are some of the areas you might want to discuss:
Time limits for how long games can be played, and when.

Make sure that the gaming room is set up to keep kids safe when using VR. It's important to have an open playing area, free from any potential tripping hazards and walls that might hurt the player.

Rules to encourage inclusivity when friends or family are visiting. This might involve not playing virtual reality games when others want to participate unless there is a way to be inclusive.

If your kids start to feel sick, tired, or anxious from the VR experience, then it's time to step away from the game for a bit.
So Are Virtual Reality Games For Kids Really Safe?
VR is definitely here to stay. With most types of technology, the dangers lie in how its used rather than whether it's inherently "bad." Also, it's pretty likely to be part of your child's world while growing up, from remote learning to hanging out with friends. A healthy understanding of the tech behind VR, and clear rules around gaming and usage will help make your kid's experience safer.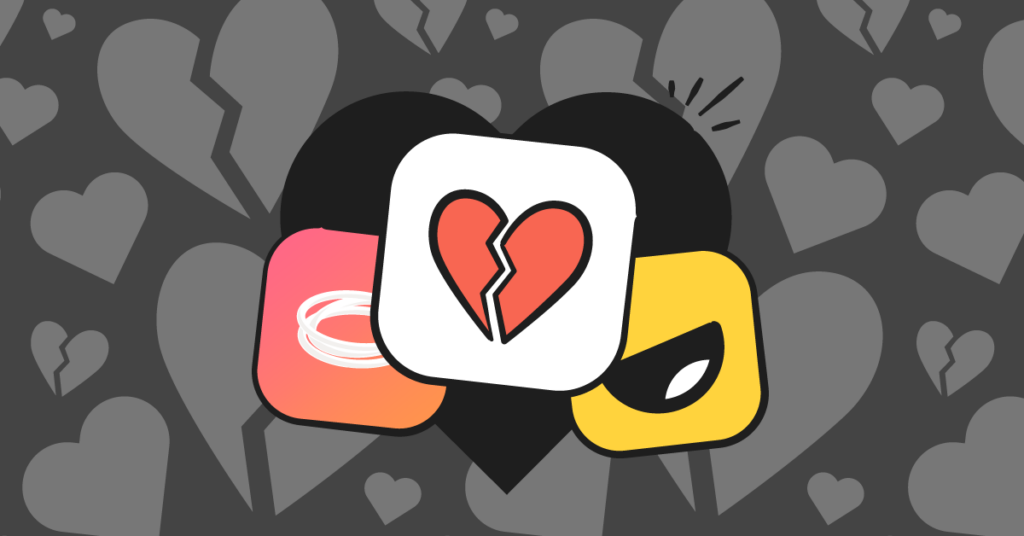 These days, there's an app for nearly everything, and not even kids are safe from the digitalization of what once were only in-person activities. Gone are the days of shy phone calls to your crush's house and awkward trips to the mall. Instead, teen dating apps have popped up in their place, their popularity fueled in part by two years of social distancing and virtual learning. However, just because these dating apps for kids exist doesn't necessarily mean they're safe. In fact (spoiler alert), they're by and large not.
Dating apps, by their very nature, aim to connect strangers in the hopes of establishing a romantic relationship. But when kids are involved, the stakes are a lot higher than with grown-ups. In this post, we'll explain some of the common apps kids use to meet each other, that can also be known as teen dating apps,  as well as the dangers parents need to know about.
Teen Dating Apps to Know
A quick search in the App Store for "teen dating apps" reveals a ton of results — some reputable, some not. New apps pop up seemingly overnight, so it's important to remember that what's popular can change pretty quickly. These two apps, however, have been around for a bit — but they're far from safe.
Hoop
Essentially "Tinder meets Snapchat," Hoop is where children as young as 12 can form connections with total strangers. While adults can also use the app, Hoop claims that users over 18 won't be shown kids' profiles (and vice versa). Users swipe through profiles — which include a person's age, gender, and photos — to pick who they want to begin a conversation with. They can then request that person's Snapchat handle with the tap of a button to continue the conversation there.
Even though the app claims to keep adult and child profiles separate, there's no age verification required when joining the platform. Kids could just input an older birthday when signing up, and adults could just say they're younger.
Yubo
Yubo is a live-streaming video app that connects young people with chatting, games, and more. Users can add friends and then join live video chat rooms with others from around the world (Yubo is based in France). Real-time video chatting can expose kids to dangers like sexual content and discussion of inappropriate topics. Like Hoop, it claims to be a platform for kids only, but there's nothing stopping adults from signing up as someone younger.
How Traditional Social Media Apps Can Be Used Like Dating Apps
Because social media is such an important part of a teen's social life, apps like Snapchat, Instagram, and TikTok can become de facto dating apps for kids. An Instagram profile, for instance, will have a person's name, a brief bio, and photos of them and things they enjoy doing. Instead of "swiping," the way you show interest is to be bold and "slide into their DMs." To translate, that just means to make the first move and send a private message.
From there, if two teens like each other, they'll continue chatting, eventually moving on to text messages. On Snapchat, they'll send selfies back and forth or try to keep their Snap Streak going, which is an unbroken chain of messages sent every day.
When Teens Use Adult Dating Apps
Technically, it's against the terms of service of popular online dating apps like Tinder and Bumble for users to be under 18 years old. Despite this, kids may still sign up for them and fudge their birthday so they appear to be of legal age.
As you can probably guess, this can be very dangerous because many users are there only to meet other people and have sex. There's also a wide range of ages of people who use these platforms. Kids may want to look around and end up matching with someone twice their age.
The Dangers of Online Dating Apps for Kids
Inappropriate content
Dating in the digital age can present dangers our generation didn't have to face when we started going out. It's often said that "sexting is the new first base" and that's definitely true. The pressure to send nudes and sext can be intense — regardless of whether a teen chooses to do it or not.
On top of the emotional effects sexting may have on a kid, there's another danger of sharing nude pictures of minors. It can be against the law in your state, even if both parties are the same age and consent.
Catfishing
Online dating means that relationships may start online, which opens the door to catfishing. Catfishing is when someone creates a fake identity and then interacts with someone to "lure" them into a relationship. People may do this for a variety of reasons, but common reasons kids may catfish peers include making a mean joke, getting revenge, and cyberbullying someone. Kids tend to be trusting when it comes to people they meet online, which is why they can be especially vulnerable.
Predators
Predators may want to initiate the grooming process online because they can target kids and ease them into an abusive relationship. Adults may pretend to be another child and then reveal their real age, or they may be upfront about their age from the beginning. Even on specifically teen dating apps, there's always the chance that someone is pretending to be someone they're not.
How Bark Can Help
If you're worried about your child, Bark can help you keep them safe online and in real life. First, we can monitor their texts, emails, and social media platforms for sexual content. Things like explicit messages and nude photos may end up on their phone after spending time on teen dating apps.
Next, you have the ability to block any potentially dangerous teen dating apps your child downloads so they can't access them. You can also see at a glance what apps your child has downloaded.
Finally, Bark can alert you if your child signs up for a new account with their personal email address. We recommend googling any new apps your child asks to download so you can figure out if they're safe or not. If you need help, Bark has a handy app review page with some of the most popular — and potentially dangerous! — apps out there.