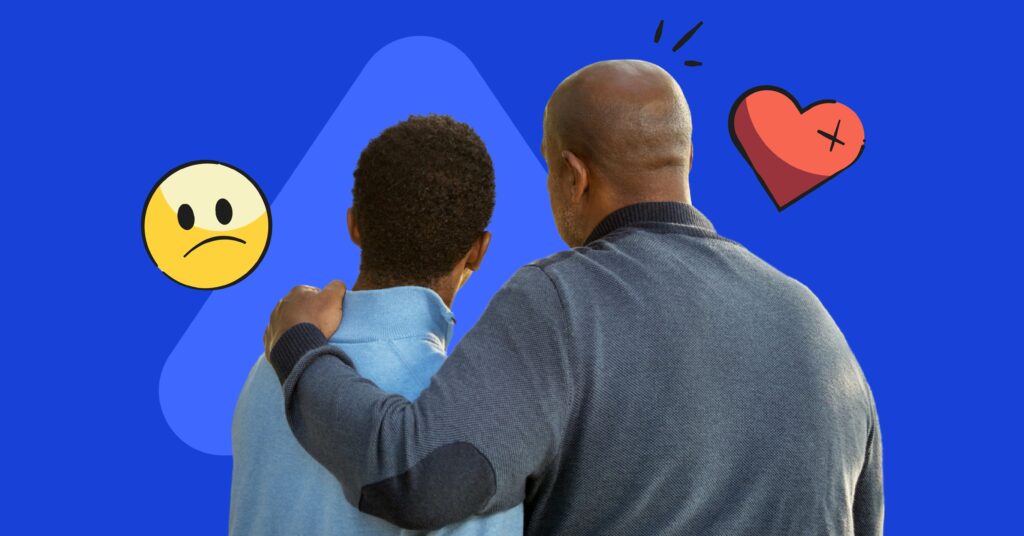 News of the tragic shooting at Robb Elementary School in Uvalde, Texas, has left parents across the U.S. heartbroken and struggling to make sense of everything. But perhaps even more difficult is trying to explain — or even comfort — kids during this scary and uncertain time.
We reached out to Tessa Stuckey, licensed professional counselor, for ways to support children in the wake of senseless violence. School is an essential part of a child's life, and whether or not a young person will ever experience a shooting first-hand doesn't matter — these tragedies affect all kids on a very deep level. It's important for families to talk to, listen to, and make sure their kids are processing what's going on in the world around them. 
To start, how should you frame these conversations?
First and foremost, every family has different needs or circumstances to take into consideration, as well as each individual child. Depending on your child's age and situation, you're going to have a different discussion when talking about what happened. It's important as well for parents to think of their goals for starting a conversation. Is it to provide comfort in anxious kiddos? Is it to make sure they understand what happened rather than hearing rumors? Is it to open up the opportunity for questions? There's no one right answer, and all of these are great reasons to have this talk.
What are some ways to discuss the tragic events that happen in schools in a way kids can understand?
Admit that you are upset by recent events yourself and that you don't always know how to talk about these tough topics. Stress that you always want your child to feel safe and comfortable to discuss these kinds of things. Start off by asking your child what they've heard already and let them help guide the conversation, letting yourself chime in to correct any misconceptions or rumors. Or, you can start off by describing an age-appropriate version of "Something really horrible happened at an elementary school in Texas on Tuesday. A man had a gun and put many kids in danger. Some kids even died. This man did a horrible thing that many families will have to mourn forever. I don't want you to be scared or unsafe so I want you to ask me any question you might have about what happened." Focus on your goals for the discussion and make sure those are the focus points.
How can you comfort and support your child when they're scared of being hurt at school?
You want to always reassure that your child is safe at home as well as at the school that they go to. Their school takes safety measures seriously and are doing everything they can to prevent something so tragic. Find some proof on the school's website or handbook and share that with your child. For example, you could say, "Do you know those doors that are locked whenever I come to pick you up and I have to be buzzed in? That's there to prevent this from happening at your school." Talk about the caring hearts of the teachers, principals, counselors, and other staff. Because of this tragedy, schools across the nation are undoubtedly going to increase their security and safety. Maybe they'll even spend extra time this summer getting ready for a super-safe school year in the fall.
How can you build resiliency with your family in these stressful and scary times?
As horrible and tragic these events are, they happen and they are part of our children's stories. Just like we remember 9/11, the shooting at Columbine High, or even the death of Princess Diana, horrible things occur and they become part of our story. But we just want to be sure we are experiencing them secondarily rather than directly, if we're not closely connected to the events. 
Keeping an open dialogue and availability for questions is also important. Helping your kids find strength when they're feeling anxious (learning how to cope properly by using thought redirection or relaxing actions, for example) will help them process what has happened as well as build emotional strength to get through tough times ahead. If they don't take the time — even the short amount kids typically need — to process correctly, they will not build the resilience needed for stressful times. Try to avoid video games, YouTube, or social media as those create distractions and don't facilitate true processing. (We know, that's easier said than done).  Instead, try and spend some quality time as a family. Oftentimes, just spending time together with loved ones can bring comfort and healing in uncertainty.
And lastly, turn off the news. Our generation didn't grow up with a 24/7/365 news cycle and our kids certainly don't need to hear about it all the time. This will help them accept what has happened, process it, and move forward with the right emotional strength their little minds and hearts can handle.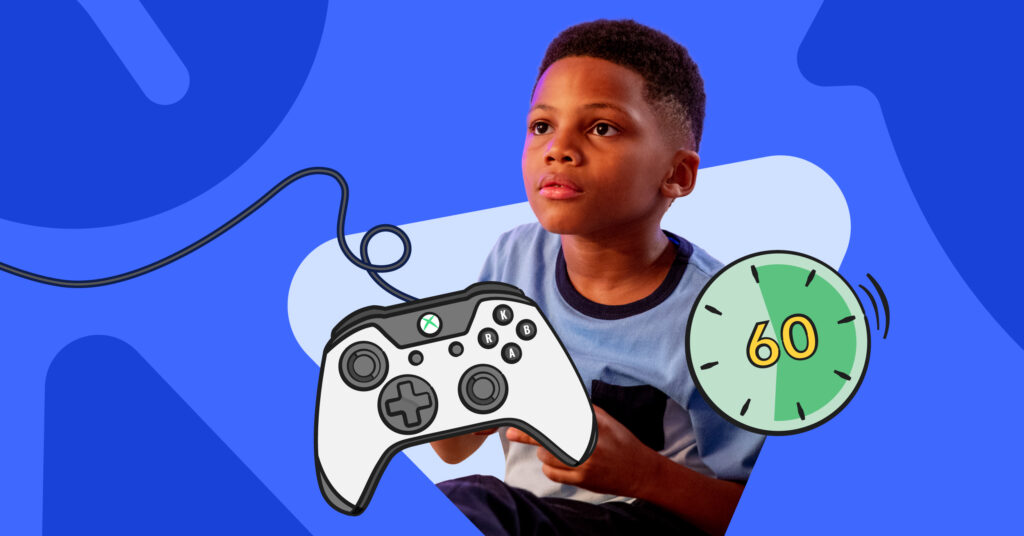 Is your kid just a casual Call of Duty player? Or do they dream of becoming the next famous Twitch streamer? No matter where they fall on the video game playing spectrum, Xbox screen time limits are important. In this blog post, we've researched some of the current best practices when it comes to Xbox screen limits. We've also got the quickest way to set them using a free Microsoft family account. Let's dive in!
What Are Age-Appropropriate Xbox Time Limits?
It's no surprise that younger kids definitely should spend less time playing Xbox than teengers. But just how much is the right amount? The American Academy of Pediatrics gives very general guidelines, but every family — and child — is different. Here are some things to take into consideration when deciding Xbox screen time limits for your kid.
6 through 12
Families should aim to limit screen time to no more than 2 hours a day, and preferably less. For younger kids, the goal should be to try and encourage screen time that makes them think and not just mindlessly click buttons. Parents should also preview content and games to make sure they're age appropriate.
13 to 17
For older kids, time limits can be a little more flexible but should follow family-based schedules. Create defined, no-gaming times during the week, like during meal times or on one specific evening. Try and keep gaming out of a child's room to help encourage better sleep hygiene. Older kids may try and push back against screen time limits because of the social aspect of some multiplayer games, but hold fast. Encourage real-life interactions, as well.
How to Set Xbox Screen Time Limits
You can control how long your kids spend on their Xbox by setting screen time limits on their Xbox console. To do this, you manage things from your Microsoft family account (Microsoft owns Xbox). Don't have a Microsoft family account? It's free and you can create one here.
Log in to your Microsoft family account
From your family group page, select Screen time for the child you'd like to set limits for.
Toggle Use the same schedule for all devices to On.
Next, you'll see the days of the week listed. You can either:

Choose how much time your child can spend on their devices each day, and when they can use them.
Give a set amount of time by selecting Max scheduled. (For instance, if you've allowed screen time from noon to midnight, they can use their devices that entire time.)

You're all set!
Note: Once screen time limits are in place, the time counts down whenever a child account is signed in. If they're not actively playing, have them sign out so they don't get less time than actually alloted.
How to Set Specific Game Time Limits on Xbox
If your child is spending too much time on certain games, you can set precise limits to help them achieve a healthy balance. App and game limits are available on Windows 10 and Xbox One devices, along with Android devices with Microsoft Launcher installed. Once you set a limit, that limit will work across all of their devices. (For example, if you give them three hours on YouTube, they can spend a total of three hours on Windows 10, Xbox One, and Android.)
To set app and game limits, go to family.microsoft.com and sign in with your Microsoft account
Find your child's name and select App and game limits. (App and game limits aren't available on adult accounts at this time.
Select the app or game you want to set limits on. If you've never set limits, it'll show how often they use the app or game on average.
Set how much time your child is allowed to spend on the app or game each day, and when they're allowed to use it.
Why It's Important to Monitor Screen Time on All Devices
While they can be hard to implement sometimes, routine and structure are critical to a child's well-being. Digital limits — whether for phones, Xbox screen time, and more — are no different than other rules, like having a daily homework hour or feeding the dog. Consider sitting down and making a tech contract with your kid. By making the process collaborative, you can talk it out and give your child a say in some of the rules.
Bark can also help you manage screen time easily and efficiently, helping you set different rules for different times of day. This can look like "no YouTube during the school" or "only Fortnite on the weekends." Every family is different, but Bark can help you set healthy boundaries with all of the devices your child uses.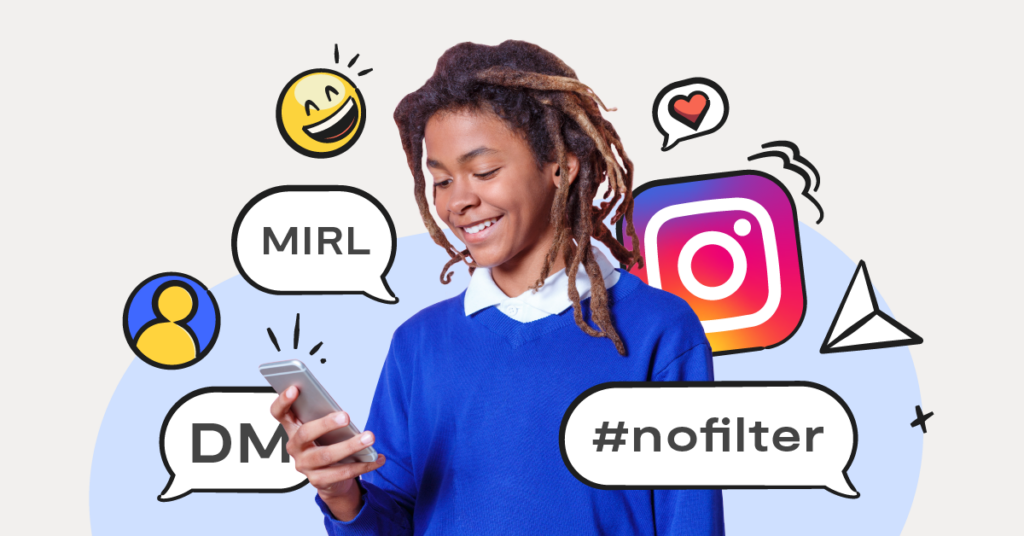 **Note: This list was updated on January 31, 2023.**
Social media platforms are hard enough to get the hang of with all of their new features, different functions, and the near-constant barrage of ads. Throw in ever-changing slang and you've got a fairly tough job of making sense of what kids are actually talking about. The worst part? While some parts of meme and slang culture are shared across social media, many terms are actually specific to a single app! This means that what kids are saying on Instagram can be entirely different from what they're saying on Snapchat.
You're probably wondering, "What on earth are they actually saying? Is it good? Bad? Funny? Concerning?" We're here to help you decipher the strange, confusing world of Instagram slang. To help families out, we've compiled a list of the most common Instagram slang terms. Though it's not exhaustive, this list will help you understand the context of casual conversations. We've separated sections of the list by topic or type of Instagram slang for easy reference in the future!
Instagram Terminology & Slang Words: Acronyms to Know
AMA — "Ask me anything" is used when someone plans to honestly and directly answer questions about something personal. AMA is typically used to start a longer conversation or comment thread.
IMO — "In my opinion" is Instagram slang that helps users explain that they are simply offering their own point of view. It's somewhat similar to how "no offense" or "honestly" would be used during an in-person conversation.
TMW — "That moment when" describes a reaction shown in the specific image, GIF, or video that was shared. Most users say "TMW" to indicate a look of surprise, delight, disappointment, or another strong emotion.
MFW — "My face when" is nearly identical to "TMW" in that it's a way to comically point out the facial expressions of someone shown in a shared piece of media.
H/T — "Hat tip" is a way of acknowledging someone else for a link, image, meme, or other piece of shared content.
SMH — "Shake my head" expresses disapproval of someone or something.
MIRL — "Me in real life" typically refers to how the poster or commentator can deeply relate to the content of the post.
Instagram Slang & Terminology Trends
WCW — "Woman crush Wednesday" is a classic hashtag trend used when someone posts content highlighting a woman they particularly admire or aspire to be like due to professional status, fitness, etc.
L4L — "Like for like" lets users show that they will give a like for every social media like they receive. This can be a way to quickly boost someone's profile and activity.
MCM — "Man crush Monday" is exactly the same as WCW, but for men.
TBT — "Throwback Thursday" highlights content that's personally significant from the past, or that refers to a particularly memorable moment in history (including memes, cultural trends, etc.).
FBF — "Flashback Friday" is the same as TBT, except that content is posted on Friday.
F4F — "Follow for follow" is identical to L4L, but refers to following a user's social media account instead of liking content.
Instagram Slang for Platform Use
DM — Short for "direct message," this acronym is often used in the phrase "slide into their DMs." This means that they tried to nonchalantly privately message someone that they are attracted to, or that someone did the same thing to them.
IGer — "IGer" is just another word used to describe someone who uses Instagram.
#nofilter — People use #nofilter when an image is posted without any editing or filters. It often appears with images or videos that speak to self-worth or self-image, or in moments of personal vulnerability.
Kik me — "Kik me" is a way of saying that you want to connect with someone on Kik, which is another — and way more dangerous — social media platform.
What You Can Do
You might see these Instagram terminology and slang words used in posts, captions, DMs, hashtags, and comments. If it feels daunting to track and decode your child's online activities yourself, consider using a tool like Bark for smart insight into your child's online activity. In addition to content monitoring, Bark also gives parents a deeper understanding of their child's moods and overall well-being by tracking sentiment across devices and accounts — from email and texts to apps and social media. Interested? You can try it today for free.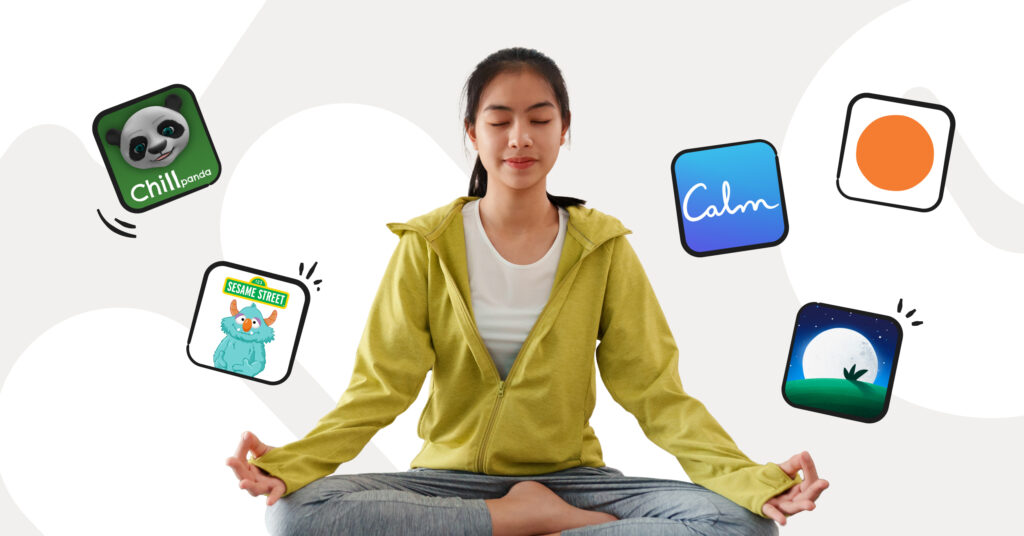 Back in the '90s, the closest we got to meditation apps was the commercial for the ethereal and panflute-heavy music of the Pure Moods CD. Today, an entire industry has been built up around helping kids, teens, and adults relax with easy-to-use smartphone mental health apps. There are a ton of options to choose from, though! That's why we've downloaded, meditated, and breathed in and out to find the best options for families.
Why Encouraging Mindfulness and Breathing Is So Important
Growing up has never been exactly easy, but it's even more of a challenge in the digital age. The mounting pressures of social media, ever-changing technology, and even big world events on the news all add up to a lot for kids to handle. That's why it's important to check in with your family often about how they're feeling. Younger children may not even have the words to describe emotions like being anxious, overwhelmed, or stressed out. Mindfulness and breathing activities can help ground your child in the moment so they don't get carried away by negative feelings. 
The Top Mental Health Apps for Kids
Calm
You've probably heard of Calm, and with good reason. It's one of the most popular meditation apps out there, and recently hit the 100-million download mark back in the fall of 2021. There's tons of relaxing content available, from calming sleep stories for kids to body scan meditations perfect for stressed-out teens. There's also relaxing music, stretches, and more. Free options are limited with the app, but Calm premium is around $40 for an entire year.
Headspace
Headspace is known for its colorful graphics and eye-catching illustrations in its videos and throughout the app. These definitely help users to visualize more clearly during breathing exercises and mindfulness meditations. Sessions range from just one single minute of deep breathing all the way to hour-long rain baths that help you drift off in the evenings. Headspace is $69.99 annually or $12.99 monthly, and includes a free 7-day trial.
Breathe, Think, Do With Sesame
Perfect for younger kids (4–8), Breathe, Think, Do with Sesame helps teach kids about uncomfortable feelings and ways to self-soothe. Presented in a game format, kids work to help calm down a frustrated Sesame Street monster. Slow taps on his belly encourage him to breathe deeply, while quick taps on thought bubbles help him to come up with a plan. Kids absorb these lessons about the importance of working thoughtfully and slowly through stressful situations. The best part? It's absolutely free!
Chill Panda
If your kid loves animals, they'll enjoy learning about mindfulness from wise and chill panda bears in this relaxing game. This cozy gaming experience is full of nature sounds, gorgeous garden scenery, and a minimalist design that's reminiscent of Nintendo's Animal Crossing. There's also a Quick Chill option where Chill Panda helps you practice simple box breathing in timed movements. Chill Panda is another option that's available at no cost for families.
Better Sleep
Better Sleep has meditation activities, sleep stories, and music options to choose from, but one of the coolest features is its composer tool. You can choose from tons of sounds, from ambient night music and rainfall to morning birdsong and the sound of a dishwasher running. You can even put them together to create the perfect background noise for falling asleep, doing homework, meditating, or going for a walk. There's a free option with a fair amount of content, but the annual price for full use is $39.99/year after a one-week trial.
Go Noodle
Sometimes, the best way for younger kids to feel a little better mentally is to get their bodies moving with physical activity. Go Noodle has tons of entertaining and energetic videos that will get kids dancing, jumping, and moving around the living room. Once they've boogied out some of that energy, they'll have an easier time concentrating when they get to school, church, or even a long car ride. It's 100% free, too!
How Bark Can Help Families Stay on Top of Mental Health
If you're concerned about your child's mental health, Bark can help give you peace of mind. Our award-winning content monitoring service scans your kid's online activities — texts, emails, chats, and social media posts — for anxiety, depression, suicidal ideation, and more. Even though mental health apps like Calm or Headspace are good for addressing the symptoms of anxiety, they don't provide insight into your child's world or mood. Bark sends you alerts so you can check in and make sure everything is okay with your kid and if needed, provide them with support from a mental health professional.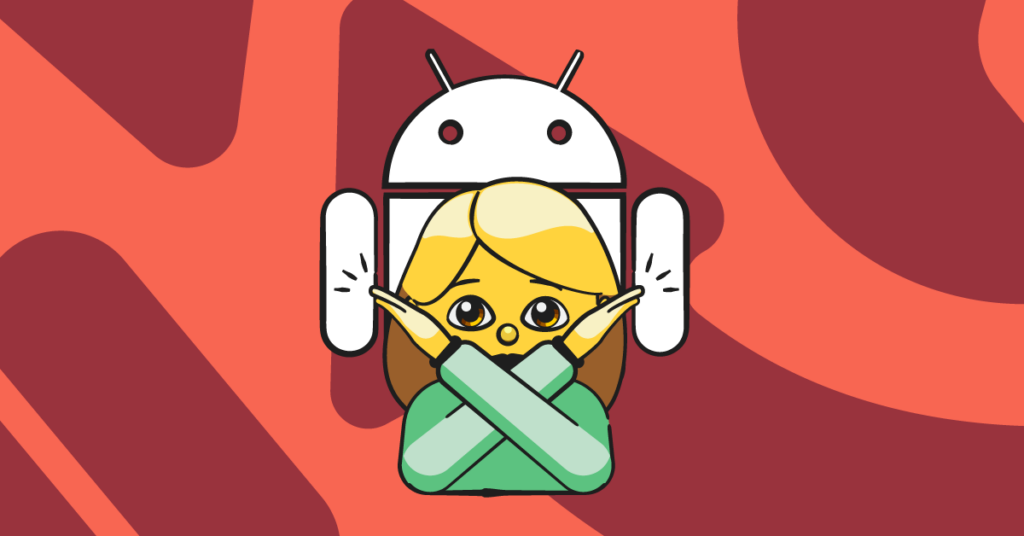 Want to help keep your child safe while they're using their Android? Whether you're worried about porn, gaming sites, or streaming services like Netflix and Hulu, keeping your kids away from inappropriate websites can be a challenge. In this blog post, we'll teach you how to block websites on Android devices two different ways. First, we'll explain how to do it with Google Family Link, a free app that has basic features. Then, we'll show you how to block a website on Android devices with Bark, our comprehensive tool perfect for digital families.
How to Block Websites on Android Devices with Google Family Link
Android devices like Pixels, Galaxies, and Palms come with a free set of parental controls —it's actually an app called Google Family Link. You can use Family Link on an iPhone or an Android, but your kid will need to have an Android device for the controls to work.
To kick things off, download the free Family Link app onto your own device (Android or iPhone). If your child already has a Google account, Family Link will walk you through linking both of your accounts. If not, you'll need to create a Google account for them.
Once you're good to go with accounts, you can get started.
Open the app on your phone. Tap your child's name.
Tap Manage Settings.
Select Google Chrome. Here, you'll see three options for how to block websites on Android devices.

First, you can approve all sites. This basically means no rules, so you may not want this option.
Second, you can select "Try to block explicit sites." This means that Google will automatically try to filter out sexually explicit and violent sites. You can also customize this option by manually adding in sites that are approved as well as sites that are blocked.
The last option is also the most locked down. Here, you'll have to manually add every website you would like your child to have access to. Everything else will be blocked! You'll also be able to approve website requests from your kid.

Once you're done with that, head back to the settings page and tap Google Search. Make sure SafeSearch is toggled on — this will hide explicit results in Google Searches.
How to Block a Website on Android Devices with Bark
Bark is your best option if you'd like to be able to block a website on Android, along with tons of categories of content — like adult websites, gaming, social media, and much more. That means you don't have to know all of the potentially worrisome sites by name!
To get started, download the Bark parent app, and follow the on-screen instructions to connect your child's device.
From your dashboard, tap Screen time.
Tap Rules, then Default rules.
On this page, you can choose from 19 different categories of content to block.
Apply rules for any other rule sets you've got set up, like bedtime and school time.
You can even get granular — whatever works for your family!  For example, you can block social media as an entire category or just the ones that you're most worried about. Be sure to also require safe search when your child is using Google, Bing, and DuckDuckGo.This feature then blocks all other search engines that don't have a safe search feature so your kid can't get around it.
Need More Help with Android Parental Controls?
In addition to blocking websites and apps, Bark also lets you create custom screen time schedules. Sometimes, you don't want to block something outright, but just want to let your kid use it at certain times. This can look like "No Fortnite during the school day" and "Only meditation apps after bedtime." Bark lets you create custom screen time schedules to help keep your kid on track during the day. 
We also help keep kids safe with our content monitoring tool. Our award-winning service monitors texts, emails, and social media platforms for signs of potential dangers like bullying, online predators, suicidal ideation, and more. If something concerning is found, you'll get an alert so you can check in and make sure everything's okay. Now that you've learned how to block a website on Android devices, the sky's the limit for other parental controls!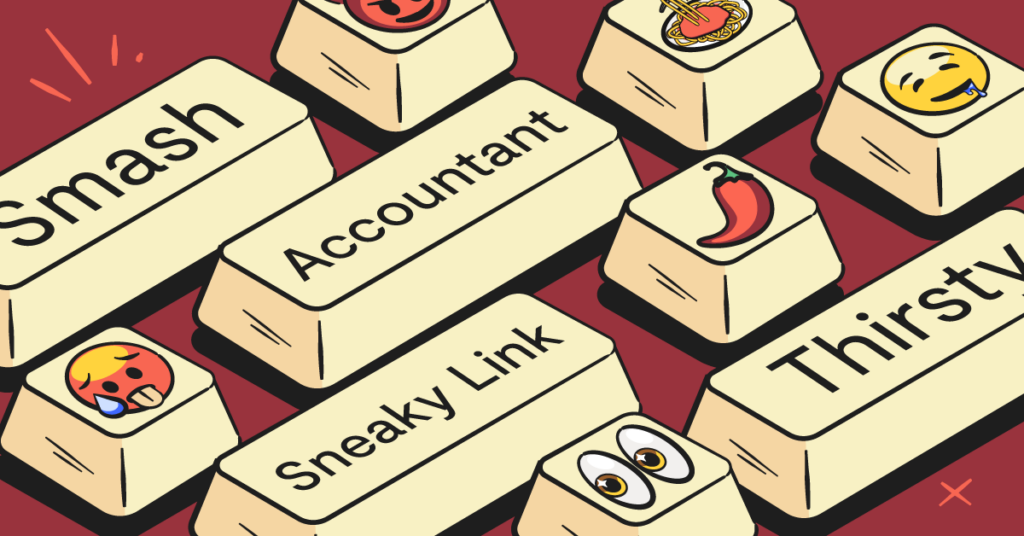 **Note: This list was updated on January 31, 2023.**
We've talked about drug slang, gaming slang, slang in general — now it's time to take a deep dive into sexual slang. When it comes to sexting codes and meanings, the phrases and emojis kids use are constantly evolving. To help parents out, our team of experts has scoured TikTok, Instagram, and more to compile examples of how kids are actually talking about sex today. For all the families frantically googling "sexting text meaning" after seeing a random emoji on your child's phone — this post is for you.
Sexual Slang Terms Parents Need to Know
Smash — Means to have casual sex
Thirsty — Desperate for sexual attention; horny
Sneaky link — Term for someone you're hooking up with on the sly
Clapping cheeks — Having sex
🍝 — Represents nudes, which are often called "noods"
👀 — Used when sending or receiving nudes
🥵 — Means "hot" in a sexual sense; a teen might comment this on a crush's TikTok, for example
🤤 — Desiring someone sexually (often used in response to nudes)
👉👈 — Shy, nervous (usually in the context of flirting)
😈 — Feeling naughty or frisky
🍑 — Butt
🍆 — Penis
🌮 — Vagina
😼 — Vagina
🚛 — "Dump truck," which refers to a large and/or shapely bottom
💦 — To ejaculate
🥜 — To ejaculate
🧠 — Oral sex
⭕ 💢 — Oral sex
Sexting Codes and Meanings Used to Get Around Social Media Rules
Lately, slang has been evolving extra quickly because of the different rules social media platforms have for certain words. For example, on TikTok, posts that feature the word "sex" may get taken down. To prevent this from happening, users may use an alternate spelling like "seggs" to get past it. Eventually, once you start seeing this term enough, it becomes interchangeable with "sex." Sexting text meanings can vary, but here's a list of current popular ones.
🌽 — Means "porn" and is used because porn rhymes with corn. It may also be simply spelled out as "corn." See also: corn star, corn industry.
⬛️ 🟧 — Refers to Pornhub
P ⭐️ — Represents "porn star"
S 🥚 s — "Sex"
Seggs — Alternate spelling of "sex"
Leg booty — Refers to LGTBQ
Nip nops — Nipples
Spicy eggplant — Vibrator
Accountant — Code word for being a sex worker or OnlyFans creator. Originates from the fact that people don't ask follow-up questions when you say you have a steady, boring job like an accountant.
How to Talk With Your Kid About Sexual Slang
Now that you have an understanding of the most common sexual slang terms that kids use today, you might want to have a conversation with your child about what they're likely encountering online. It can feel pretty awkward to bring up, but letting your kid know you're there to support them and answer any questions they may have can go a long way in strengthening your relationship.
Keep having age-appropriate conversations about sexual content as your child grows. This can include explaining what consent means, discussing how to spot online predators, and more. Above all, never shame your kid for asking questions — as their parent or guardian, you're an invaluable resource for them as they grow and learn.
If you'd like some support navigating the sexual content your kid may experience online, Bark can block explicit websites and apps, help you manage your child's screen time, and even send you an alert if they run into porn, predators, or sexual slang terms.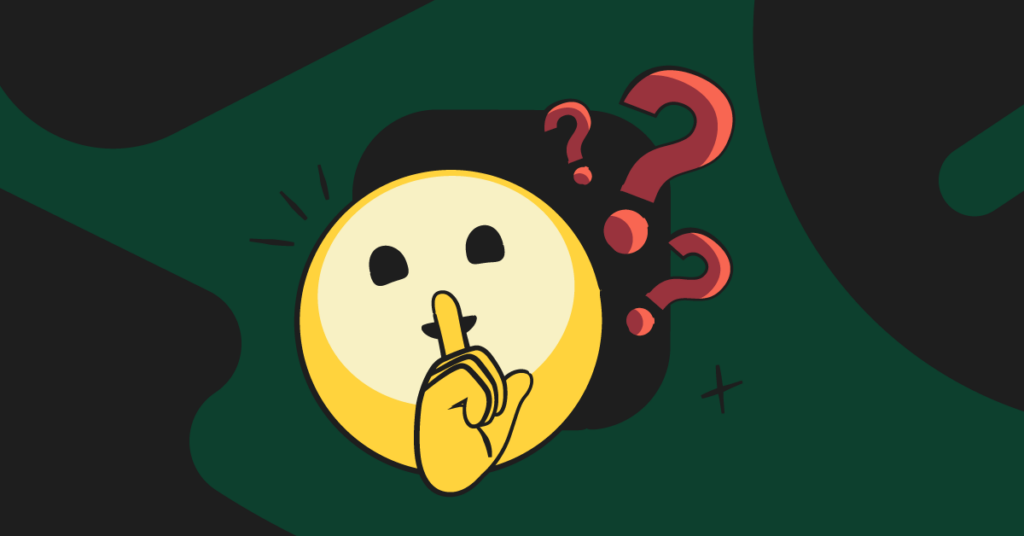 No matter how tech-savvy you consider yourself to be, teens and tweens will probably always stay a few steps ahead. Fortunately, the team here at Bark is in your corner, and it's our job to keep up with all of the new and different ways kids use technology. In this post, we've compiled a list of the top online things parents need to know that your kids probably already do. This includes everything from using hidden apps and secret browsers to blocking you from seeing Instagram stories.
Things Parents Need to Learn That Kids Already Know
When it comes to checking your kid's web browsing history, you probably go for the usual suspects like Chrome, Safari, and Firefox. But did you know that many apps open up websites in their own browsers?
This means that your kid may be able to visit websites that wouldn't leave a trail in their main browser. Apps like GroupMe, Kik, Telegram, and even Instagram all have these backdoors to the web. These browsers can be hard to manage and monitor, but it's important to know that they exist.
There's a Tinder for teens, and it's called Hoop
Described as "Tinder meets Snapchat," Hoop is a friendship and dating app for young people. The app allows kids as young as 12 to form connections with total strangers locally and all across the world.
Here's how it works: After you download the app, you link it to your Snapchat account. Then, you begin swiping on profiles (like you would on Tinder to find a date). You're required to use in-app "diamonds" to request chats — and you're only allowed to send 10 requests before needing to obtain more, which you have to pay for.
Hiding apps is easier than you think
If you're ever doing a spot check on your kid's phone and don't see any potentially suspicious apps, you may not be seeing the whole picture. It's possible for apps to be downloaded and installed on your child's phone but not be displayed on their home screen. This way, a quick scan wouldn't reveal them.
If you're concerned your kid may have an app that's not allowed in your family, check out their app library. You can also go to the App or Play Store and search for a specific app. You'll be able to tell if an app has been downloaded before if you see the option to download it instead of purchasing it. Some kids delete apps while at home, and then redownload and use them while at school or at a friend's house.
You might not be seeing all of your child's Instagram stories
Even if you and your child follow each other on Instagram, and even if you're Close Friends, you still may not be seeing the whole story of what's going online (pun intended). No matter how closely connected, Instagram users can hide their stories from anyone as long as they like. A kid may choose to hide them for just a few hours while at a party or continue to block them indefinitely.
Unfortunately, there's no way to tell if your child blocked you from seeing stories short of looking at your child's account. But if you don't want to go that far, just keep an eye on their usual posting rhythm and notice if it changes throughout the week or during certain times or events.
Calculator apps can be for more than just math homework
If your child has more than one calculator app, there's a good chance it could be a vault app. These are apps that look harmless but actually serve as secret folders for pictures, files, and even other apps.
Because hidden apps tend to be used to hide inappropriate content, it's important to talk with your kid about them. Even if your child wants one just for security (like for a banking app or a journal), it still may not be a good idea.
Location sharing may be an option in your kid's favorite apps
Snapchat has long been known as the app that made disappearing messages famous, but there's also another popular feature parents may not know about — the Snap Map. Usually, kids just use their Snap Map to share their location with their friends.
But you can also post it to a feature called "Our Story," which enables users to contribute to a public feed that shows in near real-time events happening across the world.
WhatsApp, the popular messaging app that's similar to texting, lets users broadcast their location. When chatting with a contact, you can send your exact whereabouts. An in-app map opens up with your precise location accurate down to a few meters. With just a few taps of a button, the other person can even get instant directions to your location.
If there's a way to chat on an app, kids will find it
You're probably familiar with the direct message (DM) feature on apps like Snapchat and Instagram. And even popular games like Roblox and Clash of Clans have in-app chats for players to swap messages and insults.
But even seemingly harmless platforms like Fitbit and religious apps may have message boards. Because of this, these are places where adults can target kids for grooming. This is why it's important to evaluate the apps your child downloads, so you can know every potential danger.
Now that you know some of the tricks that young people use while online and on social media, you probably want to know what you can do to help keep them safe. Bark is here to help with content monitoring, screen time management, app and website blocking, and location sharing tools. You can even get an automatic alert whenever your child downloads a new app! Say goodbye to being in the dark about hidden social media apps.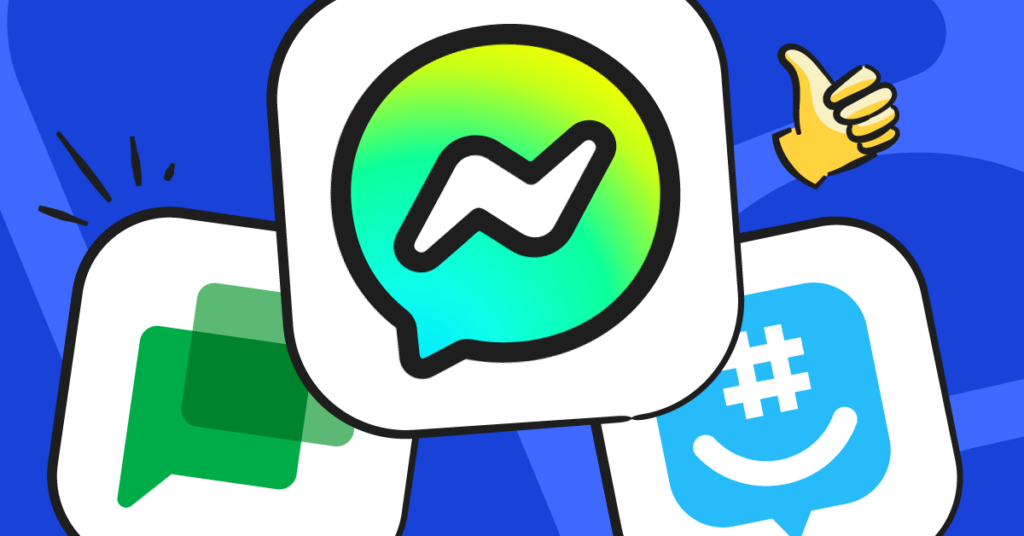 It is a truth universally acknowledged that today's families will eventually be in need of safe messaging apps for kids. Whether your child is just starting out with their first phone or is already a texting pro, safety is still paramount. There are so many different apps and social media platforms to choose from, which is why we've got your back when it comes to choosing safe messaging apps.
For teens in particular, the popular way to chat seems to change with the season. Snapchat has been the go-to app for texting and group chats for a while, and it's certainly not very safe. So, what's a parent to do? Here's a breakdown of the best — and worst — messaging apps for kids. The criteria for the best apps include ease of use, cost, and the ability of Bark to monitor them for dangers.
The Best Messaging Apps for Kids
Messenger Kids
The best messaging apps for children are the kinds where you have control, which is why Messenger Kids tops our list. The hallmark of Messenger Kids is visibility on all sides so that there are no surprises. Parents can also download their child's conversations at any time. And because the app is tied to your personal Facebook profile, you can easily add friends and family members for your child to chat with.
Google Chat
This is one of those messaging apps that are slightly underrated. As your kid dips their toes into the internet, one of the first things they'll usually get is an email account. Gmail tends to top the list of best free email providers, and it also comes with all of the accompanying Google Workplace features like Chat, Drive, and more. Google Chat (formerly called Hangouts) is an easy way to message back and forth, and there's a dedicated app for it. In addition, Google can archive Chats, so you can go back at any time and read the transcript of messages. Keep in mind that this feature can be turned off, however.
GroupMe
For group chatting, GroupMe is a great option. Users can sign up with their phone numbers or email addresses, and are then able to send private or group messages to other users. This is one of many messaging apps used by kids as well as college students to coordinate a group school project. One of the cool things about GroupMe is that it's a great equalizer. it works across platforms: All you need is a device (iPhone, Android, computer, or tablet) and Wi-Fi or cellular data to get connected. One thing to keep in mind: GroupMe does have its own internal browser that kids may be able to find.
WhatsApp
WhatsApp is a free instant messaging service that lets people with different mobile devices text, call, and video chat with each other. The app is frequently used to keep in touch with family and friends who live abroad. Users can create groups and share pictures, audio, and video messages as long as they're connected to the internet. There is the ability to send disappearing messages, but this feature can be turned off.
The Worst Messaging Apps for Kids
If there were a "Bark's Most Wanted List" when it comes to dangerous messaging apps, these platforms are definitely repeating offenders.
Telegram
Telegram is similar in functionality to WhatsApp, but goes a step further — it adds the group chat functionality of apps like Discord. You can also use Telegram to share and store large files like TV shows or documents. Perhaps the most dangerous feature, however, is that you can find nearby users and message them. It goes without saying that this is incredibly dangerous for kids, especially considering that messages can be sent in secret mode or can be programmed to "self-destruct." Telegram is definitely one of the dangerous messaging apps you should be keeping an eye out for.
Kik
On the surface, Kik may seem like yet another chat app similar to WhatsApp, GroupMe, or Facebook Messenger. But it relies a lot more on anonymity in its interactions. And unlike those other popular apps, Kik's main draw is the thousands of public chat rooms filled with strangers — many of whom are adults. And when it comes to parental controls, Kik basically provides almost zero support for parents trying to protect their children. This makes it one of the least safe messaging apps for kids.
Snapchat
This world-famous disappearing-message app is likely well known to parents, but there's more to it than just inappropriate photos. Drug dealers have begun using the app to contact kids to make sales, which is extremely dangerous. Even more troubling is Snapchat's expansion into location sharing. The GPS-powered Snap Map enables friends (and potentially even strangers) to know your child's exact location. Snapchat is one of the most infamous messaging apps on this danger list.
Discord
Discord is a popular gaming messaging platform that's very similar to Slack. It features chatrooms, direct messaging, voice chat, and video calls. It's a huge place for kids to hang out and talk about gaming. But it's also popular whether you're playing Call of Duty or just hanging out after school. Unfortunately, there are a ton of "adult" servers on Discord that contain graphic and sexual content — and even potential predators.
How Bark Can Help
Bark can monitor many of the platforms listed above (even some of the less safe messaging apps for kids) and send you alerts if there's something you need to know about. We also provide help with screen time. You can block websites and apps entirely to help protect your child, or set healthy boundaries around how often they can use them. Bark will even let you know if your child downloads a new app without your permission!