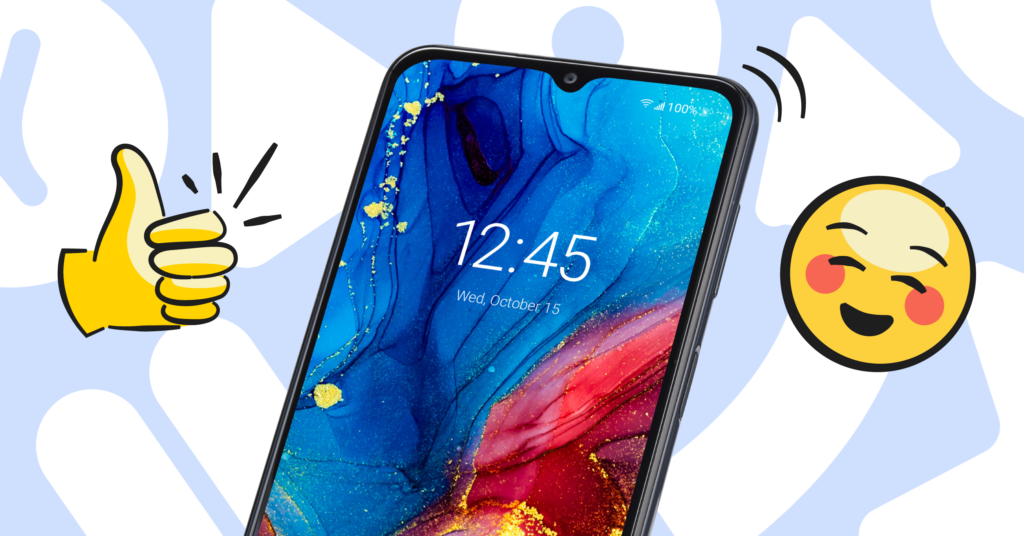 Congratulations on your child's new Bark Phone! It's a little different from other phones you may have set up in the past — and that's a good thing. The Bark Phone lets you manage nearly every aspect of your child's phone experience so you can help keep them safe online and in real life. This blog post provides the top 5 tips for setting up the Bark Phone, but we also have a quick-start help article that has step-by-step instructions for extra support.
Top 5 Tips for Setting Up Your New Bark Phone
Set your high-level controls for the Bark Phone
As a parent, you know your child best, which is why the Bark Phone gives you the ability to toggle on and off basic functions like texting, using the camera, changing the settings, and more. As a general rule, the younger your kid is, the more of these you'll probably want to disable. As they get older — or start demonstrating more maturity — you can easily add back in functionality.
Create screen time schedules to help keep your kid on task and well rested
You won't want your child checking out unboxing videos during school on their new phone, right? That's where screen time schedules come in. You can choose exactly what your kid can access and when. For school time rules, for example, you can block access to everything but educational sites. And at bedtime, for instance, you could allow only podcasts and meditation apps to help them wind down. It's up to you!
Get granular about what you want to block
Every family — and child! – is different, so being able to block websites and apps at any time is an important function. Bark allows you to block entire categories of sites (think sexual content, gaming sites, and more) as well as individual sites that you want to keep off limits. You can also block nearly everything and then manually add in just a few sites that you want them to be able to access. It's up to you!
Set daily time limits for apps
With the Bark phone, you can set total daily time limits for the apps you choose to allow your kid to access them. This could look like "one hour of YouTube a day" or "4 hours of social media." If no daily limits are set, your child can access them as long as they like — as long as the app or category isn't blocked.
Talk to your child about what to expect
Whether this is your kid's first phone ever or just a new-to-them phone, it's important to talk about it! This means sitting down and discussing rules of the road, screen time limits, and potential dangers. The Bark Phone experience will be pretty different for every family depending on what's blocked and what's allowed. When you decide what's going to work for your family, let your child know! For example, explain that texting is turned off if it is. Let your kid know that you've put screen time limits on YouTube. This way, they won't be surprised. You can also talk generally about Bark's monitoring and Bark alerts — don't worry, we have pointers for that discussion. And finally, make sure you make a tech contract with your kid to help them navigate life with a new smartphone.
Is Your Child Ready For A Phone?
One of the most frequently asked questions we get here at Bark is, "How do I know my child is ready for a phone?" So we made a quick and handy quiz to help you find out where your family stands!
How to Get a Bark Phone
Ready to get your very own Bark Phone? Plans start at just $49/month with no contract required, and they include unlimited talk and text as well as a free case. Order yours today!
Somehow, 2022 is coming to a close and it's already time to jump into a new year. But before we start the countdown, we wanted to take a moment to remember everything that made 2022 special. This particular year was a very exciting one for Bark (hello, Bark Phone!) so it only seems right to share some of our favorite moments from the past 12 months.
Let's jump in!
1 Phone released!
The Bark Phone was the crowning jewel of 2022— actually, of every year at Bark! Tons of hard work, long hours, and creative minds went into the development of this phone, and we couldn't be more proud. It's safe to say the Bark team is all smiles when it comes to this phone, and we know every family who orders one will be, too!
24: States that Bark employees are from
With remote work being the norm at Bark, we've found that one of the best parts is working with people from all over the country. As of today, our 138 employees represent 24 total states in the U.S. Sometimes our work meetings are full of "y'alls" and complaining about the southern heat. Other times, they're full of green bean casserole recipes from our friends in Michigan. It's always a thrill to see the Bark love spread across the states!
21,500,000+: People reached on Facebook in the last year
This incredible reach means parents are not only getting information about Bark's parental controls, but they are also reading our resources about kids' online safety and raising children in the digital age. We regularly post articles from child psychologists, news updates from social media companies, and even breakdowns of the latest TikTok trends!
152: Adorable photos shared in the #petsofbark slack channel
Sometimes the best way to take a break from work is to give your pet a quick snuggle. And at Bark, we like to share those quick moments of pet lovin' with each other! Clearly, with so many pictures shared, we love our pets a lot. And it's no contest — we definitely have the cutest pets ever!
5: Teachers who each received $1,000 for our Back-to-School giveaway
Bark recognizes that teachers are an important part of a child's growth and development, so we wanted to show our appreciation for all their hard work. Back in August, we asked members of the Bark community to nominate a teacher to win $1,000. Five lucky teachers from across the country got a big check to kick off the school year right. We give this 2022 moment an A+!
289,068: Customer questions answered by our support team
You asked, we answered — literally! Our customer support team, which is available 7 days a week, works tirelessly to ensure you're never left confused or frustrated with your Bark experience. When parents spend all day solving problems for their family, we're happy to be the problem solvers when it comes to your kid's online protection. Just reach out to help@bark.us and they'll take good care of you.
92: Slang terms defined for parents
If there's one thing parents made clear to Bark, it's that knowing teen slang is a hot commodity in today's day and age. Our slang posts consistently saw the most traffic, so we scoured the internet for every word, phrase, and emoji used by young people. The best part? Using them in front of your kid and seeing the reaction on their face.
1,228: Number of times Bark was in the news
In order to inform parents about the dangers of the internet and let them know how Bark can help protect their kids with our top-notch parental controls, we have to make sure the Bark word is spread far and wide. And what better way to do that than to get major news outlets talking about us?
60: "Blankets and Bear Hugs" made for the Child Rescue Coalition
One organization near and dear to Bark's heart is the Child Rescue Coalition (CRC). The CRC works to protect and save children from child predators, specifically by providing technology to law enforcement. During our annual company-wide retreat in Atlanta, Bark team members got to take part in their Blankets and Bear Hugs program. We packed 60 care packages that were then given to officers to keep in patrol cars so that kids involved in their calls can be comforted. Big thanks to the CRC for letting Bark lend a helping hand in their important work.
255,000+: Members of Parenting in a Tech World, our Facebook group
If you're in our Facebook group, this one goes out to you. PITW has become a constant flow of honest questions, personal advice, and much-needed encouragement for parents who feel a little lost in the digital age. And last year we had about 160k members, so that's almost 100,000 more parents since then! If you're not already in the group, you're missing out on one of our best resources for parents. Be sure to check it out.
And now on to 2023…
We hope you finish 2022 strong and start the next one off even stronger. Here at Bark, we've got lots of plans up our sleeves that we can't wait to show you – see you in 2023!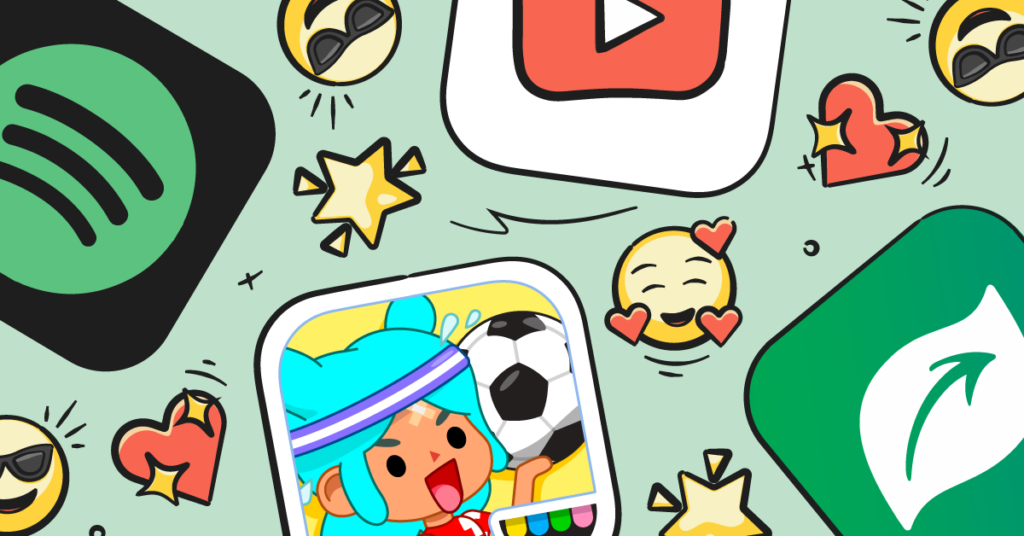 As a parent, finding the right balance between screen time and other activities can be a challenge. However, with the Bark Phone, you can feel confident that your child is using their device in a safer and more educational way. The Bark Phone comes with the ability to download a variety of apps that both kids and parents will love, including educational games, interactive stories, and creative tools. In this post, we'll highlight some of the best apps for kids available on the Bark Phone that are sure to keep your child entertained and engaged while also promoting their learning and development.
The Must Have Apps on Your Bark Phone
These apps were designed from a kid's perspective, and once you spend a few minutes with fun favorites like Toca Doctor, Toca Hair Salon, or Toca Kitchen, you will see why they are so popular.
This is a coding app that teaches kids how to program through fun puzzles and games. It's great for helping kids develop problem-solving and critical thinking skills.
This is a language learning app that helps kids learn a new language in a fun and interactive way. It's a great way to introduce kids to a new language and culture, and it's also a helpful tool for improving reading and vocabulary skills.
This is a visual programming app that allows kids to create their own interactive stories and games. It's a great way to introduce kids to computer science and helps them develop creativity and storytelling skills
This is a digital library app that gives kids access to thousands of books, educational videos, and learning activities. It's a great way for kids to explore a wide range of topics and discover new interests.
This is a quiz and trivia app that allows kids to create and play educational games with their friends and classmates. It's a great way for kids to learn new facts and test their knowledge in a fun and interactive way.
This is an educational app that offers animated movies, quizzes, and games on a variety of topics, including science, math, and social studies. It's a great way for kids to learn new concepts in a fun and interactive way.
This is an educational app that offers a wide range of interactive content, including videos, articles, and games on topics related to science, nature, and history. It's a great way for kids to explore their interests and learn about the world around them.
This is a popular sandbox-style game that allows kids to build and explore virtual worlds. It's a great way for kids to use their creativity and problem-solving skills, and it can also be played with friends online. There are a few things parents should know before allowing their child to download and play, so be sure to read our full review here.
This is an educational math game that helps kids learn and practice math skills through interactive challenges and games.
This is an educational app that offers a wide range of activities, games, and lessons on subjects including reading, math, science, and social studies for kids ages 2-8.
This is an educational app that helps kids learn to read through interactive games and activities.
This is an educational app that offers a variety of games and activities based on popular PBS Kids shows, including Arthur, Sesame Street, and Wild Kratts.
This is an educational app that offers a wide range of interactive activities and lessons on subjects including math, reading, science, and social studies.
This is an educational app that offers a variety of games and activities on subjects including math, science, and social studies.
This is an educational math app that helps kids learn and practice math skills through interactive games and activities.
Friendship is Magic: This is a kid-friendly app based on the popular TV show that offers games and activities centered around the theme of friendship.
Play School: This is a kid-friendly app based on the popular TV show that offers games and activities centered around play and learning.
If your kid loves animals, they'll enjoy learning about mindfulness from wise and chill panda bears in this relaxing game. This cozy gaming experience is full of nature sounds, gorgeous garden scenery, and a minimalist design that's reminiscent of Nintendo's Animal Crossing.
Seek is a nature identification app that's bound to get outdoorsy kids excited. You can take photos of plants, fungi, bugs, and even animals and the app will try to identify the name and species.
To Consider for Older Kids
The ultimate virtual universe that lets you create, share experiences with friends, and be anything you can imagine. Do keep in mind the potential dangers involved with this app, but we realize how popular it is with kids today and wanted to include it on our list. You can read our full review here.
This app allows kids to create and study flashcards and quizzes on a variety of subjects, including history, science, and language arts.
This app allows kids to solve math problems by writing them out by hand, similar to a traditional calculator. It's a great way to improve handwriting skills and understanding of math concepts.
You've probably heard of Calm, and with good reason. It's one of the most popular meditation apps out there, and recently hit the 100-million download mark back in the fall of 2021. There's tons of relaxing content available, from calming sleep stories for kids to body scan meditations perfect for stressed-out teens. There's also relaxing music, stretches, and more.

If you have more parent-approved apps or Bark Phone features you'd like to see added to this list, don't hesitate to let us know.
How to Get a Bark Phone
Love this list of apps but don't yet have a Bark Phone? Plans start at just $49/month with no contract required, and they include unlimited talk and text as well as a free case. Order yours today and let your kids access tech in a safer, smarter way.
Is Your Child Ready For A Phone?
One of the most frequently asked questions we get here at Bark is, "How do I know my child is ready for a phone?" So we made a quick and handy quiz to help you find out where your family stands!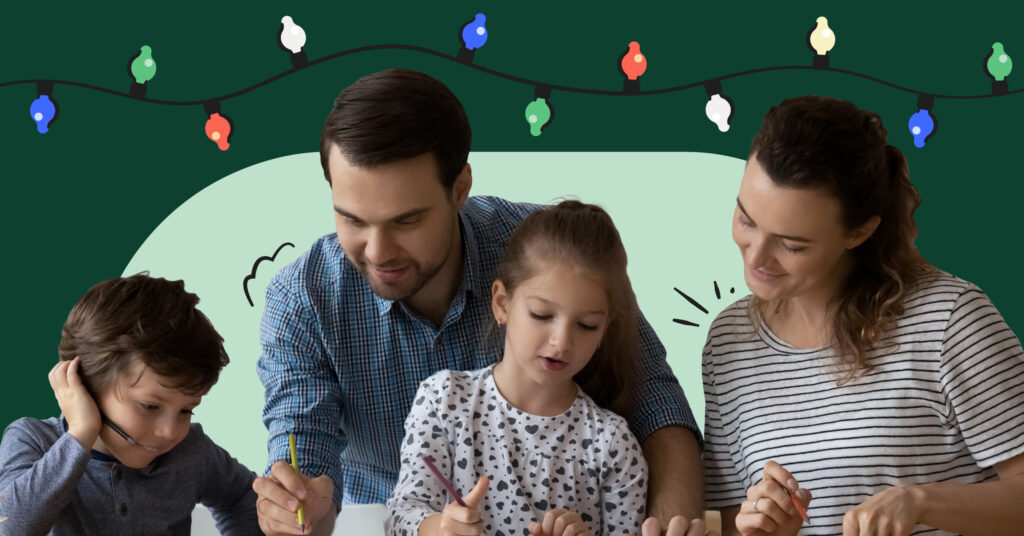 The Christmas season is here! The family is in town, school is out and the workload is light. As you gather around the tree and catch up, you might find a little extra time to be filled. If you're looking for a way to entertain the kids, bond with family, or break the ice, consider these 12 fun games to play for Christmas.
12 Games to Play for Christmas
Do You Want to Build a Snowman?
If you're eager to tire out the kiddos and want to have some fun "breaking the rules," Do You Want to Build a Snowman might be the perfect game for you. Break out the toilet paper for this game and divide the group into teams. Have each team designate a snowman and one person to wrap them in toilet paper. Add in some extras like pom-poms, a hat, or a scarf and then have everyone vote on who's crafted the most festive Frosty.
Candy Cane Hook 'Em
Candy Cane Hook Em' reimagines the classic pickup sticks game with candy canes and a new twist. Drop two dozen or so candy canes on the table, then set a timer for a minute. Using only the candy cane in their mouth, each participant must try to hook each candy cane on the table and move it to a bowl. The person with the most candy canes in their bowl at the end of a minute wins!
Family-Friendly Christmas Murder Mystery 
Give everyone in the family a chance to take on a new name and step into the spotlight this year with a family-friendly Christmas murder mystery. Suitable for kids 12 and up, this light-hearted game casts everyone in roles from Icy the Snowman to Mrs. Santa Claus to solve a holiday mystery. You can download a full package of materials from character descriptions to the evening's script and clues at MyMysteryParty.com.
White Elephant Christmas
The White Elephant Christmas takes the stress out of gifting, if only for one night. The famous gift-swapping game asks family members to each purchase a small gift under $15. All participants put their gift in the bag and then draw a number to see who picks from the stash first. During each round, players can choose to either open a new gift from the pile—or steal a coveted item from another player.
Christmas Pictionary
Whether you have a budding Picasso in your family or are artistically challenged, this fun contest gets the whole group laughing as they try to guess the Christmas-themed person, place or thing based on a teammate's sketch. You can print and cut out different Christmas hints for free here.
Reindeer Ring Toss
This inflatable, minute-to-win-it game is less than $20 on Amazon and comes with two inflatable reindeer antler hats, 11 inflatable rings, two reindeer noses, and a mini air pump. Simply pump up the items and do your best to toss your rings around your partner's antlers. The person with the most rings on the antlers at the end of one minute wins.
Christmas Movie Bingo
Make your favorite Christmas films interactive with Christmas Movie Bingo. From more adult-friendly Hallmark Holiday Movie Bingo to Kid's Christmas Movie Bingo simply download playable cards for each kind of movie and use beans or pennies to cover the spaces as you follow along. The first person with five in a row wins a special holiday prize.
Lump of Coal Saran Wrap Gift Game
Get in some grade-A unwrapping practice before the big day with this exciting and fast-paced game. Pick up small gifts — from candy to gift cards — and one big roll of saran wrap. Wrap each gift one by one in different layers until you are left with just a big ball. To play, participants frantically take turns trying to unwrap the ball to get to the prizes hidden in between the layers. Each player is allowed to unwrap and keep whatever falls out of the ball until the person to their right rolls doubles on a set of dice. For a special Christmas edition of this party game, add "coal cards'' into the package, which stipulate special rules. These can look like "before unwrapping you have to name five of Santa's reindeer" or "unwrap with a Santa hat over your eyes!"
Face the Gingerbread man
Bake or buy some of the season's beloved cookies and prepare for some laughs. This humorous challenge asks players to place a gingerbread man onto their face, working to shimmy it down until you can snag a bite before it drops. No hands are allowed and the first person to snag a bite wins.
Heads Up Christmas Edition
Think you know how to take hints? Heads Up is a fun twist on charades that asks one person to put a card to their forehead without looking and then try to guess who or what they are based on hints from the rest of the group. Super in sync with your siblings or spouse? Break off into groups and see what team can get through more guesses first. You can download the Heads Up app with a special holiday-themed pack for $1.99 or you can print off these cards for free.
Gingerbread House Competition
You can't go wrong with a good old-fashioned baking and decorating competition. Snag some gingerbread decorating kits at your local grocery store or on Amazon and then go to work! After your ginger village is decorated, snap some photos and let the internet decide who will be named this year's champion.
Santa Suit Relay
Suit up and get ready for an exciting relay race! To play, split up your group into two teams and place a "Santa suit"—think gloves, hat, boots, pants, and a jacket—a few yards away. As soon as the whistle sounds, the first players must race to their designated suits. Then, they have to scramble to put everything on and exclaim "Ho, ho, ho." Finally, they have take everything back off again and run back to tag the next player. The first team to dress all of their Santas and run back to the finish line wins.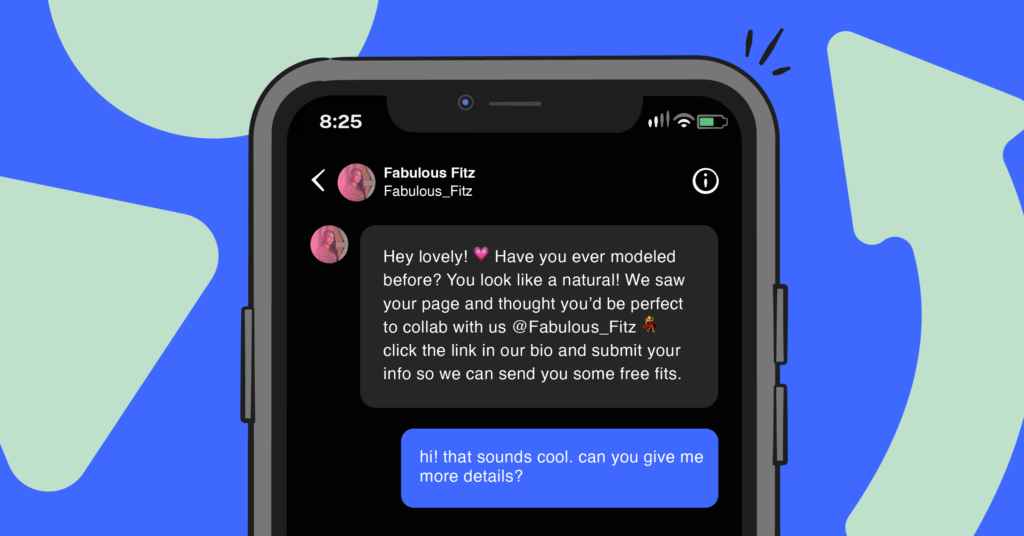 Since the beginning of time, people have been trying to scam other people out of money. We all know the classic "get rich quick" scams that used to be in newspaper ads, then over the phone, and eventually, our email inboxes. But nowadays — not surprisingly — scammers have set up shop on social media.
Instagram is one of the most popular social media apps among young people — which means it's a target-rich environment for internet scammers. And kids and teens are likely more susceptible to a lot of Instagram scams. Parents can probably spot these scams from a mile away, even if they didn't grow up with social media. As soon as someone is asking for money or personal information, we know to leave the conversation immediately. But kids might not see the red flags as quickly.
So it's up to parents to educate their kids on these things, to be sure they are safe and protected in the (virtual) face of internet scammers. That's why the Bark team has put together this handy guide that lists the common scams your kid might come across, as well as ways to protect from them.
What Is Instagram?
Instagram is one of the most popular social media platforms in the world. From watching memes to posting photos from a recent outing, Instagram has made it possible for people to connect and message in ways like never before.
The myriad of features, such as video and photo-sharing, has made the app extremely popular among teenagers. Instagram also offers a variety of messaging features that allow kids to interact with their friends and other individuals online in real-time. Social media is one of the key ways that modern teenagers connect with their peers.
However, like many social media platforms, Instagram is also home to many dangers and has seen a significant rise in scams. Many of these are often targeted toward teenagers and children.
Why Are Kids Commonly Targeted by Instagram Scammers?
Before we dig into the common scams, let's think about why kids are commonly targeted. First of all, social media is a super profitable space for scammers to operate. There were over 770 million dollars in reported social media fraud losses in 2021 alone. And this likely only represents a fraction of the true losses.
So technically, anyone can fall victim to a scam on Instagram, but kids and teens are especially susceptible. They tend to be more trusting than adults and are less likely to question unexpected requests for money or personal information. Not to mention, most of their social media interactions are with friends, so they may have their guard down even when they get a DM from a strange account.
All of this makes them a prime target for scammers. So now let's get into exactly how these scammers might take advantage of kids on Instagram.
Common Instagram Scams to Be Aware of
While there are lots of different ways scammers can target kids, these are just a few of the common ones to give you an idea.
Sugar daddy DMs
If this one sounds weird, it's because it is. This scam takes the form of a "wealthy adult" seeking some sort of relationship they are willing to pay for. They will DM your kid and promise free money in exchange for companionship, usually in the form of weekly payments or allowances.
This can go one of two ways. Some of these scammers will ask to borrow money under the false pretense of paying it back. In this case, the scammer is just after your money. Otherwise, these scams are actually predators who are looking to groom your child. Sugar daddy scams are known for being sexual in nature so it is extremely important to keep kids protected from this type of scam.
Impersonation
Sometimes a scammer will simply create a fake account and DM your kid, pretending to be someone else. Some scammers might impersonate a friend of your child's, a celebrity or influencer that your child follows, or possibly someone of a similar age using Instagram as a dating app.
They could do this for a number of reasons. Maybe they just want to get personal information to hack into their accounts. But again, sometimes these scammers are actually predators trying to form a bond with your child, with their end goal being to target them in the real world.
Giveaway winner
This one's a little tricky. Lots of legitimate brands and influencers on Instagram run reputable giveaways where you can actually win something. Everything's on the up and up, nothing to worry about.
That's until a scammer decides to take advantage of people who have entered these contests. Here's how it works: say an influencer posts a picture for a giveaway and in order to enter the giveaway, their followers have to tag a friend in the comments. Your kid tags their bestie to enter, along with a slew of other followers doing the same. Then, scammers — with a fake account impersonating the influencer — message your kid and all the people from the comments and say "Congrats! You won my giveaway!"
And what comes next is the red flag: they'll start asking for credit card information and other personal details. Most real giveaways won't ask for payment information. But sometimes the excitement of winning something leads us to make silly mistakes, so kids might jump to respond before verifying the account who messaged them.
Fake contests
Taking it a step further from the fake giveaways, sometimes scammers will just create their own Instagram contests instead of going through a real brand or influencer. These are usually designed to get personal information from people who enter. So for example, a particular contest might require people to share their mother's maiden name or the name of their first pet in order to enter. Then, this information will either be sold or used to hack into bank accounts.
Phishing
Another popular scam is known as phishing. This is when your child is sent some sort of link to access their Instagram account. All it takes is your kid clicking on it and boom — the hackers are in. These links usually contain viruses or malware that hack into their account or sometimes even attack their devices.
A super important part of recognizing phishing scams is who it's coming from. It can come from third-party accounts that seem legit, like "Instagram" claiming that you need to log back into your account. But phishing can also come from friends and family. Don't worry — your friends and family aren't trying to scam your kid. But scammers will hack into their friend's account and impersonate them to get your kid to click their link. Imagine if a friend messaged your kid something like, "Hey! Can you vote for me in this contest for school? Just go to this link …" Seems harmless, right? That's exactly what the scammer is hoping your kid will say.
Understandably, it can be difficult for children to recognize that they aren't actually talking with their friends or that a familiar account has been compromised. Which means this scam is fairly easy to fall for sometimes.
Make money quick schemes
And last but not least, the make-money-quick scams. This is the one we're all familiar with.
It's the same song, but a different verse. In your kid's DM's or through the comments, they'll find a pitch along the lines of "Just click this link, sign up for our program, and start making money instantly!" Or maybe instead of signing up for a program, it's buying some fake product.
Just like the other ones we've gone over, the end result is your kid either losing money or giving away personal information to be used to hack their account. Unfortunately, this scheme tends to be enticing for older teens who are just looking to earn easy cash.
Protecting Your Kids from Instagram Scams
The internet can be a great place for kids to explore and learn new things, but it's also important to know how to stay safe online. And luckily, there are a few things parents can do to protect their kids. Sometimes, it's all about education to prevent kids from falling for these scams in the first place. But there are also things parents can do if their kid does happen to accidentally get involved in a scam.
Let's take a look at some of those things parents can do to help their kids!
Create a list of things to watch out for
One way parents can educate their kids about scams on Instagram is to create a list of common strange behaviors to look out for. Here are a few to get you started:
Accounts with little to no historical activity.
People asking to send money or gift cards.
Links that are not recognizable
Accounts or links asking for passwords or other personally identifiable information.
Instagram has outlined a list of things to watch out for when using Instagram. However, scammers are unfortunately getting smarter. So it's important that both you and your children are always vigilant when using platforms like Instagram. It's also important to teach them to recognize predatory behavior for situations that go beyond simple money scams.
Build trust around discussing internet activity
As a parent, a huge part of protecting your children and improving internet safety is building trust.
You want your child to feel comfortable coming to you if something online is making them feel strange. Pay attention to how you respond, because if you make them feel bad about their experiences, they are less likely to continue sharing things with you.
Having open conversations is a great first step toward trust. Kids will share more if their parents show support and interest in their activities. Then, later on, they'll feel safe to share concerning things with you when they happen.
With that in mind, if you notice something worrisome on your child's Instagram, it's important not to dance around the issue. The earlier you can catch something, the less likely that it can escalate into a more serious issue.
2-factor authentication
A simple way to protect your family online is by using two-factor authentication (2FA).
2FA is an extra layer of security that requires not just a password but also a second piece of information, like a code from a phone or email. That way, even if someone has your password, they can't access your account without also having your phone or email.
This can be super crucial to preventing your children's account from being hacked. Because sometimes kids slip up and it's possible they might give their information to a hacker. So if they do fall for a scam, 2FA is like a great safety net that will prevent the hacker from actually getting access.
And yes — sometimes 2FA is a hassle to start using. But in the long run, it's worth the extra effort. So we strongly recommend using it anywhere and everywhere you can.
Help Keep Your Children Safe Online Using Bark
Another simple way to protect your children from predatory behavior on Instagram is by simply monitoring internet usage. That way parents can try and catch the red flags that their kids might not see themselves.
But that can be a big task to take on yourself. Most parents don't have the time to go through their kid's phone looking for potential Instagram scams or generally strange online behavior. That's why Bark is your best solution!
Bark is a parental control tool that makes it possible for parents to get alerts when their children receive strange messages or show signs of unusual behavior. This includes money scams as well as predatory behavior and inappropriate sexual content. It can also help by tracking the types of content your child is engaging with.
See for yourself how Bark can help protect your kid and try Bark for free today!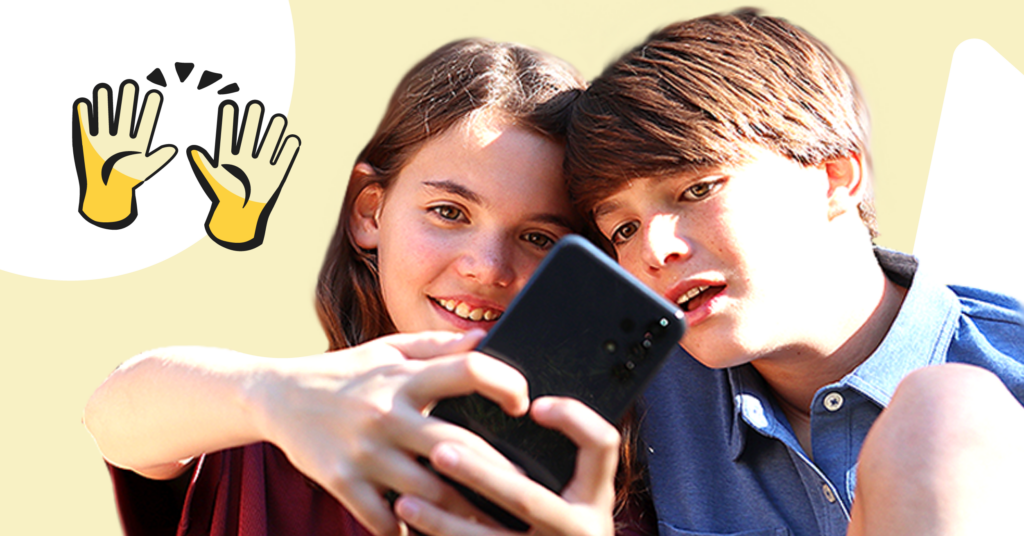 Nowadays, this is a question every parent has to ask at some point. Sometimes, the question is spurred on by kids starting to ask for their first cell phone. But often, it's seeing all the other parents give their kid a phone that turns on the pressure.
But it's important for every family to do what's best for them, not to go along with the crowd. So we're gonna help you break down the essential points to think about before giving your kid their first cell phone.
Let's jump in!
What Age Should Kids Get Their First Cell Phone?
Generally speaking, there's no age when kids are magically ready for a phone. Some experts suggest ages 10–14, which is when many kids start to be responsible enough to have a phone. But you know your kid best. Fourth grade might seem too young, but perhaps they have some medical issues and you want to make sure you can reach them quickly at a sleepover in an emergency. On the flip side — tenth grade might seem too old, but maybe your kid has had some behavior problems in the past, and a phone would only exacerbate things.
Either way, it's important to know that there's no right or perfect time. Sometimes it's all about trusting your gut. But that's easier said than done…Let's take a look at some reasons why parents might give their kid a phone!
Why Might Kids Need a Phone?
There are loads of reasons why families might decide to get their child a phone, but there are two primary reasons — easier communication and to help make their child fit in with their peers.
Easier communication
A natural part of growing up is gaining some independence apart from parents. There are going to be things like playdates and after-school activities where you won't be right there with them. But if they have a phone, suddenly you can have instant communication. In a lot of ways, kids having a phone is easy protection against the unknowns of the outside world. It makes their first adventures on their own a little easier on the parents.
Child's social life
Some might think it's silly to give their kid a phone just because all their friends have one, but sometimes it's worth considering. For kids, the norm is using technology to connect with each other in all sorts of ways. Whether through social media, gaming together online, or texting to make plans to hang out — phones eventually become an integral part of socializing for most friend groups. And if your kid is the only one with a phone, there's a potential for being left out (either intentionally or unintentionally) by the other kids.
Research shows just how much phones are relied on by kids to connect with their friends. 55% of teens say they text their friends on a daily basis. And 83% of teens say that social media helps them feel more connected to information about their friends' lives.
Now, we're not suggesting that all kids should have a phone based on these numbers. And we definitely don't believe they need to be on social media in order to have strong friendships. But it does help paint the picture of what socializing looks like nowadays. And — if your kid is ready to handle it — giving them a phone to communicate with their friends may be the most beneficial option.
How to Know They Might Be Ready for Their First Cell Phone
It all comes down to responsibility — is your kid responsible enough to have their own phone? The only way to answer that is to look at how they've proven (or not proven) their responsibility with other things. For example:
Do they obey current screen time rules for TV/video games?
Do they keep up with their schoolwork?
Do they own up to their mistakes?
Do they frequently lose or misplace things?
Do they get distracted easily?
How well do they handle conflict and receive punishment?
Regardless of your answer to these questions, it's still going to be a leap of faith at the end of the day. You'll never feel 100% confident that they're ready, but as long as you and your kid have a healthy level of trust and keep the communication lines open, that's a good place to start.
One other thing — expect them to make mistakes. Just because you trust them and they are responsible kids, doesn't mean they will handle a phone perfectly. That's where open and honest conversation will become essential for both you and your child.
How to Know You're Ready
Something less frequently discussed is the parent's readiness to give their kid a first cell phone. No matter what part of childhood a kid is in, the parent is tasked with guiding and teaching them in all things — so the same goes for having a phone!
Kids often learn through observing, so parents should try to model smartphone practices wherever possible. Maybe this looks like not having your phone at the dinner table or making it a point to turn it off during a conversation. This will help your kid have a healthy relationship with their phone, especially if they see you do this before they even have their own.
An adult's experience with a phone is very different from a kid's experience with a phone. While adults might scroll through FaceBook and get overwhelmed with emails, kids are going to be "hanging out" on other parts of the internet. This means parents need to be informed and aware of those places, and more importantly, the potential dangers they pose. Did you know that kids can easily find pornography on Instagram? Or that kids could be talking to predators on platforms like Twitch and Discord? The dangers may seem too many to count, but luckily there are resources to help give you a foothold in the youth's online world. And you've already found one of them — the Bark blog! So you're off to a great start!


Helpful Next Steps
If you decide to get your kid a phone, we strongly encourage you to get a phone with parental controls. But don't take our word for it — this article from the Child Mind Institute cites clinical experts who recommend parental controls for kids' phones. And Max Stossel, founder and CEO of Social Awakening, recommends Bark specifically. Giving your child a phone with no supervision or safety net is guaranteed to put them at risk. But utilizing tools like Bark will help protect your child as they enter into the digital world.
The next best thing to do is set ground rules and expectations before the phone is even in their hands. Tell them why you decided they are ready for one, citing some examples of their responsibilities that we suggested above. Explain what behaviors are acceptable with the phone and what behaviors are not. Consider writing out a tech contract to ensure you're on the same page and to have a reference for later if they do break one of the rules.
Is Your Child Ready For A Phone?
One of the most frequently asked questions we get here at Bark is, "How do I know my child is ready for a phone?" So we made a quick and handy quiz to help you find out where your family stands!
Consider the Bark Phone
If you're going to get your kid a phone AND you're going to get parental controls, why not get them at the same time? The Bark Phone has powerful parental controls built-in to the phone, so it's got protection in place right out of the box. Then, you have the ability to customize the settings to make it fit their needs exactly. Order yours today and see how it's a game-changer for parents when it comes to first cell phones!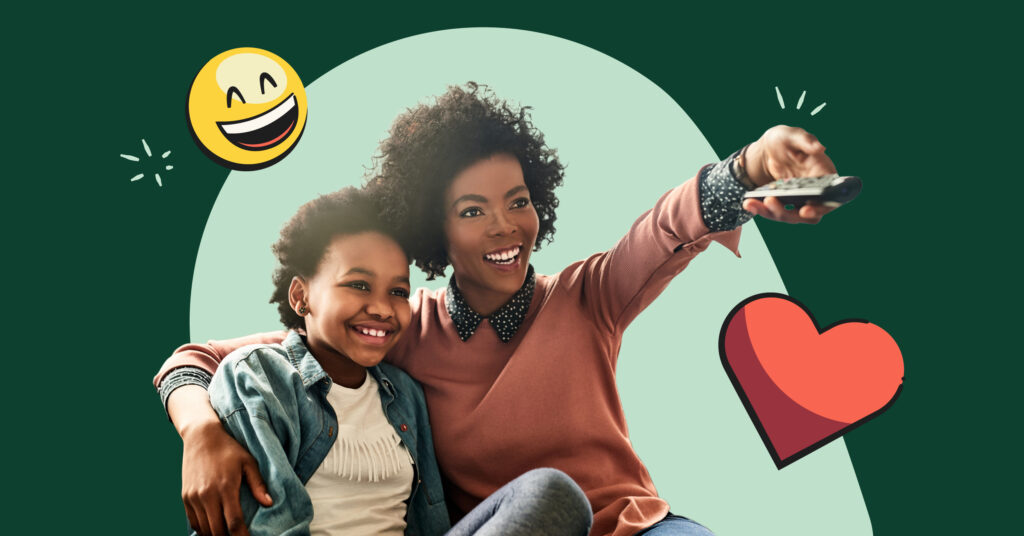 If you feel lost in a sea of content, looking for a safe, fun, and entertaining family TV show, you aren't alone. While it was once easy to sift through three or four channels, with the rise of streaming, parents and kids now have hundreds of options—some more age-appropriate than others. To help you navigate the rough waters of finding just the right family TV show for your brood, we've gathered 10 top-rated shows and family TV networks that you can count on for wholesome, crowd-pleasing content.
Five Popular Family TV Shows
Modern Family—Streaming on Hulu and Peacock
This Emmy Award-winning comedy ran for 11 seasons, capturing the crazy and chaotic lives of traditional and nontraditional families. The light-hearted mockumentary entertains the whole family while providing feel-good lessons about family dynamics and friendships. Plus, short 20-minute episodes serve as the perfect treat post-homework for teens 13 and up.
MythBusters—Discovery Channel
MythBusters mixes education and entertainment to create a show that sparks curiosity and creativity in young minds. For 14 seasons, special effects experts Adam Savage and Jamie Hyneman worked to methodically test some of the world's biggest myths proving them true or false. From fun with jello to crash test craziness, parents and kids can laugh along and learn something from this science entertainment program.
The Mysterious Benedict Society —Disney+
The Mysterious Benedict Society is a new mystery adventure television series based on the children's books by Trenton Lee Stewart. The exciting and sometimes intense plot follows four orphans recruited by a mysterious benefactor to stop a global emergency. Parents and kids praise the show for its exciting cliffhangers and compelling storylines, which draw you back for each episode. While not scary, some scenes can be intense, and parent supervision is suggested for children younger than 10 years old.
Kids Baking Championship—Food Network and Amazon Prime
If your family has a competitive streak, Kids Baking Championship is just the show for you. Contestants 10-13 years old are invited to come up with and cook their best dishes made to impress the judges. Inventive and empowering, parents and kids can cheer on their favorites each week until only one winner remains! 
Just Add Magic—Amazon Prime
Described by parents as good, clean, wholesome fun, Just Add Magic focuses on three tween girls with a magic cookbook. The trio works together to solve mysterious problems as they deal with common coming-of-age issues. With a focus on friendship and family, parents love how the main characters model good values, and kids love riding along with all the fantastical adventures.
Five Popular Family TV Networks
Disney and Disney+
The original family-friendly TV network for years now, Disney cranks out new and exciting family-friendly content like The Mysterious Benedict Society and Andi Mack. It also showcases classics like Boy Meets World and Lizzie McGuire. Despite all of the great TV shows and movies, kids shouldn't be given free rein when it comes to Disney+. The brand also has more mature content under its Marvel and ABC umbrellas, which may prove too intense for young minds. 
Discovery+
Discovery+ has recently added even more family-friendly entertainment to its repertoire. You can find fan favorites like the Food Networks Kids Baking Championship, Animal Planet's Too Cute, and the Science Channel's MythBusters. There is, however, more adult-centered content, and Discovery recommends that parents either supervise their children while watching or set up parental controls through the app.
Cartoon Network
Cartoon Network is home to animated classics like Tom and Jerry, The Powerpuff Girls, and Adventure Time, as well as new shows like DC Superhero Girls and We Baby Bears. During the day, most of the content stays pretty family-friendly, but parents should take care to monitor viewing or change the channel when the brand's Adult Swim content comes on at 8 p.m. 
Nickelodeon
The content on Nickelodeon can skew a little more toward tweens and teens. Shows like Spongebob Squarepants, Monster High, and The Loud House are big hits among this age group but may occasionally feature content a little mature for younger kids.
PBS Kids
As a public broadcasting station, PBS Kids keeps its content squeaky clean and family-friendly. Parents and kids can gather around for inventive shows like Kid Stew and Wild Kratts, as well as older episodes from shows like Arthur and Sesame Street.
How to Monitor What Your Kid is Watching
With all of the available streaming services, networks and channels, it's to find good content that's age appropriate. Bark helps save you time and takes the guesswork out of finding a fun family TV show by providing smart parental monitoring that allows you to observe, block, and control certain apps. Find out more about your options here.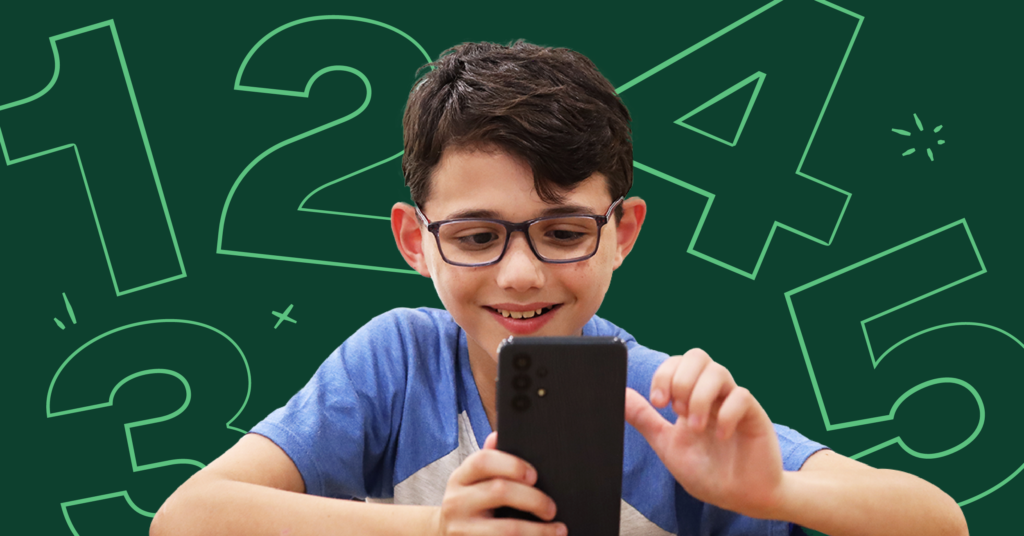 It's safe to say that the team here at Bark is pretty proud of the Bark Phone, and we're excited for families across the country to experience the peace of mind that comes with a phone built by parents, for parents. Raising kids in the digital age isn't exactly easy, but the Bark Phone can help you better protect them when they're using their device. We've compiled a list of the top five reasons it's great for kids and families.
5 Reasons the Bark Phone Is Great for Kids
Bark's monitoring and parental controls are built in and tamper-proof
Bark is the industry leader when it comes to monitoring online activities for potential dangers, so we know a thing or two about what works and what doesn't. With Bark built into the phone — and not just an app installed on a hand-me-down phone, for example — parents can rest assured that the controls you set stay in place. Kids can't download VPNs or workarounds. Plus, the Bark Phone automatically monitors many popular apps, so you won't have to manually connect them.
All of the controls are completely customizable
With the Bark Phone, you as the parent call all of the digital shots, from app installs and contact requests to screen time settings and website blocking. Every child — and family — is different, which is why it's important to manage every aspect of your kid's digital experience in the way you think best. Want to lock down the phone and make it essentially a "dumb phone?" You can! And on the flip side, you can give your teen as much as freedom as they've earned, while still setting healthy screen time boundaries and getting alerts for potential issues.
It grows with your child
If you get your kid a limited-function phone, it's great for safety, but soon you'll need to buy another device if you want to add any new features. With the Bark Phone, you can manage the entire spectrum of growth with one device for as long as your kid lives under your roof. You can progress from phone calls and music only and then gradually add in features like apps and social media if you want. And because digital maturity isn't always a straight line, you can also take away functionality at any time.
Sleek and modern design
The safest phone is the one a kid actually likes and uses. The Bark Phone is an ordinary Samsung A13 and doesn't broadcast that it has incredible parental controls inside. There's no Bark branding or logos on the outside, and it doesn't have that clunky look that some other phones for kids have.
It helps make you and your child a team
Helping to keep your kid safe online is one of your jobs as a parent, but it's also your job to teach them how to use technology, too. Phones aren't going anywhere, and they'll eventually be using one every day when they're young adults. Bark helps you teach healthy habits early in a way that still allows them some freedom and privacy. We're not in the business of spying — we're here to help you and your kid tackle issues together. That's why you can manage everything in a way that works for both of you.
How to Get a Bark Phone
Ready to get your very own Bark Phone? Plans start at just $49/month with no contract required, and they include unlimited talk and text as well as a free case. Order yours today and deliveries will start shipping out in December! Be sure to order your kid's phone today so it can be here in time for the holidays.
Is Your Child Ready For A Phone?
One of the most frequently asked questions we get here at Bark is, "How do I know my child is ready for a phone?" So we made a quick and handy quiz to help you find out where your family stands!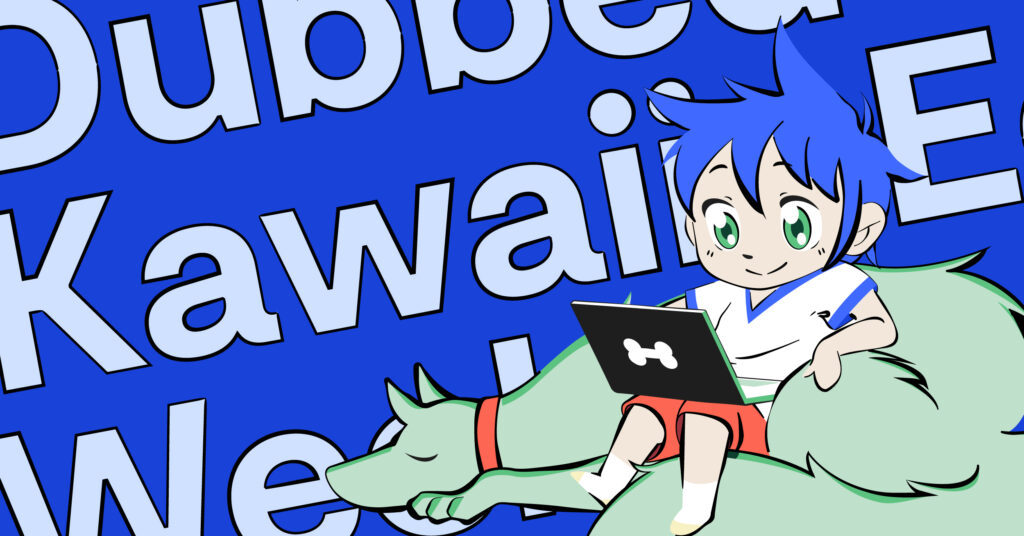 **Note: This list was updated on January 25, 2023.**
Do you ever feel like the slang your kid uses sounds like a whole other language? Well, if your kid likes anime, there's a good chance it actually is another language!
Anime is a specific type of cartoon that originated in Japan. In fact, "anime" is Japanese for "animation."But its popularity has crossed the globe — and the U.S. is no exception. Anime has found a cozy spot in American culture and English-speaking fans wasted no time in adapting anime slang into their vocabulary.
So for parents who have found themselves a little lost in their kid's newfound interest, we've listed the most popular anime lingo with their definitions to help with the confusion. Most of the words are specifically Japanese words, but we also included a couple of English slang words that are associated with fandom as well.
Anime Slang to Know
Baka — A Japanese word meaning "idiot" or "stupid". It can be used as an insult or in a playful manner.
Cosplay — Short for "costume play" and refers to dressing up as your favorite character from any show, movie, book, etc.
Daijōbu — A Japanese word for "okay" or "good." Often used in the context of trying to cheer someone else up, like "it's going to be alright".
Dubbed — This is when a show or movie is voiced over with English-speaking voice actors.
Ecchi — This is a genre or characteristic of some anime content, which means it contains sexual content. The content is not technically pornographic (though anime pornography does exist, it's called hentai) but if a show or movie says it has "ecchi," that means it is not suitable for children.
Hentai — A genre of anime that is pornographic in nature.
Josei — A genre of anime intended for young adult women.
Kawaii — If something is "kawaii" (pronounced like Hawaii) that means it is cute or adorable.
Moe — Describes a cute character for which the viewer has intensely protective feelings.
Normie — A popular person with no niche interests or hobbies.
Otaku — This is a Japanese word for "nerd" or "geek," specifically referring to someone who has no social life due to an obsession with a hobby. Hardcore anime fans refer to themselves as "otaku."
Seinen — A genre of anime intended for young adult men.
Shojo — A genre of anime intended for teen and tween girls.
Shonen — A genre of anime intended for teen and tween boys.
Sugoi — A Japanese word for "amazing" or "great". It's often used when a character is surprised or impressed.
Tomodachi — A Japanese word for "friend".
Ureshiii — A Japanese word for "happy" or "glad." Usually used when a character is extremely happy or relieved.
Waifu — Describes a fictional character that the viewer has great, and sometimes romantic, affection for.
Weeb — This can just refer to someone who likes anime. However, depending on the context, it can also be used as an insult.
Yaoi and yuri — A genre of anime that focuses on LGBTQ+ romance.
And So Many More …
This list might seem long, but there's certainly loads more that's not listed here. It's no reason to stress, however, because most of these terms are easier learned in context. So we encourage parents to sit down and watch anime with their kids, that way you can learn the anime slang together. But we hope this list served as a good intro into the basics to get you started.
And as always, Bark can help keep your kids safe, whether they're watching or talking about anime, through content monitoring and web/app blocking.
Atlanta – December 2, 2022 – Bark Technologies announced a multi-year MVNO agreement with T-Mobile for T-Mobile to serve as the exclusive nationwide network for the online safety leader's newest product launch – the all-in-one Bark Phone. The MVNO agreement will provide customers with exceptional cellular coverage and data plans without upfront costs. 
Touted as a game-changer for families looking to purchase a safer smartphone for their kids, the Bark Phone gives parents unprecedented oversight of their child's online experience, including GPS-powered location tracking, call blocking, contact management, and automatic monitoring for texts, many apps and social media platforms. Its native controls make it hard for kids to tamper with protective settings, providing parents with peace of mind that the rules they set stay in place.
"We are excited to announce the launch of our newest product, the Bark Phone, with cellular service powered by T-Mobile," said Brian Bason, founder and CEO of Bark Technologies. "This premier offering will give families incredible protection for their kids across the country and working with America's 5G leader sets us up for future growth."
"Bark Technologies is a leader in the digital safety space for children, and we're excited to power their new Bark Phone. Combining its award-winning monitoring, filtering and location software built into its Bark Phone with the reliable connectivity of T-Mobile's network offers the most comprehensive option on the market for parents to help keep their kids safer online," said Dan Thygesen, Senior Vice President of T-Mobile Wholesale and head of T-Mobile's growing wholesale business. "By choosing T-Mobile's network, Bark Technologies is primed for expansion with the nation's largest, fastest and most reliable nationwide 5G network."
The Bark Phone is a Samsung A13 that comes with Bark's award-winning parental controls built in. It's also equipped with unlimited talk and text, plus a Bark Premium subscription for the phone as well as the entire family. Phone plans start at $49/month with no contract required. For more information, visit www.bark.us/bark-phone.
###
See 5G device, coverage, & access details at T-Mobile.com. Fastest: Based onmedian, overall combined 5G speeds according to analysis by Ookla® of Speedtest Intelligence® data 5G download speeds for Q3 2022. Ookla trademarks used under license and reprinted with permission. Most Reliable: According to an audit report conducted by independent third-party umlaut containing crowdsourced data for user experience including task completion collected from April to September 2022. Full details at: www.umlaut.com/en/benchmarking/USA.
About Bark
Bark is an award-winning parental control app that helps protect nearly 6 million children at home and in more than 3,300 schools and districts nationwide. Bark is currently available in the U.S., South Africa, and Australia.
Using highly sophisticated artificial intelligence, Bark alerts families to concerning behaviors in a variety of categories, including cyberbullying, depression, suicidal ideation, violence, and online predation, and gives caregivers best next steps for how to address those issues. Bark monitors more than 30 of today's most popular social media platforms and apps, as well as text messages, images, videos, chats, emails, and files. Families also get the ability to create custom screen time schedules, block websites and apps, and receive location alerts when kids are on the go. Visit www.bark.us for more information.