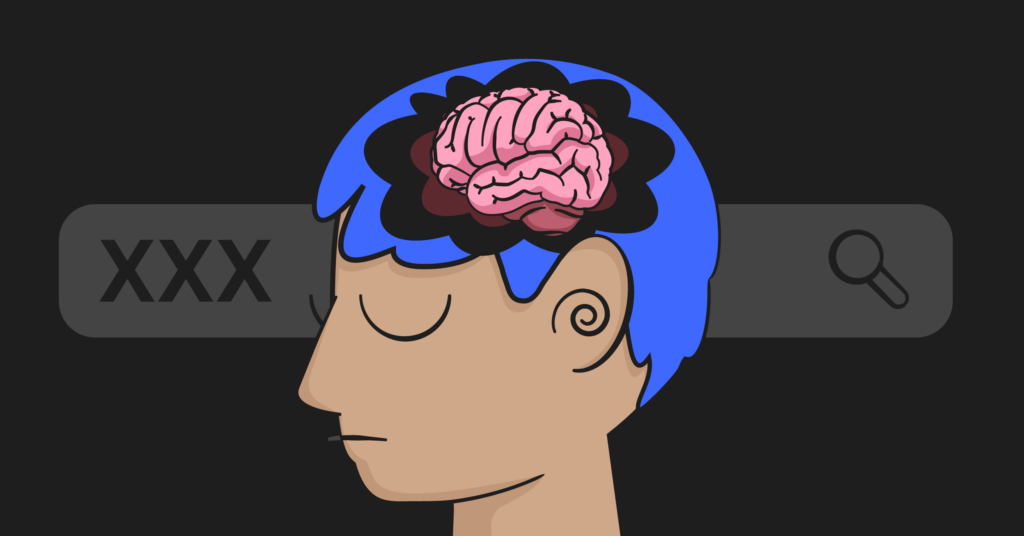 Gone are the days of Playboy, X-rated movie stores and even the supervision of the "home office computer." Today with every smartphone, tablet or laptop, porn beyond parental monitoring is just a click away. According to our 2022 Annual Report, 62.4% of tweens and 82.2% of teens have encountered nudity or content of a sexual nature online.
In short—it's unfortunately very likely your kid will run across porn, willingly or unwillingly, at some point. The best way to deal with this inevitable fact is to educate yourself and your children. In this post, we'll take a deep dive into what a child's brain on porn looks like, and the dangers and damages porn poses. We will also give you tips and tricks for addressing porn with your family and protecting your child from content they're not ready for yet.  
The Effects of Porn on The Brain
For better or worse, the minds of children under 18 are largely impressionable and moldable. A child's brain on porn doesn't just experience things differently; it can also change physically. This combination of conditioning and physiological changes means that exposure to porn can significantly impact a child's development and long-term social and emotional skills.
Here are just a few of the effects porn has on young brains:
Porn alters the structure and development of immature brains. Studies show that porn can damage a developing prefrontal cortex. The area of your brain is critical for decision-making and impulse control—when damaged, children are more likely to act impulsive and make rash decisions. Porn can also damage the dopamine reward system, making it more difficult to find excitement or fulfillment in healthy relationships.
Viewing porn skews reality thanks to mirror neurons. Dr. Sharon Cooper, a forensic pediatrician and faculty member at the University of North Carolina School of Medicine, argues that children are more vulnerable to pornographic images than adults because of mirror neurons in the brain. Mirror neurons play an important role in how children learn and convince people that they are actually experiencing what they see. Because these observed encounters seem so real to children, they are likely to believe this is how sex and relationships work in the real world—when that's often far from the truth.
Mainstream porn normalizes and reinforces sexist ideas and harmful gender roles. Experts say that by age 10, gender stereotypes are established in the minds of children. Considering the average age kids are exposed to porn is between 9-11 years old, much of what they see can be cemented into their long-lasting ideas on gender roles. Unfortunately, these images aren't usually positive. A study of adolescent porn use concluded that the major messages presented by porn are male domination, hypermasculinity and making male sexual pleasure the top priority. These stereotypes, when pushed to the extreme, as they often are in porn, include men being dominating, unemotional and controlling and women being submissive, emotional and weak. When acted upon, these gender stereotypes can lead to an increase in violent and risky behavior for boys and depression and exposure to violence for girls.
The Dangers of Porn
The effects of porn on the brain can lead to real dangers and damages in the present and long term. Surveys show that the earlier children are exposed to porn, the more likely they will regularly view it and experience more of its effects and dangers.
Here are a few of the potential dangers that come from early exposure to porn:
Porn can keep people from forming and maintaining healthy relationships. Because porn skews children's view of what a normal relationship, sexually and otherwise, looks like, they are often bound to expect things that aren't reasonable or healthy from their partner. When these expectations aren't met or enforced without consent, one or both sides of the relationship will fail.
Sexual violence is perpetuated by porn. A review of mainstream porn has shown that ​physical aggression occurred in 88.2% of scenes and verbal aggression in 48.7%. Men committed 70.3% of all aggressive acts and 94.4% of aggression was directed toward women. This repetitive reinforcement of gender stereotypes, violence and a male-centered narrative in pornography can lead to an increase in sexual violence toward women in the future.
Brains that have been rewired by viewing porn can lead to poor decision-making. In relationships and beyond, desensitization to high dopamine levels can make even the highest-best moments a little less exciting. Plus, increased impulsivity means that when important decisions are to be made, people are more likely to jump to conclusions than make an informed decision.
How to Talk to Your Child About Porn
Experts emphasize that when talking to your child about their first encounter with porn, you should use a nonjudgemental tone and talk through some of the reasons why porn can be damaging and dangerous.
Your plan of action may vary depending on your family's values. Options range from making a tech contract with established rules to setting up parental controls that will make it more difficult for your child to access pornography on their device. No matter what you choose to do, make sure your child understands why you've chosen this course of action, and don't be afraid to revisit the conversation.
How to Protect Your Child
The 2003 study found that blocking and filtering software reduced the likelihood of exposure to porn by 40%. Bark's software can help block harmful content and let you know if and when your child has been exposed. With this knowledge, you can have an open and honest conversation with your child about their brain on porn and its dangers and damages.
If you've ever seen a person out in public dressed up like a cartoon animal character in a fursuit, you may have been confused as to why they were dressed like a mascot out in public. You may have even wondered what they actually do. They're called furries, and it turns out that there's a very large community — both online and in real life — they belong to.
Many kids today are also expressing interest in furries, but there are issues and dangers that parents need to know about. In this blog post, we'll answer common questions (like what *is* a furry) about this lifestyle, as well as provide talking points if your kid is interested in furries.
What Is a Furry Exactly?
A furry is someone who is interested in anthropomorphic art and characters. Anthropomorphic means "resembling a human," and so with furries, it means animals that resemble or have human characteristics. A classic example of the appeal of this art style that our generation may understand is the fox from Disney's 1973 Robin Hood.
You don't have to dress up like a furry to identify as one, and in fact most don't. Self-identified furries do, however, often create a "fursona," which is like an alter-ego or character. These fursonas can have names and physical and emotional characteristics. Sometimes, they're very different from the person's day-to-day personality, though not necessarily.
What Do Furries Do?
Like fans of anything — whether it's baseball, the Bachelor, or Orangetheory — furries like to read, write, and talk about their interest. Some furries like to role-play in groups or online with like-minded people. Others like to post their art and look at others. There are furry conventions that take place all over the world, where people meet up to hang out, attend panels, buy art, party, and more. Think of it like ComicCon, but for all things furry.
Does This Mean My Kid Wants to be an Animal?
Not at all! Expressing an interest in furry culture is like expressing an interest in other hobbies. Where it may get confusing is when kids want to pretend, but playing pretend is a pretty popular pastime for kids in general. So are immersive role-playing games that are also popular.
Are Furries a Sex Thing?
The short answer is not necessarily. Someone can be a furry and into furry activities without ever expressing an interest in anything sexual — ever.
There are, however, individuals that combine the furry lifestyle with pornography, sexual acts, art, and more. After doing some research, our team found that the term "furry porn" had more than 600,000 search queries, which shows just how much content there is around the more adult aspects of furry content.
Is Being a Furry Safe for Kids?
It definitely can be! Kids can be interested in drawing furries, watching furry videos, or just playing around with friends. Danger comes into play in a few different ways. For example, when kids may be communicating with adults who use furry activity to begin the grooming process. If a child wants to attend a furry convention, you'll want to make sure it is kid-friendly (some are adult-only) and that a trusted adult is with them at all times. But you know your child best, and some kids may not be mature enough for this type of activity.
Another danger is exposure to inappropriate furry content, which kids can find easily and quickly all over the internet — from Reddit to Instagram. Furry porn can be images, fan fiction, and videos, both animated and in-person, and may include adults, children, and animals.
Do All Furries Wear Fursuits?
According to Furscience, a group of researchers who study furry culture, less than 25% of furries own suits. They can actually be pretty expensive! Like with any hobby or fandom, interest levels lay along a spectrum. Some people may go all out and build a suit, and some may be happy just having a furry name. Still others may just like watching furry content on the internet.
What's a Fursona?
A Fursona (a portmanteau of furry and persona) is like a person's alter ego in the furry world. It can consist of a name, a species, personality traits, back story, and habits. Kids especially can get super creative when it comes to imagining a character's world and interests.
Where Do Furries Hang Out Online?
There are so many places online where furries chat, hang out, and post content. Here are just a few of some of the more popular places:
The subreddit r/Furry has more than 327,000 members.
Searching #furry on Tumblr, Instagram, and TikTok turns up millions of posts and videos.
FurAffinity.net hosts fan-created art.
Discord has furry-themed servers for chatting and roleplaying.
Twitch and YouTube have furry live streamers.
Furry characters can appear in Roblox.
WikiFur is an online encyclopedia for all things furry.
FurAffinity.net, a repository for images, photos, and projects.
How Do I Talk to My Kid About Furries?
If your kid has expressed an interest in furries, you may be concerned or worried. This is okay! The internet has made a lot of things more mainstream than when we were kids. Having an interest in drawing human-fox cartoon characters can be no different than being obsessed with Legos, loving horses, or wanting to read every Star Wars book. Here are a few ways to start a conversation with your child about their interest:
What is your favorite furry character?
Where did you learn about furries?
Do you have friends that like them too?
Once you've established a baseline around their interest, you may want to talk about some of the dangers they may face:
Some bad people online may talk about furry stuff to trick kids. Have you seen this happen?
What would you do if an adult started talking to you online about furry stuff?
Do you know that some furry content is only for adults?
Help Protect Your Child Online with Bark
Kids that express an interest in furry culture may be at risk from predators because of the very nature of furry content — kids like cartoons and sweet animals. Predators know this and may use a child's love of these creatures to begin grooming them. A recent case (content warning that there are graphic details) involved a grown, self-identified furry man who was communicating with a 13-year-old online (via platforms like Twitter, Discord, Oculus, and TextNow) and later abducted the child. Thankfully, the teen was found alive.
Sadly, these kinds of interactions aren't uncommon. Bark can help you keep your child safe online by monitoring texts, apps, and popular social media platforms for signs they're being groomed by predators — in addition to bullying, depression, suicidal ideation, and more. You'll get an alert for concerning conversations so you can check in and make sure everything's okay. Bark also lets you block dangerous apps like Snapchat and Discord so you can help prevent these types of conversations from happening, as well.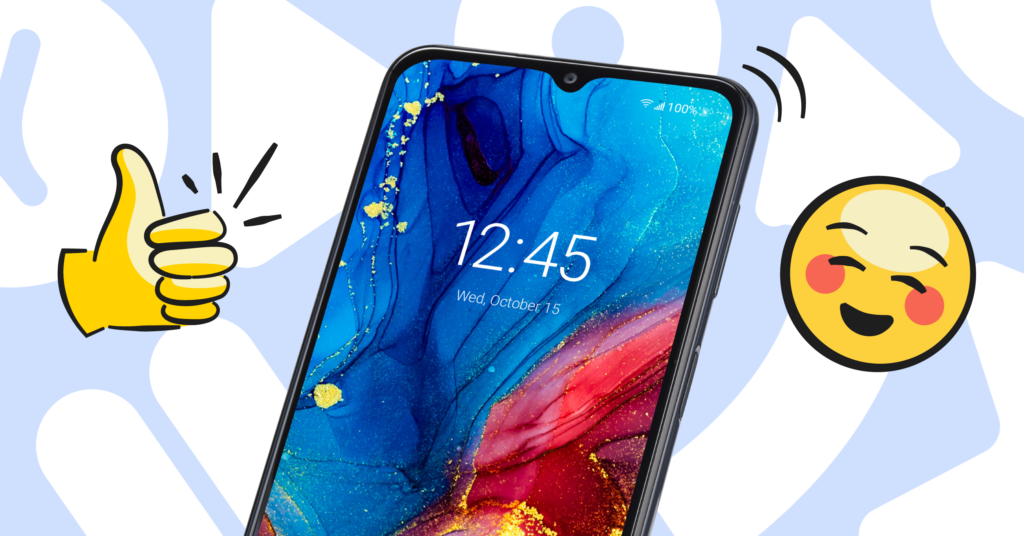 Congratulations on your child's new Bark Phone! It's a little different from other phones you may have set up in the past — and that's a good thing. The Bark Phone lets you manage nearly every aspect of your child's phone experience so you can help keep them safe online and in real life. This blog post provides the top 5 tips for setting up the Bark Phone, but we also have a quick-start help article that has step-by-step instructions for extra support.
Top 5 Tips for Setting Up Your New Bark Phone
Set your high-level controls for the Bark Phone
As a parent, you know your child best, which is why the Bark Phone gives you the ability to toggle on and off basic functions like texting, using the camera, changing the settings, and more. As a general rule, the younger your kid is, the more of these you'll probably want to disable. As they get older — or start demonstrating more maturity — you can easily add back in functionality.
Create screen time schedules to help keep your kid on task and well rested
You won't want your child checking out unboxing videos during school on their new phone, right? That's where screen time schedules come in. You can choose exactly what your kid can access and when. For school time rules, for example, you can block access to everything but educational sites. And at bedtime, for instance, you could allow only podcasts and meditation apps to help them wind down. It's up to you!
Get granular about what you want to block
Every family — and child! – is different, so being able to block websites and apps at any time is an important function. Bark allows you to block entire categories of sites (think sexual content, gaming sites, and more) as well as individual sites that you want to keep off limits. You can also block nearly everything and then manually add in just a few sites that you want them to be able to access. It's up to you!
Set daily time limits for apps
With the Bark phone, you can set total daily time limits for the apps you choose to allow your kid to access them. This could look like "one hour of YouTube a day" or "4 hours of social media." If no daily limits are set, your child can access them as long as they like — as long as the app or category isn't blocked.
Talk to your child about what to expect
Whether this is your kid's first phone ever or just a new-to-them phone, it's important to talk about it! This means sitting down and discussing rules of the road, screen time limits, and potential dangers. The Bark Phone experience will be pretty different for every family depending on what's blocked and what's allowed. When you decide what's going to work for your family, let your child know! For example, explain that texting is turned off if it is. Let your kid know that you've put screen time limits on YouTube. This way, they won't be surprised. You can also talk generally about Bark's monitoring and Bark alerts — don't worry, we have pointers for that discussion. And finally, make sure you make a tech contract with your kid to help them navigate life with a new smartphone.
Is Your Child Ready For A Phone?
One of the most frequently asked questions we get here at Bark is, "How do I know my child is ready for a phone?" So we made a quick and handy quiz to help you find out where your family stands!
How to Get a Bark Phone
Ready to get your very own Bark Phone? Plans start at just $49/month with no contract required, and they include unlimited talk and text as well as a free case. Order yours today!
Somehow, 2022 is coming to a close and it's already time to jump into a new year. But before we start the countdown, we wanted to take a moment to remember everything that made 2022 special. This particular year was a very exciting one for Bark (hello, Bark Phone!) so it only seems right to share some of our favorite moments from the past 12 months.
Let's jump in!
1 Phone released!
The Bark Phone was the crowning jewel of 2022— actually, of every year at Bark! Tons of hard work, long hours, and creative minds went into the development of this phone, and we couldn't be more proud. It's safe to say the Bark team is all smiles when it comes to this phone, and we know every family who orders one will be, too!
24: States that Bark employees are from
With remote work being the norm at Bark, we've found that one of the best parts is working with people from all over the country. As of today, our 138 employees represent 24 total states in the U.S. Sometimes our work meetings are full of "y'alls" and complaining about the southern heat. Other times, they're full of green bean casserole recipes from our friends in Michigan. It's always a thrill to see the Bark love spread across the states!
21,500,000+: People reached on Facebook in the last year
This incredible reach means parents are not only getting information about Bark's parental controls, but they are also reading our resources about kids' online safety and raising children in the digital age. We regularly post articles from child psychologists, news updates from social media companies, and even breakdowns of the latest TikTok trends!
152: Adorable photos shared in the #petsofbark slack channel
Sometimes the best way to take a break from work is to give your pet a quick snuggle. And at Bark, we like to share those quick moments of pet lovin' with each other! Clearly, with so many pictures shared, we love our pets a lot. And it's no contest — we definitely have the cutest pets ever!
5: Teachers who each received $1,000 for our Back-to-School giveaway
Bark recognizes that teachers are an important part of a child's growth and development, so we wanted to show our appreciation for all their hard work. Back in August, we asked members of the Bark community to nominate a teacher to win $1,000. Five lucky teachers from across the country got a big check to kick off the school year right. We give this 2022 moment an A+!
289,068: Customer questions answered by our support team
You asked, we answered — literally! Our customer support team, which is available 7 days a week, works tirelessly to ensure you're never left confused or frustrated with your Bark experience. When parents spend all day solving problems for their family, we're happy to be the problem solvers when it comes to your kid's online protection. Just reach out to help@bark.us and they'll take good care of you.
92: Slang terms defined for parents
If there's one thing parents made clear to Bark, it's that knowing teen slang is a hot commodity in today's day and age. Our slang posts consistently saw the most traffic, so we scoured the internet for every word, phrase, and emoji used by young people. The best part? Using them in front of your kid and seeing the reaction on their face.
1,228: Number of times Bark was in the news
In order to inform parents about the dangers of the internet and let them know how Bark can help protect their kids with our top-notch parental controls, we have to make sure the Bark word is spread far and wide. And what better way to do that than to get major news outlets talking about us?
60: "Blankets and Bear Hugs" made for the Child Rescue Coalition
One organization near and dear to Bark's heart is the Child Rescue Coalition (CRC). The CRC works to protect and save children from child predators, specifically by providing technology to law enforcement. During our annual company-wide retreat in Atlanta, Bark team members got to take part in their Blankets and Bear Hugs program. We packed 60 care packages that were then given to officers to keep in patrol cars so that kids involved in their calls can be comforted. Big thanks to the CRC for letting Bark lend a helping hand in their important work.
255,000+: Members of Parenting in a Tech World, our Facebook group
If you're in our Facebook group, this one goes out to you. PITW has become a constant flow of honest questions, personal advice, and much-needed encouragement for parents who feel a little lost in the digital age. And last year we had about 160k members, so that's almost 100,000 more parents since then! If you're not already in the group, you're missing out on one of our best resources for parents. Be sure to check it out.
And now on to 2023…
We hope you finish 2022 strong and start the next one off even stronger. Here at Bark, we've got lots of plans up our sleeves that we can't wait to show you – see you in 2023!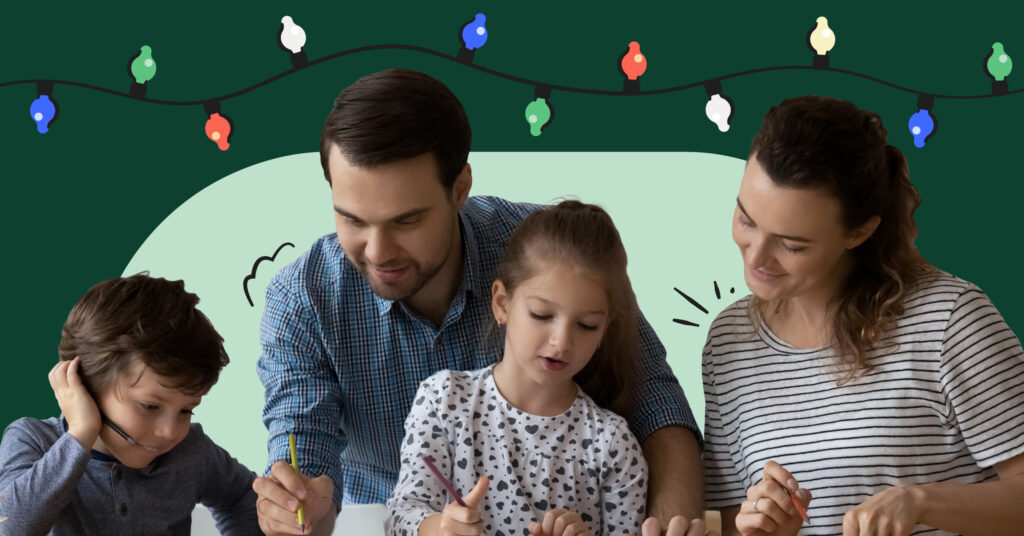 The Christmas season is here! The family is in town, school is out and the workload is light. As you gather around the tree and catch up, you might find a little extra time to be filled. If you're looking for a way to entertain the kids, bond with family, or break the ice, consider these 12 fun games to play for Christmas.
12 Games to Play for Christmas
Do You Want to Build a Snowman?
If you're eager to tire out the kiddos and want to have some fun "breaking the rules," Do You Want to Build a Snowman might be the perfect game for you. Break out the toilet paper for this game and divide the group into teams. Have each team designate a snowman and one person to wrap them in toilet paper. Add in some extras like pom-poms, a hat, or a scarf and then have everyone vote on who's crafted the most festive Frosty.
Candy Cane Hook 'Em
Candy Cane Hook Em' reimagines the classic pickup sticks game with candy canes and a new twist. Drop two dozen or so candy canes on the table, then set a timer for a minute. Using only the candy cane in their mouth, each participant must try to hook each candy cane on the table and move it to a bowl. The person with the most candy canes in their bowl at the end of a minute wins!
Family-Friendly Christmas Murder Mystery 
Give everyone in the family a chance to take on a new name and step into the spotlight this year with a family-friendly Christmas murder mystery. Suitable for kids 12 and up, this light-hearted game casts everyone in roles from Icy the Snowman to Mrs. Santa Claus to solve a holiday mystery. You can download a full package of materials from character descriptions to the evening's script and clues at MyMysteryParty.com.
White Elephant Christmas
The White Elephant Christmas takes the stress out of gifting, if only for one night. The famous gift-swapping game asks family members to each purchase a small gift under $15. All participants put their gift in the bag and then draw a number to see who picks from the stash first. During each round, players can choose to either open a new gift from the pile—or steal a coveted item from another player.
Christmas Pictionary
Whether you have a budding Picasso in your family or are artistically challenged, this fun contest gets the whole group laughing as they try to guess the Christmas-themed person, place or thing based on a teammate's sketch. You can print and cut out different Christmas hints for free here.
Reindeer Ring Toss
This inflatable, minute-to-win-it game is less than $20 on Amazon and comes with two inflatable reindeer antler hats, 11 inflatable rings, two reindeer noses, and a mini air pump. Simply pump up the items and do your best to toss your rings around your partner's antlers. The person with the most rings on the antlers at the end of one minute wins.
Christmas Movie Bingo
Make your favorite Christmas films interactive with Christmas Movie Bingo. From more adult-friendly Hallmark Holiday Movie Bingo to Kid's Christmas Movie Bingo simply download playable cards for each kind of movie and use beans or pennies to cover the spaces as you follow along. The first person with five in a row wins a special holiday prize.
Lump of Coal Saran Wrap Gift Game
Get in some grade-A unwrapping practice before the big day with this exciting and fast-paced game. Pick up small gifts — from candy to gift cards — and one big roll of saran wrap. Wrap each gift one by one in different layers until you are left with just a big ball. To play, participants frantically take turns trying to unwrap the ball to get to the prizes hidden in between the layers. Each player is allowed to unwrap and keep whatever falls out of the ball until the person to their right rolls doubles on a set of dice. For a special Christmas edition of this party game, add "coal cards'' into the package, which stipulate special rules. These can look like "before unwrapping you have to name five of Santa's reindeer" or "unwrap with a Santa hat over your eyes!"
Face the Gingerbread man
Bake or buy some of the season's beloved cookies and prepare for some laughs. This humorous challenge asks players to place a gingerbread man onto their face, working to shimmy it down until you can snag a bite before it drops. No hands are allowed and the first person to snag a bite wins.
Heads Up Christmas Edition
Think you know how to take hints? Heads Up is a fun twist on charades that asks one person to put a card to their forehead without looking and then try to guess who or what they are based on hints from the rest of the group. Super in sync with your siblings or spouse? Break off into groups and see what team can get through more guesses first. You can download the Heads Up app with a special holiday-themed pack for $1.99 or you can print off these cards for free.
Gingerbread House Competition
You can't go wrong with a good old-fashioned baking and decorating competition. Snag some gingerbread decorating kits at your local grocery store or on Amazon and then go to work! After your ginger village is decorated, snap some photos and let the internet decide who will be named this year's champion.
Santa Suit Relay
Suit up and get ready for an exciting relay race! To play, split up your group into two teams and place a "Santa suit"—think gloves, hat, boots, pants, and a jacket—a few yards away. As soon as the whistle sounds, the first players must race to their designated suits. Then, they have to scramble to put everything on and exclaim "Ho, ho, ho." Finally, they have take everything back off again and run back to tag the next player. The first team to dress all of their Santas and run back to the finish line wins.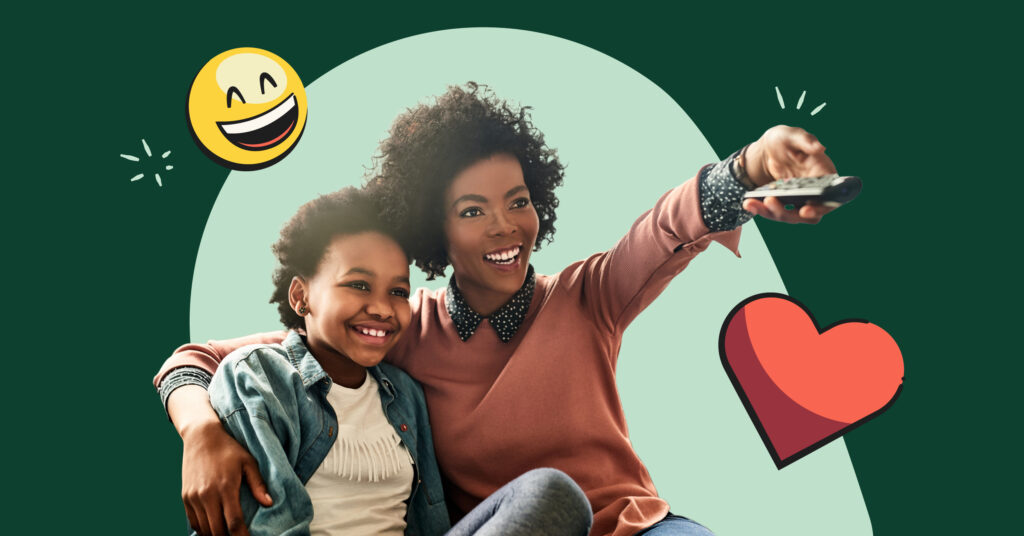 If you feel lost in a sea of content, looking for a safe, fun, and entertaining family TV show, you aren't alone. While it was once easy to sift through three or four channels, with the rise of streaming, parents and kids now have hundreds of options—some more age-appropriate than others. To help you navigate the rough waters of finding just the right family TV show for your brood, we've gathered 10 top-rated shows and family TV networks that you can count on for wholesome, crowd-pleasing content.
Five Popular Family TV Shows
Modern Family—Streaming on Hulu and Peacock
This Emmy Award-winning comedy ran for 11 seasons, capturing the crazy and chaotic lives of traditional and nontraditional families. The light-hearted mockumentary entertains the whole family while providing feel-good lessons about family dynamics and friendships. Plus, short 20-minute episodes serve as the perfect treat post-homework for teens 13 and up.
MythBusters—Discovery Channel
MythBusters mixes education and entertainment to create a show that sparks curiosity and creativity in young minds. For 14 seasons, special effects experts Adam Savage and Jamie Hyneman worked to methodically test some of the world's biggest myths proving them true or false. From fun with jello to crash test craziness, parents and kids can laugh along and learn something from this science entertainment program.
The Mysterious Benedict Society —Disney+
The Mysterious Benedict Society is a new mystery adventure television series based on the children's books by Trenton Lee Stewart. The exciting and sometimes intense plot follows four orphans recruited by a mysterious benefactor to stop a global emergency. Parents and kids praise the show for its exciting cliffhangers and compelling storylines, which draw you back for each episode. While not scary, some scenes can be intense, and parent supervision is suggested for children younger than 10 years old.
Kids Baking Championship—Food Network and Amazon Prime
If your family has a competitive streak, Kids Baking Championship is just the show for you. Contestants 10-13 years old are invited to come up with and cook their best dishes made to impress the judges. Inventive and empowering, parents and kids can cheer on their favorites each week until only one winner remains! 
Just Add Magic—Amazon Prime
Described by parents as good, clean, wholesome fun, Just Add Magic focuses on three tween girls with a magic cookbook. The trio works together to solve mysterious problems as they deal with common coming-of-age issues. With a focus on friendship and family, parents love how the main characters model good values, and kids love riding along with all the fantastical adventures.
Five Popular Family TV Networks
Disney and Disney+
The original family-friendly TV network for years now, Disney cranks out new and exciting family-friendly content like The Mysterious Benedict Society and Andi Mack. It also showcases classics like Boy Meets World and Lizzie McGuire. Despite all of the great TV shows and movies, kids shouldn't be given free rein when it comes to Disney+. The brand also has more mature content under its Marvel and ABC umbrellas, which may prove too intense for young minds. 
Discovery+
Discovery+ has recently added even more family-friendly entertainment to its repertoire. You can find fan favorites like the Food Networks Kids Baking Championship, Animal Planet's Too Cute, and the Science Channel's MythBusters. There is, however, more adult-centered content, and Discovery recommends that parents either supervise their children while watching or set up parental controls through the app.
Cartoon Network
Cartoon Network is home to animated classics like Tom and Jerry, The Powerpuff Girls, and Adventure Time, as well as new shows like DC Superhero Girls and We Baby Bears. During the day, most of the content stays pretty family-friendly, but parents should take care to monitor viewing or change the channel when the brand's Adult Swim content comes on at 8 p.m. 
Nickelodeon
The content on Nickelodeon can skew a little more toward tweens and teens. Shows like Spongebob Squarepants, Monster High, and The Loud House are big hits among this age group but may occasionally feature content a little mature for younger kids.
PBS Kids
As a public broadcasting station, PBS Kids keeps its content squeaky clean and family-friendly. Parents and kids can gather around for inventive shows like Kid Stew and Wild Kratts, as well as older episodes from shows like Arthur and Sesame Street.
How to Monitor What Your Kid is Watching
With all of the available streaming services, networks and channels, it's to find good content that's age appropriate. Bark helps save you time and takes the guesswork out of finding a fun family TV show by providing smart parental monitoring that allows you to observe, block, and control certain apps. Find out more about your options here.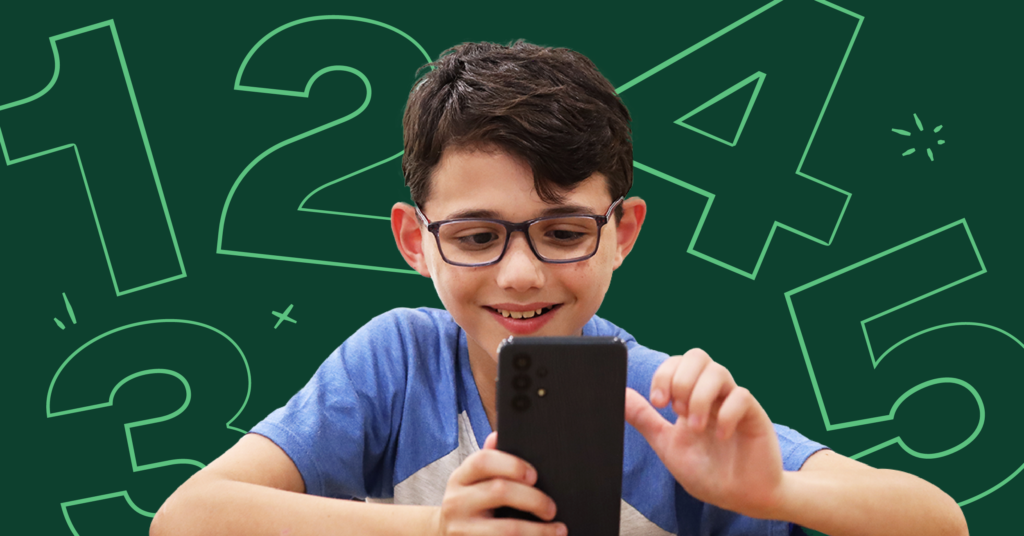 It's safe to say that the team here at Bark is pretty proud of the Bark Phone, and we're excited for families across the country to experience the peace of mind that comes with a phone built by parents, for parents. Raising kids in the digital age isn't exactly easy, but the Bark Phone can help you better protect them when they're using their device. We've compiled a list of the top five reasons it's great for kids and families.
5 Reasons the Bark Phone Is Great for Kids
Bark's monitoring and parental controls are built in and tamper-proof
Bark is the industry leader when it comes to monitoring online activities for potential dangers, so we know a thing or two about what works and what doesn't. With Bark built into the phone — and not just an app installed on a hand-me-down phone, for example — parents can rest assured that the controls you set stay in place. Kids can't download VPNs or workarounds. Plus, the Bark Phone automatically monitors many popular apps, so you won't have to manually connect them.
All of the controls are completely customizable
With the Bark Phone, you as the parent call all of the digital shots, from app installs and contact requests to screen time settings and website blocking. Every child — and family — is different, which is why it's important to manage every aspect of your kid's digital experience in the way you think best. Want to lock down the phone and make it essentially a "dumb phone?" You can! And on the flip side, you can give your teen as much as freedom as they've earned, while still setting healthy screen time boundaries and getting alerts for potential issues.
It grows with your child
If you get your kid a limited-function phone, it's great for safety, but soon you'll need to buy another device if you want to add any new features. With the Bark Phone, you can manage the entire spectrum of growth with one device for as long as your kid lives under your roof. You can progress from phone calls and music only and then gradually add in features like apps and social media if you want. And because digital maturity isn't always a straight line, you can also take away functionality at any time.
Sleek and modern design
The safest phone is the one a kid actually likes and uses. The Bark Phone is an ordinary Samsung A13 and doesn't broadcast that it has incredible parental controls inside. There's no Bark branding or logos on the outside, and it doesn't have that clunky look that some other phones for kids have.
It helps make you and your child a team
Helping to keep your kid safe online is one of your jobs as a parent, but it's also your job to teach them how to use technology, too. Phones aren't going anywhere, and they'll eventually be using one every day when they're young adults. Bark helps you teach healthy habits early in a way that still allows them some freedom and privacy. We're not in the business of spying — we're here to help you and your kid tackle issues together. That's why you can manage everything in a way that works for both of you.
How to Get a Bark Phone
Ready to get your very own Bark Phone? Plans start at just $49/month with no contract required, and they include unlimited talk and text as well as a free case. Order yours today and deliveries will start shipping out in December! Be sure to order your kid's phone today so it can be here in time for the holidays.
Is Your Child Ready For A Phone?
One of the most frequently asked questions we get here at Bark is, "How do I know my child is ready for a phone?" So we made a quick and handy quiz to help you find out where your family stands!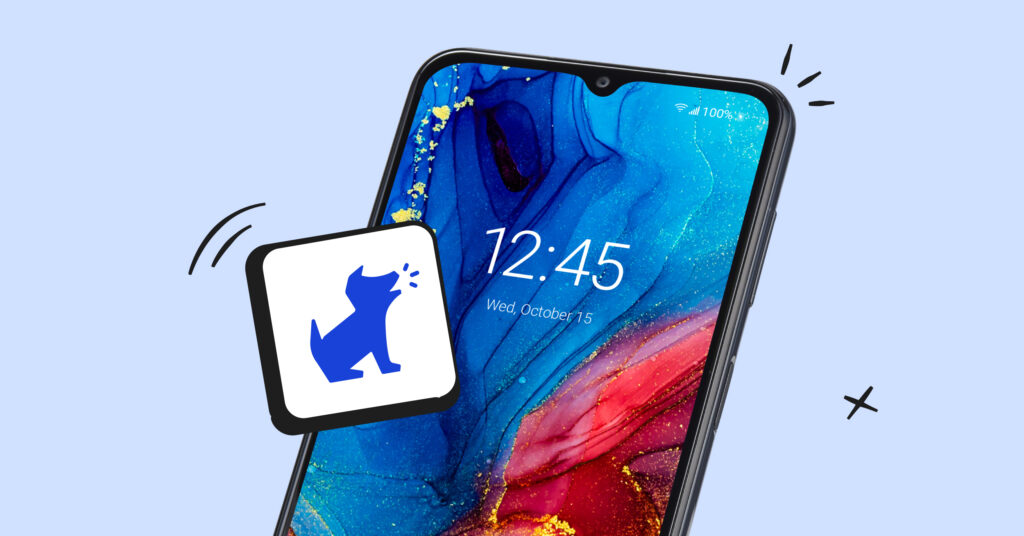 Some phones are built for adults. Some phones are built for kids. But the Bark Phone was built by parents, for parents — and this is why it's a game-changer. The Bark Kid's Phone gives families unprecedented control over their child's online experience. If you're familiar with Bark, you may be wondering how the Bark Phone is different from just having the Bark app on any old phone.
The short answer is: way more functionality. The Bark Phone was built from the ground up with feedback from parents like you in mind. When we were just an app, we had to work around the functions and limits of the phone itself, which was something we couldn't control. Today, with our own phone, we can do so much more to help you protect your kids online. Read on to learn exactly how.
How the Bark Kid's Phone Differs from the Bark app
1. You can manage nearly every setting on the phone with Bark
You know your child best, which is why the Bark Phone gives you control over everything from who your kid can text to screen time settings. From the parent app, you can approve app downloads, check in on their location, and so much more. The best part? You can do it all from your phone, and from just one app. No more switching between multiple parental control apps to help keep your kid safe.
2. Your kid can't delete texts
This is a new feature for Bark, and it's important for a variety of reasons. With Bark's monitoring, you generally won't have to scroll through hundreds of texts to find potential issues — our timely alerts save you time and give kids a little privacy. But after years of talking with parents and families, we've heard how deleted texts can often conceal concerning content, and how crucial it is to be able to find them. When Bark was just an app, we couldn't control whether kids could delete texts — now we can. Here are just a few illustrations of why undeletable texts can help families protect their kids.
When kids don't understand if they're being bullied
Cyberbullying is common these days, and sometimes kids may not even understand when it's happening. They also may be embarrassed or ashamed of the messages they receive. By not allowing texts to be deleted on the Bark Kid's Phone, you'll be able to figure out what's happening, as well as preserve a record should you need to get the school involved.
Someone sends them unwanted photos
Sexting is a huge concern for kids growing up in the digital age, and it can have long-lasting effects on a child's well-being, reputation, and mental health.
A potential predator asks them to delete a message
Just the thought of a strange adult manipulating and grooming your child online is terrifying, but it happens every day. Often, they'll convince kids to hide their conversations from family, whether that's by using a different app or deleting messages. Even though it's a worst-case scenario, you want to know if a stranger is contacting your child — and undeletable texts allow you to do that.
3. Location tracking is more robust
One of the best things about raising kids in the digital age is that you don't have to wonder where they are 24/7. With the Bark Phone, you can use our robust, GPS-powered location tracking to keep an eye on your kids wherever they roam. You'll also still be able to use Bark's location check-ins and alerts for a more hands-off approach.
4. One monthly price that includes everything for your kid's phone
With some phones, you have to jump through a lot of hoops to get everything ready to hand over to your kid — buying the phone, buying the insurance, figuring out how to get cell service, and adding on parental controls. With the Bark Phone, one simple, convenient monthly fee includes everything from start to finish.
5. Grows with your kid
The Bark Phone's customizability lets you decide how much function it has, which means that it's great for young kids — but it also is great for tweens and then teens. For children, you can set the Bark Phone up so that it's basically a "dumb phone" with only controlled calls and texts to approved contacts. As your kid matures, you can add in apps like email and podcasts. Then, eventually, you could add in even more functionality like social media and games. Plus, at any time, you can dial back freedoms or add in more leeway. It's all up to you!
6. Bark Premium for all your family's devices
A Bark Premium subscription is included in the Bark Phone's price — but we know kids may have more than one device. iPads, Kindles, and old hand-me-down phones that are just for games also need protection! The same goes for every child in your family, along with all their devices, too.
7. No workarounds
With Androids and iPhones, kids could find ways around the Bark app to disable it despite our best efforts. While frustrating, this is just part of having a phone that's not built for child safety. The Bark Phone is different, and kids won't be able to download workarounds or VPNs to get past the parental controls you set.
8. Manage app downloads and contacts
This is another example of how the Bark Kid's Phone gives you control over another important part of your child's digital world. You'll get an alert when your kid wants to download a new app or save a new phone number to their contact list. You can then decide whether or not to allow them, and, of course, maybe have a conversation about what or who it is they're wanting to do with them.
Is Your Child Ready For A Phone?
One of the most frequently asked questions we get here at Bark is, "How do I know my child is ready for a phone?" So we made a quick and handy quiz to help you find out where your family stands!
The Bark Phone for Kids: Pricing and Details
The Bark Kid's Phone starts at $49/month. Zero down, no contract required. We have three monthly data options to fit your family's needs:
$49/month for Wi-Fi only
$59/month for 4GB data
$69/month for 8GB data
Each phone plan comes with a Bark Premium subscription and will cover any other kids, devices, and accounts a user's family has. You won't pay for an extra Bark subscription if you already have Bark Premium — we will adjust your plan and prorate the remaining amount left and apply it to the subscription.
The Bark Phone also comes with:
USB-C charging cord
Protective case
Unlimited talk and text
How to Get a Bark Phone
Ready to get your very own Bark Phone? You're not alone! Order yours today and deliveries will start shipping out in December. Be sure to order your kid's phone today so it can be here in time for the holidays!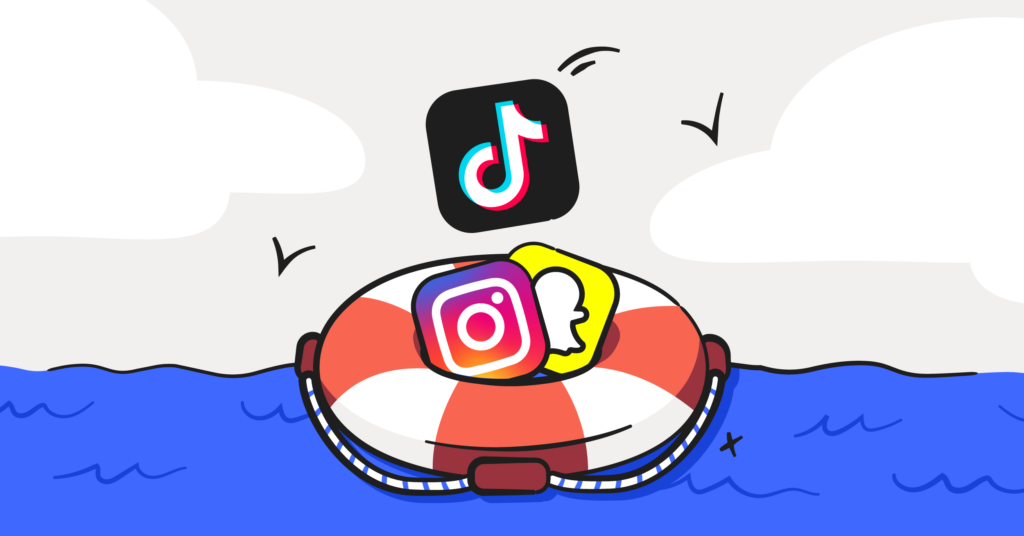 There are some conversations that all parents will eventually have to have with their kids at some point. Like the "birds and bees" talk and the "who is the tooth fairy?" conversation. They're simply unavoidable. And in 2022, one of those unavoidable conversations is the "social media talk."
Undoubtedly, at a certain age, your kid will start asking to have social media. As their friends start to explore the digital world, it's only natural that your kid is going to want to join in on the fun. And make no mistake, social media is fun — or it can be. Instagram can be an awesome way for your kid to explore their interests and TikTok can be an inspiring place for your kid to show off their talents, whatever they may be. Not to mention the fact that kids often feel that social media helps them stay connected to their friends' lives, especially if they don't get to hang out every day. 
But all of those positives are just the tip of iceberg, because social media also comes with HUGE potentials danger if you and your kid are not prepared for them. So that's why we've put together a few key tips to help you introduce your kid to social media. Keep reading to learn more! 
Educate Yourself and Your Children About the Dangers
So, what exactly are the dangers? Well, if you're on any social media platforms yourself, you probably know that bullying, body shaming, foul language, and sexual content are commonplace. And you may know that child predators have used social media to target kids. It's scary how common this is and just how quickly a predator can form a bond with your child. One study found that it can take just 8 minutes for this connection to take place.
One of the most challenging parts of allowing kids on social media is keeping them safe from online strangers — you never know which online stranger could be a potential predator. On the flip side, your child can be targeted by peers that they actually know in real life, with cyberbullying being a huge risk factor among kids online. 
So what can parents do? First, educate yourself! Second, educate your kid! Easier said than done — we'll admit that — but just knowing about the potential dangers is half the battle for a lot of parents. And if you and your kid can build trust to openly communicate about these things, you will be lightyears ahead in this digital parenting thing.
Study Different Social Media Platforms
Now for practicalities: what's the best way for parents to educate themselves, especially if they're not personally using these platforms? 
Well, one way is a trusty Google search. There are lots of resources that can tell you all about every platform — and guess what? Bark is one of those resources! Our blog covers apps, games, and important topics like mental health and dangerous internet trends. So by reading this, you're already in the gold mine of information you need to know about social media.
But one surefire way to really understand the inner workings of social media is to download the app and make an account. That might seem like a lot of work, (let's be honest, what parent has a bunch of free time to peruse random social media sites?) but it just might be worth the effort. Familiarizing yourself with the app can give you more clarity if your kids have questions or if they run into issues later on. And another bonus — once you've decided they can have social media, you can follow their account to check in on what they are posting and commenting on.
So after your research, you should have an idea of which platforms you're comfortable with your kid having and which ones you're more worried about. Now it's time to actually talk about all of it with your kid. 
Create a Tech Contract
A great way to clearly communicate with your kid and set healthy boundaries is a tech contract. We encourage parents to sit down with their kid and write out what expectations come with their access to social media. Here are some helpful suggestions:
Platforms they can use freely
Platforms they can use with restrictions
Platforms they cannot use at all
Hours they can use each platform
Features that are on and off limits
Types of content they may view and/or share
How to handle friends, likes, followers, etc.
Private message guidelines
For more examples and even a printable tech contract to get you started, take a look at this blog post for more guidance. 
Actively Monitor Your Child's Social Media Activity
Unfortunately, the work doesn't stop after the research and tech contract. Once your kid is on social media, it is super important to stay in the loop about anything harmful or suspicious coming up on their feed. And that's exactly where Bark steps in! Bark can monitor your kid's social media accounts and text messages and alert you to things like cyberbullying, predatory comments, and more. It also gives you insight into your kid's digital world so you can understand them better. Start your free trial today!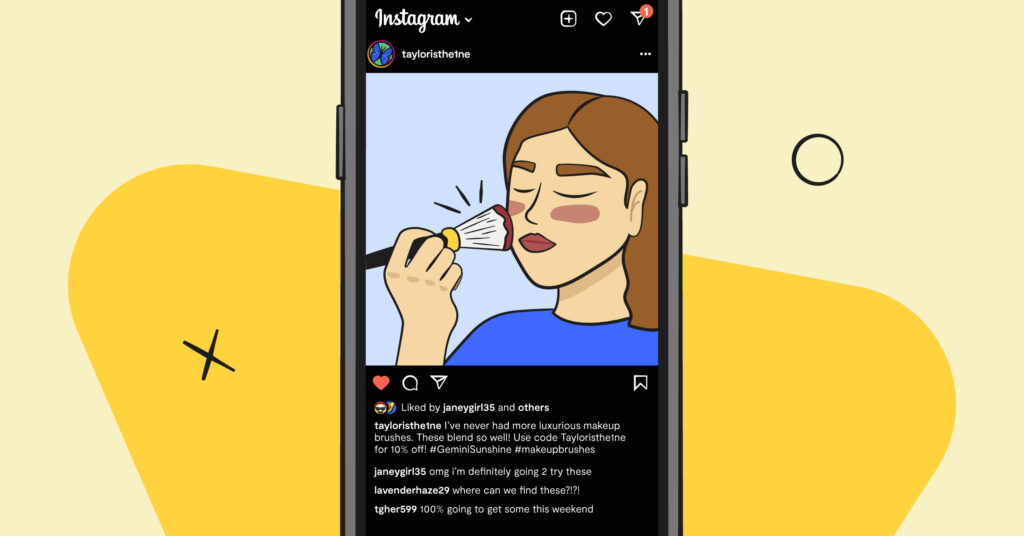 Social media is a big part of everyday life for adults, but it's also becoming a huge part of kids' lives, too. Because of this, there are concerns about minors' social media use with the rise of a new breed of celebrity: the social media influencer. As of 2021, roughly two-thirds of American teenagers followed social media influencers — that's a lot more than the 29% of American adults who do.
While much of the research into influencers' impact on children and teens has focused on problems, the story is not entirely grim. In this blog post, we'll dive into the positive and negative impacts that social media influencers can have on kids.
What is a Social Media Influencer?
A social media influencer is someone who has an online following based on their personality, skills, or interests. In addition, influencers often share snippets of their everyday lives and activities.
Influencers tend to have large audiences and often create sponsored content around products to spur sales — and make money. They can be paid upfront or receive a percentage of profits based on purchases, usually through tracking links. Though paid promotions are generally noted in the hashtags or captions, the content often blends in with the rest of the influencer's content, making it difficult to tell what's real and what's sponsored.
Remember: Not all social media influencers are adults. Some minors are also influencers. They develop a following of young people that will grow with them. Instagram, YouTube, and TikTok are the most popular networks for young social media influencers. If your child spends a lot of time on these platforms, there's a good chance they follow several influencers.
Why Do Kids Follow and Respect Influencers?
Children and teens follow influencers for many reasons. Since they spend hours every day in front of a screen for school, entertainment, and social interaction, social media influencers can offer breaks in the day with their exciting content. Influencers can provide information relevant to their audience. Viewing their content can also provide comfort for kids.
There are several types of social media influencers popular with teens. Below is a quick breakdown of the most popular influencer types:
· Music – 38%
· Gaming – 36%
· Celebrity – 31%
· Humor and Memes – 26%
· General and Lifestyle – 24%
· Fashions – 22%
· Beauty – 22%
How Do Social Media Influencers Impact Youth?
Social media influencers can significantly impact minors, with 70% of teens saying they trust influencers more than regular celebrities. With large platforms and little to no moderation, they can publish content that can be questionable at best and damaging at worst. Despite this, influencers can also positively impact their followers as well. Let's review the potential positive and negative impacts influencers can have on children.
Influencers: the positive
Social media influencers are entertaining
Like all media outlets, we often turn to social media for entertainment, especially when we need a break from daily life. This is true for minors as well. More than a quarter of all teenagers follow humor or meme-based influencers. An even higher percentage follow streamers and influencers that focus on music and gaming. Youth turn to social media for entertainment, replacing magazines and entertainment news shows with a more community-based approach.
Influencers can promote activism
Some influencers can use their social media platforms to spread social awareness. Teenagers often use social media to learn about and explore their interests. Influencers can encourage their audiences to advocate for causes by providing information. They can also give young people the resources and inspiration to engage with their communities.
Influencers can provide company and comfort
During the COVID-19 pandemic, children and teens used social media to fill the void of social interaction when they couldn't see their friends. Teens turned also to influencers to remain positive during difficult times, as many promoted kindness and self-care.
Influencers: The negative
Influencers may expose minors to unhealthy products and themes.
Food and drink companies often turn to social media influencers to promote their products through sponsored posts that show the influencer enjoying the product. Unfortunately, not only can these posts blend into children's news feeds as authentic content, they can promote unhealthy behavior, such as alcohol use or junk food.
Social media influencers create comparisons.
Children and teenagers have enough peer pressure from in-person interactions without adding stress from social media influencers. Since influencers often present a clean, shiny, and fun version of their lives, it can create a sense of comparison for young followers. This increased social comparison has been linked to anxiety, depression, sleep issues, and negative body image among youth.
Social media influencers can promote an unrealistic ideal.
Because of filters and photo-altering techniques, social media posts created by influencers can promote unrealistic body standards. In fact, more young influencers are undergoing cosmetic procedures in return for promotions. These practices further distance influencers from their followers, leaving fans to feel they have to "catch up" to those they follow.
How to Monitor Your Child's Exposure to Influencers
Social media influencers can have varied impacts on your child's life and mental health. Since they have become such a large part of our culture, how can you ensure your child is following healthy people? Here are three simple strategies to stay involved.
Follow who they follow
This may seem simple, but following who your child follows on social media is the best way to stay up to date. Take the time to review who your child follows, either by asking them or by viewing their "following" list on their social media accounts. Then follow the influencers they're following. This way, you will see the same content.
Join your child
If your child wants to engage in social media challenges or start posting their own content, be a part of the process. For example, if they want to create dance videos on TikTok, be supportive! This way, you can avoid isolating your child and keep the lines of communication about their social media presence open and friendly.
Use Bark to monitor content and interactions
Monitoring your child's social media can be time-consuming. After all, adults experience the same challenges as minors when it comes to social media and screen time.
With a tool like Bark, you can monitor your child's text messages, social accounts, email, and other apps for issues like depression, cyberbullying, threats of violence, and suicidal ideation.
To stay on top of your child's online life without being invasive, use a tool like Bark to help keep them safe.
Social Media Influencers Are Here to Stay
Whether we like it or not, social media influencers are now a part of life, both for adults and young people. Since these influencers can positively and negatively impact impressionable children and teens, it's important to understand why minors are drawn toward influencers. Talking to your kid about who they follow — and why — can help you learn about their world.