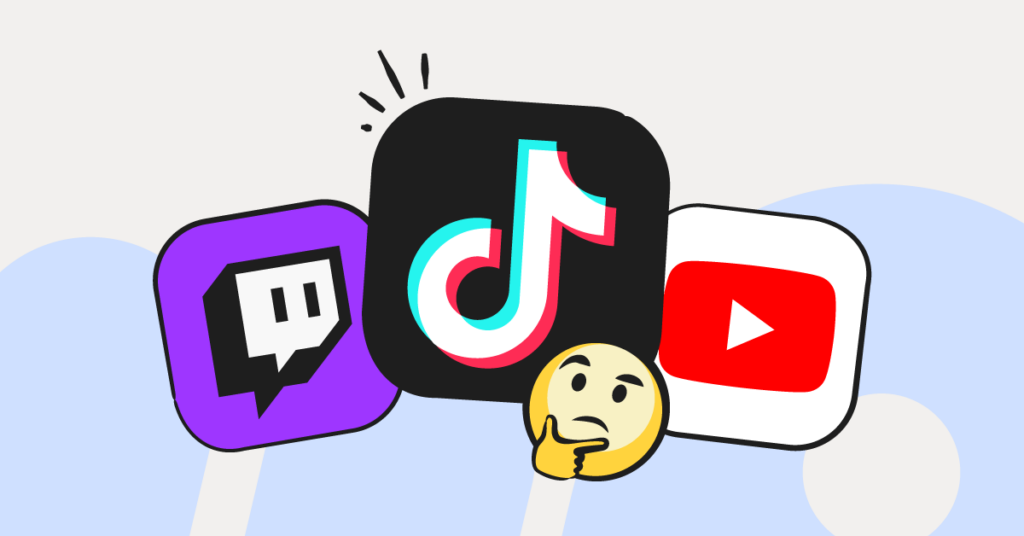 Viral TikToks. YouTube how-to instructions. Highlights from football games. What do these all have in common? They're all popular clips you can watch on video sharing apps. Young and old alike use apps for video sharing, and many kids even get in on the action by creating and sharing their own videos. Others, meanwhile, simply enjoy scrolling through videos from their favorite online creators and brands.
But are video sharing apps safe for kids? And how much should you monitor them as a parent? To help you understand what your kids are seeing, we've got all the details on the three most popular video sharing app options for teens and tweens.
TikTok
TikTok is the leading video sharing app in the U.S. and across the world. It's been downloaded more than 200 million times from within the U.S. and boasts an audience ranging in age from 13 to 60. More than a billion people use the app every month, and many visit daily to follow their favorite creators.
TikTok is rated 16+ but allows users as young as 13 to join. Those under the age of 16 are automatically given private accounts. This stops strangers from sending them direct messages within the app but doesn't guarantee that young users won't see inappropriate content. While there is a lot of clean, kid-friendly content available, there's just as much if not more content that isn't appropriate for younger users.
Pros for kids
Family Pairing allows parents to link their child's account to their own.
Digital Wellbeing features create limits on the number of hours the app is used.
Cons for kids
Having a private profile doesn't block kids from seeing public videos.
A lot of inappropriate content exists — sex, profanity, drug/alcohol, and more.
Bullying and aggressive behavior are rampant.
Accounts can be hacked.
YouTube
YouTube has been around longer than TikTok and allows creators to upload longer, more detailed video content. Creators establish their own channels, and users follow their favorites to keep up with the latest content. There are now more than 2.5 billion YouTube users, and many consider it a search engine like Google. This is due largely in part to the incredible variety of educational and informative videos presented on the app. In fact, YouTube generates over a billion views every day.
Pros for kids
YouTube has good parental control settings for pre-teens and older kids.
A lot of content is suitable for kids as well as pre-teens and teens.
Oftentimes, harmful content is removed quickly.
It's one of the safest video sharing apps available.
Cons for kids
There are lots of inappropriate things for kids of all ages.
Interaction with strangers in comments is possible.
Twitch
Twitch is a video game streaming app that allows users to share video of their screens while they play popular video games. While the content usually revolves around gaming, this doesn't mean users aren't exposed to explicit language and other inappropriate content. Some mature video games like Grand Theft Auto are played and shared freely with no age gates that prevent younger users from watching.
Twitch allows users 13 years old and older to register without parental permission. There are also no parental controls in place. You can set your child's account to block videos containing profanity, discrimination, hostility, or sexually explicit language, but there's nothing stopping your child from turning those settings off.
Pros for kids
There are tons of creative and educational video games to watch.
Many kids feel connected to friends within the platform.
Cons for kids
There are no real enforceable parental control settings.
Games with violence and profanity are allowed.
Kids may interact with adult users.
Are Video Sharing Apps Safe for Kids?
The three video sharing apps featured here aren't safe for young children without direct adult supervision — and even then, some sketchy things may still pop up! It's difficult to find consistently family-friendly content on TikTok because every flick of the screen brings up something new. While YouTube does offer cartoons and a wealth of educational videos, it also has some potentially dangerous content for young kids and even pre-teens. And Twitch can be incredibly hit or miss.
If you're worried about your child interacting with video apps, Bark can help. You can block websites and apps to help keep your kids safe from inappropriate content. You can also manage when they can access them — like no YouTube until after school.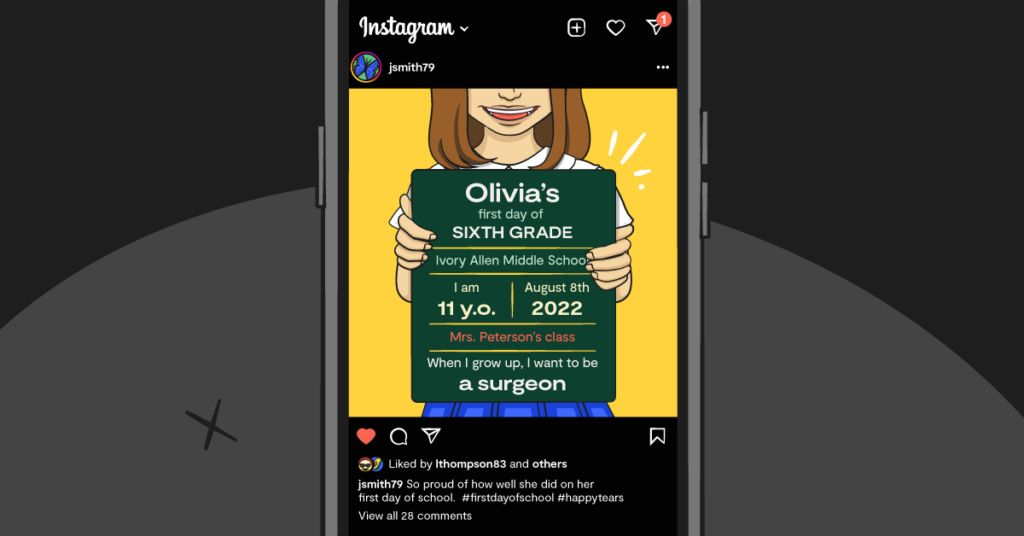 It's that time of year again! Picture it: the smell of brand new school supplies, first-day outfits that slap (that's kid-speak for "cool"), and freshly packed (and mostly healthy) lunches. But before you get caught up in the excitement — and stress! — of the new school year, we've got some tips to help you protect your child's privacy, both online and in real life.
1. Think Twice About Posting Those Back-to-School Photos
You've seen them on Facebook and Instagram — the bright, smiling faces of kids holding up a chalkboard or sign before hopping on the bus. It usually lists out the date, the grade, the teacher's name, and maybe even hobbies and future career interests. While we definitely love the idea, this form of sharenting presents a potential danger to kids.
If a less-than-savory character were to stumble across this photo, they'd instantly know your child's name, school, teacher, and even what they like to do. This could make starting up a conversation with your child easy, which is a scary prospect. And while yes, having a private social media account to post pictures like these to is always a good idea, it's by no means 100% safe. Phones can be lost, stolen, or even hacked.
2. Remember That Everyone Can See Yard Signs
On a similar note, there's been a recent trend in the past few years of posting school spirit signs in your front yard or living room window. They don't always announce names, but often they'll proclaim to the neighbors — and any stranger who drives by — that a "future Smith Elementary Wildcat Lives Here." These kinds of signs are also common around graduation time, too. Of course, you can't hide the fact that you have kids as a neighborhood resident, but it's probably not a good idea to broadcast their exact age to anyone who walks past your house, either.
3. Help Safeguard Social Media Footprints
A new school year is a good time to check up on any identifying information that may be in your child's social media footprint (if they have accounts). Make sure your kid's username doesn't contain details that immediately identify them as underage — this could make them a target for online predators wishing to start up a conversation. Details to avoid include birth years (like Fotnitefan2012), local school mascots, ages, and more. Similarly, many kids like to include their graduation year or school name in their Instagram or TikTok bios, but this is another way they may be targeted online by their age. Even if an account is private, these bios remain public for any user to see. 
How Bark Can Help
If you're worried about your child's digital activities, Bark can help give you peace of mind. Our award-winning service monitors texts, emails, and 30+ social media platforms and apps for dangers like bullying, online predators, depression, and more. You can also block websites and apps, create screen time schedules, and get location alerts when your kid is on the go.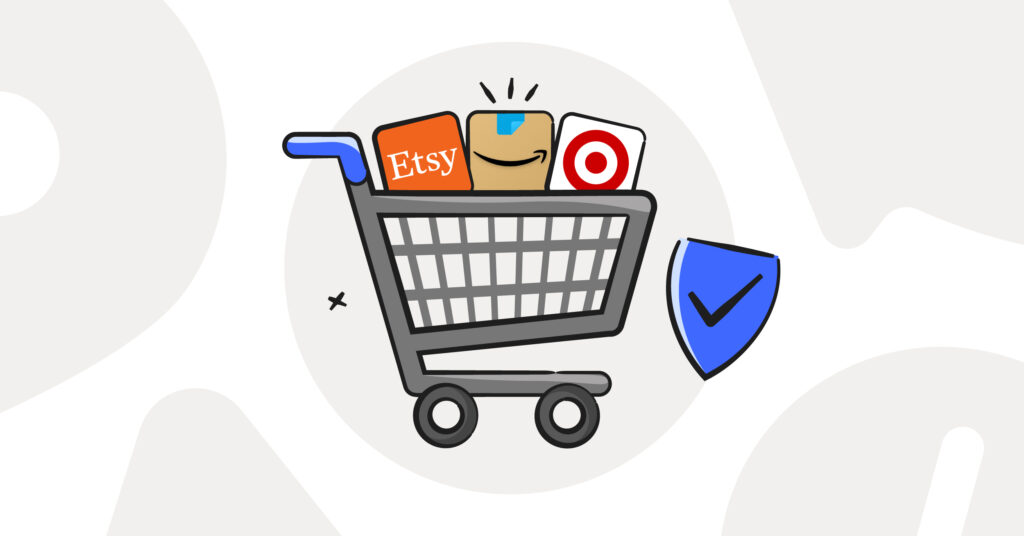 For our generation, we probably don't remember the very first time we bought something online. But odds are, it probably happened when we were fully grown adults. In 2022, though, it's a whole different ball game for kids. Because of this, instilling good online shopping safety habits has become a new rite of passage for families. Similar to teaching your kid about payment apps, this can be a little intimidating at first. With our online shopping safety tips, you'll feel more comfortable in no time — and help keep your family's financial information safe.
Online Shopping Safety Tips for Families
Sit down and do a walkthrough
The next time you need to order something online, have your child sit next to you as you explain the entire process from start to finish. This can look like googling and researching something you need, like "garden shoes" or something simpler like finding picture frames on Amazon. Explain how to add things to a shopping cart, how to check out, and how to look for the confirmation email.
Decide which payment forms you're going to allow
There are lots of different ways to pay when it comes to safe online shopping. Digital-only payment options include Paypal and Cash App but these are technically off-limits to minors (but some families disregard these rules and use them anyway). There are also kid-friendly debit cards like the ones from Greenlight and GoHenry that work just like regular debit cards. Some families also choose to let their kids use their parent's credit card. At the end of the day, it should be whatever your family is most comfortable with. Just make sure you know what your child is using so there are no surprises later.  
Discuss when and where online shopping is okay
This can be practical: Online shopping for new shoes at school? Not a great idea. It can also be a matter of safety. If your kid is connected to a strange Wi-Fi (like at a random store) or one with tons of strange connections (like at an airport), the chances of being hacked are higher. We recommend having kids do their shopping at home on your secure Wi-Fi network. This also helps with parental supervision, if that's important to you.
Make sure the site is secure
This one's pretty simple. Before your child even starts to browse a seller or company's website, teach them to look for the lock. Most reputable organizations invest in secure tech for their websites, and this is incredibly important when it comes to online commerce. In addition to the lock symbol, you can also look for an S in the "https" part of the website address. Secure websites take more steps to help protect personal information during transactions.
Stress strong passwords
Safe online shopping starts with the basics. Now that your child is going to be exchanging money on the internet, now more than ever is a good time to ensure that their passwords are super strong. Sometimes, it's required to create accounts for sellers, so your child may even be creating new passwords. Make sure that the passwords are different, long, and contain a mixture of upper and lower case letters, numbers, and special characters. There are also password security apps that can help your family store and organize all of their passwords to help prevent fraud.
Block websites you want to keep off limits
Websites don't usually check for ages when someone enters in credit card info, so it's a good idea to assume that your child may be able to buy anything — which is a scary thought! Examples of things you may not want your child to buy include porn, items with alcohol/drug messaging, inappropriate movies or music, and countless others. Bark has a powerful web blocker that allows you to block specific sites as well as entire categories like e-commerce, sexual content, and more. This way, you'll be able to worry less about your child being tempted to buy things they shouldn't.
Talk about scams
The internet is absolutely filled with people looking to take advantage of others, and this is an unfortunate but necessary truth to have to explain. Fortunately, there are many ways to ID a potential scam. One lesson to convey is that "if it's too good to be true, it probably is." You can also teach your child how to recognize reputable websites and sellers. The following are red flags that a site probably isn't trustworthy:
Bad grammar and incorrect spelling
Unrecognizable name or URL
No reviews online
Not secure (no lock icon or https)
Set ground rules for shopping
Have you made a tech contract with your child? If not, we recommend it — it's free and helps lay down expectations for how your child uses their device. If you have, we recommend adding a section about online shopping safety. You can add things like times when shopping is allowed, monthly budgets, and more. Online shopping is a serious responsibility, so sitting down with your child and getting on the same page can help you both know what to expect.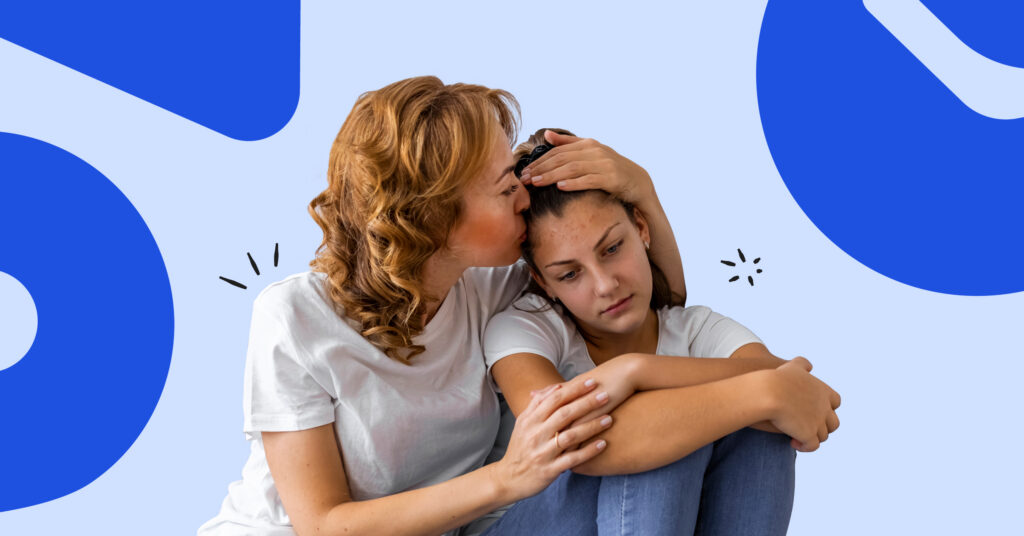 Growing up has never been easy, but for families today, it can seem even more daunting. Adolescence is a time of big change for kids, and dealing with emotions, school, and outside events can be overwhelming sometimes. As a parent, it's important to help instill in your child healthy mental health habits that will last a lifetime, as well as to know when something may be wrong and a conversation is needed. This blog post will help you understand teen mental health a little better and how to connect with your child.
Stressors — And Coping Mechanisms — Are Different Today
Even apart from the global pandemic, civil unrest, and inflation that's disrupted nearly everyone's life the past few years, teens today face issues our generation couldn't have imagined. The pressures of social media and technology can create a toxic storm of self-doubt, FOMO (fear of missing out), sadness, bullying, and more.
Teenage mental health issues can manifest themselves in ways adults may not recognize. Even the way kids talk about depression has changed, with new slang terms, idioms, and metaphors. Instead of staying on the phone with friends venting about school or parents, they may turn to group chats, logging on to a Discord server to voice chat, or even just zoning out watching their favorite Twitch streamer.
How to Promote Positive Mental Health in Teens
Mental health is like taking care of a car — many big problems can be taken care of with preventative maintenance. Also, some folks may think of the term "mental health" as something negative, but in reality, it's part of our daily lives, and can be a positive thing! Here are some ways to encourage healthy mental health in teens:
Talk about feelings often
Emotions are how we process and make sense of the world around us. Make sure you talk about your own and encourage your child to share theirs — good, bad, and everything in between. Let your child know that all feelings are okay, no matter what. Tell them they can always come to you with any emotion, problem, or situation for help. Plus, the more you talk about these feelings, the more you'll know what's going on in your child's world.
Encourage good physical health
The mind and body are linked, so it's important that teens eat nutritious food, drink lots of water, exercise regularly, and rest well. Set aside some time throughout the day to share healthy meals and move your bodies as a group.
Be a role model
One of the most important things you can do is model how to respond to life and emotions for your child. When you have a bad day at work and are stressed, demonstrate how you decompress with yoga or by having a movie night with the family. These little habits show your child that life isn't just about what happens to you — it's also how you react to things.
Common Mental Health Issues to Know About
Anxiety and depression are probably the most common teen mental health issues parents recognize, but there are other ways teens may be struggling, including:
Suicidal ideation
Disordered eating
Behavioral disorders
Risk-taking behaviors
How You Can Support Your Child
Know the warning signs
No one knows your child quite like you do, so you're in the best position to know when and if something is amiss in their world. Here are some general things to look out for when it comes to warning signs for issues like depression and anxiety:
Changes in school performances
Eating habit changes
Increased irritability
Inability to concentrate
Losing interest in once-loved activities
Physical ailments without causes (stomachaches, headaches)
Sleeping too little or too much
Isolation from friends, teammates, and family
Actively listen
When you sit down to talk to your teen, give them your full attention. It can be hard for a young person to bear their soul, and the last thing you want is for them to feel like you're not all there. Put your phone in another room, turn off the TV, and make sure there's lots of eye contact. Ask follow-up questions and repeat back important parts of what they're saying. This can look like "I hear you're not sleeping well and feel tired all the time. That sounds pretty stressful!"
Show empathy
It may be hard to 100% understand some of the situations and activities your teen may be in. For example, maybe you've never dramatically been kicked out of a group chat. But you probably have experienced a fight with friends, though. Show your child that you understand their emotions and that they're not alone in their feelings, whatever they may be.
Offer support
This can look like listening more often, planning a weekly ice cream date, or something heftier like working together to find a therapist. Let your child know that you're willing to show up for them in whatever they need to support their mental health.
Provide resources
If there's one silver lining to dealing with mental health issues today, it's that there's never been a time more filled with information and resources thanks to the internet. From videos and worksheets to texting hotlines and phone numbers, there are tons of ways to get and implement help. Check out the section below for resources for both you and your teen.
Helpful Resources for Teen Mental Health
How Bark Can Help Families
Even armed with the best information and resources available, it can still be hard figuring out teen mental health. Many teens turn to social media and messaging with friends to help make sense of their feelings and emotions — things they sometimes wouldn't normally share with their parents. Bark can help by monitoring online activities for signs of depression, anxiety, self-harm, and suicidal ideation.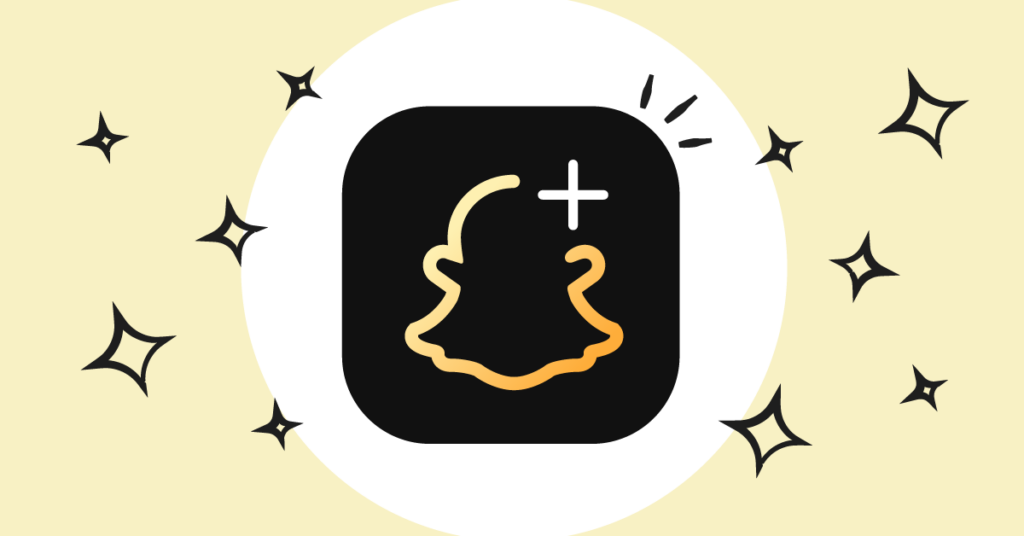 Have you heard the news? Snapchat Plus is the new premium subscription version of the popular disappearing-message app. Lots of apps and games operate on a freemium model — that is, free basic features with the option to pay for extras — but Snapchat is the latest social media platform to head in this direction.
For $3.99/month, users can customize apps and themes, get insight into who's interacting repeatedly with their stories, and more. You can even get early access to new features before they're rolled out to everyone else. Fortunately, we've got everything you need to know about the Snapchat premium subscription— including possible dangers.
Why Is There a Snapchat Plus, Anyway?
The short answer is — money. Snapchat has been around for a while, and like most apps, it's been relying on ads to generate income. Creating a premium model will not only help bring in more cash, it will also attract more users. It's unclear how successful this model will be for Snapchat, especially considering how many kids use the app (and who often rely on their parents to approve purchases). But in the meantime, teens especially are bound to get excited about some of the new features explained below.
Snapchat Plus Features, Explained
Story rewatch indicator
On Snapchat (like Instagram), you can see who's viewed your stories, which are photos you share and that stay up for 24 hours. Once someone has viewed a story, though, they can look at it again as many times as they want and you'd never know. This new feature really lets the cat out of the bag and tells you exactly how many times they've come back and replayed your stories, which in turn could indicate if someone is interested in you.
Friend Ghost Trails
With the existing Snap Map, you can see where friends are in real time on a map if they choose to share their location with you. Ghost trails take this even further and shows you where all they've been over the past 24 hours. Of all the new features available with Snapchat Plus, this one is probably bound to cause the most drama.
Custom app icons
For power users, the ability to completely personalize your Snapchat experience can be a huge draw. Want your Snapchat icon to be on a rainbow background? Overlaid on an American flag? Completely made of flowers? A Snapchat premium subscription lets you take your pick.
Snapchat+ badge
Exclusivity is another draw of Snapchat+. You can add some flair to your user name with a black star badge that lets your friends know that you're an official Plus subscriber.
Friend Solar System
Ready for a throwback? Snapchat+'s Friend Solar System is basically the visual friend-ranking version of MySpace's top eight. When you're a Snapchat+ subscriber, you'll see a "Best Friends'' or "Friends" badge that has a gold ring around it on someone's Friendship Profile. If you're "Best Friends," that means you're one of each other's eight closest friends, while "Friends" means you're one of their eight closest friends, but they're not one of yours. In order for this feature to work, you and your friends must have linked Bitmojis.
Best Friends Forever Pin
This is a small feature, but some teens may love it. You can pin your BFF as your "#1 Best Friend" with Best Friends Forever. However, only you can view this pin.
The Dangers of a Snapchat Premium Subscription
Many of the features discussed above are harmless — things like the customizable Snapchat icon. Others may be bound to cause a little tension (like the friend Ghost Trails), but don't necessarily present an immediate threat. However, it's the unmentioned things that may cause danger down the line. As a Snapchat Plus user, you get access to unreleased new features, and there's no telling what some of these new additions may be. Snapchat has long been one of the more dangerous social media apps, so it's worth keeping in mind that any new features may be sketchy, as well.
How Bark Can Help
As many families know, Snapchat makes it extremely difficult to monitor its content on any platform. Currently, no monitoring services can scan Snapchat messages on iOS devices. On Androids, we can monitor messages with text only.
Apart from monitoring, Bark's blocking and screen time tools allow parents to manage when — and even if — kids are allowed to use Snapchat. You'll also receive an alert if your child creates a Snapchat account or downloads the app, so you can stay in the know when it comes to what's going on in their digital world.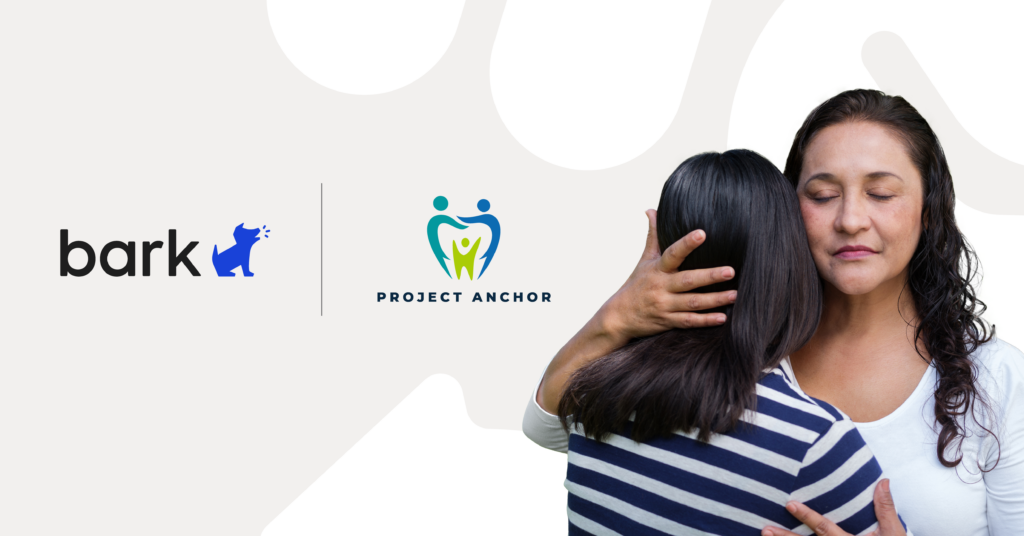 If your family has struggled with supporting a child experiencing suicidal ideation, you're probably familiar with just how devastating can be. It can be scary, anxiety-producing, and incredibly isolating. But it's important to know that you are not alone. Many, many families have dealt with this issue, so much so that suicide is now the second-leading cause of death for young people aged 10 to 14.
Here at Bark, we've witnessed that 43.09% of tweens and 74.61% of teens were involved in a self-harm/suicidal situation in 2021 — a sobering and heartbreaking statistic. We send alerts to parents and guardians notifying them of this concerning issue, but it can be hard for parents to know what to do next.
That's why we're proud to announce that we're partnering with Project Anchor in a groundbreaking new study meant to provide more resources and information to parents supporting a child struggling with suicidal ideation or self-harm. Read on to learn how you can volunteer for this important study.
What is Project Anchor?
In collaboration with Bark, Dr. Kathryn Fox (University of Denver), Dr. Taylor Burke (Harvard Medical School), and Dr. Alex Bettis (Vanderbilt University Medical Center) were recently awarded a research grant from the Mental Research Institute to develop evidence-based guidance for parents about what to do in the hours, days, and months after they receive a suicide/self-harm alert.
This research funding will support the launch of Project Anchor, the first step in Bark's collaboration with this team. Despite alarmingly high rates of suicide and self-harm in teens, there are few evidence-based resources designed to help parents and guardians navigate what to do when they learn that their child might be at risk.
Project Anchor is an anonymous, paid research study recruiting guardians who use Bark. Through Project Anchor, we hope to learn more about guardians' experiences after receiving a Bark suicide/self-harm alert.
Based on what is learned from Project Anchor, the researchers will design an evidence-based digital tool to help parents know what to do after they receive a suicide/self-harm alert, and to help keep their children safe.
Why Volunteers Are Needed
Talking about suicide is hard, and it can be even harder when it comes to how children experience it. By sharing your family's experience with Bark alerts regarding suicidal ideation and self-harm, you can provide invaluable information that can benefit countless other families. Because of how Bark works within the framework of a child's use of social media, texting, and other forms of online communication, Bark families are uniquely positioned to help researchers learn the hows, whens, and whys of suicidal ideation and self-harm.
Project Anchor's research aims to understand how and when teens disclose suicidal thoughts and self-harm, how families talk about these thoughts and behaviors, and to develop tools to support families when a child is at risk for suicide and/or self-harm.
What to Expect
You'll complete two separate surveys online over the course of a week. The study will take less than an hour total. After you finish the first survey, you will receive a $5 electronic Amazon gift card. After you finish the second survey, you'll receive a $10 electronic Amazon gift card.
How to Get Started
Anyone who has recently received a Bark alert for self-harm/suicidal ideation is eligible to participate in this research study. Click the button below to learn more.
Starting July 16, 2022, people in distress — including those who are suicidal or experiencing a mental health or substance-use crisis — can call, text, or chat 988 to reach support. This new easy-to-remember number may be new, but its lifesaving concept isn't — dialing 988 will route callers to the existing National Suicide Prevention Lifeline. The current Lifeline phone number (1-800-273-8255) will still be active after 988 launches nationally.
Designating 988 as the new suicide hotline is so, so important for expanding mental health care in the U.S. First, it shows that mental health emergencies are just as important as public safety emergencies by assigning it a quickly reached, three-digit number like 911. Second, by making it easy to access and remember, the hotline makes it possible to get help to more people. Read on to find answers to frequently asked questions about 988.
FAQs About 988, the New Suicide Hotline Number
How can you access 988?
From a phone, you can call 988 to speak in-person with a trained counselor. If talking feels like too much, you can send a message to 988 and communicate via text. Finally, if you don't have access to a phone or have spotty cell service, you can visit 988lifeline.org to text chat or even place a video call. The lifeline is available 24 hours a day, seven days a week — including holidays and weekends.
What should you expect when you call 988?
When you contact 988, you'll be connected with a trained local counselor who will listen, provide support, and offer resources for further help, if needed. If you're worried about an ambulance being automatically called, don't be — fewer than 2% of hotline calls require connection to emergency services like 911.
How is 988 different from 911?
988 aims to help provide more accessible mental health support given the rising rates of suicide in the U.S. Suicide is now the second-leading cause of death for people ages 10 to 24. 911, on the other hand, is for public safety and medical emergencies like fires, accidents, and crimes. Calling 911 often results in the dispatch of EMTs, police, or firefighters.
Can anyone call 988?
Yes. Anybody who needs suicide or mental health-related crisis support, or is close to someone in crisis, can contact the lifeline for help and assistance. Counselors can provide ways to help navigate a situation if you're a loved one looking to help. The lifeline is absolutely free.
Is 988 only for those with suicidal ideation?
988 provides support not just for suicide, but also mental health and substance-use crises.
Does 988 work in every part of the U.S.?
Yes, the Lifeline itself covers all areas of the U.S., even if there's no nearby local crisis center. 988's goal is to get calls answered as locally as possible, so they are working on developing relationships in areas where there are no nearby crisis centers.
How Bark Can Help With Suicidal Ideation
As a suicide hotline, 988 can provide help in moments of crisis. But what about before a situation gets to that point of crisis? Bark's award-winning service helps families by monitoring children's online activities for potential signs of depression, suicidal ideation, self-harm and more. When you connect their device and accounts, Bark will scan for potential issues and send you an alert if something concerning is found. This way, you can check in and make sure everything is okay in your child's world.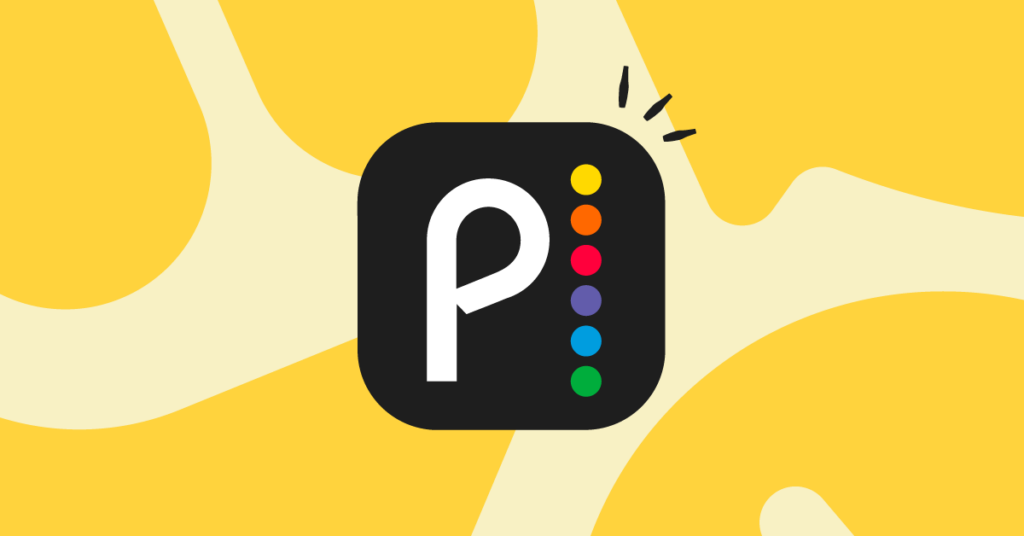 If you've wondered why reruns of The Office have disappeared off of Netflix, it's because they've headed to Peacock — the streaming service for new and classic NBC content and popular movies. Peacock joins the ranks of other platforms like Hulu, HBOMax, Disney+, Paramount+, and countless other streaming choices. But is it safe for children?
In this post, we'll walk you through how to set up Peacock parental controls so you can help keep your kids safe as they watch their favorite shows and movies. Unlike a lot of other platforms, Peacock offers a free plan, though you have to upgrade to a premium package to access all content.
How to Set Up Peacock Parental Controls
To get started, we recommend signing into your account on a web browser to make things easier. All changes will apply across every device you're signed in on.
How to decide what kind of profile to create for you child
You have two options for what type of profile you want to make for your child. You can create a kid's profile, which allows kids to access a curated selection of child-friendly, youth-rated movies and TV shows. Think of this like the quick-start option. The only downside is that there's no customization, it simply loads up TV-PG-rated content and below.
Or, you can create a regular account and then require a PIN code for programming that's over a certain rating. Kids will only be able to watch these shows and movies if they know the passcode you set. One downside of this is that this requirement will apply universally. This means you'll have to enter your passcode every time you (any anyone else on your account) want to watch a movie with this rating and above.
How to create a kid's profile
Log in to your account from peacock.com.
From the top right corner, click your profile icon.
On the next screen, under the existing Kid's icon, click the pencil icon to personalize the account.
Choose which avatar you'd like your kid to have.
Next, type in their name.
Click Done.
You're all set! When they log in to their profile, they'll only be able to watch PG-rated content and below. If this rating is a little too high for your kid, you can create a more locked-down account using the next set of instructions.
How to create a kid's profile with custom restricted access
Use these instructions for creating a profile for a child that's ready for more than just basic PG-rated content or is young enough to need the most restrictive content.
Log in to your account from peacock.com.
From the top right corner, click your profile icon.
On the next screen, click the + to add a new profile.
Choose their avatar and then click "No" when they ask if it's a kid's profile. Note: This can be a little counterintuitive, because you're still making a kid's profile, you're just not making the PG-rated and below default one. For example, you may be making a profile for your teen and want to allow PG-13 content.
Enter in your child's name.
Click Done.
You'll be back at the selection screen. Now it's time to set a passcode. Click Account in the top right corner.
Choose Settings from the top menu.
Scroll down and toggle on Parental Controls.
Then, enter in your desired PIN code and click Save Parental PIN.
Underneath that section, click Change TV Rating.
Here, you can choose from TV-Y all the way to NC-17. No matter which you choose, content with that rating and above will always require your PIN code — even if it's you watching it on your profile.
Enter in your PIN again and click Save Parental Rating.
You're all set!
Manage Screen Time with Bark
Now that you've learned how to set up Peacock parental controls, you can help protect your kids from inappropriate TV shows and movies. But what about managing the overall time they spend watching Peacock? Bark lets you manage your child's screen time with custom schedules. This can look like "No Peacock on phones or tablets after bedtime." Or, you can block it altogether, if needed. With Bark Home, you can even manage when your kid can access it on smart TVs, gaming consoles, and more.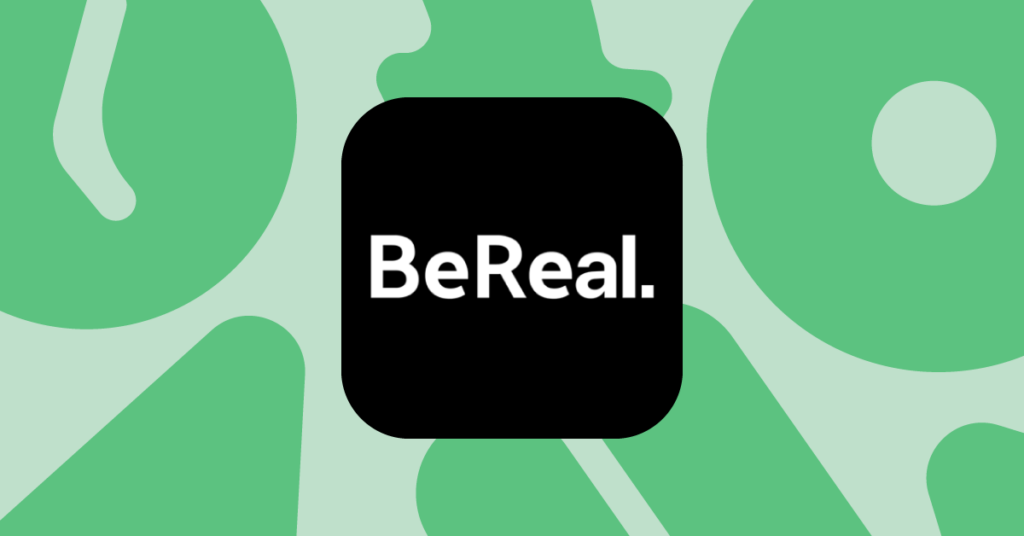 For every new social media platform popular with young folks, there exists a glorious moment when it's free from adults, family members, and advertisers. Facebook had it in 2005. Instagram had it in 2012. Snapchat had it in 2015. And right now, a new app called BeReal is currently riding a wave of newfound popularity among teens and tweens. Its angle? Authenticity and spontaneity. Confused? No worries, we've got everything you need to know about this hot new social media platform.
What is BeReal and How Does It Work?
Developed in France in 2019, BeReal is a photo-sharing app that's growing in popularity at a rapid pace — monthly active users have grown 315% since the start of 2022. It's particularly prominent among college students, a trait common in the explosive growth of new social media platforms (think Facebook and Yik Yak).
Here's how it works: Once a day, users get a time-sensitive notification. You then have exactly two minutes to snap a photo — it then will automatically create a collage of an image taken from both your front and back camera. The time you get this alert changes every day, so it's always random when you'll need to be photo-ready. Once the time's up, you'll be able to see what all of your friends are currently doing and react with emojis and comments. You can only post once per day in this tiny sliver of time. Also, if you don't post your photo of the day, you can't see others' until you do.  
Why Kids Are Drawn to BeReal
Why is BeReal suddenly taking off when so many other photo-sharing apps currently exist? The short answer is: It's complicated! But when you break it down, it all starts to make sense. Here are some of the selling points that help explain its rapid growth and popularity among young people. 
It can be more authentic
You can't choose when you're going to get the notification that it's time to post. This can be a little nerve-wracking, because what if you're just on the couch? What if you're at Target? It doesn't matter. The whole point of BeReal is to share what you're actually doing — not a painstakingly curated photo of tacos or a group photo of friends smiling but who are actually all mad at each other.
The upside of this is that you only see real, everyday activity, and it can truly be a fascinating glimpse into the behind-the-scenes activities of your loved ones. The downside? It can be kind of boring sometimes. Blurry photos of cereal. Out-of-focus selfies in a dark room. A zoomed-in picture of a bug on the floor. When you only have two minutes, it's not always a masterpiece of photography that's created — and that's the whole point. Think of BeReal like a complete reaction to — and rejection of  — more stylized social media platforms.
It's not overrun with ads
A quick scroll through anyone's Instagram account will reveal just how monetized the app has become. Peppered in between your friend's stories are targeted ads selling clothes, medicine, perfume, sporting equipment, and nearly anything else you can think of (or buy). When you check out the feed, you get served "suggested" posts from people you don't even know. BeReal has none of that — just the random daily snapshots from the lives of people you choose to follow. This isn't to say that ads won't happen eventually, but for now, it's glaringly free of advertising. For kids, it feels less like an established product and marketing tool and more like pure social media. 
It hasn't been infiltrated by older family members yet
Let's face it — when we were young, we wanted cool places that weren't infiltrated by parents and aunts and uncles. Back then, these spaces were real, like friends' houses, parks, or even just on bikes cruising aimlessly around the neighborhood. Today, kids crave cool digital spaces, too. After all, even Facebook started out only for college students. Instagram was edgy for years before it, in turn, overtook Facebook as the go-to social media platform for the masses. BeReal is the latest social media phenomenon that gives teens and young adults a more private experience. That is — for now.
Dangers of BeReal
Like most social apps, BeReal isn't immune from its share of dangers. Here's what parents and families need to know.
Inappropriate content
Whenever you give people access to a camera and the ability to publish photos, the chances of inappropriate content appearing are near inevitable. The app states that it's for ages 13 and above, but many adults use the platform, which means that photos could include sexual content, drugs/alcohol, violence, and more. Another feature to note is that users can only delete one of their old photos per day. This means that potentially problematic photos that were posted in a moment of poor judgment could be up for longer than is prudent.
Connections with strangers
Users can access a public feed composed of users from all around the world, and it's just a quick button tap to add them as a friend. Once the invite is accepted, users can then leave comments, which could quickly lead to a jump to a different platform where chatting is easier. There's no direct messaging feature on BeReal, currently.
Privacy concerns
When you go to post your daily photo, it automatically defaults to geotagging your location. This means that other users could see potentially identifying clues to where you're currently at. Coupled with a public feed, this could spell trouble. Fortunately, this feature can be turned off so that location doesn't appear next to posts.
Distraction
It's completely random when users get the time-sensitive notification that it's photo-sharing time. For some kids, this could result in dropping everything to search for something cool to post. It's only two minutes, but this may interfere with school work, walking safely across the street, or even just paying attention to a conversation.
How Bark Can Help
While we don't monitor BeReal yet, Bark's blocking and screen time tools allow parents to manage when — and even if — kids are allowed to use the BeReal app. You'll also receive an alert if your child creates a BeReal account or downloads the app, so you can stay in the know when it comes to what's going on in their digital world.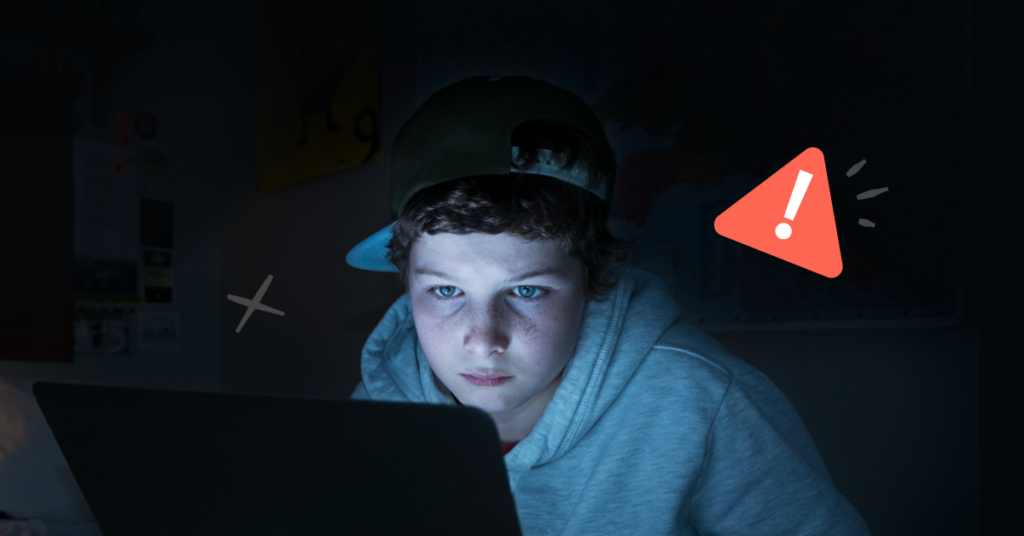 Remember when Netflix was just a couple of DVDs that came in the mail? It can almost seem like an urban legend to young people these days. That's because today's kids have never known life without advanced technology. They can listen to their favorite songs whenever they want or choose from nearly any movie to watch. They're accustomed to getting the entertainment they want on-demand, around the clock.  It may be hard to believe, but not everything they want to watch may be available on streaming platforms like Netflix, Disney+, and Hulu. Because of this, it's not uncommon for kids to turn to illegal streaming sites and download movies, music, and other content with phones, tablets, and computers. However, when they use illegal streaming sites, they're putting their security at risk and breaking the law.
In this blog post, we'll explain some of the dangers of illegal movie streaming sites. Awareness is critical because many kids don't understand what can happen when they use any of the top illegal streaming sites.
What are Illegal Streaming Sites?
Illegal streaming sites allow users to download movies, music, and other entertainment files without paying for them. These sites offer pirated content that is distributed without the knowledge and permission of those holding rights to the content. The files are often different from the ones you would download from a paid streaming service legally, so they can contain malware and viruses.
Remember spending all day downloading a song on Napster or Limewire back in the day? Today's illegal streaming sites aren't much different — they just allow access to a wider variety of entertainment, including full movies, entire seasons of TV shows, and even ebooks. 
The Dangers of Illegal Movie Streaming Sites
There are a few dangers when children — and even adults — use illegal streaming sites:
It's breaking the law. You're responsible for anything downloaded through your home Wi-Fi network or on your child's phone. Cease and desist letters from studios, networks, and other copyright holders may be sent to your house. You can expect new laws and technology to crack down on pirated content in the future.
It's easy to download viruses, malware, and spyware. Many illegally downloaded are contain malware and trojans that can give criminals access to your network. This means they could obtain your banking information, monitor your online activity, or even take control of your child's TV, phone, or computer.
It disrespects creative artists. The work that goes into creating popular movies and music is often forgotten when that content is downloaded illegally. Many adults use illegal downloads because they don't want to pay for them, but that also means that the people creating the products aren't receiving the payment that they have earned. It's important to teach children of all ages to respect the musicians, actors, directors, and other creatives they admire.
Top Illegal Streaming Sites to Watch out For
If you decide that you want to prevent your children from using illegal streaming sites, start by discussing the issue with them openly. Make sure they're aware of the security risks and understand that you don't want them to use any illegal programs to access movies, books, or music.
You can also help them find legal streaming services that offer free content. There are tons of options, including Netflix, YouTube, Hulu, Disney+, HBO Max, and countless others.
The next step is to watch out for some of the top illegal streaming services. This short list covers some of the most popular today:
The Pirate Bay
uTorrent
MediaBox HD
Roja Directa
123Movies
Simple IPTV Services
Vumoo
Chitram TV
If you see any of these programs on your child's device, you should remove them immediately. Keep in mind, though, that these types of websites and apps are constantly changing as they get shut down and others pop up in their place.
How to Talk To Your Kid About Illegal Streaming
The best thing you can do is start asking questions. If you notice your child using a streaming service you don't recognize, look it up online and ask what it is. When you see your child watching a movie or listening to music, ask what streaming service they're using. Open lines of communication are essential for modern parenting.
If you want to learn more about monitoring your child's online activity, learn more about Bark today.