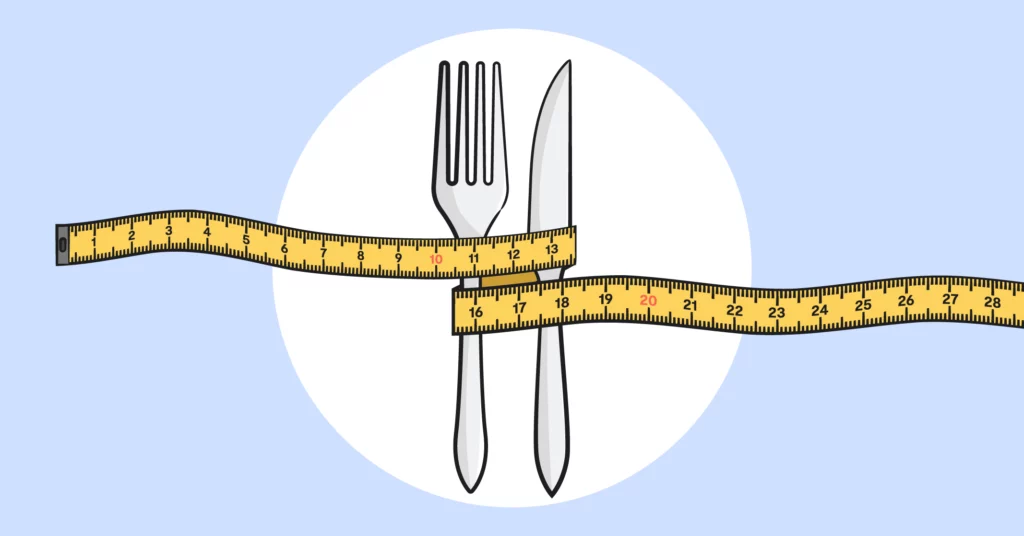 In today's digital age, where social media influences every facet of our lives, the impact on children's well-being is especially concerning. Worrying about sexting, bullying, and online predators can take up the bulk of a parent's time, but there's one issue that's also affecting kids more and more — disordered eating. This blog post delves into the nuanced relationship between children, their eating habits, and the influence of social media on their behavior.
Understanding Disordered Eating
First, let's talk about the difference between disordered eating and an eating disorder. An eating disorder is an official diagnosis from a healthcare professional, and the symptoms are generally more numerous and more severe. Signs of an eating disorder include:
Obsessively thinking about food
Extreme weight loss or gain
Intense preoccupation with body size
Interference with daily activities due to calorie counting, lack of food, or exercising.
Disordered eating consists of behaviors that limit food intake and lead to discomfort. Not everyone who has signs of disordered eating will develop an eating disorder, but some will.
Signs of disordered eating may include:
Emotional eating
Removing entire food groups from a diet
Only eating certain foods
Strict calorie counting
Labeling foods "good" or "bad"
Fad diets
How Social Media Can Directly Influence It
Social media isn't just photos of family vacations and selfies — it also connects individuals with shared interests. Unfortunately, this can also include potentially harmful interests like anorexia or bulimia.
This is what we call a direct influence, and it consists of ways to lose weight or tricks for not eating that some folks may use. It used to be called "#thinspo", for "thin inspiration," but fortunately many social media platforms like TikTok have banned this hashtag, and instead redirect searchers to mental health help.
Of course, there are still ways that teens can find like-minded peers online, and when they connect they can discuss their shared interests privately or in small groups. Even boys are being affected by the pressure to lose weight and gain muscle.
Indirect Exposure Can Affect Body Image, Too
Even if your child has no interest in content that promotes disordered eating, they'll still be exposed to the perfect and polished body images of influencers and friends on social media. Some of these are digital filters, which means that the perfect faces and muscles aren't even real.
When kids are constantly bombarded with so-called "ideal" beauty standards, the desire to fit in and match them can be intense. This can lead to anxiety and depression as a child struggles to deal with how they present themselves to the outside world. For some, it may lead to disordered eating.
How to Encourage a Healthy Food–Body Relationship
As always, create a safe space for your child so they can feel safe discussing their relationship with food You can also help by being very intentional about the way you talk about food. For example, make sure not to describe foods in terms of morality — calling chocolate a "bad food" and kale a "good food." Instead, remind your child that it's great for them to explore new flavors and to listen to their body's wants and needs.
Remember that while not every eating disorder is tied to body image, there is no downside to encouraging your kid to have a positive relationship with their body, so be proactive about doing so — it can go a long way in negating the connection between social media and eating disorders.
How Bark Can Help
Last year, Bark's annual report found that signs of disordered eating are more common than you might think: 4.4% of tweens and 15.1% of teens engaged with or encountered content about disordered eating.
Bark can help by alerting you to potential signs of body image or eating disorder concerns in your child's online activities and can let you set screen time limits for apps to reduce the connection between social media and eating disorders.
Above all, make sure your child knows they can always come to you if they need help, and stay attuned to their mental health so you can check in when there might be a problem.
If you or someone you care about is struggling with an eating disorder, call the National Eating Disorders Association's hotline at 800-931-2237. You can also text 800-931-2237 or chat with a trained volunteer online. For more information use these helpful resources.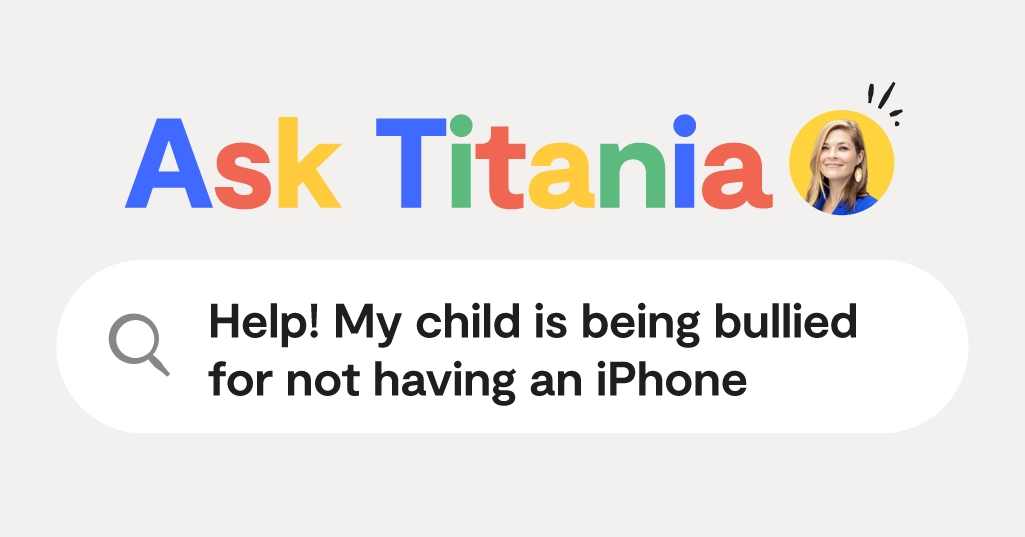 Dear Titania,
I finally got my daughter her first phone, and it's an Android with Bark. It's the best choice for our family, as I know Androids work better with parental controls than iPhones. But she says that she's being teased about having an Android and the dreaded "green bubble" that shows up when she texts friends. Some of them are even saying things like "We'd include you in the group chat if you had an iPhone." I don't want to give in to 12-year-old bullies, of course, but how can I make her feel better?

Signed,
Going Bananas Over Bubbles
Dear Going Bananas Over Bubbles
Welcome to the dividing issue of our time! We hear about this constantly, and it's not just kids and teens who are team iPhone or team Android — some parents even feel pretty strongly about the color of their bubbles!
Androids and iPhones dominate the smartphone market, and in America, iOS devices are preferred ~62% over Android ~38%. Globally, it's a different story, with Android at ~68% and iPhones at ~32%.
One main difference between the two camps is that Apple only makes iPhones — though there are constantly new versions coming out every few years. On the other hand, Androids are manufactured by a variety of companies, from Samsung to Google and tons more on the lower end of the price spectrum.
Let's Start With the Facts
First off, Androids are 100% the better option for kids for one main reason: they work better with parental controls and monitoring.
iPhones are known for their stringent privacy rules — and that's great for adults concerned with big tech — but not so much for parents trying to make sure their children are safe. Children need guardrails when it comes to their first phone.
It's also true that iPhones and Androids can usually communicate just fine. But when you start getting into group chats, things get a little wonky.
Apple has been behind the times and is the primary cause of these small yet surprisingly annoying frustrations. But starting in 2024, they're going to address these issues! The good news is that this will make texting work more seamlessly between mixed groups. The bad news is that the green and blue bubble distinction won't be going anywhere.
Status Symbols Have Always and Will Always Be a Thing
Why are iPhones so popular? In addition to their coveted blue text bubbles, they're seen as status symbols. New iPhones can cost upwards of a thousand dollars, while low-end Androids can cost a mere $200 or less. I know — that sounds ridiculous. And it is, really, in the grand scheme of things. But technology is a big part of our lives these days, and it's not going anywhere.
The irony is that a child owning any smartphone is actually pretty incredible, given how much they cost and the power they hold. Kids can just be mean, unfortunately.
But unlike the status symbols of past generations — remember Starter Jackets, American Eagle t-shirts, and countless others — a phone is used daily and is a regular part of life. Jackets don't always come out if it's warm, but whether or not you have a blue or green bubble will show up every single day.
Of course, for Gen Z, it's not just Apple devices. Chick-fil-A, Starbucks, and Amazon also top the list of this generation's most-coveted brands.
Ways to Address the Bubble Debate
Here are just a few of the ways you can talk to your kid about having an Android.
Listen to their perspective
Growing up is different today, and the smartphone debate is a big digital rite of passage. Talk to your child about what they've seen at school and what they're afraid of.
Acknowledge peer pressure
Depending on your family's financial situation, iPhones and other expensive brands may not be in the cards. Everyone wants to fit in, but these days it can be harder than ever to keep up with Joneses. Peer pressure is going to be an issue for not just phones, but clothes, cars, and even haircuts. Some parents, of course, do give in and switch to iPhones in an effort to save their child's feelings. But this is a trade-off that comes with lesser security and more mental health risks.
Highlight common features
At the end of the day, 99% of the most sought-after features for any smartphone are going to be the same — texting, calling, playing games, and taking great photos. Androids are just as capable. And some, like Google Pixels or the newest Samsungs, are just as fancy (if not more so!) than iPhones.
Talk about what real friends do
If a child is being teased for having a green bubble, odds are those kids aren't close friends. This of course doesn't make it any easier on a kid that already feels bad, but it's worth discussing how their real friends will want to text them no matter what color their bubble is.
A Reminder About Time, Youth, and Feelings
For kids, every feeling they have seems like the most important feeling that's ever been had. This is partly because of hormones, and also because to them, it just may be true. It's hard to have a lot of perspective when you're a tween.
Your child will have the entire rest of their life to have an iPhone. Some families even make the transition once a kid has consistently demonstrated responsibility with their technology.
After all, a 16-year-old who's driving and with a part-time job is different from an 11-year-old just starting out on their digital journey. Younger kids deserve more protection than iPhones can and will allow.
A Brief History of Apple's Recent Security Flaws
Apple may be a status symbol, but iPhones are just plain riskier — and that's a fact. Their screen time is notoriously buggy, causing lapses in protection for families and potential exposure to inappropriate content.
Recently, the company came under fire for its new iOS 17 update that makes air-dropping contacts even easier — which means that they've made it quicker to exchange contact info.
Kids Can Outsmart Apple Screen Time
Let's face it — kids know tech better than we do. And one thing they're really, really good at is circumventing the screen time limits on Apple Screen Time, the free "control" app that Apple provides. It's not terribly robust, and kids get around the controls you set by installing VPNs or changing the time zone.

With the Bark Phone, kids won't be able to delete Bark or download workarounds — making it much safer.
What Real Parents Are Saying About Androids
We've pulled these comments from parents in our Parenting in a Tech World Facebook group when discussing why Androids are the better choice for families:
"No matter what I tried, I could not lock down the iPhone to protect my kids. Bark Phones are amazing!"
"BARK Phone … your time is worth a LOT!!! …peace of mind, and safety … quit fighting the iPhone which is clearly built for loopholes. I've had it now for a month and it has completely changed the phone dynamic in my home. My daughter and I can now enjoy technology together and she can earn additional privileges without the many many temptations constantly staring her in the face."
"Make him a chart that shows all the ways his phone is better than theirs. "If you want subpar tech that's on y'all." We're an Android family because the phones are consistently better."
"Keep the Android. IPhones allow for a lot of ways for kids to get around monitoring."
"If it's not an iPhone, it'll be something else. I would use this time to teach him that he shouldn't change for anyone, that he can't give in to peer pressure, and to not worry about what others think. Easier said than done, but these are real-life lessons."
At the End of the Day, Androids Are the Smarter (and Safer) Choice
Androids allow parental control apps like Bark to work at their best. And if you're looking for the safest option, the Bark Phone is your absolute best bet.
Not only is our monitoring software built-in to a Samsung A series, the phone also comes with controls built especially for parents — like contact approvals, location tracking, and alerts for sexting and other dangers. iPhones don't even come close to this level of protection.
Good luck! No matter what, I know you have your child's best interests at heart. This stuff is hard!
If you've heard about sextortion, you know that it's a potentially devastating crime that can have lifelong repercussions on a family. And if you've experienced it firsthand, you're probably scared, frustrated, and angry. In this blog post, we'll give you some resources to better understand what it is, along with links to the laws of different states that may address it.
What Is Sextortion?
Sextortion is a combination of the words "sex" and "extortion" — extortion is using threats or force to coerce someone into doing something. In the case of sextortion, a person is threatened that their nude photos will be released unless they:
Provide money or valuables
Give more sexual photos
Perform sexual acts
The bad actor may have gotten a person's nude photos with permission or without, in the case of a hacked phone or computer. Individuals can feel immense shame in cases of sextortion, afraid that their family will see the photos and judge them.
Boys Can Be Especially at Risk
While anyone of any age can become a victim of sextortion, there's been a recent trend of boys being targeted. In these cases, boys are contacted by what they think are young girls. In reality, it's scammers hoping to extort money or photos from them after requesting and receiving nude photos from the boys. The results of these schemes have been truly devastating. According to the FBI, more than a dozen boys died by suicide after becoming sextortion victims.
What to Do If You Encounter Sextortion
Thorn has provided a helpful infographic with what to do if you encounter sextortion. Here are a few of the tips:
Know that you've done nothing wrong
Stop responding to the blackmailer and block them. There's no guarantee that if you comply with their requests they'll stop. They're the ones engaging in crime — even if you've sent photos or videos willingly before.
Get support
Text "THORN" to 741741 to speak with a trained counselor who can help you make sense of the situation, validate your concerns, and provide you with options;
Report it
Tech companies can help you remove images and videos from the internet. This removal guide provides details on how to get started. When you state that you're under 18, companies can take more aggressive actions since you're underage.
Save all the evidence
Keep a record of all your interactions — take screenshots, download and save photos and videos, and anything else that helps paint a picture of what's been happening.
How States Prosecute Sextortion
Some states, recognizing how dangerous and devastating sextortion can be to people, have passed laws addressing sextortion specifically. Other states that don't have specific laws governing it may use traditional extortion or blackmail statutes to nab perpetrators, in addition to child abuse sexual material charges if the victim is underage.
Need Help Preventing Sextortion?
Bark's advanced content monitoring scans your child's photos, videos, text messages, and social media accounts for signs of potential dangers — including sextortion. If your child is exchanging sexual content or receiving threats, you can get an alert so you can check in and make sure everything's okay.
State-by-State Sextortion Laws
The following links do not constitute legal advice of any kid. They serve as a starting point to guide families to specific sextortion laws where applicable and to traditional extortion, coercion, or other possible statutes in states that don't have specific sextortion laws. If you have questions about possible sextortion, contact a licensed attorney in your state of residence.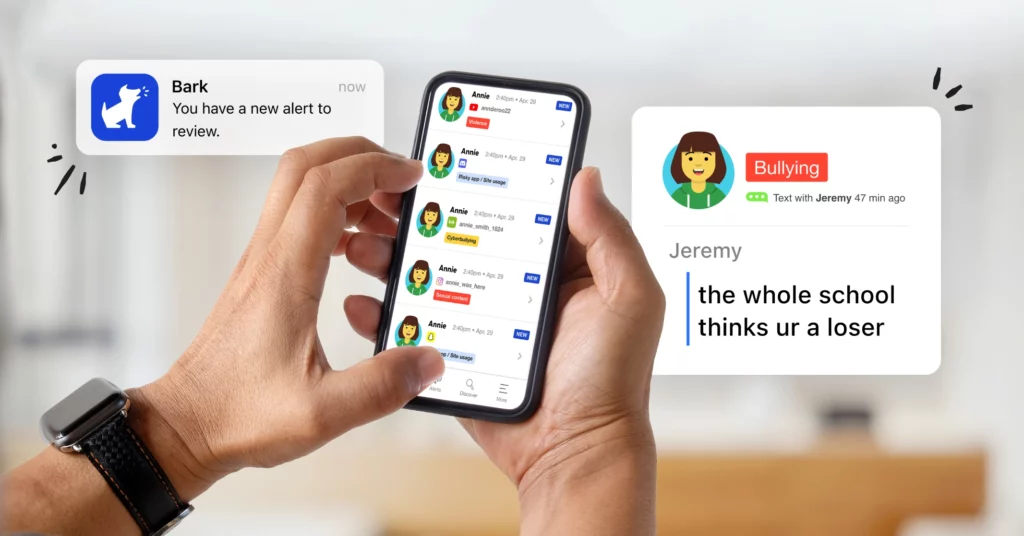 The term "monitoring" gets thrown around a lot these days when it comes to online safety. But what exactly does it mean? Well, it turns out that it depends on who you're talking to!
Here at Bark, our definition of monitoring refers to content monitoring, and it's how we help nearly 6 million children stay safe online and in real life. Our competitors often say they do it too, but it's not what you think. And spoiler alert: We do it best.
Only Bark actively scans your child's online activity for danger
Our content monitoring relies on advanced artificial intelligence. When Bark is hooked up to your child's accounts and devices, it continually scans and analyzes their messages, texts, emails, chats, photos, and social media posts for signs of danger.
This process is meant to mimic a parent's discerning gaze. For example, if you saw that your child was texting a friend about feeling depressed and wishing they weren't alive, an alert would go off in your mind and you'd immediately take action.
Bark does this for you — but quicker, more precisely, and with round-the-clock analysis. If something concerning is found, you'll get a timely alert so you can check in with your child and make sure everything is okay. Also, we don't give you complete access to everything on their phone, just potential issues you'd want to know about. This saves you time so you can focus on the most important things affecting your kid, and not a million harmless Fortnite memes.
How Content Monitoring Helps Keep Your Child Safe
Bark runs in the background of your child's device, scanning all of their online activities for issues like predators, sexual content, bullying, depression, suicidal ideation, and more. We can even alert you if your child downloads a risky app or creates a new social media account.
Our advanced technology is trained to focus not only on content, but also context. It can tell the difference between "If you're late to chemistry again, Ms. Jones will kill you" versus "I'm scared Tyler will bring a gun to school and kill someone."
And because language and communication in the digital age are constantly changing and evolving, Bark even keeps up with the latest teen slang and can translate what emojis really mean. This is huge because parents may take a look at their child's texts and see seemingly harmless things like the peach emoji or the plug emoji. In reality, these mean "butt" and "drug dealer," respectively. Quite a difference!
Bark's algorithm for identifying potential dangers in kidspeak has been training and building for 8 years, which means that nobody can come close to content scanning like we can.
What Other Companies Mean When They Use The Word "Monitor"
No other company on the market is currently doing exactly what Bark does when it comes to scanning activities for signs of danger. What they are doing, however, is using the term "monitor" to mean "report on" or "keep an eye on."
For example, if an app says it lets you "monitor phone usage," that probably means they'll send you a report at the end of the week with details about how your child spent time online. This could look like the total number of hours spent on Snapchat, Instagram, and maybe even which websites that were visited. But it's passive, and doesn't help you protect your child from threats.
Keep in mind that two of the biggest online safety apps do this absolutely for free — Apple Screen Time and Google Family link both track your activity and provide you with graphs and data about your online activity. But they do not send you critical alerts about your kid's online safety.
Why Bark Comes Out On Top
Only Bark gives you real, potentially life-changing information about your child's world. As a parent, staying tuned in to your kid's world and feelings is important to their physical and emotional well-being, and we give you the tools to help them learn about and thrive with the technology that they'll be using for the rest of their life.
With Bark, you can not only monitor content, you can also create custom screen time schedules for your child, block inappropriate websites and apps, and track their location with GPS 24/7.

We'd love for you to try Bark and see if it's a good fit for your family. Sign up today for your free, one-week trial. We also have the Bark Phone, a groundbreaking device that comes with Bark built-in along with a ton of other features like contact approvals, remote phone locking, and so much more.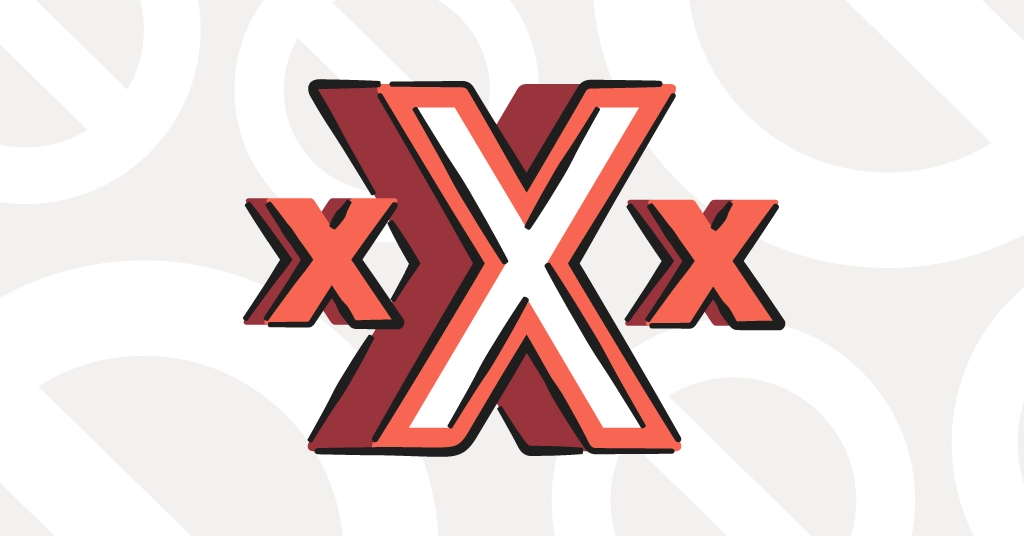 Odds are, your parents probably didn't have the porn talk with you when you were growing up. It was still consumed — some things dont change across generations — but it was much harder to get. You had to physically have access to a magazine or video tape.
Today, kids are given smartphones at younger and younger ages, and these devices have instant access to porn in countless different ways. And while sexual curiosity is completely normal, porn can be dangerous because of how it depicts sex and how it affects growing young minds.
5 Things Every Parent Needs to Hear About Porn
1. The average age kids view porn for the first time is much younger than you may realize
12 is the most common age kids view porn for the first time, according to this Common Sense Media report. But for another chunk of young people (15%) the first time can be 10 or younger — some as young as 6. This goes to show that porn is absolutely rampant on the internet, and that no child is immune from encountering it.
2. They will encounter it eventually — even if you block it on their phone and at home, and even if they're not looking for it
Will some kids go looking for porn? Yes, which is why blocking it at home through parental control apps is so important. But kids may also unintentionally encounter it through pop-up ads or innocently googling a phrase that may reveal inappropriate content. But perhaps even harder to acknowledge is that other kids are a driving factor in viewing porn — on the bus, after school, at sleepovers.
3. Girls are also watching porn
Many adults may think that porn is purely a problem with young men, and that couldn't be further from the truth. 57% of girls aged 14–18 have watched porn. Common reasons include curiosity, pressure to conform, and accidental discovery.
4. Some kids are addicted to porn already
Watching porn can become compulsive, and kids are especially vulnerable to those hits of dopamine from watching it online. Like any addiction, it can cause irritability if not consumed, and interfere with everyday activities. Other symptoms include:
Increased secrecy
Mood changes
Drawing or talking about sexually explicit themes
Pulling away from friends and family
5. Porn can have lasting effects on emotional and physical well-being
Porn alters the structure and development of immature brains. Studies show that it can damage a developing prefrontal cortex. The area of your brain is critical for decision-making and impulse control—when damaged, children are more likely to act impulsive and make rash decisions.
Porn also skews children's view of what a normal relationship, sexual and otherwise, looks like, and they can grow to expect things that aren't reasonable or healthy from their partner. When these expectations aren't met or enforced without consent, one or both sides of the relationship will fail.
What to Do If Your Kid Is Watching Porn
We have an entire blog post dedicated to this topic, but here's the TL;DR:
Take the time to explain to your child why, exactly, porn can have a negative effect on them. For some families, this might mean saying that pornography is against their values or moral convictions. But for other families, this might just mean talking about how viewing pornography can give children skewed views about sex. You can also discuss how porn can perpetuate sexist views, especially when it comes to how women are treated.
How Bark Can Help
Monitoring
Bark scans online activities and alerts you when your kid is texting about porn, mentioning it in emails, or getting links to porn sites through DMs in their social media accounts. For certain devices and platforms, Bark can also monitor your child's web searches — even if they're using incognito mode!
Blocking
Bark's powerful web-blocking tool helps you restrict access to what your child can get into online. You can block by category and specific site to help keep them safe. And if you're very concerned, you could take the opposite tack and block all sites while allowing only a few trusted ones. It's up to you! For the safest option, we recommend the Bark Phone starter plan, which comes with no internet access at all — no browsers, no apps, no social media.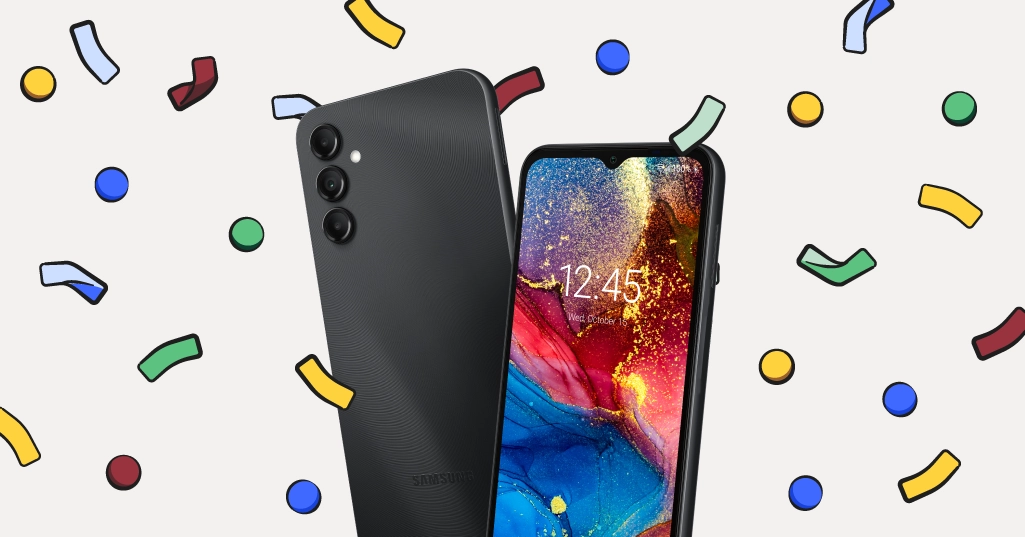 It's been a year since we launched the Bark Phone, and we've had quite a ride! We knew that we could build a safer smartphone for kids from the ground up, and the support for it has been nothing short of amazing. Take a look back with us at some of our favorite Bark Phone milestones over the past twelve months.
Starting Strong with an Appearance on The Drew Barrymore Show
We started shipping the Bark Phone last November, and at the same time, had the chance to share it with the American public on The Drew Barrymore Show. Chief Parent Officer Titania Jordan spent a few minutes chatting with Drew about what a game-changer the Bark Phone is and discussed how it's different from every other kid's phone out there.
Non-Stop Updates and New Features
The Bark Phone wasn't just built to rest on its laurels — it's continually evolving, growing, and getting new features. Some we come up with on our own, while others we source directly from Bark Phone users. Our chief technology officer, Brandon Hilkert, regularly pops into our 400,000+ member Facebook group and chats with parents about pain points and what they'd like to see. Then, his team makes it happen. You can check out our product update page for regular bulletins about what's new at Bark.
Received PCMag Editor's Choice Award
There are lots of kids' phones out there, but the Bark Phone snagged the coveted Editors' Choice spot from PCMag. The review touted our seamless setup and powerful parental controls, stating that they "truly provide guardrails as a child learns online safety at different life stages." We definitely agree!
Starter Plan Launched
While the Bark Phone is completely customizable — you can make it so it's essentially a dumb phone with no features at all — we learned that there was a need for a starter plan that ships completely locked down. So, we launched our $29/month starter plan to give families with young kids the safest option for that first phone. The best part? You can upgrade at any time and get more functionality all with the same phone, and it takes just a few minutes.
Named one of TIME's Best Inventions of 2023
In October, the Bark team was thrilled — and simultaneously humbled and honored — to learn that the Bark Phone had been named to TIME's Best Inventions of 2023 list. We now join a select group of other innovations that are changing the way we live today. This honor signifies that our phone and its advanced content monitoring are paving the way for a future where kids have a controlled, gradual experience with technology as they learn to use a phone safely and responsibly.
Rolled Out the Bark Community Partners Program
Giving back has always been a big part of Bark — we launched Bark for Schools in 2018 as a way to help schools protect their students from threats of violence. But with the Bark Phone, we knew we had another opportunity to help schools and families. When organizations join the Bark Community Partners Program, they get not only free resources and tools, they'll get a $100 for every Bark Phone sold with no limit. Talk about a win-win!
Ready for a Bark Phone?
If you're ready for the ultimate kid's phone experience — one that you can control and monitor — you've got to order a Bark Phone. Plans start at just $29/month and come with unlimited talk & text and Bark Premium for the entire family.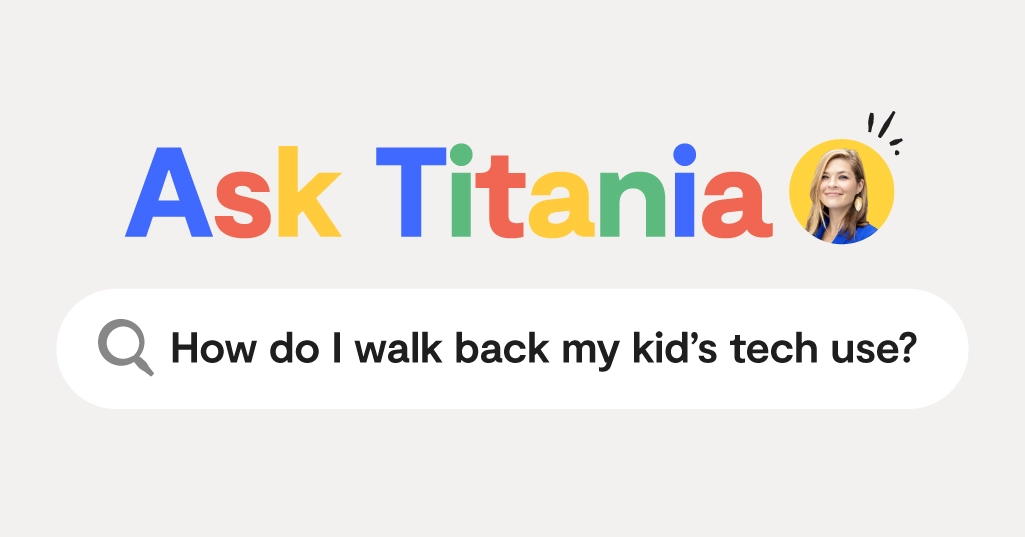 Dear Titania,
I recently decided to give my 11-year-old son an iPhone. It's his first phone, and he's of course thrilled with it, but I think I made a mistake. He hasn't done anything explicitly wrong yet, but the screen time controls don't work great and I'm worried he's going to eventually get in over his head. There's a lot to take in and it's too much for him, I think. I also think I need more oversight into everything, in general. Is it okay to walk everything back? And even more importantly, how do I do it?
Signed,
Trying to Put the Tech Toothpaste Back in the Tube
Dear Trying to Put the Tech Toothpaste Back in the Tube
Boy, do I feel you! And not only that, I imagine countless other parents across the entire world feel the same way. iPhones are one of the most popular phones ever created, so it's only natural to have thought that the phones we use would be just as good for our kids.
We were all wrong. Here's an analogy that I think illustrates the point. Our society doesn't always think of kids first when it comes to technology. Cars were invented in 1886. Guess when car seats for children came along?
Not until 1962.
What this means is that until only recently, the idea of a cell phone for kids just didn't exist. Fortunately, things are different now — kids' phones are a growing market, and the Bark Phone is leading the pack.
Kids Aren't Just Little Adults
Our iPhones rule our lives as grownups, and we use them to communicate, work, relax, and stay informed about the world. Our brains are fully developed, though, and we're not learning how to interact with the world for the first time.
Kids, on the other hand, are the exact opposite! Their reward centers are more vulnerable to addicting games and notifications. Their hand-eye coordination is still developing. Their sense of self-worth and belonging is still embryonic. Giving a child a phone with no boundaries — and by extension, the internet, social media, and the horrible things that being online presents — is like giving them a weapon. As parents, it's our job to help them grow up safely and ready for the challenges of being an adult on planet Earth. Nowadays, that means teaching them to use technology in a slow process that gradually adds in features, not all at once.
iPhones Aren't Built for Children
Can kids use iPhones just fine? Of course, they probably know more about them than we do. Do kids absolutely love iPhones? A truer statement has never, ever been uttered. But kids also would love cake for dinner every night.
iPhones are made for adults, and any of the parental controls that exist on them right now were added as afterthoughts. They're buggy, and not terribly comprehensive. And the ethos that guides Apple's products (privacy) doesn't exactly translate well for an 11-year-old, who doesn't need privacy so much as support and guardrails.
How to Talk to Your Son
I'll give it to you straight: going backward is going to be a challenge – but not impossible. Here are a few conversation starters to help you out:

Start with your concerns
When you sit down with your son, start with what you're worried about. Say, "I know we started with an iPhone, but I think we need something different. Remember when you got training wheels for your bike?" We also recommend watching Childhood 2.0, a documentary that features actual kids and parents and the issues technology presents to them today.
Remind him that iPhones are always going to be there
Your son isn't going to have a kid's phone forever. In fact, for the vast, vast majority of his life he won't have anything but an iPhone, if that's what he wants. But during this critical time in his adolescence, it's the best option for him and you.
Stress that it's not about him, it's about other people
No matter how good of a kid is or how trustworthy he is, there is still the potential for danger from strangers and even other kids. Ask, "Have you ever seen something that made you uncomfortable online?" Odds are, he'll say yes. Talk about how you want to be there as a safety net, in case something happens that he may not recognize or know how to handle.
Why the Bark Phone Is Your #1 Best Option
To begin with, the Bark Phone was built by a team of parents — who listened to other parents' feedback about what they needed — from the ground up with children in mind.
The result is a device that puts parents 100% in the driver's seat when it comes to managing their child's online experience. Our $29/month starter plan comes locked down with no apps, games, or social media for a safer first-phone experience.
As your child gets older, all you have to do is head to the parent dashboard to unlock more features as your kid matures, things like web browsers and school apps. At the heart of everything the Bark Phone does, however, is our advanced content monitoring, and why I think your decision to walk back from the iPhone is such a good one.
You don't know what you don't know, and this is where Bark helps parents so, so much. If your child is texting a friend about feeling suicidal, you'll get an alert. If someone sends him an inappropriate picture, you'll get an alert.
Bark won't let you see everything on your kid's phone, but it does highlight things you should probably know about. And that peace of mind is priceless. Good luck!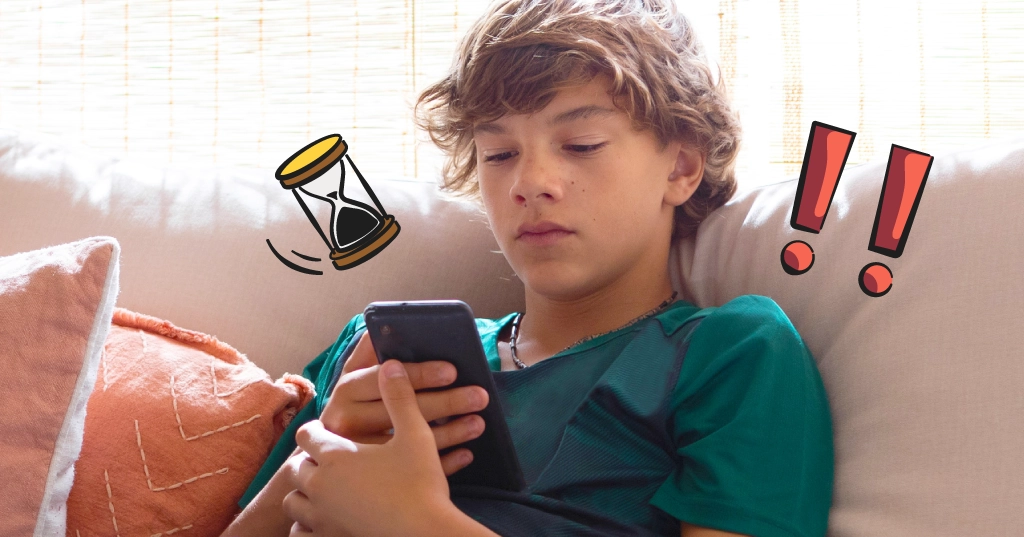 By now, we all know about the studied effects of too much screen time — for both kids and adults! — and how it contributes to anxiety, depression, poor sleep, and so much more. But there are also less apparent side effects that are a little harder to quantify.
This darker side of screen time disrupts social connections, makes it harder to interact with friends and family, and causes shifts in emotions and behavior that aren't always easy to spot. Here's how to better understand how being glued to devices can impact your kids.
Life Shrinks to the Size of a Screen
Remember that scene in Wall-E where the family goes into the restaurant and spends the entire meal staring in silence at their own phones? That movie came out in 2008 and it somehow predicted what would become commonplace in the next 15 years. When screen time becomes your entire world, it lessens how you interact with the real world — and that's rough. Especially because for kids, life is about learning, discovering, and interacting with friends and family.
FOMO is for Real
Fear of missing out, or FOMO, is one of the natural byproducts of social media. Today, we can see on our phones where our friends and family are at all times thanks to location tracking apps. These are strangely popular with kids, as many share their location with besties 24/7. This can of course provide comfort that loved ones are safe, but it can also make you feel bad if you check one evening and find out everyone's hanging out without you. And this isn't even to mention that you see after-the-fact photos from parties and hangouts on apps like Snapchat and Instagram.
Curiosity is Quelled
The internet is good for many things, but having the answer to any question in the world at a second's notice can dampen your sense of wonder at everything. There once was a time when you occasionally had to sit in uncertainty at any number of things — what time your pizza was going to be delivered, what the capital of Liberia is, or what a Husky/Corgi looks like (spoiler alert: it's really cute). Too much screen time can get kids addicted to constant stimulation and distraction, which limits how they interact with the wonders of the world around them — and there a lot!
Self-Esteem Takes a Major Blow
Even the healthiest, most resilient kids can be affected by the overwhelming amount of content they consume online, whether it's overly filtered influencers selling makeup or picture-perfect videos of happy families on vacation. The very nature of social media invites comparison, and this can be super affecting for teens and tweens caught in the awkward stage of growing up in the digital age.
Tips for Limiting Screen Time
The first step to setting screen time limits is to sit down and talk to your kid about why they're so important. It's not because you're a buzzkill or out to ruin their social life, it's because you care about their well-being and want to encourage healthy boundaries. Growing up happens so fast, and you want them to have time being just a kid. We recommend downloading a tech contact — you can find a free one here! — and filling it out together. Be sure to really listen to your kid and allow them to provide terms and conditions, too, so it's not entirely one-sided.
Next, you'll want to actually set the agreed-upon limits. There are free apps for setting them — like Apple Screen Time and Google Family Link — but their features are limited.
If you're looking for the most robust and customizable screen time scheduling features, check out our app or our phone. Bark lets you manage what your kid can access on the internet and when — helping you set healthy boundaries whether they're at home or on the go.
This could look like "No YouTube during the school day" or "Only music apps after bedtime." You can even make different schedules for each child and every device!
And when things get hectic, you can pause the internet anytime so your kids can take a breather. Who knows — you might even want to join them.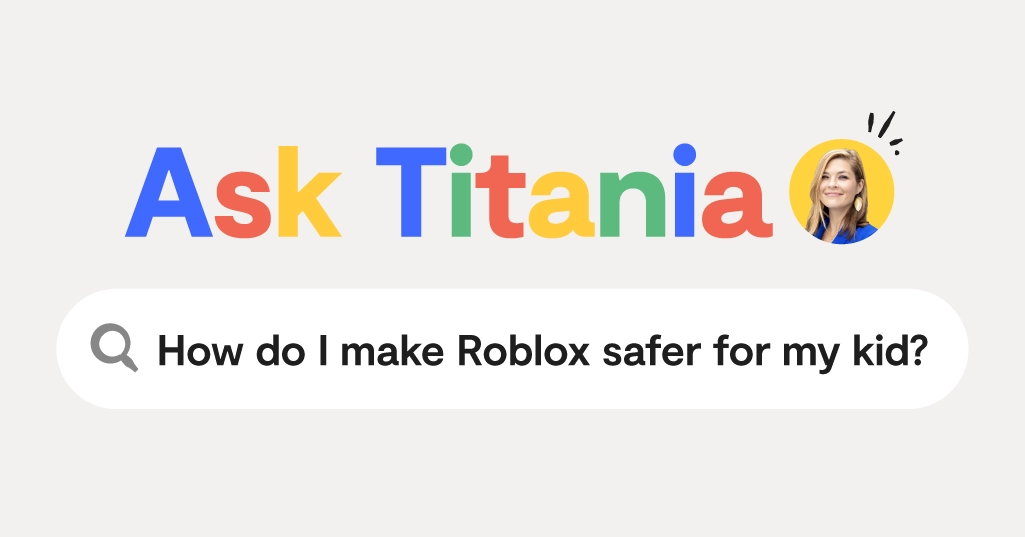 Dear Titania,
My daughter loves Roblox, but I read this week about how it's actually pretty dangerous when it comes to adults targeting kids for predation. I don't always understand the app — there's a LOT going on in it — so I would love some advice for how to lock it down and help protect her from the predators on there.
Signed,
Ready to Lock Down Roblox
Dear Ready to Lock Down Roblox,
I hear you loud and clear — Roblox is a beloved game of children around the world, but also of adults, some of whom are targeting kids for abuse and manipulation. A lot of parents may not understand all of the nuances of the game, and because of this, just grant their child free rein when it comes to Roblox. If you're new to the game, in a previous Ask Titania, I gave a rundown of how the game works and why kids are so drawn to it.
Fortunately, Roblox actually does offer parental controls, and they're strong enough to be locked down with a parent PIN code, which prevents your child from changing the rules you set. Of course, they're not 100% foolproof, but they definitely help more than most other platforms. First, let's talk about the news this week that has sent many parents scrambling.
Recent News Highlighting the Dangers of Roblox
In this Reel, you'll learn about a girl from New Jersey who was abducted by a man she allegedly met on Roblox and transported 130 miles across state lines. Fortunately, she was found a short while later, but stories like these don't always end on a positive note.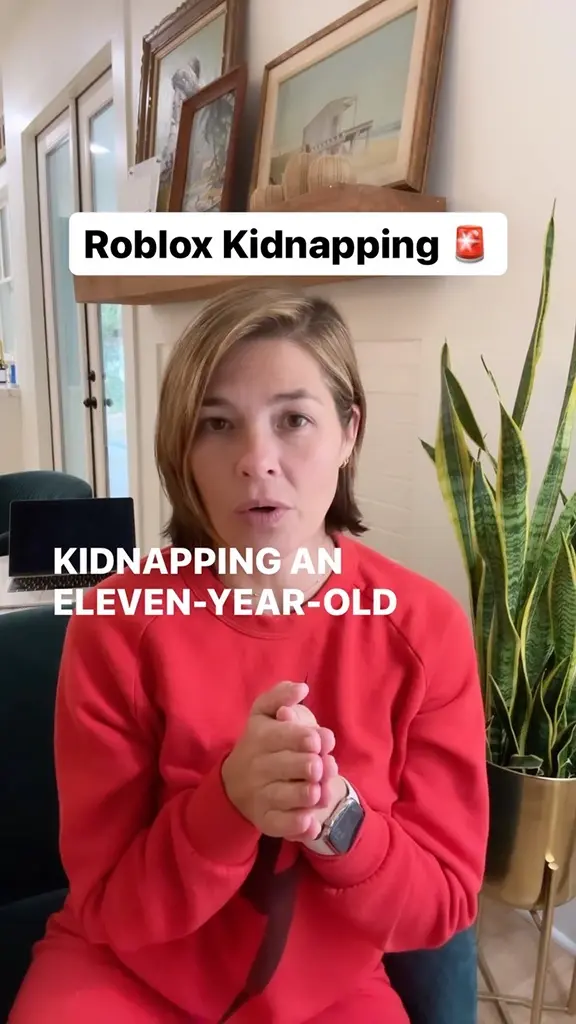 We say this a lot at Bark, but any time there's a chat room online in an app or game, there's always the chance of predators lurking. I'm not being sensational or exaggerating: it's just a fact. I wish it weren't true — especially on an app like Roblox, where a full 50% of its users are under 13.
So, what's a parent to do? There's a lot, and I'm going to walk you through it.
Step-by-Step Guide to Setting Roblox Parental Controls on Your Kid's Phone
When it comes to parental controls and a true dedication to helping protect younger players, Roblox really walks the walk — but that doesn't mean it's a safe environment. But following these steps can help make it safer.
Start here: Add your parent email to link yourself to your kid's Roblox account
Log in to the account.
Tap the three dots in the bottom-right corner.
Scroll down and tap the gear icon — it says Settings.
Tap Parental Controls.
From the drop-down menu under My Settings, tap Account Info.
You'll see in red text "Add Parent's Email." Tap the black text link next to it that says Add Parent's Email and add yours.
Open up your personal email and verify the link that Roblox sent. You may have to close out the Roblox app and reopen it to reflect the changes.
Set a pin code so your child can't change your settings
Parents can enable a 4-digit PIN which is required to make changes to the account. Note: You must have your parent email linked before you can set up a PIN code.
Log in to the account.
Tap the three dots in the bottom-right corner.
Scroll down and tap the gear icon — it says Settings.
Tap Parental Controls
Toggle on "Parent PIN."
If you haven't linked your parent email yet, you'll be prompted to do so — see the above steps. If you have linked it, you'll be able to enter in your PIN code here.
Now, any changes to parental controls will need your passcode.
How to manage who can contact your child
You can get to this via the parental controls tab but also through the security section in Settings.
Log in to the account.
Tap the three dots in the bottom-right corner.
Scroll down and tap the gear icon — it says Settings.
Tap Privacy.
Scroll down and choose the appropriate settings for who can message your child, who can chat with them, and who can add them to private servers. The choices are friends and no one. I'd recommend no one.
How to Set Parental Controls on desktop
Luckily, we have an entire step-by-step video that will show how to lock down your child's Roblox account. The steps are similar to what you'll see on mobile, but the buttons are in different places.
Other Things You Can Do to Help Protect Your Child
In addition to parental controls, make sure your child's user name doesn't have anything that paints a target on their back as a kid — things like school names, birth years (i.e., Jack2012), an obviously young/child-favorite reference, and more.
Also make sure that you sit down and watch your child play Roblox occasionally. This can help you understand what they're seeing and who they're interacting with. Finally, always communicate that your child can come to you if someone makes them feel weird online. This way, they'll get in the habit of telling you about uncomfortable things that don't feel right.
How Bark Can Help
Roblox does a decent job with their parental controls, but Bark can offer you additional protections outside of the built-in parental controls within Roblox
With our screen time scheduling tools, you can decide when they can play the game. This could look like no Roblox until after school — and you can also block during the school day and after lights out. If it ever gets to be too much, you could also block it altogether to give your kid a breather. 
Bark actually monitors Roblox! On Android devices and the Bark Phone, Bark can scan content searches and sent chats. By monitoring sent chats, you can stay informed about who your child is communicating with and the nature of their conversations. Detecting potentially harmful content searches can help you identify any inappropriate searches, empowering you to address issues proactively.
Visit bark.us/signup to start your free trial today!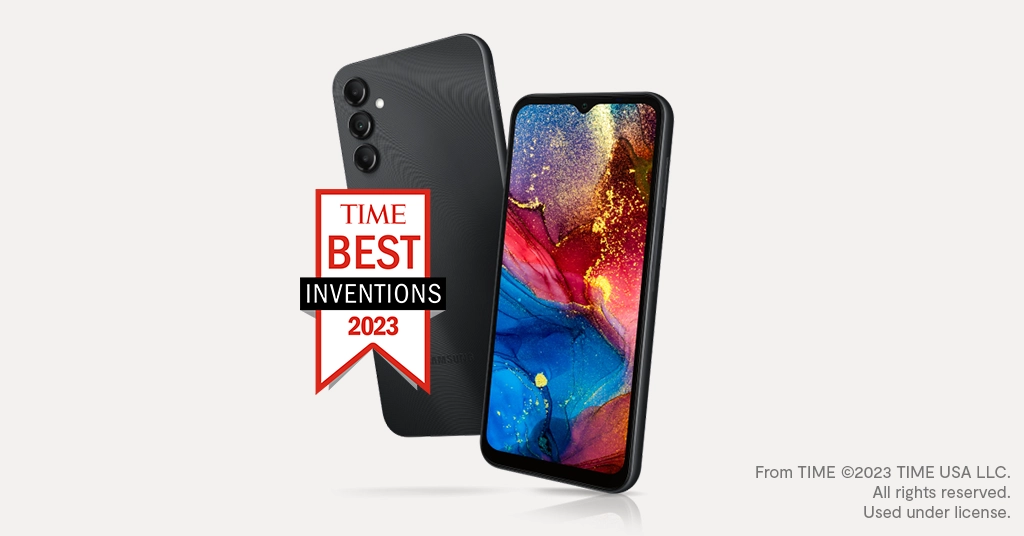 This week, the Bark team was thrilled — and simultaneously humbled and honored — to learn that the Bark Phone had been named to TIME's Best Inventions of 2023 list. We now join a select group of other innovations that are changing the way we live today.
This was always our goal with the Bark Phone: to help parents protect their children in the best possible way from the digital dangers that come with a mobile device. We're the first generation of parents raising kids with phones, and up until now, there hasn't been a blueprint for it.
Enter the Bark Phone. Our device enables parents to manage nearly every aspect of a child's online experience. You can start out with talk and text only, then gradually add in functions and apps. And all the while, our advanced content monitoring will be working in the background alerting you to potential dangers.
From an Idea to a Reality for Families to Making the List of TIME's Best Inventions of 2023
The Bark app has been available for years, but we had an idea that would take our parental controls to the next level by building it into an Android device — along with brand-new features that we couldn't have added before.
Our small but mighty engineering team worked tirelessly to build the Bark Phone from scratch, creating sought-after features like contact approvals, app install approvals, screen time limits, and so much more.
The Bark Phone began shipping during the holiday season of 2022, and round this time, we also were featured on the Drew Barrymore show, which was an incredible debut that helped bring the Bark Phone to a wider audience across America.
As 2023 began, we worked hard continually updating and adding features requested by actual Bark Phone users to help make their experience as positive as possible. As we close 2023, making the list of TIME's best inventions of 2023 was an incredible milestone to help round off the year.
Where Do We Go From Here?
Technology is always changing, which means that the Bark Phone will also be continually evolving. Making the list of TIME's best inventions is just the start. We're committed to providing our families with all of the features they need to better protect their kids online.
Whether it's monitoring the latest apps that come out, fine tuning existing features, or adding entirely new tools, you can trust the Bark team will be on top of new developments for customers — that's a promise. And as a team of real-life parents, we know just how important that promise is.
If you're not already a Bark Phone user, we recommend trying it out for yourself!