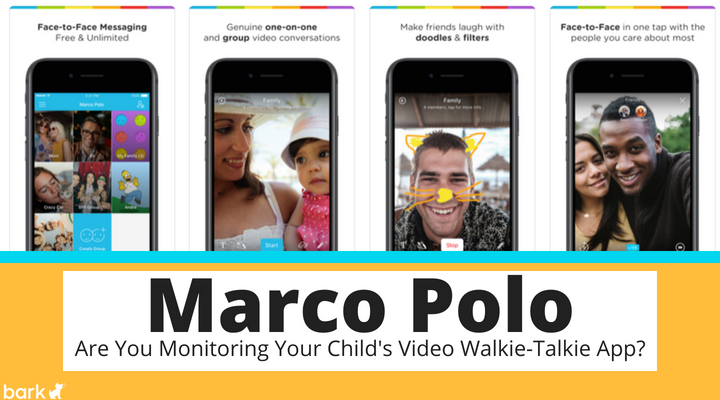 Marco Polo App: What Is It? Is It Safe?
Marco Polo is a video-based instant messaging system. Your child can add their friends and engage in video messaging, similar to Snapchat, by signing up with their name, phone number, and email address. The app will use the information to connect your child with people they know already who also using the app. But is Marco Polo app safe?
Similar to a walkie-talkie, messages are sent immediately and are available for the recipient to view and respond to almost instantly. It's a fun app for kids, and adults, but it doesn't come without safety concerns. 
What Is Marco Polo App?
You will know if your child is using the Marco Polo video messaging app by the appearance of the homepage. You will see many squares that each signify either a single person or a group of chatters. Clicking on any of these squares starts a conversation that can be held with one person at a time or a group of chatters.
The app has many fun features built into its interface. Your child can use filters on their videos or change the sound of their voice. Adding text and drawing on the video are also features of the Marco Polo messaging app.
The Marco Polo app stores video conversations for an undetermined amount of time on their servers and users in a group can rewatch videos sent in the past.
Is Marco Polo App Safe?
Like many apps, Marco Polo allows users to communicate with friends by inputting their contact information; however, it could be abused by strangers and online sexual predators if they have a child's email address or phone number. There is no public access or the option to seek out strangers (people not in the user's contact list). However, many kids hand out their user names and emails on other sites when they think it is a friend of a friend. This is one tactic online predators use to gain access to more children.
The app itself does not create any objectionable content, but that is not to say the user on the other end will not send something inappropriate to your child.
What Can You Do to Keep Your Child Safe?
Most apps start out as a fun way to connect with friends, but if the user is not careful, online predators can take advantage of this well-meaning form of communication. Always review your child's activity and app usage. If possible, use the app to familiarize yourself with how it works.
You can also check chat history in the app and review older videos, making monitoring past conversations quite simple.
So is Marco Polo app safe? When allowing your child access to communication apps, it is wise to ensure that they understand how they work, who can see their activity, and for how long. Teaching them what is appropriate to share over Marco Polo will go a long way in preventing dangerous behavior.
At Bark, we understand that it is difficult to monitor your child as technology grows and evolves. Take advantage of our social media monitoring services that will alert you to safety concerns as they arise in your child's online activity.