Top 5 Most Common Misconceptions About Parental Controls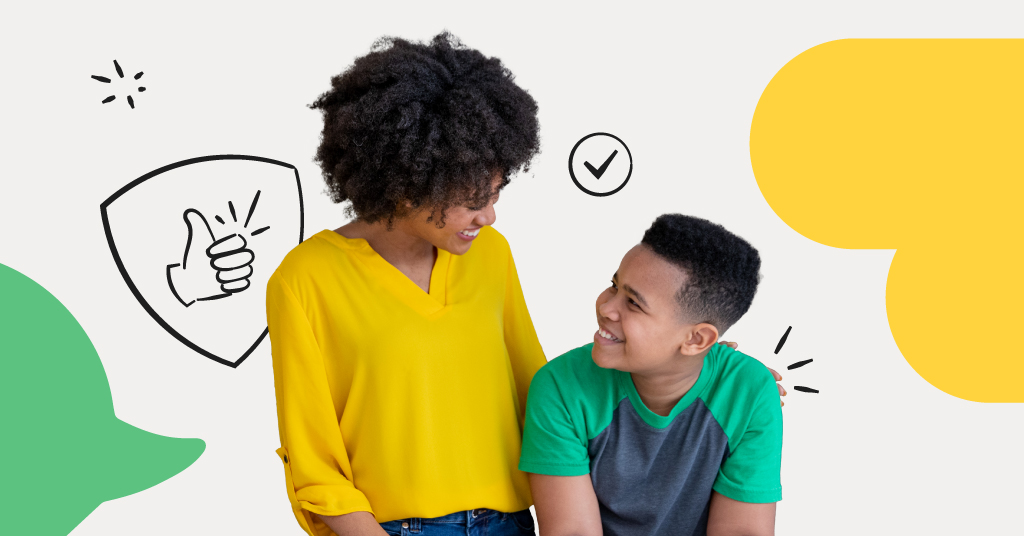 If you've ever gone to Google to ask "How can I block websites on my child's phone?", you probably saw about a hundred ways to go about it. If you've ever Googled "Is Snapchat safe for kids?" you were probably overwhelmed by the endless warnings against kids using the app. In fact, anything related to kids and technology probably feels overwhelming — what are we even supposed to be looking for when we're deciding on parental controls for our kids?
It's understandable that this can be confusing (we didn't grow up with any of this, after all), so that's why we want to help parents in this learning process. We put together some common misconceptions that we've heard from parents in the hopes that you can know what to look for and what to avoid, ultimately so your child can have a safe and healthy online experience.
1. "Flip Phones Are Safer Than Smartphones"
We all remember when we all had flip phones and life was so much simpler, right? And if it was good enough for us, surely our kids can survive with just that? Well, life may have been simpler but that doesn't mean flip phones are a safe option for today. What people don't realize is that flip phones almost always come with an internet browser. In fact, flip phones may be even more dangerous than smartphones because apps can't be installed on them. So there's no way to monitor or restrict internet activity.
In short, flip phones do not equal safer technology. Flip phones equal unfettered internet access.
2. "My Kid's Instagram Account Is Private, So They're Safe"
Now don't get us wrong — a private profile is a safer profile, for sure. If your kid is going to a social media account, we highly recommend making it private. However, this is not a foolproof solution to protecting your kids from what can happen on a social media platform (not just Instagram).
For one, many of these apps have no way to "lock" the privacy settings, so it's possible your kid could make their profile public without your permission. For another, strangers can still find their way to your child's private profile in all sorts of ways (maybe your child thought they knew this person, so they accepted the request). In general, it's a good rule of thumb to expect loopholes with these social media apps — especially the popular ones like Instagram, Snapchat, TikTok, and Discord — because they weren't created with child safety in mind.
3. "Parental Controls Are An Invasion of Privacy"
At Bark, we hear this a lot. Many people feel that parental controls are a surefire way to cause problems in the relationship between parents and their kids. And we completely agree that kids' privacy is an important thing to protect. But taking a hands-off approach to your child's online world is an extreme and dangerous solution to protecting their privacy. Parental controls don't have to be invasive to be effective in keeping your child safe online.
The best way to avoid strife in your and your child's relationship is to consistently have open communication with them. As early an age as you can, explain to them the dangers and your concern for their safety. Give them the opportunity to share their thoughts and concerns they have about their privacy. Most of the time, kids just want to know they're being listened to. Make their online safety a team effort, that way it doesn't have to feel like an invasion on either side.
4. "My Kid Can't Get Around My Parental Controls"
Maybe you have all of your parental controls set up just right, but do you know all of the potential weak spots of your controls? Unfortunately, no parental control app, system, or device is 100% perfect and many kids are highly … motivated when it comes to their internet access.
Here are some common ways kids may try to work around your controls.
Download a workable VPN that will circumvent your controls.
Connect to a hotspot on another device for free-range internet access.
Use incognito or private browsers to avoid web filtering.
Access a hidden browser that's available within an app (could be any app but apps like GroupMe, Kik, Telegram, and even Instagram all have these backdoors), which means it won't be blocked and won't show search history on the main browser.
"Hide" apps that they're not supposed to have on their phone so that you can't see them on their home screen.
Use an old, unused smartphone (some kids find this in their home or have friends at school that will give them one) that can connect to WiFi to access the internet and social media sites.
5. "My Kid Would Never … "
This is probably the most dangerous misconception. Some people affectionately refer to this as the "Not My Kid Syndrome." As in, all of the bad things that can happen online might happen to other kids — but not my kid.
Have you ever said or thought of one of these statements before?
"My kid has great friends, they'd never get cyberbullied."
"My kid would never share a nude if they were sent one. And they would definitely never send a nude themselves."
"My kid doesn't deal with anxiety or depression."
"My kid would never try to get around my parental controls using a VPN."
"My kid knows not to talk to strangers online and would never end up in a situation with an online predator."
If you've ever thought of any of these things, we strongly urge you to take some time to reconsider because these things happen way more often than you might think. Just last year, Bark found that 82.2% of teens encountered nudity or sexual content online. And 64.3% were involved in a self-harm/suicidal situation. And according to ICMEC, it only takes 8 minutes for a predator to form a bond with a child.
There's nothing wrong with believing you have a good kid and trusting you've taught them well. But the reality is, the internet is filled with a thousand more temptations and pitfalls than we ever had to navigate at their age So it's in their best interest to make sure they have a safety net to fall back on, even if you don't expect anything to happen.
So What Can I Do?
Well, the first and best thing you can do is educate yourself — and by reading this post, you're already off to a great start! You may also consider joining our Facebook group, Parenting in a Tech World, where over 400,000 parents share tips, ask questions, and encourage one another about this very topic. 
Bark is also here to help you and your family navigate this ever-changing tech world. With Bark, parents can set screen time schedules, allow or block sites and apps, use location tracking, and monitor their kids' texts, emails, and 30+ social media platforms. Bark's powerful AI will scan your child's device and send you an alert if it detects any concerning content such as cyberbullying, sexting, suicidal ideation, threats of violence, and more. Sign up today for a free, one-week trial.
About Bark
Bark is a comprehensive online safety solution that empowers families to monitor content, manage screen time, and filter websites to help protect their kids online. Our mission is to give parents and guardians the tools they need to raise kids in the digital age.