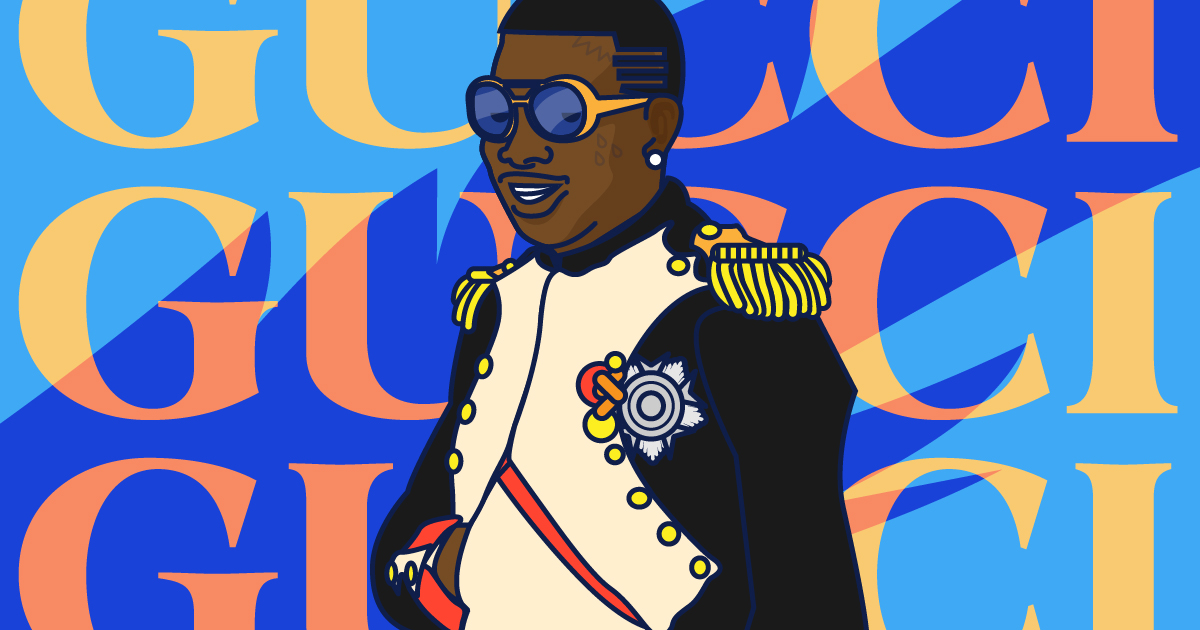 You may remember our last Teen Slang Through the Ages blog post and how it gave parents a fun, quirky look at today's trendiest lingo. Fortunately, there's never a shortage of new and strange slang to decode, and we had so much fun with it that we decided to do it again! As always, we'll be providing Ye Olde translations as well as their definitions for all of you Gen X'ers and Vintage Millennials.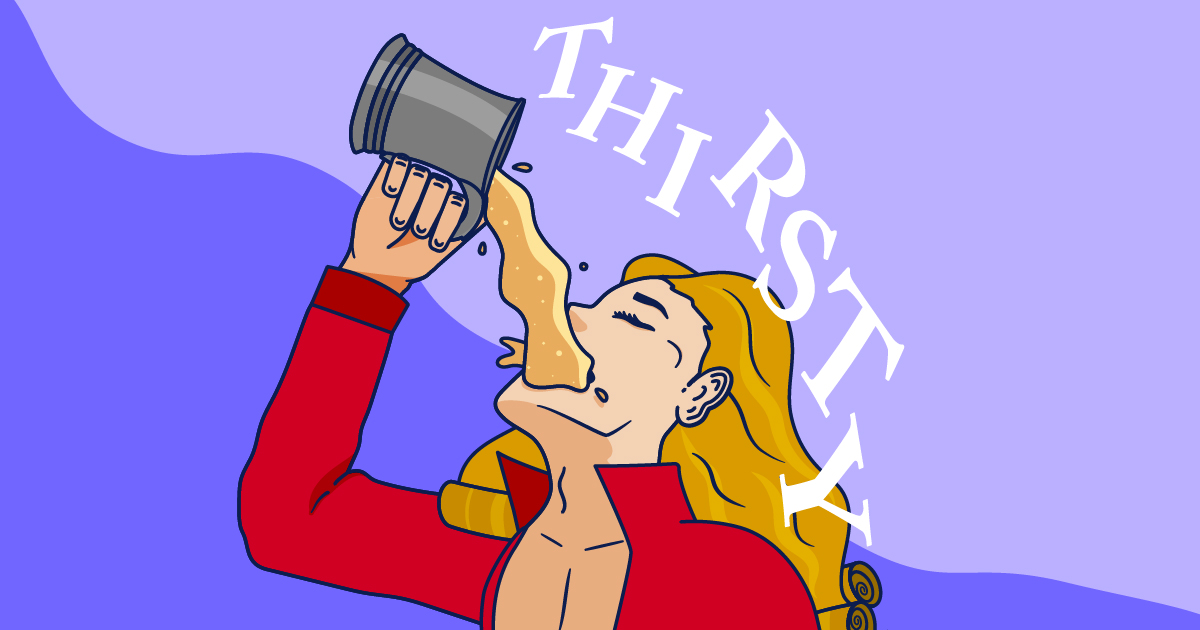 Teen Slang: Thirsty
Ye Olde Teenspeake: I myself am parched.
Gen X Translation: Eager or desperate to get something.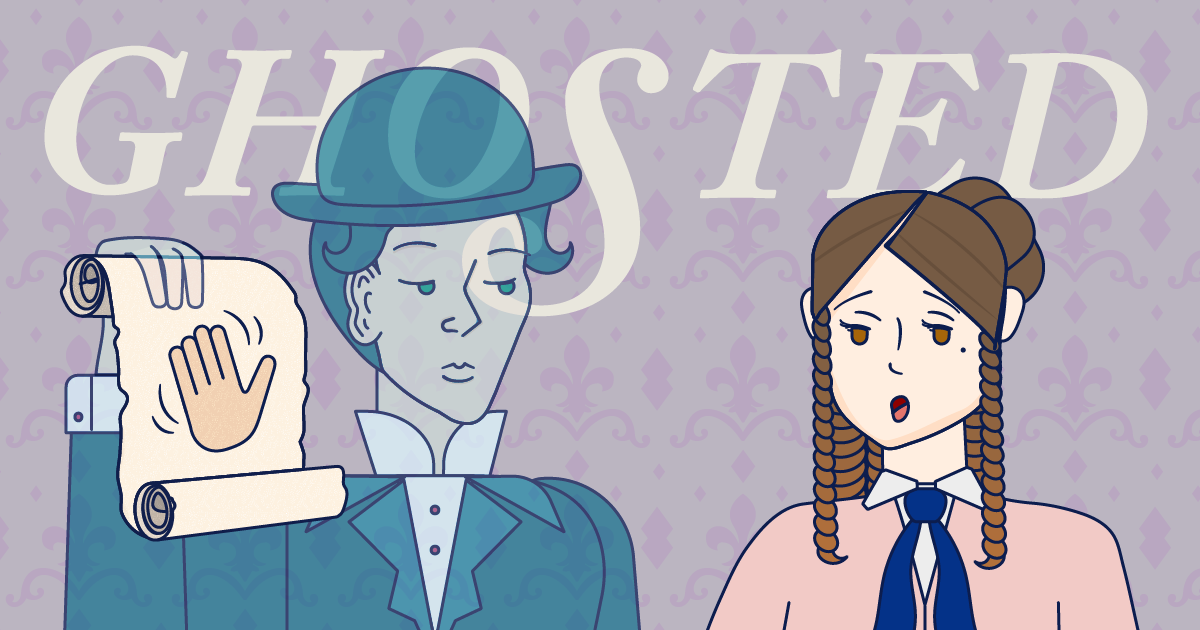 Teen Slang: Ghosted
Ye Olde Teenspeake: Mine true love ceased to answer my letters and hath vanished like a phantom.
Gen X Translation: When someone ends a relationship by completely disappearing, stopping all communication instead of breaking up in person.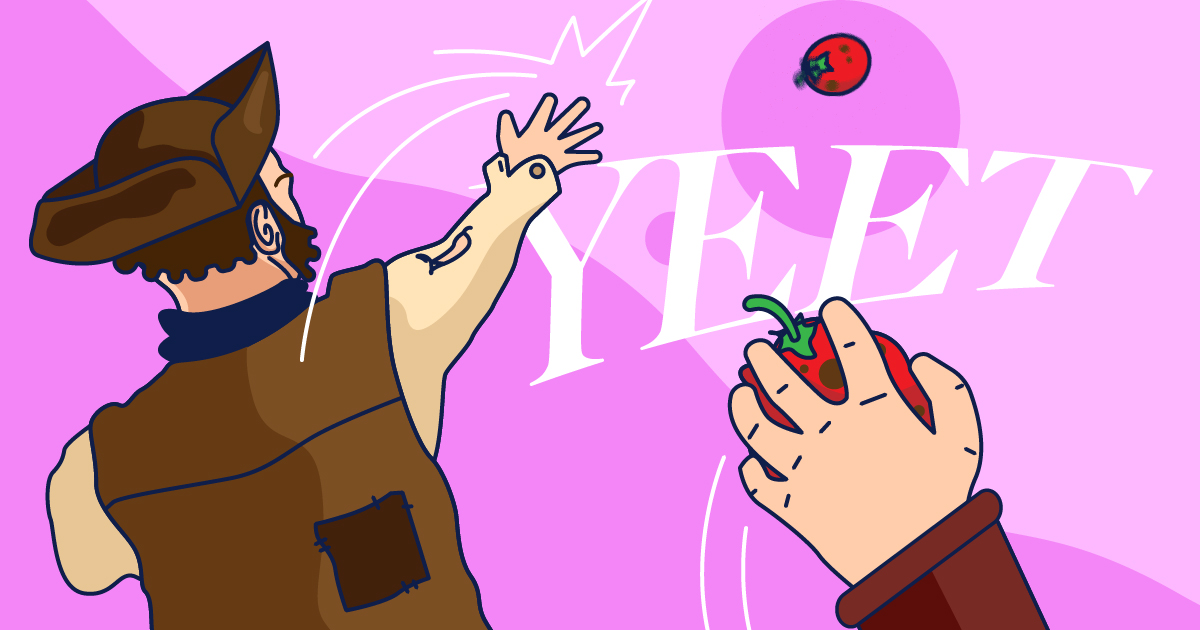 Teen Slang: YEET!
Ye Olde Teenspeake: HUZZAH
Gen X Translation: A very strong yes.
Note: Huzzah dates back to the 1500s. The OED says it's a "mere exclamation" — not unlike today's YEET.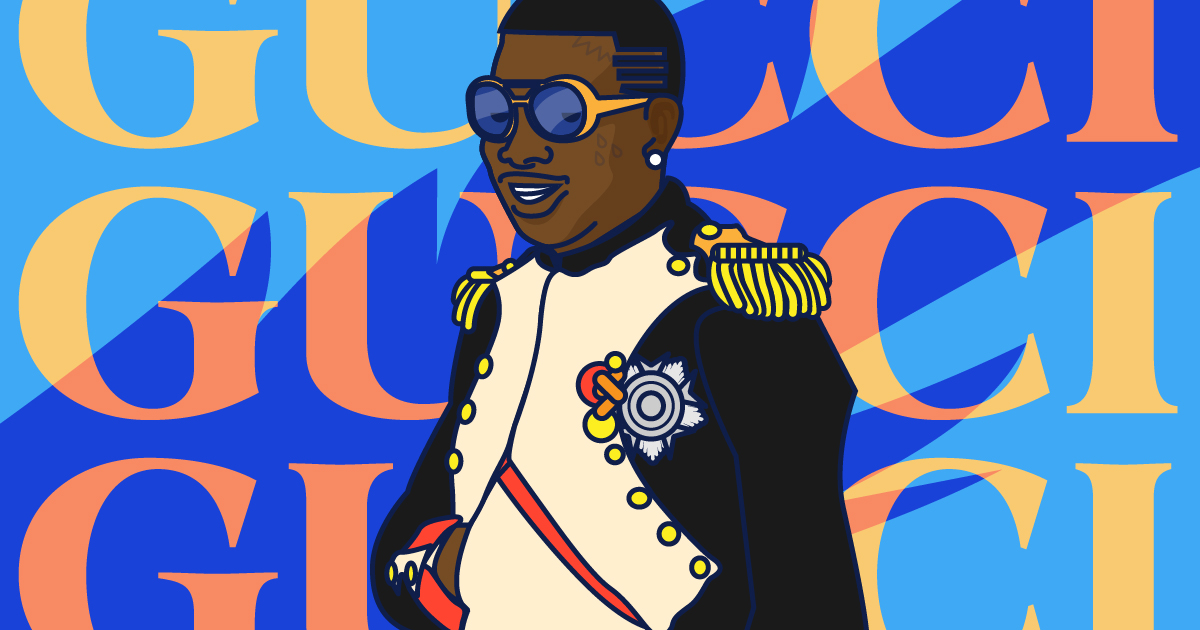 Teen Slang: Gucci
Ye Olde Teenspeake: Gutenberg
Gen X Translation: Gucci means "good" or "A-Ok," as in "Everything's Gucci, fam."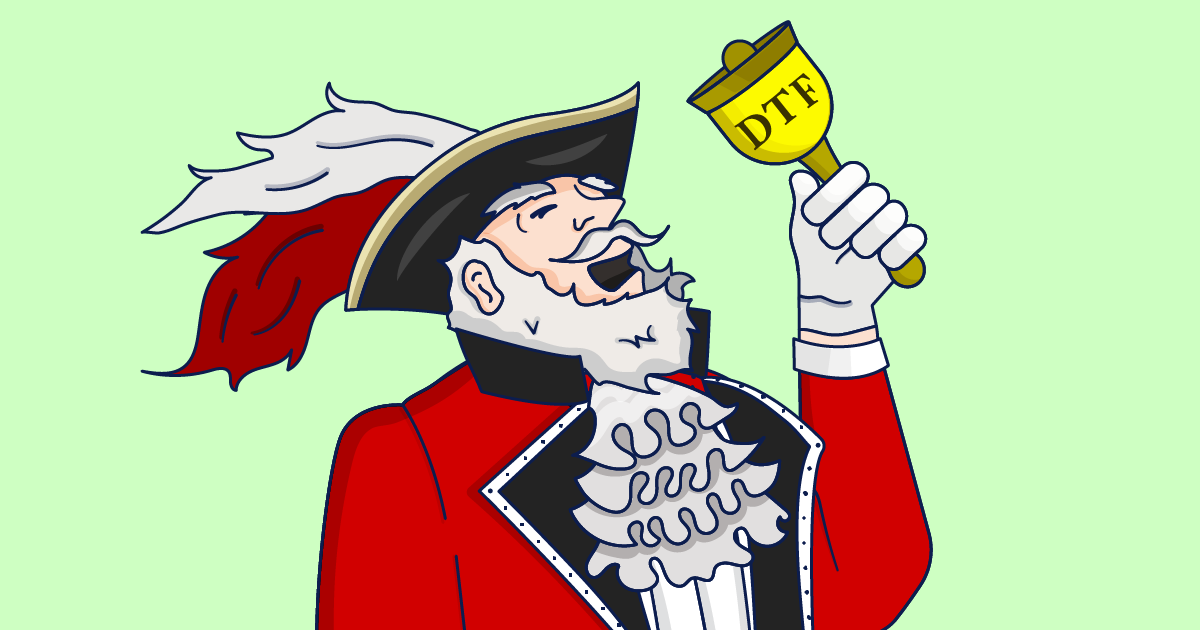 Teen Slang: DTF (Down to F*ck)
Ye Olde Teenspeake: DTF (Delighted to Fornicate)
Gen X Translation: Teens send DTF messages to indicate they're willing to engage in casual sex.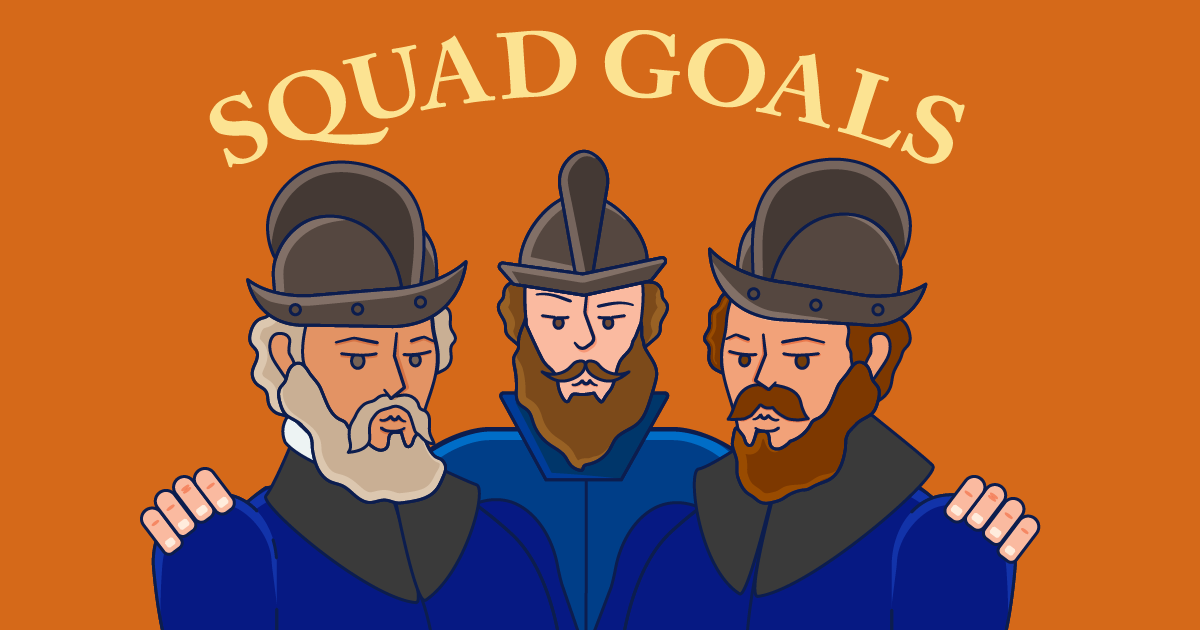 Teen Slang: Squad Goals
Ye Olde Teenspeake: Hark! Behold my squadron ambitions!
Gen X Translation: An aspirational term for what you'd like your group of friends to be or accomplish.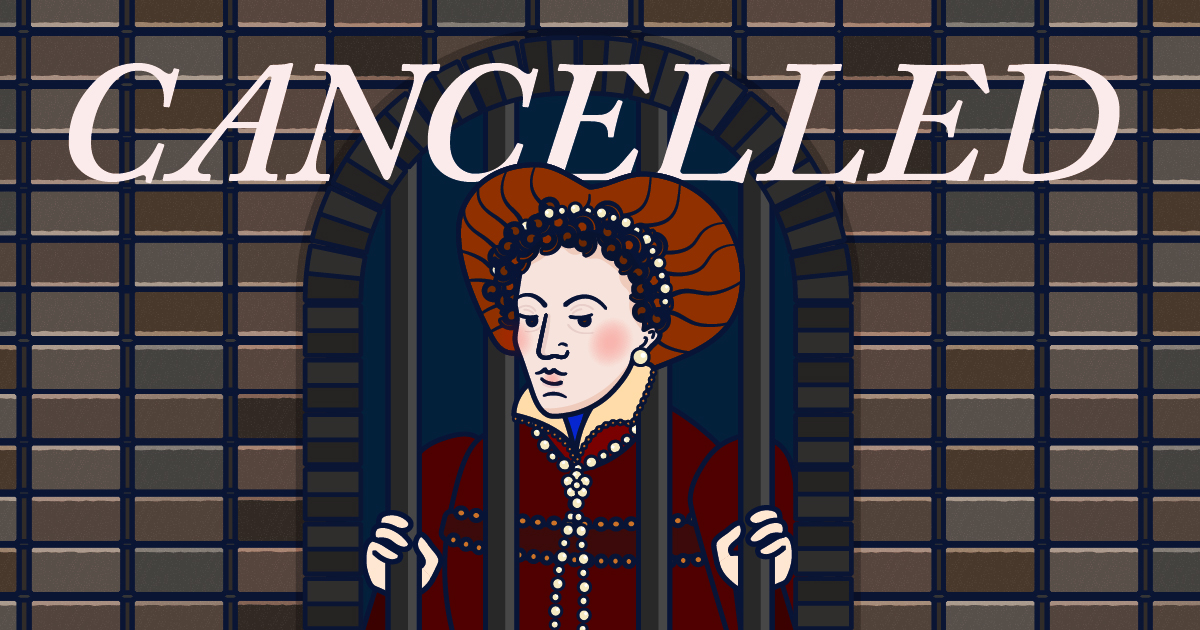 Teen Slang: Cancelled
Ye Olde Teenspeake: Revoketh'd
Gen X Translation: When you "cancel" someone or something, you're dismissing them. It's also used to reject an individual or an idea.
Teen Slang: Throw Shade
Ye Olde Teenspeake: Project Thine Umbrage
Gen X Translation: To say something rude or be judgmental about another person.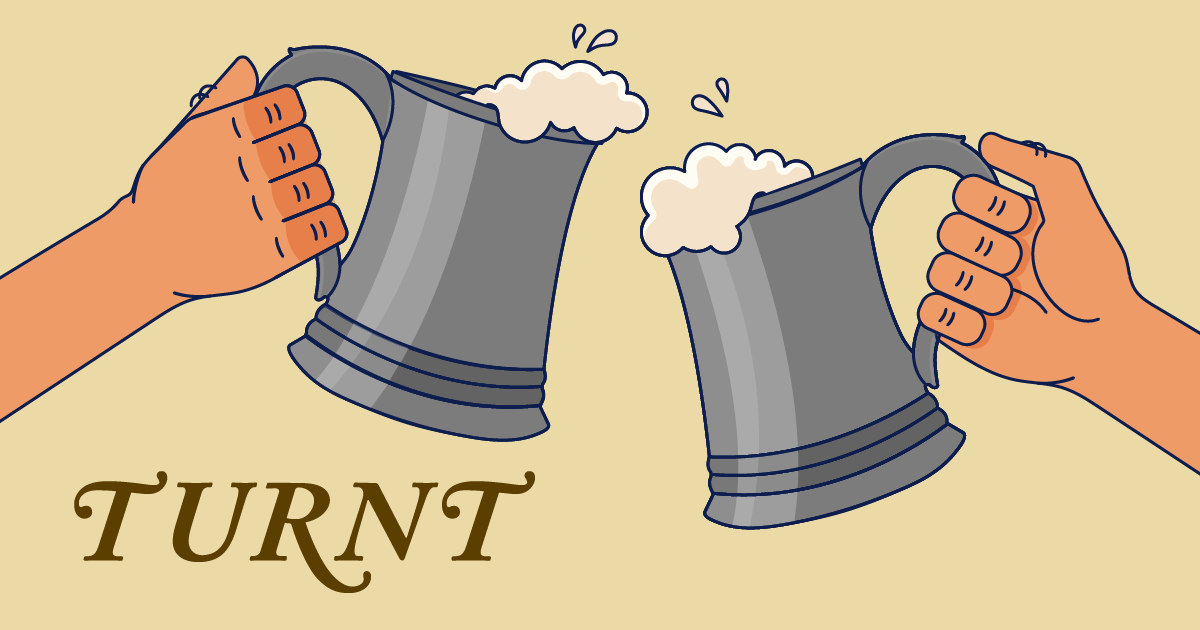 Teen Slang: Turnt
Ye Olde Teenspeake: I have partaken of spirits and now find myself inebriated.
Gen X Translation: A slang word meaning excited and having a good time, often with the help of drugs or alcohol.
The way kids talk will forever change and evolve with the times. To keep up with the latest trends, follow us on Facebook, Twitter, and Instagram.
With the release of iOS 13 comes a host of exciting (and fun!) new features. While not as sweeping and groundbreaking as iOS 12 — which had parents and guardians celebrating the launch of its Screen Time app — this new update has several features that families will definitely appreciate. Here are the top three changes that we think families will value most.
Enhanced Location Privacy
Apple has revamped its permissions settings, which makes it more difficult for companies and developers to track where users are. This is especially relevant to families with children who are active on social media. Prior to this update, photos automatically included metadata that logged where they were taken — a definite safety risk!
Now there's an option to disable this feature. No one should have access to your kid's data without your permission, and iOS 13 is helping parents keep better control of who sees it.
A Dark Mode Option
Tired of straining your eyes from staring at a screen all day? Dark Mode has come to the rescue. This feature changes the color theme of certain apps, with the background becoming a dark color with lighter text on top. Studies have shown that too much exposure to the blue light from screens can be harmful to children's eyes, so dark mode is a step in the right direction to lowering our exposure to these harmful, blue wavelengths — it may even help to improve our quality of sleep!
Control Over Phone Calls
If you activated Screen Time when you updated to iOS 12, we have good news for you. Starting later this Fall, parents will be able to control who their kids communicate with via phone — as well as who can communicate with them! This can be a useful feature not only for your kid's friends and classmates, but also to help protect them from strangers and telemarketers who may want to take advantage of them.
If you have any questions about how to implement these features (or if you need any other tech-related answers to help you parent in the digital age), don't hesitate to reach out to us.
How to Better Protect Your Child Online
It's important to regularly update the software on all of your family's devices so you can take advantage of all the latest features. And while technology is always improving, no single product can ensure complete safety from digital dangers. In addition to your flashy upgrade to iOS 13, Bark monitors tweens' and teens' online activities, alerting parents and guardians to potential issues like cyberbullying, sexting, depression, suicidal ideation, threats of violence, and more. for a free one-week trial!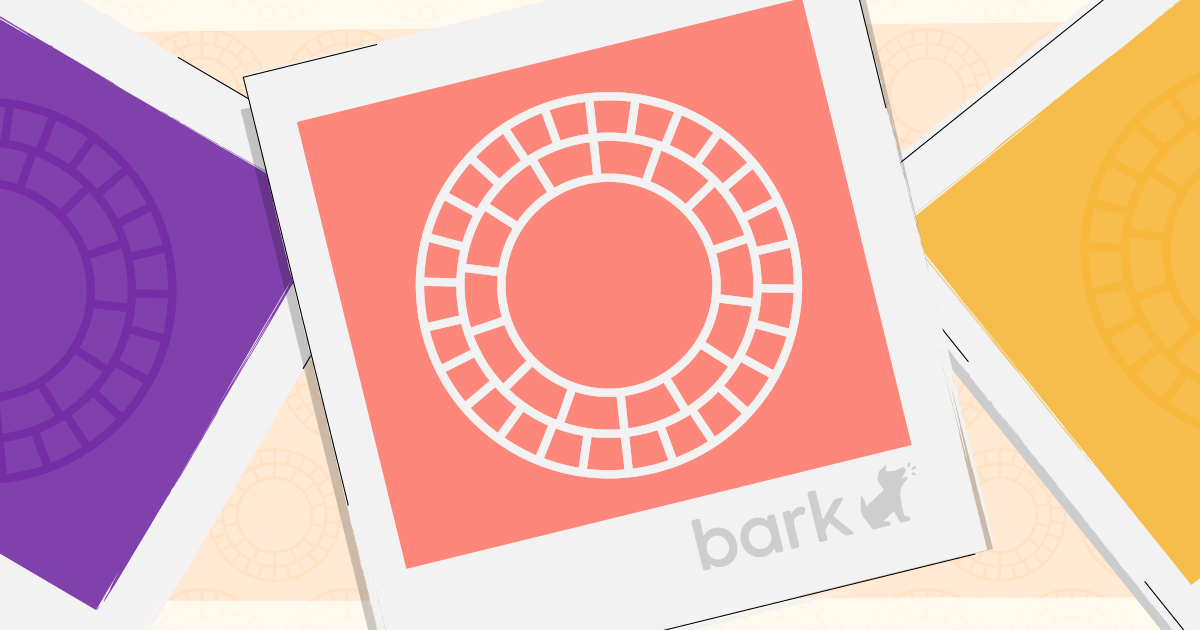 Have you asked yourself "What is VSCO app?" or perhaps do you know what your kid is talking about when they talk about VSCO pictures? It may sound like a government agency or manufacturing company, but it's actually a photo- and video-editing app. Think of VSCO — complete with its stylish bevy of "VSCO girls" — as Instagram's cooler, artsier sibling. VSCO (pronounced "vis'-co") is an acronym for Visual Supply Company, and it's one of the most popular photo apps that kids — maybe even your own — are using today.
So What Is VSCO App?
Originally started as VSCO Cam, the VSCO app began life as a simple filtering and editing app. Today, however, it provides a world-wide social community for people to discover and explore other photographers as well as make connections. In this post, we break down for parents how the VSCO app works, why it's trendy, why every teen you know is suddenly wearing oversized T-shirts, and what Bark now monitors on the platform.
How VSCO Pictures Work
Much like on Instagram, VSCO users create accounts and profiles before posting photos. The VSCO app is less user-centric and more dedicated to the photography itself, allowing people to focus on specific types of photography like nature, portraits, locations, and more. The interface is clean, sparse, and with only the bare minimum of text — no captions or comments to clog up the feed, and no hashtags that lead your kids down rabbit holes to potentially inappropriate posts.
To create content, users upload photos and can then choose from a variety of filters to make them "pop." The VSCO app also relies on a "freemium" model that tempts users with extra features like journaling, special filters, and advanced editing tools that are available for purchase.
Do You Know a "VSCO Girl"?
Making the rounds on the internet these days is what's known as a "VSCO girl." The term began simply as a way of referring to the girls that use the app, but it has since morphed into a shorthand moniker for a very specific type of trendy, popular girl. If your daughter, niece, or granddaughter loves messy buns, puka shell necklaces, Fjällräven Kånken backpacks, and multiple scrunchies on her wrists — she might be a VSCO girl.
VSCO girls, having created a recognizable style, are now featured all across the web. In fact, the VSCO style is notable as a mainstream fashion trend that originated completely online. As VSCO users take inspiration from each other, their influence is being adopted everywhere.
Bark and The VSCO App
One of the cool things about VSCO is that it's relatively light on text compared to other social media platforms, so users that want to chat have to use direct messages (DMs). And as with DMs on other social media platforms, there is always the potential for abuse when talking to strangers online. And much like with TikTok, which is another app that relies on creative performance to drive engagement, kids who use VSCO pictures are susceptible to predators who may use flattery to strike up relationships.
Fortunately, whether or not your child is a VSCO girl or boy, Bark monitors the VSCO app direct messages — including photos in our Android Kids app — for situations like these, along with signs of cyberbullying, self-harm, suicidal ideation, threats of violence, and more. For parents looking for comprehensive online safety, Bark also monitors text messages, email, YouTube, and 24+ social media platforms for these same issues. for a free, one-week trial!
Bark is proud to announce our strategic partnership with Sandy Hook Promise that will bring comprehensive safety solutions to tens of thousands of schools and millions of parents nationwide. We're grateful for all of the work Sandy Hook Promise is doing to help keep communities safe, and we look forward to doing everything we can together to make an impact felt all across the country.

Sandy Hook Promise is a nonprofit based in Newtown, CT, and is led by several family members whose loved ones were killed in the devastating mass shooting at Sandy Hook Elementary School on December 14, 2012. Their mission is to prevent school violence and victimization by creating a culture of engaged youth and adults — one that's composed of people committed to identifying, engaging, and getting help for individuals who might be at risk of hurting themselves or others.
Sandy Hook Promise Partnership
No parent should have to worry that their child won't come home from school at the end of the day. It's our shared belief that we need to take affirmative steps towards ensuring that communities are better protected from the senseless acts of violence that are all too common in America.
Sandy Hook Promise will provide curricula to students and educators that train them to recognize warning signs, intervene, and provide help through the delivery of its evidenced-based "Know the Signs" programs. Meanwhile, Bark will provide its flagship Bark for Families product — as well as its free and community-oriented Bark for Schools safety suite — to alert parents, guardians, and schools to signs of potential danger detected in online content.
"Coupling our lifesaving school training with Bark's award-winning safety software provides a holistic solution to help keep kids safe, both online and in real life, and gives parents greater peace of mind and engagement with their children," said Nicole Hockley, co-founder and managing director of Sandy Hook Promise and mother of Dylan, who was killed in the Sandy Hook Elementary School tragedy.
A Shared Dedication to Child Safety
Together, Sandy Hook Promise and Bark have intervened cumulatively in hundreds of school shootings, thousands of suicides, and other harmful threats. By strategically combining our strengths and resources, our organizations are helping to create a comprehensive solution that will reach more schools, more students, and more families — resulting in innumerable interventions and lives saved in the years ahead.
"We're thrilled to partner with Sandy Hook Promise, as we both have missions that aim to help prevent shootings and acts of violence in schools and communities," said Brian Bason, CEO of Bark. "Sandy Hook Promise is making incredible strides in this national movement, and by working together, we look to partner with and protect even more families and schools across the nation."
It takes a village to raise safe, happy, and healthy children in the digital age. Our partnership with Sandy Hook Promise is an important step towards making sure all communities have what they need to help protect kids online and in real life. Shielding kids from digital dangers requires schools and families to work together, and our products enable both groups to monitor kids' online accounts for signs of cyberbullying, self-harm, online predators, threats of violence, and more.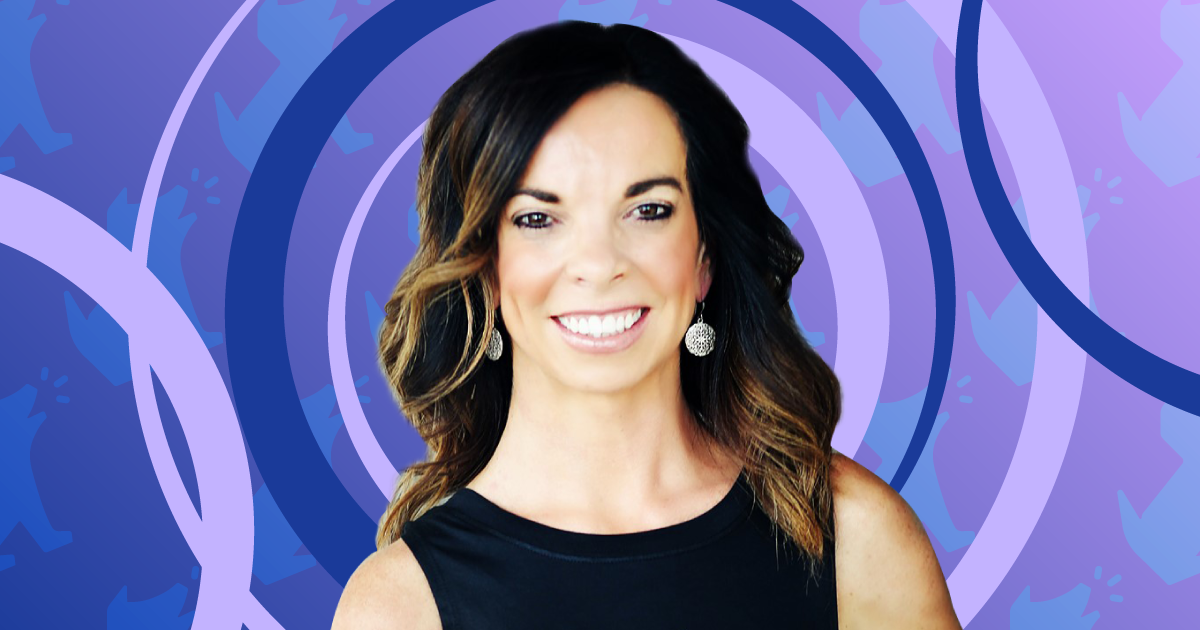 Teen suicide has reached epidemic proportions in America. We hear the news stories of suicide, anxiety, and depression affecting children at alarmingly increasing rates, and yet when we drill down to the heart of the matter, we are left wondering why. Chief Parent Officer Titania Jordan recently sat down with Katey McPherson, a veteran educator, speaker, advocate for youth mental health, and mother of three, to learn more about what parents need to know.
Katey shared her experience and expertise on how families can use communication to get ahead of suicide. By learning to empathize with our kids, we're not only able to better understand what they're going through, but we're also establishing ourselves as trusted adults who they can come to when they're struggling with anxiety, depression, or suicidal thoughts. Having these kinds of conversations early can help prevent feelings of helplessness from escalating.
In combination with page, and jump to the bottom of this post for more insights into helping prevent suicide in the digital age.
Suicide Prevention Resource
Teen Suicide Transcript
Titania Jordan (TJ): Katey, tell us why you're here. What do you do?
Katey McPherson (KM): First and foremost, I'm a mom of four girls, ages 10, 12, and 13. I am a veteran secondary educator. I've been on a junior high or high school campus for the last 23 years. Three years ago I decided I was super frustrated with what was going on with our kids in the digital landscape, so I left public schools to travel the nation pounding pavement about how we can help our kids. So that catapulted me into the space of overall youth mental health and suicide prevention.
TJ: So you're traveling across the nation speaking to whomever will listen, right?
KM: Mainly faculty, administrators, parents, non-profits, and government agencies.
TJ: You have a group of over 41,000 parents now in this group that could potentially hear your message. What is it that you would like to tell them?
KM: Please pay attention. Please monitor. Please supervise. The reason I left a career on a public school campus was because I think we're doing a huge disservice to our kids by handing these things over and not recognizing the medium and the way that they use it. [Kids] have very underdeveloped brains. The signs of distress, the signs of true crisis are there. We are in a public health crisis. Our teen suicide rate has escalated over 33% in the last three years. Most states are facing what Arizona is facing, which is a true contagion and epidemic of youth suicide.
TJ: I'm glad that you brought up that term "contagion," because suicide has the tendency to beget copycat suicides. There are studies that show true clusters … It's unfortunate that one begets another. And shows like 13 Reasons Why scared me so bad because of what that might do to glamorize suicide. I'm glad that it brought an awareness to what's really going on in the lives of teenagers today, but in a no way, shape, or form should it ever be be glamorized. It's not a glamorous thing. You can't control the narrative after the fact…
How young are you seeing this? How young are children experiencing this?
KM: Age five to 11 we've seen a huge spike in ER visits — they did a national study through JAMA, the Juvenile Association of Medical Professionals — our ER visits for self-harm and attempts for five to 11-year-olds is also up 30%. When we look at the attempt rate and the completion rate, we have boys completing four to one over girls, but we also have girls attempting four times as much as boys. There's no gender, no zip code that's discriminated against in the state of Arizona, which is where I reside. It is the leading cause of death aged 10 to 14, and the second-leading cause of death, 15 to 34. So again, I have been with teenagers, 60,000 of them, for the last 20 plus years. I've never had this many students die by suicide over the 20-year span.
In the last three years, just in my community, we have lost over 35 students — probably upwards of 40. Suicide is largely underreported. For me, when I talk about suicide prevention, I'd love for people to think about the front-loading you can do to prevent suicide. Suicide is, like way up here. What parents need to be paying attention to is prevention. Front-loading helps to create coping and resiliency skills. If they move into distress, what are you doing to intervene? How are you getting them help? And are you paying attention?
I think the tweets that I've shared with you, and I'm happy to even put them in this broadcast, tell all. 150% of what is on your child's platform is how they're feeling. There are a lot of really great kids and really great families. Two parents, no parents, one parent, a grandparent — it doesn't matter. Sharing stories with each other, peer to peer, that this is what I'm going to do. I am never surprised when we have a school shooting and someone on the news said something like, "Well, he said he was going to do this on YouTube. Or he said he was going to do this on Twitter." These children want to be here.
TJ: It's their form of self-expression. It's how they communicate. It is where they are spending the bulk of their time. In most instances that's where you'll find those signs. As a parent or a caregiver or a teacher, where do we start? Is it starting with an open dialogue about anxiety and depression and how you're feeling? Is it not being afraid to address the topic of suicide? I know a lot of people are afraid to even say that word because they don't want to introduce the concept.
KM: I've had people tell me, "You can't come to our school and talk about that. We'd love for you to talk about the digital wellness and citizenship and leadership, but if you could just leave that suicide part out..." I actually refuse. I say then I can't come, because this is happening in your community. This is happening to students in other communities that your students may know. You start at listening. Really, the key is listening. I talk to many, many students that say, "I don't have anybody that actually, truly sits in the ditch with me and listens and doesn't try to fix it. I just want somebody to listen to me."
The art of listening is getting really vulnerable with a child or adult, and then validating them. You don't have to fix the problem. But if we don't take the time to listen, if we don't put our own phones and laptops down and pay attention, then we can't even start to talk about anxiety and depression. Because there's so much that happens before a student becomes anxious or depressed, and part of that are the protective factors that we provide as trusted adults in their lives. My new thing is, are you a trusted adult? What does it mean to be a trusted adult? If these kids would rather go to their 15-year-old peers and share with them, "I'm going to kill myself. I'm cutting. I'm going to do X, Y, Z." Then we have to really get clear as adults, why are they unwilling to come to us? Why has that door been shut?
Above everything, I would say front-load with wellbeing and wellness supports, recognize when your student or child needs intervention, and if they move into crisis, you better be moving fast. Because most states and most cities do not have adequate crisis resources for the amount of children that are feeling this way.
TJ: What are some ways that you can front-load wellness? And even backing up from that, you mentioned that you need to listen and... affirm?
KM: Get vulnerable first. You have to go there with them and not dismiss like, "Oh, you're just being dramatic." Mean girls, all that. Validate and get vulnerable.
That's what happens in the ditch. When my girls come home and they're upset, it's getting vulnerable like, "Wow, this sounds really painful." In my mind I'm like, okay, so she pushed you off the swing. Big deal, right? I have the long view. They have the very short view. Vulnerability plus validation equals true connection. That's the art of true listening and true connection.
TJ: I'm sorry. I really, really want to unpack that because, for someone like you who does this every day, you can say those things in a sentence and move on. For a lot of people who are struggling and they're like, what do you mean validate? How do I validate? How do I become vulnerable? Can you even unpack that further and give some tips?
KM: I would say the top three… All humans, doesn't matter if you're 40 or eight, have three needs. I want to be seen, I want to be loved, and I want to be heard. If you don't see, hear, or love me, I'm going to do something to get that attention. If you have the tools in your toolkit, if you can sit with a child and say, in those terms, "Wow, I see and hear what you're going through, and I just want you to know I'm here for you." That is the start of connection. It is not super complicated. You don't have to know research into teen brains or tween brains or eight-year-old brains. "I see you, I hear you. I love you."
KM: What do you think you can do about this tomorrow at school with Chloe? Make them strategize. I'm a little older than you, but my parents and generation has been swooping in, swooping in and fixing, fixing, fixing. Our children have a 4.2, but they cannot tie their shoe. If we're going to help the next generation and this current generation take flight, these kids are fully capable of taking care of themselves and each other if given the opportunity. Seeing them, hearing them, and loving them — with one sentence — that's all it takes. "Wow, that sounds painful. Well that's kind of crappy that she pushed you off the swing. Well, what happened in the locker room? That sounds really painful. Let's talk about what you can do tomorrow with that person." That's all they want from us.
But instead, our one-liner's sound something like this. And I would remove these as quickly as possible from your repertoire. "You need to just calm down. You need to let it go. In a year from now this won't really matter to you. You probably need to just go find some new friends. They just sound like jerks." None of those have strategy behind them, and it says to the child, your pain doesn't matter to me and your pain is this big.
TJ: It's dismissive. Wow. I believe I've said some of those things thinking it was helpful thing.
KM: Well, with good intention. We want the problem to go away. So we're like, "Just calm down, let it go, you'll be fine." What we know to be true, the data continues to tell us they're not fine. They're not doing fine, and they're sitting in the yuck with no strategy of how to get to the other side of the pain.
TJ: Thank you so much for going deeper on that. I think whoever watches this, if they can take that away from this, we will be so much better. "I see you. I hear you. I love you." Huge. So then what's next? What can we do next?
KM: I really think the role-playing and the strategizing is your goal. Because if you affirm them and say, "I see you, I hear I love you — now, tomorrow at school what are two things you think you can do with this person?" I wouldn't do it at the kitchen table, I would go for a walk. I would put them in the car, make up an errand. Especially if it's a boy, shoulder-to-shoulder communication is going to give you so much more mileage in that talk than trying to talk face to face. The [crosstalk] actually lights up the male brain with cortisol and shuts down the verbal emotive centers. Especially with our boys, it's super important that we're not doing this and asking them four hundred questions. They are not going to give you much.
TJ: Hold up. So this whole time when I've been like, "Jackson, look at me in the eye. I want to talk to you." That's why it's not working?
KM: We say that to young boys all the time. Look at me when I'm talking to you and use your words. Those are two things that actually light up the male brain with cortisol. The cortisol coats the verbally motive center, so boys do things like looking down, looking away, kicking the table, doing anything they can do except looking at you. Which we read it as defiance, so then we keep doing it.
TJ: Or disrespect. But instead, we will get much further ahead if we're on a walk, we're riding bikes, we're in the car, we're shoulder-to-shoulder.
KM: And/or moving an object through a space, kicking a ball. Boys bond by moving objects through space. If you think about men, at a bar they talk shoulder-to-shoulder, right? They do not generally face each other. Some do, not all, but they're much more comfortable. When the lights are out, you're a boy mom, this is what I hear from boy moms all the time. When the lights are out and I'm rubbing his back, all of a sudden, all of the world's troubles come out. Because he's not looking at your face.
TJ: Man, I wish we would've talked when my kid was five instead of 10. But it's never too late. It's never too late.
KM: I spent 20 plus years in my office like, "Come on, tell me what just happened." And I got all of those non-verbals that I didn't pick up on. And the non-verbal cue is, "This brain isn't ready to have this conversation, lady." I need some time for my brain to calm down. If I would've known that and moved his body ... and it happened after I had this training. I would make up an excuse like, "Let's go down to the dumpster and break down some boxes. I've got to break these boxes down." Halfway down the sidewalk, I got the entire story of why he slammed the kid into the wall. It normally, typically didn't have anything to do with the kid and had everything to do with, "I got into a fight with my mom last night. My grandma's dying, I don't know what to do. It had very little to do with the kid that I threw into the wall."
The talking, the moving the body — drinking water immediately dissipates the cortisol in the brain. Along the walk I'm doing all the things I just outlined. "I see you, I hear you, I love you. Let's take a walk, I can tell your brain needs to calm down. This is how I'm going to connect with you." And as we're walking or driving or talking shoulder to shoulder, we're strategizing. What can we do better next time?
TJ: Wow.
KM: Really, if you think about what they hear at home and school, it's a pretty tandem message. You need to calm down, you need to let it go, and just walk away. But the reality is that if two friends get in a fight — verbal, physical, whatever — those two kids like each other. So saying to them, go away, let it go, find new friends. Unless you're talking about a very egregious harassing bully, a true bully? Those kids are attracted to each other. So this notion that we can keep kids apart is very unrealistic.
TJ: This is probably the most powerful conversation that I've had this year, if not more. Because so much of what you're saying is just hitting home personally. I can't wait for us to publish this, because it's going to help so many people. It really is. I'm so thankful for you and your insight and wisdom and knowledge and time.
KM: I would say on the front of devices — because I've been in the loop for a while — I would say the piece that I'm outlining right now is called "Dignity Versus Respect," the work of Rosalind Wiseman. Dignity is, I have inherent worth. Respect is, I have a mutual admiration for you. If you're giving any child a device, they need to have dignity in the use of it. If you say to a kid, "I trust you with 4 billion strangers," that trust is huge. And that's essentially what we're saying by giving these devices. Dignity that you're worthy to me and I trust you, but when you make a mistake, the dignity stays intact. I see a lot of comments, a lot of conversation about, how dare he? This is against our family values and rules. The teen brain is operating on half of a developed brain until age 22 to 24 for girls, and 28 to 30 for boys.
So if I have a 10-year-old or a 12-year-old or even a 17-year-old, we're operating in this "cancel" culture of, you made a mistake and there's no way for you to come back. Truly, I'm being so honest with you. We've had several boys in my community make egregious mistakes online. Yes, they knew better, but the school suspended them and they took their life because nobody offered them a pathway back to repair the damage they'd done to another student, to their school, or to themselves. If we continue to operate in this space where your child has no pathway back to repair with you, the medium we've handed over with zero training, we're going to continue to see this youth mental health crisis continue.
TJ: I have spoken to a lot of people over the past four years about this issue. Doctors, experts, members of the media. I have yet to have had a conversation so compelling as this. You outline it very clearly. I think that there's a reason that you are where you are, and I just hope everybody who is watching this not only watches it, but shares it with other people… I mean, we as parents, we as a society —
KM: I just feel such a sense of urgency about this. I interviewed one of the parents who lost her son, down the road. She's a lovely woman named Sheila, and she was so courageous to share it with me. Her son was 17 in a rock band that toured the nation. So talented, such a talented musician. I describe her as the typical dancing mom. "Here Ty, here's your phone. I trust you. You got bad grades? I'm taking your phone away. I'm so tired after work as a nurse, I'm giving your phone back. You didn't do well on your math final? I'm taking your phone away." We are all, in America, doing this dance. In the middle of the dance that you're doing, you're not only losing trust, but also your relationship with your kiddo.
What Sheila had to say in that interview that I will never forget, is that, "If I would've cared what was on the phone as much as I did doing the dance, perhaps I would have looked in the phone and recognized why he was acting the way he was. Why his grades were falling." Well, in the phone, held the gold of, he was depressed, he was anxious, he wasn't sleeping, he was staying up all night talking to friends about his depression, about not feeling well. She didn't look in the phone, because Ty's a great kid with great grades. He's traveling the country, he's a beautiful child. He was 17. She didn't think she needed to look at every text message.
But I will tell you that Sheila's message to the world, and if I can share Ty with the world, that we've got to stop dancing. You've got to get a hold of yourself and recognize that if you continue to use a device as a pawn in your parenting game, you're going to lose some semblance of your child. I'm not saying you're going to have a child that's suicidal. I am saying that you've got to get clear about what this device means to your parent-child relationship.
TJ: Wow.
KM: I'm just going to be honest. I see a lot of people in the group dancing. Lots of dancing going on, lots of shaming, and lots of condemning. For me, when someone shames me, it does not motivate me to change my behavior at all. It actually makes me want to do it more.
TJ: Nailed it. Absolutely. That's one thing that we really, really work hard to prevent, is the negativity in the group. I know it can crop up, but we are all just figuring this out. We are the first generation of parents that have ever had to deal with these things. Just be kind. Some parents are going to give their kid a smartphone at the age of eight and some parents are going to wait until their kids are 17. We need to support both of those. Some parents are going to let their kids on Snapchat at 10:00pm and some will not let them be on Snapchat until they get of the house. We're going to support both sets of parents. What we're not going to do is berate or condemn. We can educate. We can say, "Hey, you might want to look at this." But we're not going to not be kind. That doesn't help anyone. Thank you for bringing that up.
What do parents need to know? They're being empathetic, they're being kind, they're validating, they're letting kids know that they are loved, they are heard, they are talking about the hard things. If they do decide to let their child have a device that can access the internet, what do they need to do? What do they need to know?
KM: They need to know that we know for 100% certainty that they're not ready for this medium. There are many adults that aren't ready for the medium. Knowing that fantastically horrible mistakes are going to happen under your roof, and the roof of the school. And you actually want them to happen in those places so that we can guide and support and mentor them. I think I posted — there are three types of digital parents: the restrictor, the enabler, and the mentor. Sometimes you're going to have to restrict and sometimes you're going to have to let some things go.
But what I would love, is if we could be more of the mentor. That we are learning alongside of you. I am here with you guiding you through this, and when you make a mistake, here's the path back to restored justice to another student, to restore our family values and the faith or whatever it is you believe in, and that I understand that you don't have a fully formed prefrontal cortex, and that this is an indication that maybe you're just not ready for this or maybe we need to take a break. But the device-dancing? They are finding workarounds 24/7, and we would have too.
TJ: You're absolutely right. I am so thankful that you brought that up. It is absolutely paramount that parents realize that their parenting style can really impact their child's success or lack thereof with the device. You have a few choices. You can either just not let your kid have a phone or access a device, and chances are they'll find a workaround. If you're the parent that's just like, "no." That's okay, it's understandable, but it's not going to be 100% fail-proof as they get older.
If you're the enabler. If you just give your kid a device and let them download whatever and turn a blind eye because you don't get tech or you don't have time or they're a good kid, you're in for a world of pain and surprise. Because just like you said, good kids make bad choices. Their brain's not fully formed, everybody makes mistakes. We're all human. It's like letting them ride a bike without a helmet or drive a car without a seatbelt and car insurance. Not a good idea. That middle ground of doing it together, being a mentor, is key. Can you give us some examples of what that might look like?
KM: I think it all goes back to dignity. Sitting down and having some sort of family data contract. Here are the reasonable rules and boundaries around this device. As you age, we'll look at tweaking and deleting and modifying. But here are the four or five rules that stand. We don't share pictures with others, we don't share private information. All of those things. Having a central charging station on your nightstand, not in the kitchen, not downstairs. They will go crawl to it for sure. That, the central charging station serves for me two purposes. Number one, my children are getting great sleep, and sleep is a key indicator under self-harm, anxiety, depression, and suicide. It also serves as my time to look at my Bark updates as well as do random phone checks and scroll through the phone and see if there's anything that I need to be worried about.
Bark does a wonderful job of being that smoke alarm. Not that, "Ah ha, I caught you doing something wrong," but here's an opportunity to have a great, courageous conversation where I am again, getting in the ditch and saying, "It looks like Avery is really being nasty to you. Tell me more about this." And shutting your mouth and actually listening. Instead of trying to fix Avery. We have to look at other people's children as ours. They're all of our kids in this cesspool trying to figure out, just as we are, how to navigate these very uncharted waters.
TJ: That is so compelling. Let's recap. Central charging station, using a monitoring service like Bark to alert you to the things that are buried deep within your child's phone, that even spot-checking won't surface. What else?
KM: Some sort of visual. Family technology contract. Boys are very visual. If you want to give a device to any child, they should know what your expectations are and they should have a voice, which is again, giving them that dignity in the use of their device.
TJ: Is there anything else that you want to say?
KM: I think because September is Suicide Prevention Month… Every day should be a Suicide Prevention Day. That sounds really grim and a bold statement, but the reality is, our kids nationally are trending towards feeling hopeless, feeling lonely, and not knowing what to do and don't have the strategies. Some look-for's for parents… When do I know my kid's moving from wellbeing into distress, and from distress into crisis? We have to have a safety net. There are some things that pop up for some students. Sleeping all the time, not sleeping enough, restless sleep, not eating a whole lot. Lack of hygiene. Posting really positive posts when your kid is a negative nelly. Seeing a drastic change in behavior. When I sit with these parents who have lost their children, when they backtrack, often there's a long runway prior to the act up.
We have to be vigilant. We have to be looking for things. I'm just going to be really honest, that boys typically are very cryptic and inward with their pain. When you look at some of these platforms, you'll see a call for help, a call for help, and then a funny meme and a funny meme and then a call for help. It's peppered, and it's very insidious. Our girls typically leave no mystery to their life. They will post 17 times the same message until somebody converges, calls 17 other moms, and then calls the school principal. It is the reason that we're seeing the completion rate four to one boys to girls. Our boys are very inward with pain. It's still not cool as a boy in America to say, "I am not okay."
Now, they're telling each other. And when I talk to boys — high school boys, junior high boys, I just talked to a 20-year-old today. I said, "Why wouldn't you report?" And he said, "Two things. Number one, if I report to the school, I'm selling out his friendship. Not willing to sell out the friendship. And number two, if I tell my parents two things happen, they take my phone, not willing to do that. And/or they say, well you can't hang out with Aiden anymore, he must be a troubled kid. So I'm not willing to lose my phone or Aiden, and I'm not willing for the school to come down on Aiden. So I just don't tell anyone."
We have to teach kids as young as eight years old. If you see something, put the friend before the friendship. It's one of the moms in our area's taglines. Please put the friend before the friendship. There's a difference between telling on someone — that's tattling — and a safety issue where I've seen a couple of messages and my inner radar's going off. I'm not capable of taking care of this. I need an adult. It's all wrapped together. Dignity with listening means you're a trusted adult, which means we're catching the warning signs, which means we're saving lives.
TJ: Oh my gosh, Katey… This needs to be out there. Thank you so much. Is there anything else that you want to share while we're sharing?
KM: I would just ask, when we post this that we also post the national hotlines. Just an FYI to parents, the hotlines aren't just for people that are suicidal. They're for anybody to call and get support. Including parents just saying, "I'm worried, what should I do?"
TJ: We will include the national teen suicide hotlines in this. It's not just when you're at the end of your rope, it's, you need to talk to somebody. That's what they're there for and they're free.
Suicide Prevention Resources
National Suicide Prevention Lifeline: 1 (800) 273-8255
Crisis 24/7 Text Line: 741741
The Trevor Project 24/7 Lifeline: 1 (866) 488-7386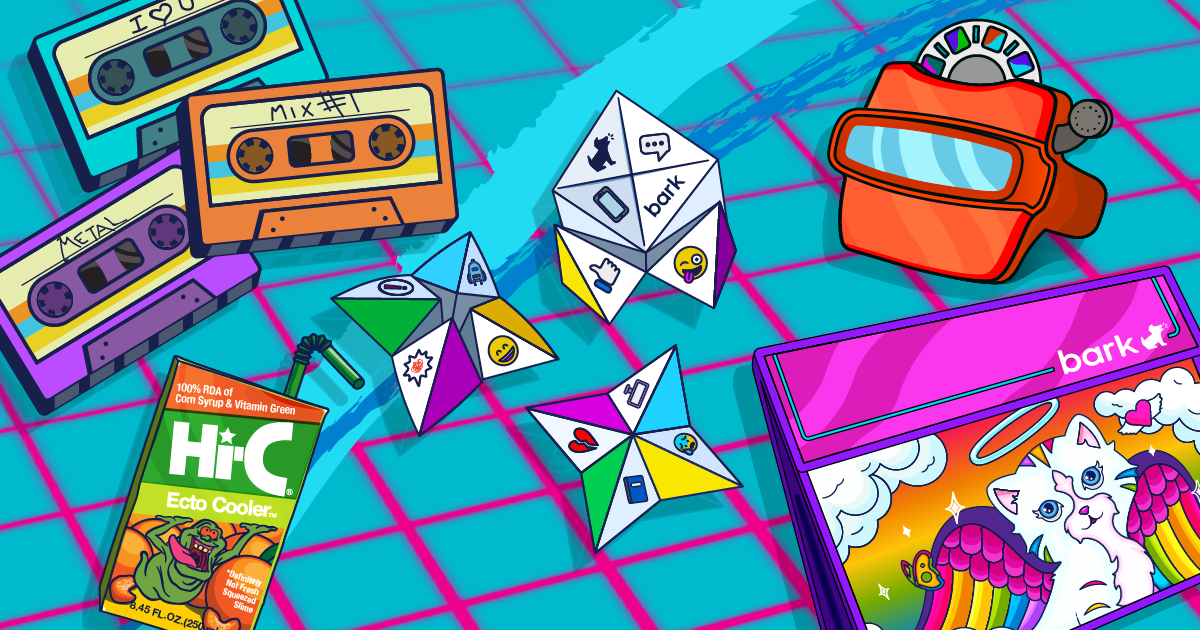 No matter how much technology changes, there will always be some universal constants — things like bike riding in the summer, fighting bedtime to stay up just a little bit later, and asking your parents a million questions. Kids today have all of that and more — they're the first generation to grow up with smartphones, the internet, and social media.
You may not realize it at first, but many of the things they have today had humble origins in our own upbringing. In this post, we take a look at 8 more memorable throwbacks and compare them to their modern-day counterparts. Sit back, buckle up, and prepare to take a ride through some heavy nostalgia.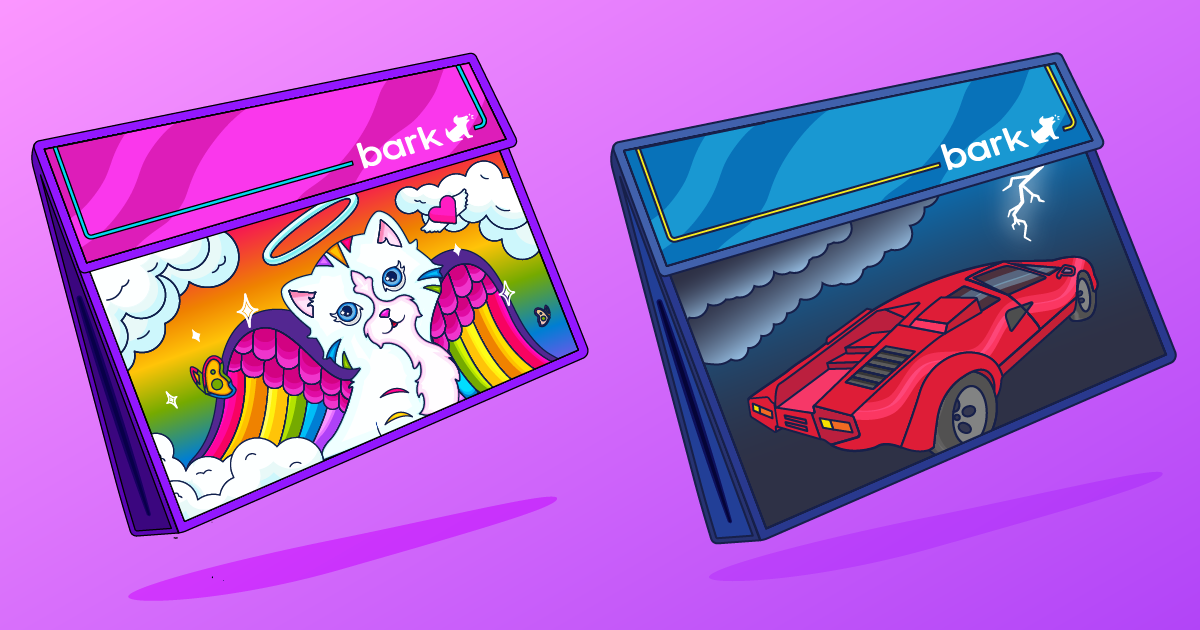 Trapper Keepers — The Original Google Drive
Back before Google Docs and PowerPoint, these binders were how we kept up with homework, book reports, and hundreds of sheets of wrinkled notebook paper.
And sure, today's kids can create unlimited digital files and share them instantly but do they have sweet Lisa Frank designs?
Ecto Cooler — The Original $9 Green Juice
Easier to drink than a Capri Sun and less goofy than a Squeezeit, Ecto Cooler was the original kid-focused marketing ploy — and we loved it in all of its neon green, corn syrupy goodness.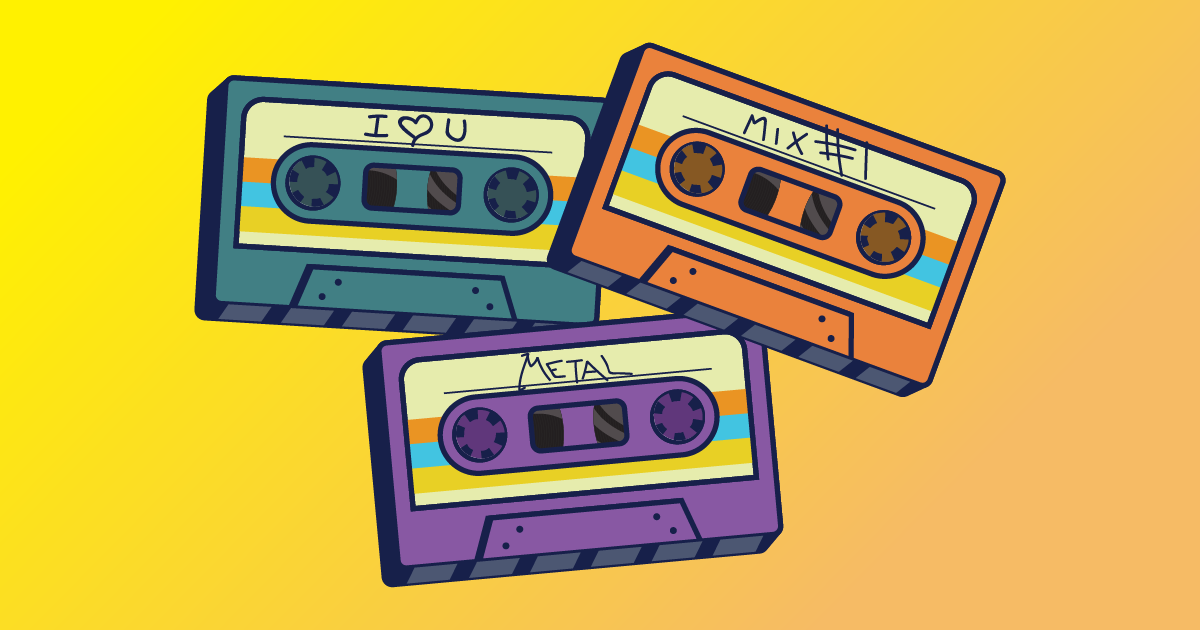 Mixtapes — The Original Spotify
The original mixtapes involved cassettes, handwritten labels, a desire to impress your crush, and the patience to wait for the perfect songs to come on the radio. Out of your hands was whether or not the DJ would talk over the last 10 seconds on the song. Spoiler alert: they always did.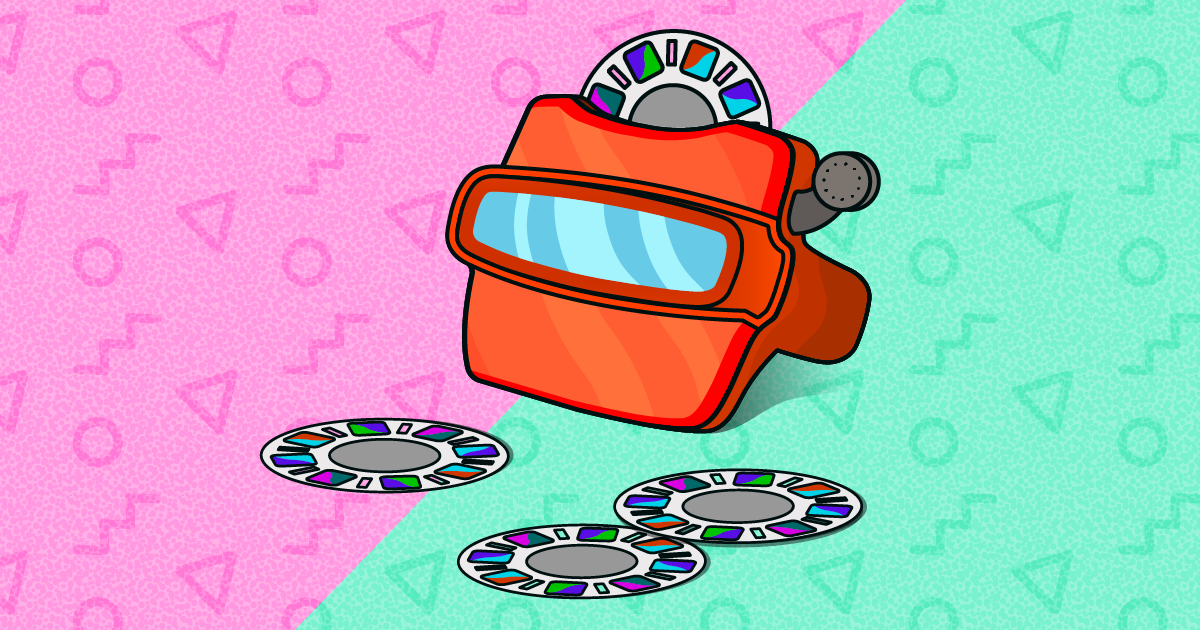 View-Masters — The Original Instagram
Kids today may have HD cameras in their pockets, but View-Masters displayed images in 3D and (even better!) never had to be charged. Polaroid cameras are coming back now, but we all know that View-Masters reign supreme.
Garfield — The Original Grumpy Cat
Before Grumpy Cat took the internet by storm and became a meme, America loved a misanthropic orange tabby named Garfield, most famous for pushing unsuspecting dogs off tables and lamenting Mondays.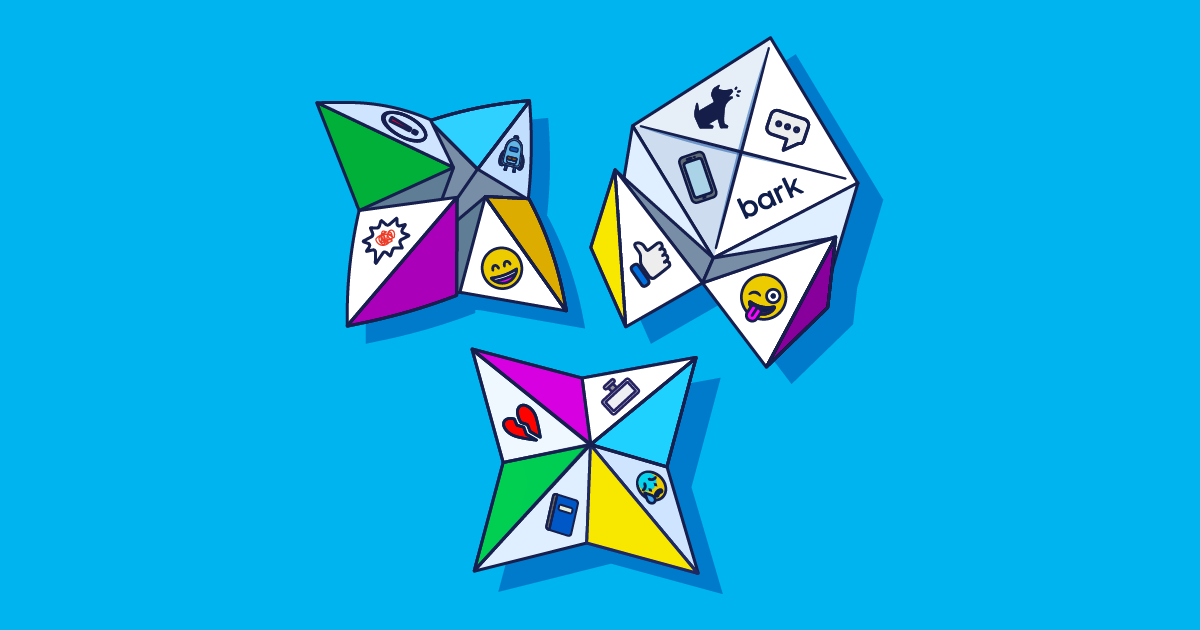 Paper Fortune Tellers — The Original ASKfm
For answers to the really pressing questions, we couldn't turn to anonymous posting apps like ASKfm. Instead, we relied on the oracle-like wisdom of paper fortune tellers during study hall. After a few quick folds, they would magically reveal who really had a crush on us — or what our future career might be.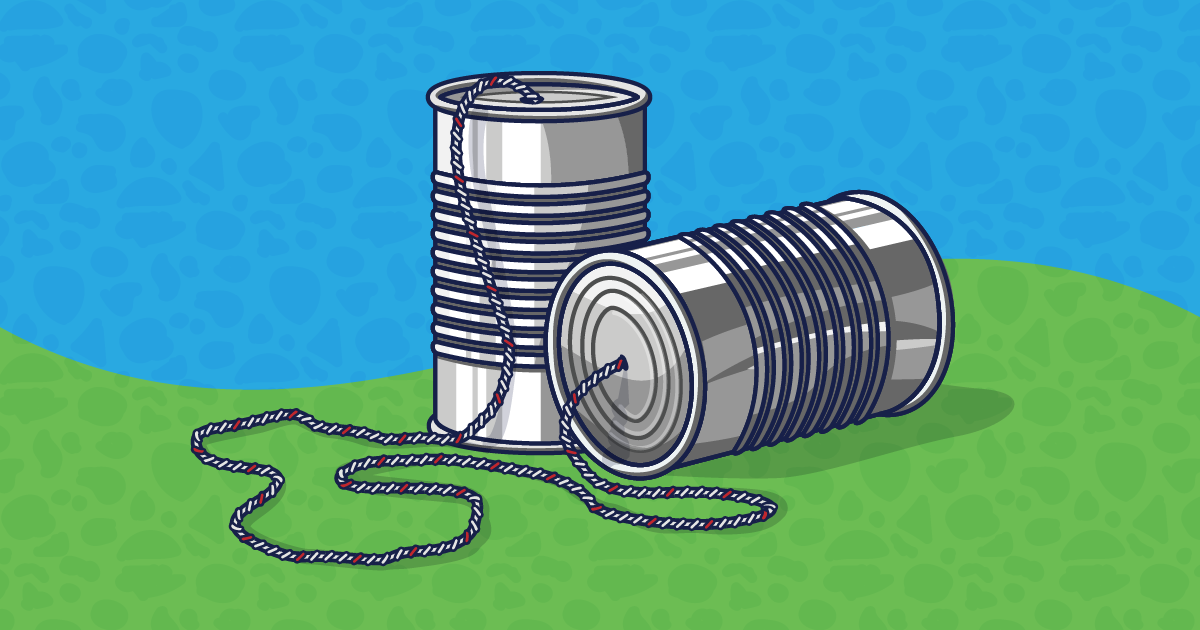 Can Phones — The Original Cell Phone
Breaker breaker! Remember these? You had to pull 'em tight and that yarn always snapped, but we'd take a tin can convo over answering an unexpected call any day! (Blocked number? Not a chance).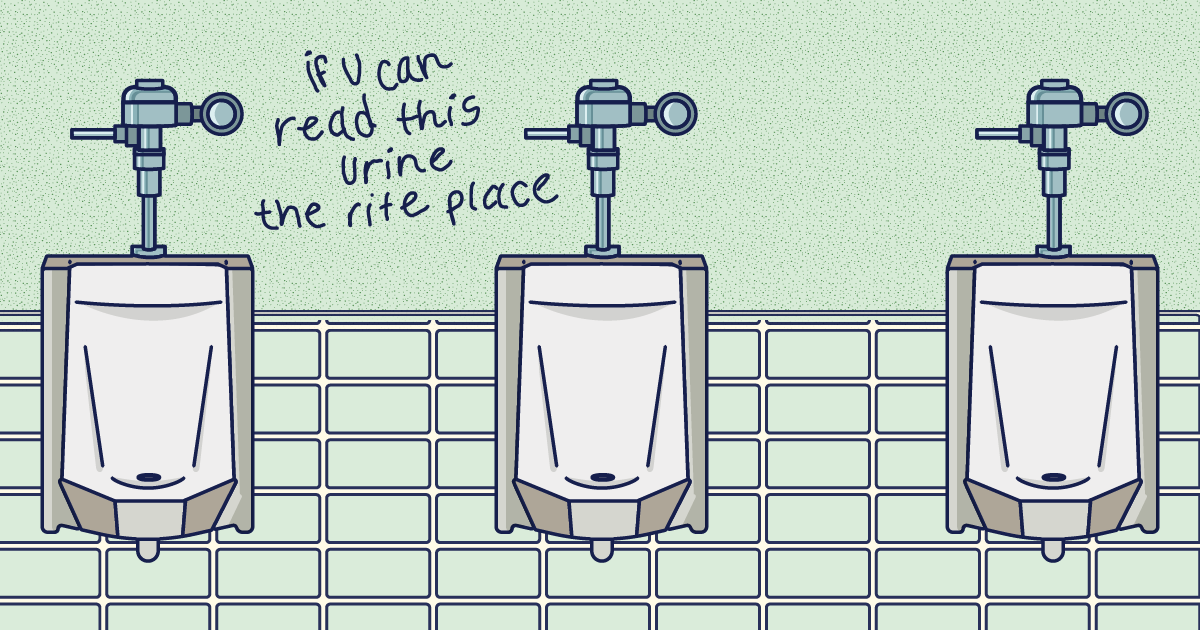 Wall Grafitti — The Original Twitter
Shouting into the void may happen today in 280 characters or less, but in the past, the boys' bathroom was the exclusive province of trolls and snarky one-liners.
__________
Technology is a double-edged sword: it brings people and families closer than ever before, but it can also present serious risks for kids. Some of these threats are things our generation never had to worry about — things like cyberbullying and increased rates of depression.
Fortunately, to help families navigate life in the digital age, there's Bark. By monitoring texts, emails, YouTube, and 24+ social media platforms, Bark allows families to work together against online threats. Sign up today for a free one-week trial!