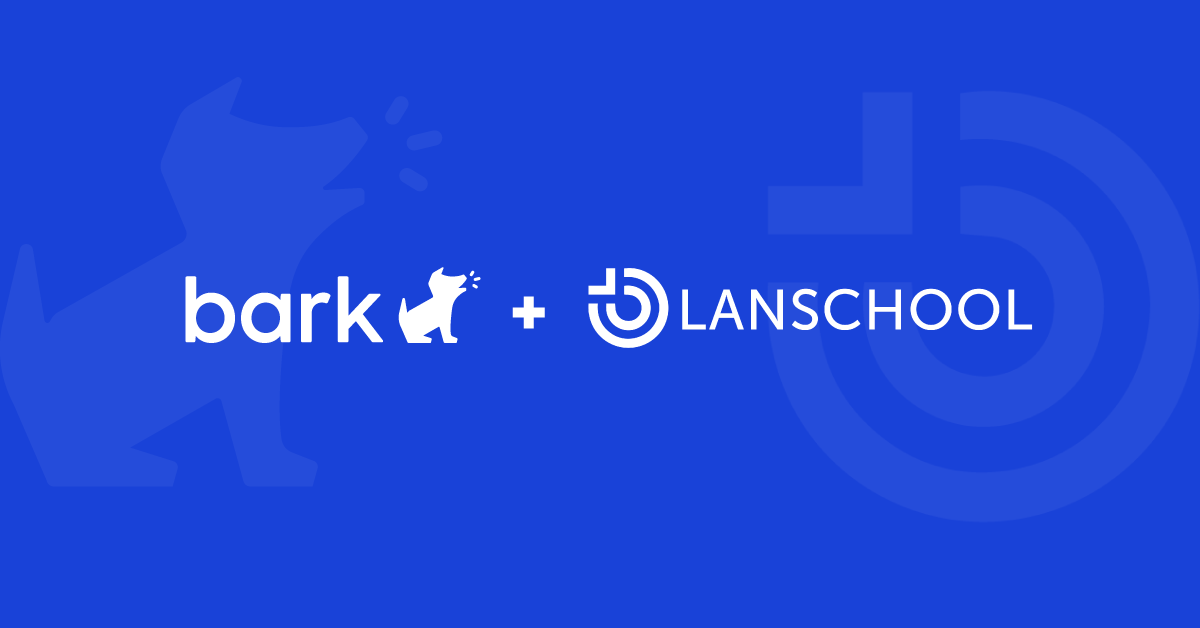 You may have heard about our partnership with Lenovo's LanSchool, and how together we're bringing Bark for Schools to even more districts across the country to help keep students safe both online and in real life. Recently, Bark's CMO Titania Jordan sat down (virtually) with Coby Gurr, general manager for Lenovo Software, to talk about how LanSchool is working to make virtual learning not just a substitute for in-person learning in the era of COVID-19, but a system that is effective and beneficial on its own merits.
Synchronous learning (which means learning in real-time instead of through pre-recorded lectures) enables teachers to guide classrooms, promote collaboration among students, and even create authentic 1:1 experiences when needed. Want to learn more about how Lenovo's LanSchool is helping to make your child's virtual classroom amazing? Watch the entire conversation below:
If you're like many parents, you've probably heard from your kids that TikTok might be shutting down in the coming weeks. An executive order was recently issued stating that if Microsoft or another American company doesn't buy the U.S. portion of the Chinese-owned app by September 15, TikTok will no longer be available to American users.
Your kids are probably not too happy about this news, as TikTok has become one of the most popular apps for teens and tweens today. But there are many other apps that serve a similar purpose. The Bark team has assembled some of the more common ones your kids may find.
And as with every video-sharing social media app, the dangers are much the same for each of these options, including exposure to inappropriate content and potential communication with strangers.
Instagram Reels
Remember how Instagram copied the concept of Stories from Snapchat a few years back? Well, now they've done the same thing with Reels, their take on TikTok's videos-set-to-music idea. The Reels app — accessible from within Instagram, like Stories — allows users to create 15-second videos (shorter than TikTok's 60-second max), add text and edit them, and then share them with their followers. This is where Reels may actually have a leg up on TikTok — when you share with your existing Instagram followers, you have a built-in audience for your content.
Byte
While it seems that TikTok has become the replacement for the beloved-but-now-defunct Vine, Byte may actually be closer to the O.G. Vine. Plus, it was even developed by Vine co-founder Dom Hoffman, so Byte knows the short-video space well and what people want. With this app, users can shoot 6-second videos, edit and add music, and share them to their feed. It's very similar to TikTok in functionality, but the cadence is much quicker and the feel more minimalist thanks to the length restriction.
Zynn
This app copies TikTok in two main ways: it was also developed in China, and it's a complete clone (button-for-button the same experience as TikTok). You may recognize it for being in the news recently for allegedly "paying users" to create accounts and watch videos. There have also been reports of content being stolen and reposted to Zynn. While it seems that it's a possible alternative to TikTok right now, it's so similar that it may be next on the chopping block next if it gains steam.
Dubsmash
Dubsmash has been around since 2016, having first gained recognition as a lip-syncing app. But like TikTok, it now features videos of dances, cooking, and countless other activities. Dubsmash users can make 10-second videos — choosing audio from movies, music, internet trends, and more — and share them to a TikTok-similar "For You Page" so others can watch.
Triller
Triller is moving fast and angling hard to become the go-to TikTok alternative. Heavily relying on influencers to get TikTok users to make the switch, Triller is a similar video editing and sharing platform, though it prides itself on the video quality of its technology. On August 2, 2020, Triller leaped to the number one spot in app downloads in 50 countries across the globe, indicating that it may be poised for some amount of success.

No matter what new video apps rise to the forefront (and as we've seen, there always seems to be new ones popping up), Bark can help give you peace of mind by alerting you whenever your children download a new app. You can see what your kids have downloaded — as well as when, helping you to better understand what your kids are getting into online.
**This blog post was updated on August 6, 2021.**
When you're cuddling up on the couch with a thick chocolate bar in your rattiest sweatpants and looking for the perfect TV show to help you finally de-stress, where do you turn? Maybe Netflix saves the day (er, night). Or perhaps you're more of an Amazon Prime fan? Whatever the streaming option you always find yourself drawn to after a full day, your kid might be pulling up the video game equivalent — Steam. Is Steam safe? You're about to find out (keep reading).
What is Steam?
Steam is a platform that allows players to buy, sell, and store PC video games without ever having to leave their home… or room… or desk. Since these games are stored in the cloud, players can access them from anywhere — as long as they have access to a computer.
In addition to playing video games, Steam users can chat with other people in online forums and chat groups, which are often organized around common interests. Steam profiles are public by default, so make sure your child makes their personal information private through their profile settings.
Is Steam Safe?
While the platform has put some regulations in place in the past, they've since decided to take a different approach. "We've decided that the right approach is to allow everything onto the Steam Store, except for things that we decide are illegal, or straight up trolling," an announcement to the community says. "The Steam Store is going to contain something that you hate, and don't think should exist."
So what might you, as a parent, hate? Regardless of your family's stance on pornography, you might take pause at the fact that realistic porn video games are so easy for a child to come across on Steam. If your child spends time on Steam, it might be a good idea to open a conversation with them about what they may have encountered.
Hate speech is another troubling kind of content kids may run into on Steam. The platform has a history of failing to respond to Nazi imagery, white supremacist language, and even Nazi role-playing. Plus, if you're concerned about physical acts of violence, keep in mind that games on the platform allow players to act out scenes of mass gun violence, pretend to be Hitler, simulate suicide, commit rapes, and more.
Unfortunately, wherever there's a chat feature, there's also the possibility of predation. Gaming chat rooms are often where predators strike up a casual relationship with a child, begin grooming them, and ultimately extort them for sexually explicit images or videos — or even in-person abuse.
How to Help Keep Your Kid Safe

Explore Parental Controls
Whether you're only looking for Steam controls or your little gamer is on a whole host of platforms and consoles, we've got you covered with some of the most intuitive, straightforward guides around. These will help you turn on family-friendly filters, restrict certain types of content, and more.
Set Up Chat Monitoring with Bark
It's impossible to read through every single chat message your child receives — whether it's from a BFF or a complete stranger. To help give you some peace of mind, we've created the ability to monitor chat messages on Steam and Steam Chat on Android devices. If you have the Bark for Kids app installed on your child's Android phone, you can simply update to the latest version by following these steps. If you don't have it installed yet, learn how to do that here. Then, Bark will automatically start monitoring Steam chats and sending you relevant alerts!
How to Block Steam with Bark
From your dashboard, find your child's profile.
Select Settings.
Choose Parental controls.
Review the rule sets you've scheduled.
Scroll down until you see Screen time rule sets and select the rule set currently applied.
Toggle Steam to Blocked.
Repeat these steps for any other screen time rule sets you've scheduled.
You're all set!
Suggest Healthy Ways to Express Themselves Online
Even though there are some potential dangers that come with being online, there are plenty of opportunities for your child to grow as well. Encourage them to learn some new dance moves, try their hand at stop-motion video, or sharpen their photography skills!
**This blog post was updated on August 5, 2021.**
Before kids pack up their book bags, don their brand-new outfits, and head off to the bus stop, make sure they're learning in the best and safest way possible. In this updated guide, you'll find helpful tips for online safety and the best recommendations for educational laptops that are sure to be a hit with children as they head back to school. And to make homework time a little bit easier, we've assembled some of the best free learning resources to help your kids get the most out of their school work.
Back to School Online Safety Tune-up
While your kids probably got a fair amount of screen time this summer (phones, tablets, TV, and video games — oh my!), now is the time to get back in the habit of setting healthy boundaries and learning about digital dangers. Here are 10 ways to help protect your kid online as they transition back to school.
1. Set parental controls to limit distractions
The Barkomatic is the internet's first customizable resource for parental controls. No matter how your child uses the internet, we can provide you with all the information you need quickly, easily, and in one location.
2. Find out how kids use Google Docs for cyberbullying
Google Docs has become popular in schools, with many children using it for schoolwork, homework assignments, and even group projects. But kids are incredibly inventive, and they've managed to turn Google Docs into a de facto communication and social media hub. Confused? We break it down for you in this blog post.
3. Create a technology contract
A technology contract is a great way for your family to collaborate on rules for using devices and accessing the internet. It can help make sure the whole family is on the same page about how to get the most out of technology, and — most importantly — how to stay safer online.
4. Make use of apps to connect with other parents
While you're probably not arranging for carpool pickups and dropoffs right now, communicating with the guardians of your children's friends can be a good source of support, information, and even humor while you navigate online schooling.
5. Make time for real conversations
As life starts to get hectic again with carpools, soccer practice, rushed weeknight dinners, and more, prioritize finding some time to talk about the serious things going on in your children's lives. We've got a handy guide with conversation starters to make it easier for you.
6. Encourage healthy digital habits
Kids look to their parents to learn how the world works, and it's up to us to make sure we're passing on good digital habits — from setting good examples to establishing digital boundaries.
7. Host a virtual tech night
This Tech Night Resources page is filled with everything you'd need to help educate families in your communities about technology and social media, including free videos, downloadable PDFs, and more.
8. Get support for teaching kids with special needs
Use this page of resources to learn more about how to advocate for kids with special needs during this time of remote learning, which can be especially challenging in virtual classroom settings.
9. Take a crash course in Chromebooks
Chromebooks have become the go-to tech device for students across the U.S., but did you know they're not exactly laptops? Learn more about these versatile computers in this blog post.
10. Learn more about your kid's school-issued tech
Many students get access to digital technologies like cloud storage for the first time at school, and parents may not be familiar with them — or their risks.
Best Laptops for Back to School
If your child's in the market for their very first laptop — or just definitely needs a new one after the past two years — we've got you covered. Here are a few of the most popular and powerful computers we recommend for kids.
Lenovo IdeaPad 1
This lightweight laptop has up to eight hours of battery life to get your kid through even the longest of school days. With purchase, you get a complimentary year-long subscription of Microsoft Office 365, which includes Word, Powerpoint, Excel, and more. Also, Lenovo's LanSchool and Bark have partnered together to provide award-winning edtech solutions to help keep students safe online.
13-inch MacBook Air
This choice is a great laptop for teens who aren't as prone to dropping things — they're incredibly thin and lightweight. A MacBook Air is more expensive than many comparable laptops, but for dedicated Apple families, it's a great first laptop that integrates well into your existing ecosystem.
Microsoft Surface Laptop 3
This laptop is stylish and has several sleek metallic colors to choose from. It's lightweight and features an impressive all-day battery. There are also amazing Microsoft accessories to pair with the Surface Laptop 3, including Surface Earbuds, the Surface Arc Mouse (if your kid hates using the touchpad), and the Surface Pen to make taking notes easier.
Dell Chromebook 3100 Education
For younger kids, this is a perfect durable first laptop. It's made to withstand the wear and tear of daily use and accidents, and the keyboard is even spill-resistant for up to 12 ounces of liquid (for those lunchtime study sessions). Along with its 14-hour battery life, the Dell Chromebook 3100 is sure to keep up with whatever your kid can throw at it (literally).
Acer Chromebook 314
With impressive Intel processing, the Acer Chromebook 314 makes sophisticated classroom projects run smoother and faster. Physically larger than most laptops and Chromebooks, this can come in handy for educational videos and screen sharing — especially if your kid is going to be remote learning in the fall.
Incredible Online Educational Resources
With free educational resources for nearly every subject and learning style available through a quick Google search, there's no better time to learn from home than now. These links are just a few of the amazing websites that kids can access to help them ace their next test or write that perfect English paper.
Khan Academy
This nonprofit website provides dozens of in-depth lessons on everything from trigonometry to world history. Perfect for middle and high schoolers, Khan Academy features videos, interactive problems, and more.
Quizlet
Flashcards always worked when you were a kid and they still work today — they've just gone digital! With Quizlet, your child can create their own sets of flashcards to work on memorizing key concepts, or they can browse ready-made cards on a variety of topics.
Duolingo
There's no better way to have fun while studying Spanish or French than playing the fun mobile game Duolingo. In just a few minutes a day, your kid can enrich their classroom learning with vocabulary, grammar, and pronunciation.
Shmoop
Remember CliffsNotes? Shmoop is even better because it's actually fun! These humor-injected study guides and study tools make learning easier — and your kid may even be inspired to read more, too.
Desmos
Fancy graphing calculators for back to school can be a necessary (and expensive) tool for advanced math classes. This free app does all the work of a TI-82 without the hefty price tag. It even features a lockdown mode for use during exams.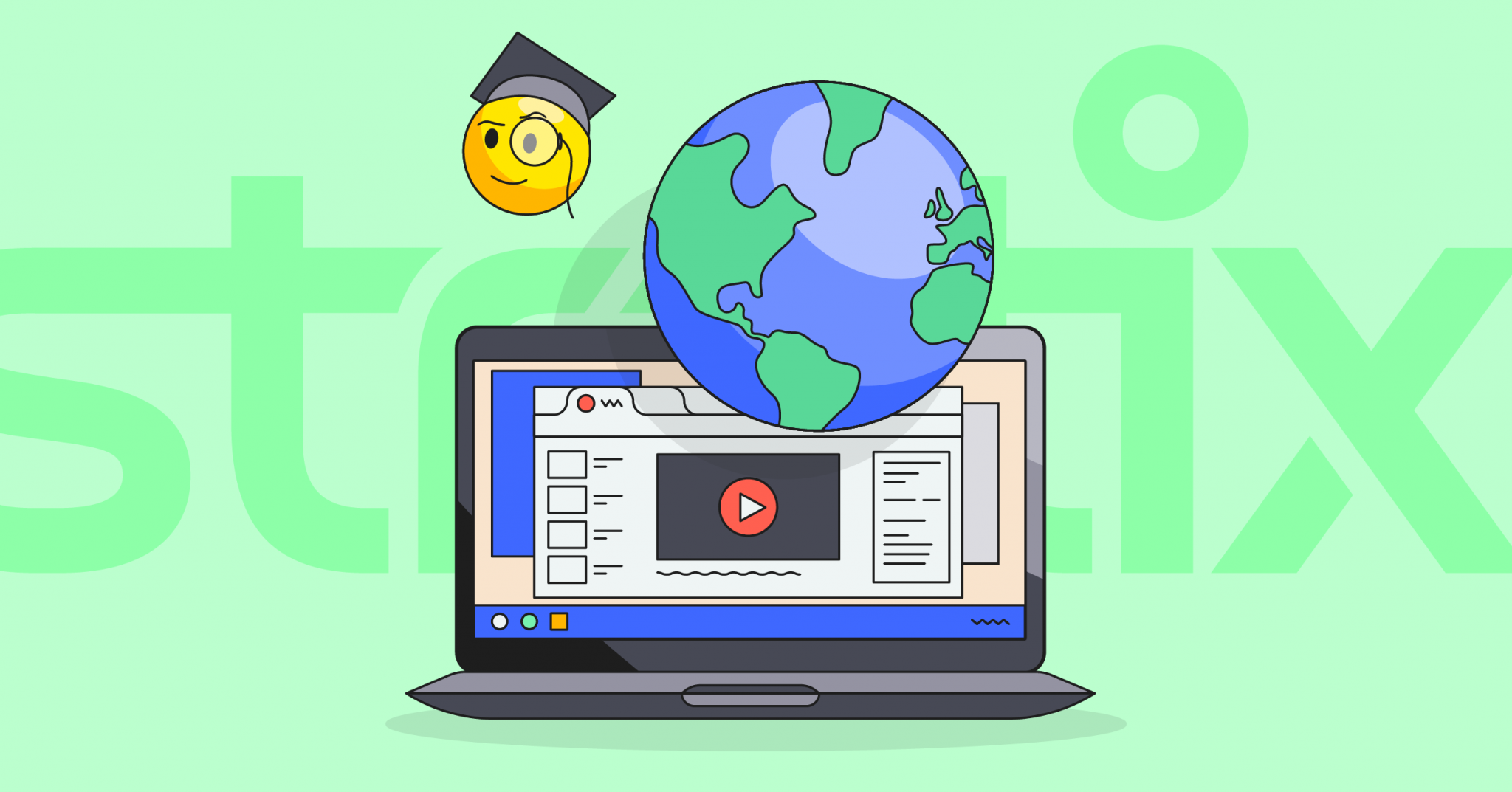 In previous years, your child's first day of school was filled with the pressure of picking out the perfect outfit, excited reunions with friends, and worries about discovering the quickest way to get from class to class. This year, whether kids are distance learning, going back to school with increased safety measures, or something in between, that thrilling first day is probably a little different. And for students who are learning from home without the equipment they need, starting a new grade can be even more challenging.
This isn't a rare issue. 15 to 16 million students — or about 30% — lack adequate internet or devices, according to Common Sense Media. In states like Alabama, West Virginia, and Louisiana, the digital divide is even greater. Reliable internet access is essential to the majority of Americans — especially during this pandemic, and at Bark, we knew we needed to do something to address this great need.
We're thrilled to announce our new partnership with Stratix Corporation. We both care deeply about helping students have access to all the tools and resources they need to excel, so we're glad to be able to serve children in Detroit Public Schools. "Alongside Bark Technologies, we provide a sustainable solution to close the digital divide, enabling all students to work safely and have the support they need for remote learning on their mobile devices," says Stratix CEO Louis Alterman. Bark and Stratix have been working closely together to deliver remote learning capabilities to 22,000 K-12 students across 12 different districts.
"Given the current circumstances, the rollout of this program is dire as it will pave a brighter path for our students, teachers, and administrators," says Christine Burkette, former CIO of the Detroit Public Schools Community District and current CEO of PICF, Inc. These young learners will each receive a Chromebook (and accessories) configured with G Suite for Education and carrier-activated internet hotspots upon request. The devices will also be outfitted with Bark's online monitoring and filtering tools — powered by its sophisticated AI — to help keep students safe. The program includes ongoing repair and support for students and their devices.
"With many schools extending distance learning into the fall and beyond, there has never been a greater need for added safety measures online," said Bark founder and CEO Brian Bason. "Now, through our partnership with Stratix, we are not only working to bridge the digital divide by providing fully-loaded devices and tech support to students in need, but we are adding a critical level of protection for these students no matter where they learn."
Supporting educators, students, and families is so important to us, so we're truly grateful for this opportunity to help equip Detroit learners with the tools they need to thrive. We believe they deserve every opportunity to grow and learn, and this new program will help narrow the digital divide while offering schools value-added device support, security, and logistics services to ensure continuity in education. We're also proud to continue to offer support to educators, administrators, and students in our Bark for Schools community during this tough time, and we look forward to finding new ways to serve as new needs develop.
**This blog post was updated on May 11, 2021**
Content Warning: This article discusses eating disorders and contains language that may be triggering to some readers.
It probably comes as no surprise to you that social media and eating disorders are often connected. After all, it's nearly impossible to browse Instagram without seeing an ad for a "skinny detox tea" or scroll through Facebook without stumbling upon someone's before-and-after weight loss photos. But what you may not realize is that TikTok — known for its expressive dance moves, silly comedy sketches, and videos of dogs snuggling with newborn babies — also hosts a shocking amount of content promoting disordered eating.
Here's how it works. If TikTok thinks you'll like videos of people renovating their kitchens, they'll start to sneak those onto your feed of recommended videos (called the "For You" page). Great! you might think. I'll get exactly what I want! But what if TikTok thinks you have bulimia? Or binge eating disorder? Or orthorexia? Then, the platform will show you videos about eating disorders. If you're a child, these 60-second videos can have an incredibly damaging — and potentially even fatal — effect over time.
While the algorithm for the For You page is "intelligent" enough to guess things about you that you may have never said out loud, it's far from emotionally intelligent. There's no way for it to understand the harm it can cause by serving content that might encourage disordered eating.
Not all eating disorder-related content on TikTok is harmful, of course. In fact, some struggling teens may find recovery videos from other kids their age incredibly supportive and empowering. But it's difficult — perhaps impossible — to "train" your For You page to only serve you TikToks that actively discourage disordered behaviors, rather than suggest that you practice them.
What TikTok Is — and Isn't — Doing to Help
TikTok's community guidelines prohibit "content that supports pro-ana or other dangerous behavior to lose weight," and the platform has made some attempts to help regulate content that promotes disordered eating. In practice, however, enforcement of this guideline appears to be as simple as hiding some videos that use explicit pro-eating disorder hashtags. Even still, searching "ProAna" (pro-anorexia), "EdCheck" (eating disorder check), and "EdChallenge" (eating disorder challenge) will show you users and videos in support of disordered eating.
Kids who are actively seeking out content promoting eating disorders can get around controls faster than platforms can create them. For example, instead of searching for "EatingDisorder," which contains almost no videos, a child can simply tweak the spelling and find themselves in an endless scroll of potentially damaging content. On TikTok, videos tagged with "EatingDisoder" have 118.5 million views. "EatingDissorder" has 71.2 million views. "EatingDesorder" has two million views. The platform's few protections are doing little to address the problem.
Other platforms are more proactive with their regulations. If, for example, you type "ProAna" into Tumblr — a social media site that has a long history of hosting content promoting disordered eating — the platform sends you to a page that asks, "Everything okay?" and offers a list of resources that can help.
Not only does TikTok fail to provide this kind of assistance, but it is also unable to control the less direct forms of pro-disordered eating content. "Prom Queen" is a song that has been used more than 50,000 times on the platform, and it includes lyrics like, "Shut up, count your calories / I never looked good in mom jeans." One of the most prominent young TikTok stars also shared it with an energetic dance and a megawatt smile to promote a giveaway to her tens of millions of followers in a since-deleted rendition of the song.
It's clear that social media is rife with dangerous content, even if that content isn't created with the purpose of causing harm. It may seem like just a happy dance on the surface, but lines like "I've been starving myself / Carving skin until my bones are showing" can really trigger disordered thoughts and behaviors — especially in young, impressionable viewers.
A Parent's Guide to Social Media and Eating Disorders
To learn more about how families should respond to these pressures, we spoke with Ashley Scott, assistant program director at Walden Behavioral Care, an eating disorder treatment center, about what parents and guardians should know about social media and eating disorders. "We know that adolescent brains aren't fully developed, so they are even more susceptible to influence," she says. "When a child is exposed to eating disorder-related content, it can spark the urge to engage in new behaviors or to 'perfect' their existing behaviors."
Whether or not your child is already experiencing an eating disorder, it's important to not underestimate the power of peer influence when it comes to eating disorders. Scott says many of the clients in her program are in treatment because of something they saw a friend doing or something they encountered online. Keeping an eye out for your child's physical and mental health can help you recognize when they may be struggling.
Potential signs of an eating disorder
You might assume that everyone with an eating disorder is either purging or restricting their intake in order to make themselves look a certain way — but that is only sometimes the case. "Eating disorders don't look like anything," Scott points out. "They are extremely secretive, often due to shame, which can make them difficult to detect." It's best not to base your judgment about whether your child has an eating disorder solely on things like weight fluctuations. That being said, there are still a number of signs you can look for if you're concerned your child might have an eating disorder. 
Sudden mood changes

. Teens and tweens experience hormone fluctuations, so some degree of mood variation is common. But if your kid just isn't acting like themselves, take time to chat with them about what they're feeling.

Sudden dietary shifts

. "Any sudden shifts to a gluten-free or dairy-free diet, or a switch to vegetarianism or veganism that seems out of the blue would be something to note," Scott says.

Worse school performance

. If your child usually gets great grades but suddenly starts failing assignments, it's probably time to check in with them.

Different mealtime habits

. According to Scott, "If a child is excusing themselves from the dinner table immediately after meals and spending longer amounts of time in the bathroom, this could be a sign of

purging

."
How to Encourage a Healthy Food–Body Relationship
If your child is experiencing an eating disorder, they can feel very scared and alone, so make sure you're consistently reminding them that they can always talk to you. "If a judgment-free zone can be developed around food and body, it allows kids to feel comfortable asking for help — their eating disorder will be fighting hard to prevent this from happening," Scott explains.
You can also help by being very intentional about the way you talk about food. For example, make sure not to describe foods in terms of morality — calling chocolate a "bad food" and kale a "good food." Instead, remind your child that it's great for them to explore new flavors and to listen to their body's wants and needs.
The way you talk about your own body can also have an impact on your child's view of themselves. "Practice body acceptance, even if that means doing your own work to feel comfortable in the body you have," Scott recommends. "For example, don't keep a scale readily available in the home and don't weigh yourself or talk about your weight in front of your children." Instead, talk about how kind your child is to their friends or how cool it is that they're able to do a backflip on the trampoline.
Just remember that while not every eating disorder is tied to body image, there is no downside to encouraging your kid to have a positive relationship with their body, so be proactive about doing so — it can go a long way in negating the connection between social media and eating disorders.
Get Your Child Help When They Need It
If you notice some signs that your child might have an eating disorder, be sure you seek professional help for them. "We highly recommend having an intake assessment completed through an eating disorder facility in your area," Scott says. "Eating disorders are the deadliest of all psychiatric illnesses, and they can grow rapidly. An assessment should be seen as gathering data and information to be sure that your child is safe."
Bark can also help by alerting you to potential signs of body image or eating disorder concerns in your child's online activities and can let you set screen time limits for TikTok and other social media platforms to reduce the connection between social media and eating disorders. If this is something your child might be experiencing, we'll provide expert-recommended steps for talking with them about what's happening. Above all, make sure your child knows they can always come to you if they need help, and stay attuned to their mental health so you can check in when there might be a problem.
If you or someone you care about is struggling with an eating disorder, call the National Eating Disorders Association's hotline at 800-931-2237. You can also text 800-931-2237 or chat with a trained volunteer online. For more information use these helpful resources.