Another Year in School Safety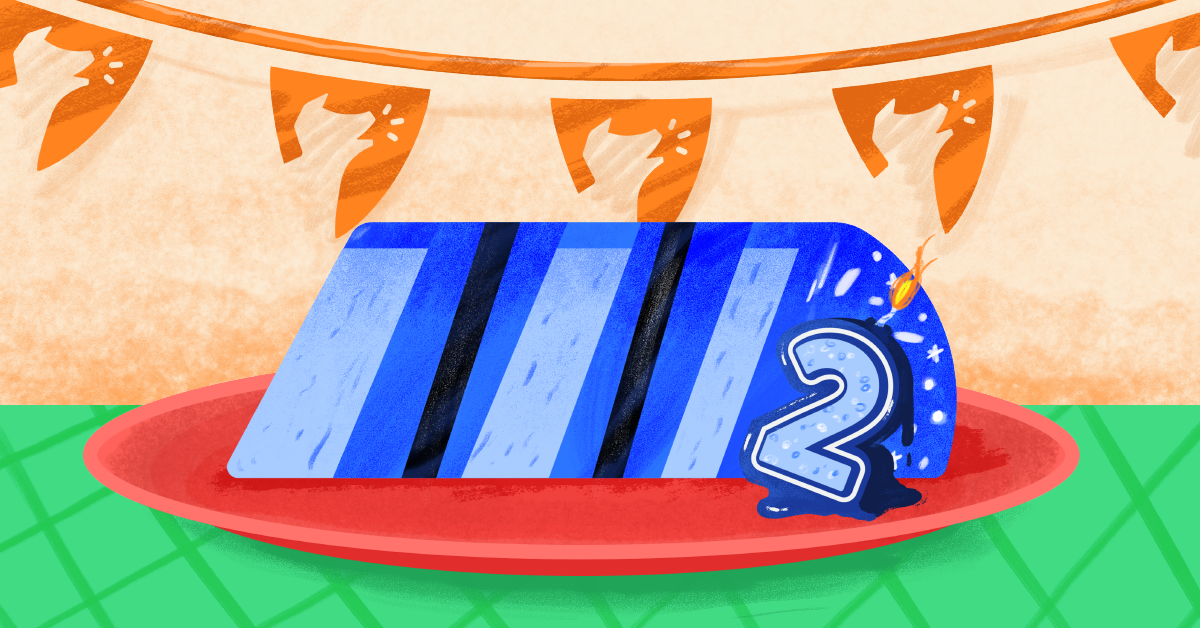 It has been two years since the official launch of Bark for Schools! In the span of that seemingly short time, we're proud to say we've been able to make great strides when it comes to school safety. Our mission has always been to offer our existing technology from our product for families to all K-12 public and private schools in the U.S. — at no cost to them or their communities.
Since our launch in 2018, we've been able to work with more than 2,100 school districts across the nation, helping to protect their students from online issues so that they can focus on what truly matters at school: learning and growing. Here are some of the most important developments from our second year of Bark for Schools.
Bark for Schools by the Numbers
At Bark, we're dedicated to helping keep kids safe both online and in real life — whether they're taking notes in class using Google Docs or watching a YouTube video from their living room couch. Children face not only external dangers like cyberbullying and school shootings, but also threats from within like self-harm and suicidal ideation. Kids are struggling every day, and they need help from the entire community to overcome these challenges.
"In today's world, helping keep kids safe means monitoring their online behavior, intervening when needed, and teaching them healthy boundaries," says Stephanie Maiwurm, Regional Vice President of Bark for Schools. "And that's exactly what we're working to help schools do. From alerting administrators to threats of imminent suicide to flagging conversations with sexual predators, we work around the clock to help protect students."
In 2019, Bark for Schools detected more than 6.9 million potential issues, including:
470,151

discussions around buying, selling, or using drugs and/or alcohol

269,603

messages containing sexually explicit content

172,912

instances of severe cyberbullying

1,888

instances of imminent suicide

5

conversations with sexual predators
Bark for Schools also escalated 121 severe issues to the FBI and the National Center for Missing and Exploited Children (NCMEC). These cases were prioritized because of the degree of severity and the nature of messages involving abuse, acts of violence, and child predators. The numbers are harrowing, especially considering that they're limited to school-issued accounts — just a small portion of a child's online activities.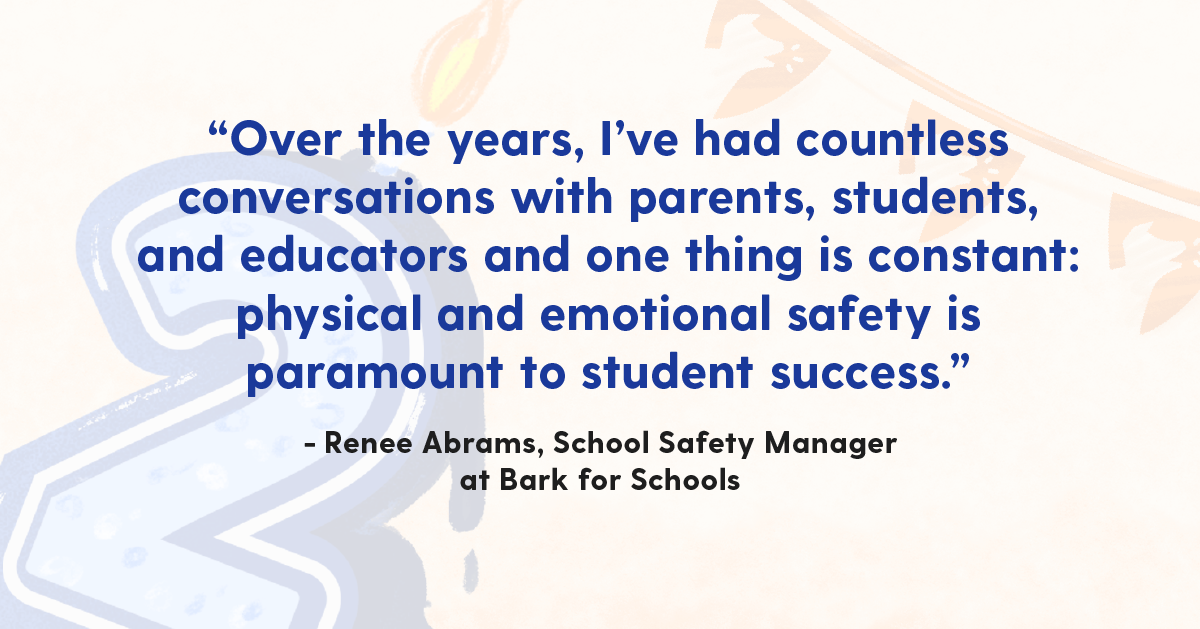 School Safety: A Shared Responsibility
We know that kids don't only use their school-issued accounts during school hours, and school administration isn't always available to respond to urgent alerts around the clock. Our Parent Portal, launched in 2018, allows schools to share the responsibility of monitoring with parents and guardians after school hours, during weekends, and over holidays. This was the foundation for a series of additional features designed to help schools improve their school safety initiatives.
In May of 2019, we debuted web filtering through Bark for Schools. This gives administration the ability to block and allow websites by category and help ensure a positive educational environment. In July, we introduced the inaugural class of our Online Safety Center of Excellence, which recognized thought leaders who are committed to helping protect students in the digital age. We signed the Student Privacy Pledge a few months later, affirming our commitment to protecting student data. Whether it's detecting potential issues or encrypting your passwords, Bark for Schools goes above and beyond to create the best possible place for students to thrive.
"Over the years, I've had countless conversations with parents, students, and educators and one thing is constant: physical and emotional safety is paramount to student success," says Renee Abrams, School Safety Manager at Bark for Schools. "Schools are our children's second home, making student safety a community mission."
After hearing from our school partners, we realized that there was more we could offer to help them stay on top of time-sensitive alerts. Bark for Schools OnCall is a premium service for schools that want round-the-clock support in responding to emergency alerts that may indicate imminent threats of harm to self or others. In combination with the rest of our services, students stand the best chance of getting help when they need it.
Comprehensive Coverage
Kids generally use their personal social media accounts and devices even more than their school-provided accounts, so families often find themselves in need of additional coverage. By upgrading to a Bark for Families account, parents and guardians can get a comprehensive online safety service. In addition to monitoring text messages, email, YouTube, and 30+ of the most popular apps and social media platforms for signs of digital danger, Bark offers screen time management and web filtering to help parents set healthy limits around when and how their kids use their devices.
This holistic approach to digital safety is essential in today's connected world. "The students of today are creating new paths to adulthood that have never been seen before," says Jeff Reistad, Senior Vice President of Bark for Schools. "With this comes great responsibility and also great risk, both for the students and the parents."
That's exactly why we want to give parents and guardians as many options as possible. When they sign up to monitor with Bark for Families, they're able to expand their digital safety net to cover personal devices and social media accounts — putting them in the best position to know if their kids need help.
Community Outreach
Bark for Schools doesn't just work to help schools and families protect students from afar. We're also passionate about helping communities connect in person by giving them the tools they need to host Tech Nights that encourage dialogues around online safety. To get plenty of presentation materials, handouts, and interactive activities to share (not to mention cool Bark swag), you can reach out to us at any time if you're interested in hosting a Tech Night of your own! We'd love to help.
We're also proud to have partnered with Sandy Hook Promise to help create a culture of engaged youth and adults — one that's composed of people committed to identifying, engaging, and getting help for individuals who might be at risk of hurting themselves or others. Bark for Schools was launched in the wake of the tragedy in Parkland, Florida, and continuing to do everything we can to help prevent school shootings is central to our mission.
2020 and Beyond
The last two years have been great ones for Bark for Schools, and we're proud to have been able to partner with student safety organizations, strengthen relationships with schools, and work every day to help keep students safe — both in and out of the classroom. We look forward to this next year, and we know it will hold great things for us and the communities we serve.
If your school is interested in learning more about our award-winning service, take a moment to reach out and see how we can support your institution. You can also join our private Facebook group for education professionals.
About Bark
Bark is a comprehensive online safety solution that empowers families to monitor content, manage screen time, and filter websites to help protect their kids online. Our mission is to give parents and guardians the tools they need to raise kids in the digital age.