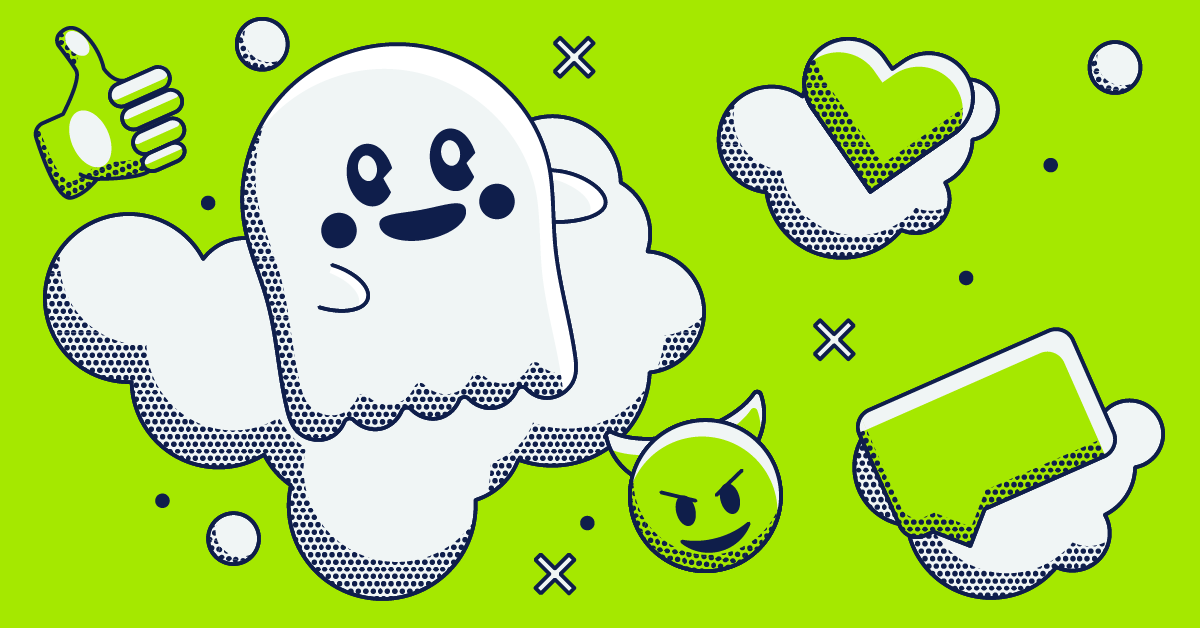 Monitoring what your child is getting into online can be scary and feel next to impossible. But what's even more frightening is that one of the hottest trends in social media for the past few years has been vanishing text on Snapchat and Instagram — and it looks like they're here to stay.
Whether you've been chasing phantom messages for years or your child is just beginning to express interest, in this post you'll learn just what's so frightening about them.
Vanishing messages: They don't necessarily disappear
A common misconception about Snapchat and Instagram is that messages and photos disappear after a few seconds. This false belief can encourage risky behavior. Kids perceive that what they send will vanish quickly – even when snapping with strangers. While it seems that things vanish shortly after viewed, there's nothing to stop someone from taking a screenshot or a photo of the message with another phone. This is also true of the Instagram feature that allows users to unsend messages in direct messages (DMs).
Snapchat also now enables users to keep Snapchat messages for up to 24 hours, meaning they won't disappear after a few seconds. This gives the recipient even more time to potentially screenshot a message, show it to friends, or view it multiple times.
Screenshots and videos create a permanent digital image. Teach your child to be careful about the images and texts they send. Nothing shared is ever guaranteed to remain truly private.
There are always new apps popping up
While Snapchat was the first app to make disappearing messages wildly popular, Instagram has since followed suit and implemented disappearing photos and videos in their own DMs and stories. With 72% of teens regularly using it, Instagram has overtaken Snapchat as the most widely used social media platform, second only to YouTube.
Fortunately, most parents have heard of these two pillars of youth culture. But what many parents don't realize is that there are countless copycat apps that ape the same functionality under different names. Be sure to research new apps that your child wants to download, and require parental approval before app downloads are allowed on their device.
They leave no record when it's important
This may sound like a no-brainer given that it's the very reason they exist, but when you stop to truly consider the ramifications of disappearing messages, it's alarming.
We hope that your child doesn't ever get involved with anything potentially harmful on Snapchat or Instagram, but in the event that they do, disappearing messages can erase all evidence of wrongdoing. Evidence is important in investigations, and without clear leads, family and friends can have trouble understanding what really happened.
Bark can help you make sense of the complicated world of vanishing text and keep your child safer. Cyberbullying, harassment, threats of violence, and messages from online predators can all occur in these apps. Make sure your child knows about the dangers they pose.
Sign up today for your and sleep a little easier knowing that Bark's got your back.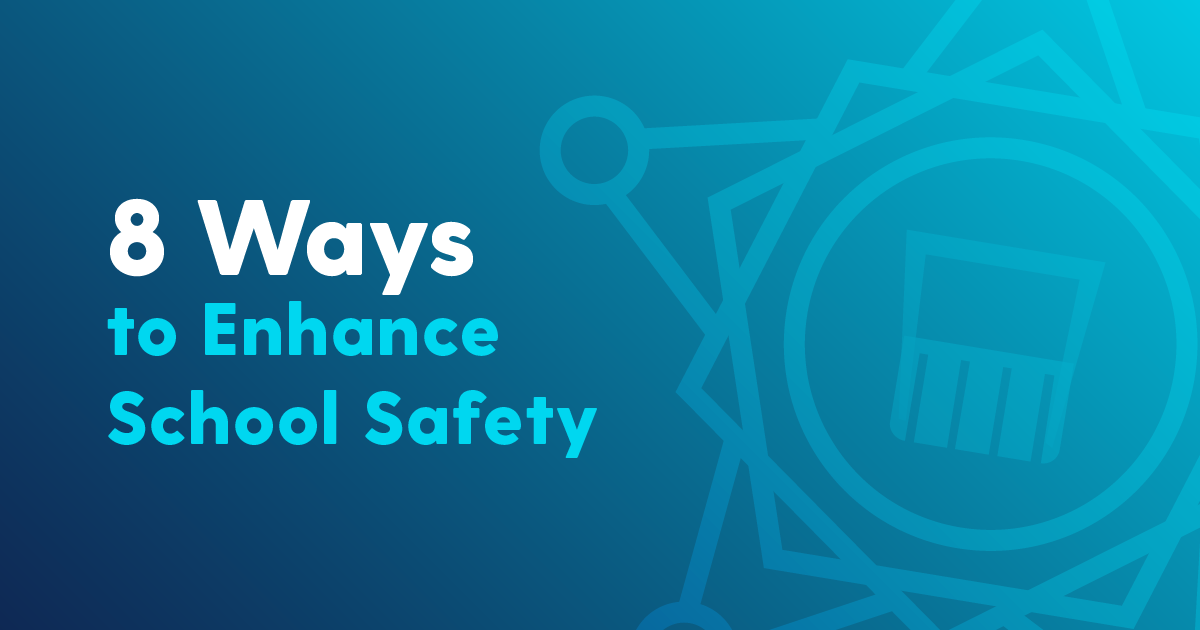 The U.S. Secret Service has released its latest recommendations to prevent targeted school violence. Created in the wake of the tragic shootings in Parkland and Santa Fe, the operational guide lays out the best ways to improve your school safety plan using a threat assessment model.
Here's a breakdown of its key takeaways.
1. School safety plan: Establish a multidisciplinary threat assessment team
The first step is to build a threat assessment team. This team will develop the school or district's response to a potential threat of violence on campus. It should consist of all kinds of faculty and staff to ensure that multiple perspectives are shared, and to allow for access to the greatest amount of resources.
There should also be a designated leader among them so that everyone knows who to turn to in an emergency. Then everyone can work together to delegate specific responsibilities — who interviews a student of concern, who talks to classmates and parents, and who documents issues. The team should meet on a regular basis, as well as whenever a threat to school safety arises.
2. Define prohibited and concerning behaviors
Assessment teams should work to define what behaviors are unacceptable, what merits intervention, and when to bring in law enforcement. These may include threats or acts of violence, bullying or harassment, or other criminal activity.
It's important to note that concerning behaviors exist along a continuum, and not all behaviors are necessarily indicative of violence. In any case, the threshold for intervention should be relatively low. It's always best to intervene before a situation escalates.
3. Create a central reporting mechanism
Whether concerning behaviors appear online or through direct observation, students and staff need a way to report what they see. It's important that the school has a known and easily accessible portal for recording such incidents so that the team can act in time to prevent a tragedy.
The team must also monitor reports diligently, allowing nothing to slip through the cracks. With the bulk of activities shifting online, however, this can be an overwhelming amount of content to review manually. Bark for Schools offers free monitoring of school-issued student accounts and can serve as an invaluable partner to a threat assessment team.
4. Determine the threshold for law enforcement intervention
Although the vast majority of incidents can be handled with school personnel and resources, some situations are so severe that they should be handled by law enforcement. Having a school resource officer on the team is beneficial for this precise reason.
Teams should draw a clear line in the sand that determines what behaviors require this level of intervention, and in the event of a threat of violence or planned attack, a school should not hesitate to turn to the police for help.
5. Establish assessment procedures and investigative themes
It is essential that schools have established procedures for handling a crisis. Teams should maintain thorough documentation of any issues they uncover, whether through anonymous tips, social media activity, or formal school records. Building rapport with campus and community members close to the student of concern is a great way to facilitate information gathering.
With that step taken, teams can evaluate the students' behaviors in the context of their ages and levels of social development. They should organize their investigation around the following themes:
Motives and goals

Concerning communications or inappropriate interests

Access to weapons, the capacity to carry out an attack, or planning

Stressors, desperation, or despair

Whether the student views violence as a solution or consistency between statements and actions

Protective influences or concerned others
6. Develop risk management options
Teams should use the information from their assessments to develop risk management strategies. Each should be tailored to suit the needs of the student in question. A student usually only needs support or counseling, but it is sometimes necessary to suspend or expel the student. It's important to remember, though, that removing a student does not necessarily remove the threat — it may even require extra outreach.
The ultimate goal is to ensure that the student is not a threat to themselves or anyone else. A thoughtfully crafted plan can reduce stressors, redirect motives, and diminish the potential for violence.
7. Create and promote safe school climates
A culture of trust, respect, and social support on campus is among the most powerful ways to prevent violence at school. School leaders should foster a welcoming atmosphere so that students will feel comfortable coming to them — or their peers — if they need to.
"Codes of silence" are difficult to break, but connecting students of concern with opportunities to participate in the campus community can make them feel more connected. Teams, clubs, and school initiatives promoting school safety can be very effective.
8. Conduct training for all stakeholders
The last critical component of a school's threat assessment plan is to develop a training program for all stakeholders. Coaches, administrators, service staff, students, parents — everyone has a role to play, and each group should be informed of how their specific group should handle a potentially violent situation.
The adage, "it takes a village," couldn't be more true — school safety is everyone's responsibility. That's why it's important to make sure everyone knows what they're looking for and what to do when they see something that's cause for concern.
In addition to a school safety plan, Bark's award-winning monitoring services can provide invaluable support to schools and their surrounding communities. Parents can sign up for helps schools keep their students safer online!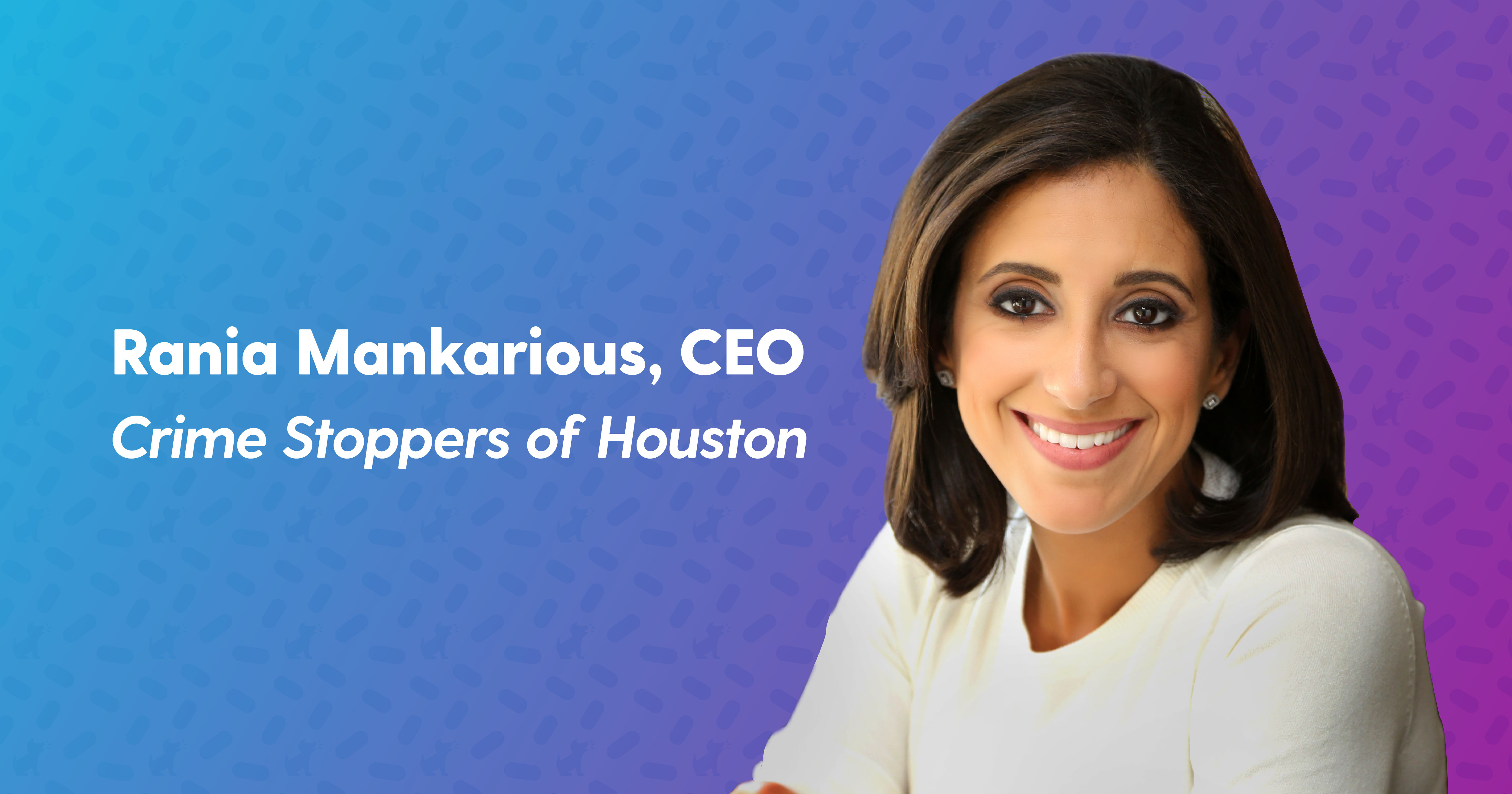 In this interview, Rania Mankarious, CEO of Crime Stoppers of Houston, shares how her upbringing and education led her to champion the mission of keeping children and families safe in Houston and beyond. Child safety is at the top of every parent's mind, and Rania unpacks the risks facing kids today.
Q: Tell us a bit about yourself and your background.
A: I was raised in a home that spoke often of politics, social justice, and public safety, which ultimately led to my career path. I graduated from college with a dual degree, and then obtained a master's degree in marriage and family therapy. Afterwards, I attended law school.
Q: How did you first get involved with Crime Stoppers of Houston?
A: I interviewed at law firms but none were a fit. Fortuitously, I interviewed at a nonprofit called Crime Stoppers. I had no idea what they did at the time but decided to interview anyway. I fell in love with the mission: to solve and prevent crime in partnership with citizens, media, and the criminal justice system.
The only problem was that they were hiring an intern, and I was overqualified. Even though I would be extremely underpaid, I took the internship anyway. There was so much I knew I could do to help scale our message, reach, and productivity.
That was 2006. I've now been here for more than 12 years. I was promoted to executive director in 2013, and this year was named the organization's first CEO.
Q: How has Crime Stoppers of Houston changed during your tenure?
We've accomplished a lot, including having built the first-ever Crime Stoppers facility and headquarters anywhere in the world. It's the first public safety block in the fourth-largest state in the U.S. We've served millions of children in schools and adults in the community, and we've solved hundreds of thousands of felony cases.
We're nearly 40 years old, but in some ways we're just getting started.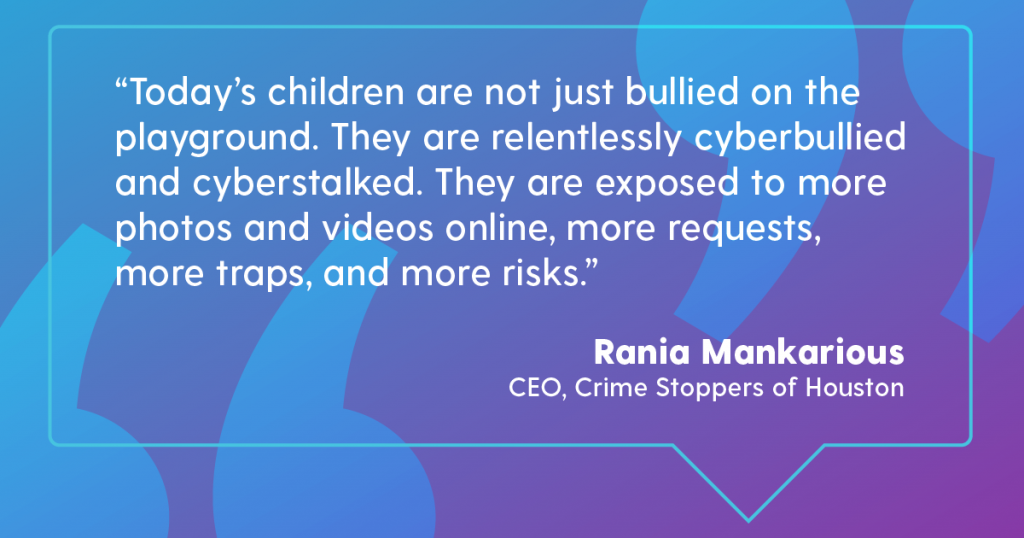 Q: Since the start of the school year, Houston-area schools have had more than 45 threats. How can parents and schools work together to keep kids safe?
It's critical that we take these issues seriously. We're living in a time where kids are more connected than ever before, but they're still isolated. They have access to weapons. They're desensitized to violence. More kids are not only suicidal, but also homicidal.
Today's children are not just bullied on the playground. They are relentlessly cyberbullied and cyberstalked. They are exposed to more photos and videos online, more requests, more traps, and more risks.
Parents and school leaders must be aware of these threats and work together. Here's how:
Understand the risks,

as well as the

fact that those risks don't necessarily change based on your home, socioeconomic status, or zip code.

Educate children on those risks

in an age-appropriate manner, year in and year out. This includes the real dangers and challenges they might face and the laws that pertain to them by age.

Monitor their online use.

It's not about privacy, it's about protection. Today's kids, while more mature than ever, are still not mature enough (mentally or emotionally) to handle the amount of content presented to them online. Parents must make sure this activity is monitored, and

Bark does this!

It's what I love about your platform.

Give kids solutions

and talk them through scenarios and how they'll react. Children shouldn't have to navigate hard situations alone — talk things through at the dinner table or on the way to school.

Give them an anonymous way to report.

There's a Crime Stoppers in every major city, and we operate an anonymous reporting platform that is protected by state statute. Names and data are never collected, and tipsters get a cash reward.
Crime Stoppers of Houston visits classrooms through our Safe Schools Institute. We cover issues like cybersafety, teen dating violence, the laws surrounding terroristic threats, and the be nice.® mental health plan.
Q: What are the warning signs of potentially dangerous situations that parents should watch for in their children?
A: In most cases there are true warning signs. Parents, trust your instincts. That said, your instincts depend on you being active and involved. Watch for changes in your child's:
behavior

habits

friends

communication (are they more withdrawn?)

eating and sleeping patterns

clothing (the way they dress)

social media posts (the frequency of posting and/or the content)
Q: How can technology like Bark help kids stay safe?
A: Bark is lifesaving technology. There's absolutely no way a parent or school can monitor the entire online worlds of their children — things like content, searches, what they're sharing and putting out there. The sheer volume makes it impossible.
In addition to talking to kids in an age-appropriate manner about risks and dangers, we need to leverage technology to help search for and flag potential problems.
Bark does this . Bark's algorithm scans our children's online activity and sounds the alarm when online conversations turn dangerous — when suicide or threats of school shootings are discussed, or when illegal activity begins to brew. It's absolutely incredible.
Through Bark's innovative technology, dangerous activities can be stopped before they turn deadly or life-threatening. What parent wouldn't support that kind of help? What school wouldn't implement that kind of technology? In today's world, there's no way around it — it's an absolute must-have technology.
Q: There are a ton of resources on the Crime Stoppers of Houston website — what are some of the most useful tool kits you recommend to parents?
A: Our Safe Schools Institute is a hub for all things related to crime prevention and public safety in schools — everything parents need to know about online risks, updates to popular platforms, the latest gaming challenges, crime trends like human trafficking, and so much more. We aim to supply families with free resources on a national level.
Q: If you could give one piece of advice to parents worried about their kids in today's climate, what would you say?
You're smart to worry. Child safety today is not only about you or how you've raised your child. You can live in the nicest neighborhood and have the most loving family in the world — but with one click, your child can be lured into the darkest of places. The endless reaches of social media and the world wide web expose all of our children to just about everything and everyone.
It's impossible for parents to stay on top of the overwhelming input and output of our children's online activities. You need — we all need — a tool that can help.
Bark covers unlimited devices, social and email accounts, and as many children as you have in your family for a small monthly fee. Bark for Schools is completely free and available for all K-12 public and private schools. today!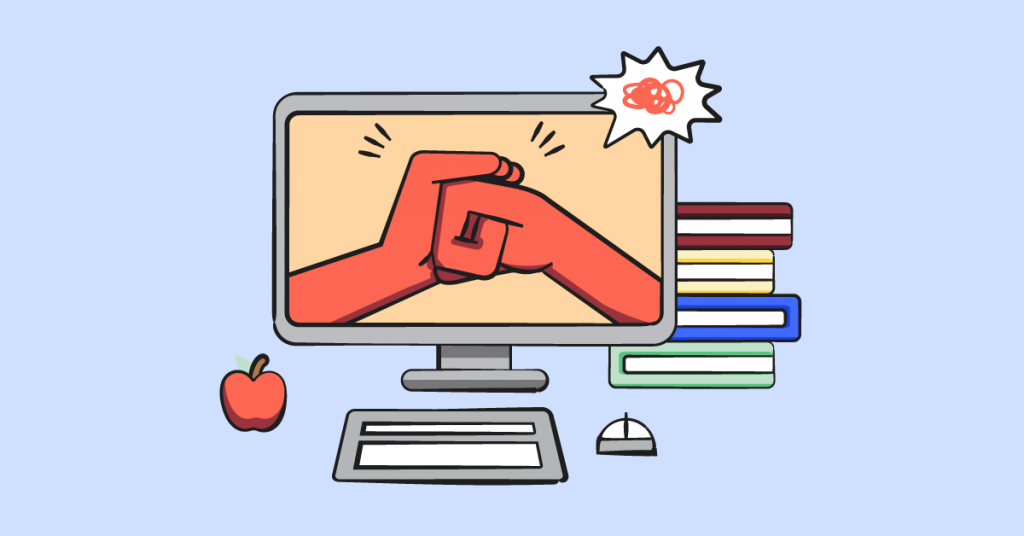 **This blog post was updated on May 6, 2022.**
The word "cyberbullying" has been around for a while, but at Bark, we've stopped using it. Instead, we just use "bullying," because for kids today, the distinction between the digital world and the real world is gone. What happens online is no less real — or hurtful — as what happens in person.
For older generations, this can be kind of hard to understand. It may be easy to dismiss a mean Instagram comment or not understand the big deal about getting kicked out of a group chat. For Gen Z, though, the insult is all too real. School bullying hasn't changed, it just looks different. Because of this, it's still a very serious threat to a lot of students. In this post, we'll get you caught up on what to know about this common danger.
School Bullying: What It Looks Like Today
Bullying used to happen in between classes, on the playground, or while riding the school bus home. Now, with smartphones, it can happen anywhere a kid goes. This makes it infinitely more troubling, because being away from school is no longer a temporary refuge. A child's phone can ping with aggressive messages at the dinner table, in the backyard, or even in their own room.
There are so many ways for kids to taunt each other online. Active ways include sending aggressive and demeaning texts, emails, chats, and comments. Passive ways are things like posting a mean photo on Snapchat, for instance, that can be seen by hundreds of other kids in a matter of minutes. Virtual learning during the pandemic led to new forms of bullying, including Zoom bombing.
Bullying by the Numbers
Bullying is one of the most prevalent issues a child will face online. In 2021, we found that 72.09 % of tweens and 85.00% of teens have experienced bullying as a bully, victim, or witness. What did it look like? Examples ranged from mean-spirited teasing to hateful threats and provocations. It can also include creating fake accounts, impersonating someone, and even spreading nude photos.
It's not just kids and parents who are worried about bullying, however. According to a recent Google survey, bullying is the number one online issue teachers worry about in the classroom. Sadly, only 46% of bullied students let an adult at school know what's happening. While teachers can't always see online bullying happen, (it can occur on private social media accounts) they can be witness to its after-effects. In students, this looks like moodiness, absenteeism, and even in-class disputes. 
The Tragic Results of Extreme Bullying
Bullied kids are more likely to experience depression, anxiety, and low self-esteem. They also are more likely to be lonely and want to avoid school. And tragically, bullying can also lead to fatal consequences.
Megan Meier, a 13-year-old in Missouri, fell victim to a scheme when a fake profile of a teenage boy gave her false hope of a relationship. This type of online impersonation is called catfishing, and it can be devastating. Before long, the profile became a public forum for even more abuse toward Megan. It ultimately led to her death by suicide. Something similar happened to Phoebe Prince, a high schooler in New England. Six classmates were convicted for the roles they played in bullying her online.
Beware of Legal Consequences
There is no federal law regarding cyberbullying, but most states have made some sort of effort to address this growing issue. Laws vary between states, but charges for online bullying can include civil law violations like defamation and harassment. Some states have explicit criminal laws against it, while others require school or district policies to be in place. At the end of the day, it's important for students, families, and schools to know that bullying isn't a harmless joke. It can seriously impact a child's life for years to come.
How Schools Can Stop Bullying
Stopbullying.gov recommends the following steps that teachers can take to help stop bullying:
Speak privately with students who show signs of being bullied online, and collect proof if they have it.
Report cyberbullying to parents and facilitate discussion between them, their children, and other school officials.
Increase digital awareness to understand how students might abuse school-issued accounts.
Develop activities that foster empathy, reflection, and self-regulation.
Model, reinforce, and reward positive social behaviors.
Encourage peer involvement in prevention strategies.
Manually sorting through every chat and email can be a daunting task for schools. That's why we launched Bark for Schools, our community giveback program. Bark for Schools provides free monitoring of student accounts to help schools identify problems before they happen and reduce the dangers posed by school bullying, online predators, and more. Schools and parents receive timely alerts if something concerning happens so they can make sure everything's okay and intervene, if necessary. 
Bark sat down for an interview with Frank Straub, Ph.D., to talk about the current state of school safety in America, along with common misconceptions and ways to improve security.
Dr. Straub is the Director of the Center for Mass Violence Response Studies at the Police Foundation, a nonprofit organization that studies ways to improve policing in the United States.
He has also directed in-depth studies of the San Bernardino terrorist attack, the Kalamazoo mass shooting, and the Orlando Pulse nightclub shooting. He is currently leading a review of the Marjory Stoneman Douglas High School shooting in Parkland, Florida.
Dr. Straub is a 30-year veteran of federal and local law enforcement, and his expertise is without peer. He has testified before Congress, participated in White House convenings, and spoken at national conferences.
Q: What's the most important thing that schools should know about mass shooting situations?
A: School shootings are devastating, and it's imperative that schools, parents, and law enforcement work collaboratively to ensure safe learning environments. Here are a few key things schools can do to improve safety:
Threat assessment teams should be in place so that school administrators, teachers, mental health professionals, law enforcement, and others can work together to identify youth in need of support, mentoring, and services.
Anonymous reporting systems should be implemented on the principles of "see something, say something, do something."
Emergency plans should be created for any potential natural and man-made safety events. These plans should be strengthened through collaboration between school officials, public safety personnel — police, fire, and EMS — and parents.
School resource officers are crucial to helping cement school safety. If staffing doesn't allow for a dedicated school resource officer program, then law enforcement agencies should ensure that officers are frequently in and around local school facilities, and that they are familiar with schools in their patrol areas.
Security protocols need to be outlined and mandated. All schools should have restricted access, mandatory visitor screening, and physical barriers to prevent unauthorized individuals from entering the school.
Q: What does your research reveal about the prevalence of school shootings?
A: In a soon-to-be-released report, Dr. Peter Langman and I analyzed and compared 51 averted to 51 completed acts of school shootings and made the following observations:
Most school shootings occur in public schools, with high schools and college/universities having the highest number of events.
School shootings were most often carried out by Caucasian males, with the most common age for juveniles being 14/15. For adults, the most common ages were 20s/30s.
Almost all of the perpetrators had experienced or witnessed a life-changing event prior to the attack.
Most of the persons who planned or completed an attack told someone before the incident and/or discussed the attack on social media.
Q: Bark for Schools now has a Family Alerts Dashboard, so that both schools and parents can receive after-hours alerts for potentially dangerous situations. Why is it important for parents and schools to work together to monitor children's communications?
A: Sadly, behavior and activities that threaten the safety of our children often begin during school and then continue after hours — activities such as cyberbullying, rejection, and gang involvement. The line between school activity and home activity has grown increasingly blurry with the proliferation of technology and social media. Where possible, a threat assessment team should have full access to monitor school-provided accounts.
It's integral for parents and school personnel to be able to monitor a child's online accounts and use it as a source of trust and relationship building. Bark's Family Alerts Dashboard provides an important tool for protecting our children both in and outside of the school environment.
Q: What service do you think Bark provides to schools that's needed? Because Bark is looking at the content and context of these kids messages, why do you think this is a necessity for every school in America?
A: In a world that has become more and more connected, Bark provides an important tool for learning from the conversations that K-12 students are having every single day, particularly around issues that impact individual and school safety.
I think Bark's powerful analytical capabilities create an opportunity to identify conversations and messages in which intervention is crucially needed to prevent harm to individual students, schools, and the community.
Bark for Schools is for free for all K-12 schools in the U.S. Sign up today!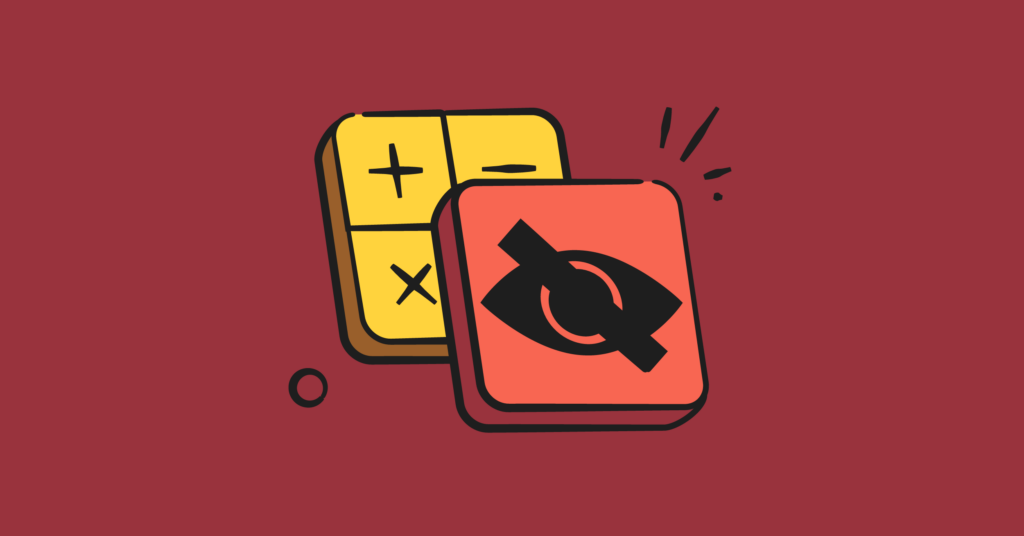 **Updated October 13, 2021.**
Have you heard about hidden apps? They're also called vault apps, and they can be used on cell phones to hide things like photos, files and even other apps! So, why would a kid have a vault app? They're usually used in situations when someone like a parent or guardian is doing spot-checks for anything out of the ordinary. Because many vault apps look completely harmless — a lot are designed to look calculators — they often get overlooked.
If this worries you, we understand completely, especially if you're concerned about activities like sexting or sending nudes. Here's how to find out if your kid may have a vault app, as well as what you can do to help prevent them.
Having multiple apps of the same type, like two calculators, installed on their phone
Turning off a device or hiding the screen when you enter a room or get close
Refusing to hand over passwords or let you look through their phones
Or, being very willing to hand over their phone (knowing you probably won't look for vault apps)
If you haven't already set up parental controls on your kid's devices, you may want to see if they have any of these hidden apps already on their phones first. Visit the App Store on their phone and type in "vault app" or "hide photos" or "secret app." If any of them have "OPEN" next to them (instead of "GET"), it means the app has already been installed on their phone.
If you discover that any of those hidden apps are installed, you can try to open them to see what's hidden there, or you can have a conversation with your child about them later.
Below are a few popular vault apps. However, these hidden apps are constantly changing, and may only be available for a short time and are then taken off the market, making them even harder to discover.
AppLock
Vault
Vaulty
SpyCalc
Hide It Pro
CoverMe
Secret Photo Vault
Secret Calculator
Calculator Photo Vault
Ways to Prevent These Types of Apps
The first step is to use Bark as an online safety service. We'll send you alerts if your child downloads risky apps, including vault apps. You can also see all the apps your kid has already downloaded.
For iOS users with the Apple Family Sharing Plan, you can enable the Ask to Buy feature for your kid. That way when a teen goes to purchase or download an app, you can decide whether it's okay.
Android users do the same thing with parental controls in the Google Play store. This lets you require a password for app downloads.
Because hidden apps tend to be used to hide inappropriate content, it's important to talk with your kid about them. Even if your child wants one just for security (like for a banking app or a journal), it still may not be a good idea. Consider editing your tech contract to make sure your child knows they're not allowed.
On a more serious note, if you suspect your kid may be hiding nudes or sexting, be aware that there may be legal consequences if they're storing them in a vault app — even if they received them with consent.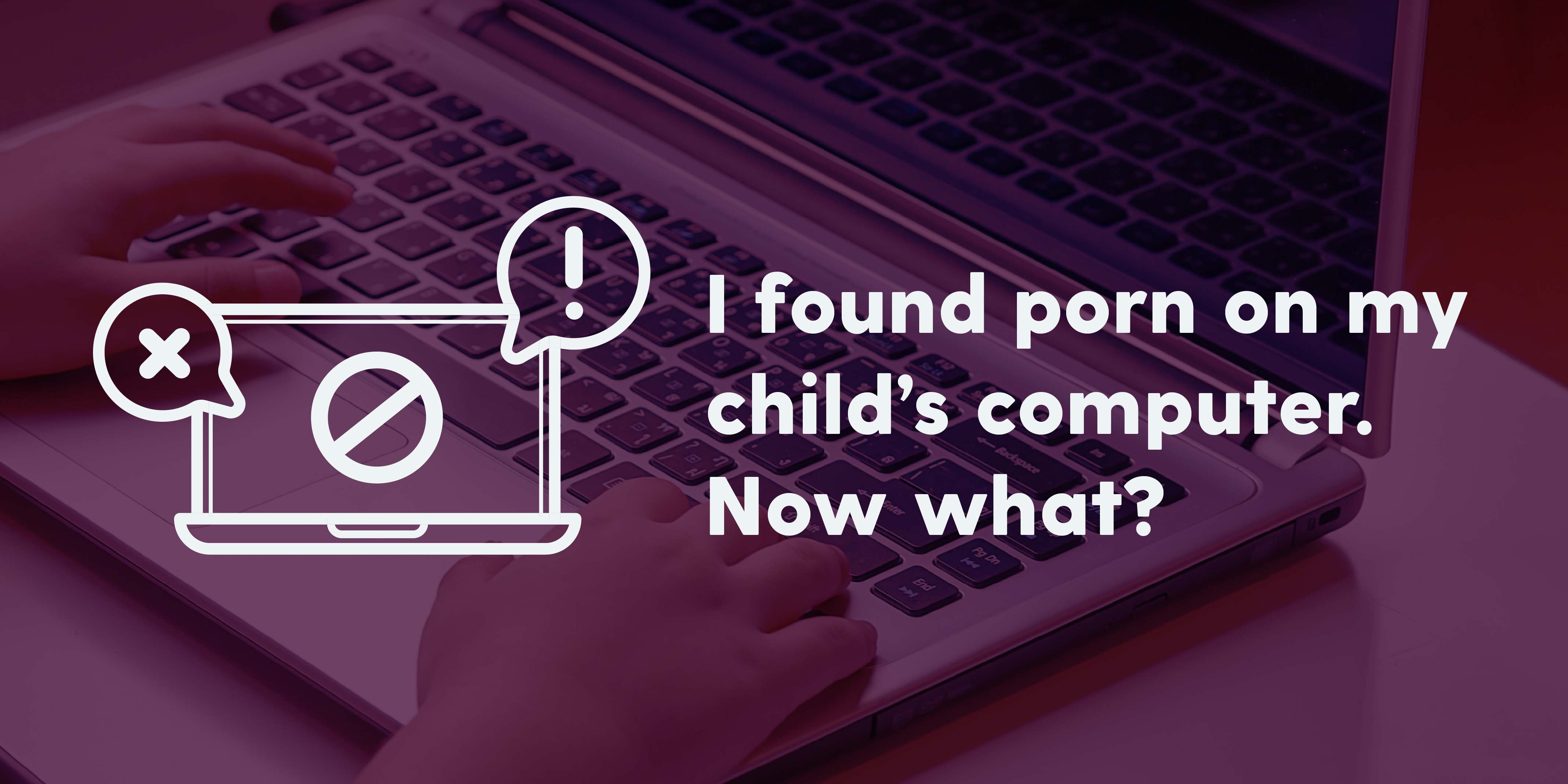 I will never forget the night I had to first confront this reality. I was putting my 9-year-old son to bed, and had asked a simple question: "What is the most interesting thing you saw today?"
He hesitated for a moment and then said quietly, "Dad, did you know that Superman and Wonder Woman sometimes take off their clothes?"
It was an innocent statement from him, but I knew there was so, so much behind those words. He had been exposed to adult material online, and as a father, it broke my heart.
Pornography is everywhere
Whether we like it or not, children today will be exposed to pornography. It's not a matter of if, but when. Preparing yourself now instead of waiting until it happens will help you get ahead of the situation.
What to do when you find out your child's been exposed to pornography online.
Stay calm

. How you react to finding out that your child has viewed porn will be remembered far more than the material itself. Have a conversation, not a shouting match.

Be supportive, not scolding

. Your child is probably unsure of how they feel about what they just witnessed. They may feel ashamed, or they may be curious. Understanding where your child is in terms of this content is key. As a parent, you want to be able to see through your child's eyes. Being supportive is the only way to do this.

Build trust while setting expectations.

More than likely this is a journey and not a one-time experience. Let your child know how your family deals with this type of content. Fortunately, the relationship you have with your child is stronger than any content they've seen.

Keep asking questions.

Continuing the conversation over weeks, months, and years will be the best thing you can do. Check in from time to time, and don't shy away when the subject arises. This way, an awkward situation turns into an opportunity to strengthen communication with your child.

Put filtering and monitoring systems in place.

Don't just put your head in the sand. The same technology that causes problems can also create solutions. There are amazing tools out there that not only block content, but also let you know what your child is doing online. Put these in place now.
Our product helps parents monitor what their children are talking about online with their friends and posting across social media. With it, you receive alerts when potentially harmful or dangerous issues arise. We offer a for interested parents.
About the author
Matt McKee is Vice President of Strategic Partnerships at Bark, and the author of Parent Chat: The Technology Talk for Every Family. He's passionate about helping families navigate the world of technology, and enabling kids to thrive throughout a digital adolescence.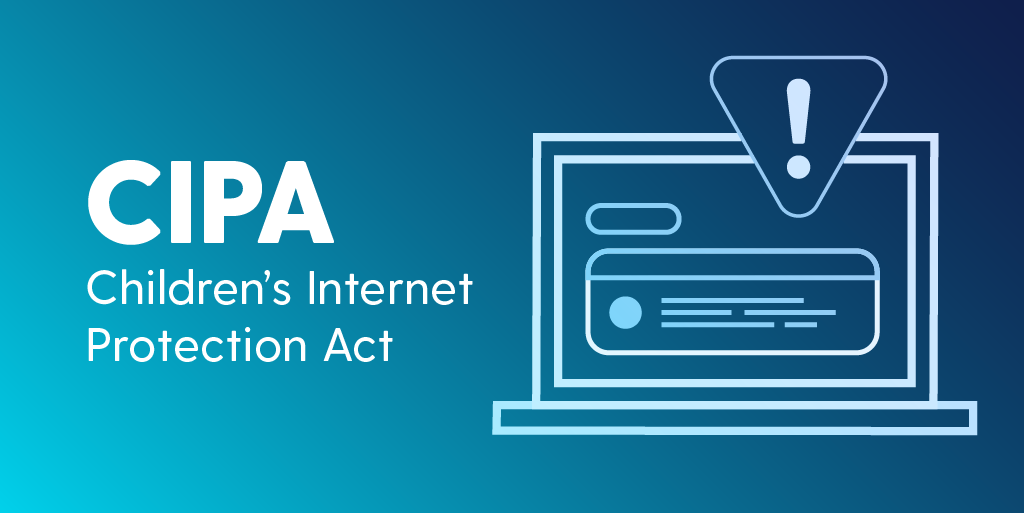 Schools face no small task in meeting all of their compliance mandates, but some can be easier than others. Among those is the Children's Internet Protection Act CIPA compliance. This law establishes internet filtering, monitoring, and notification standards in exchange for funding through the federal E-rate program.
Schools filter access to harmful websites with a firewall or other tools. But even with those restrictions, there's plenty of harmful content generated within school-approved accounts. Students are only half protected without effective monitoring.
Bark for Schools offers a free solution to help districts comply with CIPA while better protecting their students from risk.
CIPA Compliance with Bark for Schools
As a free monitoring tool for school-issued accounts, Bark for Schools can service a key component of the CIPA internet safety policy requirement. It does this by monitoring student emails, chats, documents, and files. Bark for Schools helps to bolster the safety and security of minors who use school-issued accounts to manage both their social and academic lives.
Bark for Schools doesn't ensure total compliance on its own, but subscribing can help check off a resource-intensive part of the compliance process. The volume of alarming content can be shockingly high, and reviewing it all manually is next to impossible today.
In combination with the law's content filtering and public notice requirements, monitoring with Bark for Schools can relieve schools of an enormous burden, all while promoting the safety and well-being of their student bodies. Furthermore, the internet discounts awarded to compliant schools and libraries allow them to continue focusing valuable resources where they are needed.
Helping to Keep Kids Safe
Beyond compliance, signing up for Bark for Schools demonstrates that a school takes the issue of internet safety seriously. No school needs to be reminded of the dangers, and yet they will always exist. In the past, schools were forced to deal with this by sacrificing their administrative resources to the task of monitoring. Now there is a better way to approach compliance and protecting students.
While staff could manually monitor student accounts – every email, every chat, and every document – spot-checking is labor-intensive and ineffective. Educators' primary focus should be on teaching, not monitoring thousands of messages a day. Whether it's nights, weekends, or holidays, Bark for Schools never takes a break. This frees schools to focus on their academic missions.
Communities look to schools to reinforce their values, and CIPA compliance is just one way of ensuring that happens. Parents will do anything to make sure that their kids are safe at home, and they are equally invested in seeing them protected at school. Sign up for free monitoring with Bark for Schools today.
Depression rates have been on the rise, especially in young adults and adolescence. In fact, it's estimated that over 3 million young adults between the age of 12-17 have had a major depressive episode. Startlingly enough, there is plenty of evidence that indicates social media may be one of the leading culprits. Technology - a Blessing or a Curse? The Dark Link Between Social Media and Depression While social media encourages socialization, communication, and offers an astounding amount of enhanced education opportunities, it is also the gateway for cyberbullying, harassment, and sexting. Some researchers are even studying social media as a tool to measure and monitor the mental health of individual users. It's no surprise that social media is also guilty of fostering poor body image, despite the #bodypositivity promoted on platforms like Instagram and Twitter. In order to understand the role social media is playing in the state of your teen's mental health, it's important to familiarize yourself with the symptoms of depression. While depression will affect everyone differently, common symptoms are...
Persistently low mood - this can be anything from pure apathy, a "zombie-like" personality, sadness, excessive anxiety, feelings of hopelessness, unnecessary guilt, or irritability.
Lack of interest, enthusiasm, or energy - apparent sluggishness or a loss of interest in hobbies they were once fond of is a red flag.
Trouble sleeping, eating, or concentrating - the hormone imbalance caused by depression not only affects mood, it can often disturb sleeping, eating, and your teen's ability to focus.
Unexplained pain - mysterious aches or digestive issues with seemingly no other cause may be a result of depression.
If your child is expressing any of the above symptoms along with a number of others, they may be suffering from major depression and/or potentially other mood disorders.
Parenting in a Tech World is a Facebook group that helps parents navigate the ever-changing landscape of raising kids in a world full of technology.
The Dark Link Between Social Media and Depression - the Red Flags To determine if your teen's mental health is being impacted by social media, look out for the following...
Increased phone or social media activity.
Posts with dark, depressing, or suicidal hints or innuendos. (Disclaimer: there is a difference between posts that may indicate actual suicidal thoughts, and reposts of - albeit, distasteful - memes making light of suicide).
Social reclusion. Avoiding friends, family, and going out in general. If your child is the victim of cyberbullying, they may even stop going to school altogether.
Low self esteem.
Anxiety while using the computer or cell phone. Look out for furrowed brows and quick tab closes when you walk by.
Depression rates, especially in teens and young adults, have been on the rise. It's estimated that over 3 million young adults have experienced a major depressive episode. While social media is a wonderful portal for socialization and enhanced education, it can be a toxic gateway to cyberbullying, sexting, and harassment. For more information on how to keep your loved one safe online, check out our blog. For more information about Bark, please contact us.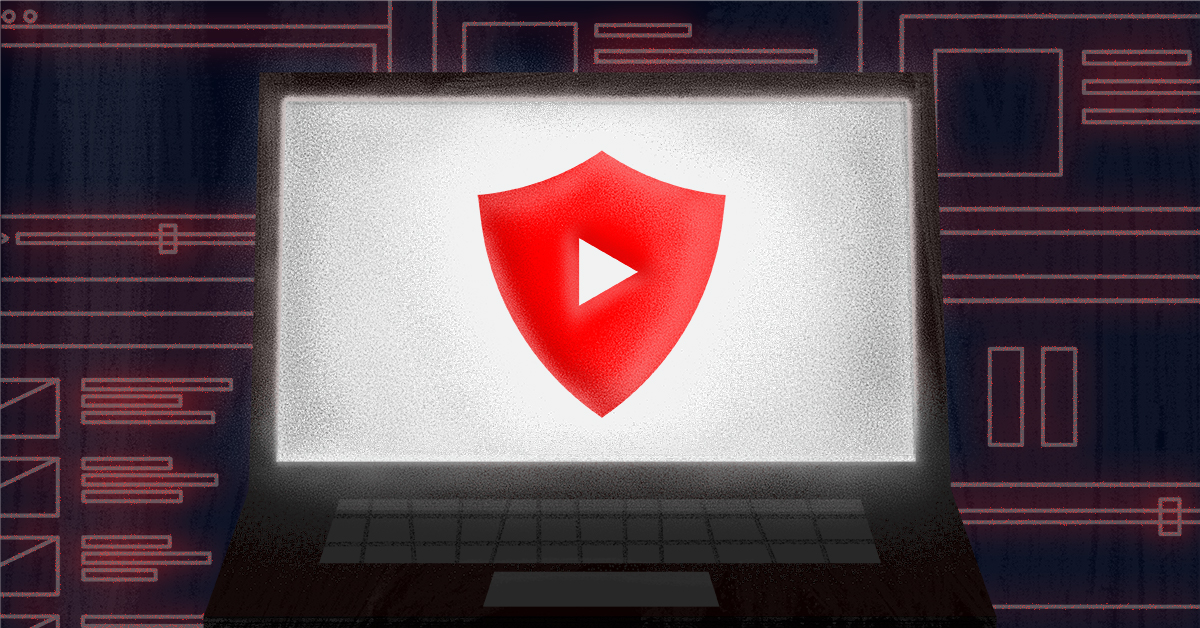 **Update: On April 7, 2021, YouTube introduced new parental controls! Learn about them here.**
YouTube is the second most popular website in the world, and more than 500 hours of content are uploaded every minute. As the go-to hub for videos for nearly everyone on Earth, YouTube is home to incredible amounts of content — including content inappropriate for kids.
The platform had previously responded to calls for better privacy protections for children by setting new limits of data collection and advertising. With a combination of software and self-reporting from content creators, YouTube hoped to mark videos for kids more clearly so that content will not contain personalized ads. This was a welcome step forward, but many have complained that it's merely passing the responsibility on to content creators and not doing enough to solve the underlying issue.
As YouTube's popularity has grown, so too have its features and functionality. It can be hard to navigate it all, which is why we've compiled a list of reasons why families need a YouTube strategy when it comes to laying down ground rules. We've also included some information about how Bark can help by monitoring for potential issues and can even let you manage how and when your kid spends time on the platform. Some of these tips are things you may already know, but some may come as a surprise. We've also compiled everything —and more! — into a helpful ebook.
Setting Restrictions Once Isn't Enough.
Kids can access YouTube in several different ways, including through browsers, the app, smart TVs, Kindles, and iPads. It's important to keep this in mind when you set restrictions: set them once, and set them everywhere.
Fake Profiles Can Skirt Age Restrictions.
Older children will know the drill when it comes to YouTube restrictions and may begin exploring ways to circumvent the rules. While YouTube might age-gate some videos and channels, tweens and teens can create fake profiles that state they're older than they actually are, allowing them to watch YouTube with no restrictions.
There Are Now Multiple Ways for Younger Kids to More Safely Use YouTube.
YouTube Kids is a kids-only, limited version of the platform entirely managed by parents. Content is geared toward kids in three age ranges: preschool (4 and under), younger (5 to 8), and older (9 to 13).
For tweens in that Goldilocks zone — old enough to have outgrown YouTube Kids but still young enough to need some protection while using the adult app — YouTube's new Supervised Accounts will help bridge the gap. Parents will be able to select from one of three modes depending on their family's values and the child's maturity level:
Explore
For kids 9 and older, this more protected setting will feature vlogs, tutorials, gaming videos, music clips, news, educational content, and more
Explore More
For kids 13 and older, this looser setting will introduce an even larger set of videos, as well as live streams in the same categories as Explore.
Most of YouTube
For more mature teens, this setting will allow almost all videos on YouTube, barring age-restricted content.
The Comments on YouTube Can Be Incredibly Toxic.
Like any public chat room, YouTube's comment section is a minefield of potentially hazardous communications. The comments section can be home to abusive, bullying postings as well as sexual predators starting conversations with children. Users can leave comments about anything, including problematic messages featuring racism, sexism, homophobia, and more.
No Sign In = No Restricted Content. Or Does It?
Kids may think they can get around restrictions by simply logging out (and thus out of the restrictions you've made), but it's not that easy. If a user is signed out of their account, YouTube will automatically block all content that requires age verification. Keep in mind, though, there are still plenty of questionable videos you wouldn't want your children to see that YouTube doesn't restrict.
Proxies Can Be Used to Bypass Restrictions.
Another way older kids may try to work around YouTube restrictions is through proxies. A proxy is a tool that hides a user's IP address, allowing them to bypass any set-up internet restrictions.
Bark Monitors YouTube for Potential Issues
If all of this seems overwhelming to you, take comfort in the fact that Bark can monitor YouTube for signs of digital dangers. Our advanced technology can detect potential issues contained in the videos your child posts, comments made to those videos, and new videos posted to your child's user and channel subscriptions. Plus, on connected Android devices and computers with our Chrome extension installed, Bark can also monitor YouTube views and searches — even in incognito mode. You can also set screen time limits for your child and web filtering restrictions on YouTube if that becomes necessary.
Want to Learn More?
This is just a quick look into how incredibly expansive and complicated YouTube can be. But we've also written an entire eBook dedicated to covering it all! Check out our Ultimate Parent Guide to YouTube, which provides a comprehensive and detailed instruction manual for not only navigating and safeguarding your child as they use YouTube, but also for learning trends, recognizing dangers, discovering the basics of personal accounts, and more.