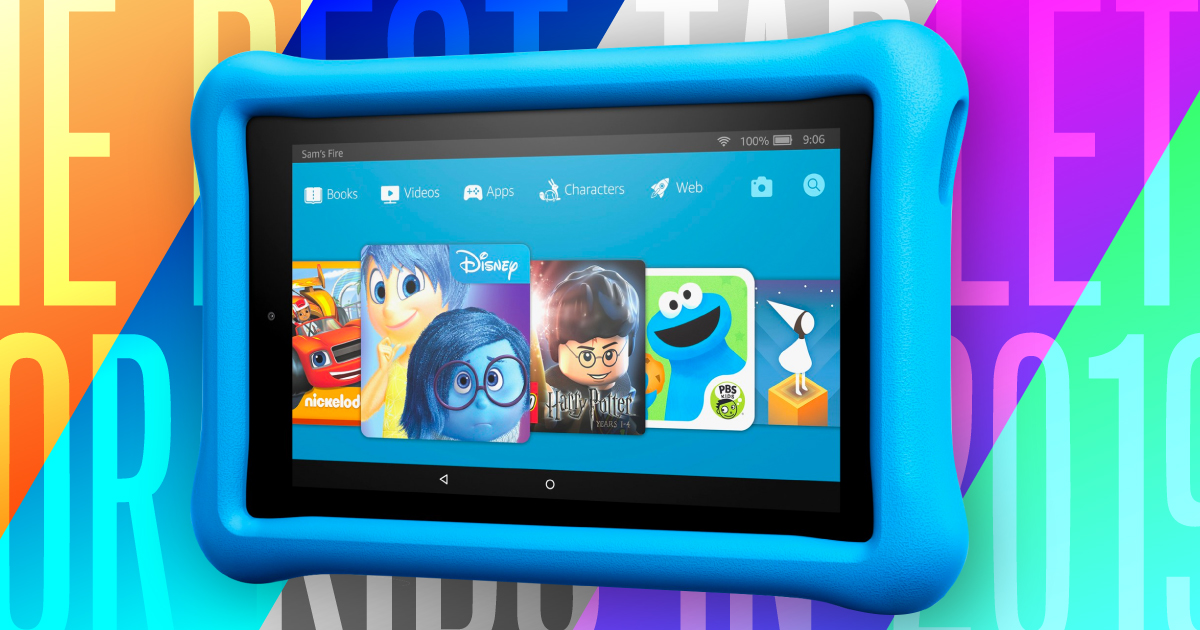 Whether your kids are just learning to read or are about to start high school, kids tablets provide entertainment, communication, and countless learning opportunities. With screens that are larger than phones but still portable, kids' tablets are a must-have for many children and their families. But finding the right tablets for kids can be a struggle — there are dozens on the market, and telling the difference between quality devices and cheap knockoffs is often challenging. So what is the best tablet for kids?
In this post, we'll break down the best tablets for kids available in 2021. At Bark, we prioritize durability, price, and functionality when it comes to technologies for kids, and all of the devices here meet our standards. No matter what your price point or what your family needs, we've got you covered with the kids tablets on this list.
Price: From $129
The Galaxy Tab E is geared toward younger kids with its soft and durable bumper case, making it comfortable to grip and easy to play with anywhere. With up to eight hours of battery life and a 1.2GHz dual-core processor, dependable power is always within reach (we know what that means — Peppa Pig videos).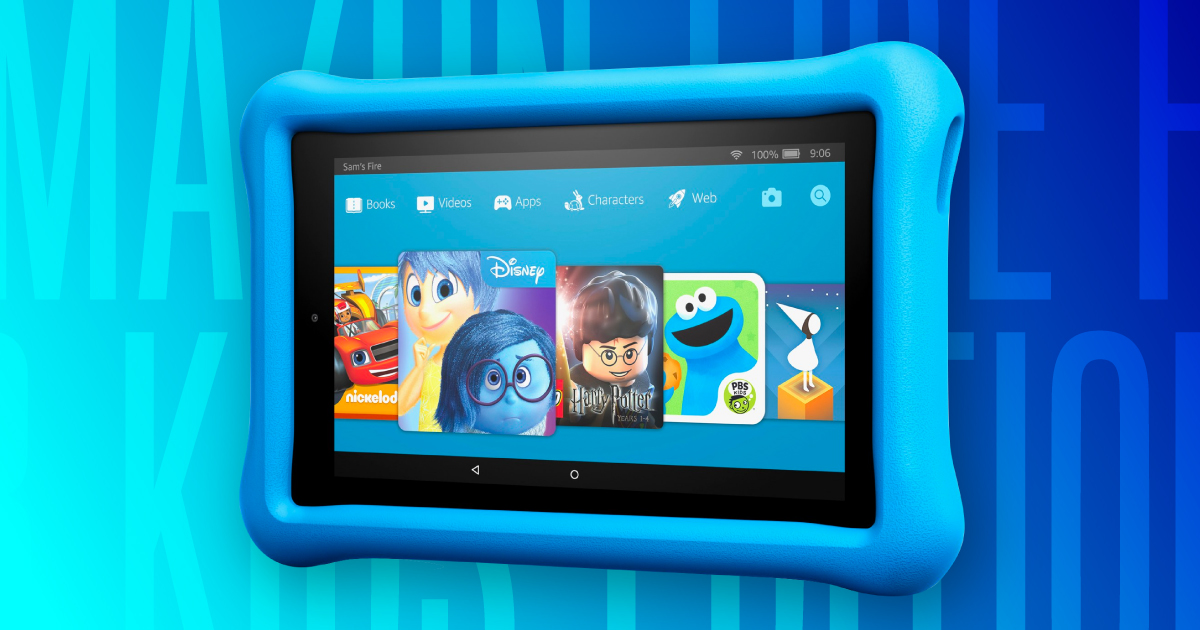 Price: From $89
This kids tablet is great for kids who are into reading, the Amazon Fire Kids Edition has a vibrant 8" HD display, 32GBs of internal storage, a 1.3GHz quad-core processor, 1.5GB of RAM, and up to 10 hours of battery life. It runs on the Android operating system, and perhaps best of all, it's got a great two-year, worry-free guarantee: If your kid breaks it, Amazon will replace it for free — no questions asked!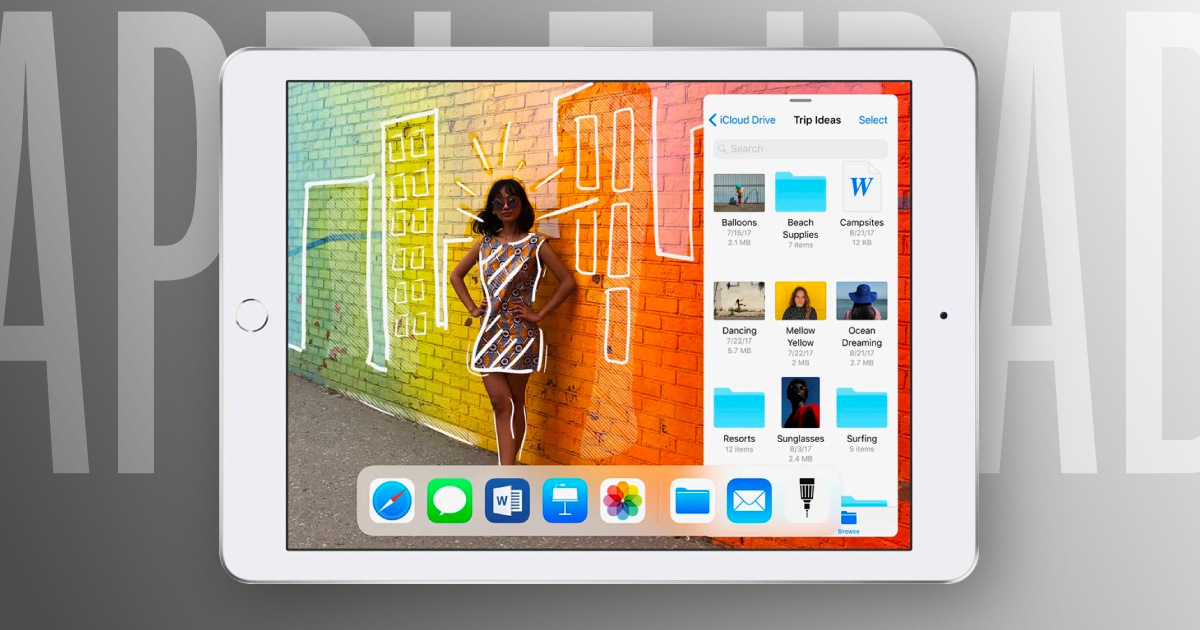 Price: From $329
The beauty of the iPad is its omnipresence — everyone's heard of it and most have likely used one. Even the most basic iPads (like the one featured on this list) are lightning-fast, possess incredible cameras, and are easy to use. For many Apple families, getting an iPad may seem like a no-brainer. However, it's worth remembering that Apple's stringent rules regarding third-party apps can make monitoring difficult on occasion.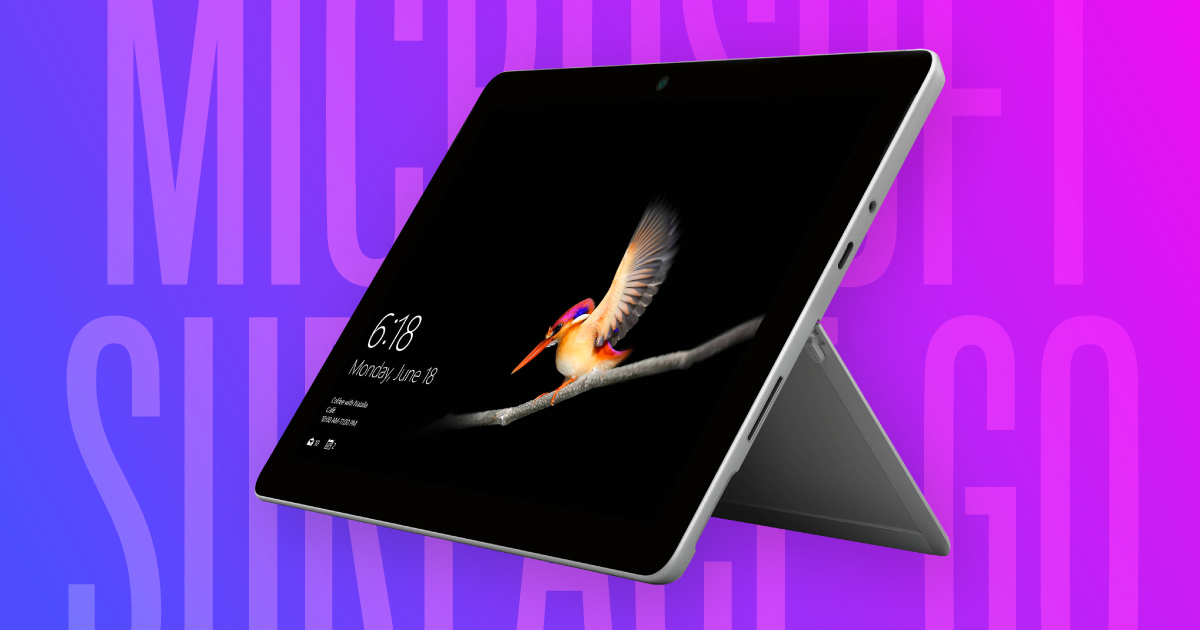 Price: From $399
The Surface line is Microsoft's answer to the iPad, and they are more like touchscreen computers than tablets. For Windows families, the Surface is an excellent device for older kids who need a more powerful device with enhanced functionalities. It comes preloaded with the Microsoft Office 365 Suite and is light enough to be tossed into a backpack.
Price: From $129
The Tab 4 is a great kids tablet option at an unbeatable price for younger kids. It comes with a shock-resistant bumper, a screen filter for sensitive eyes, and fun stickers. It's no slouch, either, on the technical side — the Tab boasts a stunning 10.1" display, immersive audio, and great battery life.
Parental Controls On the Best Tablet for Kids
Creating a safe environment for your child on their new kids tablet can be complicated, with different instructions for everything from apps and games to messaging and email platforms. Fortunately, Bark created a handy resource called the Barkomatic to help you get all of the step-by-step instructions for everything your kid uses — all in one place. Remember, when you give your kid a tablet, you're handing over the keys to the entire world. Don't hand it over without evaluating the best parental control options for your family.
Why You Need to Monitor Your Kid's Tablet
Giving your kid a tablet can revolutionize the way they watch videos, play games, and chat with friends. But it also introduces complex dangers that kids may not be mature enough to recognize. Bark's award-winning service uses advanced machine-learning technology to monitor texts, chat, email, and 24+ social media platforms for signs of potential issues like cyberbullying, adult content, suicidal ideation, sexual predators, and more. This will help the best tablet for kids (whichever one that is for your family) become safer for them to use as well.
If you don't believe your child will encounter issues like these, we urge you to look at the data surrounding the online activity of tweens and teens today. Sign up today for a free, one-week trial of Bark, and let us know if you have any questions!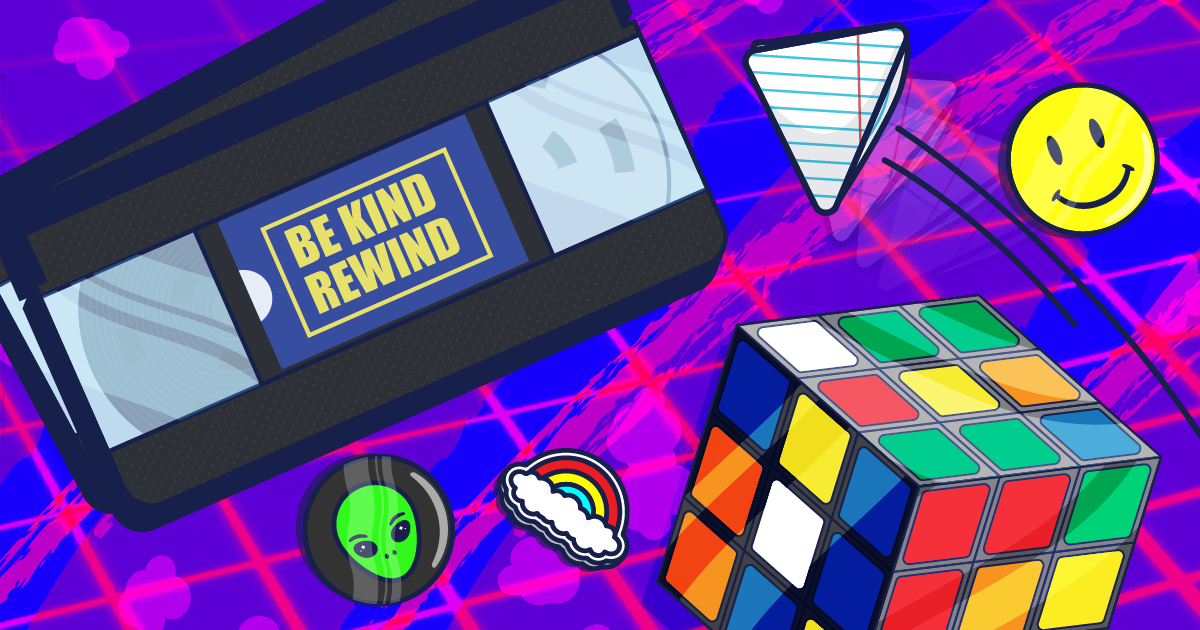 Being a kid in 2019 isn't all that different from being a kid in 1989. There'll always be some universal childhood constants — things like bike riding in the summer, fighting bedtime to stay up just a little bit later, and asking your parents a million questions. But one thing has changed, and that's technology. Kids today are the first generation to grow up with smartphones, the internet, and social media. The high-tech toys, gadgets, and devices they have access to today are extraordinary.
Fortunately, they haven't all come from completely out of the blue. Many of the things we played with as kids have simply been updated for modern times. In this post, we take a look at seven memorable throwbacks from our childhood and compare them to their modern-day counterparts. Sit back, buckle up, and prepare to take a ride through some heavy nostalgia.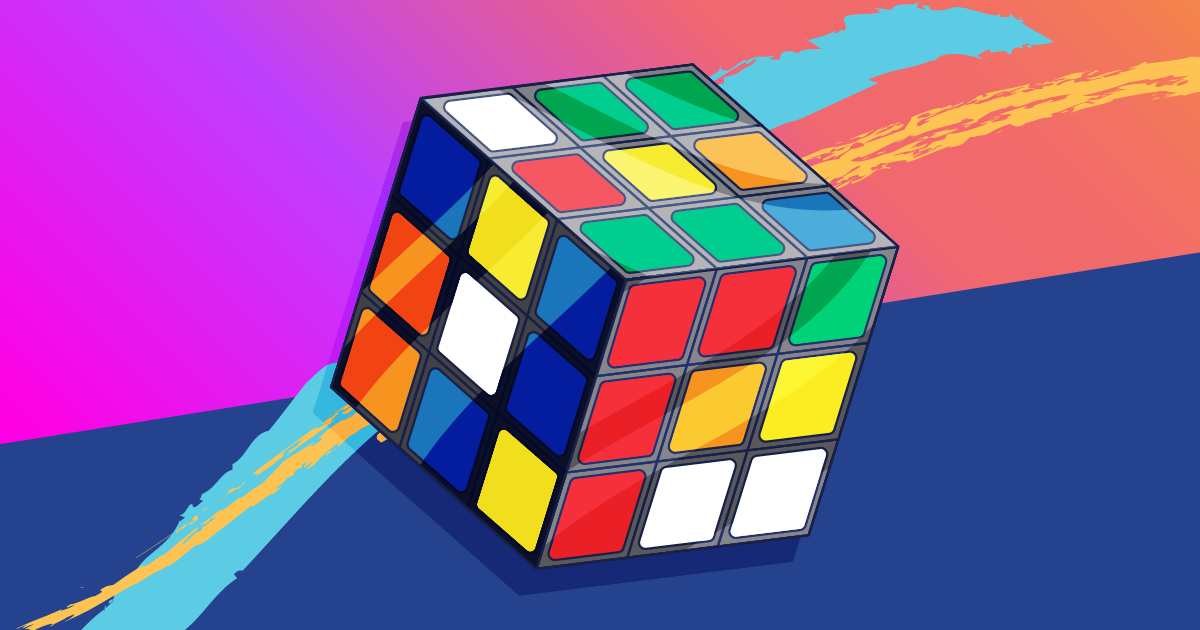 Rubix Cube — The Original Fidget Spinner
Everyone had one, but no one could solve it. Back before fidget spinners, these brightly colored cubes kept kids busy trying to figure them out. That is until enterprising youngsters started peeling the stickers off.
Blockbuster Video — The Original Netflix
We can still remember the pain of browsing the shelves and reaching behind a movie to find nothing but air, our hopes of watching Hocus Pocus dashed, and our Friday night sleepover plans completely ruined. Now with Netflix, everyone's chillin' at home, too cool to even drive to the nearest Red Box. And that's fine — just never get rid of The Office!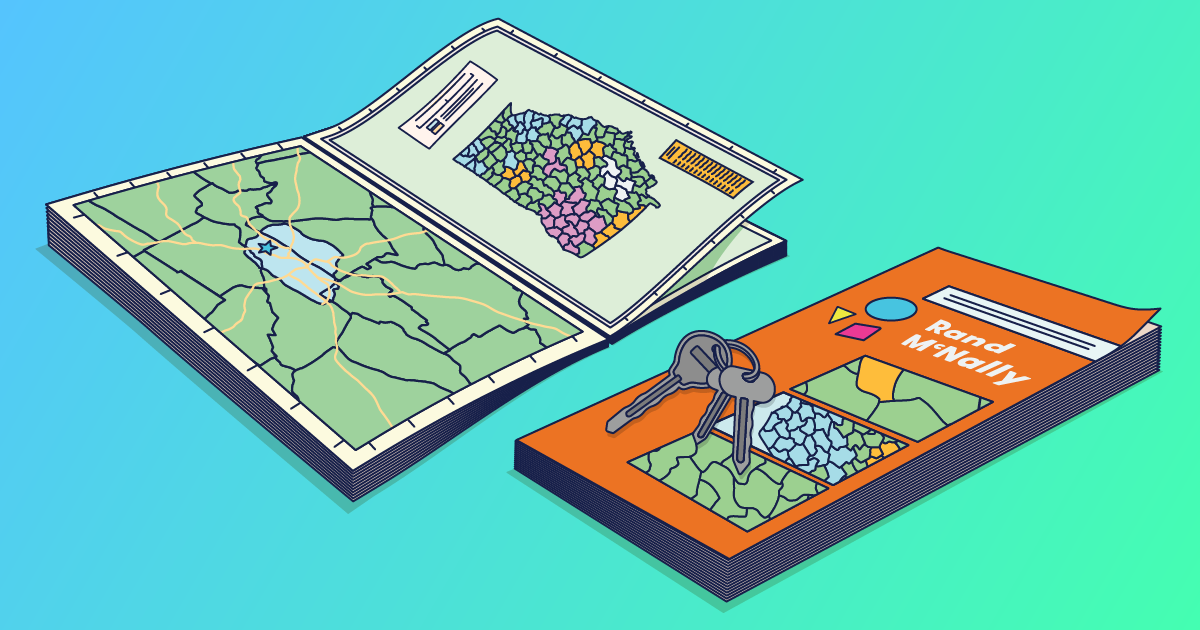 Rand McNally Atlas — The Original Google Maps
We'd all be lost if it weren't for Google Maps, even if we were only headed to the grocery store around the corner. But Google wasn't always around to guide us. For all of our navigational needs, we used to turn to our Rand McNally Atlases. These usually lived folded up and laminated in the family minivan's glove compartment, lying in wait for your folks to pull out at a rest stop when you definitely weren't lost. Again.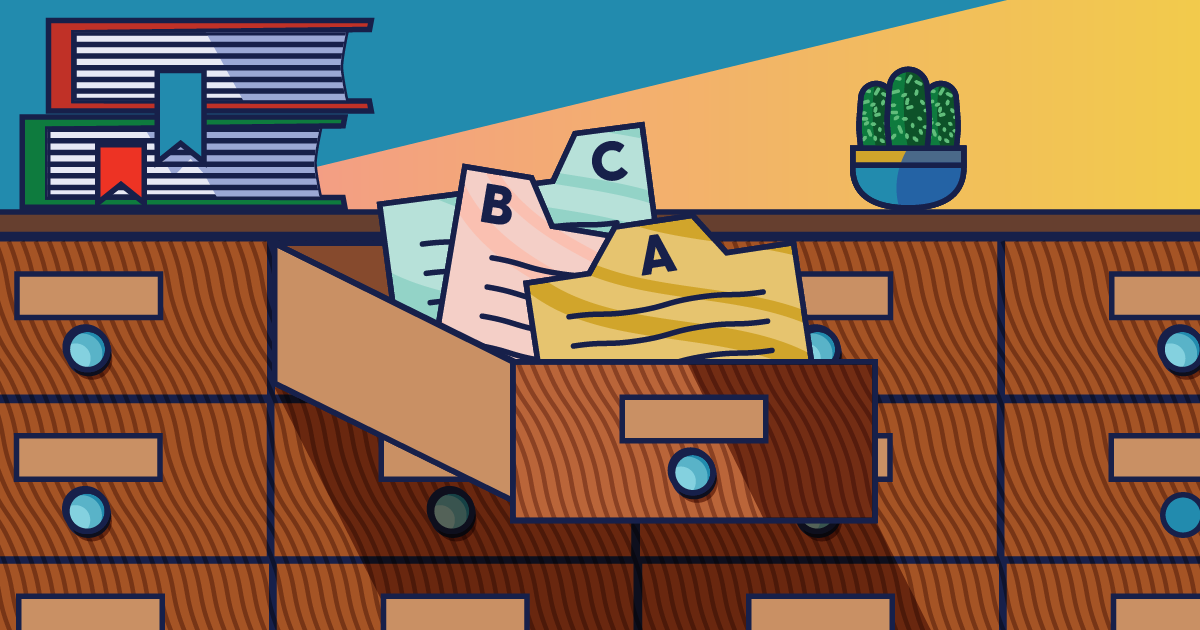 Card Catalog — The Original Google
Back before we had Google, Wikipedia, or Encarta, we had the dusty wooden catalog and a librarian named Muriel. Oh, and who was this Dewey character anyway? And why did we care about his decimal system?!?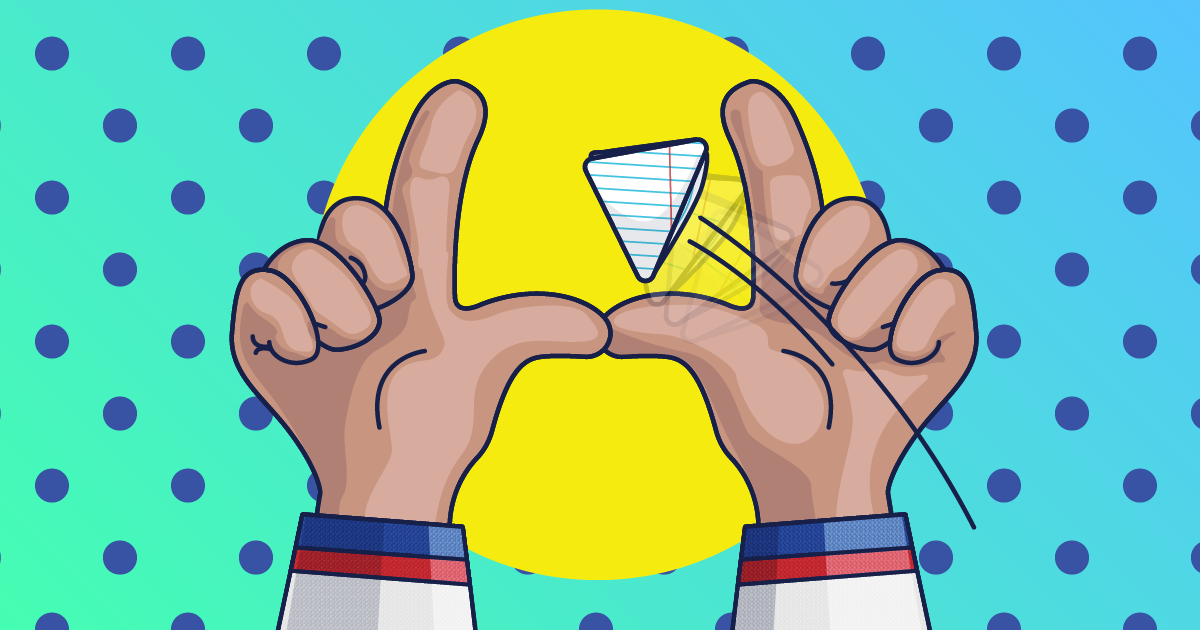 Paper Footballs — The Original Madden
Kids today have Madden, Fortnite, and Mario Kart, but we had paper footballs. We can still feel the glory of flicking a field goal through the finger goalposts when the teacher's back was turned. Clear Eyes, Full Hearts, Can't Get Detention.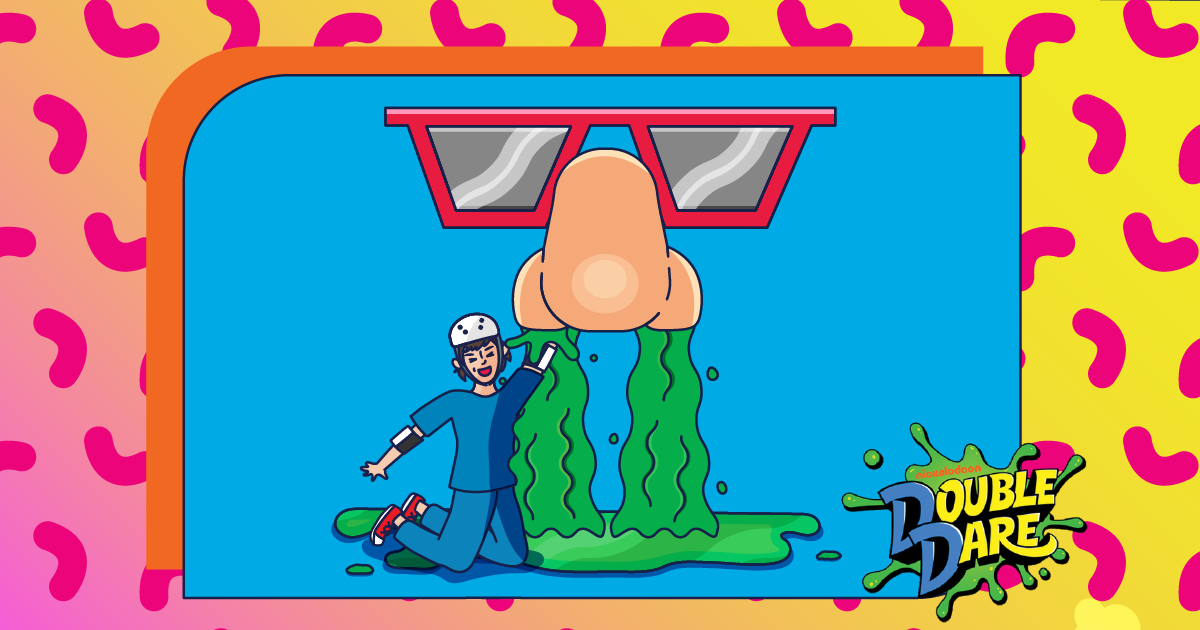 Double Dare — The Original YouTube Challenge
Kids have been jumping at the opportunity to do ridiculous stunts forever. Today, that means a different viral challenge-of-the-week that immediately gets posted online. Back in the day, though, we did Physical Challenges on TV, ones that let us get absolutely filthy or pick a comically huge nose — all for a free pair of Reeboks and a Yamaha keyboard.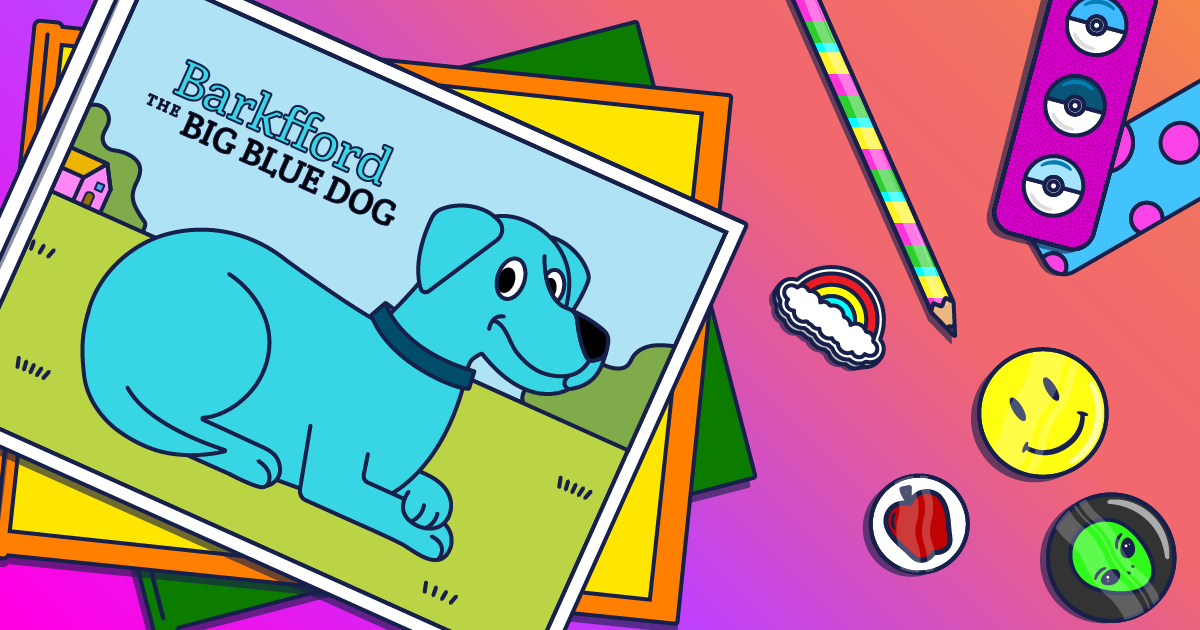 Scholastic Book Fair — The Original Kindle
Back before Amazon and Kindles, we bought books the old-fashioned way: from roving carts that appeared like magic once a year in the school library. The best part? Comparing treasures on the bus ride home and using those snazzy new bookmarks.
__________
Technology is a double-edged sword: it brings people and families closer than ever before, but it can also present serious risks for kids. Some of these threats are things our generation never had to worry about — things like cyberbullying and increased rates of depression.
Fortunately, to help families navigate life in the digital age, there's Bark. By monitoring texts, emails, YouTube, and 24+ social media platforms, Bark allows families to work together against online threats. for a free one-week trial!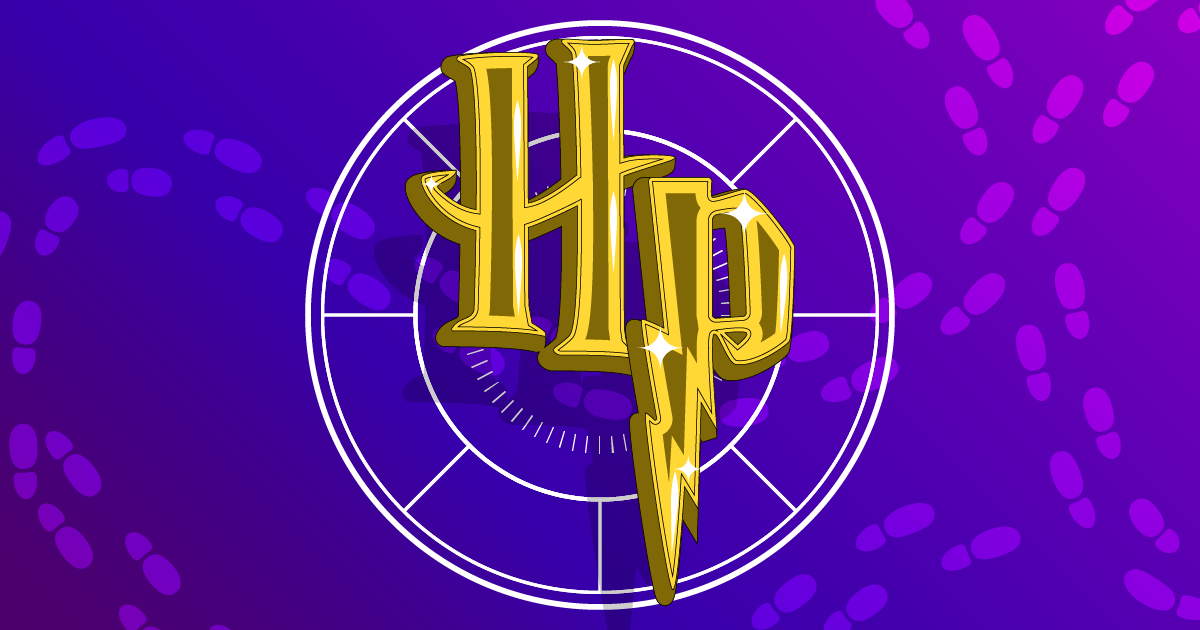 Parents probably remember the summer of 2016 for how much time their kids (or themselves) spent hunting fantastic creatures with Pokemon Go. Brace yourself — it's happening again! But this time, it's Harry Potter-themed. Released on June 21 by Niantic (the same company that developed Pokemon Go), Harry Potter: Wizards Unite debuted at #1 on the App Store, and hundreds of thousands of fans spent the past weekend on their phones exploring this new world. It is even spawning real world Wizards Unite community days and events.
But when you combine kids, technology, and gaming, there come risks. This game has the potential to spread like wildfire this summer while kids are out of school and looking to play outside. In this post, we break down what Wizards Unite is all about, why kids love it, and what parents can do to keep them safe while they play.
What Is Wizards Unite About?
Like Pokemon Go, Wizards Unite is a location-based augmented reality game inspired by J.K. Rowling's Wizarding World and Harry Potter franchises. Muggle translation: the game uses players' GPS to allow them to walk around streets and find magical artifacts superimposed onto the real world with the help of your phone's camera. For kids who love the Harry Potter books and movies, this is a dream come true. Players are able to establish themselves as an official member of the wizarding world by personalizing their selfies with magically-inspired lenses, frames, deformations, accessories, stickers, and many more features.
In terms of gameplay, instead of catching a Pikachu or a Snorlax, players are trying to discover "Foundables," hunting them down and tracing a pattern on the screen to simulate a magic spell. Players also can play join up with friends (as well as strangers) at public locations called Fortresses, much like the Gyms in Pokemon Go.
Is It Safe For Kids? Real World Interaction at Wizards Unite Community Days and Events
Generally speaking, Wizards Unite (like Pokemon Go) is a fun, safe game that Harry Potter-loving families can play together. And unlike conventional video games, both have had the positive effect of getting kids off the couch and out walking around their backyards and neighborhoods. But before you let your kids run wild as Aurors around the block, here are some safety tips to keep in mind.
Watch Where You Go
The augmented-reality nature of this game means that kids can stay glued to their screens as they track down characters and creatures through the maps. As was the case with Pokemon Go, this can lead engrossed kids far from home and into potentially dangerous situations like construction yards or busy streets. Talk to your kids about staying in the moment and paying attention to their surroundings no matter what's happening on the screen.
Beware of Other Players You May Meet
The social nature of Wizards Unite encourages players to meet up at public locations called Fortresses so they can work together to defeat particularly difficult enemies. This can be great fun with friends, but it's not only kids who are playing Wizards Unite — you never know who else will be there when you arrive. Make sure your family sets ground rules about talking to strangers at Fortresses — even if you're all on the same team trying to defeat a Dementor.
Be Cautious In Online Discussions
The fun of Wizards Unite doesn't end when you step back into the house. There are countless places online for kids to read about the game, learn tips and tricks, and talk to other players from around the world. Fortunately, there's no in-app chat, so parents won't have to worry about monitoring conversations on it. But you can add Friends to help you in battle, and they'll be able to see your profile picture if you use one of yourself.
Remind your kids never to give out their personal information to someone they meet online or at real world Wizards Unite community days and events — whether it's a message board, the comments section, or a chat app. You never know if someone is actually who they say they are.
And if you're interested in protecting your child online, our award-winning monitoring service detects potential issues like cyberbullying, adult content, sexual predators, threats of violence, and more. Bark also monitors texts, chat, email, YouTube, and 24+ social media platforms. for a free, one-week trial.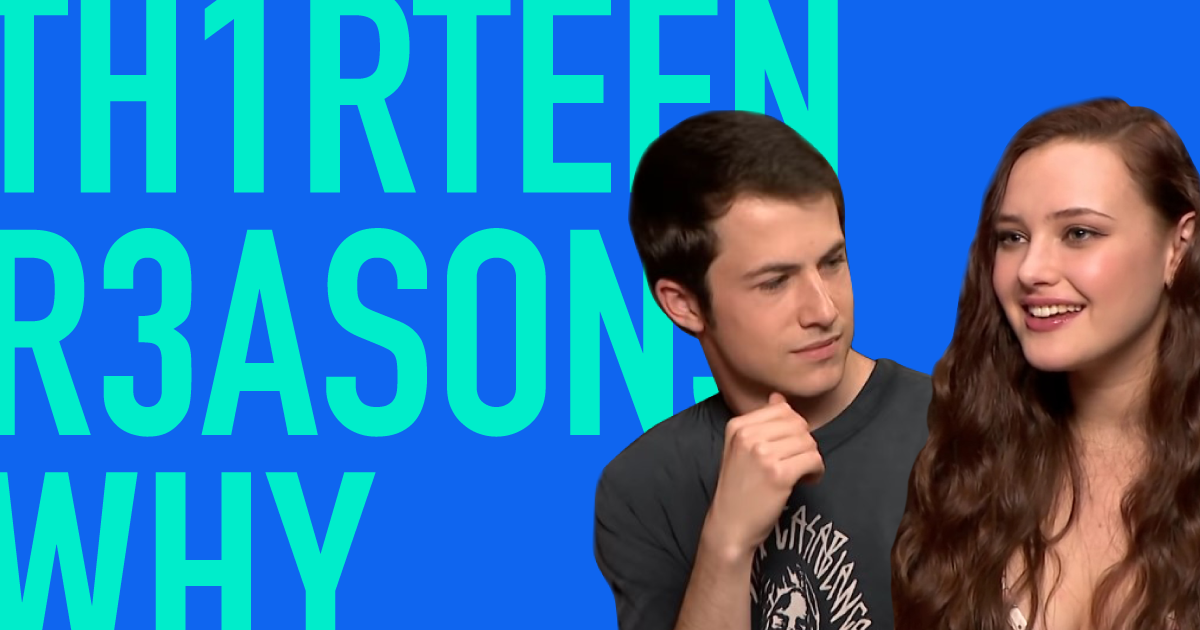 This post was updated in July 2019 to reflect Netflix's changes to the show's most controversial scene.
Content warning: This post discusses content that some individuals may find triggering, including suicide and sexual assault.
Even if you haven't seen the Netflix original series 13 Reasons Why reviews, you've probably heard of it. First released in 2017, it made waves with its shocking depiction of suicide and viral popularity among high schoolers. There are now two full seasons of the show, with the third season expected to drop sometime this summer.
The series centers around Clay Jensen and his friend Hannah Baker, who we learn has killed herself as soon as the show begins. Every episode of the first season corresponds to one "side" of a cassette tape in which Hannah posthumously explains one of the 13 reasons that prompted her death by suicide. Through these tapes, she reveals secrets and assigns missions for her friends (and enemies) to visit important places from her short life to piece together why she killed herself.
13 Reasons Why is incredibly controversial. Some parents have praised the show for prompting important discussions with their kids, while others have criticized it for being violent, triggering, and inappropriate. It remains up to each family to decide what's best, but this post will provide you with what you need to know about the show and its potential concerns.
The Sobering Statistics and the Reality Facing Kids Today
Suicide is now the second-leading cause of death for young people ages 10 to 18, and every day in the U.S., more than 3,000 young people attempt to kill themselves. For LGBTQ+ kids, tweens, and teens, the number is even higher. In 2018 alone, Bark sent out 142,849 alerts to parents and schools about communications that discussed suicide/self-harm.
Even if your child doesn't struggle with thoughts like these, chances are they know someone who does or will. Suicide has become so commonplace among today's generation that even suicide jokes and memes have become commonplace. It can be hard to tell, however, whether it's just gallows humor or a sign of something more serious. 13 Reasons Why reflects a world in which teen suicide is no longer an impossibility, but an event that could actually happen in your child's school.
The Dangerous Romanticization of Suicide
Hannah uses her tapes to exert power from beyond the grave on those who she believed hurt her. Recorded in the days leading up to her death, the tapes put the blame on specific people and situations, giving a checklist-type quality to her reasoning. This is incredibly problematic, as it presents to children the idea that if you've logged enough reasons, suicide is a valid escape option. In reality, suicide is the complex, tragic result of many feelings, thoughts, and actions, and it can have underlying causes rooted in depression and anxiety that don't have always have identifiable "reasons."
By the end of season one, the show also takes steps to frame Hannah's suicide as an action that spurs positive change in the community as individuals begin telling the truth while others ultimately are punished. In reality, a child's suicide is devastating to parents, friends, teachers, and coaches, and it can have lasting effects on the broader school community, as well.
The controversy surrounding the show's climax was such that in July of 2019, after much public debate and in consultation with medical experts, Netflix decided to remove the scene depicting Hannah's harrowing death by suicide. "Our creative intent in portraying the ugly, painful reality of suicide in such graphic detail in Season 1 was to tell the truth about the horror of such an act, and make sure no one would ever wish to emulate it," said the show's creator Brian Yorkey.
"But as we ready to launch Season 3, we have heard concerns about the scene from Dr. Christine Moutier at the American Foundation for Suicide Prevention and others, and have agreed with Netflix to re-edit it. No one scene is more important than the life of the show, and its message that we must take better care of each other. We believe this edit will [help] the show do the most good for the most people while mitigating any risk for especially vulnerable young viewers."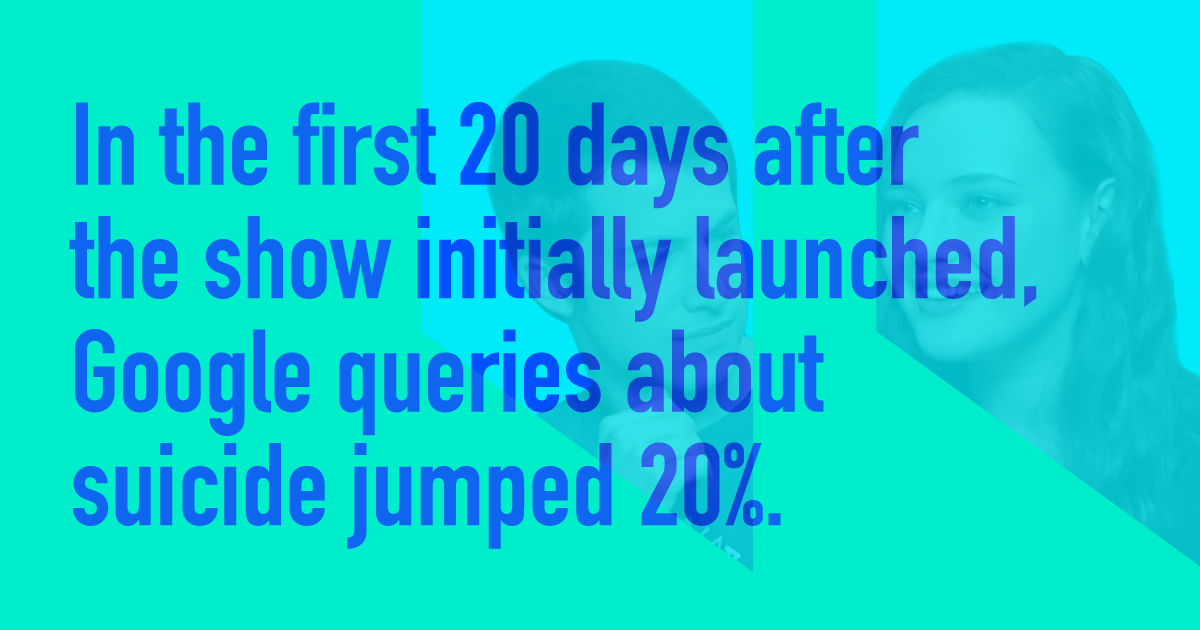 Suicide Contagion, Copycats, and Clusters
Suicide contagion is "the exposure to suicide or suicidal behaviors within one's family, one's peer group, or through media reports of suicide and can result in an increase in suicide and suicidal behaviors." 13 Reasons Why was and remains incredibly popular among young viewers — it even became the most tweeted-about show of 2017. Perhaps unsurprisingly, in the first 20 days after the show initially launched, Google queries about suicide jumped 20%.
While it can be hard to trace with exact certitude what's influencing suicide rates and research, the Journal of the American Medical Association believed there was enough of a correlation to write an editorial criticizing the show. Explicit depictions of suicide — like the graphic scene in which Hannah slits her wrist in the final episode of season one — can spur copycat suicides. These instantly rewindable scenes are impactful and provide a sort of how-to guide for those experiencing suicidal ideation.
Finally, another threat from the show is the appearance of suicide clusters, or multiple deaths in close succession and proximity that affect communities. These clusters feed on viral news, which spreads like wildfire across social media. 13 Reasons Why's virality is undeniable, and it's targeted directly at high schoolers.
13 Reasons Why Review: Suicide Isn't The Only Cause For Concern
Apart from the primary focus on suicide, 13 Reasons Why is about the common things that high schoolers experience: first relationships, nagging parents, and stress from teachers. At first blush, it could be informative for parents to watch and see how much has (and hasn't) changed. But it's also very graphic in its depiction of darker issues like sexual assault, cyberbullying, and illegal substances in a way that older generations may find shocking — especially as they watch through the eyes of their own kids.
The scenes featuring sexual assault can be especially triggering given the statistics around it. According to the CDC, 33% of women and 25% of men experience sexual violence in their lifetimes. For many (1 in 3 women and 1 in 4 men), their first experience occurs before they even reach adulthood. Some kids watching 13 Reasons Why may see a reality reflected back that's much too close for comfort.
Initially, the episodes aired without any sort of content or trigger warning. However, after criticism from some mental health professionals, Netflix decided to begin including warnings. Starting in March 2018, each season begins with a minute-long video of the actors introducing themselves and instructing viewers to seek help when needed. Each episode begins and ends with a bumper card that directs them to a resource page, 13reasonswhy.info.
Getting Help
We hope you found this 13 Reasons Why review helpful. If you, your child, or someone you know is struggling with depression and/or suicidal ideation, reach out to the National Suicide Hotline or call 1-800-273-8255.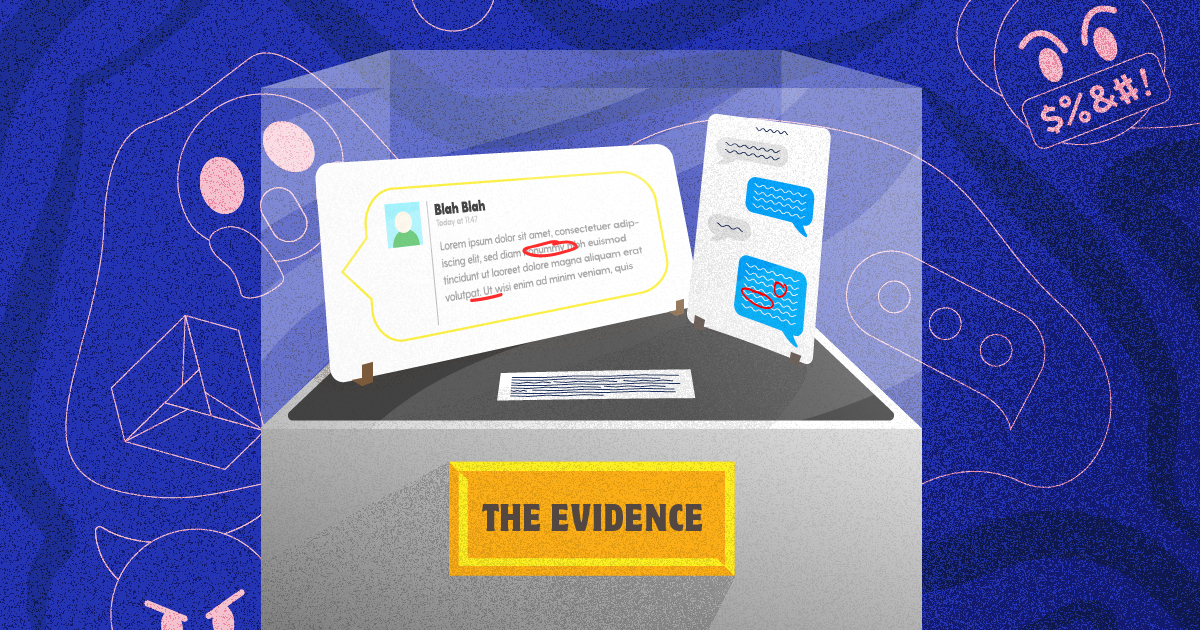 On Monday, the story of a high school student named Kyle Kashuv, whose acceptance into Harvard was rescinded, went viral. The university's decision came after multiple screenshots were published showing that the student had made racist, sexist, and anti-Semitic comments in text messages and Google Docs. The comments were brazen and indefensible, but the issue as a whole raises a complicated question: What risks does free reign of the internet pose to kids who are still learning about their social media footprint, themselves, and the world around them, and what can parents do to help?
There are half a dozen political and polarizing reasons that this story is a livewire, but our focus will be on the permanence of kids' digital footprints and how parents can guide their children into becoming responsible digital citizens.
The Comments That Never Go Away
Kids like to think that when they message their friends, the conversation will stay between them. In reality, there are all kinds of ways that online activities are recorded and stored forever. This applies even to apps and platforms that tout privacy features and disappearing messages, including Snapchat, Skype, Discord, and WhatsApp. People can take screenshots of their text messages and Snaps, and from there they can do anything they want with them. Talking behind someone's back can lead to confrontation, sexting exposes kids to blackmail and extortion, and a series of prejudicial texts can subject their entire reputations to intense public scrutiny — all by simply sharing a screenshot.
Google Docs can also be a major liability. Designed as a tool for collaboration and productivity, students have been known to use it for cyberbullying, making digital "burn books" to target classmates they don't like. In the case of the student whose acceptance to Harvard was rescinded, the majority of his distasteful commentary was drafted in Google Docs, where it was saved in a study guide that had been shared between multiple classmates. Anyone with access to the document can search its revision history to see what was written in the past — and even what was deleted.
It's easy to think that our online activities disappear as soon as the News Feed scrolls past them, but that is no more than an illusion. It's important that parents help their kids understand that their online activities are not as fleeting as they seem, and that their comments can come back to haunt them years later and for years to come. Bark monitors Google Docs — and much more — to help parents guide their children in the digital age.
Kids Are Still Learning and Growing
Before judging the online behavior of teens and tweens, we must keep in mind that kids are far from achieving adult-level maturity. Their prefrontal cortexes will continue to develop into their 20s, and until then, their decision-making abilities and logical reasoning skills will betray them over and over again. We refer to them as "digital natives," but kids are not quite as prepared to inhabit the online world as we like to think they are. As they speed along the Information Superhighway, their impulses can often override their judgment, and that can land them in serious trouble.
Kids need constant guidance throughout their adolescence, and this is especially true online, where a single comment can spark a worldwide controversy overnight. If a child's online activities show a pattern of racist or other problematic behavior, parents need to step in to address the issue. It takes time and effort to mature into a responsible adult, and until that happens, parents should coach their children on how these incredibly powerful tools should be used — and teach them the consequences of what can happen when they're abused.
A Responsible Social Media Footprint
When families talk about digital technologies, kids are in a better position to use them appropriately. But it can't be a one-and-done discussion. Kids grow up fast, and technology changes even faster. Families should have ongoing conversations around online safety so that kids can become responsible digital citizens. Bark can help you start the conversation.
In addition to Google Docs, Bark monitors texts, chat, email, YouTube, and 24+ social media platforms for issues that parents might need to know about. Our technology detects signs of cyberbullying, sexting, depression, suicidal ideation, threats of violence, and more. Most of the time, parents aren't even aware there's an issue until Bark sends them an alert. These are opportunities for parents to offer help and guidance to their kids when they are struggling, and help them become more aware of the consequences of their social media footprint. Bark is an essential tool for parenting in the digital age. Sign up today for a free, one-week trial.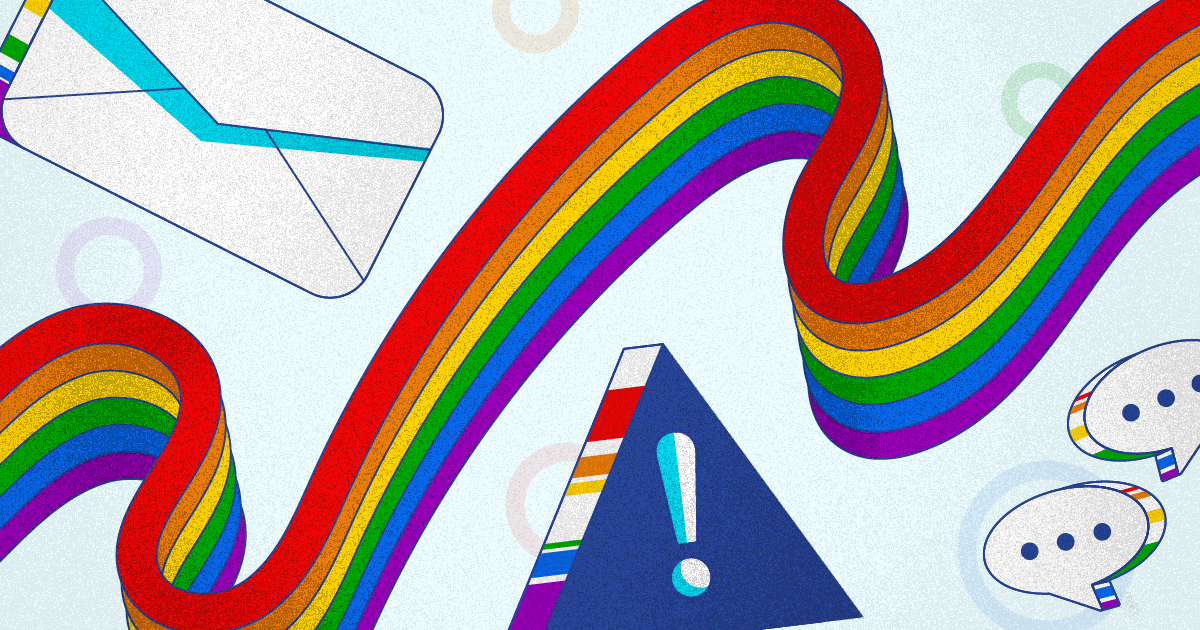 **This blog post was updated on August 30, 2021.**
In honor of Pride Month, the team at Bark is highlighting the importance of supporting LGBTQ+ kids, tweens, and teens. In a 2018 survey of more than 12,000 LGBTQ+ kids conducted by the Human Rights Commission and the University of Connecticut, these young people made it crystal clear that supportive families and inclusive schools are crucial to their success and well-being as they grow up.
Unfortunately, LGBTQ+ kids can face greater challenges than their heterosexual peers as they navigate adolescence. And for today's digital generation, these challenges are magnified by the 24/7 nature of social media and technology. While the internet has provided an amazing community for the LGBTQ+ community in recent years, it has also introduced new avenues for potential struggles. In this post, we'll discuss how monitoring with Bark can help LGBTQ+ kids stay safe online and in real life.
P.S. If you aren't really familiar with terms used to describe the LGBTQ+ community, this resource might help.
Rates of Depression and Anxiety Are Statistically Higher
Growing up isn't easy for anyone, but LGBTQ+ people consistently report experiencing greater struggles with issues such as depression, anxiety, and suicidal ideation. In a 2017 report from the CDC, almost half of LGBTQ+ kids in grades nine through twelve had seriously considered attempting suicide, as compared to just 13.3% of heterosexual students. With suicide currently the second-leading cause of death for children aged 10 to 18, it's even worse for LGBTQ+ kids — they're three times as likely to consider it.
Often, the only signs that a child might be struggling are hidden deep within their phones as they text friends and post to social media about their deepest feelings. For LGBTQ+ kids, anxiety can stem from a number of things related to their sexuality or gender identity: they could be afraid of coming out, might fear being physically attacked, or may be struggling to find acceptance among family and friends.
Cyberbullying Is A Real Threat
For many LGBTQ+ children and teens, cyberbullying is a daily reality, with 27.1% of LGBTQ+ kids reporting being harassed online — compared to just 13.3% of their heterosexual peers. But cyberbullying isn't like the bullying you remember from growing up. In the past, bullying would end when you got home and stepped through the front door. Today, with their plugged-in lifestyles and ever-present devices, kids that are dealing with cyberbullying can face online teasing around the clock, no matter where they are.
For younger kids, it can be hard to know when cyberbullying is more than just joking, and older children might not know how to handle the anxiety and stress that comes with cyberbullying. They may also be ashamed or afraid to tell their parents what's going on. Bark can give parents peace of mind by sending cyberbullying notifications that will help keep them informed as to what's really going on in their child's social world.
Bark Can Bring the Family Together
Our service doesn't give parents unfettered access to their child's messages and devices — just the potentially worrisome ones. Because of this, kids are afforded privacy in their online activities, and that's something that can ease a lot of tension for families. When alerts do pop up, they come with recommendations from child psychologists. This can help parents talk with their kids openly and honestly about what's happening, what the alert means, and how they're feeling. For LGBTQ+ kids especially, this honesty and authenticity can make a world of difference.
At Bark, we say that the "technology talk" isn't just a one-and-done discussion. It's an ongoing dialogue that evolves as kids grow up. Because of the challenges that LGBTQ+ kids face online and in real life, these conversations are even more important as open lines of communication are critical to navigating potential issues and dangers.
Bark monitors texts, chat, email, YouTube, and 24+ social platforms for signs of cyberbullying, adult content, sexual predators, depression, suicidal ideation, and more. for a free, one-week trial.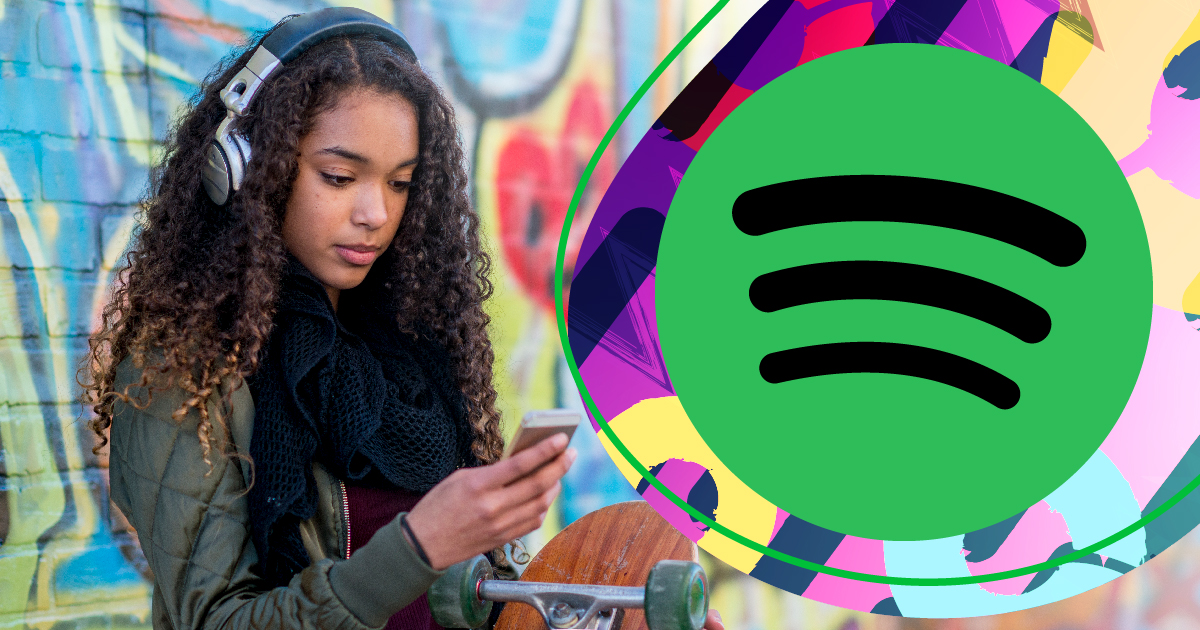 Is Spotify safe for kids? Bark is excited to announce that we now monitor Spotify, the popular music-streaming service. This brand-new addition to our lineup will offer parents unprecedented insight into what their kids are listening to. Our award-winning service analyzes a child's most recently played tracks and then scans the lyrics for all of the same issues we monitor everywhere else — cyberbullying, depression, suicidal ideation, threats of violence, and more.
Is Spotify Safe? What Songs Can Reveal
Music is an incredibly powerful way for kids to express themselves, and carefully curated playlists can range from upbeat celebratory anthems to the saddest of breakup songs. Any parent who's spent an evening on the couch listening to Bonnie Raitt's "I Can't Make You Love Me" can definitely understand. But what happens when a child's emotional state is reflected by what they're listening to? Much like a Google search, a Spotify search can contain information that parents need to know about. For example, if you type "suicide" into the Spotify search bar, you'll instantly get hundreds of songs about it.
But Bark's service analyzes more than just song titles. Even if the title itself doesn't explicitly mention a concerning issue, the lyrics might, and so those are also scanned for potential dangers. Our technology goes beyond just looking for keywords — it uses contextual analysis to identify lyrical content that parents might want to know about.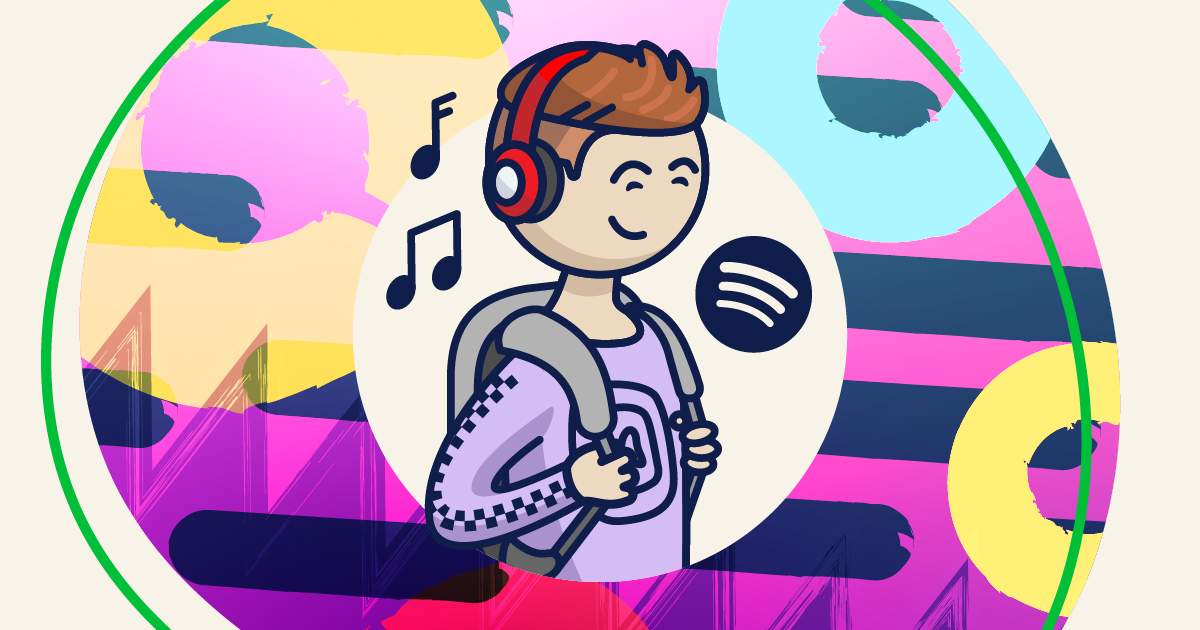 Turning Songs Into Teaching Moments
Knowing what kids are listening to can clue parents into what they're thinking and feeling. There are multiple ways kids can express themselves through music, and for many kids, they may be experimenting with new genres and styles. Maybe they've started listening to songs with a lot of violent imagery and profanity — when you get a Bark alert, you can sit down with your child and discuss what they like about it while also explaining why you're concerned. Monitoring Spotify is a way for parents to better understand the world their kids are living in, providing opportunities to discuss the things that matter to them.
About Bark
Is Spotify safe, and what about other platforms? In addition to Spotify, Bark monitors texts, chat, email, YouTube, and 24+ social platforms for signs of cyberbullying, adult content, sexual predators, depression, suicidal ideation, and more. Our product enables parents to work together with their children to help keep them safe online and in real life. Sign up today for a .
There's a new trend taking over public spaces — crowded trains, schools, busy shopping centers, and airports. You'll be reading an article on your iPhone or texting a friend, and then all of a sudden, you get a notification that someone wants to AirDrop you an image. A preview of the image appears, as well as the option to accept or decline it. If you accept, it automatically saves to your camera roll. So how can you prevent your kids from receiving inappropriate images? And how can you turn off AirDrop on their phones?
The idea that anybody could send you a picture of virtually anything without your permission is sobering, to say the least. If this sounds scary, it's because it is — the same features that kids use to prank their friends can be exploited by strangers who want to send them inappropriate files of their own. Here, we explain this new phenomenon, how to turn off AirDrop, and what parents need to know to help keep their kids safe.
Is AirDrop Safe and How It Works
To send and receive AirDrops, you just need to have an iOS device like an iPhone, iPad, or Mac computer, and it needs to have both Wi-Fi and Bluetooth turned on. The device also has to be set to "discoverable" by other users. Then, you simply select a photo and choose to share it via AirDrop.
Anyone else in the immediate area — a roughly 15-foot radius — who has Airdrop enabled is now fair game to receive your file. You'll see the names of their devices on your screen, and all you have to do is select who you want to send the file to.
Why Kids Can't Stop AirDropping
When kids get together, AirDropping can take off like wildfire. AirDropping is instant, anonymous (if your device doesn't have your name in its title), and 100% irreversible. It becomes a sort of game, with kids changing the names of their phones to something random or funny so no one can tell who's sending what. The element of surprise and the thrill of sending something silly or ridiculous can be addictive.
Kids also use AirDrop as a workaround for sending images or files that may violate the terms of service of social media platforms like Instagram or Snapchat. Images that may get automatically flagged as inappropriate can glide through unfettered with AirDrop.
The Dangers of AirDropping
You may be asking yourself as a parent, "Is AirDrop safe?" Though many AirDrops are harmless jokes or memes, there's always the chance that someone could send you something obscene, disturbing, or inappropriate. There's even a term for this activity: "cyberflashing."
In addition to the emotional effects of receiving unwanted explicit images, AirDropping also poses privacy risks. Though it can technically be an anonymous activity, people can identify their targets by AirDropping a disturbing image and looking around for people's reactions. Now they know who your child is and — if their name matches the name of their phone — what their name is, too.
There are also potential legal ramifications if your child accepts a pornographic image, as it will automatically save to their camera roll and become one of their saved photos. This is problematic because they could conceivably save something automatically without even knowing what it is.
Staying Safe: How To Turn Off AirDrop
You could be wondering how to turn off AirDrop in order to protect your kid from "cyberflashing." It's important to talk to your kids about AirDropping and the dangers it poses. Fortunately, you can adjust the settings of your child's phone so that they can either receive absolutely no AirDrops or AirDrops only from their contacts.
If your family decides not to disable AirDrop, or if your child turns it back on when they're away from home, Bark can provide a digital safety net. We help protect kids who send and receive AirDrops by monitoring images saved to the camera roll, whether it's an image they're sharing with people or one they've recently received from a stranger.
Knowing how to turn off AirDrop may not be enough protection on its own. Our award-winning service monitors for issues like cyberbullying, adult content, suicidal ideation, sexual predators, and more — and not just for photos. Bark monitors texts, chat, email, YouTube, and 24+ social media platforms to help keep kids safe online and in real life. Sign up today for a free, one-week trial.
The team at Bark is thrilled to announce a remarkable breakthrough in how our customers receive alerts. Our newly expanded alert settings enable Bark for Families and Bark for Schools users to adjust how sensitive our detection algorithms are to potential issues regarding parental controls on laptops. Put simply, each user will now be able to create a completely unique monitoring experience tailored to their specific needs.
Expanding Parental Controls on Laptop Alert and Sensitivity Settings
"We're extending this new functionality to parents and schools so they can have even greater customization over the issues most important to them," said Chief Technology Officer Brandon Hilkert. "Our new sensitivity controls put an even greater spotlight on the fact that Bark's classification algorithms are the best in their class."
Prior to this parental controls on laptop sensitivity expansion, customization was limited to universal modification — adjustments were applied generically to all activities on the account. Now, users can tailor the sensitivity for each alert type: cyberbullying, depression, drugs/alcohol, self-harm/suicide, sexual content, profanity, and violence. From their settings dashboard, users need only move the slider to the perfect spot between "Relaxed" and "Strict" for each alert type.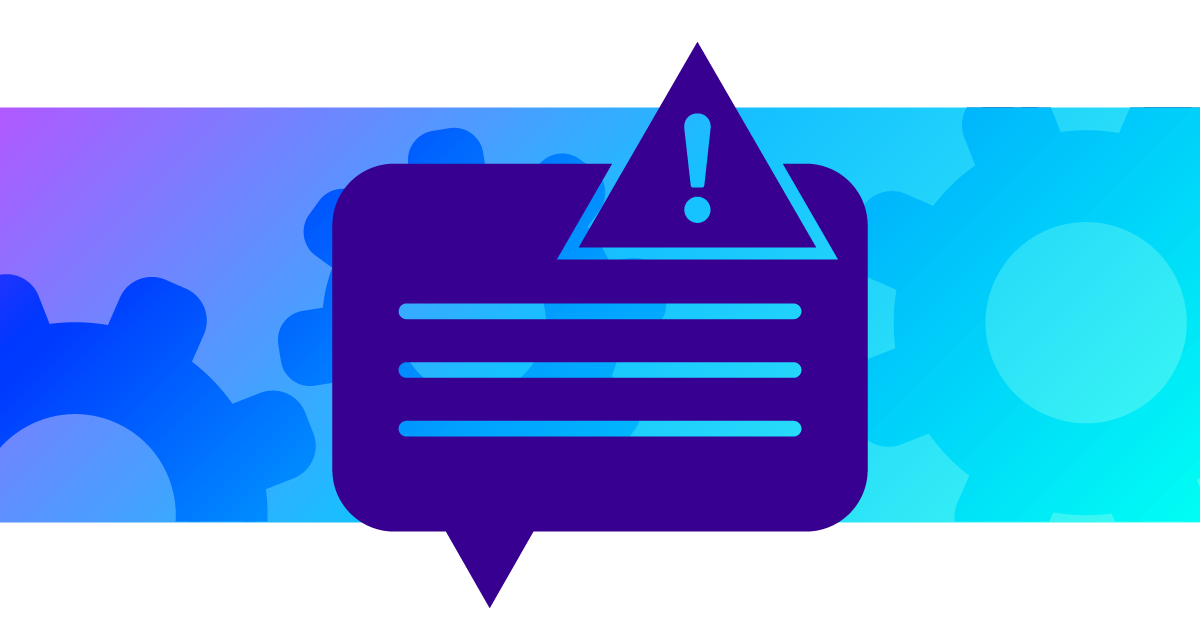 Giving Parents Stronger Parental Control on Laptops
At Bark, we know that no two families are the same when it comes to parenting styles, values, and safety matters. What's a priority for one house may not even be an issue of concern to the house next door. What's more, as a child grows up, some concerns may fall away, while others become more immediate. Our new alert sensitivity settings will allow Bark to grow and change with your child's development — whatever their pace may be.
Greater parental controls on laptops alert customization is also handy for families with multiple kids. As always, the sensitivity settings can be personalized for each child on your account. This is similar to allowing your kids to watch a PG-13 movie after a certain age once they've proven themselves mature enough. It's important to note that a more relaxed setting may result in missed issues, while a more strict setting may result in false positives. It all depends on what your priorities are.
Enabling Schools to Fine-Tune Alerts
Superadmins will also be able to adjust the sensitivity settings for monitoring on their district accounts by category. This is a huge step forward in giving schools and districts control over the kinds of alerts that work best for their student bodies. These new settings allow your administration to focus more attention on the issues that are most relevant to them. For example, some administrations may not be as concerned about profanity as they are about violence or suicidal ideation. When schools have more control over the kinds of alerts they receive, the whole community benefits.
Bark parental controls on laptops monitor texts, chats, email, YouTube, and 24+ social media platforms for signs of issues like cyberbullying, adult content, self-harm, suicidal ideation, and more. today for a free, one-week trial of this parental control on laptop app.