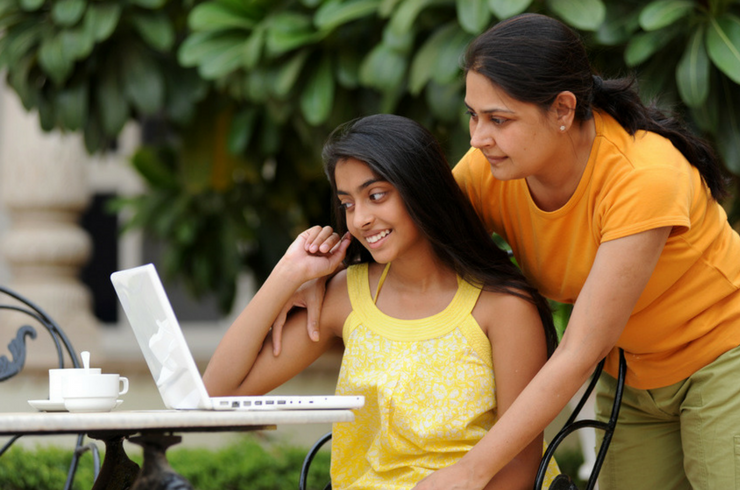 In today's digital world, Internet accessibility can present dangers, such as bullying and inappropriate messaging, for cyberspace's young users.
No matter how beneficial online connectivity can be, there are still risks for children, tweens and teens. And it's the duty of parents to help keep kids safe by taking preventative measures.
Here are five simple and budget-friendly ways that parents can safeguard their child and monitor their online use.
1. Lay the Ground Rules
Having an open line of communication with your child is the first step toward ensuring their safety on the internet, as well as ensuring that they are using technology responsibly.
Parents need to talk to their kids about what they do online and what they experience online, said Ben Halpert, an advisor for Bark, an online safety monitoring service.
"Once parents have that open line of communication with their children they can look at specific tools to help them," he said.
Technological responsibility begins at home with parents laying ground rules. After this, parents can consider using other types of security measures.
2. Set Up a WPA Password
Setting up a WPA password on your home router is a smart starting place for any parent concerned with monitoring their child's internet usage. Installing a WPA password can restore parental control and prevent any child or teen within the home from accessing the computer without permission.
According to the National Cyber Security Alliance, always opt for WPA or WPA2 passwords when choosing your router security levels, as it is more secure than WEP passwords. Securing your home router also will protect your information from anyone without the password.
Want to keep your kids safer online?
Bark can help.
Bark covers texts, email, YouTube, and 24 social media channels.
That's 4 times more than any other monitoring app.
Download our app today
3. Invest in Safety Monitoring Services
As technology further develops, the internet is becoming increasingly easy for children to access. With this increased use, however, come virtual threats.
Seeing this recent uptick in online usage and the potential dangers it holds, a niche market has emerged: online safety monitoring services. One such service is Atlanta-based Bark, which monitors a child's social network and email accounts, along with text messages.
"You don't install it on a specific device," said Halpert. "You actually leverage the accounts your children uses, such as Gmail, iCloud, Instagram … You grant Bark access to that account and Bark will alert you to anything suspicious it detects in those accounts, such as pictures with nudity or messages mentioning suicide or self-harm."
Bark uses an advanced algorithm to look for messages that could point toward a child's destructive digital behavior or inappropriate behaviors by people they communicate with online. Then Bark sends updates and alerts to the parent, who can have a constructive conversation with their child about safe and appropriate online behaviors.
Halpert said he prefers Bark's method to more-intrusive methods of monitoring, which inundate parents with copies of their child's every tweet or text.
"I think it's a little easier for children to understand that you're not spying on them," said Halpert. "But you're trying to make sure they're safe."
4. Turn Off Locator Services
"Technology that we bring into the home and hand to our children provides them with access to wonderful information but also provides strangers who have malicious intent the potential to connect to our children with that same technology," said Halpert, also founder of an Atlanta non-profit, Savvy Cyber Kids.
For example, a simple photo can hold sensitive information, often unknown to the user.
If your child has a smartphone, you can turn locator services on and off. With locator services turned on, photos will keep information, such as where the photo was taken. If uploaded to social media accounts, anyone can access this information.
To turn locator services off an iPhone, simply click on the Settings app, navigate to Privacy, and location services can be individually turned off or on for each app.
Similarly for an Android device, click on the Settings icon, navigate to Privacy and Emergency, and in the Apps Permissions users can choose what apps have access to their location.
5. Update the Privacy Settings
By default, many social media accounts are publicly viewable. However, you can change this in the account's privacy settings. Facebook, for instance, allows users to customize who can view their posts and posts they are tagged in, who can send them friend requests, and who can find them with provided personal information such as email accounts and phone numbers.
Facebook even has a feature that will allow users to choose whether they want search engines outside of Facebook to link their profile.