Child Predators: Ultimate Guide to Protecting Your Child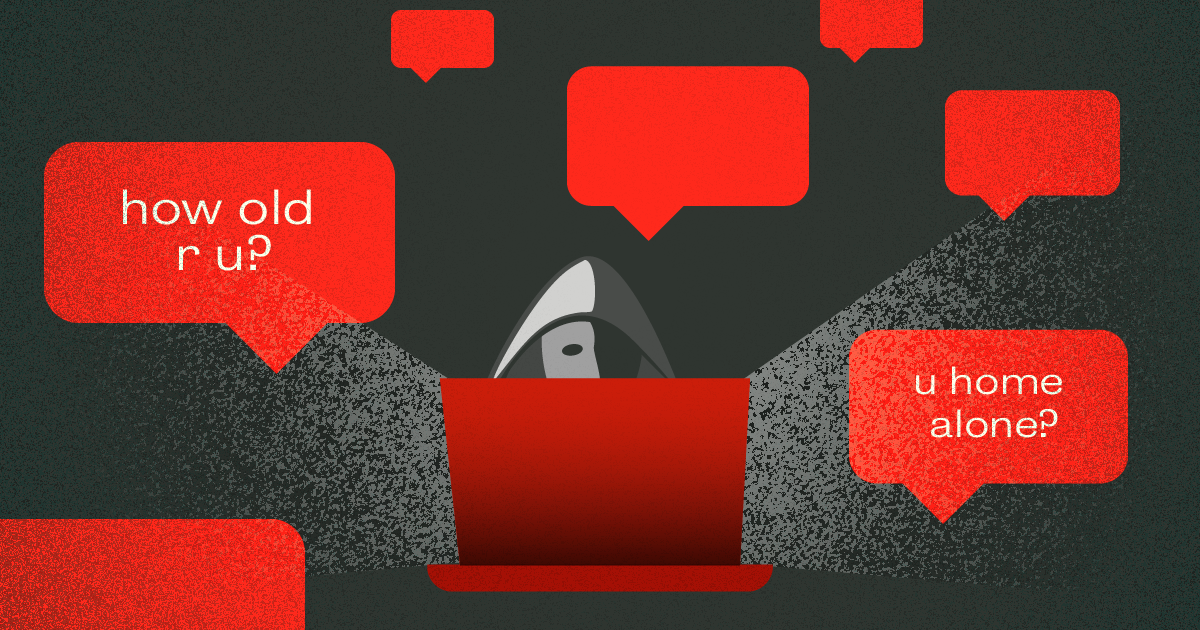 **Note: This blog post was updated on Mar. 25, 2022.**
For all the positive connections it can make, the internet has also become a place where online child predators lurk. It's a global tool, which means that people can contact kids for harassment, grooming, and worse — no matter where in the world they are. In fact, the overwhelming majority (98%) of reported offenders were seemingly unknown to their victims in real life.
The idea that someone might use social media or other platforms to try to harm your child is hard to stomach, but it's an unfortunate reality of life in the modern world. It's extremely important for families to understand the risks associated with being active online, as well as what they can do if their kids find themselves in a potentially dangerous situation.
Much of the information in this post comes from an in-depth report compiled by the National Center for Missing and Exploited Children (NCMEC), which can be downloaded from their website. We've also provided resources for learning more information about online predators and what you can do as a parent to help protect your child both online and in real life.
What does online child predator behavior look like?
Most often, predators have one or more of the following goals:
To obtain explicit photos of children (or to share photos of their own)

To meet in person and engage in sexual activity

To engage in sexual conversation and/or online role-play

To receive some sort of financial benefit
In order to achieve these goals, they will not only lie to children about their age, but they will also register as younger people when signing up for an online account. Grooming then takes place in several stages.
1. The predator earns the child's trust through compliments, shared interests, and liking or commenting on their posts. At Bark, we've seen this process take anywhere from hours to months.
2. After developing a positive rapport with the child, the predator aims to determine how involved the caregivers are — if there's little or no online supervision, they will be emboldened to escalate their predatory behavior.
3. The abuser attempts to normalize the sexual behavior he or she is seeking. For example, they might send the child unsolicited explicit images of himself/herself — or even of other children.
4. The predator attempts to achieve their goal by asking for explicit photos, meeting in person, engaging in role-play, or blackmailing the victim for financial gain.
Where does predatory behavior take place online?
To avoid detection, abusers will engage with their victims on anonymous messaging apps, through text messaging, or on livestreaming sites/apps. Sexual predators have been known to engage with victims on the following platforms:
Typically, the communication remains on a single platform and does not spread across multiple outlets. However, if the initial encounter begins on a platform that does not support the predator's goals, they may try to communicate with the child on additional platforms.
How do I talk to my child about predators?
If your child is old enough to access the internet or have a smartphone, they are old enough to discuss digital citizenship. Part of this discussion should be centered around online safety and the consequences of risky behavior. Here are some additional conversation starters:
Remind your child of the importance of not sharing personally identifiable information or talking to people they don't know in real life.

Show your child a news story about predators who met kids through the social media and/or gaming platforms your child uses.

Discuss the

stages of grooming

so they can identify the behavior in the future if needed.

Talk

openly and honestly

about what would happen should they become a victim of grooming and remind them that they should always come to you if they find themselves in a dangerous situation.
How do I protect my child from predators?
In addition to discussing internet safety in detail with your child, you should add a second line of defense to your arsenal. Bark can monitor and detect signs of online grooming on the major platforms where predators target their victims. Bark reports potential grooming cases to NCMEC and the FBI, and in 2018 alone, our technology detected 99 instances of sexual predators communicating with children online.
One parent wrote to us about how Bark's account monitoring alerted her to a potential predator. Her daughter had previously been groomed on the app Kik, and it was happening again — this time on Snapchat. "She set up her profile, and within 30 minutes she was solicited for naked photos of herself. This time, however, when asked to send naked photos, she declined and deleted the app. If it wasn't for Bark, I would never have known [she] had been solicited once again. I am so incredibly thankful that communication was opened up and we were able to talk about the dangers of Snapchat. I got to sleep a bit easier last night."
What should I do if my child encounters an online predator?
Should your child become a victim of grooming, you must be very careful not to confront them — this will likely cause them to shut down and leave out important information about the situation. While your emotions may range from anger to sadness, try to remain calm when speaking with your child as they navigate the traumatic experience. Whether they inform you of the situation directly or you discover it yourself, you should:
Save or take screenshots of messages (do not delete them)

Report the offender to local authorities and/or NCMEC's

CyberTipline
Follow law enforcement's directions regarding whether and when to block the offender
It's common for parents to feel guilty or blame themselves in the aftermath. But understand that you're not at fault and you're not alone. There are a few resources available to help both you and your child:
Call the National Sexual Assault Hotline at 800-656-HOPE (4673) or chat online at

https://hotline.rainn.org/online

.

Call the National Child Abuse Hotline at 800-4-A-CHILD (2-24453), which is available every day and around the clock.
Help Protect Your Child Against Online Predators
Every child who is active online is at risk of being contacted by a potential predator. While that doesn't mean social media should be banned altogether, it does mean that families should have thoughtful and ongoing discussions about how to use online platforms responsibly. When kids are informed about the risks inherent to life online, they are much less likely to be exploited.
It's also important to remember that even the savviest kids can fall prey to predators. Melissa Marrow, a supervisory special agent on the FBI's Child Exploitation Squad, puts it this way: "Regardless of if your child makes A's or not, that child has the potential to become victimized through online technologies. I think it is very important for parents of all socioeconomic status[es] and with all different roles in society to take this problem very seriously."
About Bark
Bark is a comprehensive online safety solution that empowers families to monitor content, manage screen time, and filter websites to help protect their kids online. Our mission is to give parents and guardians the tools they need to raise kids in the digital age.