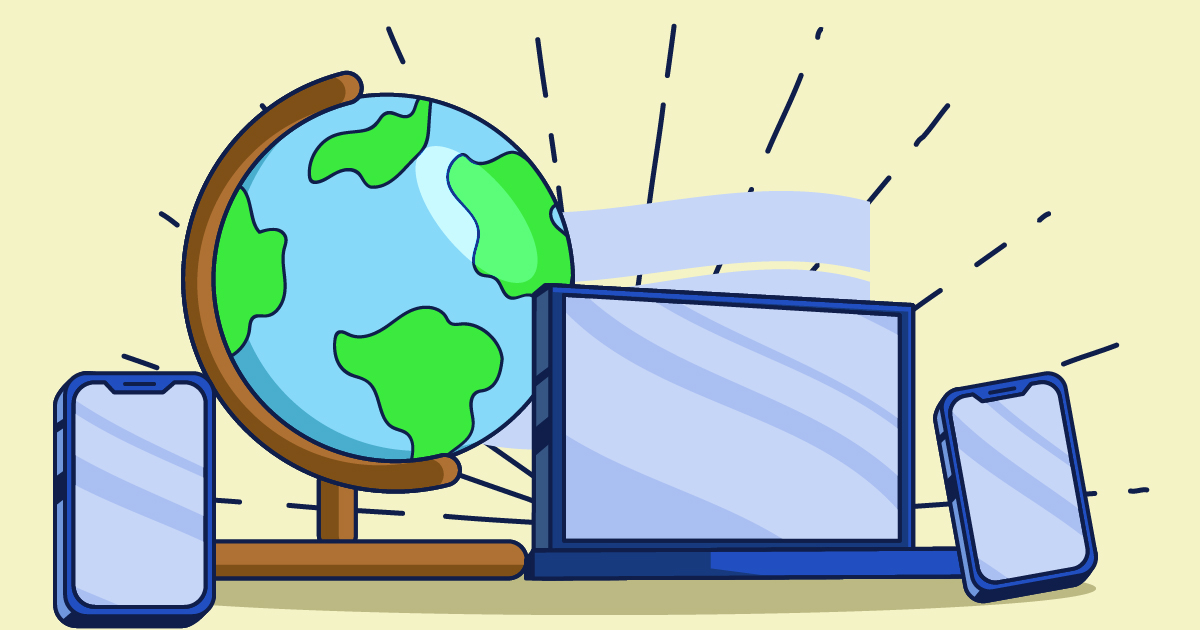 It's easy to blame technology for all of the world's problems. We like to think that if it weren't for digital devices, we'd all be better off. We wouldn't get emails after hours, we'd watch fewer advertisements, and our kids would play outside every once in a while instead of gaming the day away on Fortnite. But technology and family don't have to be polar opposites.
While these gripes are grounded in experience and reinforced in popular media, there are equally clear reasons for why tech is awesome. From schools to hospitals to offices worldwide, digital technologies have made things better for everyone. But we'd like to focus on how tech is shaping family life in particular.
Here are three reasons we think families should celebrate technology.
The 'Social' in 'Social Media'
It's no secret that kids are crazy about social media. And while it's tempting to write it off as a frivolous pastime, it can actually be a powerful tool for good. Countless kids struggle to find community, whether it's because it's hard to find people with similar interests, they live on the outskirts of their city or town, or they're part of a marginalized group like the LGBTQ community. Social media gives them a chance to connect with like-minded people or those who understand what they're going through. These relationships can help them to grow into their best selves.
The digital age has also provided new ways for people to be proactive about bettering the world. There are apps that promote health and wellness, and others that help us rally behind charitable causes to support our communities. Charity Miles combines these activities by allowing users to donate to their favorite causes by simply going for a run, walk, or bike ride. The longer the distance you cover, the more money you can earn for your charity of choice.
Young people have been empowered to accomplish great things, too. Take Natalie Hampton, for example, founder and CEO of Sit With Us. After her own experience with bullying throughout middle school, Natalie launched a non-profit committed to making sure no kid has to eat alone at school. The platform has more than 100,000 users who open themselves to sharing their table with anyone who asks to join. Natalie started Sit With Us when she was only 16 years old.
Between apps like these, digital crowdfunding efforts, and other innovative initiatives, young people all over the globe are eager to give shape to a more inclusive and generous world.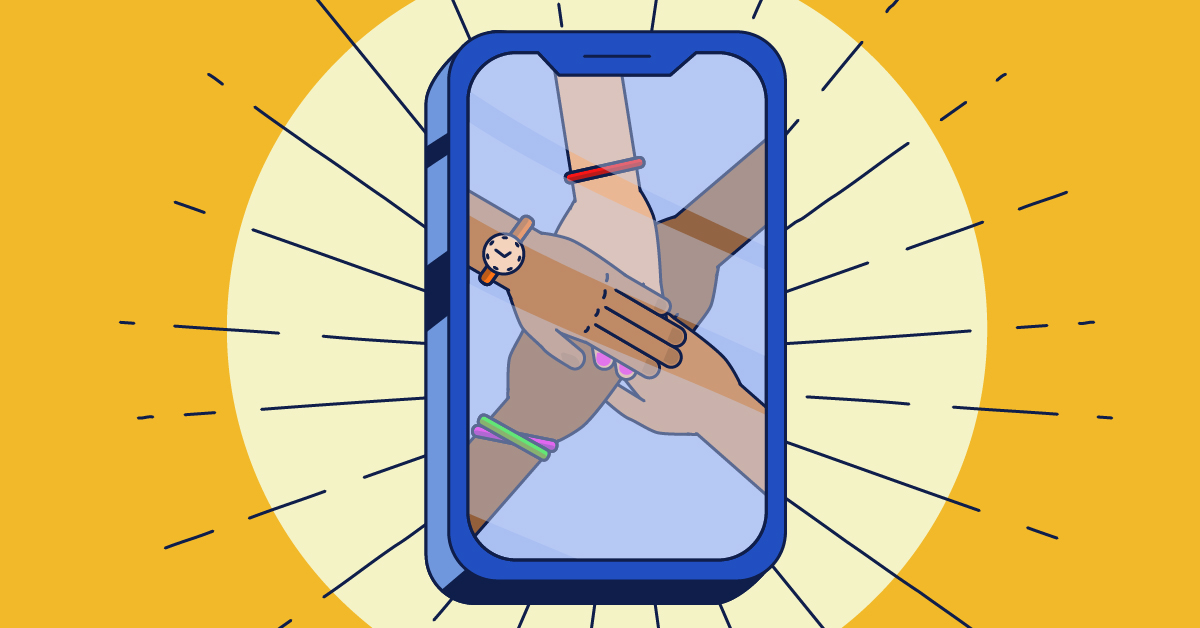 Technology and Family: Keeping Families Closer
It can be difficult for families to stay in touch. Between having parents who travel for work or grandparents that live hundreds of miles away, kids can feel disconnected from the most important role models in their lives. But technology can ease the worry and sadness that both parents and children experience when they're apart.
This is especially true of military families, who often don't live together for months — or even years — at a time. Caribu is a video-calling app with amazing interactive features. Servicemembers can use it to have meaningful experiences with their kids no matter where they're stationed. They can read books together, play games, and color pictures in real time on the screen. Time spent apart can take a huge toll on families, even under normal circumstances. But technology provides military families with a way to stay close to home, even when they're overseas.
And speaking of the homefront, social media is a great way for parents to check in with their children. As kids get older, it's common for parents to feel like they're losing touch. Between school, extracurriculars, and hanging out with friends, kids quickly develop lives of their own. But when parents follow their kids on social media, they can gain a greater understanding of what's important to their children. Asking kids about their photography, their trip across the country, or even just the amazing waffles they made for breakfast opens opportunities to connect on a daily basis.
Even when geographic distance separates families, technology closes the gap and creates a greater sense of connection between families.
Safety at Your Fingertips
Instant communication is an important reason that tech is so amazing. In the past, if someone wasn't where they were supposed to be, you simply had to hope that everything was okay. For families with additional concerns, that anxiety was even worse. Kids living with medical issues ranging from diabetes to food allergies, with a mental disability, or in dual family households all depend more heavily on cell phones, and having one in case of emergencies can make a huge difference.
Anyone can find themselves in an emergency, of course, and when that happens, we rely on tech to help us through it. No one who broke their leg on a hike has ever been relieved they left their phone in the car! Apps like ICE Contact can keep a problem from becoming a catastrophe. The app notifies users' emergency contacts of their location if they need help. This is great for parents with kids who enjoy activities that carry moderate risk, like cycling or contact sports. Whether it's a ride across town or a friendly game of pick-up soccer, parents can breathe easier knowing they can help their kids in an emergency.
________
As a company dedicated to helping keep kids safe online and in real life, we're aware of the worst that exists online. But while digital tools do carry risk, there are tools, like Bark, that makes technology and families safer. Our advanced A.I. keeps up with the evolution of language and alerts you to potential issues like cyberbullying, depression, suicidal ideation, and sexual grooming to help keep kids safe from digital dangers. Sign up for your today!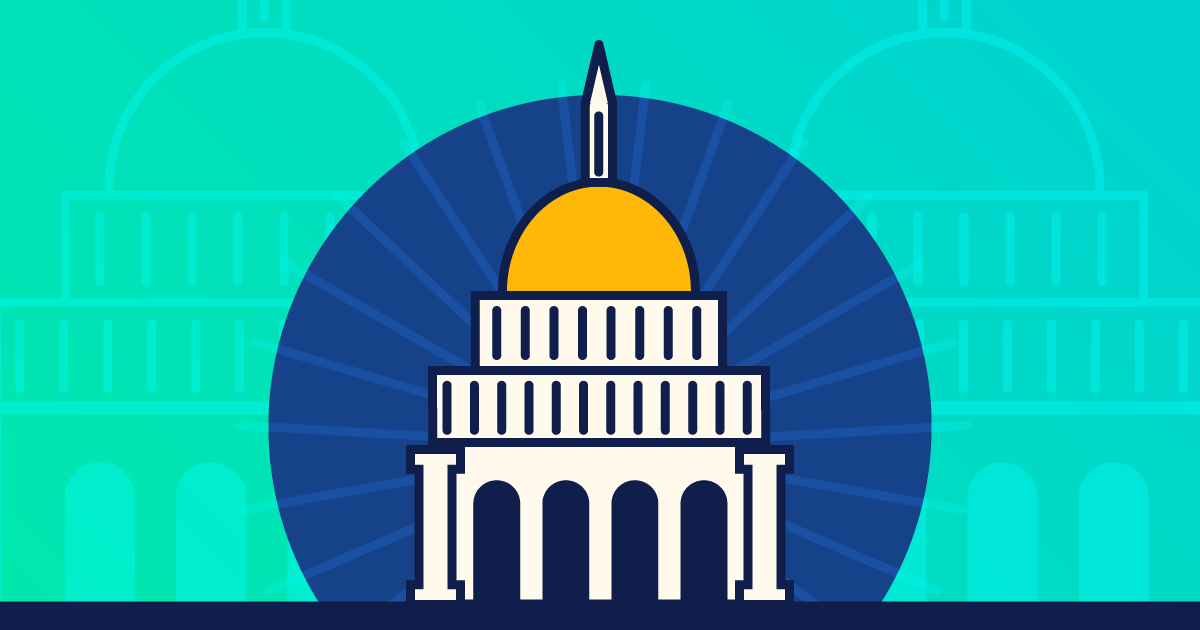 Today, on behalf of Bark, our Chief Parent Officer Titania Jordan testified during the Committee Hearing on HR 553. Along with Ben Halpert of Savvy Cyber Kids, our testimony provided key facts and explained to the Georgia Assembly the urgent need for a House Study Committee to research and find proper solutions to cyberbullying in Georgia.
At Bark, we've seen firsthand the effects that cyberbullying has on kids today, and we know how crucial it is for parents, schools, and the community to get involved. Based on our data, in 2018, 62.2% of tweens and 70.5% of teens experienced cyberbullying (as a bully, victim, or witness).
Cyberbullying is a serious issue in America today, and it's ruining lives. Even the term itself — cyberbullying — feels a little cutesy. That's because cyberbullying is really just online harassment, plain and simple. It's more than just "kids being kids. In fact, there have been documented cases of kids being driven to suicide by constant, inescapable harassment.
The Consequences of Cyberbullying
Suicide is the number two killer of kids ages 12 to 19. According to the CDC, one in 18 high school boys will attempt suicide this year. That number for high school girls is one in 10. For young people who identify as LGBTQ+, it's even higher. Since our inception, we've sent over 10,000 severe and imminent alerts to parents and schools regarding self-harm and suicide. The onus is on us as parents, communities, and governments to address the proliferation of cyberbullying and its subsequent effects on our children.
With a unanimous vote to move forward after the testimony today, the next step is for interested Georgia residents to email Representative Jay Powell to allow cyberbullying Bill HR 553 to be heard on the House floor. We are grateful to State House Representative Mike Wilensky HD 79 for the opportunity to help keep even more families safe online.
Visit our website to learn more about Bark and its groundbreaking monitoring capabilities. You can also for a free, one-week trial.
At Bark for Schools, we're always looking for ways to measure our impact. It's important for us to be able to show how we can help as many schools as possible keep their children safe, whether online, in real life, at home, or at school. In this video, we spoke with the administration of Affton School District in eastern Missouri. They told us how Bark has helped their district confront the challenges facing students today.
Affton School District: A District on the Move
Located in the outskirts of St. Louis, Affton is a smaller, suburban school district with around 2,800 students. As a result, they're able to be innovative with technology. Whether it's through their curriculum, their technology infrastructure, or their approach to school safety, Affton is always looking for ways to maximize their value to the community.
Superintendent Travis Bracht knows that safety and security are the most important things to Affton parents. "The biggest thing that parents want from the school usually is around safety ... That has typically just meant the physical environment, but now in the 21st century it means online." By using Bark to secure the virtual environment alongside the physical, Bracht feels that the parents in his district have confidence in Affton's ability to keep their children safe.
The Challenges Facing Students and Schools
Jason Buck, principal of Rogers Middle School, says that Bark has enabled Affton to get in front of issues. "It has helped us on a number of occasions to identify potential student conflicts before they turned into something bigger." He has also received alerts over weekends that have helped him intervene in potentially life-threatening situations. By knowing when to reach out to parents, Affton has been able to get students the help they need.
Buck also sees students advancing through the digital age more quickly than his own generation, and this poses a significant challenge. With new apps and updates coming out seemingly overnight, it's hard for parents and administrators to keep up. This is true even of the most well-known platforms. Students use them in creative ways, too, which only makes things more complicated. "Just as soon as we feel like we catch up, the next app comes out," he says. "Having something like Bark in place to help monitor that makes a big difference."
"There's a lot of communication that students do in our district, both internally and externally," says Director of Technology Adam Jasinski. "Having that insight that Bark provides, knowing that we have a process to monitor and ensure that the tools are being used correctly and appropriately is hugely valuable."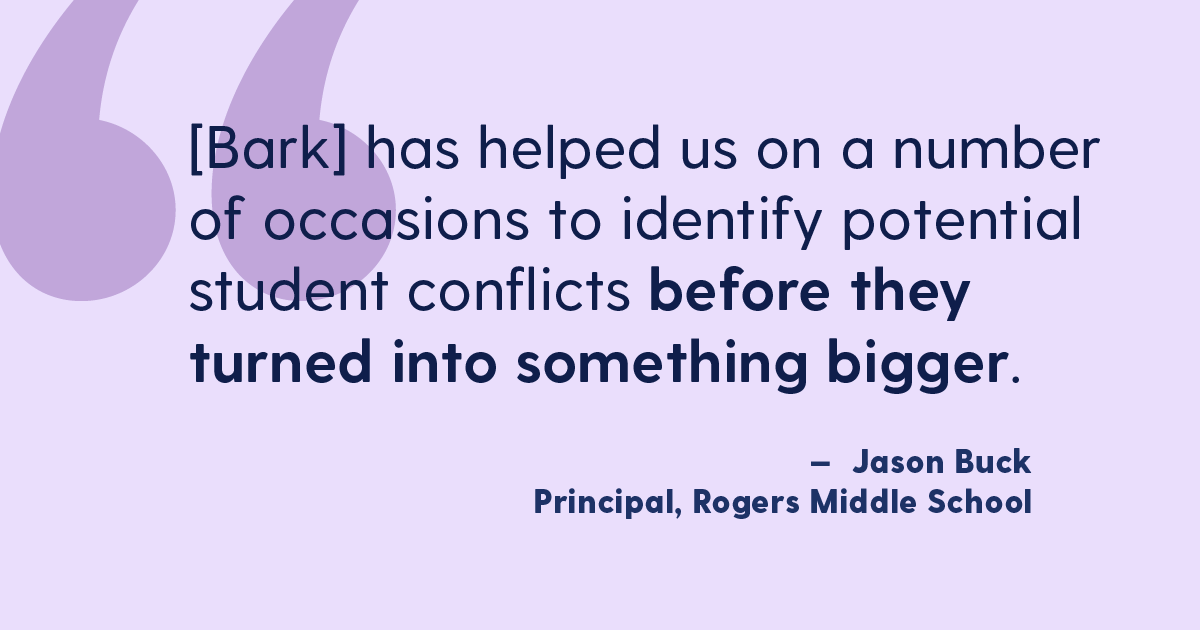 A Smart School Safety Solution
Bark for Schools was developed in the wake of the tragic shooting at Parkland, Florida, as a way to give back to school communities. With the technology for keeping kids safer on their devices already in place in our product for families, we decided to extend our service to all K-12 public and private schools in the U.S. including Affton School District— at no cost to them. One year later, Bark for Schools had become the trusted partner of 1,000+ school districts — with more than 80 joining every month.
Schools can learn more about Bark for Schools by visiting our website and reading our case study of Plum Borough School District, and parents . Sign up today!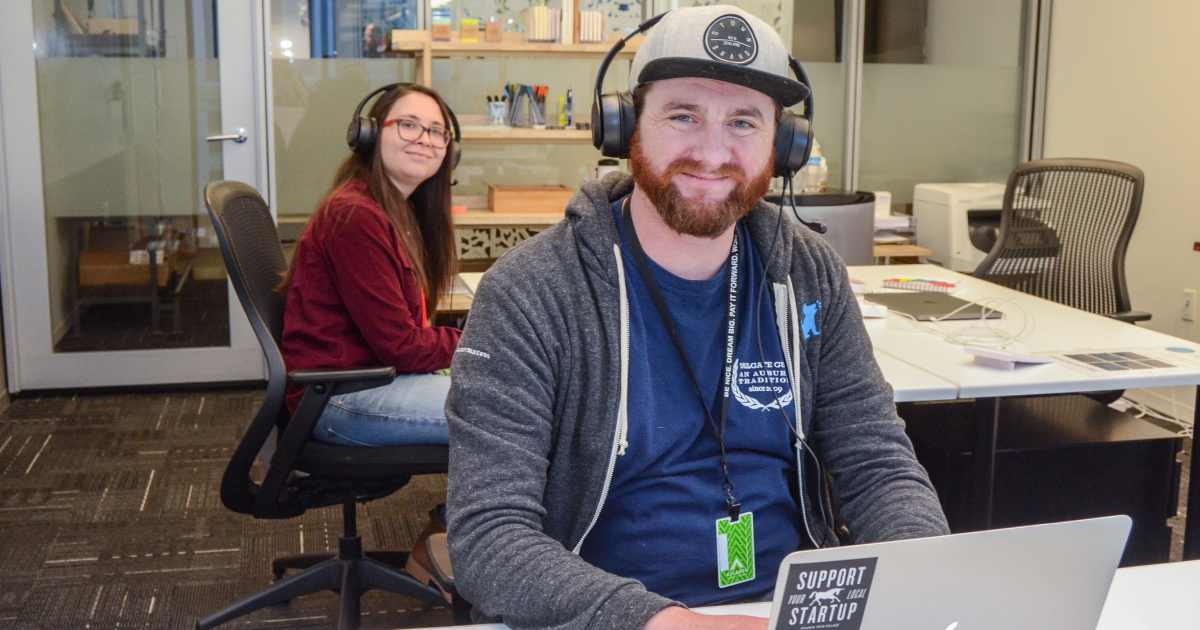 **This post was updated on Feb. 1, 2023**

A tech company is only as successful as its customer support, and at Bark, we have the very best. They're fluent in not only setting up Bark on Androids and iPhones, but also troubleshooting Snapchat, Gmail, Instagram, iMessage, and all of the other social media platforms popular with kids today. Parents can sometimes be at a disadvantage when it comes to understanding the tech their kids use, but we're always here to help.
From helping with set-up and answering questions to troubleshooting apps and listening to YouTube woes, our team is here to make a difference.
We recently sat down with four team members to get their perspectives on why they do what they do and what it means for Bark users.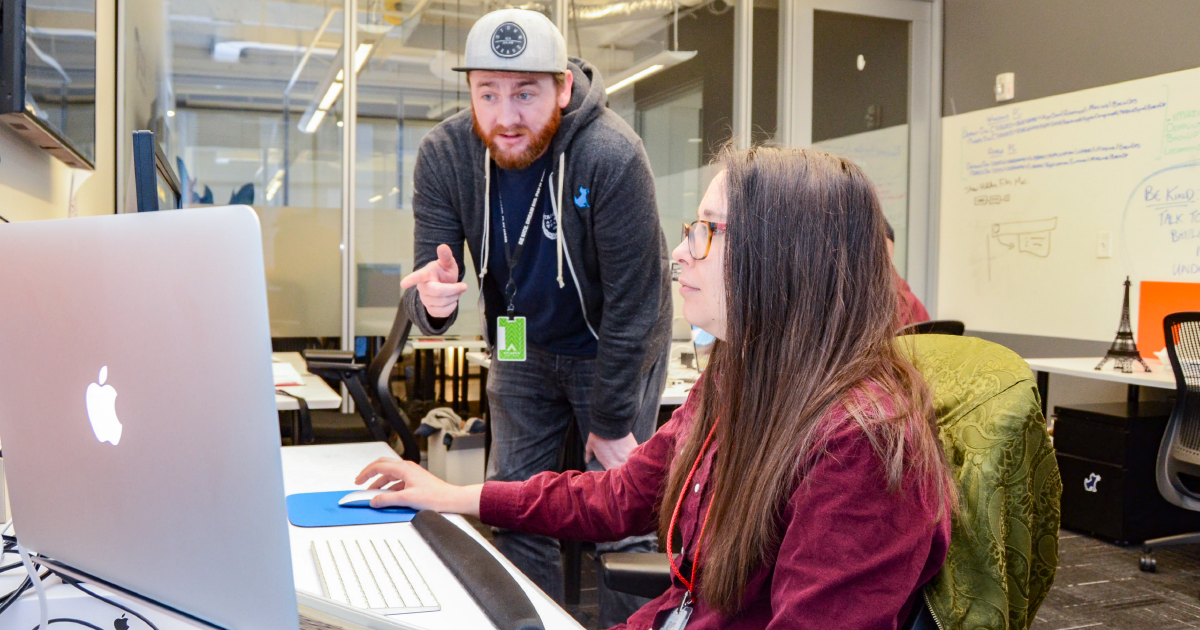 How are Bark customers different from regular tech support customers?
Leslie: Bark customers are parents, and more importantly, they are part of our Bark family. We view them as a part of a community with a shared goal: to protect children. In that sense, we approach them with the same attention and care that we would our own families. As a mom myself, I am often honored to be able to help parents empower themselves to keep their children safer in today's world. Before working for Bark, I struggled with understanding social media and methods to teach and monitor my children online. After all, we didn't grow up with this stuff! After experiencing a personal tragedy with my own child, it is so wonderful to be able to help families avoid those experiences through the work we do.
Kaden: Our customers are different from a regular help desk's customers because they are looking for a solution to a problem that's threatening the most important thing on the planet to them: their children. They're not looking to get their router working or troubleshoot their internet connectivity.
Jodie: To me, I think our families differ from a typical help desk's clientele because they aren't seeking help with a product. They are seeking help with protecting their family. Our parents and guardians come from all walks of life with very different and individual reasons for needing help in monitoring their children's online activities. I am fortunate enough that some of them share their personal stories and testimonies with me. It makes me so happy and proud to know that we aren't just selling a product — we are truly helping kids.
Paola: The people I'm interacting while on support calls aren't just the parents — it's the children, too. What makes Bark unique is that it makes the child a direct participant in their online safety. I have had kids ask me equally insightful questions as their parents about appropriate behavior online, the impact of technology on their social relationships, and more because they're also learning and adapting to a tech world.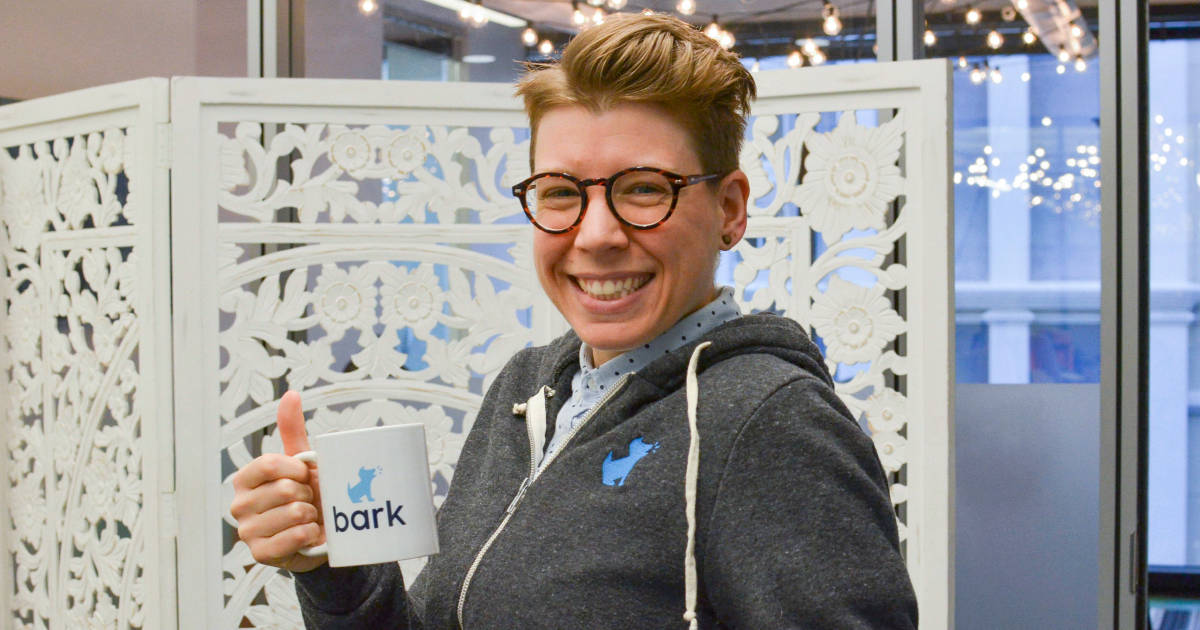 How does the CS team go above and beyond to help Bark families?
Leslie: We don't just stop helping at the Bark product — we are here to support parents in any way possible! That is something I am so proud of our team for doing. We genuinely think about potential solutions to problems that parents are facing and do our best to find the resources to help.
Kaden: I aim to leave every person I talk to with their question or problem fully resolved! I also aim to end every call/interaction with a delighted customer and leave them (hopefully!) smiling. To help ensure they stay engaged with us, we encourage callers to join Parenting in a Tech World, our Facebook group. If they're local to Atlanta, we'll invite them to one of our Parent Nights, too.
Jodie: As Bark's Online Community Manager, I've developed close online relationships and dialogues with several of our Parenting in a Tech World community members. I do whatever it takes to ensure our customer and member's needs are heard and being met. I am the connection between our community and our company. I can be reached within minutes with a PM or tag in our Facebook group, and respond as quickly as I can.
Paola: I ask to send them a delightful package during every call! This month it has included hot chocolate, a Bark mug, candy, and stickers in addition to a hand-written note. We're also sending out board games to encourage a friendly round of Pictionary for a family game night. Our Delights are one of the ways we make people know they're valued and part of the Bark family.
How do you cultivate ongoing empathy with families?
Leslie: I'm a mother of three beautiful children, and I value them above anything else in life. When my daughter was younger, she was the victim of grooming online that led to sexual assault. You cannot imagine the guilt I felt. But like many parents, I did not know what was happening until it was too late. I know firsthand the fear, worry, and helplessness that comes along with handing our children digital devices, and I will stop at nothing to try and help any family I connect with from experiencing that trauma.
Kaden: Whenever I am interacting with a Bark user, I always try to put myself in their shoes. Although I'm not a parent myself, I'm an uncle to over 10 nieces and nephews. Knowing the dangers that exist inside of the apps and platforms that children have access to today, I always think of my nieces and nephews and how they are trying to navigate through the same issues and concerns that our users' children are facing.
Jodie: For me, empathy comes pretty naturally. I'm a mom. I get it! I have two tweens in the throes of puberty and middle school myself. I also use Bark to help keep an eye on my own children. While I thought I had it all covered myself, Bark has given me an alert or two which has brought about some awkward family discussions and improvements to follow. I understand how they're feeling, because I've been there, too. I've also been the mom, praying to the Wi-Fi gods at 11:30 p.m or holding for a support call while cursing technology under my breath.
Paola: Honestly, that was my biggest concern at first when starting out. I am 24 years old and have no children, but I grew up in the same tech world, and I relate to the kids more than I do the parents. This is how I empathize, as someone who had been experiencing cyberbullying, FOMO, unsolicited sexual content, and mental health issues that played themselves out in texts and social media growing up. My mom didn't know the impact of the world out there at the time, and she gave me a lot of freedom. I had good grades and in their eyes was mature enough to be using the internet responsibly. But now I lament the loss of some key conversations and guidance I could have had if I had Bark around during that time.
________
When you sign up for Bark, you'll get the same level of customer service, too.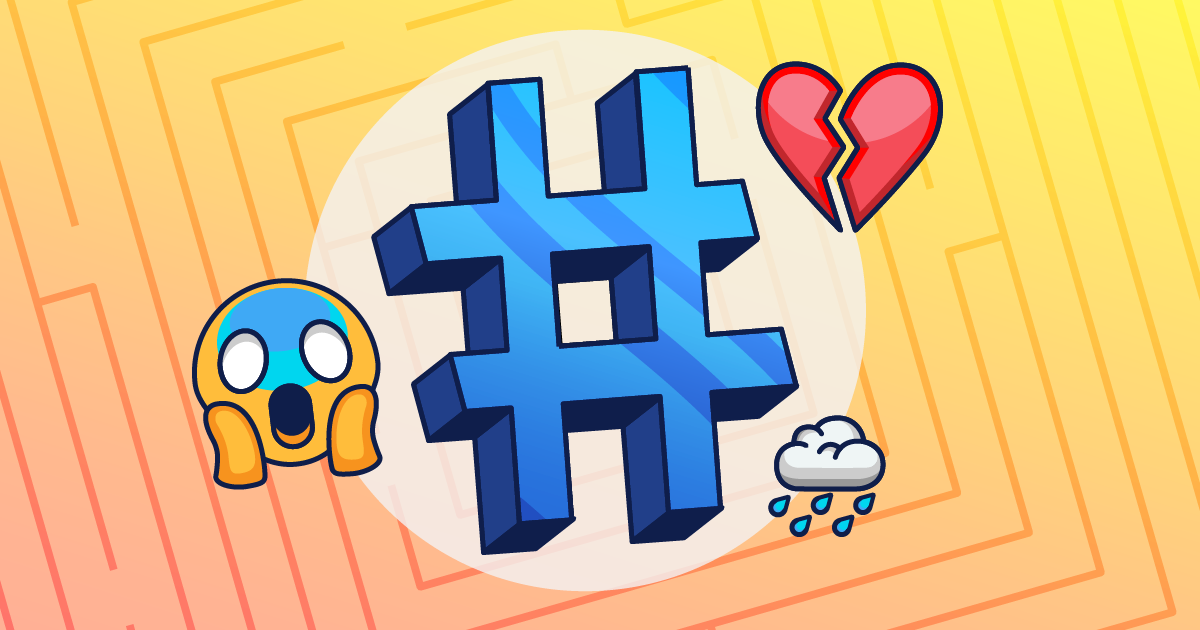 This is the third and final chapter in our deep dive into Instagram and the way kids use it today. Today, we'll be discussing hashtags, and how kids can't seem to get enough of them. If you're just joining us for this series, hello! Our past two posts provided in-depth insight into how kids today incorporate DMs and comments into their daily Instagramming habit.
Instagram and Kids: What Are Hashtags?
Simply put, they're tags you apply to photos to find them quickly and easily. The most basic example is searching for the hashtag "butterfly." Click on it, and then every photo of a butterfly that someone tagged #butterfly will appear in a feed. It's pretty nifty.
Hashtags are ways to also see multiple perspectives of a large event, like football games, sporting events, or conferences. You're probably familiar with wedding hashtags (#lukeandjengotmarried), which enables all of the photos different guests take to be grouped together into a sort of album on Instagram. Kids use them in much the same way for sports teams, clubs, class years, and schools.
Hashtags As Jokes
Sometimes people use them as parenthetical asides. For example, a caption may read "it's freezing outside #iwishitwassummerallready." The #iwishitwassummeralready expresses the true feeling (being unhappy with the weather), but in a way that isn't as direct. It can be read as jokey, but also still (kind of) true. When kids use these joking hashtags, they're not using them to recall other similar posts or join a conversation.
Hashtags As Insults
We've talked about how kids can drop biting, horrible comments on a child's Instagram posts. But did you know these comments often take the form of hashtags? Things like #yousuck #basic, and #getalife. Kids can also cyberbully by creating a specific hashtag (#jennaisweird) and spreading it around, encouraging others to use this hashtag when being mean online.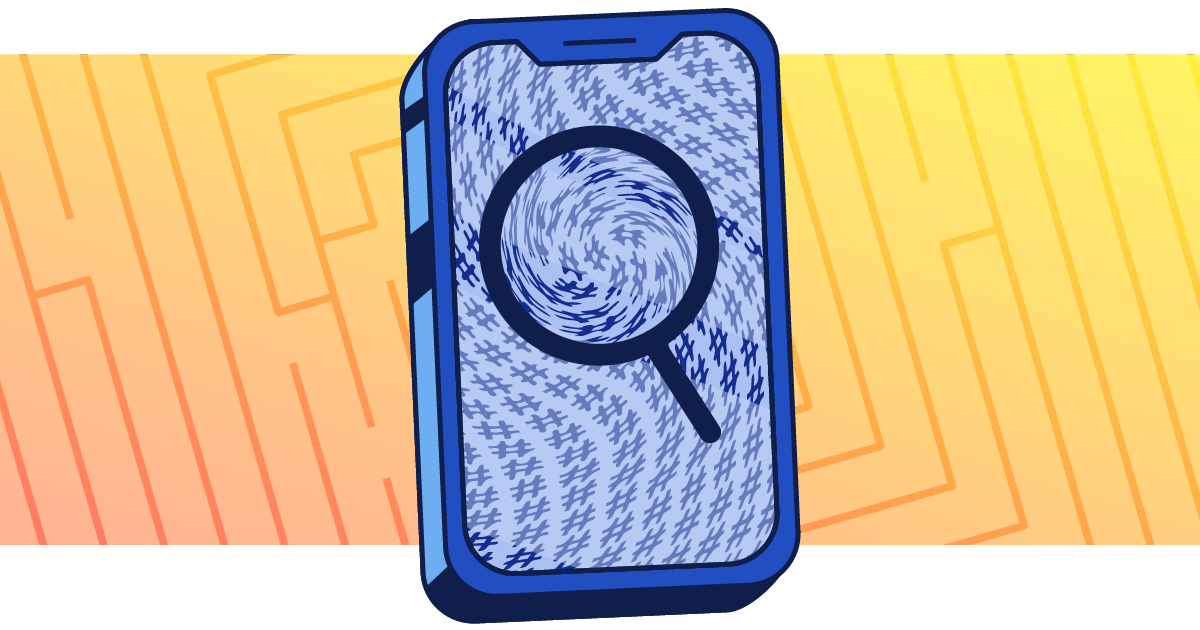 Accessing Inappropriate Hashtags
A common misconception is that if your child's Instagram is private, there's no need to worry. Nothing could be further from the truth, unfortunately. While their personal posts will be closed to the public at large, your child will have almost limitless access to everyone else's — the entire image database that is Instagram, all of it waiting to be searched. In addition to following inappropriate accounts/people, kids can find hashtags in a manner of seconds
Sometimes, even seemingly harmless or innocuous hashtags can bring up unexpectedly inappropriate posts. Let's say your tween is an avid baker, and hashtags her latest culinary creation with #buns. Turns out, that hashtag produces pictures of more than just carbs.
Instagram's Porn Problem
Technically, porn isn't allowed on Instagram, as per its Terms of Service. But that doesn't mean it's not on the platform. It is — and in abundance. While it's easy to report or flag this inappropriate content, it can take some time before it's taken down. And with millions of active users, the stream of new images can seem never-ending.
It's relatively easy to find adult content with a quick hashtag search. For any explicit term or body part (and you can imagine how many there are), there's a hashtag rabbit hole you can fall into with a matter of seconds.
Self-Harm Communities
While Instagram bans graphic and disturbing content, there are still discussions, memes, and images that can affect children. Using these hashtags, kids can also find other people searching for the same topic, and as we discussed in our previous post focusing on comments, it's here that they can strike up friendships and begin communicating.
Right now, when you search for images and posts tagged #selfharm and #anorexia, a pop-up appears. It reads "Can we help? Posts with words or tags you're searching for often encourage behavior that can cause harm and lead to death. If you're going through something difficult, we'd like to help." Users are then given the choice to proceed and see posts anyway, or they can click "Get Support," which takes them to an Instagram landing page that offers support, suggestions, and quick links to crisis hotlines and texting services.
Following Hashtags
On Instagram, you can identify a hashtag you'd like to see more often — let's say #cats — and follow it like you would another person. In your feed, you'll start seeing a few top posts each week. Those inappropriate hashtags we mentioned earlier? They could pepper into your child's feed, mixing in with friend updates and celebrity posts.
Bark can help parents know what's going on in their kid's Instagram account, and we alert you to potentially dangerous hashtags your child is using. Start your one-week trial today.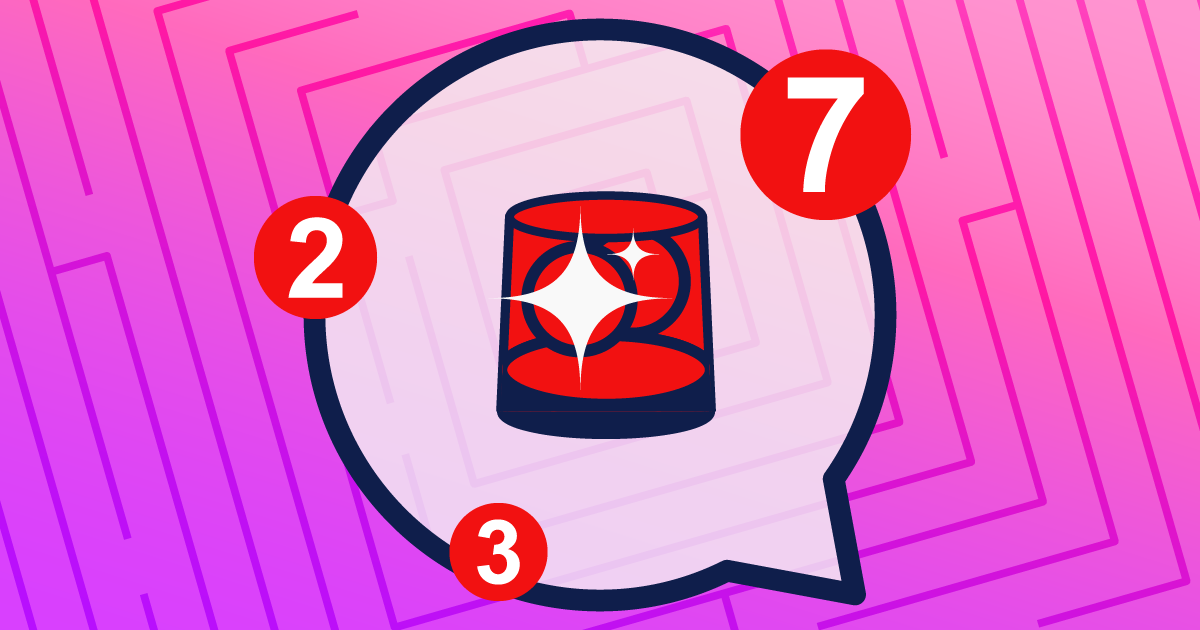 Learn about the latest Instagram updates here.
Welcome to the second post in our epic Instagram series! We'll be concentrating on the uses and dangers of Instagram comments on this popular social media app. If you didn't catch our previous post, welcome! We're aiming to give parents an in-depth look at the culture of Instagram so they can understand it — and their kids — better.
Instagram Comment Sections = Today's Message Boards
The comment sections of Instagram have become de facto public chat rooms, open forums where anyone can leave their opinion or point of view. This is also true, of course, of platforms like Facebook, Twitter, and YouTube. But these days, anytime you invite other users to comment publicly on something you're posting (whether your own comments or another's), it can become the Wild West. Because Instagram is the most popular social media platform for kids, comments left here are the most impactful.
Think about your own experience with social media: Fights can break out on even the simplest newspaper article. Now imagine the kind of drama that can erupt between adolescents with 24/7 access to phone cameras and Wi-Fi.
How Kids Hurt Each Other With Comments
Through both their personal accounts and those of others, kids may become targets of abuse, harassment, or cyberbullying on Instagram. We discussed in the last post how cyberbullying can take place privately in DMs, but it can also take place very publicly in the comments. These performative attacks are much like teasing in front of a group of kids in the schoolyard — except they can reach their entire digital network (school, city, and beyond!) — instantly.
Indeed, according to a recent article in The Atlantic, "Instagram is many teens' entire social infrastructure; at its most destructive, bullying someone on there is the digital equivalent of taping mean flyers all over someone's school, and her home, and her friends' homes."
In other cases, cyberbullies will "mention" (also known as tagging or "@ing"/"at-ing") a child in the comments of a post to draw their attention. Cyberbullies take advantage of this feature by tagging someone in the comments of something mean — a picture of a snake, for example — and say, "@coolguy 23, this looks like you."
At Bark, we've even seen examples of bullies leaving "kys" on a victim's Instagram: short for "kill yourself." There have even been documented cases of kids tragically being pushed to suicide on the platform because of unceasing harassment.
The Prevalence of Toxic Content
No matter what you're posting about, comments can pop up featuring racist, sexist, homophobic, or other types of toxic content. Even if a child's account is set to private, approved followers can leave whatever comments they wish — it may even come from friends! It's harmful when kids see these types of content on public accounts, but it's even more so when these types of comments are left on their own photos/videos.
Recently, Instagram has attempted to address the issue of cyberbullying in the comments with something called "nudging". Essentially, if a user types out a comment that contains harmful or abusive language, Instagram will "nudge" the user with a notification that reminds them to be respectful to others. It serves as an encouragement to think about what you post before you do so. Meta (Instagram's parent company) says that since rolling this feature out, they've seen about 50% of people change or delete their comment after viewing this reminder. This is certainly heading in the right direction, but remember your kid can still be exposed to hurtful comments since not everyone is guaranteed to change their words based on the nudge.
Comments That Can Lead to Dangerous Conversations
Kids can meet new friends with similar interests on Instagram, especially when they follow bands, celebrities, or meme accounts. A lot of these just become "Internet friends" who will never meet up in real life. But this can be a slippery slope. There have been tragic cases of online predators grooming children through relationships sparked in the comment sections of kid-focused videos.
Predators may or may not use Finstas and pose as a child around the same age, and then begin leaving flattering Instagram comments or asking questions. Once they're familiar enough, the conversation may lead to direct messages, texting, or even phone calls.
Bark can help parents know what's going on in their kid's Instagram account, and we can send alerts to potentially dangerous comments left on your child's account. for a free, one-week trial.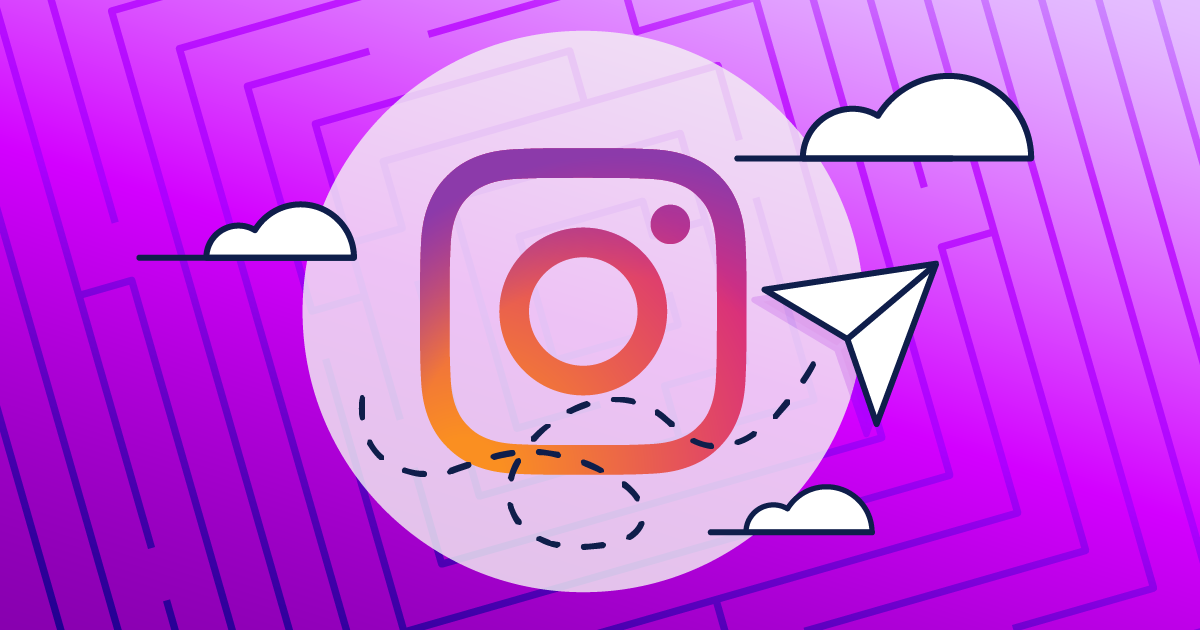 **This post was updated on June 15, 2020, to include the addition of new features on Instagram.**
While there's a wide assortment of how-to articles on the web — including ours! — that teach you how to set parental controls, we wanted to discuss in detail just how Instagram is used by kids today, as well as why. When parents can understand the app better, they'll be in a better place to understand their kids, too.
This is the first in an epic three-part series discussing the threats and realities of Instagram. What does DM mean? Or how about what does DMs mean? DM stands for "direct message." DMs would be the plural form "direct messages." In this post, we'll focus on the features (and dangers) of direct messages, or as your kids likely call them, "DMs."
"What does DM mean on Instagram? I thought this was a photo app!"
Instagram IS a photo-sharing app — but it's unique in that it's a social media platform disguised as a photo app. Instagram is the most popular social media for teens, with 72% of 13- to 17-year-olds using it. And though kids love to share photos on social media, they also love to talk. And on Instagram, most of this talking happens through DMs.
What is Messenger Rooms?
Messenger Rooms is an Instagram tool that lets you video chat with up to 50 other people. Users can invite their friends to join the call by sharing a link with them, and they'll be able to participate whether they have an Instagram account or not. If you're worried that your child's room might become overrun with uninvited guests, have them lock it as soon as their friends have joined the call. This will ensure that a stranger who somehow found the video chat link won't be able to participate.
Using DMs to chat
Chatting online, an activity popular the world over since the 90s, has usually occurred in two primary ways. The first is in an app whose primary purpose is communication. For our generation, think AIM, ICQ, MSN Messenger, and the like. For today's kids, it's WhatsApp, Kik, Snapchat, and iMessage.
The other way is through messaging features on social media platforms. Examples range from old-school Friendster and Myspace messaging to contemporary Facebook and Instagram messaging. It's a way for two users to connect privately, out of view from other users. For Instagram, the only chat feature is the DMs.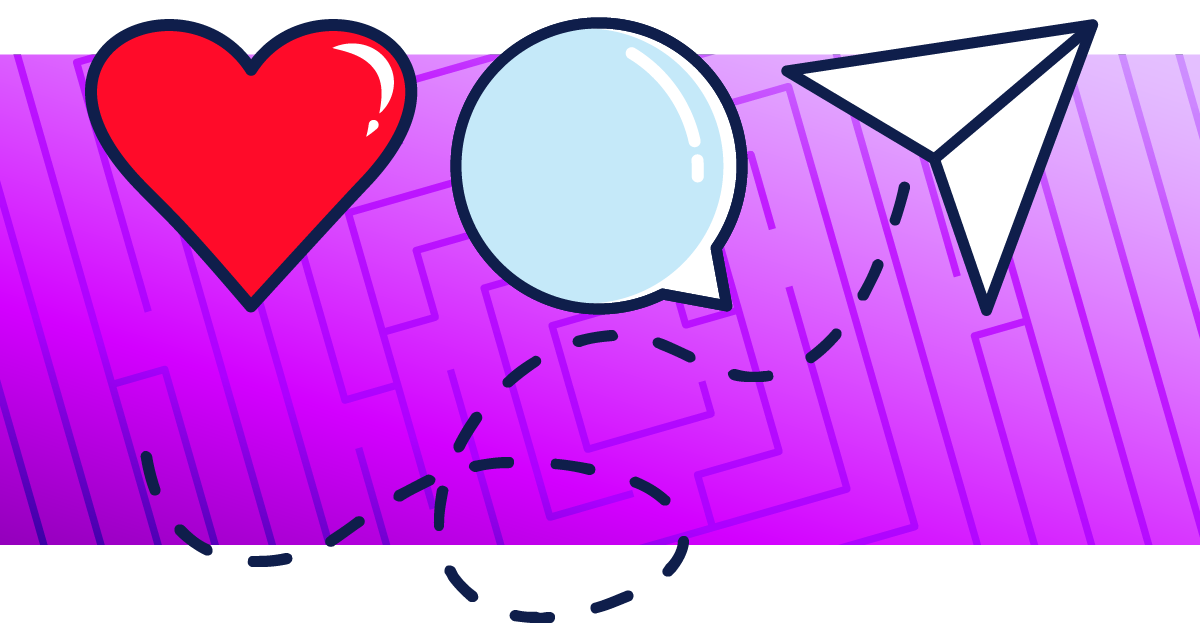 What Does DM Mean, Really? How DMs Made Instagram Into a Communication Platform
With so many kids using Instagram, and for so long throughout the day, it was only natural for chatting through DMs to become commonplace. You can even cultivate different group chats, places where friends can chat, joke, make plans, and share memes from across Instagram with each other.
And because it's Instagram, photos can be used as conversation starters, and there are as many reasons why young people post certain photos as there are emojis on your keyboard. Sharing a selfie? Maybe you're trying to impress your crush. Showcasing your vacation? Subtly telling friends that your family is wealthy. Posting a pic of two friends but not a third? You're mad and want her to know it. These are all specific reasons, of course. Many times, it's more general, like posting a selfie just to get the dopamine rush from those "heart" taps.
"Sliding into DMs"
This refers to when a person sends an unexpected private message (DM). Here, it's the private aspect that's important — the sender is making a point not to leave a public comment. It's often used in a romantic context, but it's used even more frequently as a meme to casually refer to making simple contact.

Instagram Stories and DMs
A few years back, Instagram debuted "Stories," a move directly inspired by the success of Snapchat. Stories let users post photos and videos that vanish after 24 hours. You can add filters, face animations, GIFs, and even background music to your stories.
Kids often post multiple stories a day, and when viewed together, can be seen as sort of a daily mini-documentary of their lives. These short "movies" can prompt discussion. When you view someone's story, there's always a chatbox in the bottom, inviting a comment. Should you respond with an emoji or text, the conversation automatically becomes a DM! It's almost as if Instagram wants kids to communicate on their platform.
Disappearing photos and DMs
Like with Snapchat, Instagram DMs can be used to send vanishing photos. While most kids use them to trade funny faces or memes, there is the potential for concerning activity like sharing nudes. Keep in mind, Instagram doesn't make any distinction between its adult users and minor users — if a grownup can do it, a child can do it, as well.
When DMs Become Dangerous
At Bark, we've seen instances of potential predators DMing kids on Instagram. This occurs on real accounts as well as Finstas — "fake Instagram" profiles where kids create separate personas that they keep hidden from parents. Also prevalent is cyberbullying, which occurs when bullies tease or harass a child through DMs. We've seen group DMs that purposefully exclude a child to disparage them, i.e., "Everyone in the Class But Sarah."
In December 2019, Instagram launched two new safety measures meant to better protect its younger users. Unfortunately, they're easy for kids to work around. The first change requires users to confirm they're at least 13 by entering in their birth date — but it's not hard for underage kids to enter an age that's older than they really are. The second change enables users to turn off direct messages from people they don't know, which is meant to prevent strangers from contacting kids. However, there's nothing to prevent kids from turning it back on once their parents leave the room.
Another way Instagram has attempted to address the issue of cyberbullying and harassment is with something called "nudging". Essentially, if a user types out a comment that contains harmful or abusive language, Instagram will "nudge" the user with a notification that reminds them to be respectful to others. It serves as an encouragement to think about what you post before you do so. Meta (Instagram's parent company) says that since rolling this feature out, they've seen about 50% of people change or delete their comment after viewing this reminder. This is certainly heading in the right direction, but remember your kid can still be exposed to hurtful comments since not everyone is guaranteed to change their words based on the nudge.
Part of the reason DMing on Instagram is so concerning is that many parents don't even realize it's happening. It doesn't matter if you make your child have a private profile — they can always chat with other people through direct messaging, and unless you know to look for it, it won't ever appear.
Now that you know what DM means, Bark can help you know what's happening in your kid's Instagram account. Our service monitors signs of serious issues like cyberbullying, online predators, self-harm, and adult content. Sign up today for a free, one-week trial, and you'll have access to important questions and answers like "what does DMs mean" and more.
As of today, the Bark for Kids app is no longer available in the Google Play Store. Google has changed its policies for all apps designed to monitor children's communications via text message. We don't agree with the decision — it leaves families with Android phones exposed to the very dangers they hoped our monitoring service would help them to detect. But we are nonetheless ready with a solution that will keep your monitoring service up and running.
Bark for Kids will remain every bit as functional as it's always been. We have simply created a new way for families new to Bark for Kids to download our app. It is extremely important for us to continue to monitor SMS/text messages, so we've ensured that those new families will not notice any difference in quality or coverage.
How Will This Affect Your Family?
Google's new policy is affecting
every app
that requests access to texting/SMS/ features, not just Bark. Here's how this new update will affect you:
If you're an Android user who already has Bark for Kids installed on your devices...
Google is only removing the option for brand-new families to download the Bark for Kids app from the Google Play Store. This will eventually affect how you update the app, however. We'll be sending out more information on how to do this soon.
If you're an Android user who has not yet installed the Bark for Kids app…
Instead of downloading the Bark app from the Google Play Store, you'll be downloading it for the first time from our website. We've created step-by-step instructions you can access here.
Bark is always committed to keeping your children safer both online and in real life. And as the technology world changes, we'll be putting the needs of your family first.
Although this is only a small change, we wanted to assure you that we're adapting with ease. If you have any questions at all, please reach out to our helpful support staff at help@bark.us.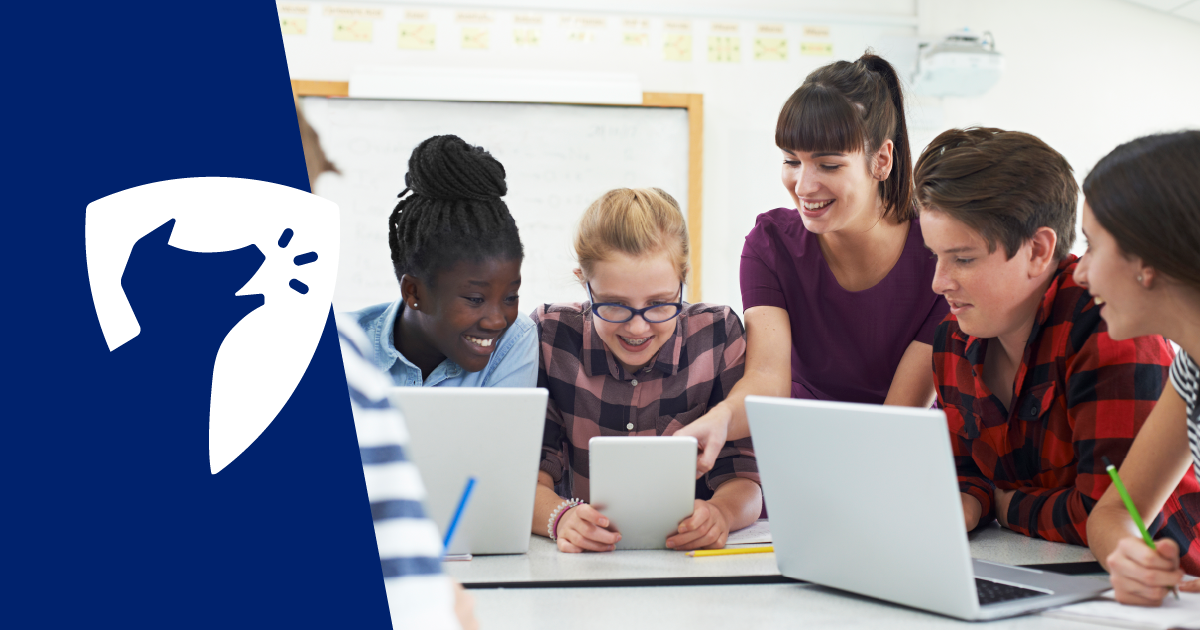 At Bark for Schools, we're always looking for ways to measure our impact. It's important for us to be able to show how to improve school safety for as many schools as possible, whether online, in real life, at home, or at school. That's why we're conducting a series of interviews with education professionals across the country to see how Bark has affected their school communities.
In this case study, we spoke with Dan Lauletta, IT Director of Plum Borough School District. He told us how Bark has helped his district confront the challenges facing students today.
About Plum Borough
Plum Borough School District is located in Plum, Pennsylvania. It has five schools and almost 4,000 students. The school community is made up of younger families with younger kids, so Lauletta is always thinking of how he can prepare students for growing up in the 21st century. He believes that digital technologies are amazing tools, but they come with some serious risks. "Security is the number one thing that every school district should be looking at, especially with technology, so that every student is safe."
Lauletta not only works for Plum but also lives in the district. He had been the director of technology in a different district for a few years, but by returning to Plum, he is able to give back to his community. He feels that Bark for Schools is helping him to accomplish this by keeping students safer on their school-issued accounts.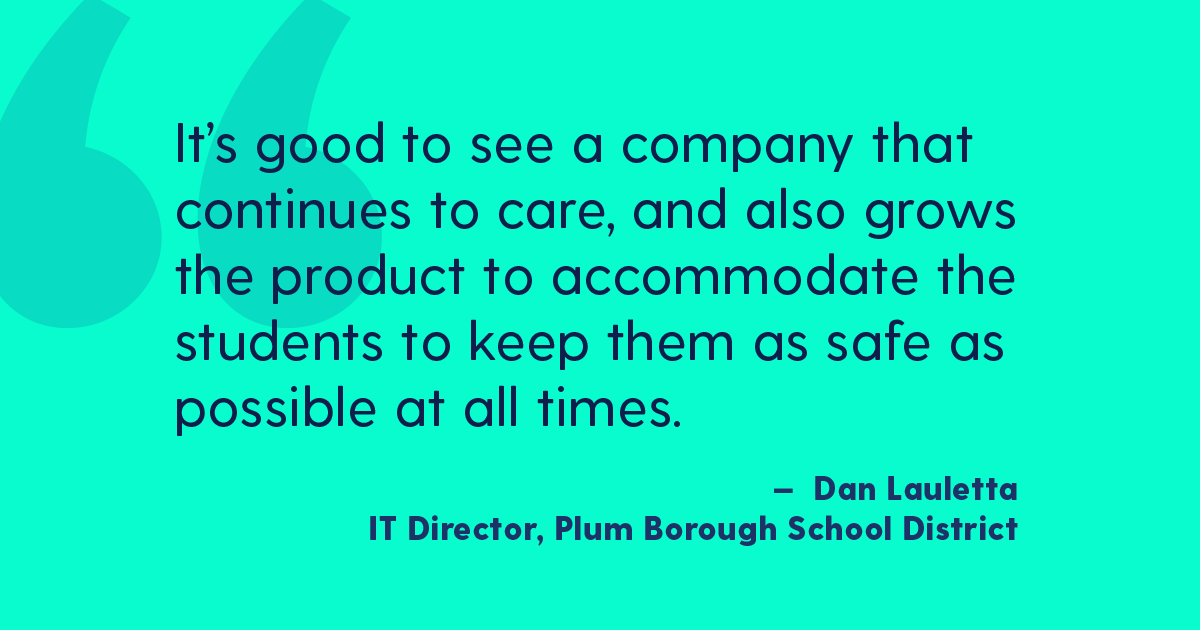 How To Improve School Safety: The Challenges Facing Students Today
Lauletta says that bullying is the most prevalent issue on his mind, and new technologies have only made matters worse. "When I was in school, we didn't have these devices to constantly nag and pick on each other," he said. "The bullying is beyond what I was used to when I was growing up." But Bark gives him an opportunity to talk to students about how to use digital technologies responsibly so they can grow into savvy digital citizens.
In particular, Bark for Schools alerted Plum Borough to a potentially life-threatening situation, and they were able to get that student help. When Lauletta tells this story to his students, they have a much greater understanding of why monitoring with Bark is essential. "I make sure that in the classroom, students are aware that we're using [Bark for Schools] to monitor them, and that if something harmful does come up it's addressed in an appropriate manner."
Incidents like these happen all across the country. Suicide is the second-most common cause of death for kids aged 12 - 19, and more than a million students from grades 9 - 12 attempt suicide every year. But perhaps the most gripping statistic is that four out of every five teens who attempt suicide leave clear warning signs.
The Impact of Bark for Schools
Everything from cyberbullying in group chats to suicide notes drafted in Google Docs is a threat that might go unnoticed by the school administration. Bark for Schools monitors school-issued G Suite and Office 365 accounts for signs of cyberbullying, sexting, suicidal ideation, and threats of violence to help protect students online and in real life. Our advanced technology adapts to the evolution of language to keep students as safe as possible. "It's good to see a company that continues to care," says Lauletta, "and also grows the product to accommodate the students to keep them as safe as possible at all times."
Bark for Schools was developed in the wake of the tragic shooting at Parkland, Florida, as a way to give back to school communities. With the technology for keeping kids safer on their devices already in place in our , we decided to extend our service to all K-12 public and private schools in the U.S. — at no cost to them. One year later, Bark for Schools had become the trusted partner of 1,000 school districts — with more than 80 joining every month.
Click here to download our case study of Plum Borough School District and learn more about how to improve school safety. Schools can learn more about how Bark for Schools can help keep their students safe, and parents . Sign up today!
**This post was updated on Nov. 20, 2020**
A new app is sweeping the social media landscape. It's become even more popular in the App Store than Snapchat and Facebook. TikTok (formerly Musical.ly) is a video-sharing platform that allows users to create, share, and react to short videos that play over a soundtrack. It's essentially a hub of home music videos. TikTok can be fun for everyone if it's used in the right spirit. But is Tik Tok safe for kids?
Not everyone uses the app how it was intended. Just like other social media platforms, TikTok is quickly becoming a hotbed of abuses ranging from cyberbullying to sexploitation that parents should Here we dive into the app's development and unpack what you need to know as a parent.
What is TikTok?
In 2014, an app called Musical.ly was introduced, which became a popular way for teens to share videos of themselves lip-syncing to their favorite songs. Three years later, Beijing-based company ByteDance acquired it. They then merged it with another app it owns — TikTok — consolidating their audiences to edge out competitors. TikTok is now a social force to be reckoned with, equipped with all-new features and spreading like a virus.
Each video lasts up to 60 seconds, and users can add a variety of filters and effects to enhance them. They also have the ability to send videos privately among friends or with the general public. Anyone can see public videos, even if they don't have an account. The app compiles the most popular videos into a feed serving as a highlight reel for the entire global platform. Needless to say, TikTok can lead to some unsettling online activity.
Is Tik Tok Safe for Kids? The Dangers of TikTok
Users can contact anyone in the world due to the public nature of the platform. Fortunately, you can block or report others for inappropriate messages, and TikTok has recently introduced some parental controls. But even if you set your own account (or your child's) to private, both of you may still be exposed to sexual or violent content posted to the public feed.
Cyberbullying is a major issue on TikTok. People can create multiple accounts, using aliases to target others they don't like. Trolling is popular, too — especially through the "Reactions" feature, which allows users to respond to videos with videos of their own. At its core, TikTok encourages expression through music, but sometimes people express things that are highly personal or sensitive. Kids who admit to depression are often met with dismissive and sarcastic reactions. Some are even publicly encouraged to kill themselves.
TikTok also has a "Duets" feature, which has been exploited by sexual predators who use the platform to groom underage users. One user in particular, TheBudday, is notorious for performing suggestive duets with underage girls, sending them inappropriate reaction videos, and even attempting to meet up in real life.
Parental Controls
Fortunately, as of Nov. 17, 2020, there are several ways parents can help protect their kids as they use TikTok, including:
Setting your child's profile to private

Turning off the search tool

Limiting comments on your kid's videos

Restricting duets

Enabling comment restrictions

Turning off the ability for other users to see your child's "likes"

Enabling content restricts with Restricted Mode

Setting a daily time limit

Limiting who kids can direct message (DMs are unavailable for children under 16)
Parents can also implement these features using a password-based system through their child's account or with Family Pairing mode, which directly links a child's account to a parent's account. This mode enables parents to manage a kid's journey through TikTok as they grow and mature, allowing parents to customize their safety settings based on individual needs.
Keep in mind, however, that these safeguards will only work on accounts that you know about. If your child has a second TikTok account, they could use the app without any restrictions. In addition to monitoring TikTok on Android and Kindle Fire devices, Bark can help by alerting parents to new apps their kids download.
Major Fines for Privacy Violations
In February 2019, the FTC fined TikTok $5.7 million for violating the Children's Online Privacy Protection Act (COPPA). This is the largest civil penalty in a children's privacy case in history. The law requires companies to obtain parental consent to collect the data of kids under 13, and TikTok did not do so. They also failed to notify parents of exactly how they collected children's data or allow them to ask to have that data deleted.
Thousands of parents complained, and in response, TikTok has launched a new product designed specifically for kids under 13. All users will have to confirm their ages, and those under 13 will be directed to the app for kids. TikTok is also offering a tutorial series on privacy and security on the platform. Although these are welcome updates, this case ultimately serves as a reminder for parents to stay on their guard against data abuses.
So is Tik Tok safe for kids? On its merits, TikTok is a great way for teens to keep in touch online. But that doesn't mean the app will always be a safe place to socialize.