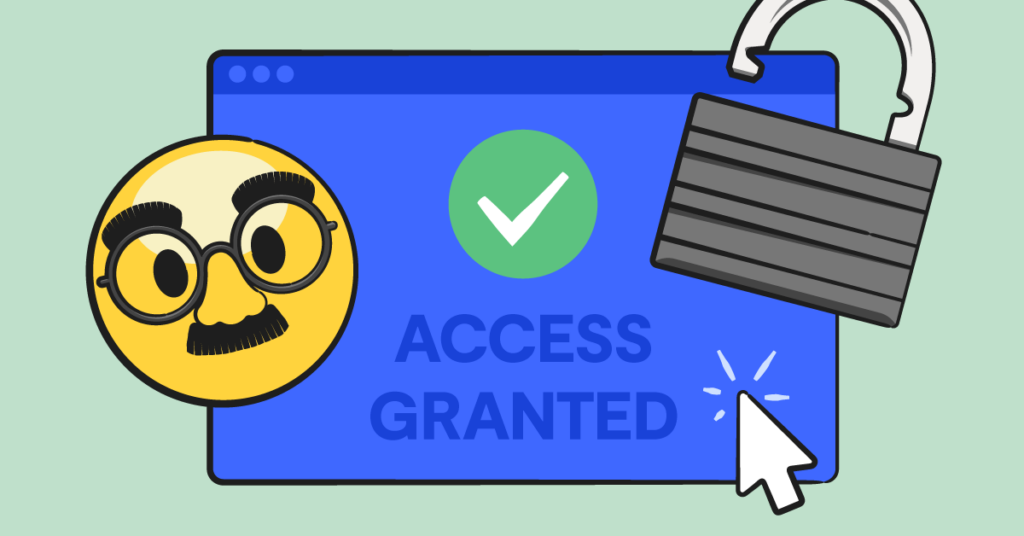 **This blog post was updated on September 15, 2022.**
What is a VPN? To answer that, first we have to ask a few other questions. What if your kids found a way to get around all of your parental controls? What if they could fake their location so that you didn't know where they were? We hate to break it to you, but now they can. As technology evolves, so do the ways that kids try to get around its protections. One big way that's becoming popular is to use a VPN. "Don't worry — in this post, we'll break down everything you need to know about VPNs.
What is a VPN and How Does It Work?
VPN stands for virtual private network. People use VPNs to mask their IP addresses. This makes it look like they're in a different location, which makes it harder for other users to uncover their identity. It also encrypts all incoming and outgoing data so that it can't be read by anyone else — especially people who want to exploit it for personal gain.
The original purpose of a VPN was to allow remote workers to safely connect to a corporate network when they couldn't trust the networks between their home and their office. There are some very specific security purposes that VPNs address in a corporate setting, but for casual users, the encryption that VPN offers is really no better than what most people already enjoy every day without it.
If a site's address starts with "https," which is the standard for almost every website today, your data is encrypted just as securely as it would be if you used a VPN. Additionally, most browsers will have a pop-up message that warns you if you're about to enter an unsecured site.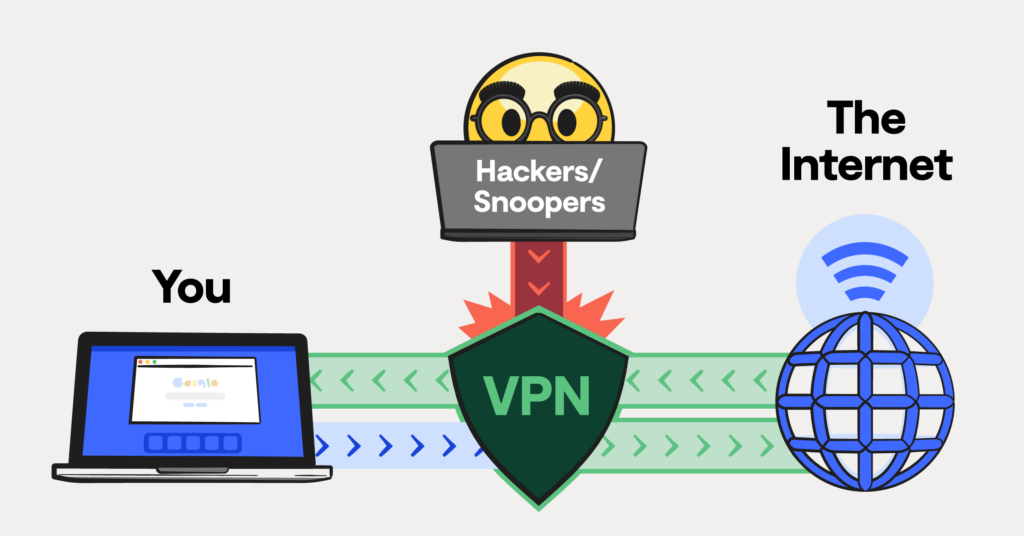 Why Should I Care If My Child Uses a VPN?
Parental controls that are used to block or restrict content, websites, and apps that deny access are based on the IP address of the user. When accessing the internet through a VPN, your filters see a different IP address so it isn't able to apply the rules. This means that your child can use a VPN to easily bypass the settings you've put in place to keep them from accessing restricted content or platforms. Similarly, students can get around their school's internet restrictions, accessing blocked websites that have inappropriate content or that chew up the entire network's bandwidth. What is a VPN compared to a proxy URL? In general, the two operate similarly but VPNs are usually downloadable applications.
How to Find Out If Your Kid Is Using One
There are a few ways:
Use the phone's search tool and type in "VPN." This will identify whether any apps that provide a VPN are downloaded onto their device.

Most phones will display either "VPN," an icon, or a notification showing that a VPN is in use. (However, children who are savvy enough to use a VPN will likely not have it on at all times, so it's a good idea to spot-check the device when it's in use.)

Parents can use

Bark's dashboard

to see what apps their child has downloaded on their device.
How Can I Prevent My Child From Using a VPN?
If your child already has a VPN installed, delete it or block it.
To prevent your child from downloading a VPN app:
What Does Bark Use One?
The Bark app relies on a VPN to bypass limitations in the iOS operating system. It's what lets us manage screen time and filter websites on your child's device. It's important to remember that there's nothing inherently wrong with VPNs. They can be causes of concern simply because many kids download them to get around the network restrictions their parents or schools put in place. Used in this way, VPNs essentially hide their tracks so no one can see what they're doing. Bark, on the other hand, uses a VPN to help you keep your kid safe online.
Help Protect Your Child Online
Now that you have the answers to "what is a VPN" and "how does a VPN work", your knowledge can help you protect your kids both online and in real life. As parents, we set rules and expectations for how to use technology that we feel are in our kids' best interest. If using a VPN makes it harder for you to keep your kids better protected, you can make a technology contract with them to prohibit them from using one — in addition to any other rules that are appropriate for your family. You can also monitor their online activities with Bark to get alerts to potential issues like cyberbullying, sexting, suicidal ideation, threats of violence, and more. for a free, one-week trial!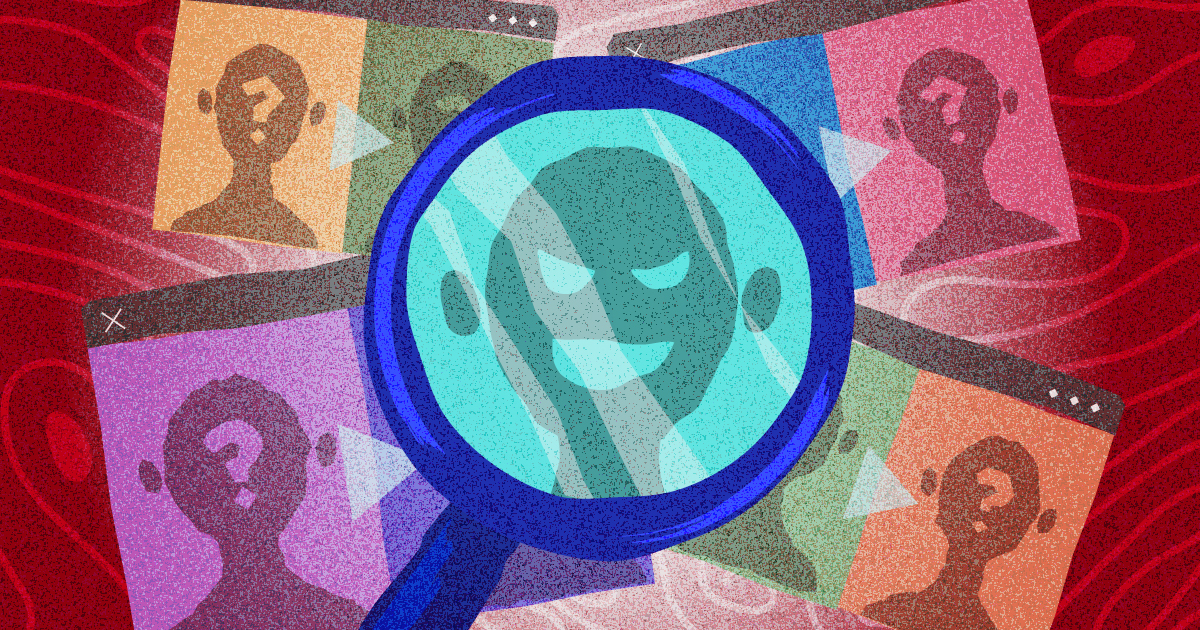 **This blog post was updated on April 28, 2021**
If you haven't heard of "deepfakes" yet, you probably will soon (along with nude fakes, fake porn, and other disturbing uses of the technology).
This new development in artificial intelligence uses deep learning techniques to create fake, computer-generated images and videos of real people. It goes far beyond airbrushing, photoshopping, or traditional video editing software. By using real subjects, deep fakes can simulate real human movement and facial expressions. The technology is getting better every day, and it's already to the point where it can be hard to tell the difference between an authentic video and a deep fake.
There are some good ways to use deep fakes — like creating digital voices for people who can't speak and updating film footage when actors mess up their lines. But there are also some incredibly worrying trends that this technology makes possible. Deep fakes allow people to make videos that can ruin your reputation, spread lies and misinformation, and even make you the subject of pornographic material.
Deep fakes are still pretty new, but they're already good enough to do real damage. Parents need to understand how this technology works — and how it can be abused — so they can talk to their kids and help them make responsible decisions about how they use the internet.
The Era of Fake Porn (or "Nude Fakes")
Deep fakes can be used to create porn in several ways. In their earliest form, they were made by superimposing the faces of celebrities onto the bodies of porn actresses so that they looked like real scenes. All they needed to make it convincing is their pictures and videos, which were readily available online. This quickly evolved into using people who the creators know in real life, including neighbors, co-workers, classmates — or even children. This means that everyone is now at risk of being shamed, harassed, humiliated, intimidated, or exploited with faked sexual content that anyone can threaten to publish.
The problem doesn't end here — even our most modest photographs can be used to create deep fakes. In June 2019, a free app called DeepNudes was released for Windows and Linux. It's essentially the reverse of the original deep fake process. Users could upload people's photos into the app, and the A.I. creates a believable nude by replacing their bodies with pornography that already exists. Fortunately, the app was taken down within hours of going live. But the technology is already out there, and deep-faked porn isn't going anywhere.
Whether or not your child should be watching porn is a conversation worth having on its own, but deep fakes introduce a completely different set of ethical dilemmas. It's clearly wrong to make porn using unwilling or unwitting participants. Furthermore, the law is lagging far behind the technology behind nude fakes. Legal issues around sexting, consent, privacy, publicity, defamation, copyright, and identity theft are all tangled up, and they won't be worked out any time soon.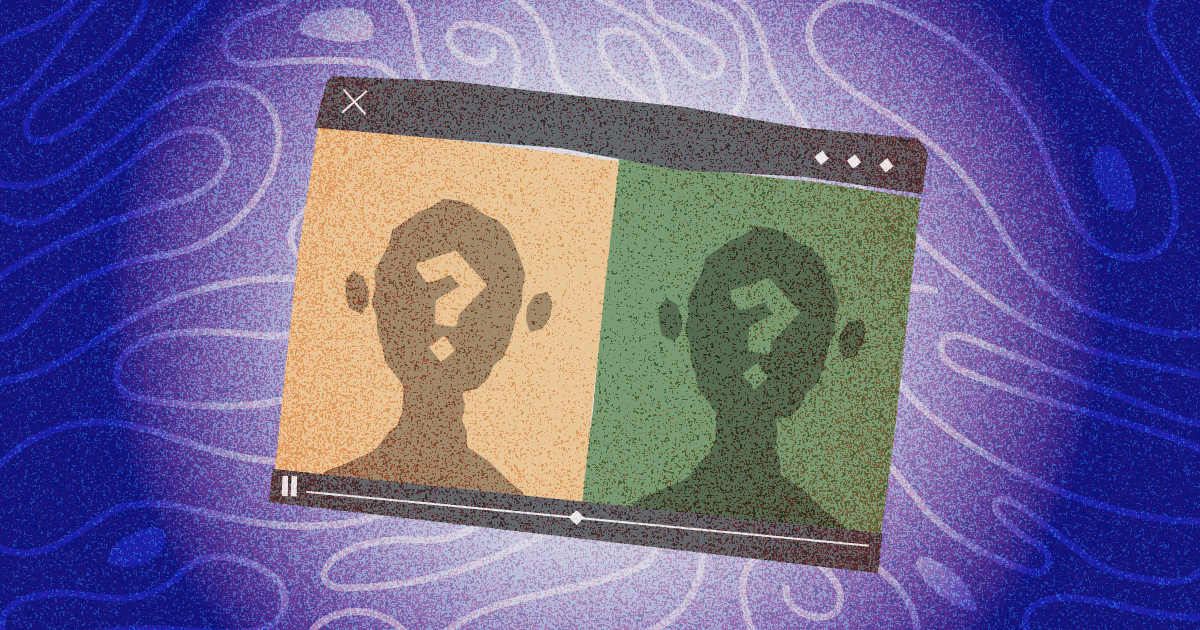 Fake News on Steroids
"Fake News" was so rampant during the last presidential election that it was named 2017's Word of the Year. The phrase was mostly used to cast doubt on a particular news story, especially by those who didn't like it. But that was all about second-hand reportage — anchors and articles summarized events and used quotes and videos to back up their claims. But as we approach another major election, there's a whole new realm of fake news to watch for.
For decades, video has been the benchmark of authenticity on news. With deep fakes, we can now manipulate them to make it look like someone is saying or doing something that they aren't. These videos can put politicians "on the record" saying terrible or idiotic things, wreaking havoc on their careers and the issues they champion. They can also spread misinformation, contributing to a chaotic political climate and making it even harder to agree on a single reality.
Even adults can struggle with media literacy, so it should come as no surprise that kids are at high risk of taking fake news at face value. As deep fakes become more and more realistic, it's important to help tweens and teens develop the skills they need to become savvy digital citizens.
Deep Fakes Are a Real Problem
There are countless reasons to celebrate technology. But at it progresses, it will continue to challenge us. Deep learning techniques have made undeniable contributions to society, and yet it also enables bad actors to do real harm to real people. It's up to all of us to do everything we can to learn about issues like this so we can help the next generation navigate the ever-evolving digital landscape.
Teaching media literacy is an excellent place to start, and so is digital citizenship. But even the savviest kids can get over their heads online. Bark can detect sexual content like nude fakes — as well as cyberbullying, depression, sexual predators, threats of violence, and more — in texts, chat, email, YouTube, and more than 24 social media platforms. for a free, one-week trial to get alerts for potential issues!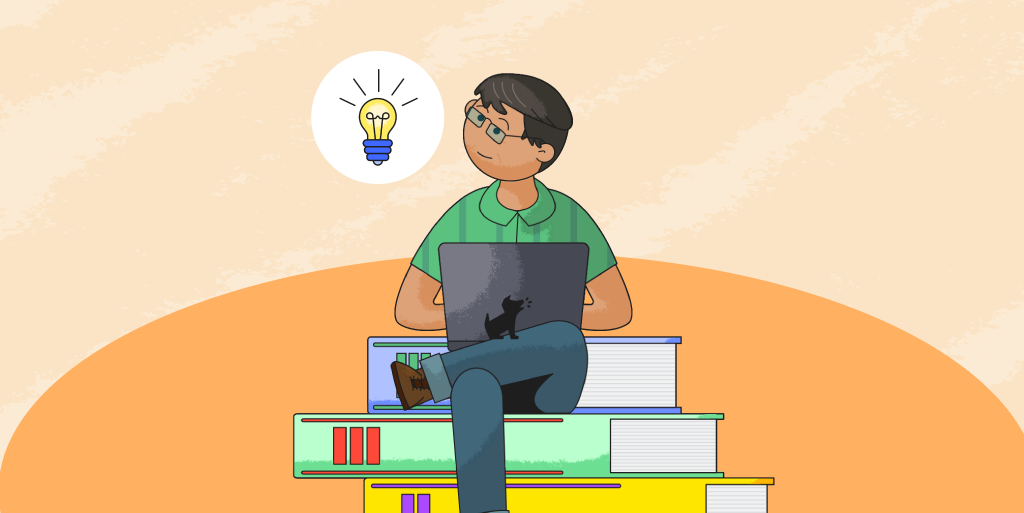 Planning a community event at your school about online issues and need school event resources to help make that happen? We've got you covered! Bark has pulled together some great organizations that offer educator and student education programs, parent workshops and speakers for community-wide events – all with a focus on educating everyone on the issues that today's children face at school and online.
And if you haven't done so yet, consider joining Bark's Paid Nonprofit Affiliate Program and earn 25% revenue share from all family memberships that sign up through your outreach efforts. We've got a great program to support your success and earn funding from Bark!
Would your organization like to be included on our School Event Resources page? Please contact us at education@bark.us to discuss!
The National School Safety Center serves as an advocate for safe, secure and peaceful schools worldwide and as a catalyst for the prevention of school crime and violence. NSSC provides school communities and their school safety partners with quality information, resources, consultation, and training services. The National School Safety Center identifies and promotes strategies, promising practices and programs that support safe schools for all students as part of the total academic mission. The National School Safety Center provides a variety of services including school safety site assessments, school safety leadership training, keynote presentations, and technical assistance.
Their comprehensive Curriculum is designed to empower students to think critically, behave safely, and participate responsibly in our digital world. From lesson plans, videos, student interactives, and assessments, to professional learning and family outreach materials, their turnkey Curriculum provides schools with everything they need to take a whole-community approach to digital citizenship.
The Family Online Safety Institute is an international, non-profit organization which works to make the online world safer for kids and their families. FOSI convenes leaders in industry, government and the non-profit sectors to collaborate and innovate new solutions and policies in the field of online safety. Through research, resources, events and special projects, FOSI promotes a culture of responsibility online and encourages a sense of digital citizenship for all.
Rachel's Challenge programs provide a sustainable, evidence-based framework for positive climate and culture in our schools. Fully implemented, partner schools achieve statistically significant gains in community engagement, faculty/student relationships, leadership potential, and school climate; along with reductions in bullying, alcohol, tobacco and other drug use. Today, Rachel's Challenge exists to inspire and equip every person to create a permanent positive change not only in themselves, but in their schools, their businesses and communities. They have a comprehensive set of age-appropriate programs for K-12, college and business.
The vision of the Megan Meier Foundation is to live in a world where bullying and cyberbullying no longer exist. They believe that through empowering our society to celebrate individuality and the acceptance of others, that we can work together to make a difference and create a safer and kinder world.
The Megan Meier Foundation offers elementary, middle school and high school presentations around the topics of bullying and suicide, along with student leadership programs, parent and community presentations and education for teachers and other professionals.
The Stand For The Silent (SFTS) program addresses the issue of school bullying with an engaging, factual, and emotional methodology. With the help of student leaders, Kirk Smalley presents his inspirational story, and students are shown first-hand the life and death consequences of bullying. Through this unique approach, lives are changed for the better. Students, some for the first time, develop an empathetic awareness through education and understanding.
Community Matters (student, parent, educator programs)
Community Matters is recognized as an innovative and thought-leading organization committed to improving the social-emotional climate of our nation's schools and communities. Founded in 1996, Community Matters (CM) has evolved from its earliest focus on youth development and bullying prevention to become a widely respected consulting, training and presenting organization. CM provides programs and services for educational, youth-serving and governmental entities.
Educators are in a critical but limited role to listen to vulnerable youth, observe warning signs for suicide, and refer or connect students to resources. SPTS is here to help educators understand this role with an acclaimed online training program that is self-paced, comprehensive—and offered free of charge!
Using examples from kids' and teens' favorite TV, comics and film, Pop Culture Hero Coalition is developing thirty lesson plans under seven themes, including implicit bias, targets, becoming allies, empathy building, self-compassion, identity, resiliency, and restorative justice.
soul shoppe (student, educator and parent programs)
Soul Shoppe supports school communities by providing interactive programs and tools that teach students powerful life skills. In addition to working with students, they also support staff and parents by creating and facilitating dynamic development trainings that give the necessary tools to implement academic and personal growth. They create learning environments that bring forth a culture of compassion, connection and curiosity, eliminating bullying at the roots!
Kind Campaign (film and school assemblies)
Kind Campaign is an internationally recognized nonprofit organization that brings awareness and healing to the negative and lasting effects of girl-against-girl bullying through their global movement, documentary film, in-school assemblies and educational curriculums.
In SCREENAGERS, as with her award-winning documentaries on mental health, Delaney Ruston takes a deeply personal approach as she probes into the vulnerable corners of family life, including her own, to explore struggles over social media, video games, academics and internet addiction. Through poignant, and unexpectedly funny stories, along with surprising insights from authors, psychologists, and brain scientists, SCREENAGERS reveals how tech time impacts kids' development and offers solutions on how adults can empower kids to best navigate the digital world and find balance.
BULLY is a beautifully cinematic, character-driven documentary. At its heart are those with huge stakes in this issue whose stories each represent a different facet of America's bullying crisis. Filmed over the course of the 2009/2010 school year, BULLY opens a window onto the pained and often endangered lives of bullied kids, revealing a problem that transcends geographic, racial, ethnic and economic borders. It documents the responses of teachers and administrators to aggressive behaviors that defy "kids will be kids" clichés, and it captures a growing movement among parents and youths to change how bullying is handled in schools, in communities and in society as a whole.
Parents play a vital role in supporting their kids, promoting upstander rather than bystander behavior, and teaching and modeling empathy in the home.
The Savvy Cyber Kids Cyber Ethics Programs gives children the "modern street smarts" that are required for digital safety – engaging with them on what they are experiencing and empowering them to be safe by making appropriate decisions in the online world. The Savvy Cyber Kids Cyber Ethics Programs offers schools and communities a multi-age platform of customizable and interactive engagements that speak directly to younger children, pre-teens, teenagers, parents and educators.
Team Bullied (student education programs)
Team Bullied is a community for all those who want to make a difference in the problem of bullying. The community brings together the expertise of leading authorities and the candid stories of people dealing firsthand with peer victimization.
The Be Kind People Project is a non-profit dedicated to providing students with comprehensive youth development programming that effectively uses a positive approach to social, emotional, and academic learning.
Through experience and project-based learning, students are equipped with solid framework for decision-making and taking accountability for building respectful interpersonal relationship skills, improving academic results, and forming enduring values.
Born This Way Foundation was launched in 2012 by Lady Gaga and her mother, Cynthia Germanotta. The foundation has dedicated the past two years to researching, learning and developing programs to support our original mission; connecting young people in safe ways and empowering them with the skills and opportunities that will inspire them to create a kinder and braver world.
Creating a positive school climate is an issue all education practitioners are facing. They believe we can't tackle this subject alone. They work to connect schools, teachers, and students with initiatives that can offer tactics, programs or support to make schools a positive climate for all students.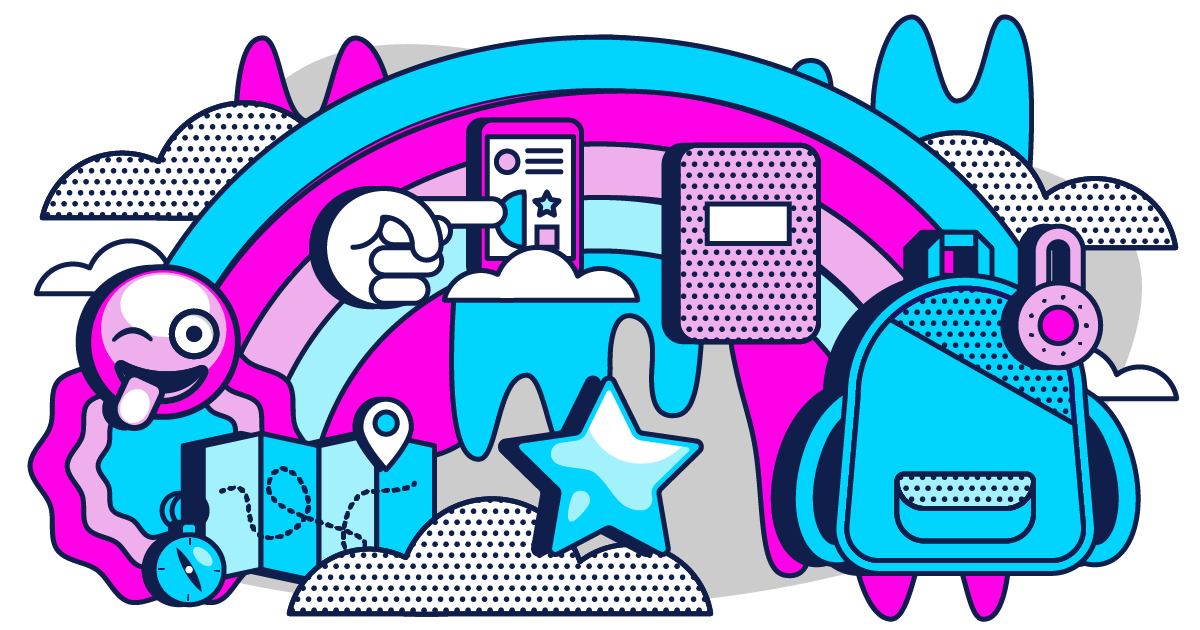 Middle school can be the hardest part of growing up. Bodies change, hormones rage, and boundaries begin to be tested as kids transform into teenagers. It's also a crucial time for development in a child's life, and there are many opportunities for important discussions that will help shape them into well-rounded and socially-conscious adults.
To help you and your middle schooler get through these challenging years, we created this handy parent's guide on how to survive middle school that will give you a little bit of perspective, help you understand them better, and provide you with strategies for helping them thrive.
Tips On How to Survive Middle School (As a Parent)
1. Middle Schoolers Are Inconsistent
Because their prefrontal cortex isn't fully developed yet, your tween or teen will rely on their amygdala to make decisions. This "fight or flight" part of the brain can lead your middle schooler to make impulsive choices to reward the pleasure-seeking areas of the brain. Talking with your child about what changes their body is going through can help them understand why they are getting acne, acting reckless, and experiencing emotional outbursts. Having these discussions earlier, rather than later, will make it easier for you both to step back during a disagreement and understand why you may not be seeing eye to eye.
"Middle schoolers are a jumble of contradictions and inconsistencies. They can be sullen at home but delightful with teachers. They can be risk-takers on the athletic field but cautious in class. The same kid who asks you to read to them on Monday might ask you to get out of their life (and their room) on Tuesday." — Phyllis L. Fagell, LCP
2. They Want to Feel Seen and Heard
Middle schoolers are really just starting to understand their place in the world. And while they don't know who they are just yet, it's not your job to tell them — but rather to support them — as they figure it out along the way.
As adults, it can be easy for us not to take our kids seriously or assume that our way is the only way. But this can be extremely frustrating for kids. The greatest way to show your child that you respect their opinions, dreams, and fears is by simply listening. Fight the urge to insert your own advice. Being patient now will make them more likely to come to you in the future when they want to talk through more serious topics.
"Help your child find their passion as soon as possible. Then give them a goal that lines up with that passion. Put a date on the calendar for that goal. When you are working towards something together then you are less likely to fight with each other." — Matt McKee, Bark VP of Business Development, Dad of 2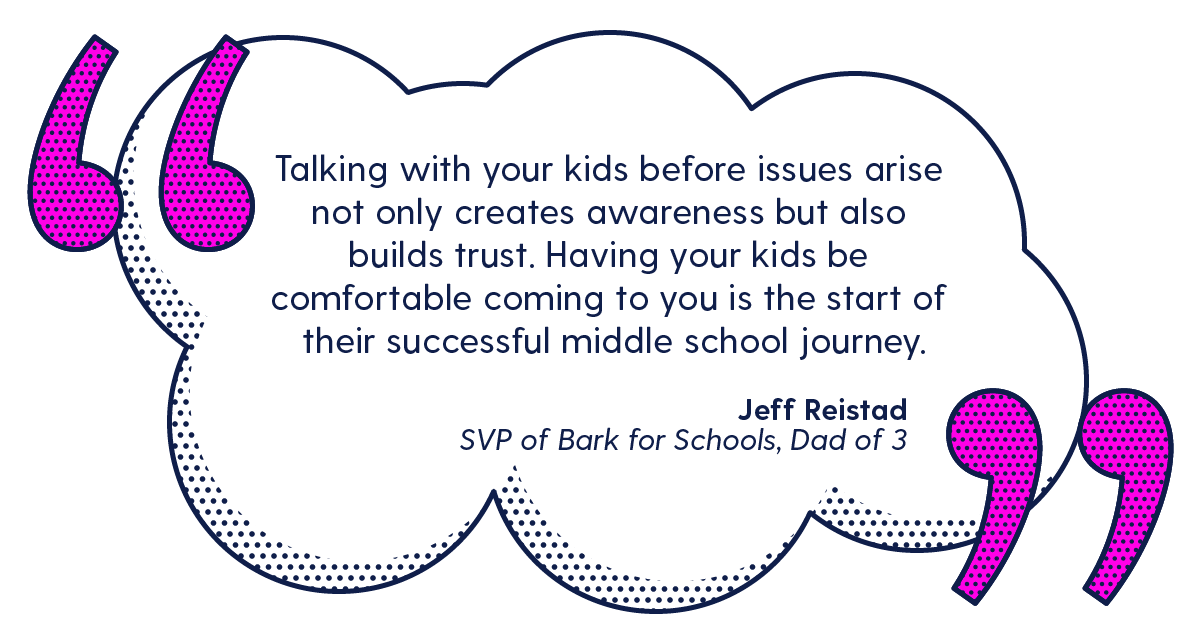 3. Be Realistic About What They'll Encounter
Technology is a powerful tool, but it doesn't come without its own set of dangers. These days, middle school is a popular time for children to receive their first smartphone or laptop, which is why it's an important time to talk about issues like cyberbullying, sexting, and online predators. Although these topics can be difficult to discuss, they'll help your child identify when problems arise and come to you for help.
"Talking with your kids before issues arise not only creates awareness but also builds trust. Having your kids be comfortable coming to you is the start of their successful middle school journey." — Jeff Reistad, SVP of Bark for Schools, Dad of 3
It's also important to help your child understand that what they send, share, and post online can ruin their reputation in a matter of moments. Distasteful online activities are permanent, and even if they delete them from their personal pages, anyone who sees the posts can preserve them with screenshots.
4. FOMO is Real
While FOMO (Fear Of Missing Out) typically refers to not being able to participate in a certain activity, it can take many different shapes and forms — especially in middle school. Whether it's not having the trendiest wardrobe or being the only one who still doesn't have a cell phone, middle schoolers can feel alienated and left out when they are unable to conform to what their peers are doing.
These feelings are amplified when you consider how connected the world is — kids especially are posting everything they do online. Seeing that friends from school are all hanging out when they didn't get an invite, or not getting as many "likes" as their friends, can be a hard pill to swallow as a middle schooler. However, experiencing FOMO is a great opportunity to explain to your child that it's just a fact of life that they won't be able to participate in everything their friends are doing and that their reputation is not dependent on the number of followers they have on Instagram.
"Generally speaking, parents may often suspect the measurable mass of any middle school FOMO is inversely proportional to the lack of insignificance triggering it. That is, the more unremarkable the minutia of a moment, the more it seemingly matters to middle school students. That trip they missed to the lake with Aunt Becky? "Sure, that would have been fun (I guess)." But not going to the mall with Sam? On a Saturday? "IT WAS THE EVENT OF THE SEASON! MY LIFE IS RUINED." — Whit Honea, Data Annotation Team Lead, Dad of 2
5. They Are Going to Test Boundaries
As your middle schooler starts to gain a sense of independence, they will begin to feel out just how much freedom they actually have. In today's digital world, that usually means pushing the envelope using their smartphones and social media. And when they decide to start testing their online boundaries, Bark can help.
Bark uses advanced algorithms to detect signs of digital dangers children face online, such as cyberbullying, sexting, and signs of depression, and suicidal thoughts. Bark also offers screen time management and web filtering features that give parents and guardians an additional digital safety net for their kids.
"This app was recommended by the school and it couldn't have come at a better time. My son recently lost his phone privileges and wanted to earn them back, but I was apprehensive. I downloaded Bark and we were able to have a dialogue about what was to be expected. In the first few days, we did have some hiccups — the app alerted me to a few web searches, subjects, and DMs in Snapchat and Instagram that needed to be addressed immediately. I love how easy Bark is to use! It's also affordable and gives me a little peace of mind while still allowing them to maintain their personal space." — Bark Mom
Helping Keep Middle School Kids Safe
Middle school has always been hard, but today's generation has to deal with technology we couldn't even dream of when we were kids. If you need advice or support on how to survive middle school, join our community of over 37,000 parents going through similar situations in Parenting in a Tech World.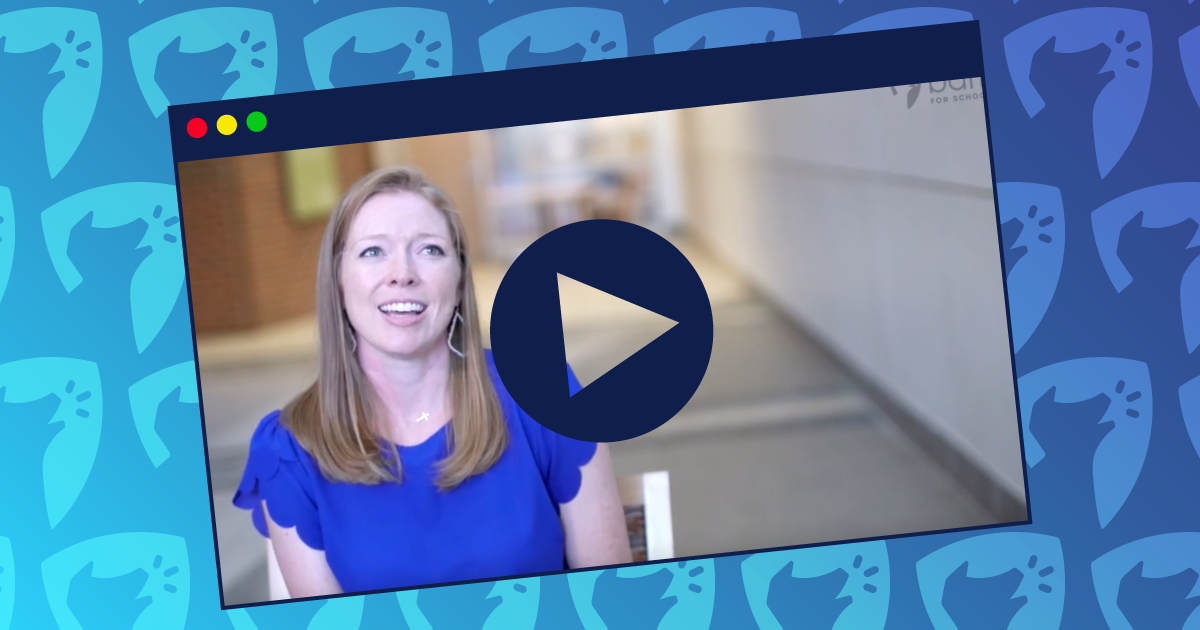 Our mission at Bark for Schools is to help keep K-12 students across the country safe online and in real life, but we know that it takes more than just schools to make this happen. Our free Parent Portal — formerly known as the Family Alerts Dashboard — empowers parents to partner with their child's school to receive alerts after classes let out, on weekends, and over holiday breaks so that alerts are less likely to fall through the cracks. "The Parent Portal is the bridge that helps ensure kids are protected around the clock when it comes to online safety at school," said Bark for Schools SVP Jeff Reistad.
In this video, we sat down with Mount Vernon Presbyterian School and discussed how the Parent Portal helps them align with families when it comes to student safety.
Mount Vernon Presbyterian at a Glance
Located just outside of Atlanta in Sandy Springs, Georgia, Mount Vernon is a school of "inquiry, innovation, and impact." The school works together with families and the community to educate college-ready students who will graduate as globally competitive and engaged citizen leaders. To achieve these goals in today's world, Mount Vernon knows equipping students with strategies to use technology in a meaningful way is absolutely essential.
Safety at School: Using the Parent Portal
The faculty, administration, and staff of Mount Vernon strongly believe in the power of working together with families. "We seek to partner with parents when it comes to accessing technology, and Bark's [Parent Portal] has been instrumental to us," said Katie Cane, Director of Instructional Technology. "It's been a huge win to educate parents on what we as a school do to keep students safe and also to give parents strategies that they can use at home."
Part of helping to keep students safe online also comes from the ability to know what's going on in student lives — and the Parent Portal helps facilitate this. "One of the things that Bark has helped with is giving me specific information that students might be dealing with. And when I connect with the parents, that gives the parents the easy entry into that conversation," said Max Hanson, Dean of Student Life & Operations. Thanks to the Parent Portal, several emotionally-charged situations concerning teenagers and social media have been diffused, allowing the school and families involved to address the situation directly.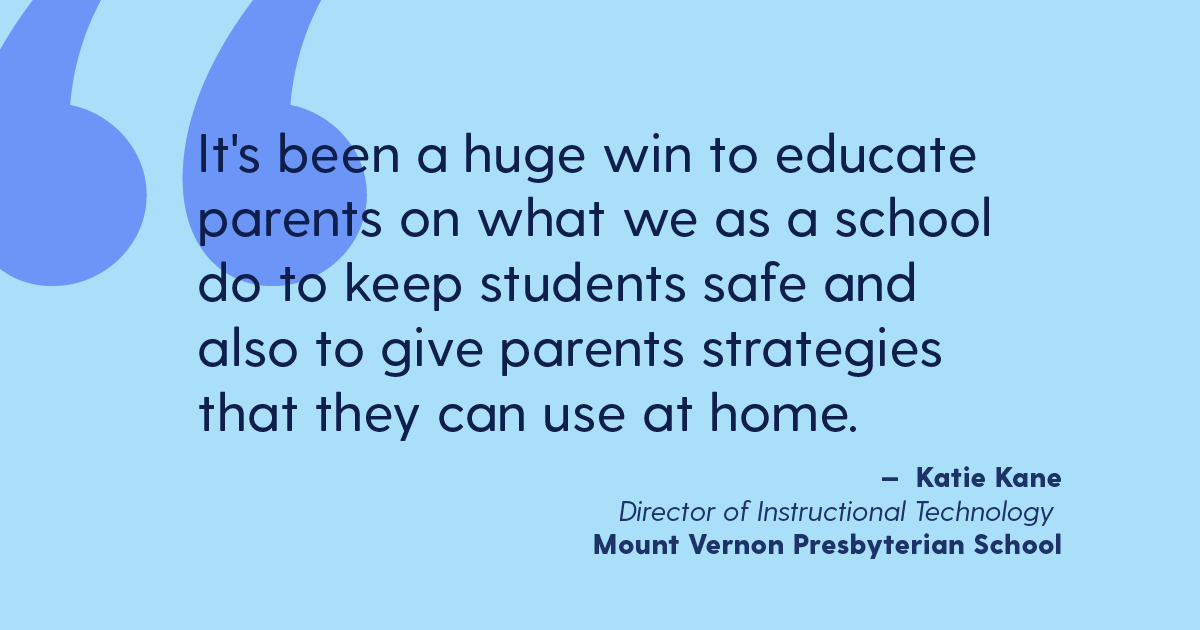 A Smart School Safety Solution
Bark for Schools was developed in the wake of the tragic shooting at Parkland, Florida, as a way to give back to school communities. With the technology for helping to keep kids safe on their online accounts already in place in our product for families, we decided to extend our service to all K-12 public and private schools in the U.S. — at no cost to them or their communities.
Schools can learn more about Bark for Schools by visiting our website and reading our safety at school case study of Plum Borough School District, and parents can monitor their children's personal devices with Bark for Families. Bark monitors texts, chat, email, YouTube, and more than 24 social media platforms and alerts you when there's something you might need to know about. for a free, one-week trial!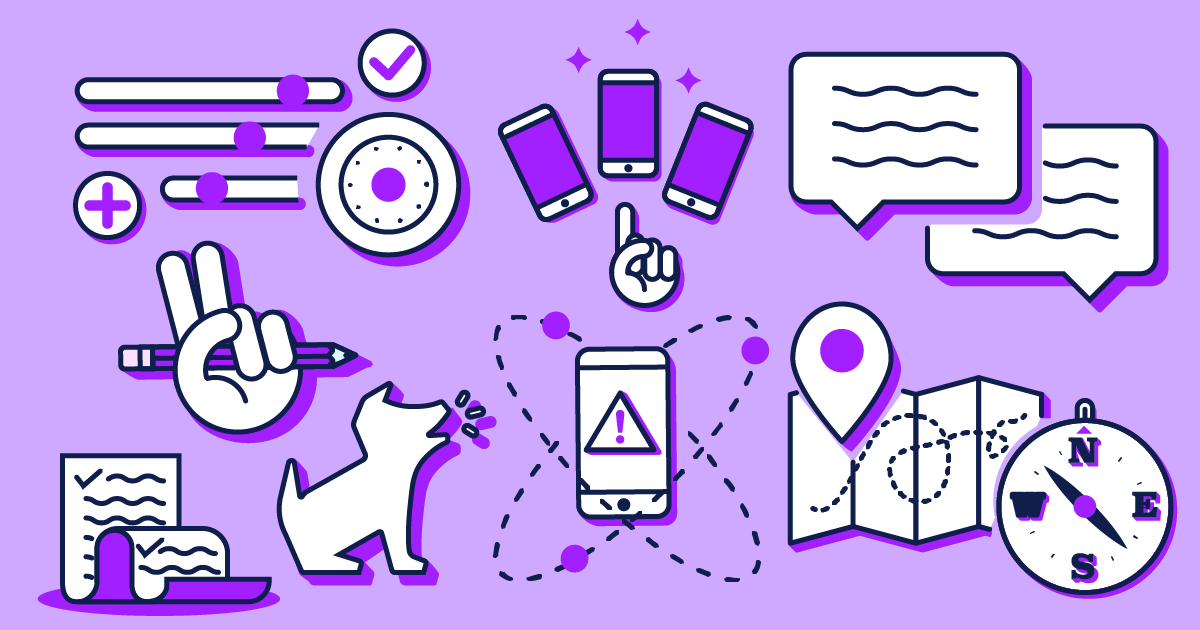 Kids and technology — the two seem to go hand in hand these days, and learning how to navigate them has become a new rite of passage for families. From getting their first devices to creating their own social media profiles, kids need support every step of the way from their parents and guardians. In this post, we've created a blueprint that will help you protect your kids online and in real life as they navigate adolescence with a smartphone.
You can also download our helpful infographic to see it all at a glance — post it on the fridge or share it with friends and family!
Download Our Infographic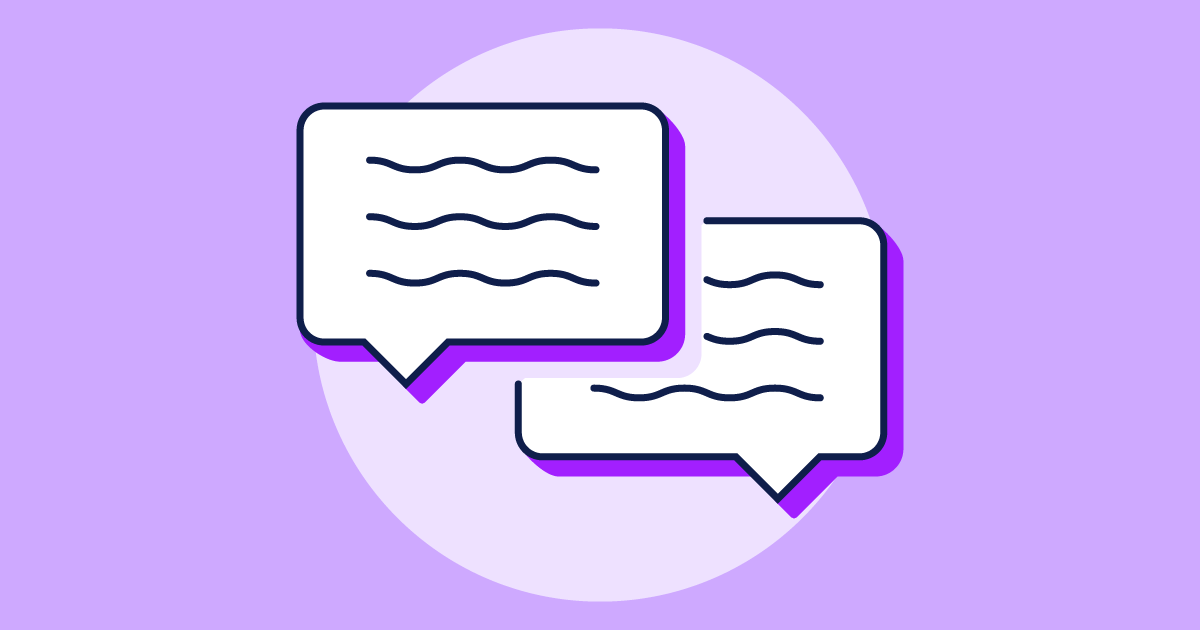 1. Prioritize Open and Honest Discussions
With the new school year ramping up, it's important to sit down and talk through some tech topics and remind your children of how important it is to be a good digital citizen. When kids are spending less time at home and feeling increased pressure to earn good grades, they can experience higher rates of cyberbullying, anxiety/depression, suicidal ideation, and peer pressure. Make sure your kids feel comfortable talking to you about any subject so they can come to you if they need help — no matter the topic.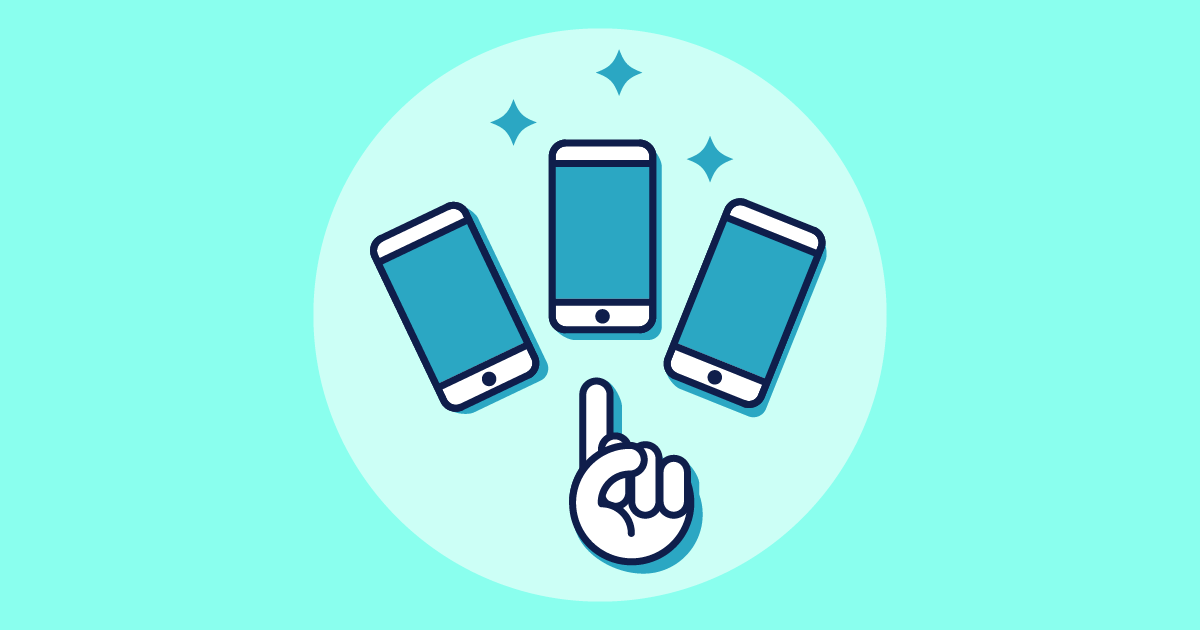 2. Find the Right Device
After making the decision that it's time for your kid to get a smartphone of their own, the next decision you'll have to make is what kind. And when you factor in details such as cost, functionality, and safety, picking out the perfect device for your child can quickly become time-intensive. Luckily, we've done the hard part for you and put together lists of devices that the Bark team — as parents ourselves — would feel comfortable putting in the hands of our own kids.
3. Use Parental Controls
Helping protect your child on their new device means you'll probably want to set up some parental controls. Bark's screen time management and web filtering tools enable you to completely customize your child's online experience and set healthy boundaries around tech use. You can manage not only when your kid can access the internet, but also what sites they can visit. To help reduce the chance they'll encounter inappropriate content, you can allow or block specific sites or even entire categories like streaming services, online gaming, sexual content, and more. (Note: Bark Premium, our all-in-one offering, includes content monitoring, screen time management, and web filtering. Bark Jr includes screen time management and web filtering.)
For even more comprehensive protection, we also offer Bark Home, a small box that plugs into your Wi-FI router, to bring screen time management and web filtering to all of the internet-connected devices your family uses. Bark Home works with gaming consoles, smart TVs, computers, and more.
In addition to tools like Bark, most devices, games, and apps also have free built-in parental controls for you to use. To help parents figure out how to set up all of the different parental control settings out there, we created Barkomatic. Simply enter in all of the apps, games, and devices your kid uses and Barkomatic will do the rest! You'll get a personalized report of how to enable parental control settings on the platforms you selected, so you can help keep your kids safe online and in real life.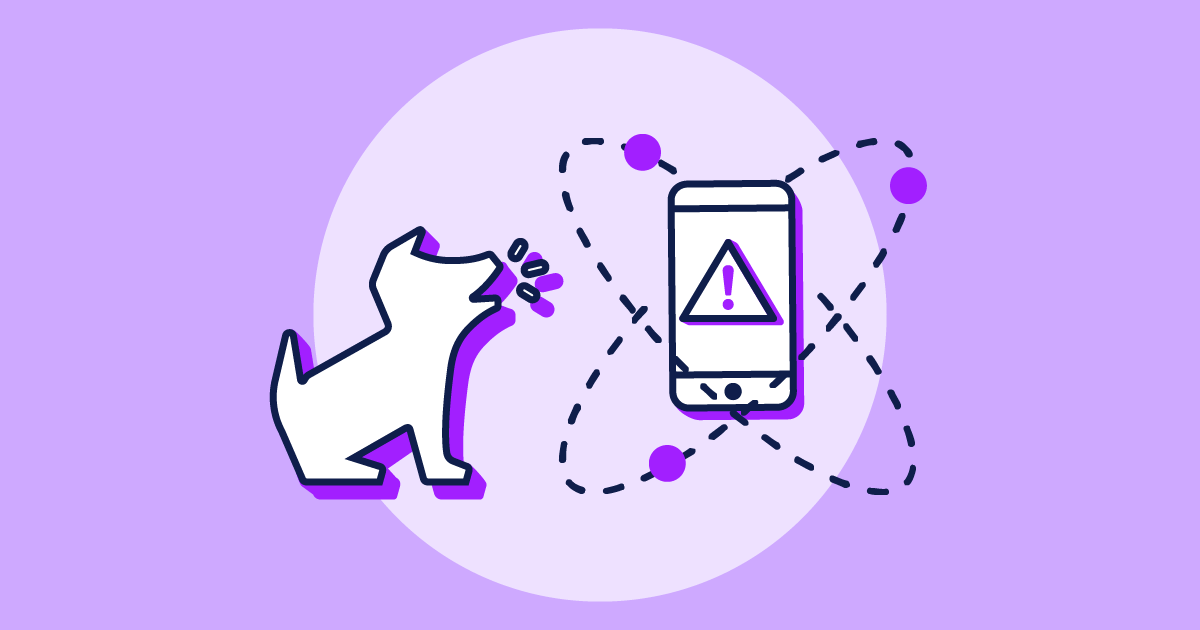 4. Add a Monitoring Service
While parental controls certainly help add a layer of safety to your children's online activity, they are not enough to protect this generation of tech-savvy kids. Not only can children easily delete messages and images, create additional accounts, and hack the settings to get around these obstacles, but default parental control settings also don't allow you to really know what your child is experiencing online. And who really has time to read through every message, scroll through every feed, or watch every video that your child is exposed to?
Bark is the only monitoring solution that gives children their privacy while giving parents insight into potential issues such as cyberbullying, sexual content, depression/suicidal ideation, and more. Our award-winning service monitors more than 24 different apps and social media platforms on Android devices, Amazon devices, and computers.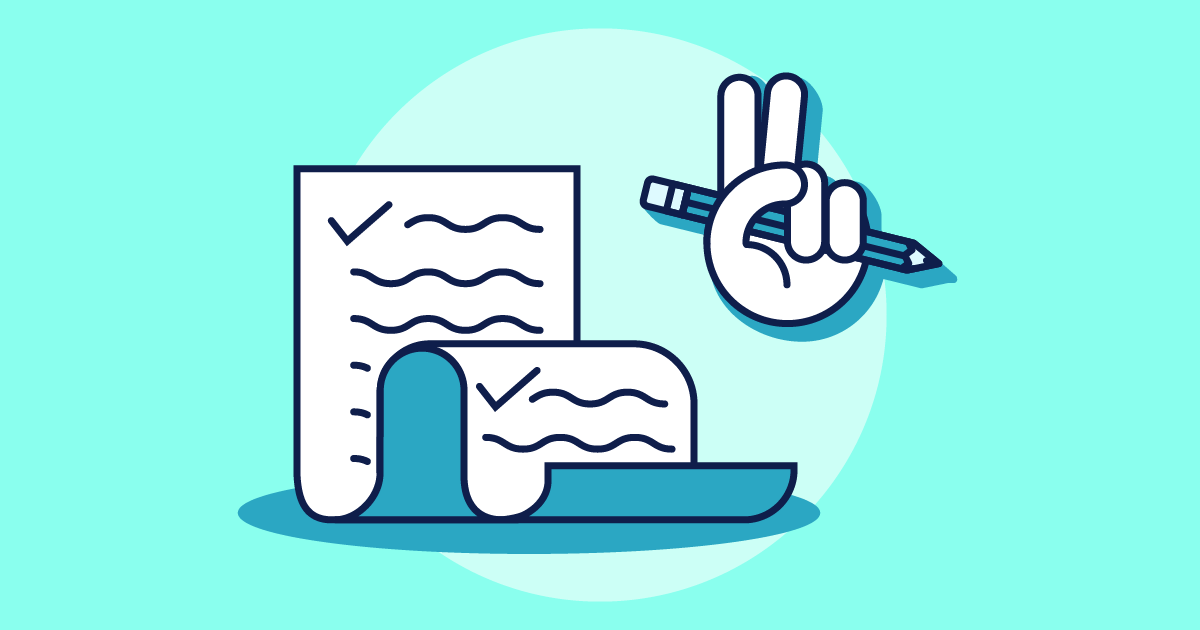 5. Do Your Own Research and Create a Tech Contract
While the App Store and Google Play's app ratings offer a general idea of what platforms are OK for tweens and teens, they are not always accurate. The easiest way to determine if your child should have access to a certain platform is to test it out for yourself. The following guides will also give you an idea of what's age-appropriate for your child. Here's what parents need to know about:
Taking into account all of the tips and information above, you and your children should sit together and outline the rules around their online activity to create a tech contract. The contract should answer questions such as who your child can talk to online, what hours of the day they can access their smartphone, what apps they can download, and what happens if the rules are broken. Use the guide below to get started:
6. Learn How Other Parents Navigate Kids and Technology
As part of the first generation of parents learning how to raise children in the digital world, you are encountering situations and experiences that parents before you didn't. Fortunately, you are not alone — there are several groups and online communities where you can get plugged in and talk with other parents who have similar questions or are struggling with the same problems.
Bark's community Facebook group is a great resource to get the scoop on cool apps, the latest trends, and all things tech-related from other parents. Supporting our kids while also keeping them safe isn't easy. Join Parenting in a Tech World to learn how to navigate the ever-changing landscape of raising kids in the digital age.
Kids and technology don't have to be an intimidating combination, and an easy place to start for many families is with monitoring. Bark monitors texts, chat, email, YouTube, and 24+ social media platforms for signs of potential issues like cyberbullying, adult content, self-harm, suicidal ideation, and more. Sign up today for a free, one-week trial.
At Bark, we take your trust seriously, and we believe that you deserve complete transparency about how we're securing your data and preserving your privacy. We're committed to every aspect of your child's online safety — whether it's detecting digital dangers or encrypting your passwords — and we want you to feel at ease knowing that your data is secure.
Bark is a company based entirely in the United States, and every one of our employees goes through a stringent background check to ensure that we have only the best folks working to help protect your kids online and in real life.
Our Secure Technology
Bark has invested heavily in a state-of-the-art security infrastructure that helps protect your data from breaches. Some companies are content to store your personal information in plain text, relying on their security network to do the heavy lifting. We have a strong network, too, with database encryption backed by Amazon Web Services (AWS). But we've also taken additional steps to ensure that your data is useless to anyone who shouldn't have it.
Bark has three different kinds of encryption spread across our infrastructure. In a nutshell, encryption works by converting your information into packets of letters and numbers that get scrambled so that no one can read them unless they have the decryption keys. All of our databases, physical servers, and web browser sessions are encrypted so that hackers can't access your personal data.
We've also put policies in place that protect your data even more. Every Bark employee is required to take their own security measures, including hard-disk encryption, multi-factor authentication, and regular software updates.
Security Checklist
Encrypted with TLS
Second-layer security from AWS, including multi-factor authentication and user-specific access keys
Regular internal security audits and training
Compliant with SOC 2 Type II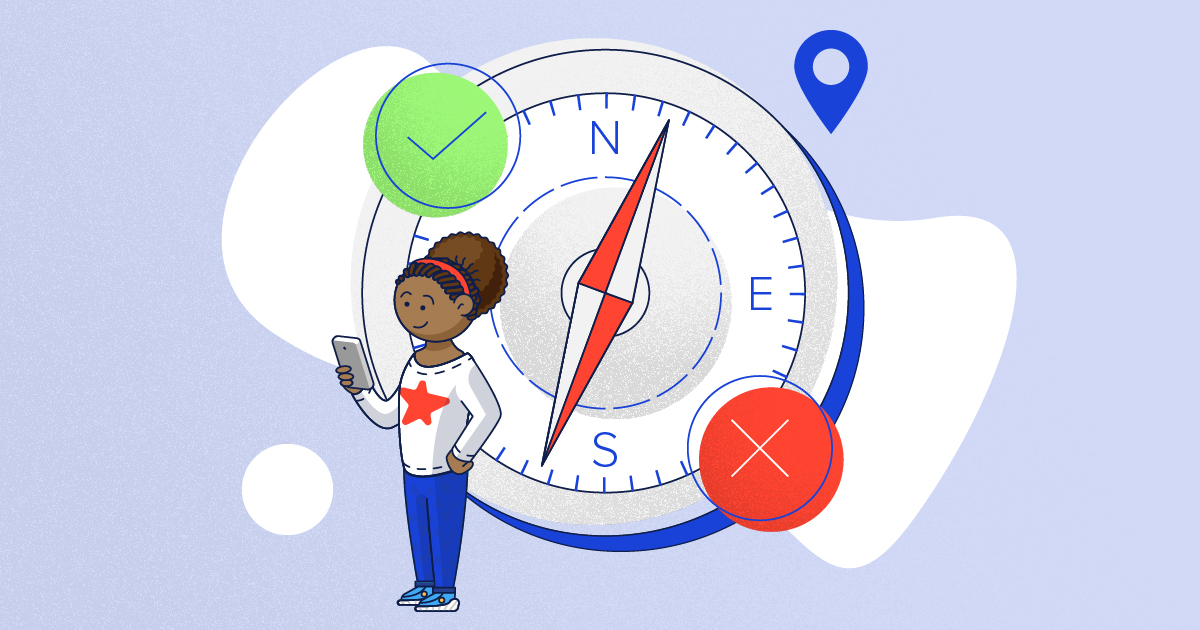 What We Mean by "Privacy"
We are adamant that parents and schools should own and control all their data. This means we would never sell or give away your data without your consent. We also don't hold on to your data any longer than is necessary to help keep your kids safe. We remove it within 30 days of analysis, but if you want it gone sooner, just ask!
When you share your personal information with Bark, we immediately encrypt it so it can't be traced back to you. By looking at everyone's data together, we can see larger patterns that help us learn and grow, and your privacy is completely preserved the whole time. We are also compliant with more privacy and security regulations than are legally required of us.
Some might have noticed that we ask you to share location data with us. This information is used only for our Check-Ins feature, and only when a Check-In is actually in progress. Parents find a lot of value in Check-Ins, which allow them to know whether their child is where they're supposed to be. This is a great tool for families, but it's also completely optional.
Privacy Checklist
Parents and schools own all data

Data is purged within 30 days of analysis (sooner by request)

No data is given or sold to third parties without consent

Consent may be withdrawn at any time

COPPA

compliant — Protects minors from deceptive marketing practices

FERPA compliant — Gives rights to families over educational records

CIPA

compliant — Requires schools to adopt internet safety policies

AB 1584 compliant — Allows schools to contract with third parties
Protection by Design and Default
At Bark, we know how important it is to protect all aspects of your children's online safety. Whether you're a parent or a school administrator, we want you to know that we take our responsibility seriously. You can always learn more by checking out our blog, reading our white paper on why we offer Bark to schools for free, or reaching out directly to help@bark.us. We also invite you to read our Privacy Policy and Terms of Use and Service.
Bark monitors text, chat, email, YouTube, and 24+ social media platforms for signs of cyberbullying, sexting, sexual predators, suicidal ideation, threats of violence, and more. We're trusted by families and schools to help protect more than 3.5 million kids across the country. for a free, one-week trial!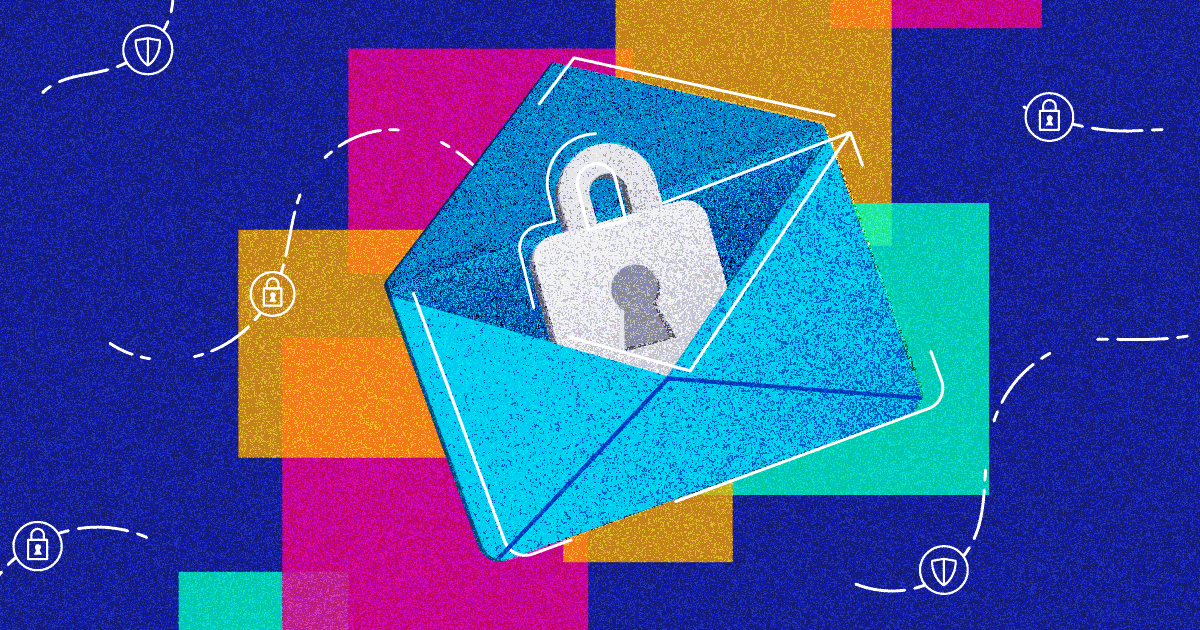 There are seemingly endless benefits to having an email account. It's a great organizational tool, and because almost everything online now requires an email address, it's a gateway to a lot of other online activities. Email is a powerful way to communicate, and it will likely become a tool your child will be using for the rest of their lives.
But when it comes to online safety, setting up email for kids might be lower on the list of a parent's concerns than apps like TikTok, Snapchat, Instagram, and others. But there's still plenty for parents to be wary of when it comes to setting up an email account for their kids. We've put together a few helpful pointers for parents to consider as their kid starts to become active online.
What is an appropriate age for a child to get an email account?
Most email providers require that a user be 13 or older to sign up for an email account. This is not so different from other apps that kids will be asking to download soon enough. According to the federal Children's Online Privacy Protection Act, no online service provider can collect information on kids under this age without consent. Gmail, iCloud, and a few others have family plan options for children under the age of 13 that meet the requirements of the law.
It's also common today for schools to issue email addresses to students beginning in middle school — and sometimes even earlier. However, when it comes to creating a personal email account, you and your child should discuss the topic when you feel like they need one and are mature enough to use it appropriately. It's important for families to be on the same page as kids start to explore the digital world, and ongoing conversations around digital citizenship are a great way to help kids be responsible online.
Which providers offer reliable and safe email experiences for kids?
Because they are free and also offer ways to set up and manage family accounts, Bark recommends Gmail, iCloud email, and Outlook. For younger children, there are a few paid options with built-in features that make them more appropriate for kids, including KidsEmail, Tocomail, and Zoobuh.
What are the best practices for creating an email address?
The email address your child wants to use at 13 will likely be different from the one they're using by the time they're applying to colleges and jobs. It's best to keep it simple and professional with some variation on their name, such as "firstname.lastname@url.com" or "firstinitial_lastname@url.com". If those addresses are already taken, avoid adding numbers if possible, especially numbers that include personally identifiable information such as your child's birthday, birth year, street address, or area code. Instead, try reordering the names and initials until you land on an available username.
For cybersecurity reasons, choose a password that is different from other accounts your child may have so that is one online account is compromised, the others will still be secure. Strong passwords include a mix of numbers, letters, and symbols.
While most email providers will suggest it anyway, it's always a good idea to add a backup email address or phone number should your child forget their password or get locked out. Using your own email address and phone number is a great option here.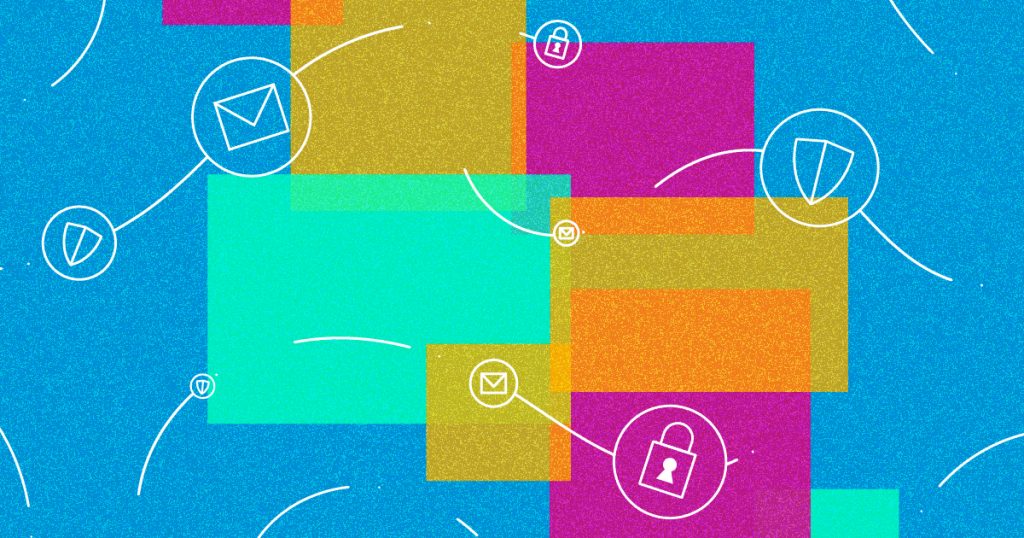 How do I set up parental controls on an email account?
Most common email providers have free parental control options, and those that don't typically have settings you can adjust to make the account more kid-friendly. Use our user-friendly guides below to get started.
How can I monitor an email account?
While parental controls certainly help keep your child safe online when using email, using a monitoring solution like Bark can make you aware of any worrisome content or dangerous activities. Bark monitors AOL email, Gmail, iCloud email, Outlook, Xfinity email, and Yahoo! Mail for signs of cyberbullying, online predators, adult content, depression, acts of violence, suicidal ideation, and more.
Bark will also alert you if your child attempts to create another email address or social media account without your permission. Because most apps, games, and accounts require you to verify your email address during setup, Bark can detect whether or not your child is creating new accounts that you might not know about. Here is one parent's experience:
"My 16yr old son has an iPhone that is pretty locked down. But he came home from a friend's house, and once his phone synced to Bark, I got a notification about sexual content. It was an email that he had received from Pornhub about verifying his account. He had used his friend's iPad in incognito mode because he knew that if he had tried it on own his phone, Bark would catch it. He didn't realize that bark would catch an email though. I cannot tell you how much I love Bark and how many times it has brought very concerning issues to my attention that I probably would have never known about."
Bark Helps Make Email for Kids Safe
Email accounts may seem relatively harmless, but kids as young as five often have their own email address for their online activities. Especially as they get older, it becomes nearly impossible for a kid to create an online profile without an email address. That said, an unchecked email address is a potential access point for your child to correspond with people you do not know.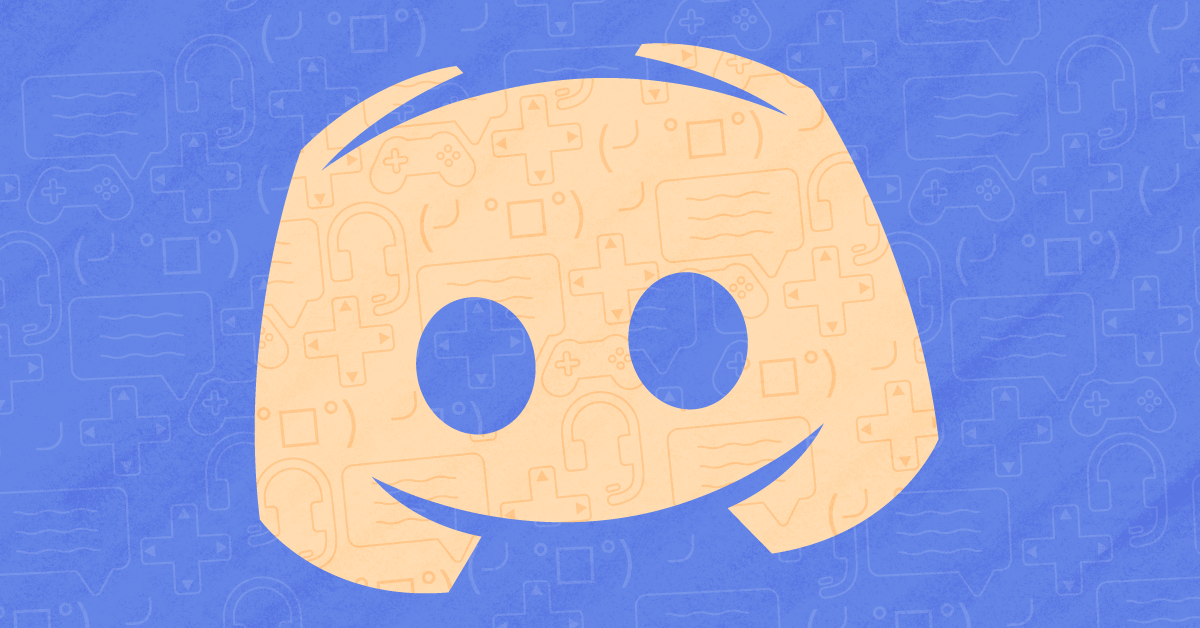 **This blog post was updated on August 5, 2021**
Have you ever wondered, "Is Discord safe?" Maybe you've heard your kids talking about how fun it is or you've seen information about it online and been curious to learn more. What is Discord, exactly? The chatting platform is especially popular in the gaming community but its appeal has recently spread to a more mainstream audience. Like any app that enables strangers to message one another, Discord has its fair share of dangers, including inappropriate content and potential online predators. In this post, we take a look at what parents need to know about Discord and what to tell other parents when they ask, "what is Discord?" or "is Discord safe?"
So, What Is Discord?
Discord is a messaging platform that's very similar to Slack. It features chatrooms, direct messaging, voice chat, and video calls. Users can join different "servers" and within each server are different "channels." Think of these like chat rooms — they can be about anything, from huge public video game servers to small, private groups of friends. Discord is free to use, and there's no limit to the amount of messaging users can do.
What Is Discord Used For?
Discord is a huge place for teens to hang out and talk about gaming, whether you're actively holding a controller during a game of Fortnite or just shooting the breeze. As of 2021, Discord has over 140 million active monthly users. Some teens even use it as their preferred way to talk to their friends, more so than even texting (because you don't need cell service to send messages). The platform has become so popular, in fact, that Samsung built it into its phones.
What is Discord Nitro?
Discord has grown quickly in recent years as a free-to-use platform. Nitro is a paid service that offers premium emojis and special features that are unique from free emojis. Unfortunately, many free-to-use platforms come with a hidden cost; these hidden costs are typically in the form of user data or in the form of micro-transactions or subscriptions. For Nitro, it is the latter; the subscription currently costs $9.99/month.
Is Discord Safe? Risks on the Platform
While Discord does have terms of service that aim to protect users from being harassed or bullied and a Trust and Safety team to help, there are still "adult" servers on Discord that contain graphic and sexual content. There are very few tools that prevent underage users from accessing them. While some servers will attempt to verify age, this feature isn't actually built into Discord — it's programmed by gamers themselves and used at their own discretion. All of this means that there are very few ways of preventing a child from joining a server that may be filled with explicit and adult content.
Another feature for families to watch out for is Discord's direct messaging feature. If direct messages are enabled, any user can message another user, even if they don't know each other. This opens a kid up to being solicited by strangers, potentially receiving explicit and inappropriate material. And since Discord is a platform where users publically reveal their interests, potential predators can use that information as an easy way to gain their trust. There are some controls that scan and delete explicit messages, but they can easily be disabled in the settings.
How to Block Discord with Bark
From your dashboard, find your child's profile.
Select Settings.
Choose Parental controls.
Review the rule sets you've scheduled.
Scroll down until you see Screen time rule sets and select the rule set currently applied.
Toggle Discord to Blocked.
Repeat these steps for any other screen time rule sets you've scheduled.
You're all set!
Help Protect Your Kids On Discord Text
One of the first steps a parent can take to help protect their kids on Discord is to set up parental controls. While these settings are important, they can't account for everything. For additional support, parents should monitor their child's online activities with Bark. Bark monitors text chat within Discord's direct messages on Android and Amazon devices and alerts parents to potential issues, including cyberbullying, depression, suicidal ideation, threats of violence, and more. Our advanced technology doesn't just search for keywords — it analyzes language in context that might indicate that something's wrong.
So, what is Discord and is Discord safe? While it does have its fair share of issues, with the proper tools in place, those risks can be lessened significantly. In addition to Discord text, Bark monitors text messages, YouTube, emails, and 30+ different social networks for signs of digital dangers. for a free, one-week trail to help keep your kids safe both online and in real life.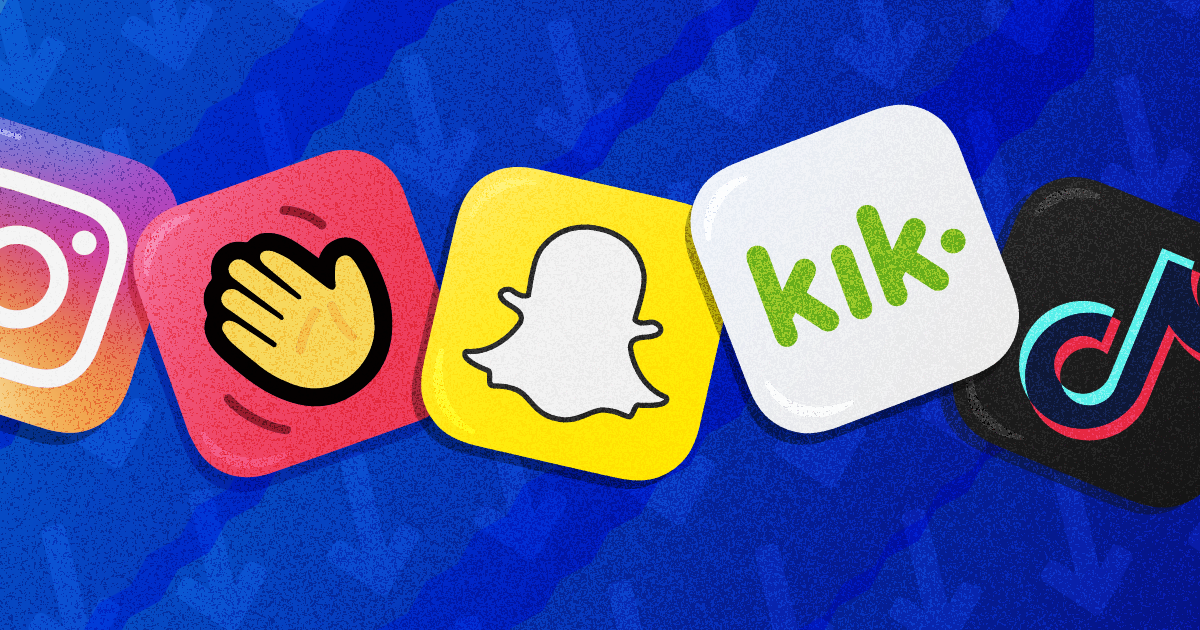 Have you ever wondered, "How can I see what apps my child has downloaded?" or Googled, "How to find out what apps my child is using?" Well, Bark's latest update is helping parents take the guesswork out of what apps their kids are actually using. It's free, easy to use, and accessible from the parent dashboard. This new feature provides greater insight into children's online activities in several key ways, including...
1. Listing All Installed Apps
When parents first use this new feature, they'll get a comprehensive view of every app their child has installed on their phone, allowing them to see a bird's eye view of their kid's online activity at a glance.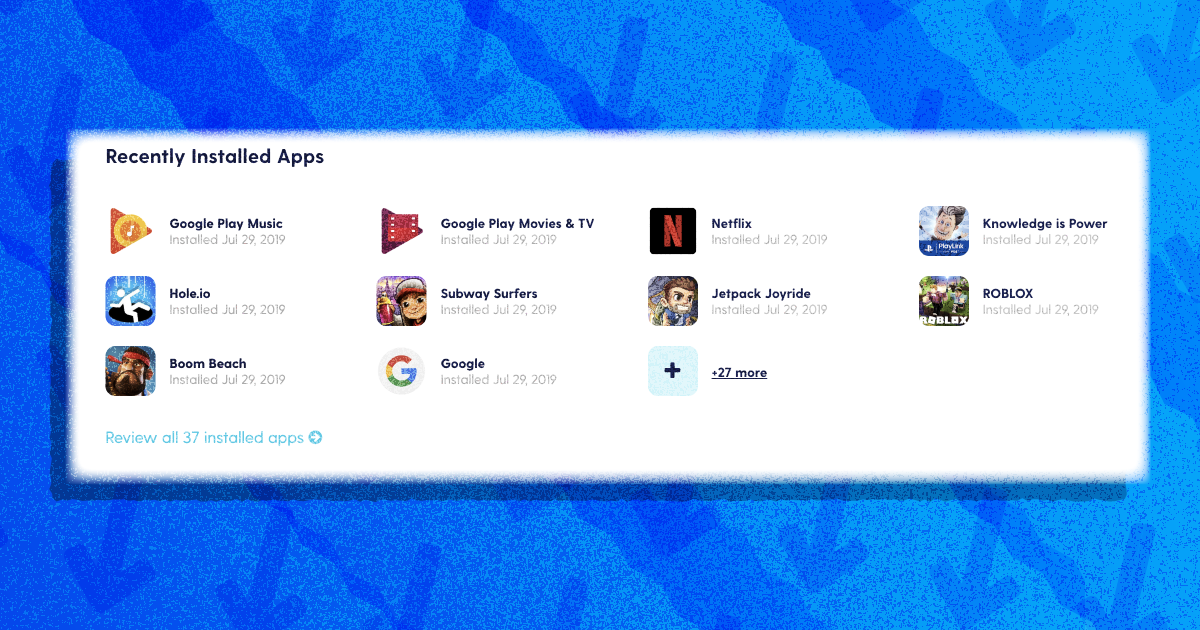 2. Detecting Recently Installed Apps
Parents will be able to see any new apps their kids may have downloaded, as well as when they were downloaded. This is helpful for parents that aren't familiar with new apps — or if their kids may be using "vault apps," which are apps that may be disguised as normal tools like calculators. These apps allow children to hide photos and videos in discrete and unassuming ways so parents aren't easily tipped off.
3. Categorizing Each App By Rating
Bark will tell parents exactly how appropriate or inappropriate an app is for their child according to the following categories: "Mature," "Teen," "Kids," and "Everyone." Just because many children are using an app, it doesn't mean they're mature enough to use it. For instance, Instagram is popular with kids all over the world, but technically you have to be 13 to use it. There's an easy workaround, however — kids can just enter an older birth year and can then create an account.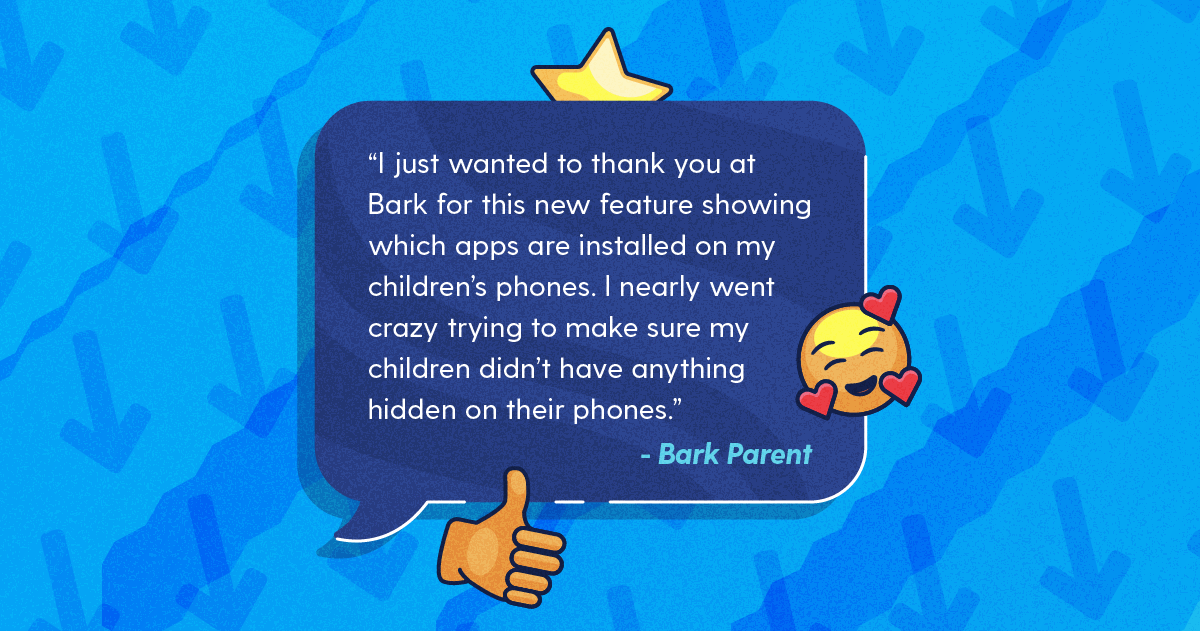 4. Identifying Whether Bark Can Monitor a New App
If a parent discovers their child has downloaded a new app — or if a parent isn't familiar with it — they'll instantly be able to find out whether or not Bark can monitor it for signs of danger. All new apps that can be monitored will feature text stating "Connect to Bark."
The Importance of Online Safety Tools
Just because an app may seem harmless or is rated for kids, that isn't always the case. The Bark Blog is a great resource for understanding popular apps such as Snapchat, TikTok, Reddit, Instagram, YouTube, and more. Stop asking yourself, "How can I see what apps my child has downloaded?" and instead, take advantage of our app-detecting feature and see what else you can connect with Bark to help keep your child safe online with our content monitoring, screen time management, and web filtering tools.